For those of you who aren't on Instagram or Facebook (find me @ethnojunkie if you are), you can see my posts right here on this very page – no signup required! I update my feed almost daily, so check in frequently to see what I'm up to. Just click "Instagram" in the menubar at the top of any page.
Click on any image to view it in high resolution.
<!–– ======================Put http://ethnojunkie.com/?page_id=4099#pokebowlstation into bitly or just call it directly================================= ––>

---
<!–– ----------------------------tashkent supermarket------------------------------------- ––>
12/20/2017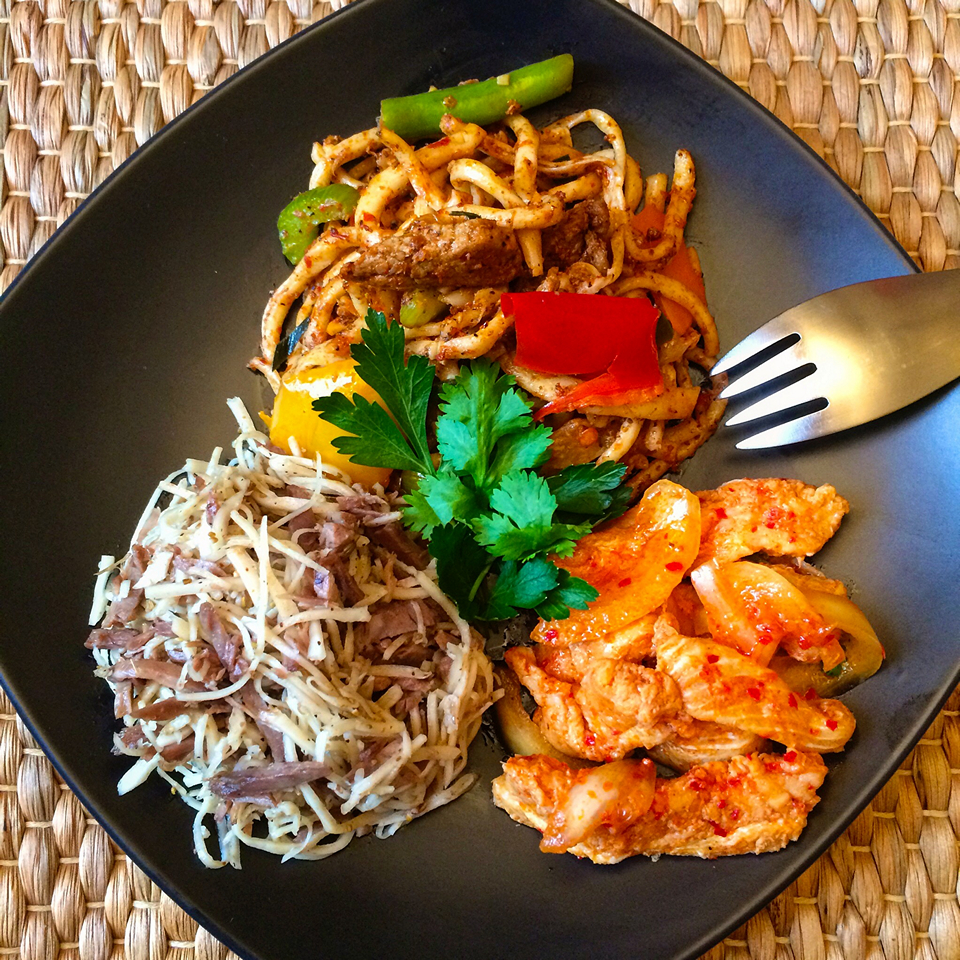 There are numerous markets that feature prepared "Russian" food along Brooklyn's Brighton Beach Avenue, otherwise known as Little Odessa, and I admit to having more than a few favorites. Each features a wealth of dishes hailing from the Baltic States, Eastern Europe, the Southern Caucasus, Central Asia, and mother Russia herself and each boasts its own renditions of this first-rate fare.
🇺🇿
Named for the capital city of Uzbekistan, Tashkent Supermarket at 713 Brighton Beach Ave, Brooklyn, NY, a relative newcomer to the strip, has a focus on Central Asian cuisine, but not exclusively. Shown here are three of my favorites from their salad bar. At the top there's Lagman, a savory noodle dish (also found as a noodle soup) of the Uyghur people, an ethnic group living in East and Central Asia. Linguistically, the Chinese influence is easy to identify: lo mein → lagman. Moving clockwise there's Khe, raw fish marinated in onion, spicy red pepper and vinegar. Russia and North Korea share an 11 mile border; the Korean culinary character of Khe is obvious. Finally, there's Norin (aka Naryn), a dish I have yet to find at any of the other markets. Very fine noodles and a generous measure of cumin accompany thinly sliced beef, although in Uzbekistan and Kyrgyzstan it's made with horsemeat!
---
<!–– --------------------------------indonesian tempe day----------------------------------------- ––>
12/17/2017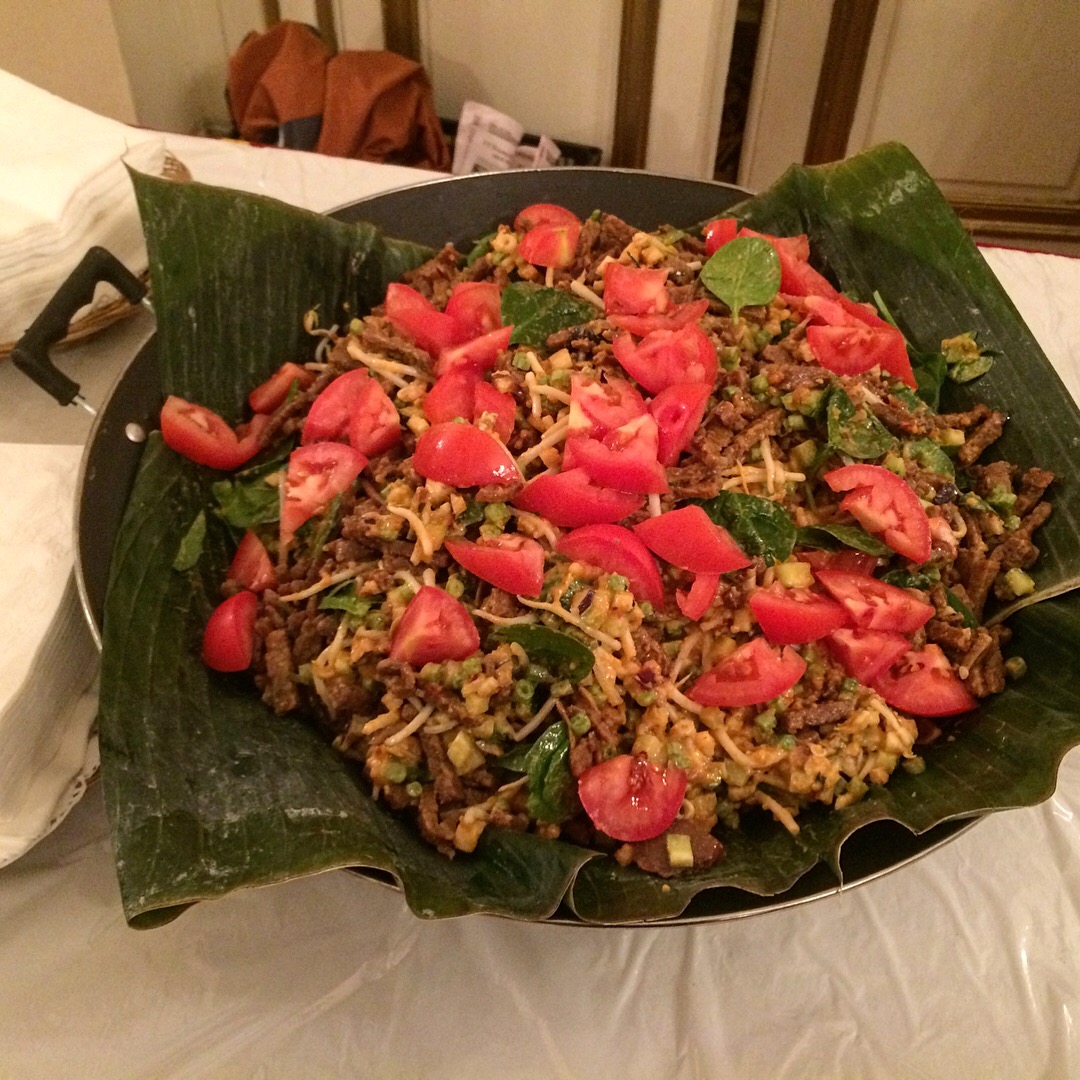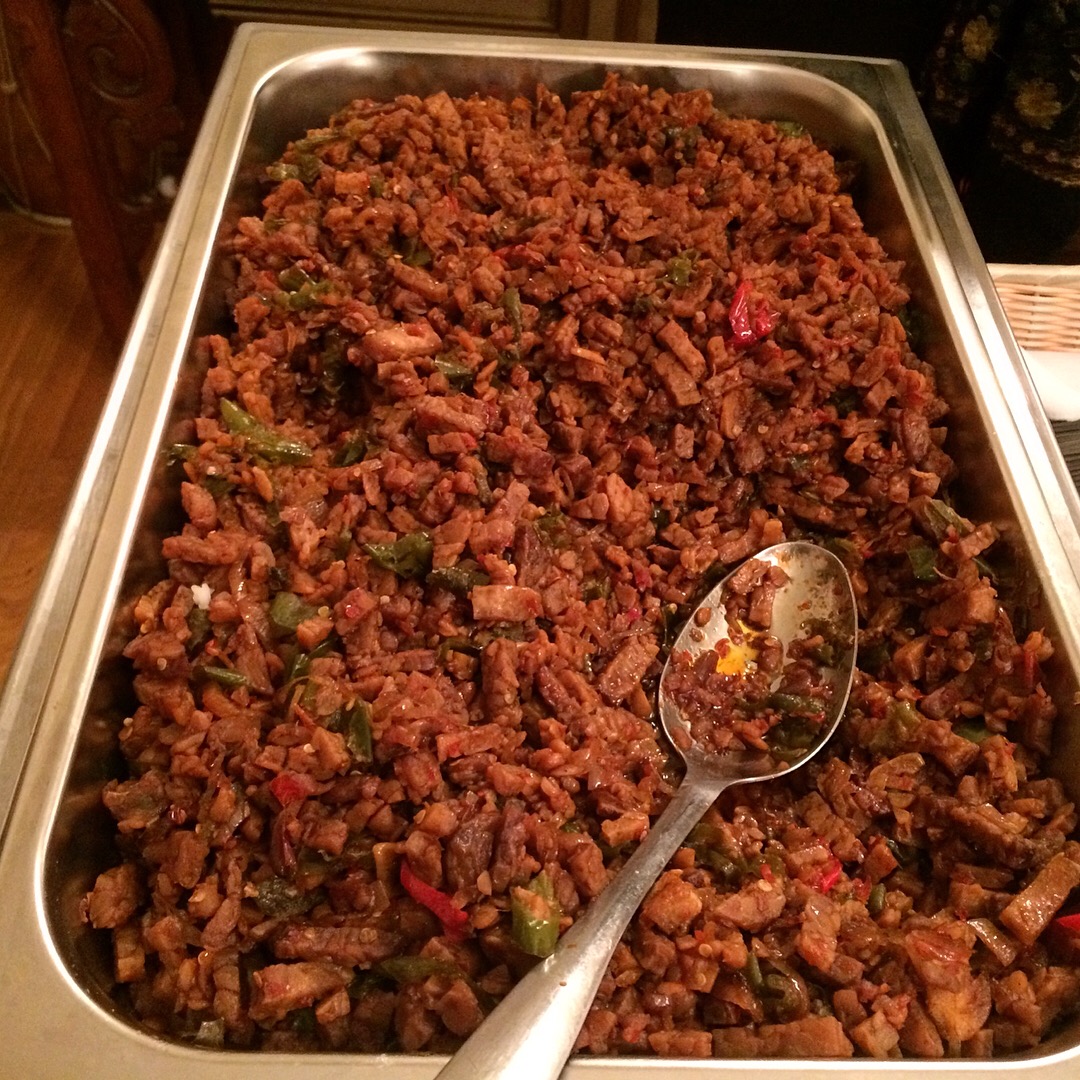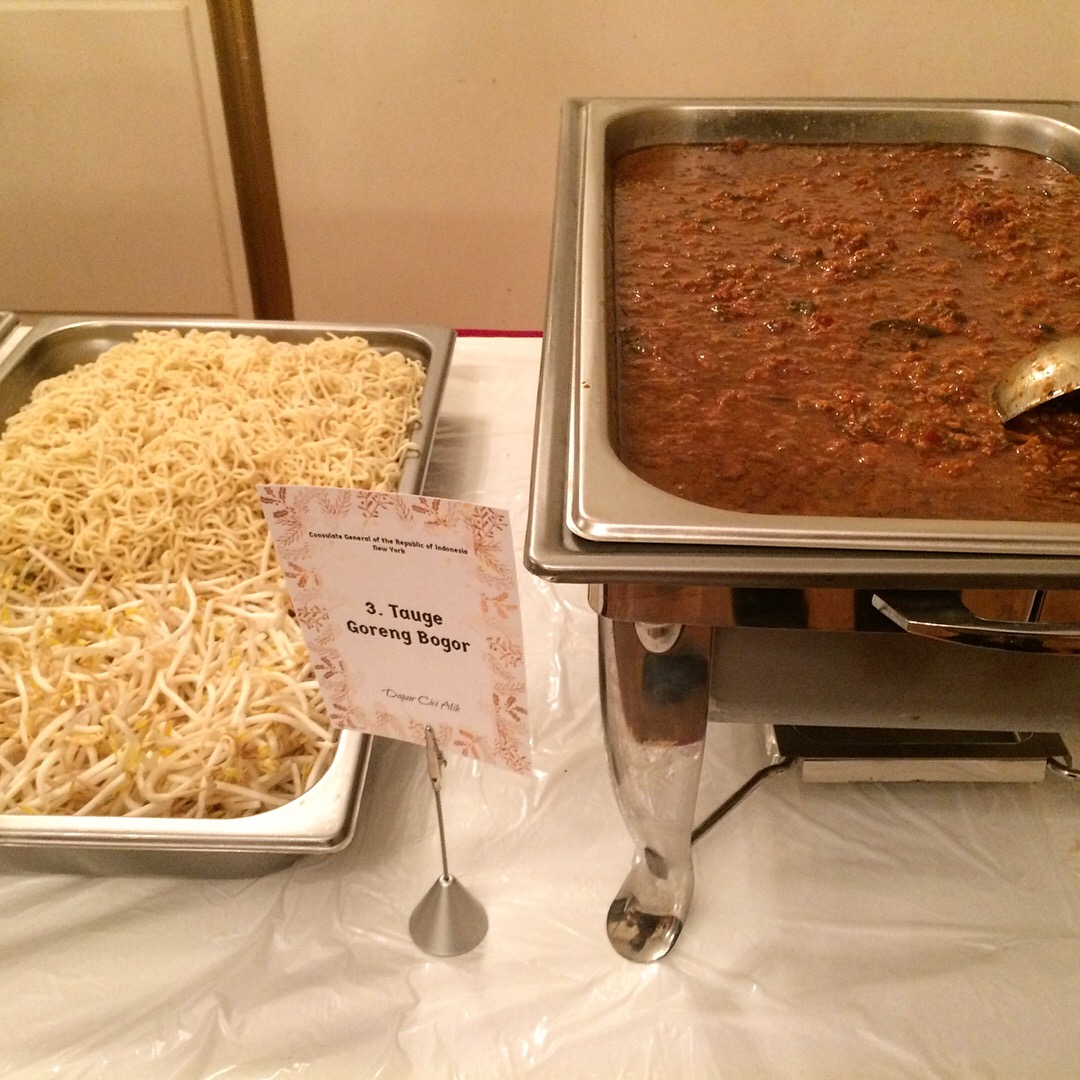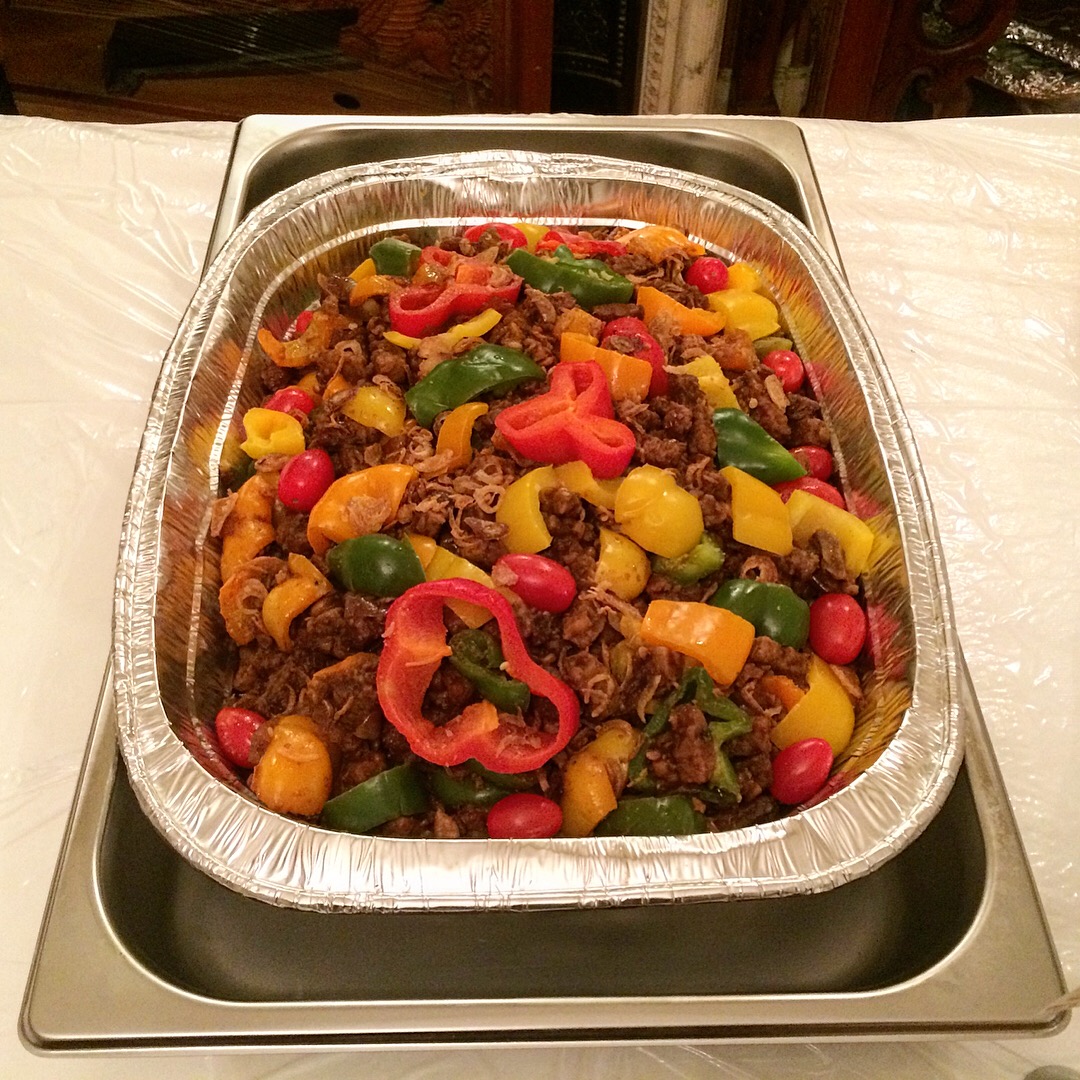 I recently attended Indonesian Tempe Day sponsored by the Consulate General of Indonesia at New York. 🇮🇩 The founder of the Indonesian Tempe Movement, Amadeus Driando Ahnan, created and presented an impressive slide show and video session highlighting the nutritional and worldwide economic advantages of this remarkable superfood. Made from fermented soybeans, the versatile Indonesian staple was featured in about a dozen dishes for us to sample, each one different from the next, and all delicious.
Shown here are a few of my favorites including a Tempe Salad, Sambal Goreng Tempe Cabe Hijau, Taoge Goreng Bogor, served over beansprouts and noodles, and Oseng-oseng Tauco Tempe.
---
<!–– --------------------------------linzer cookies----------------------------------------- ––>
12/15/2017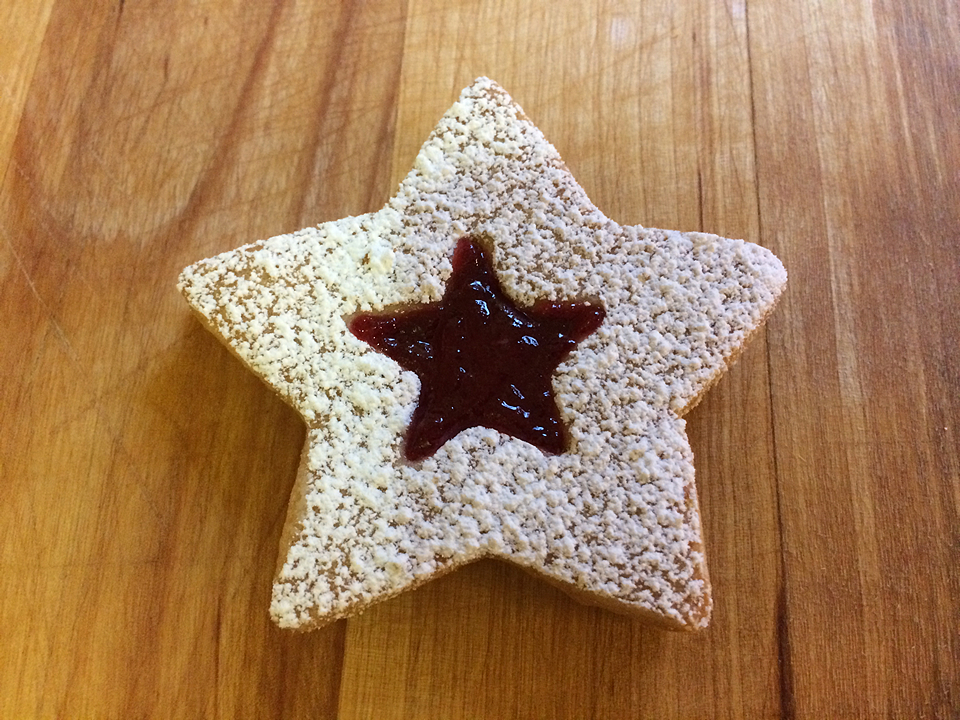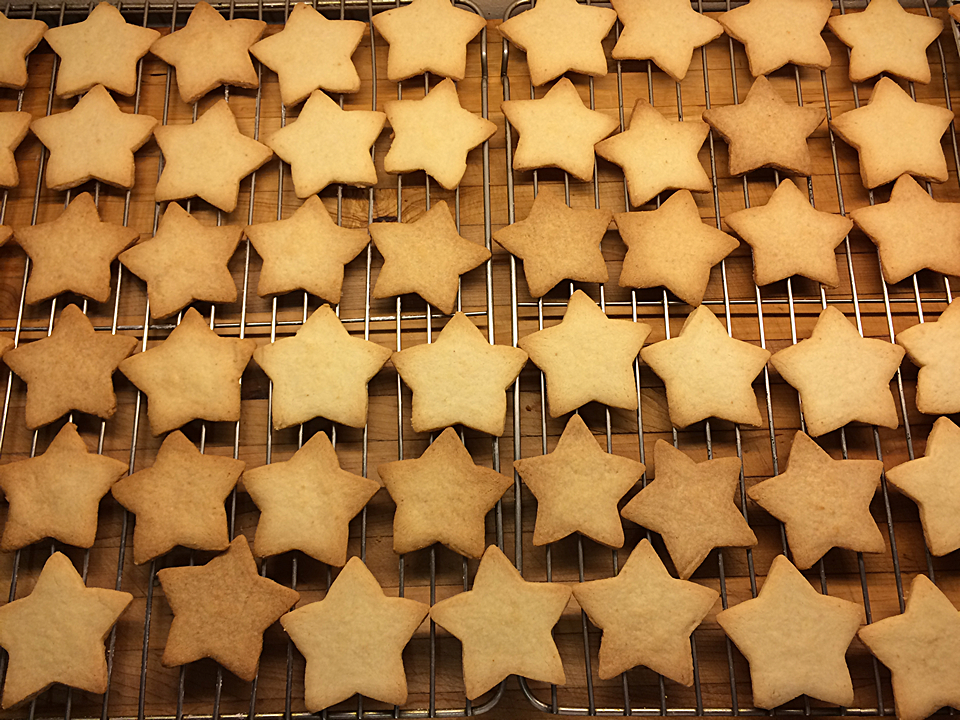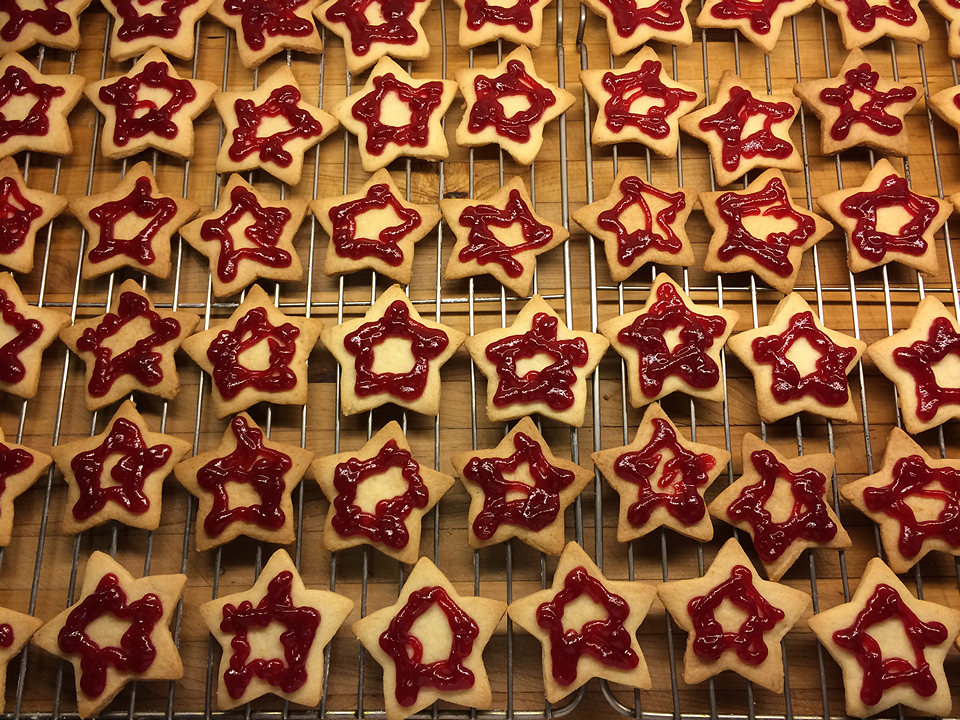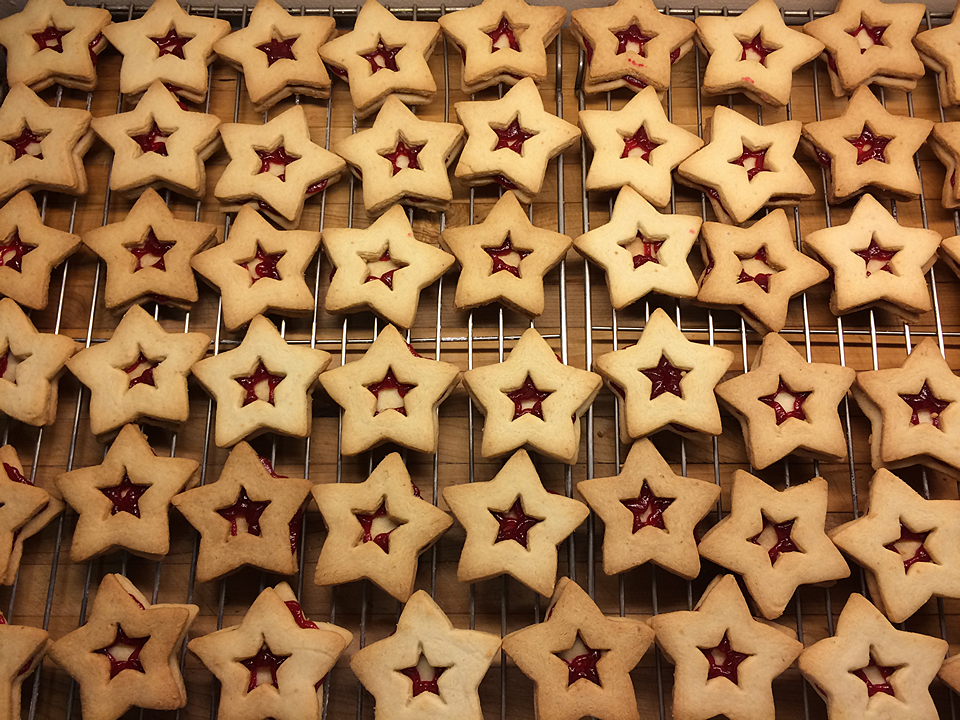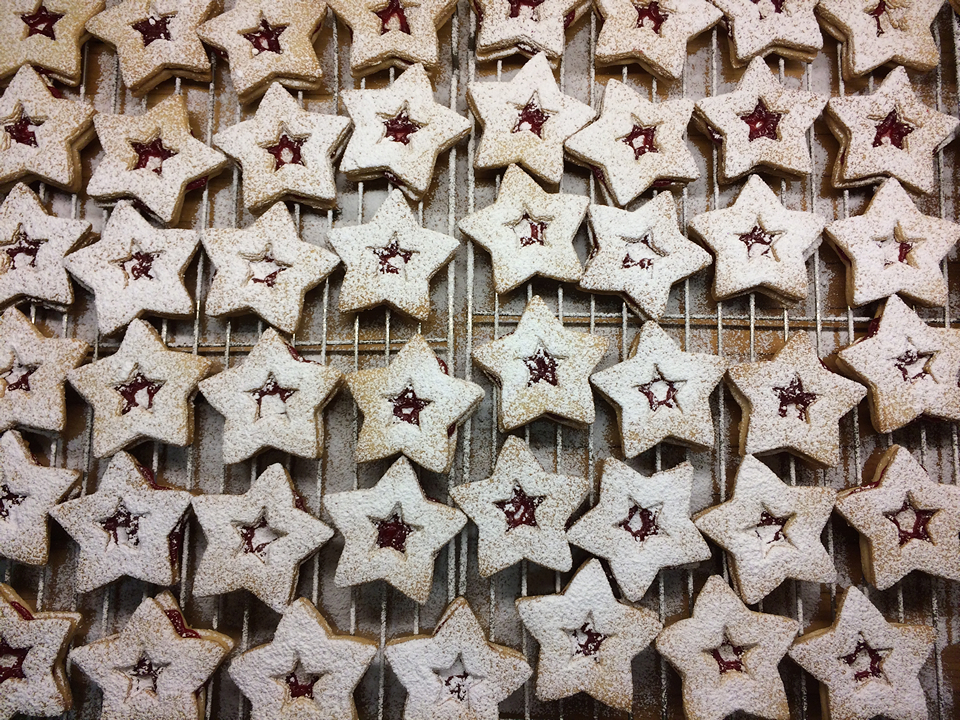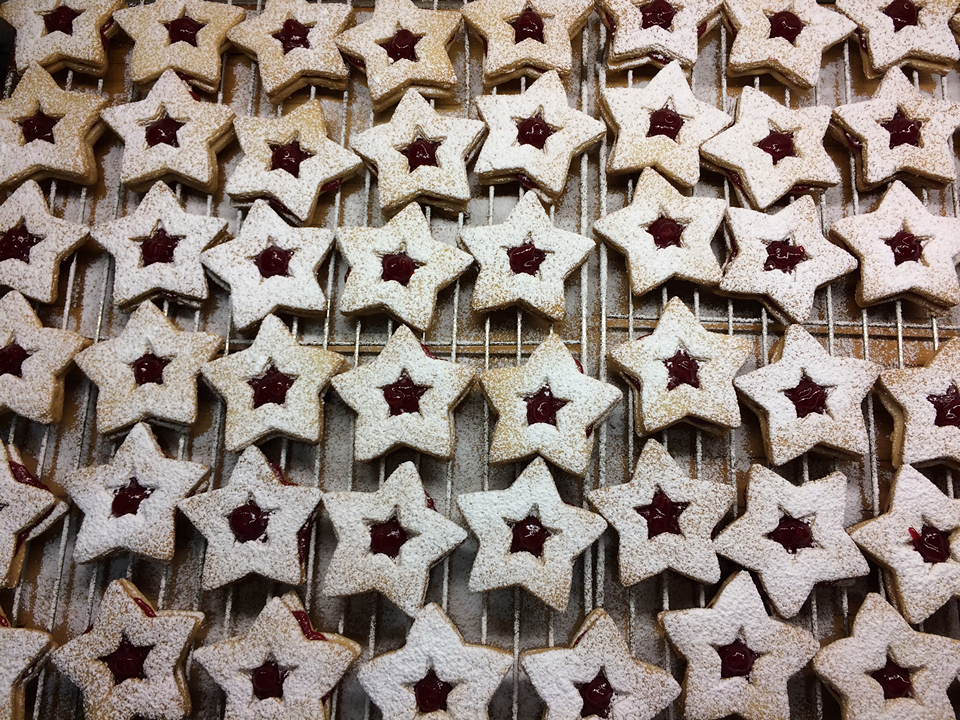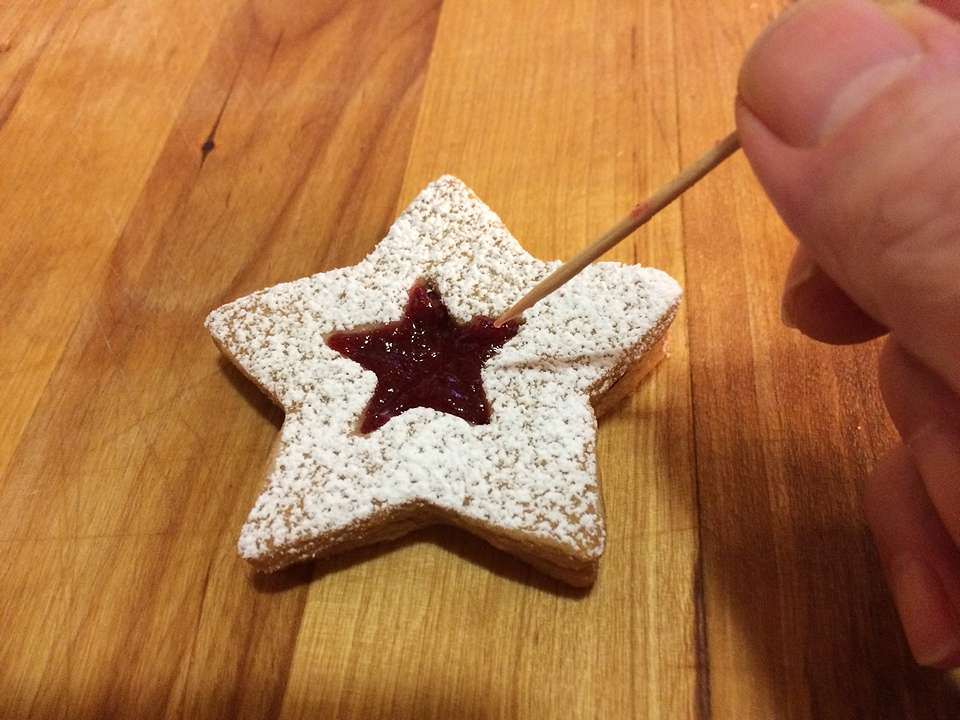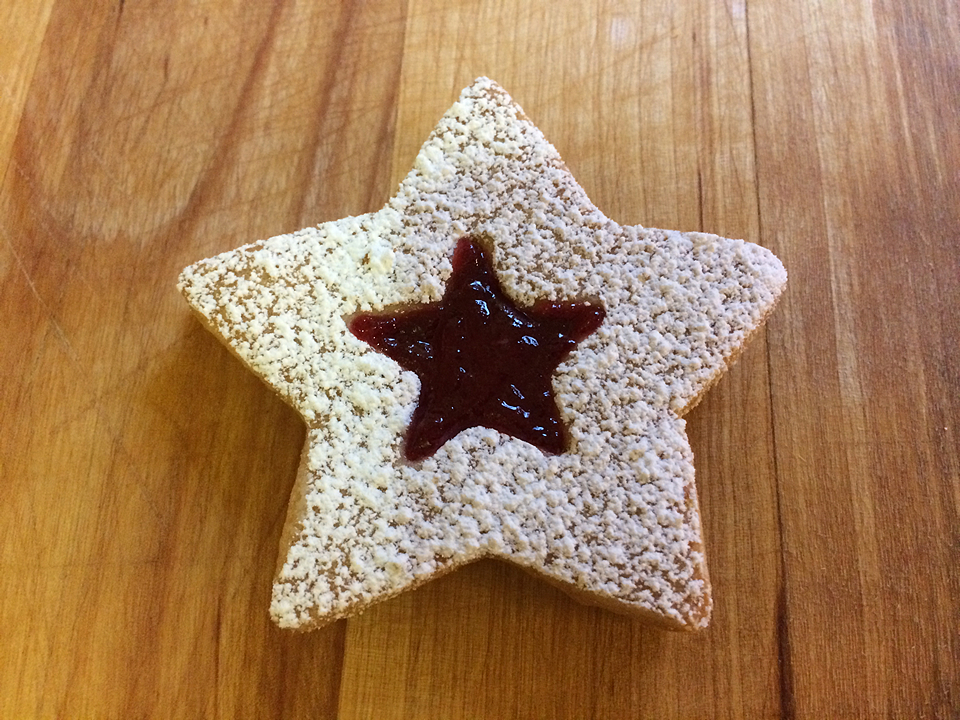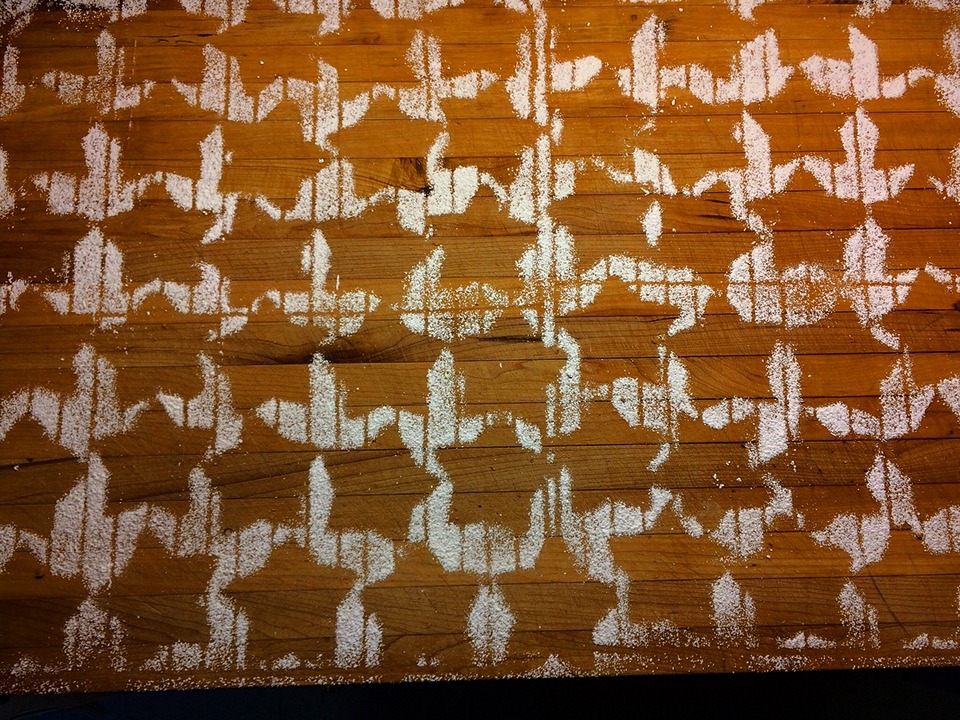 Homemade Christmas Cookies – Day 5
🍪🍪🍪🍪🍪
Linzer Stars. Finely ground almonds figure into in the sweet, tender dough; the filling is made from red currants that I bought when they were in season and preserved in anticipation of this maniacal operation. Why maniacal? Look closely and you'll see that the powdered sugar blankets only the outer section of the star, yet the inner red star shines snow-free. Follow along to see how I do it:
(1) Start with solid backs.
(2) Add preserves around the perimeter but not in the center. (Neatness doesn't count.)
(3) Match tops to bottoms.
(4) Let it snow, let it snow, etc.
(5) Squirt a blob of preserves into the cutout.
(6) Now here comes the maniacal part: For each cookie, use a toothpick to draw out the five points of the star.
(7) Et voilà!
(8) The cookies are complete and packed up. Here's the negative space that was left behind!
⭐️⭐️⭐️⭐️⭐️⭐️⭐️⭐️⭐️⭐️⭐️⭐️⭐️⭐️
HAPPY HOLIDAYS!!!
🎅🎄☃️❄️
---
<!–– --------------------------------marzipan cookies----------------------------------------- ––>
12/14/2017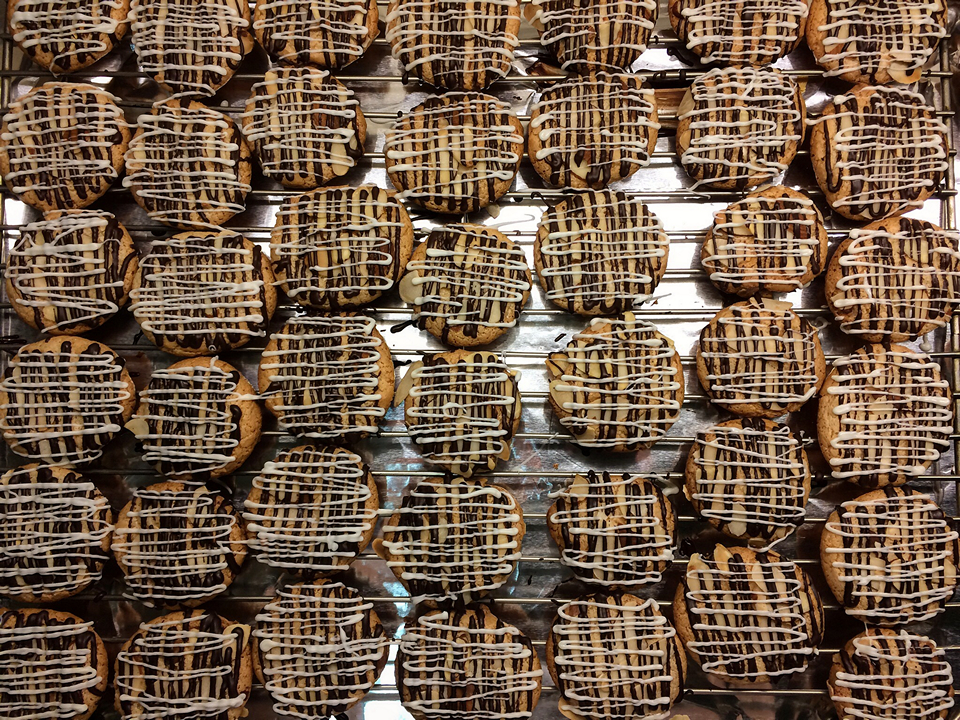 Homemade Christmas Cookies – Day 4
🍪🍪🍪🍪
Marzipan Cookies. Crispy toasted almonds and a double chocolate grid (white and 60% cacao) grace the tops of the chewy marzipan base. Final decorating stage shown here. Stay tuned: more cookies to come!
🎅🎄☃️❄️
---
<!–– ----------------chocolate pecan whiskey balls---------------------------------- ––>
12/13/2017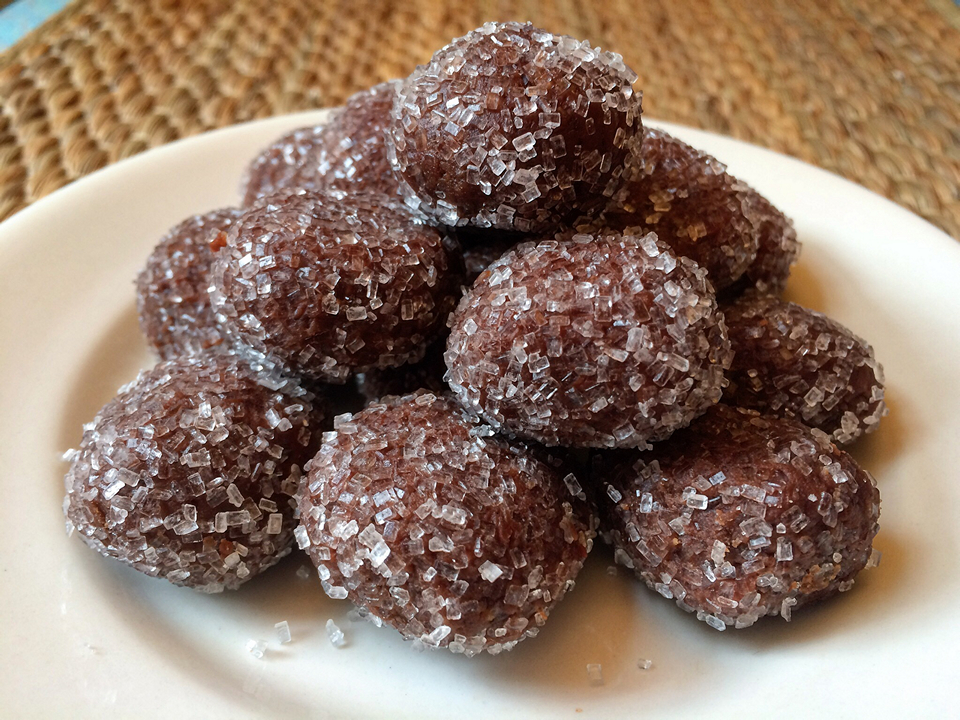 Homemade Christmas Cookies – Day 3
🍪🍪🍪
Chocolate Pecan Whiskey Balls. Named for the chocolate and toasted pecans in them, but especially for the pecan whiskey (yes, it's a thing). Sparkling sugar adds a crunchy, festive touch. Stay tuned: more cookies to come!
🎅🎄☃️❄️
---
<!–– ---------------------biscotti------------------------- ––>
12/12/2017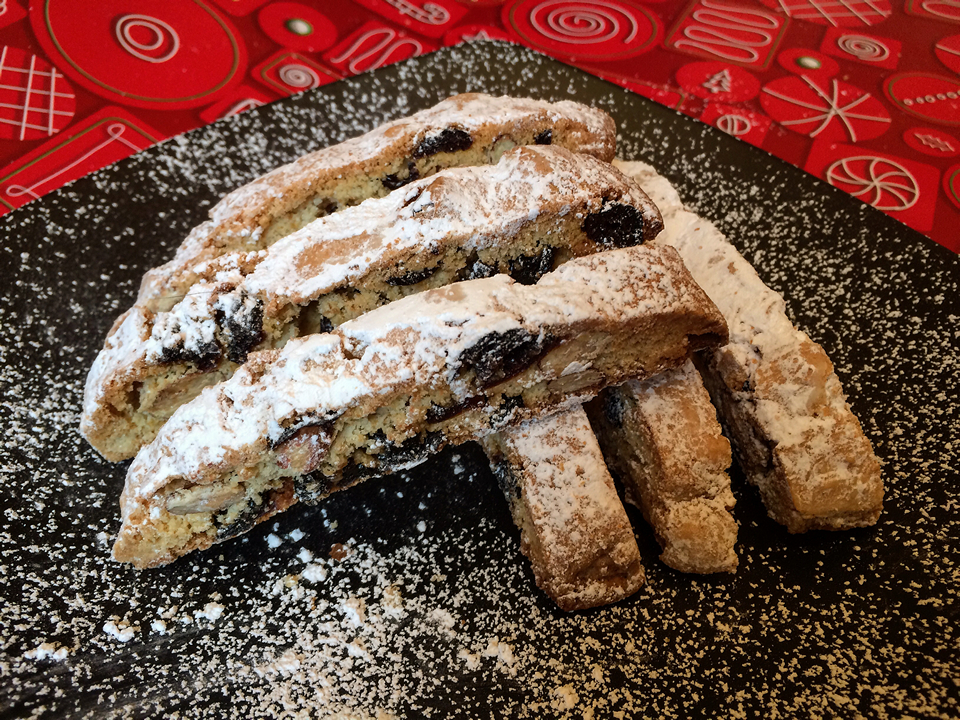 Homemade Christmas Cookies – Day 2
🍪🍪
Biscotti! These twice-cooked treats (aka cantuccini) are laden with toasted almonds and dried cherries that I simmered in Amaretto. Delicious dunked in coffee for breakfast, wine for dessert (as they do in Italy), or cocoa for snowstorms. Stay tuned: more cookies to come!
🎅🎄☃️❄️
---
<!–– ---------------------indonesian judging------------------------- ––>
12/11/2017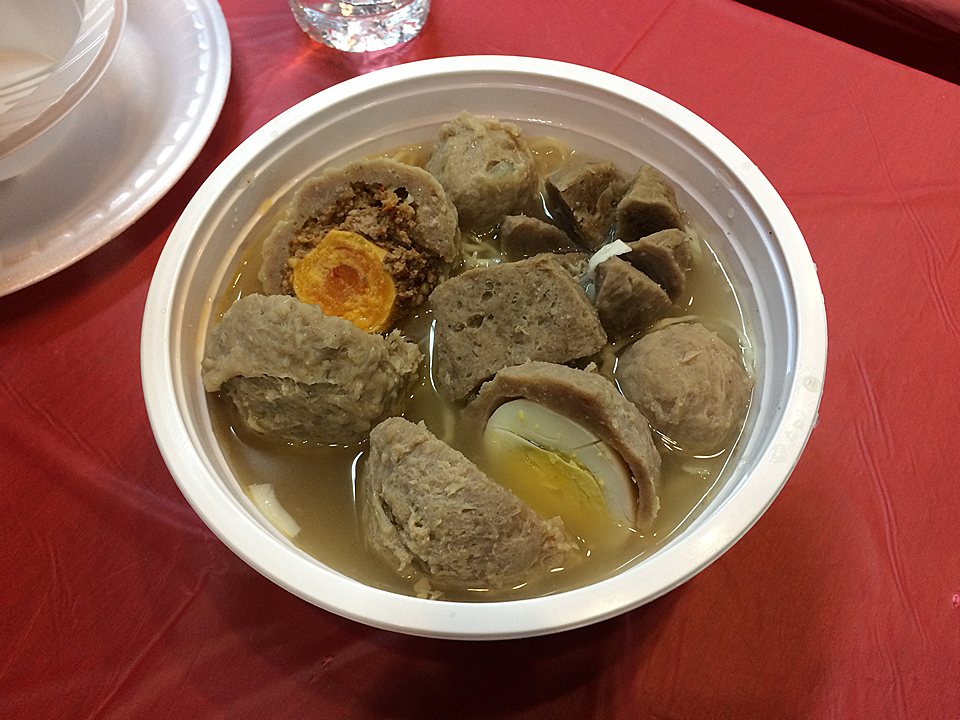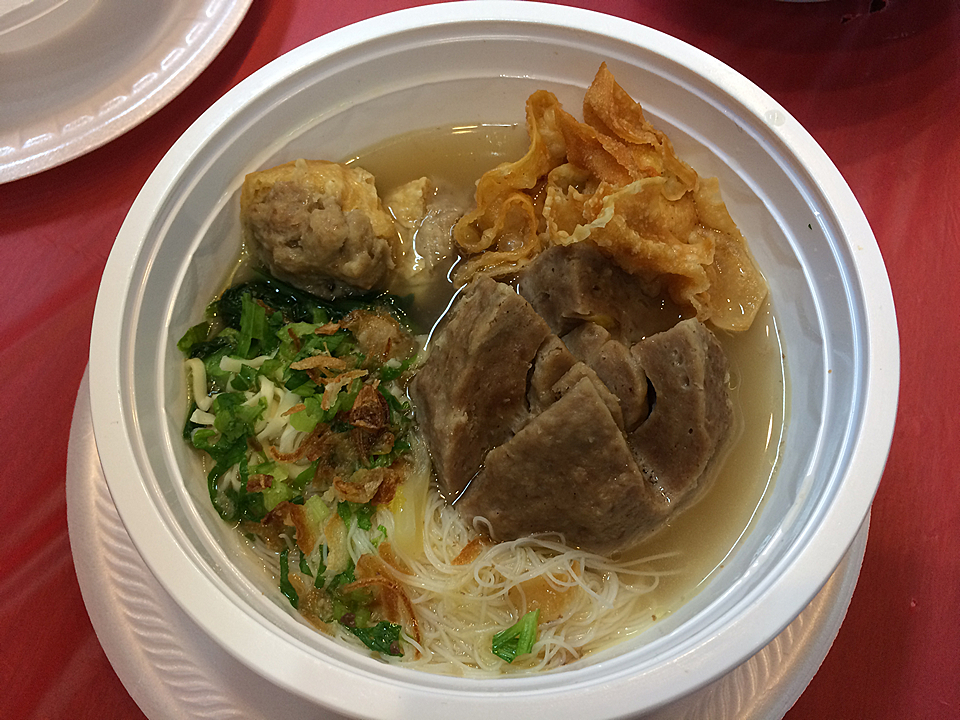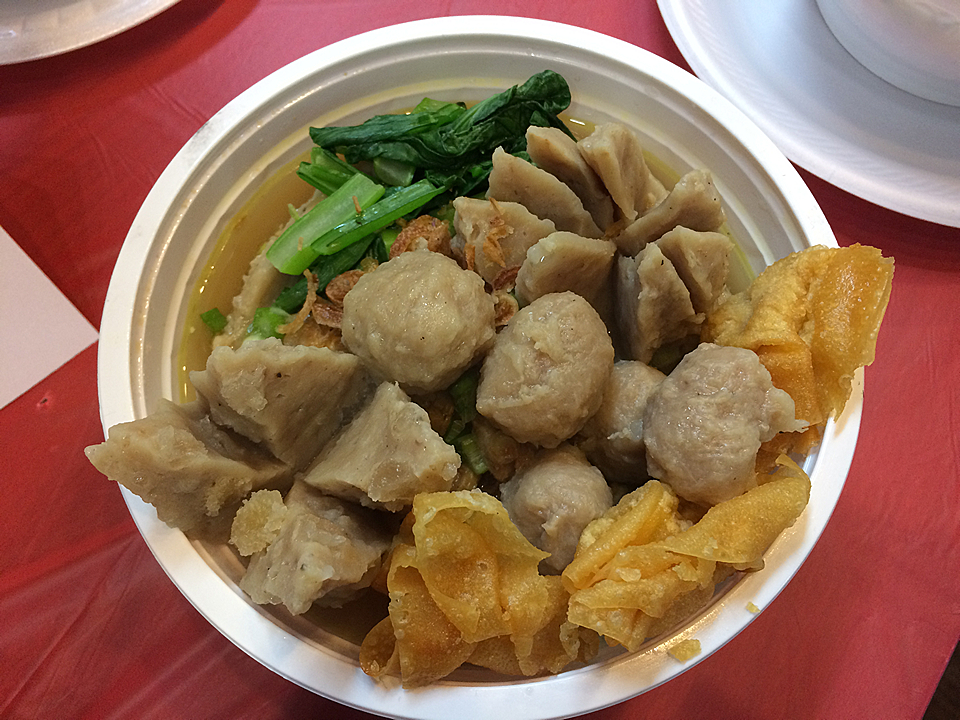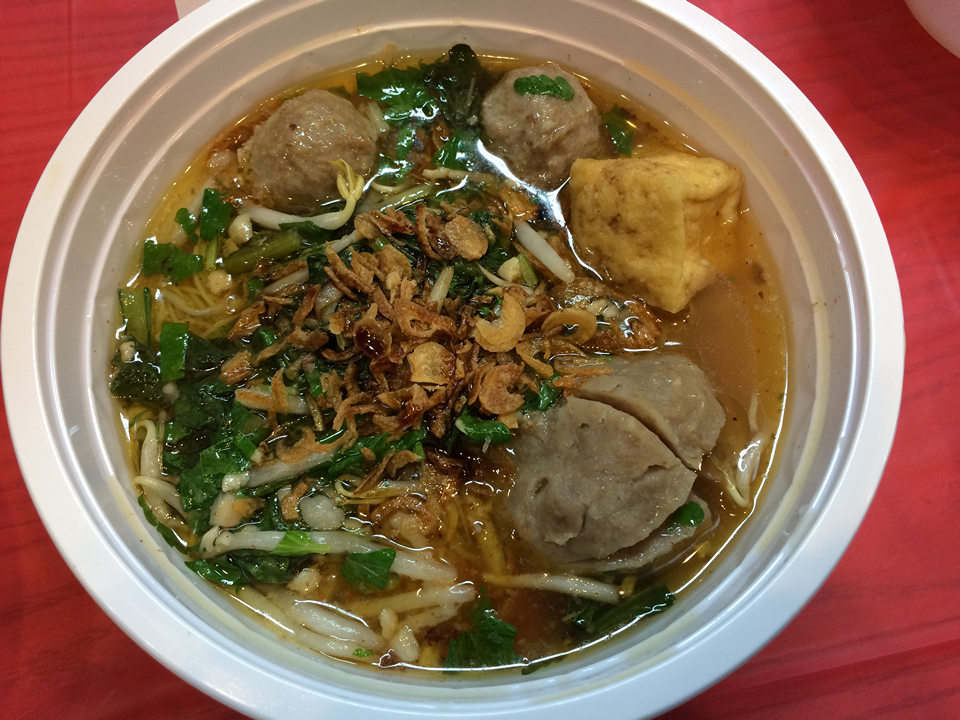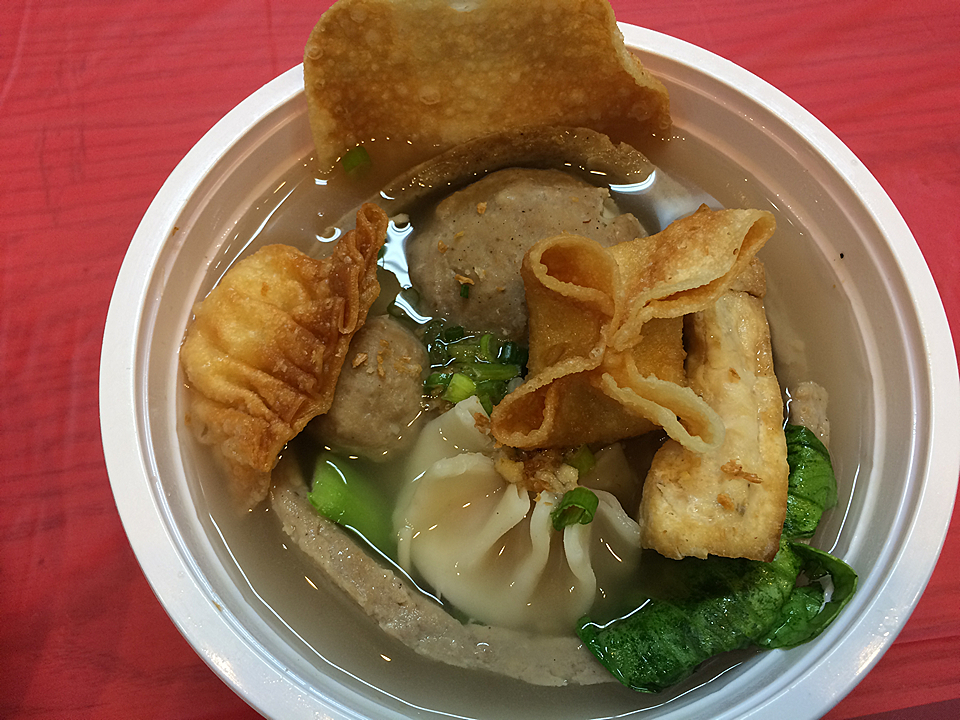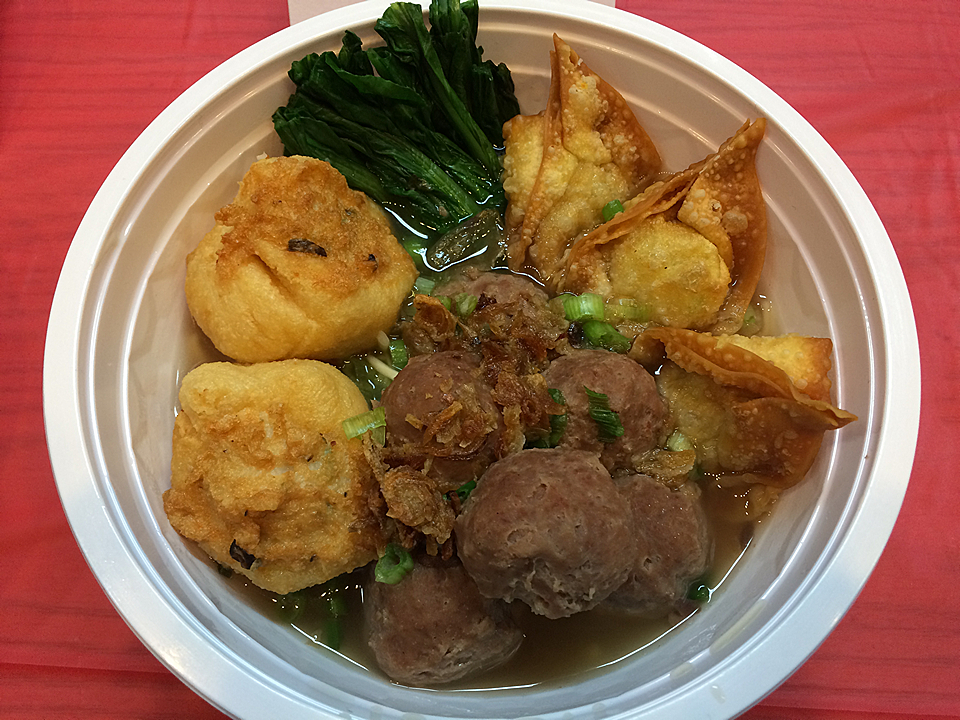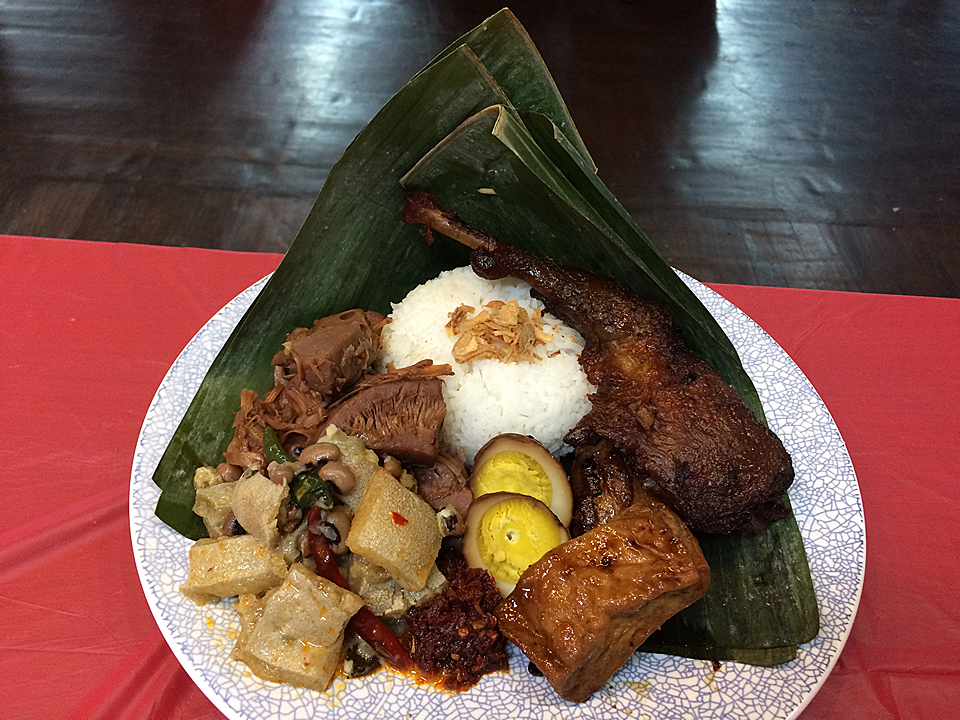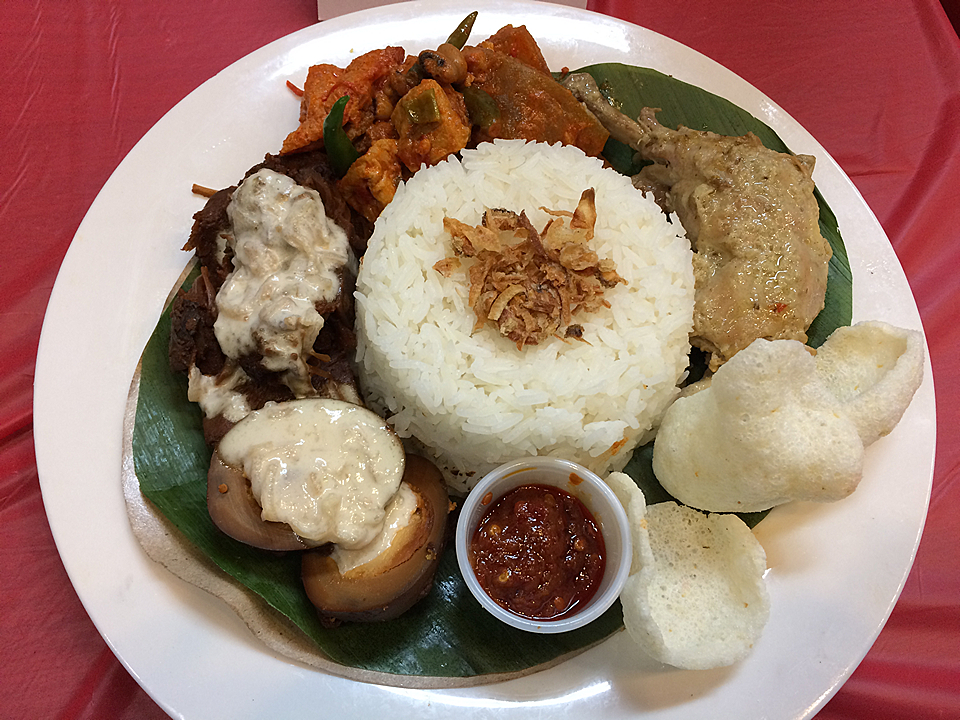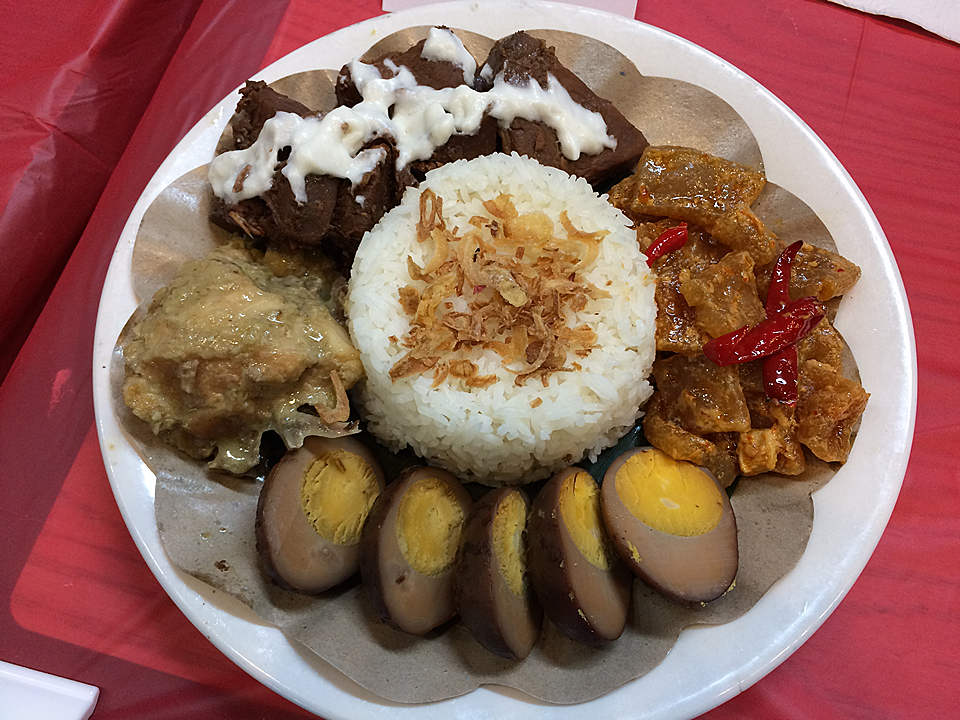 I just had the privilege of being one of the judges for the New York Indonesian Food Bazaar's vendor competition sponsored by the Consulate General of Indonesia at New York. 🇮🇩 We sampled six bowls of Aneka Bakso (soup with Indonesian meat paste balls) – Warung Solo led the pack, photo 3 – and three plates of Gudeg Komplit (a delicious stew featuring unripe jackfruit made with palm sugar and coconut milk accompanied by chicken, eggs, tofu/tempeh, beef skin, and rice, of course) – Pecel Ndeso emerged victorious in this competition, photo 7. Judging was based on flavor, creativity, and presentation. Props to all the contestants!
---
<!–– ---------------------Identity Crisis Cookies------------------------- ––>
12/8/2017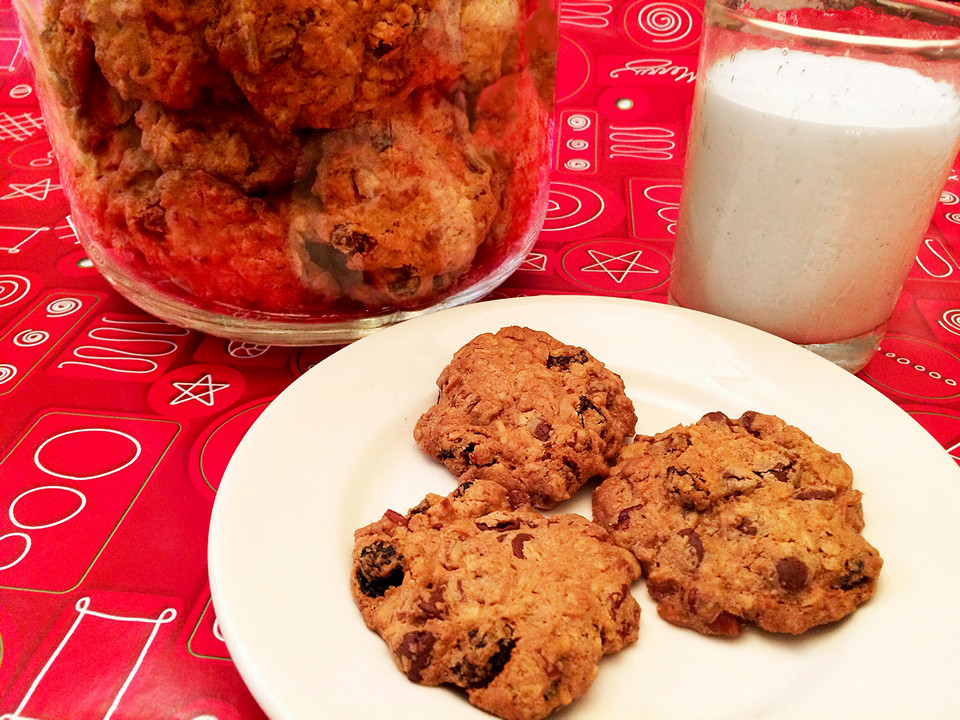 Homemade Christmas Cookies – Day 1
🍪
Identity Crisis Cookies – so named because I couldn't decide whether to make chocolate chip or oatmeal raisin or toasted coconut pecan and since I had all of those on hand…well, you get the picture.
🎅🎄☃️❄️
---
<!–– -------------------------Azerbaijan House------------------------- ––>
12/2/2017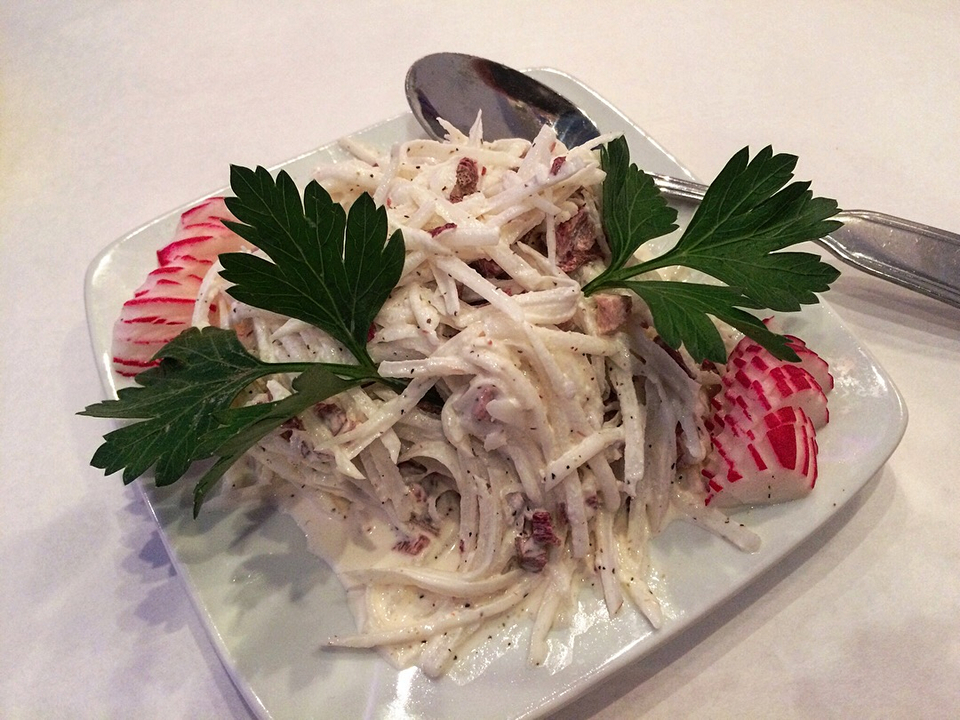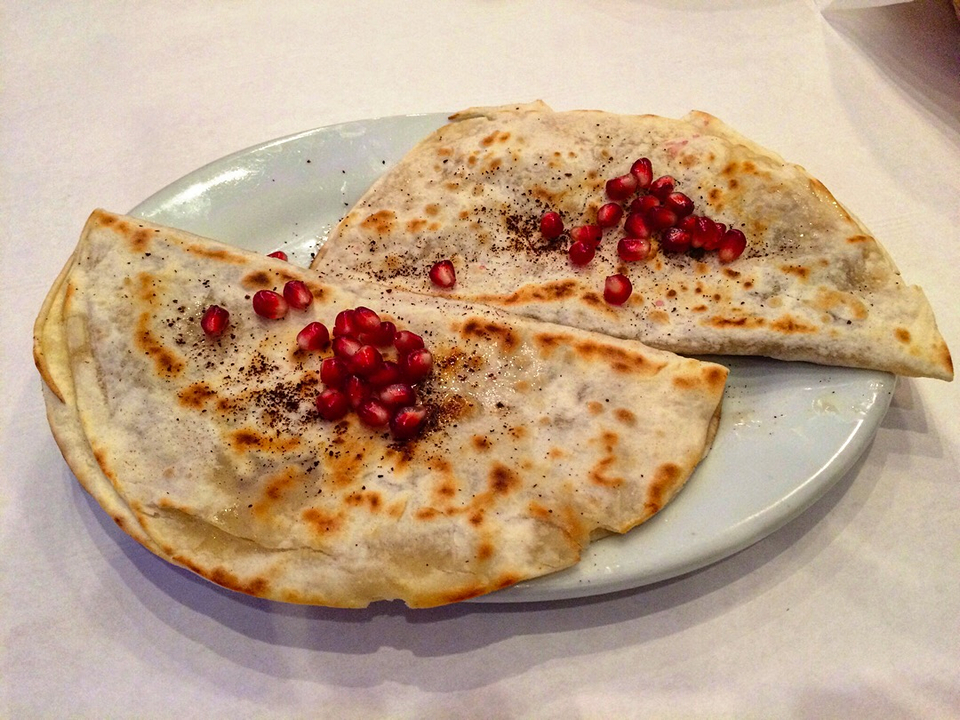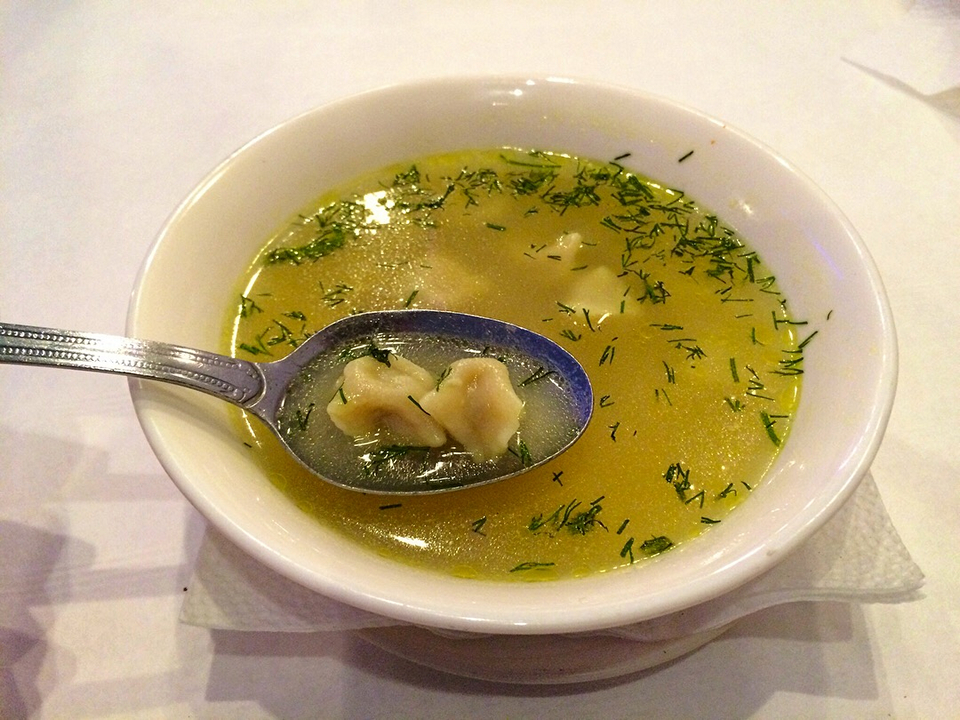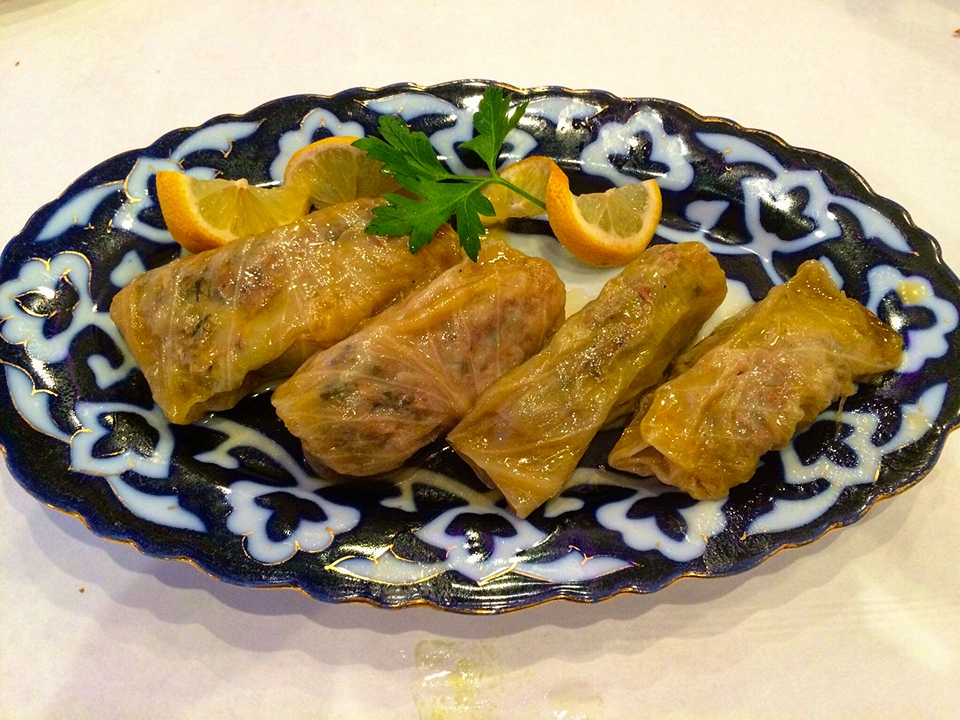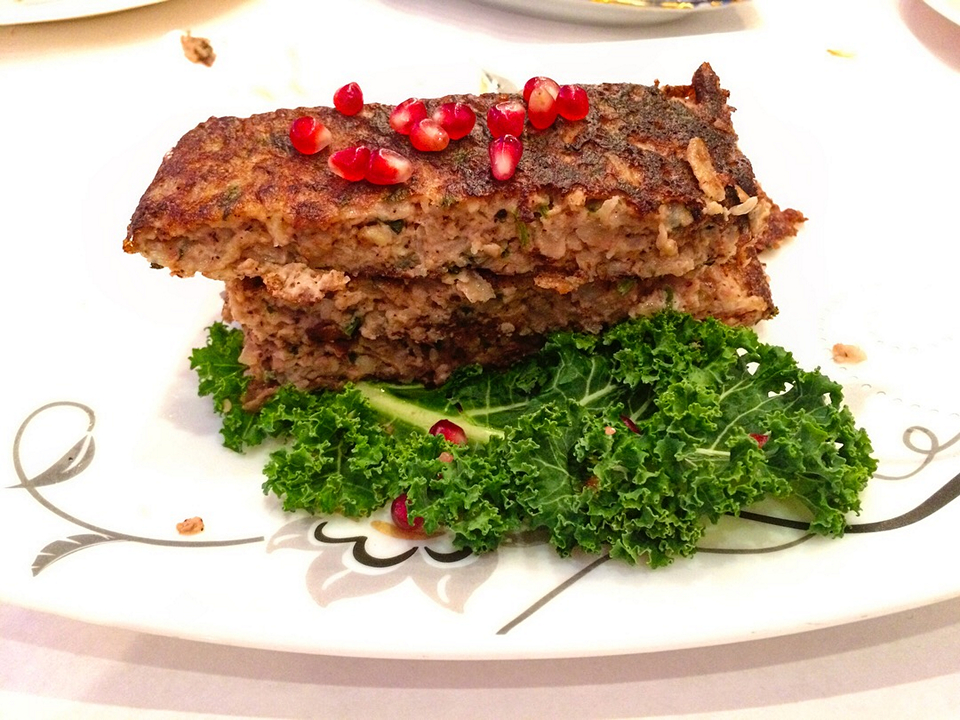 We were in the neighborhood, so we stopped by Azerbaijan House, 2612 East 14th St, Sheepshead Bay, Brooklyn to check out what Mina had cooking. The three of us were in search of a delicious, light lunch and having been there before, we knew exactly what to expect and weren't disappointed.
🇦🇿
Tashkent Salad – boiled beef tongue with daikon and red radish.
🇦🇿
Kutab (aka Qutablar) – I never pass up the chance to order this griddled treat; similar to a crepe, it's filled with meat, folded in half, dressed with pomegranate, and always tasty.
🇦🇿
Düşbərə – The menu describes them as homemade ravioli, but you might know them as the mini version of manti, delicious little dumplings served here in soup.
🇦🇿
Stuffed Cabbage
🇦🇿
Kükü – a thick pancake made with potato, onion, egg, greens and nuts; real homespun flavor!
---
<!–– -------------------------Luda's Dumplings------------------------- ––>
12/1/2017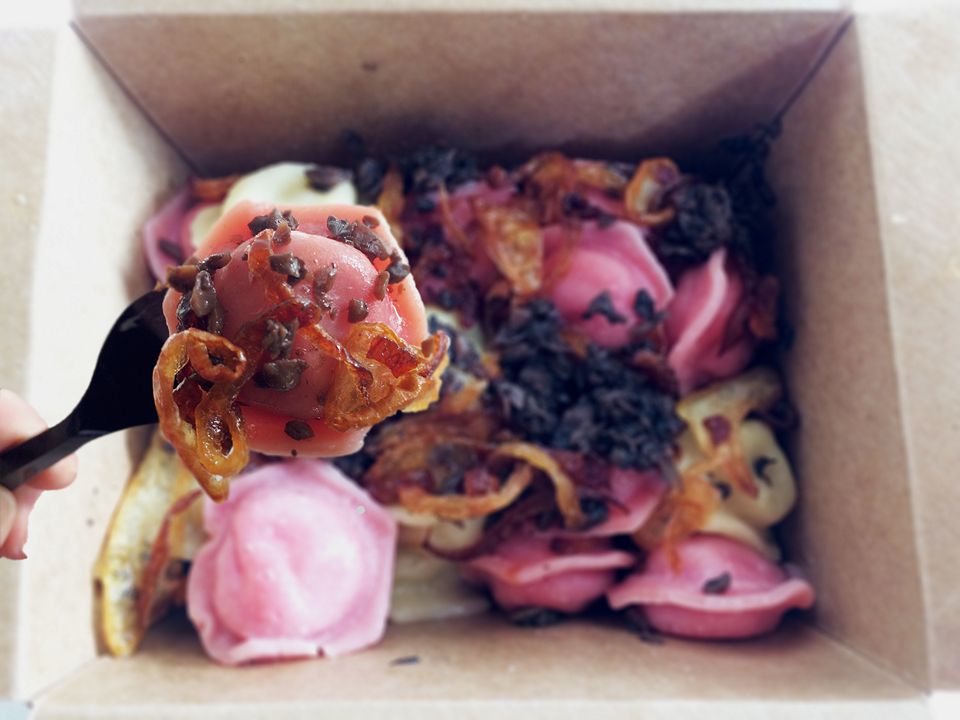 Dumplings!
🥟
The spirit springs from Eastern Europe but the spin is straight outta Brooklyn. We ordered the Wild Shrimp (made with parmesan and ricotta), roseate hue courtesy of beet infused dough, and the Classic (pork, beef and onion) because if you're doing a tasting of anything, always start with the classic. Adorned with our choices of fried onions and bits of roasted mushrooms, Luda's Dumplings also offers seven other toppings (including 🥓 bacon!) and even more sauces.
🥟
In addition to these perfectly delicious pelmeni, Luda's Dumplings, 3371 Shore Pkwy, Sheepshead Bay, Brooklyn serves four other varieties including chicken breast, spinach & cheese, loaded potato, and sweet cheese (in a chocolaty dough). Four more reasons for me to go back!
h/t Dave Cook @eatingintranslation
---
<!–– -------------------------Private Kitchen 5------------------------- ––>
11/29/2017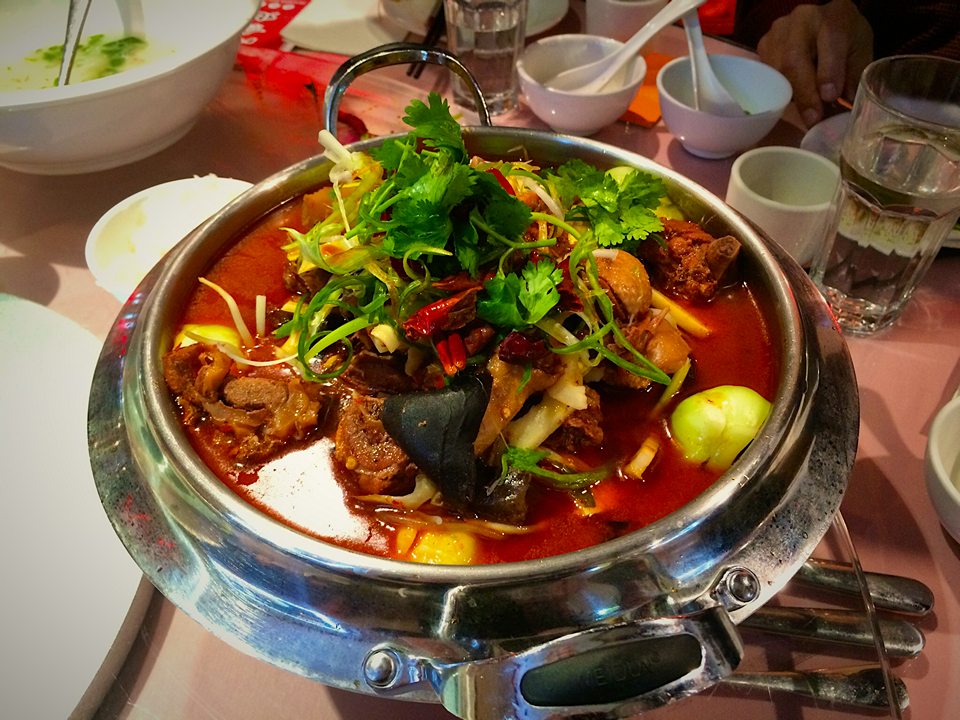 "Braised Duck and Bamboo Shoots with Special Beer Sauce" is the way the menu describes it, but I've always seen it simply as "Beer Duck". Braising any meat long enough will render it languorous and defenseless against your chopsticks and choppers but the beer only helps to further tenderize the duck (not to mention adding a piquant flavor). It's a dish worth trying if you've never done so, and Private Kitchen at 36-35 Main St, Flushing, Queens does it rather well. Bamboo shoots, bok choy, and a bit of spice were the other significant components. Wish I had more of those steamed bao to soak up the extra sauce. Or perhaps a straw.
---
<!–– -------------------------Private Kitchen 4------------------------- ––>
11/28/2017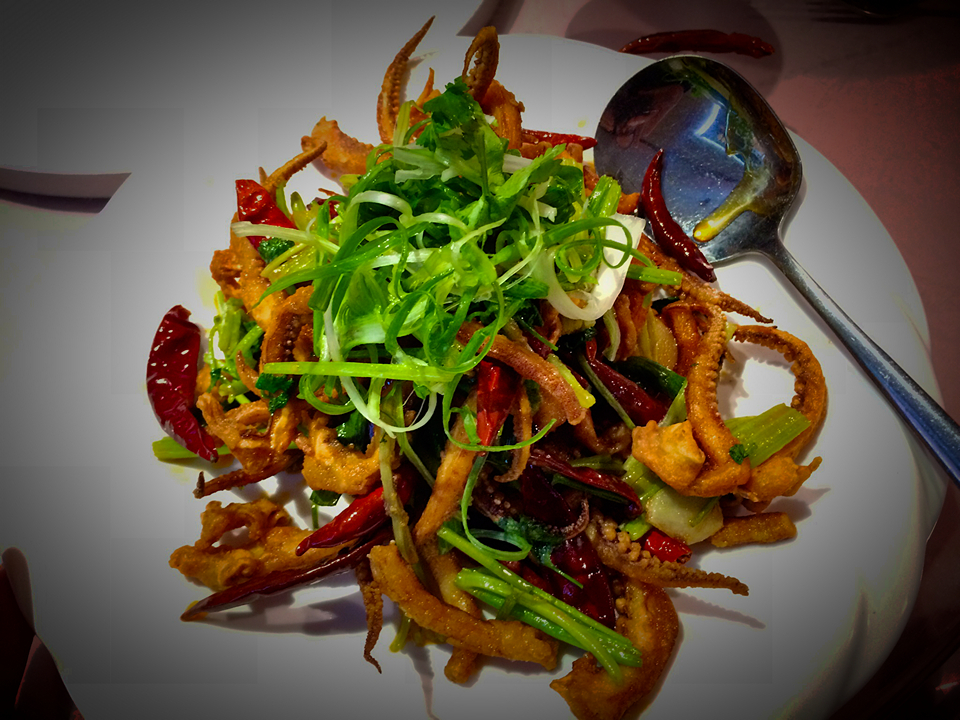 True story from the day we went to Private Kitchen, 36-35 Main St, Flushing, Queens:
🦑
I tasted one. "Oh, man! These Dry Stir Fried Squid Tentacles are bangin'!" That's all I said. That's all that needed to be said. The rest was an ecstatic blur.
---
<!–– -------------------------Private Kitchen 3------------------------- ––>
11/27/2017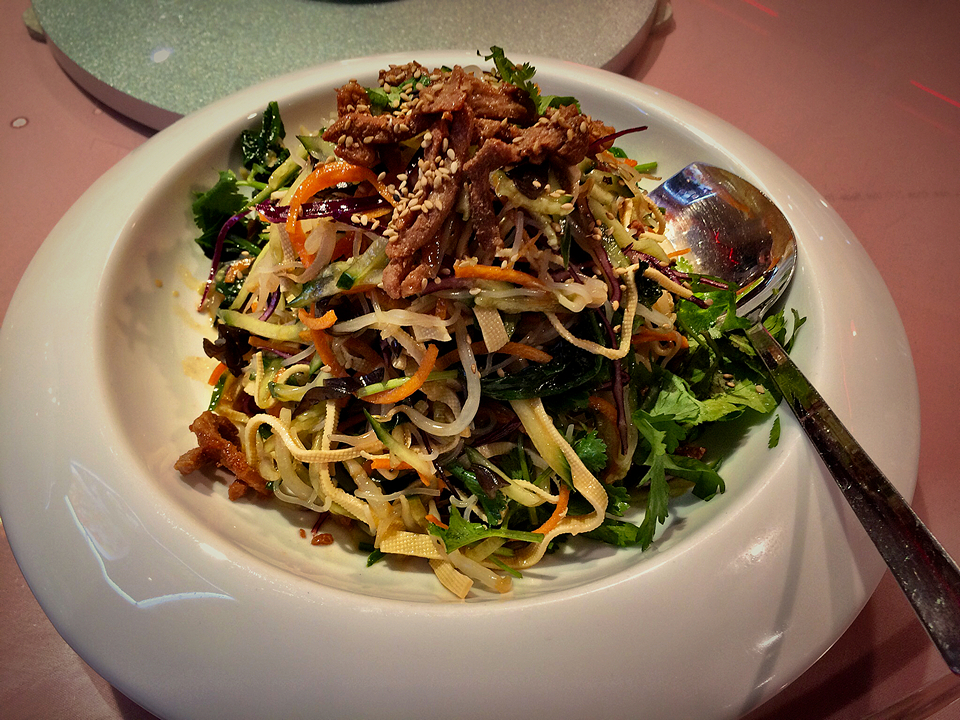 This delicious appetizer is Grandma's Mixed Cold Dish and oh, how I wish my grandma could have cooked like that! Easily one of the most appreciated items that we ordered, it's at the top of my list for the next time I bring a group to Private Kitchen, 36-35 Main St, Flushing, Queens.
---
<!–– -------------------------Private Kitchen 2------------------------- ––>
11/25/2017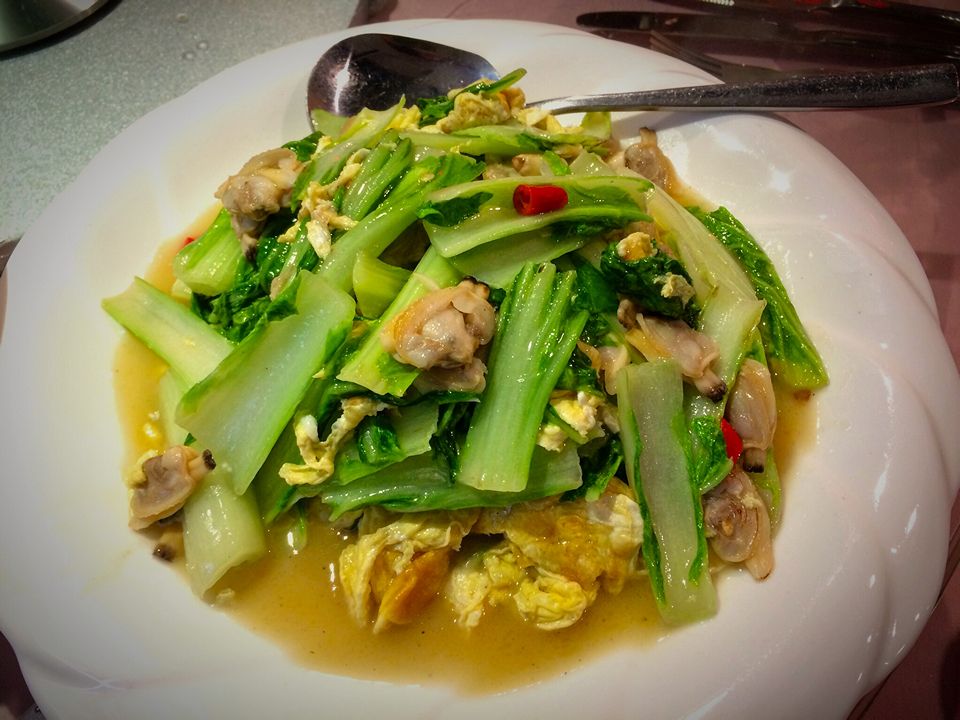 Another tasty dish from our feast at Private Kitchen, 36-35 Main St, Flushing, Queens and one you don't see everywhere: Clams and Baby Bok Choy with Scrambled Eggs (find it in the Vegetables section of the menu). Simple yet satisfying, almost comfort food.
---
<!–– -------------------------Private Kitchen 1------------------------- ––>
11/22/2017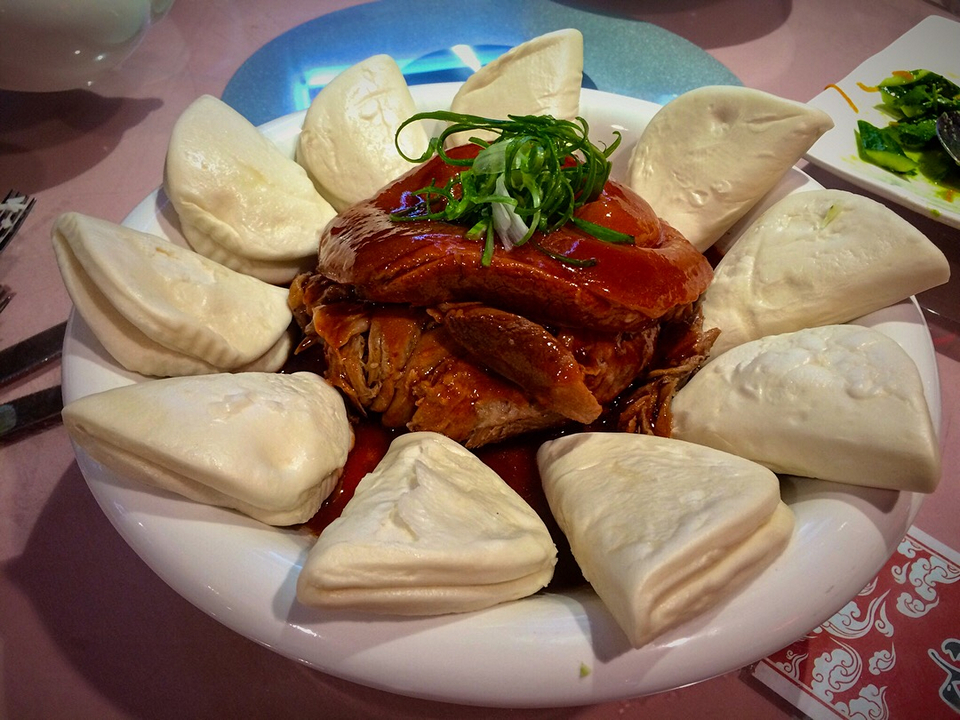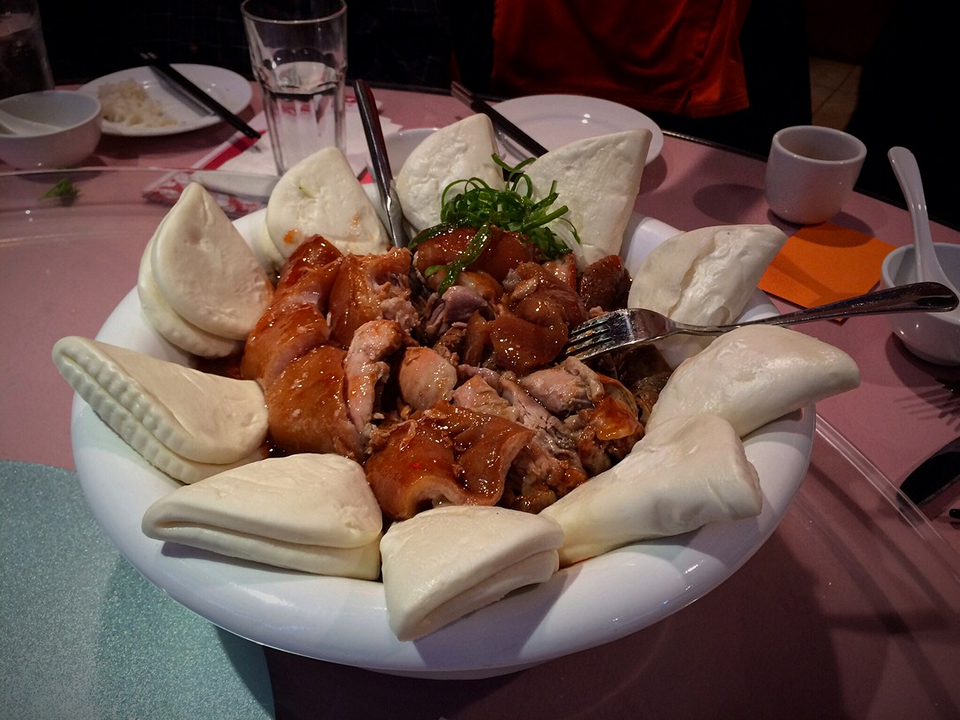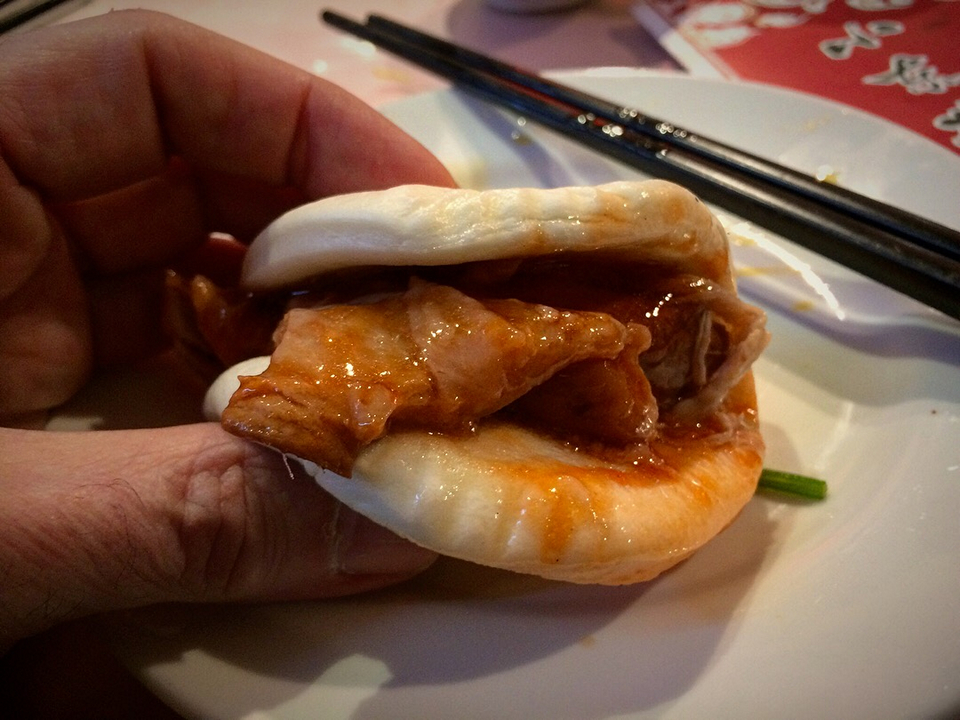 Taking a break from Thanksgiving cooking to give thanks for the exquisite cooking at Private Kitchen, 36-35 Main St, Flushing, Queens. You're going to hear a lot more about this place – trust me. Just one dish for today's post but in four views:
(1) Tempting Braised Dongpo Style Pork Shoulder, a red cooked Hangzhou dish served with airy steamed bao, garnered murmurs of anticipation 🤤 from our eager group…
(2) …as the warming flame 🕯️ beneath the serving dish glowed with the promise of lusciousness.
(3) After being expertly carved 🔪 by our server…
(4) …we rolled our own: a little bit of meat and a little bit of fat yielded a big bite of rich flavor. 😋
---
<!–– -------------------------Panettone------------------------- ––>
11/20/2017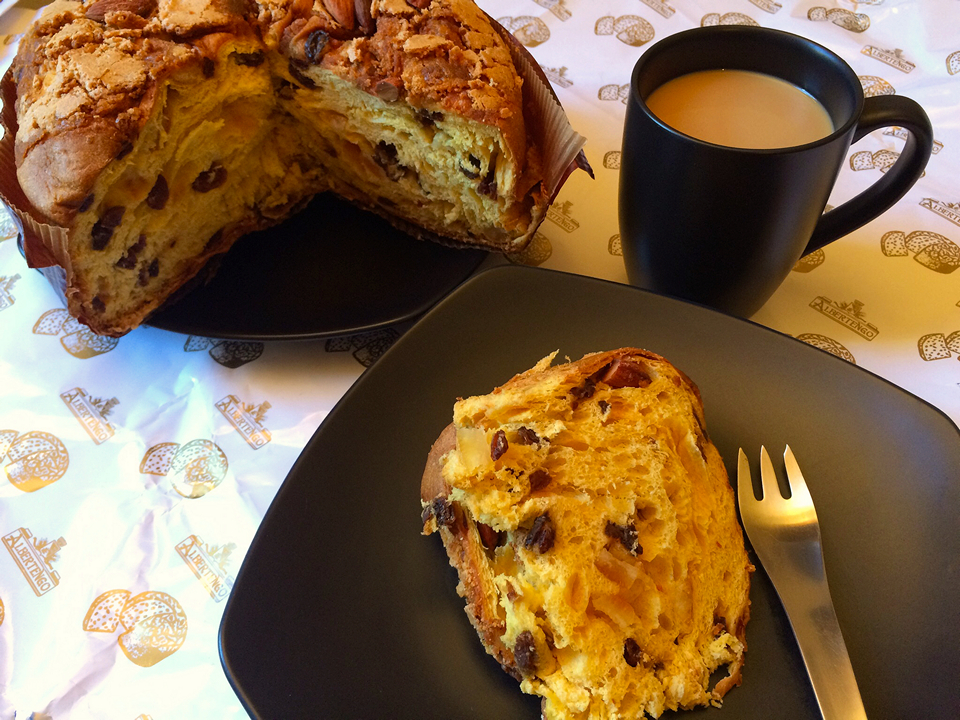 You all know about panettone, right? That Italian (Milanese, specifically) sweet, fruity, fluffy cake that's usually consumed for the holidays (Christmas, specifically) but can be enjoyed year-round by ardent aficionados (me, specifically). And Thanksgiving isn't too soon to buy the first one of the season, amirite? The trick is to determine which brand and style you like the best.
🇮🇹
Over the years I've eaten my way through a considerable assortment of these treats (watch for my story on ethnojunkie.com) and I've found what I consider to be the very best: Albertengo brand Panettone Tradizionale Glassato (traditional glazed) – but they're almost impossible to find in New York. So I wrote to the nice folks at Albertengo in Italy in buoyant English and foundering Italian and they turned me on to the one place in the city that stocks the stuff: Nicola's Specialty Foods at 997 First Avenue in Manhattan.
🇮🇹
So having bought one (for starters 😉), I thought I'd share a photo of today's breakfast: la colazione dei campioni!
---
<!–– -------------------------Roast Beef Sandwich------------------------- ––>
11/17/2017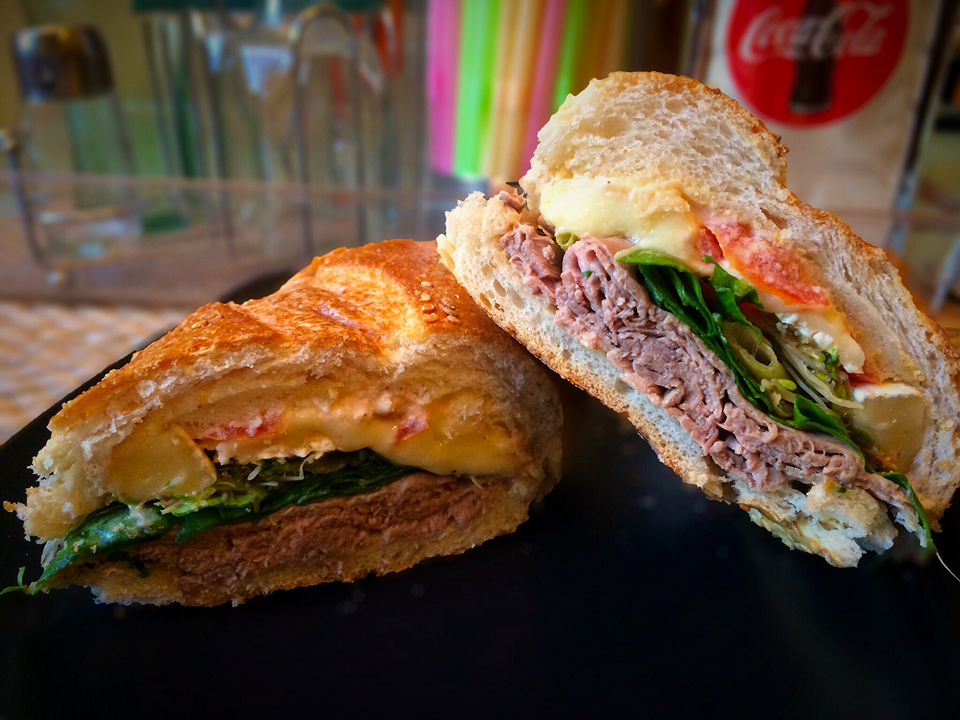 I was just writing to a friend about how I'm in the throes of Thanksgiving cooking and baking. Seems like I get a little more ambitious each year, adding something new here or there, finding more stops to pull out; the meter's not on "totally overwhelmed" yet, but it's getting there.
So what can I make for dinner that isn't a time sink when I'm up to here (my hand is under my chin) with work in the kitchen? Easy. My favorite sandwich: oven-toasted, buttered Italian bread with roast beef, melted brie de meaux, arugula, watercress, scallions, alfalfa sprouts, sliced tomato, and most important, my signature slightly smoky, trifle tomatoey, heavily horseradishy sandwich spread.
If anyone were ever to name a sandwich after me, it should be this one.
---
<!–– -------------------------Old Tbilisi Garden------------------------- ––>
11/13/2017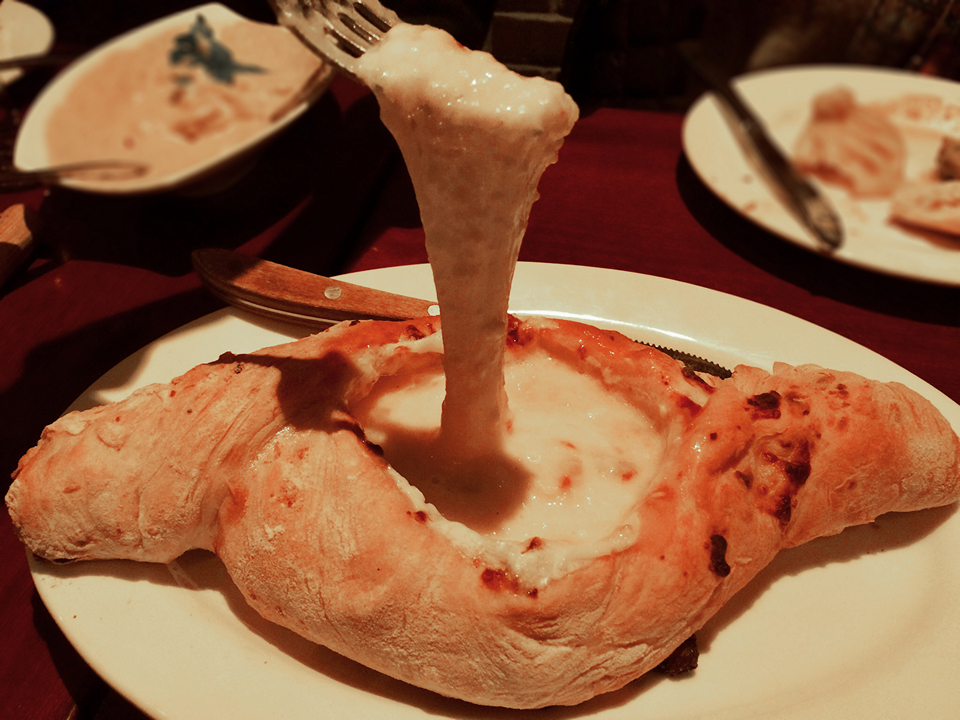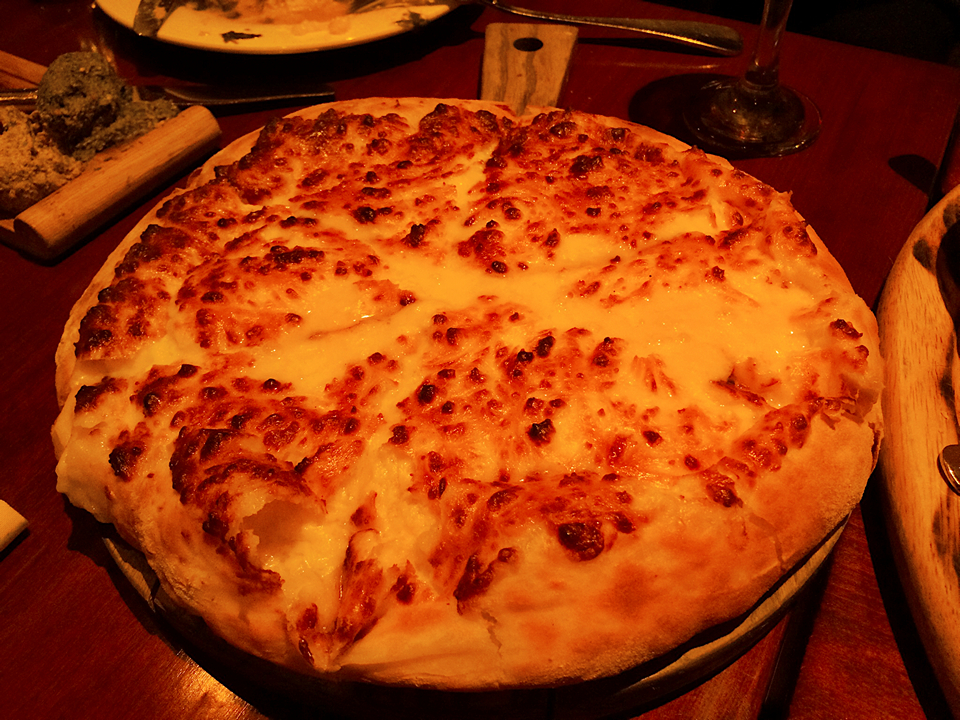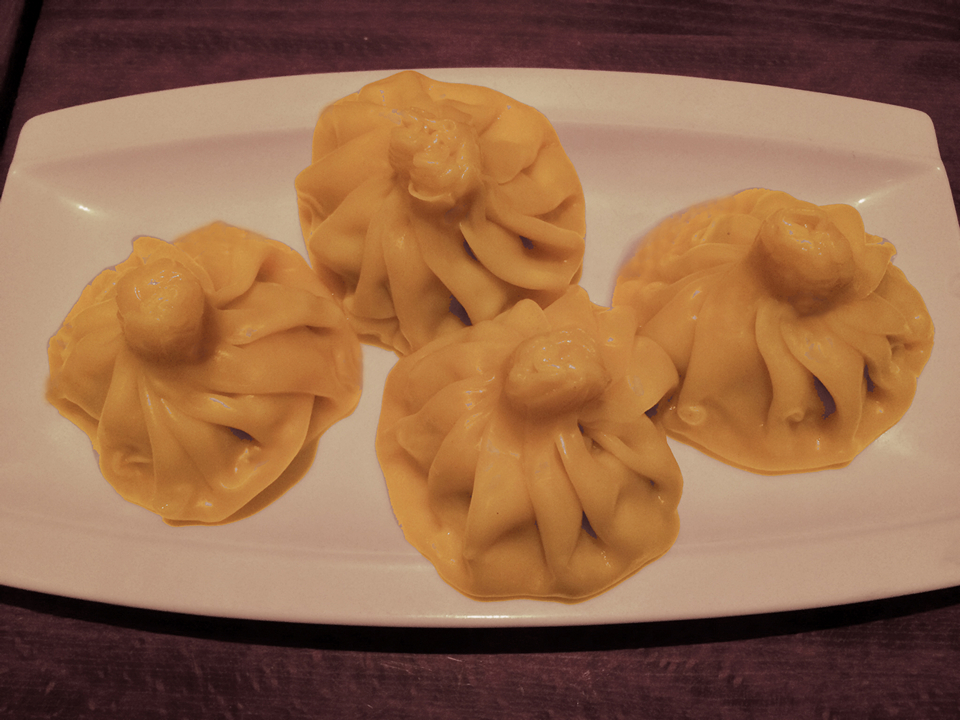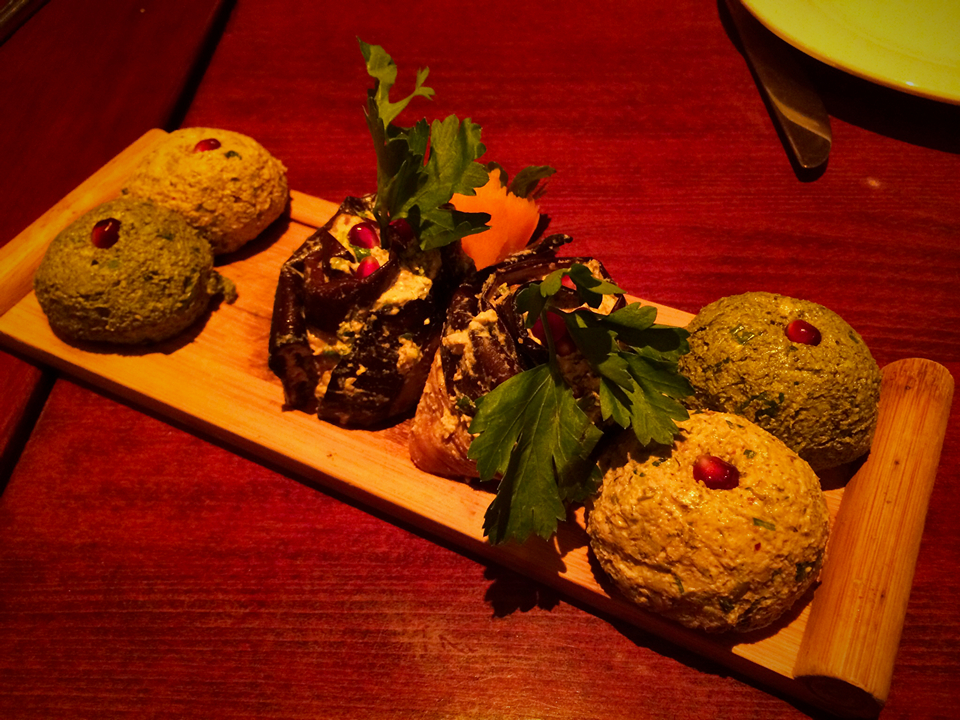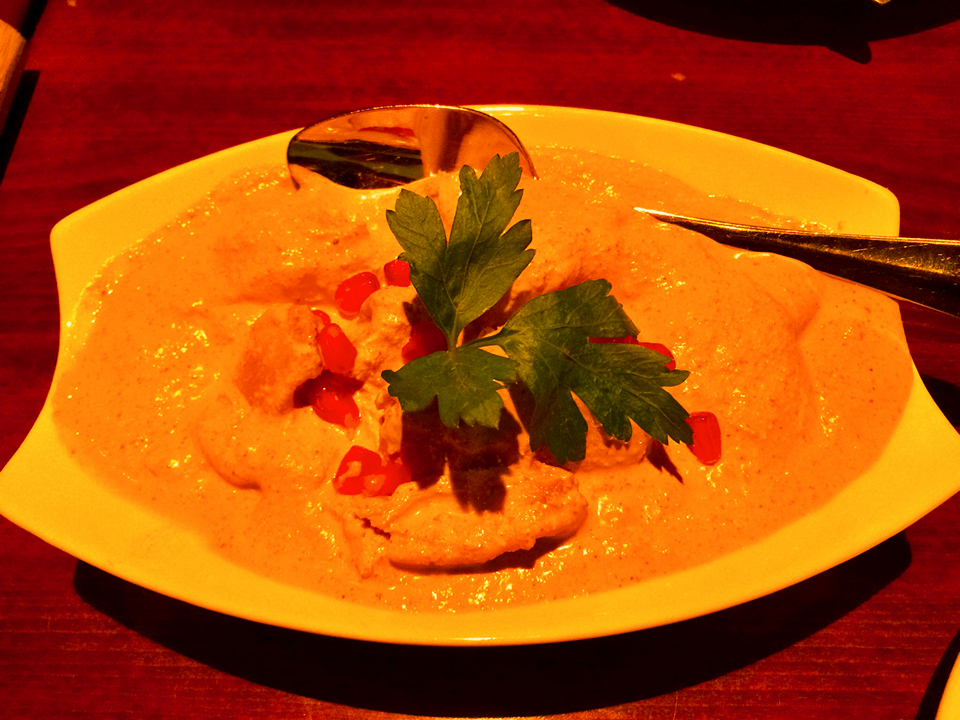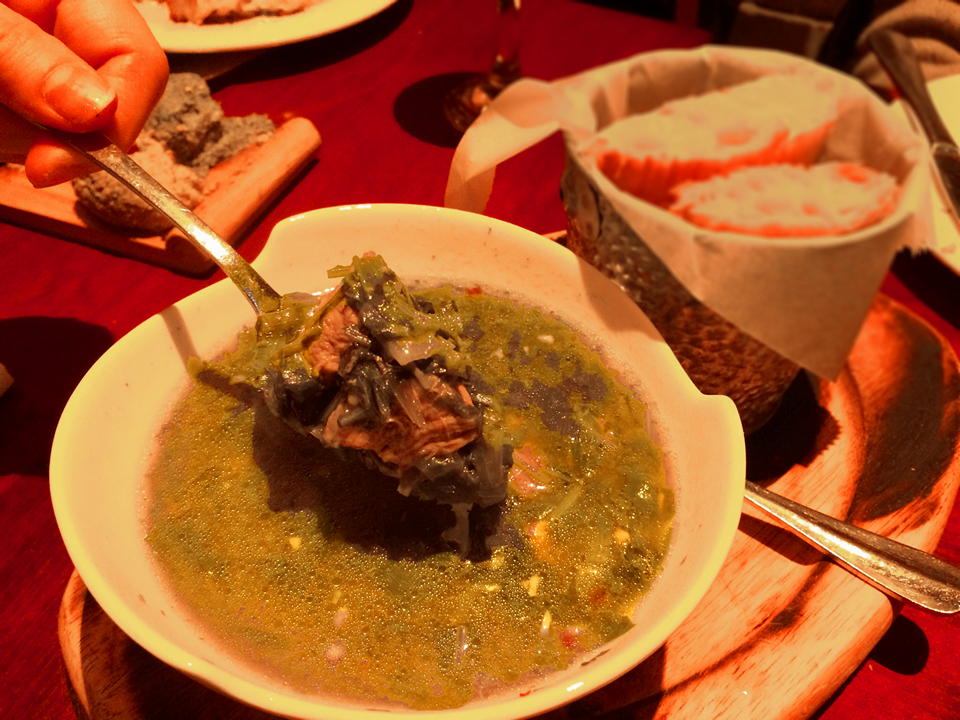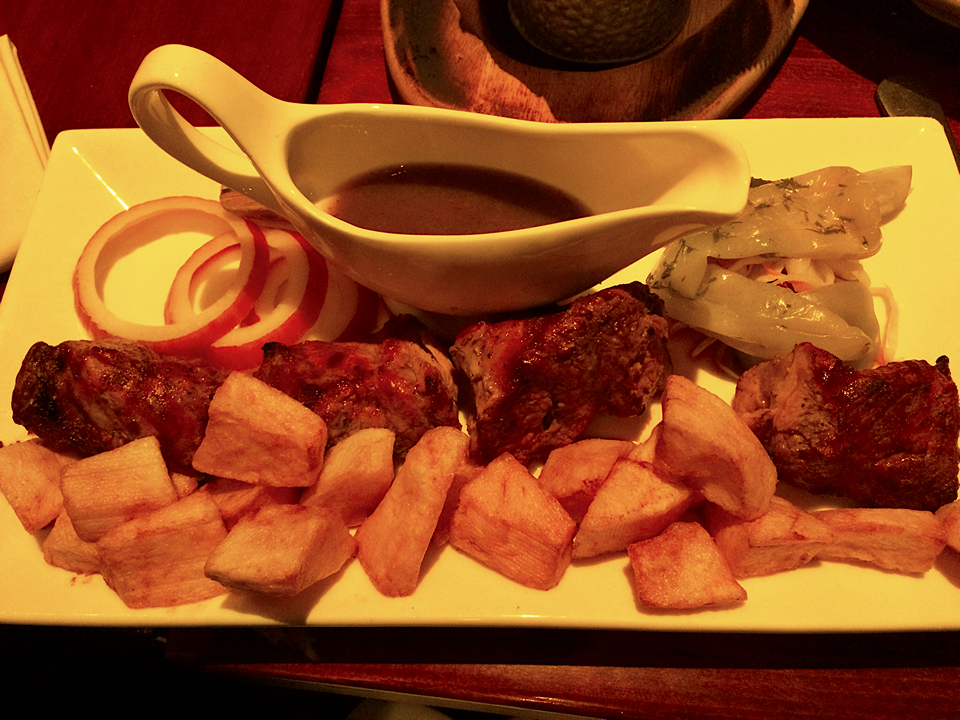 It seems like there's a proliferation of Georgian restaurants and bakeries (no, not the US state "Georgia" but rather the Former Soviet Union country "Georgia") around New York City these days, and I, for one, am thrilled about it. Our feast at Old Tbilisi Garden, 174 Bleecker Street, Manhattan hit the heights but only scratched the surface of this wonderful cuisine.
Of course, we ordered adjaruli, one of the many varieties of justly famous Georgian khachapuri (literally "cheese bread"). Kayak shaped and filled with two kinds of melted cheese, butter and an egg, the ingredients are stirred together to create stretchy, cheesy nirvana; always a crowd pleaser.
And then, for contrast, we got megruli, cheese bread filled with cheese and then topped with more cheese and baked. Did I mention cheese? Think Georgian pizza.
Khinkali – despite the resemblance, these are definitely NOT soup dumplings. Just grab one by its topknot and bite into its savory lamb filling. So good!
The Pkhali Trio fulfilled the vegetable requirement of our meal: spinach, eggplant, and green bean spreads served with Georgian bread.
Bazhe, a Georgian walnut-garlic sauce, was a perfect complement to succulent chicken.
Chakapuli is lamb stew in white wine sauce spiked with tarragon, an herb that figures significantly into the cuisine – and even soft drinks like tarkhun!
And no Georgian meal would be complete without skewers of savory tender marinated lamb with tkemali sauce. 😋
---
<!–– -------------------------Belarussian Xata------------------------- ––>
11/11/2017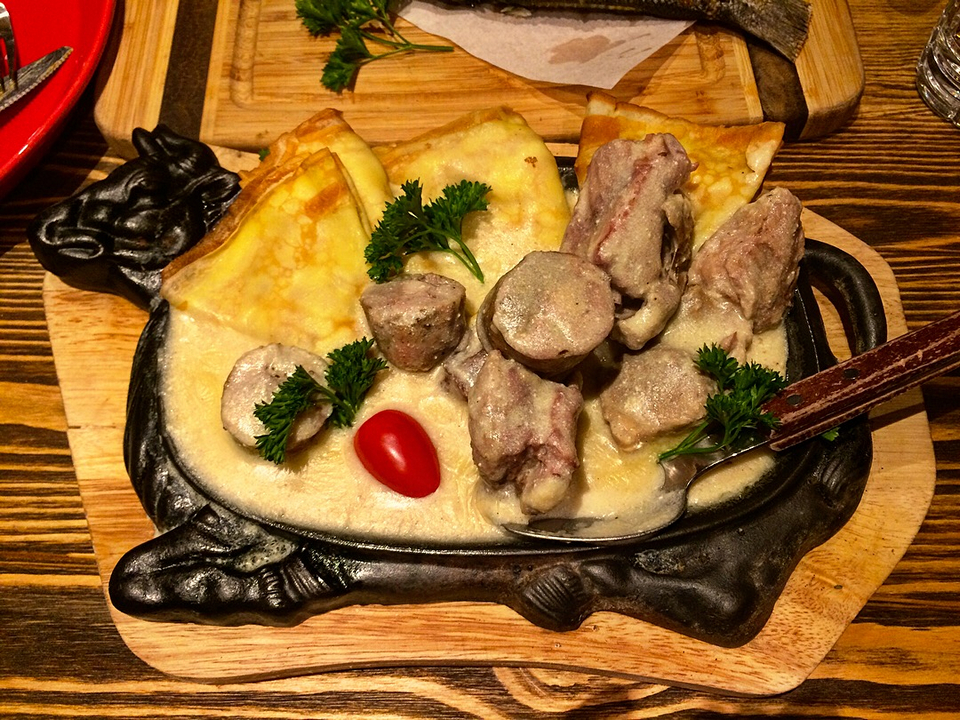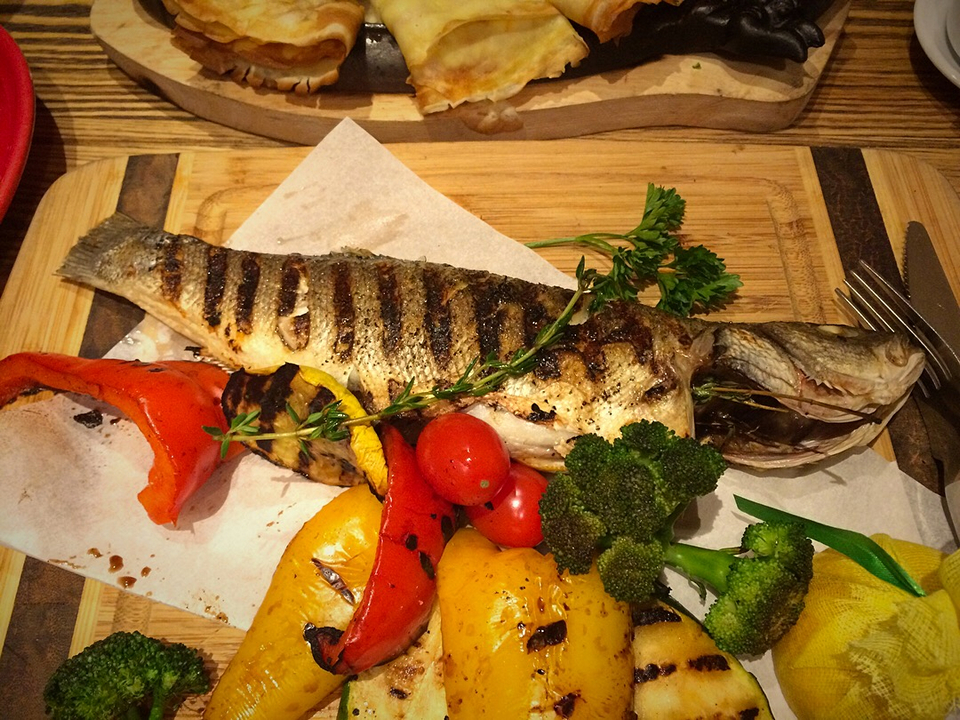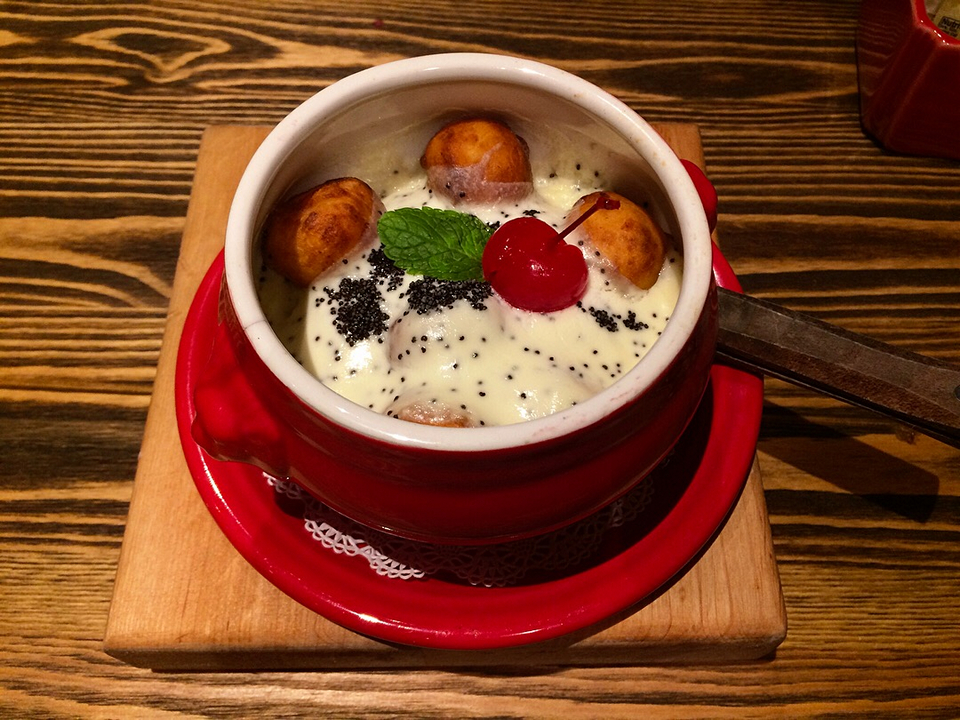 Belarussian Xata – Part One (because I need to go back – yes, it's worth doing again). Located at 1655 Sheepshead Bay Rd, Brooklyn, it's currently New York City's only Belarusian 🇧🇾 restaurant and I'm grateful for it. Xata means "cottage" and the memorable décor strives for authenticity (I'm assuming this: I know food, not interior design 😉). The staff is attentive and helpful; since Belarus is Russia's neighbor and was once part of the Former Soviet Union, there's a lot of cross-pollination between the cuisines but if you're a purist like me they're happy to point out Belarusian specialties.
The appetizer "Village Style" sets out three different kinds of salo (fatback, not unlike Italy's lardo): plain, smoked, and Hungarian style, served with chunky fried potatoes and greens. So that you're not just eating unadulterated fat, I recommend constructing each forkful with a bite each of salo, potato or bread, one of the greens, and a bit of mustard. Highly enjoyable.
Machanka, a traditional Belarusian specialty featured three kinds of pork – sausage, ribs, and a cut of meat – in a delicious creamy gravy that reminded me a little of veal blanquette but on steroids. All of the meats were wonderfully tender. (You have the option of ordering the dish with either blini or potato pancakes.)
We also got the grilled branzino with vegetables, not a Belarusian dish, but one of us was craving fish! The kitchen did a good job here as well.
Dessert was warm Orshanskie ("сырники оршанские в чугунке", literally Orsha cheese pancakes in a pot, Orsha being a city in Belarus), mini cheese balls with a few raisins added for good measure bathed in a sweet sour cream and poppy seed sauce. Surprisingly good!
I'll do another post on Belarussian Xata after a return visit; stay tuned!
---
<!–– -------------------------Bhanchha Ghar------------------------- ––>
11/7/2017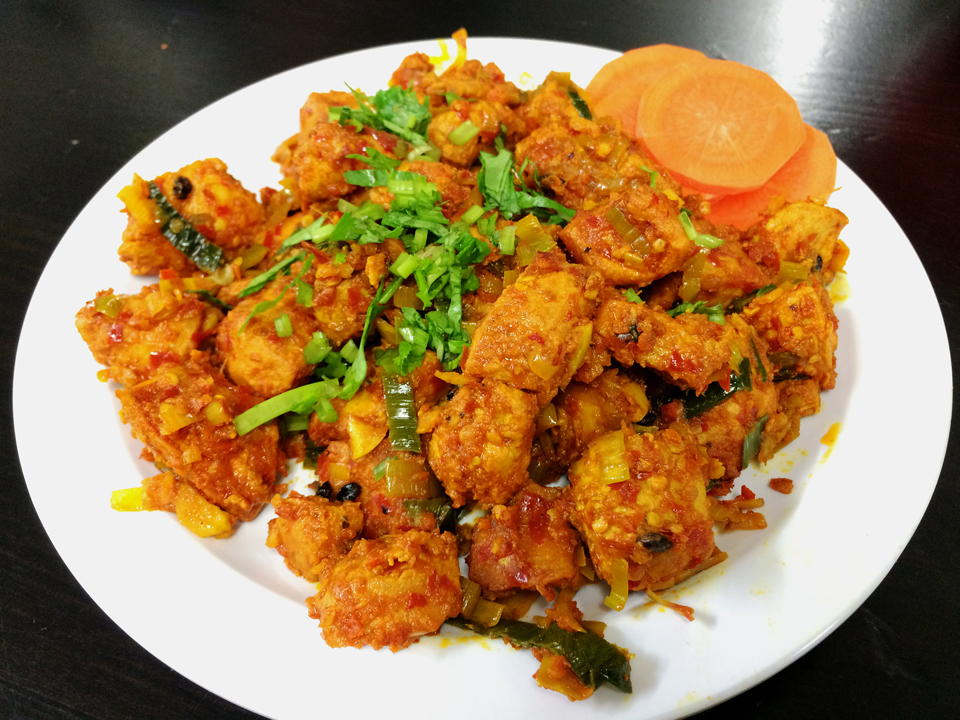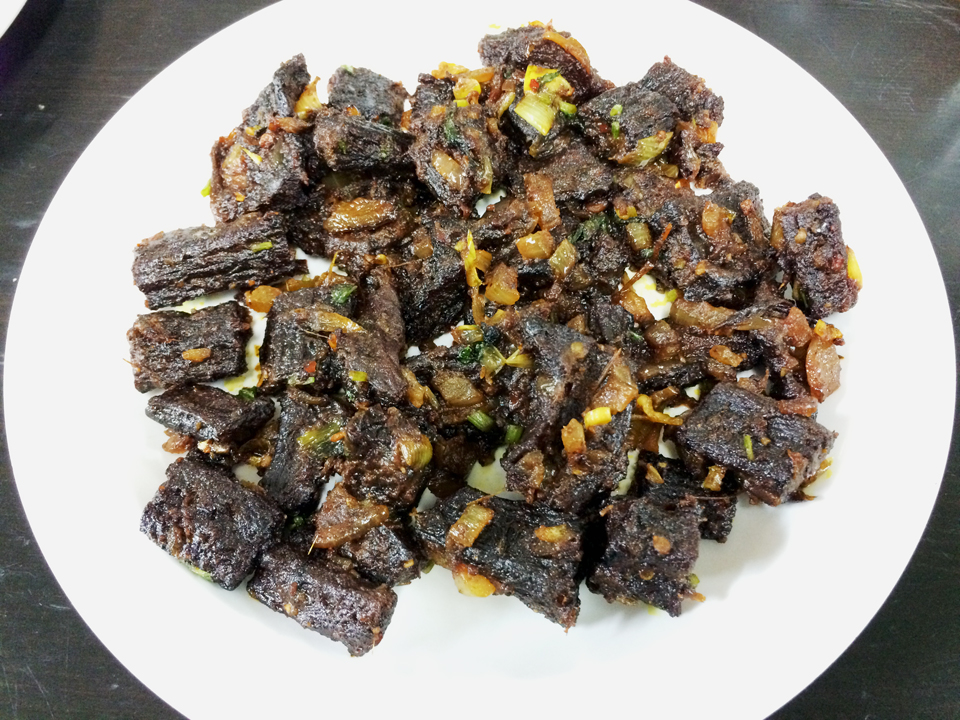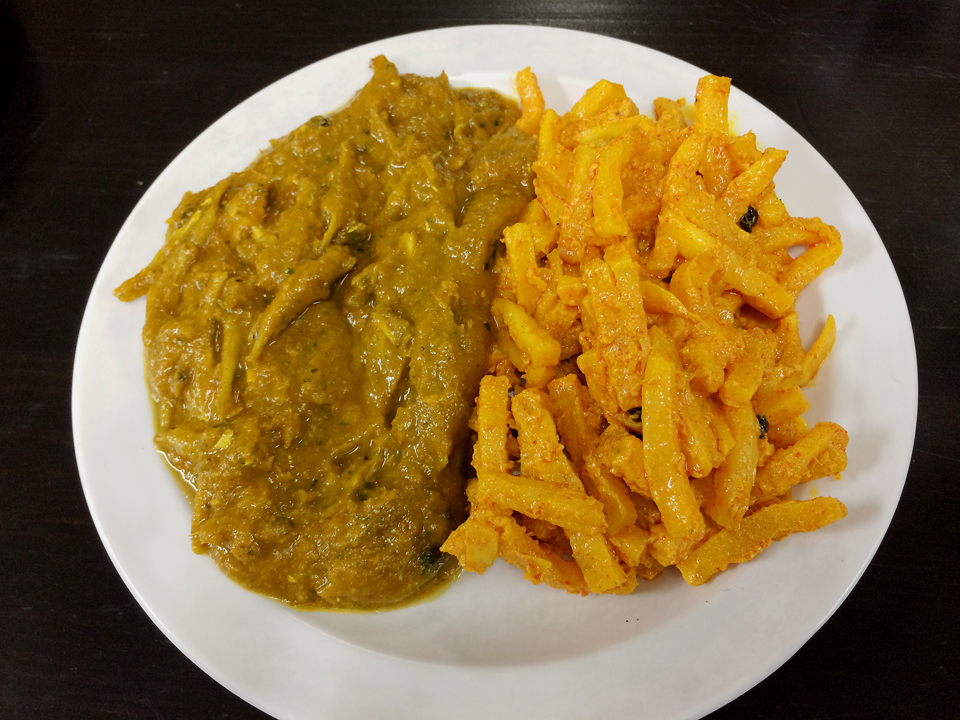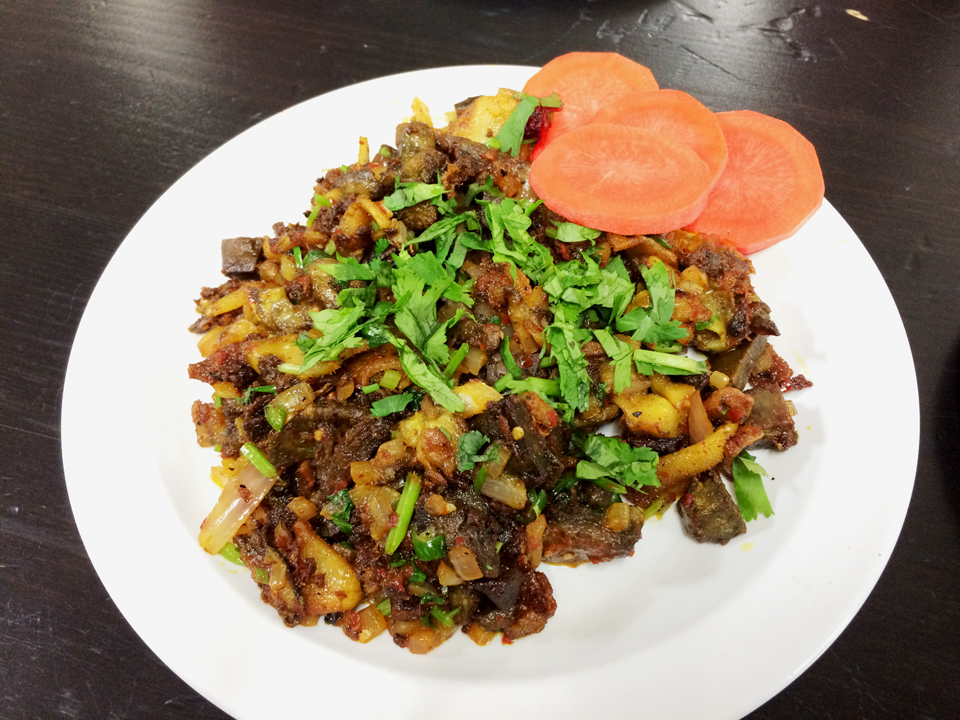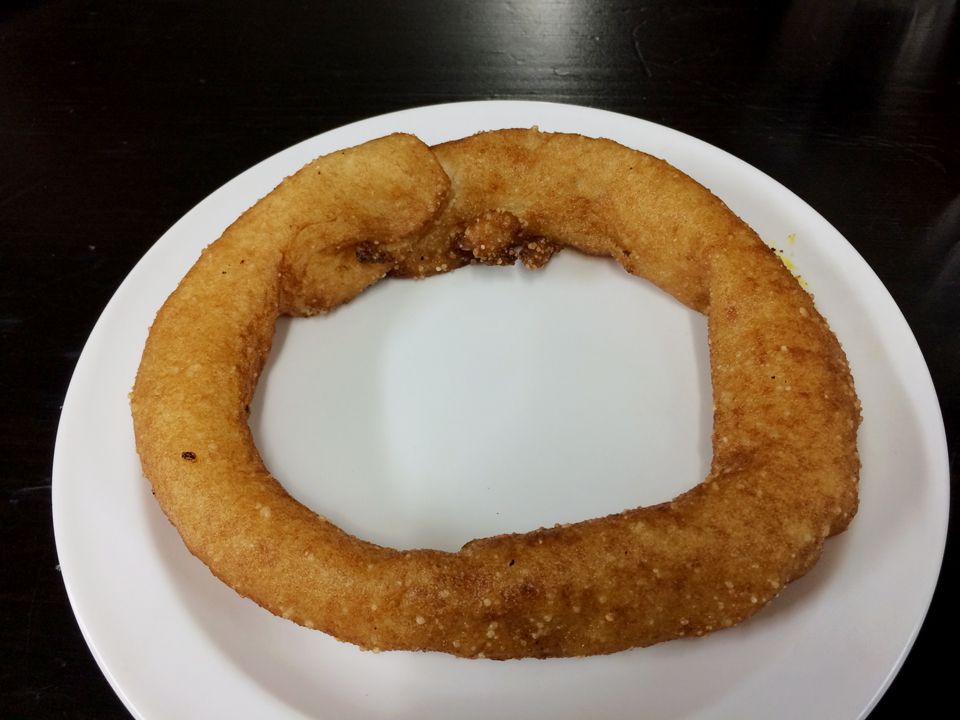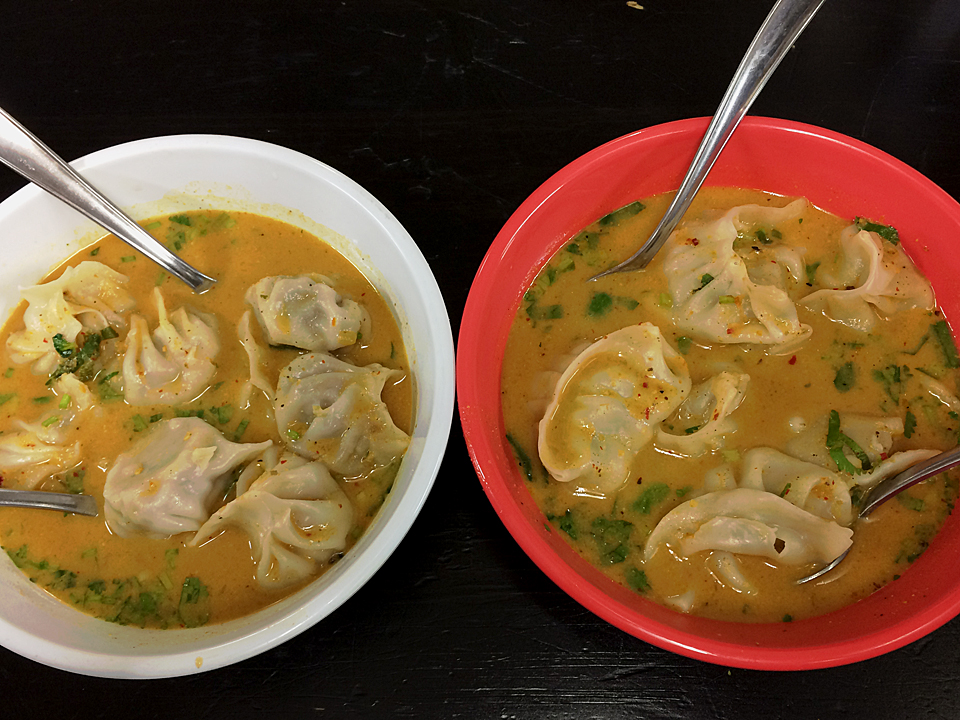 If you're going to enjoy a Nepali 🇳🇵 feast, Jhol Momo would certainly be the ultimate comfort food; as a matter of fact, we were even mo'motivated to do it because of the encroaching cold weather. At Nepali Bhanchha Ghar, 74-06 37th Rd, Jackson Heights, Queens, winner of this year's #momocrawl 🥟, we tasted a bit of many dishes, specifically:
• Chicken Choila, grilled chicken marinated in a blend of spices.
• Buffalo Sukuti, dry meat, like jerky.
• Achar, a pickled dish, here half fish and half mula (radish).
• Bhuttun, organ meats; tasty indeed.
• Sel Roti, a ring of fried rice flour, traditional in Nepali cuisine; get at least one!
• and last, but certainly never least, Jhol Momo, chicken and pork, each with its own characteristic shape. The steamed dumplings swim in a pool that lies somewhere along the sauce-soup continuum, and the two complement each other perfectly. The word jhol means soup and here it was delicious in its own right.
Tip: When you enter, you'll see two tiny tables. Don't be discouraged: go downstairs and you'll discover a much more capacious dining room. Warmer too! 😉
---
<!–– -------------------------Poke Bowl Station------------------------- ––>
11/7/2017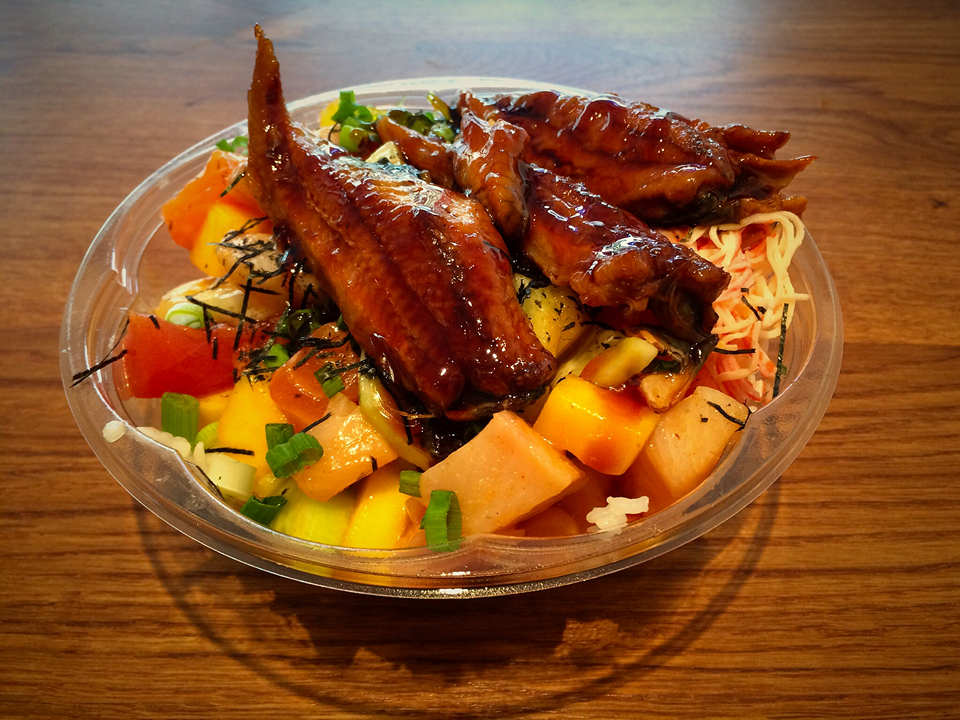 A great big aloha 🤙 to the new kid on the block, Poké Bowl Station at 237 Flatbush Ave, Prospect Heights, Brooklyn near Barclays Center. Sure, we have plenty of great sushi 🍣 restaurants in Park Slope and Prospect Heights, but poké is its own thing: think of it as Hawaii's cross between chirashi sushi and ceviche. In addition to almost a dozen signature dishes, they offer infinitely customizable options: choose your base (three kinds of rice or salad or zucchini noodle), proteins (a dozen choices ranging from tuna, salmon, and yellowtail to baby octopus, shrimp and even chicken), plus mix-ins, sauces, toppings and crunch and you're sure to be thrilled with the results. In addition to the variety, I was impressed with the freshness and quality of the ingredients – everything I tasted was truly delicious.
🐟
They also offer a wide variety of drinks including bubble tea, fruit tea, and yakult (yogurt drink). Tip: they offer all their sauces opposite the main counter in squeeze bottles, so if you're not sure how you want to roll when you order, you could skip the sauce on your bowl and go rogue instead – try a couple that look interesting and add them yourself. It's not quite the same of course (the sauce should go directly on the fish), but it's great if you're in the mood to experiment.
🐟
Shown here is The Triforce with tuna, salmon and yellowtail plus lots of other goodies. Since I love eel, I asked if they would customize their signature bowl and they happily complied. Mahalo 🙏 for bringing your 'ono grinds to the neighborhood, Poké Bowl Station – I'll be back soon!
---
<!–– -----------------------Japanese Potato Salad----------------------- ––>
11/3/2017
More of my home cooking from Japan 🇯🇵 by way of Brooklyn 🇺🇸!
Here's my rendition of Japanese potato salad. (Yes, it's a thing.) Its name, ポテトサラダ, is pronounced approximately "potato salada"; needless to say, there's a word for potato in Japanese, じゃがいも, "jagaimo", but since the dish is rather American, the English name is used more commonly. The texture is key to this dish: the potatoes are partially mashed but there are still abundant chunks. It works because the mashed potatoes meld with and become an integral part of the dressing; the chunks remain to provide occasional bites of straight ahead potato.
My ingredient list cleaves pretty closely to the canonical Japanese version: potato 🥔, carrot 🥕, cucumber 🥒, hardboiled egg 🥚, sweet onion, ham; and the dressing is fairly authentic: mayo (only Kewpie of course!), rice wine vinegar, and neri wakarashi (Japanese mustard paste) but I've added a little sweet miso paste as well as a few shakes of ichimi togarashi (dried Japanese red pepper) and sansho (dried Japanese green pepper peel) to kick it up a little, and a sprinkling of shichimi (a seasoning mix of Japanese red pepper, sesame seed, orange peel, yuzu, etc.) and black sesame seeds on top. Simple, but most satisfying.
Of course, the ingredients' proportions are what distinguish one recipe from another, so I haven't really revealed any secrets here!
Those are Thai spicy pickled mangoes on the side for flavor and color contrast.
---
<!–– -------------------------Dim Sum VIP------------------------- ––>
11/2/2017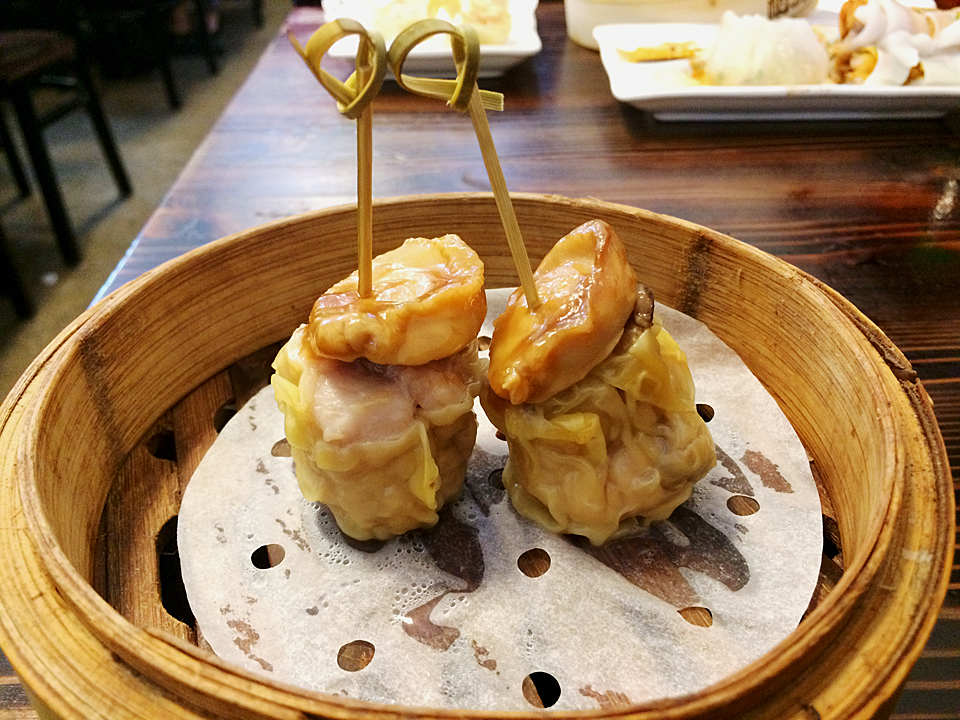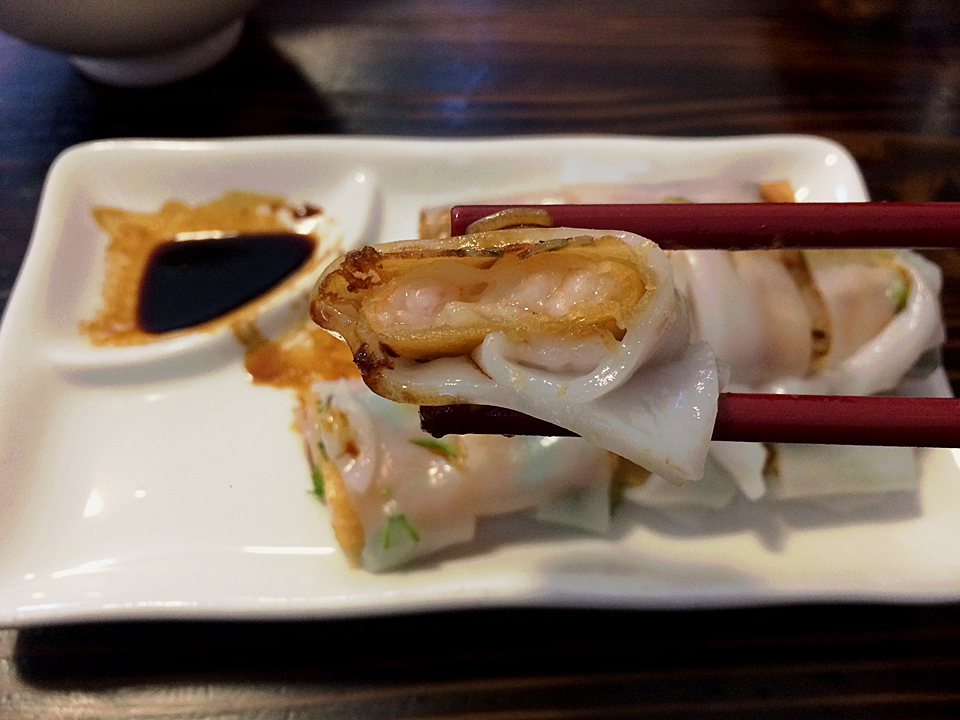 I stumbled upon Dim Sum VIP at 68 Mott St, Manhattan, shortly after their opening and it's been on my to-eat list ever since. It was fortuitous that I was in the neighborhood recently because almost everything I tasted was worth doing again (something I seldom do because I'm always on the lookout for something new). It's the kind of format that we New Yorkers may be less accustomed to although it's commonplace elsewhere: you're furnished with a list of dim sum and you check off whatever is your heart's delight at the moment.
A large poster on their window touts Abalone Siu Mai; since I love abalone and since siu mai are often a litmus test of the chef's skills, I reasoned that the choice would yield a double return on my investment. I was not disappointed. The siu mai were unusually dense and delicious (reminiscent of Joe Ng's work) and the abalone topping was, if you'll forgive my mixed metaphor, the icing on the cake.
The synergistic Crispy Shrimp Rice Roll exceeded my expectations as well. Envision shrimp in a crisp fried spring roll wrapper swaddled in a steamed rice roll; the roll was greater than the (dim) sum of its parts.
The Red Oil Wontons were accompanied by steamed greens as a foil (a nice touch) and were excellent, presenting just the right amount of heat; the Chaozhou Fen Guo dumpling was tasty as well.
Note that the prices are a few dollars more than the neighboring dim sum parlors, but definitely worth it.
---
<!–– -------------------------crocodile feet------------------------- ––>
10/31/2017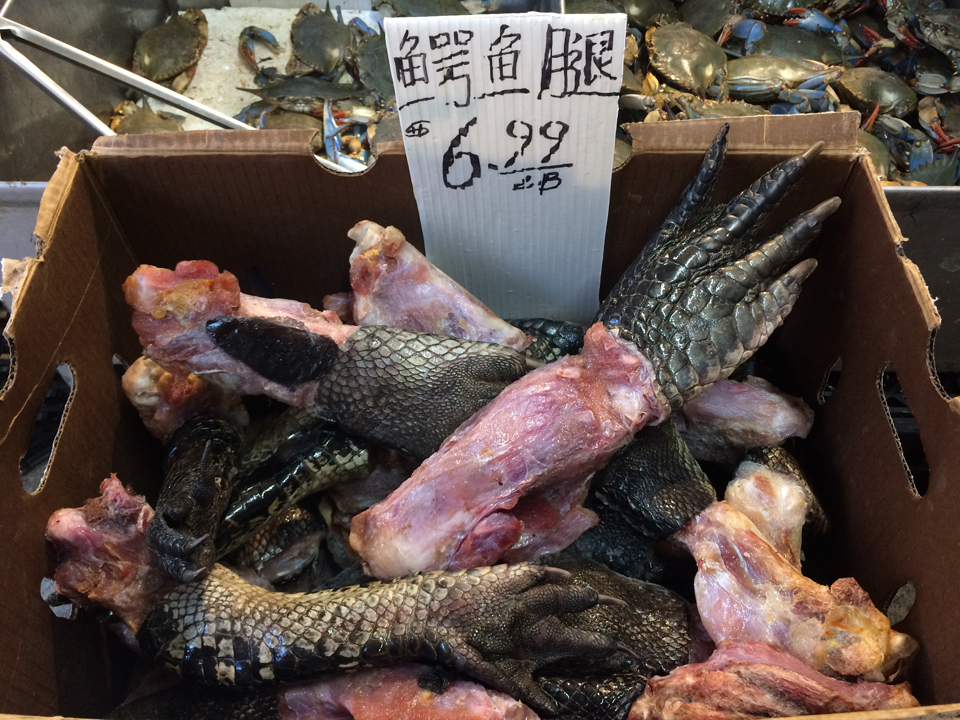 Never smile at a _____________ ….
CROCODILE! Right! At first glance, I thought perhaps it had something to do with Halloween – you know, like chicken feet in a costume or something? But those would have to be some big honkin' chickens!
🐊
The sign in New York Mart/Fresh Market at 128 Mott St in Manhattan's Chinatown says crocodile foot (鳄鱼脚). I have to trust that $6.99 a pound is a good price – I mean, there's no place to comparison shop, is there?
🐊
And no, I didn't buy any. I've eaten alligator (and no, it does not taste like chicken) but never crocodile (and no, I am not chicken to taste it).
🐊
#alligatorpear #crocagatorpear #thatswhytheyssomean
---
<!–– ------------------------- my makizushi rolls ------------------------- ––>
10/30/2017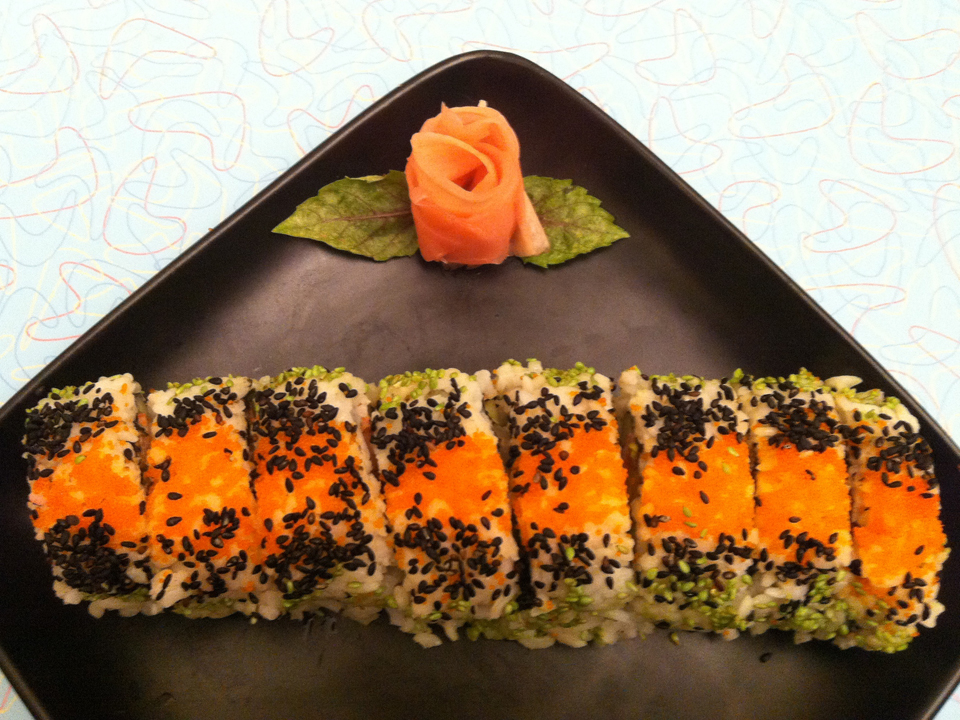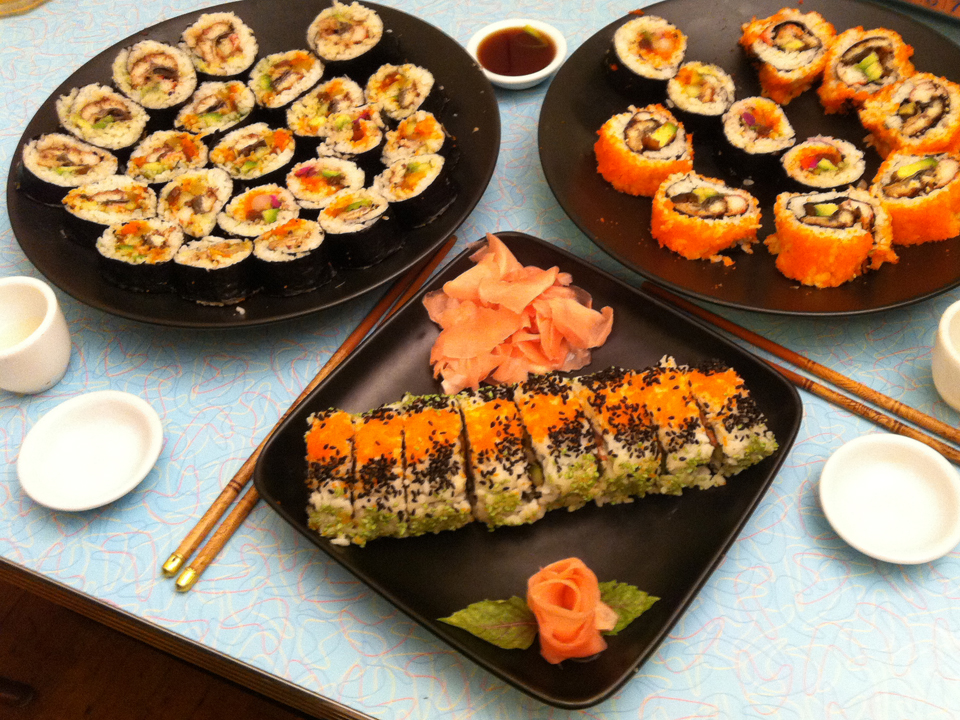 More of my home cooking, this time from Japan 🇯🇵 by way of Brooklyn 🇺🇸!
An exercise in 🍣 makizushi – sushi rolls. The first photo is a tuna roll with two kinds of tobiko (the green one is enhanced with wasabi) and two kinds of sesame seeds. The rose is crafted from gari (pickled ginger) with cut and shaped shiso leaves on either side.
The second photo shows what happens when I'm left to my own devices: regular and inside-out rolls. Ingredients varied a bit from one roll to the next (because that's my idea of fun!), but my mise en place (in addition to sushi rice and nori) included cucumber, pickled daikon, avocado, radish sprouts, tamago (sweet omelet), kampyo (dried gourd), denbu (sweet, pink, fluffy fish flakes – so good!), tobiko (flying fish roe), kani (crab stick), eel, tuna, salmon, and yellowtail along with sesame seeds and furikake (the magical Japanese seasoning that when sprinkled on top of anything makes it wonderful).
A visit to Mitsuwa Marketplace, just across the Hudson at 595 River Rd, Edgewater, NJ made shopping a piece of ケーキ!
---
<!–– -------------------------cachapas y mas------------------------- ––>
10/29/2017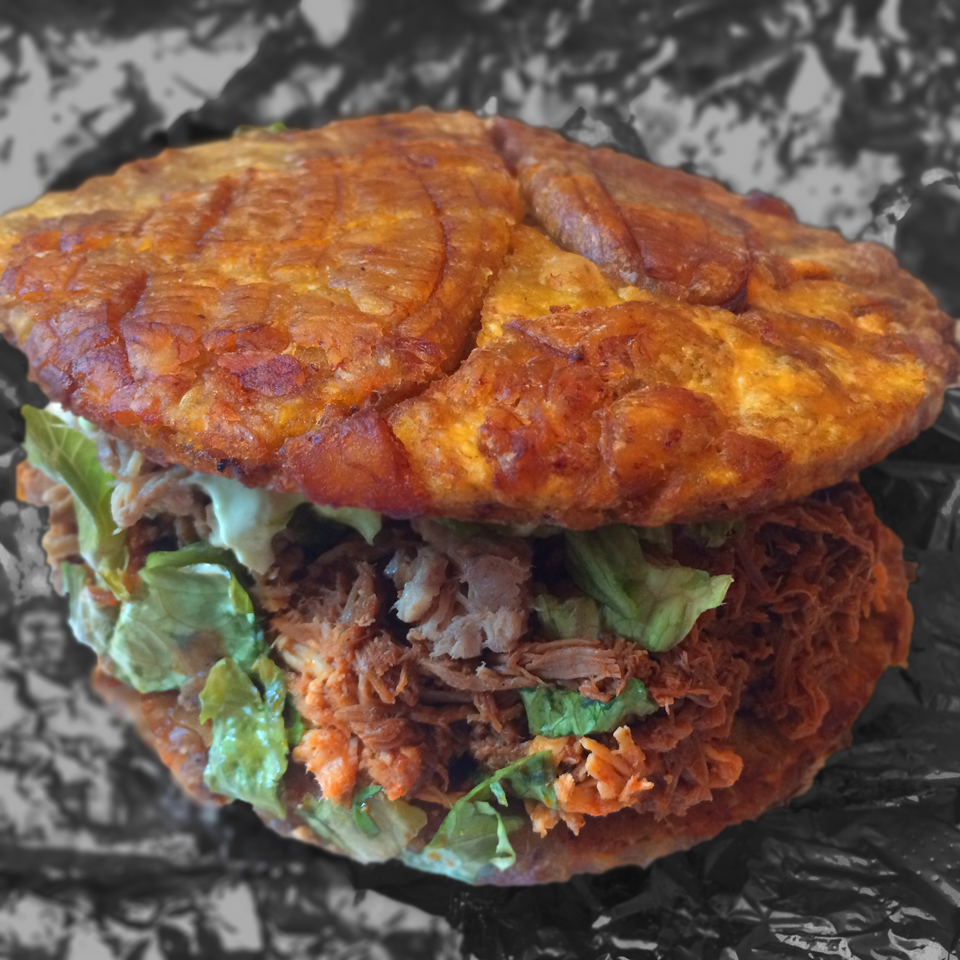 Smile when you say that! Just as Mexico has its lineup of stuffed snacks like tacos, burritos, quesadillas and so many more, so Venezuela 🇻🇪 lays claim to its own collection of lavishly loaded sandwiches, often based on corn or plantain. Cachapas y Mas at 678 Seneca Ave, Ridgewood, Queens (also at 107 Dyckman St in Manhattan) runs the gamut of styles and fillings, to wit: cachapas, sweet corn pancakes, typically topped with cheese and folded over quesadilla style; arepas, a little smaller, less sweet, made from corn flour and used for a classic Venezuelan sandwich; and tacuchos, Venezuela's answer to burritos. In the plantain-as-bun department, they offer patacones, pressed green plantain sandwiches; and yoyos, sweet plantain sandwiches. They also offer pepitos (more familiar looking, like a hero/sub/grinder/hoagie depending upon your personal provenance) and other options. Mix and match your fillings, including three kinds of cheese, ham, chicken, sausage, pork, and beef, each in a number of styles and all delicious.
This is a patacon (rhymes with "not alone": I must be thinking comfort food) with three meats (pernil, chorizo, and carne mechada) plus cheese, lettuce, tomato, and a couple of kinds of sauce. Everything is good, but if this is your first time, I suggest a cachapa or a yoyo with your choice of filling.
In addition to their brick-and-mortar venues, check out their Cachapas on Wheels truck. Follow them at cachapasymasnyc.com and @cachapasymasnyc on Instagram and Facebook. (h/t Eating In Translation)
---
<!–– -------------------------Bangladeshi Haat Bazaar------------------------- ––>
10/28/2017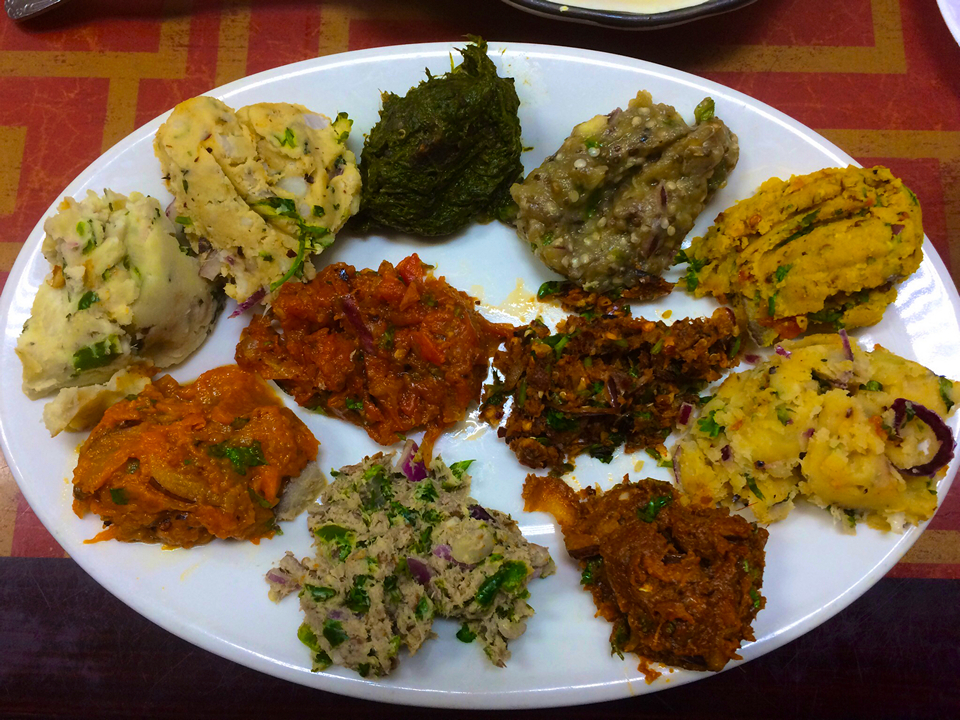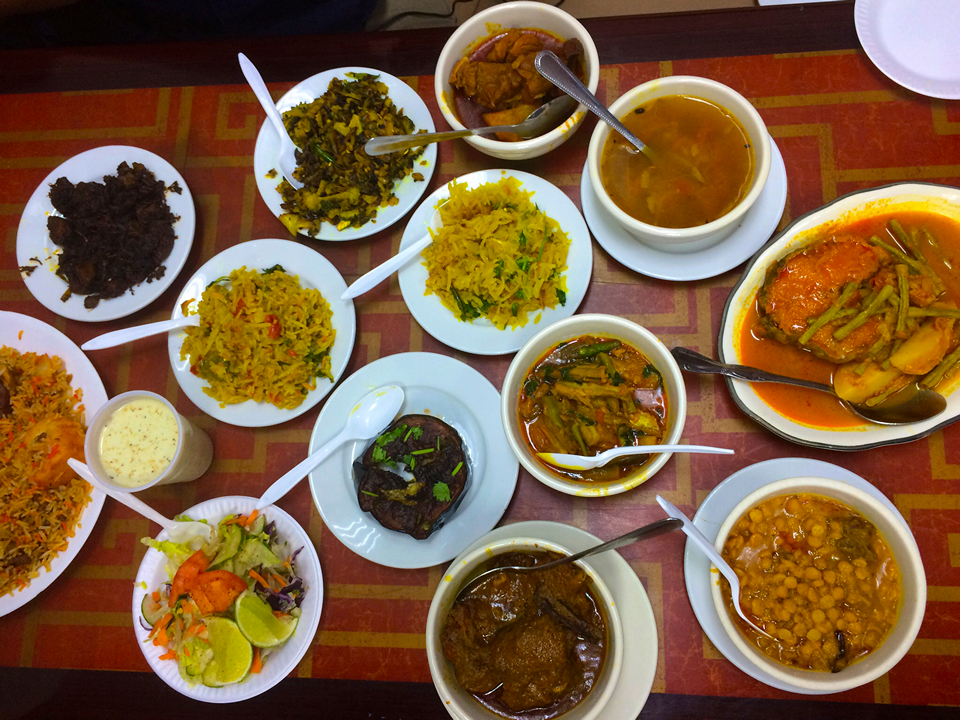 The medium is the message. I thought it looked rather like an artist's palette, loaded with an assortment of rich colors poised to caress a canvas. Rather, it was an assortment of rich flavors in the form of bhortas (aka bhartas) poised to impress our palates. Start here to learn about Bangladeshi food because these spicy mustard oil and onion infused mashes are a staple of the cuisine, and are considered by some to be comfort food. They begin with virtually any vegetable (and sometimes dried fish) and are certainly a complement to rice but are comfortable with any dish. Obviously, the flavors vary depending upon the main ingredient – a fish bhorta will taste quite different from one made from dal – but I was intrigued by the subtle variations from one alu (potato) bhorta to the next. Once you know what you're looking for, it's not too difficult to identify potato, tomato, dal, eggplant, fish, etc. but the helpful folks behind the steam table at Haat Bazaar, 37-11 73rd St, Jackson Heights, Queens patiently identified all of the dishes they had to offer (see photo 2 for a helicopter view of our feast) – which was necessary for us since there are no menus. Definitely worth another visit.
---
<!–– -------------------------Fu Xiang Ju Conch with Noodle Salad------------------------- ––>
10/27/2017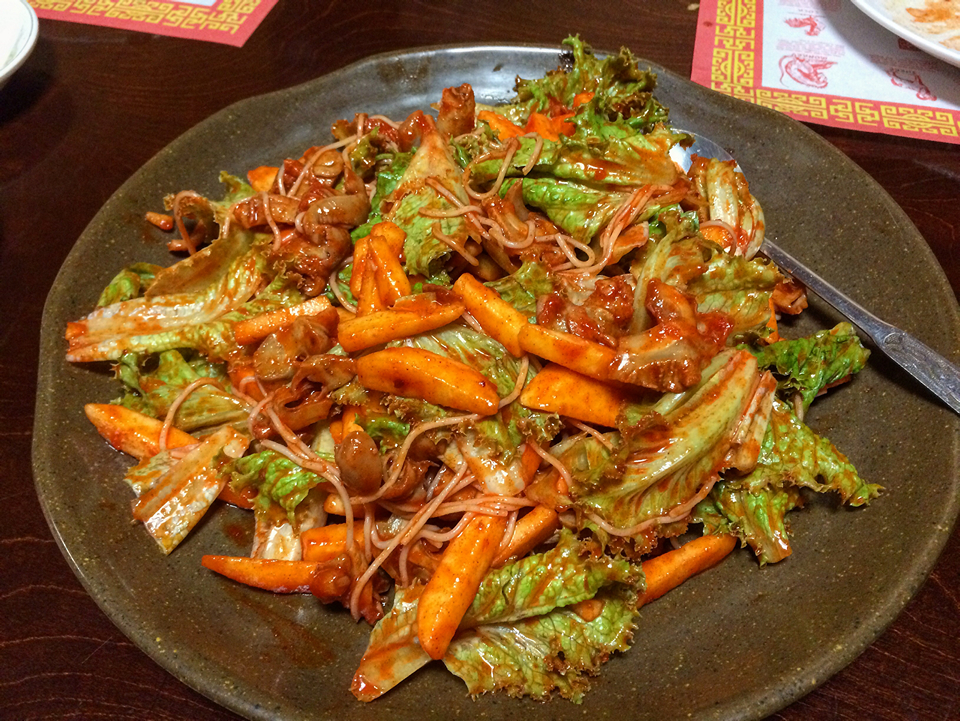 The menu at Fu Xiang Ju, 136-80 41st Ave, Flushing, Queens, lists this delicious cold dish as Conch with Noodle Salad, a very popular course at our last group dinner. I get the distinct impression that there's gochujang, the Korean sweet and spicy red chili paste, at work here. Dongbei's proximity to Korea and the fact that the menu is in Chinese and Korean (in addition to English) lead me to believe that I might be on the right track.
---
<!–– -------------------------QINM Moon Man------------------------- ––>
10/26/2017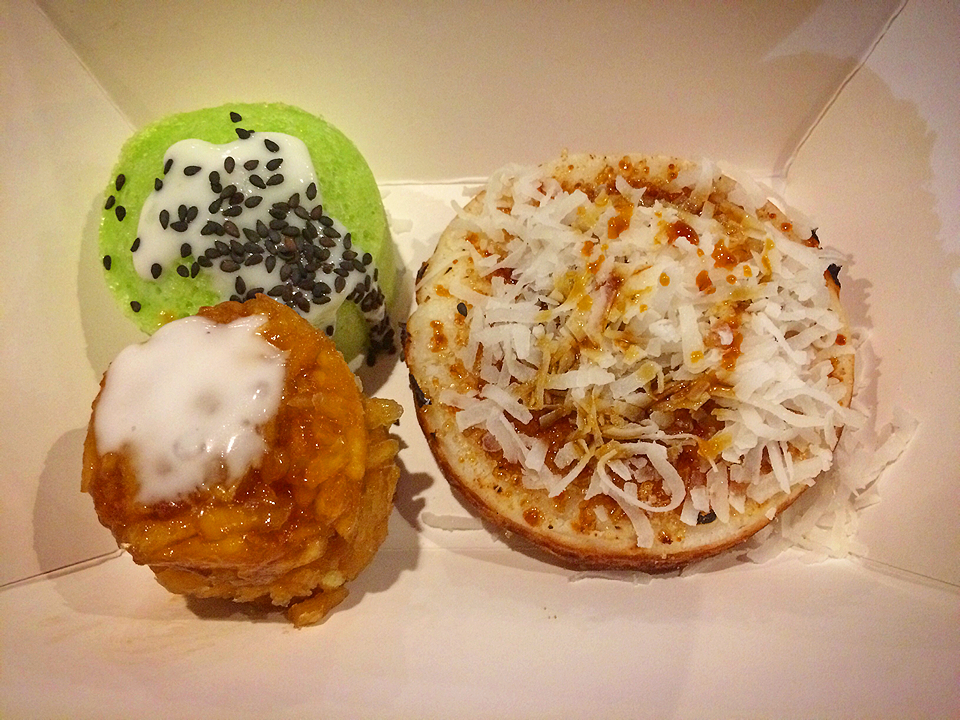 Check out who's landed at the Queens International Night Market! It's Moon Man, and they're absolutely one of the best vendors there. They do amazing sweet Indonesian street snacks in three varieties that can be crowned with over seven different toppings including coconut, chocolate, sesame, peanut, and Java palm sugar. If you're a mathlete, you can calculate the permutations and combinations on those numbers. If not, then do what I did: get their tasting menu and you can try all three delicious cakes – a combo of Indonesian
kue pancong
(coconut pancake) with Java palm sugar,
kue putu
(pandan steamed cake) with black sesame, and steamed cassava cake with sweet coconut paste.
They pop up here and there but this Saturday, October 28, you'll find them at QINM for this season's closing night. They're hoping to situate themselves in a more permanent space, so keep an eye out for them because QINM is only one small step for Moon Man…I'm looking forward to a giant leap into a new uncharted space!
Follow them at hellomoonman.com | facebook.com/HelloMoonMan | instagram.com/HelloMoonMan
---
<!–– -------------------------Sugar Club blue------------------------- ––>
10/25/2017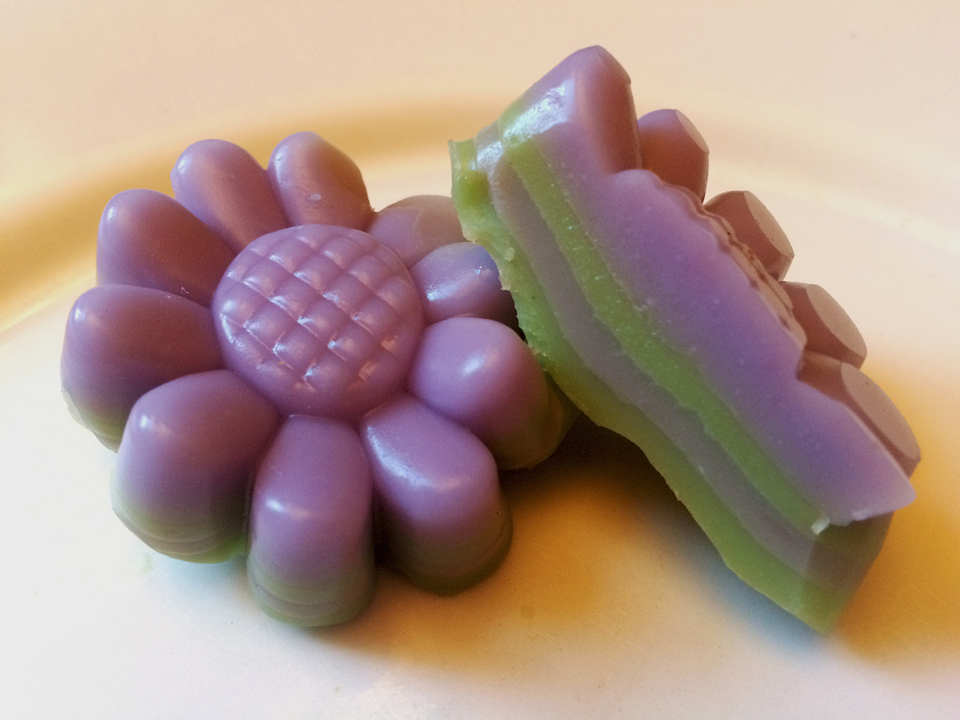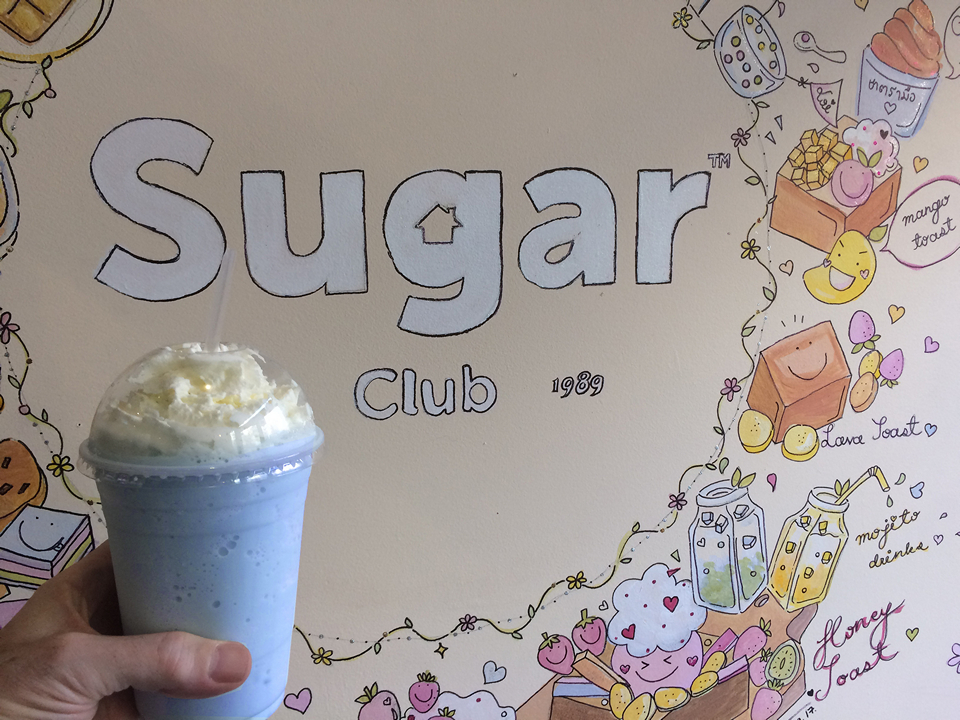 I picked up a couple of treats from Sugar Club, 81-18 Broadway, Elmhurst, Queens. The first is ขนมชั้น, Kanom Chun (you might also see it as Khanom Chan) – khanom means snack or dessert, chan means layer. The ingredients of this always colorful steamed Thai dessert are simple: coconut milk, sugar and flour (to hold it together) but the presentation is complex and beautiful.
🇹🇭
Since childhood, I've been intrigued by blue food and drinks, and to this day I never miss a chance to taste any I happen upon. The second photo shows Sugar Club's NYFC Milkshake (vanilla ice cream with blue pea flower). The blossoms are used to impart a bluish tint to food without relying on artificial coloring like the swill I used to consume as a kid 😜; it's sometimes used to color rice. I don't think it adds much in terms of flavor, but how could I resist that color? Sweet!
---
<!–– -------------------------El Atoradero------------------------- ––>
10/24/2017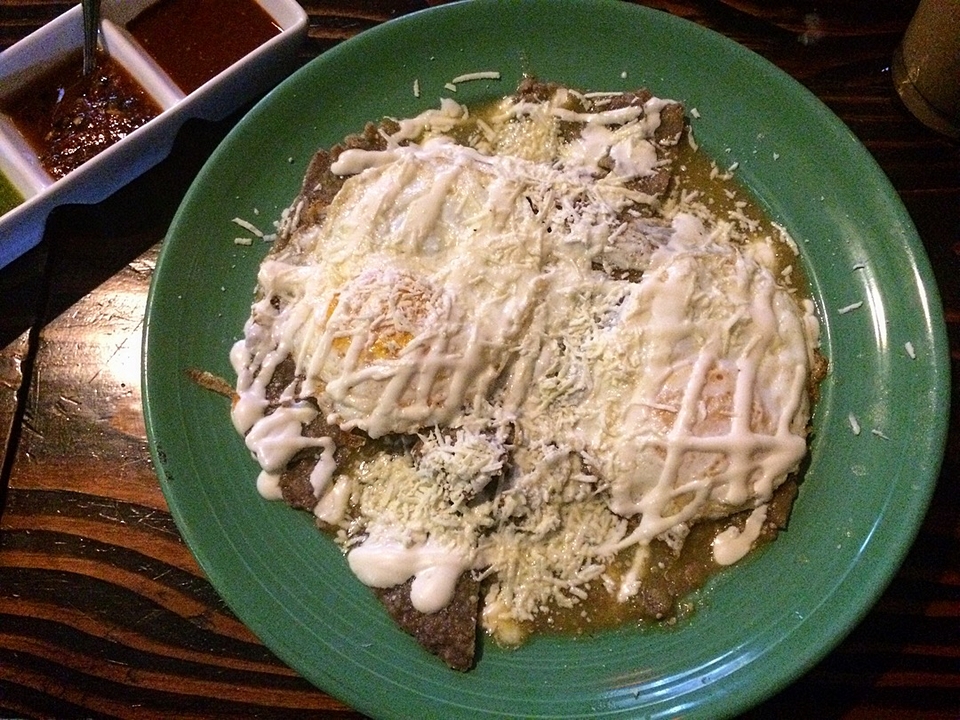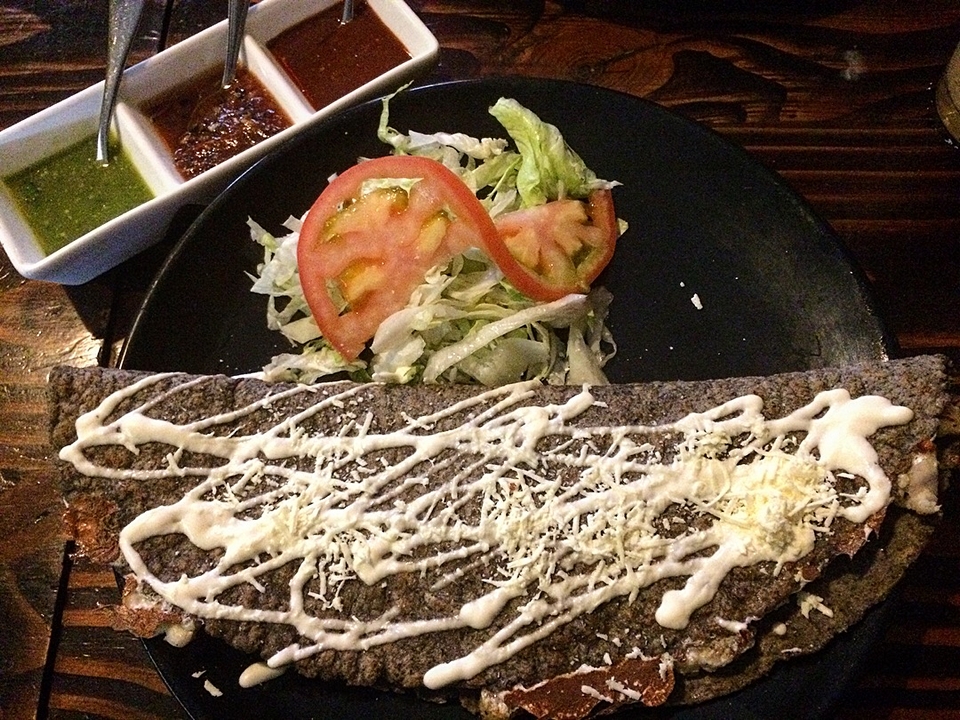 I am so fortunate to live only a few minutes away from El Atoradero: definitely NOT your mamacita's Tex-Mex joint! It's the real deal 🇲🇽 at 708 Washington Ave, Prospect Heights, Brooklyn and everything on the menu is muy delicioso! My brunch today featured Chilaquiles and a Quesadilla Pescado; both dishes were distinctive and delectable. Always a treat!
---
<!–– -------------------------Laoma Mala Tang Upside-down Dumplings------------------------- ––>
10/23/2017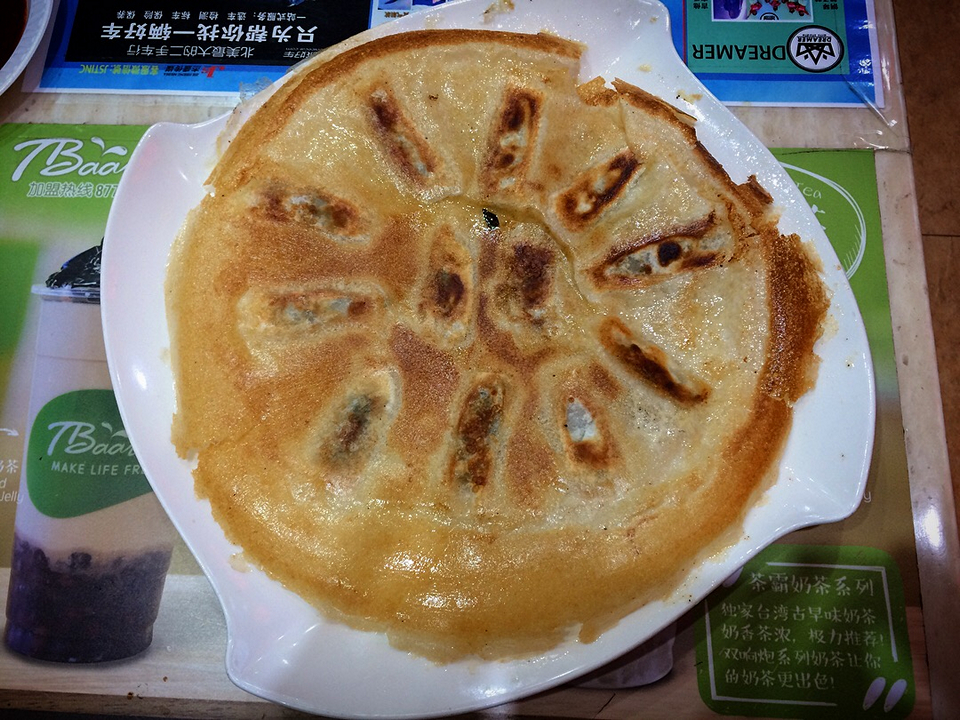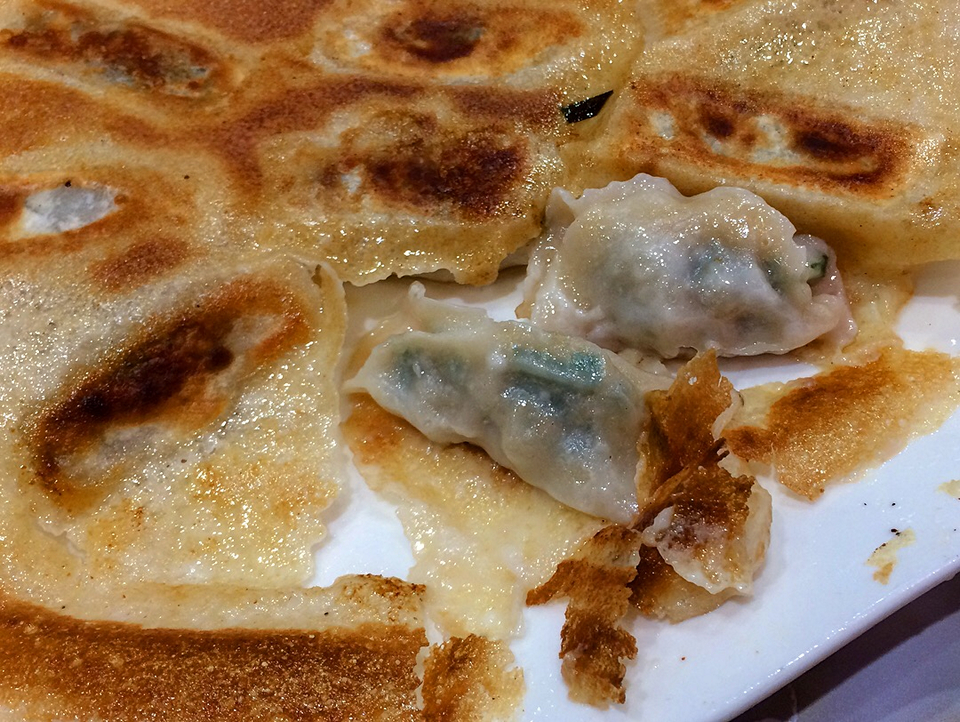 sƃuᴉldɯnp uʍop-ǝpᴉsdn
🙃
No, it's not a flying saucer! Rather, these tasty Pan Fried Dumplings (pork, shrimp, and leek) from Laoma Mala Tang in the New York Food Court, booth 20, at 133-35 Roosevelt Ave, Flushing, Queens start out like potstickers (that is, fried then covered and steamed) with an additional final step consisting of a small amount of batter poured into the pan and swirled around. The batter clings to the dumplings and when fully cooked it's carefully flipped over onto a plate. The second photo shows a couple of rogue dumplings that escaped from the mothership, re-flipped to give you an idea of the textures under (crunchy) consideration. Soft dumpling wrappers plus crispy pancake – out of this world!
---
<!–– -------------------------Fu Xiang Ju - Lamb Chop with Cumin------------------------- ––>
10/20/2017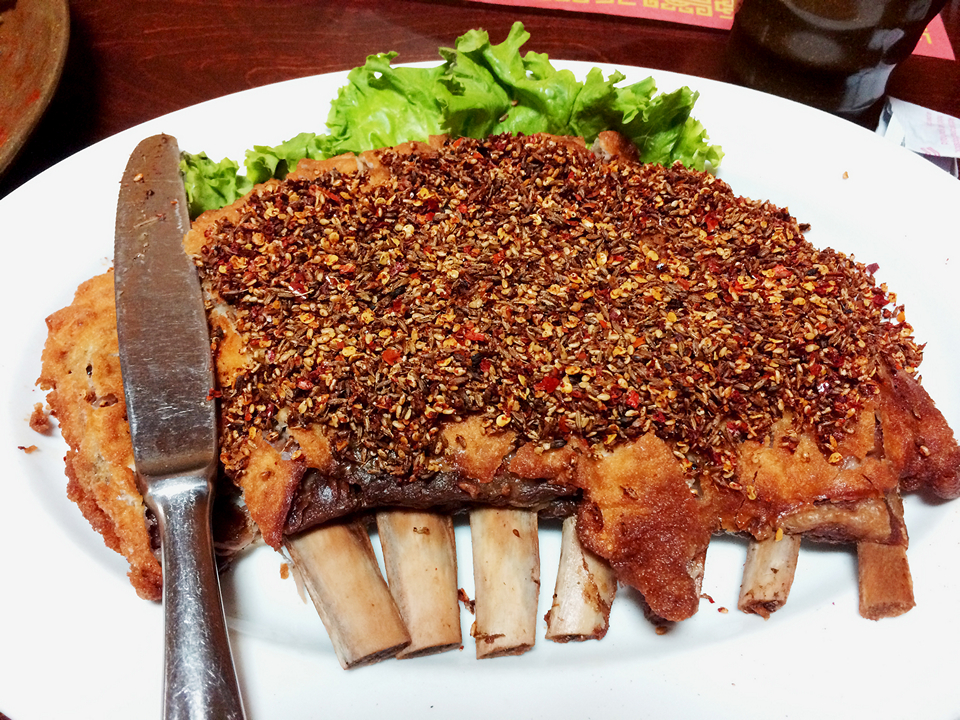 Now a Dongbei classic in NYC, I never get tired of introducing people to this dish. Sometimes called Muslim Lamb Chop, this braised, battered, fried, cuminized, chilified ode to luscious lambiness never fails to get rave reviews. Fu Xiang Ju, 136-80 41st Avenue in Flushing, Queens, calls their version Lamb Chop with Cumin Sauce, but what's in a name?
---
<!–– -------------------------Four Seasons Snacks------------------------- ––>
10/19/2017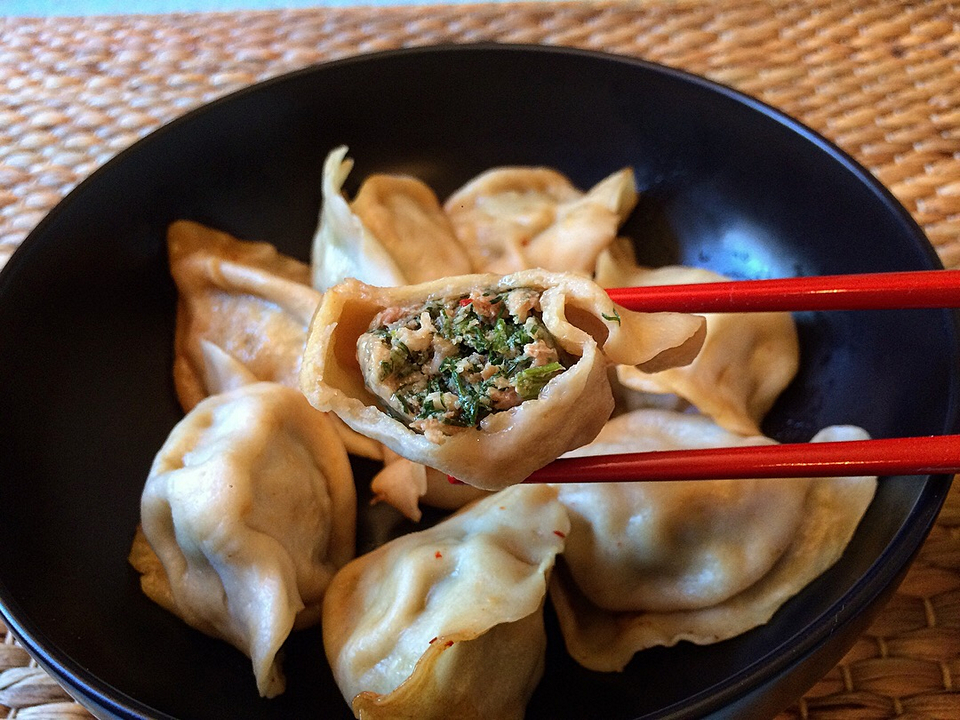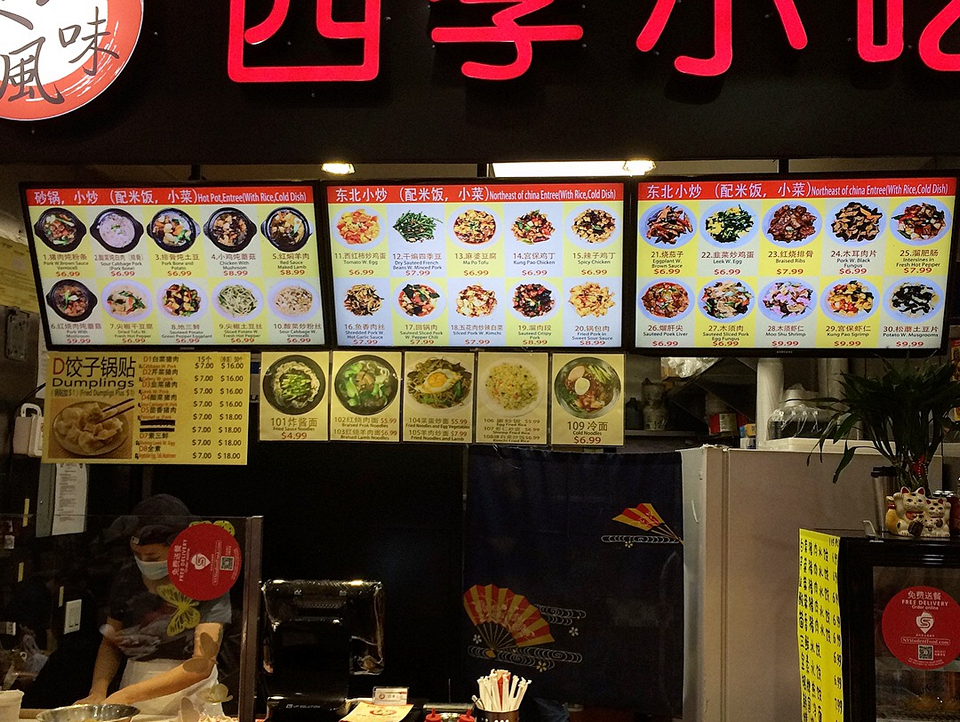 It's easy to find pork and leek/chive/cabbage dumplings everywhere in every Chinatown (and that's a good thing, because where would we be without them?) but don't overlook dumplings featuring dill. They're absolutely delicious and, if I may say so, a delightful change from the usual. You might have to search a bit because of a language hurdle: For example, go to the New York Food Court at 133-35 Roosevelt Ave, Flushing, Queens and head over to booth 19, Four Seasons Snacks (but you won't find the name in English, so refer to the second photo). The Dumplings sign uses the characters 茴香 and translates it as fennel, their paper menu translates it as dill; Google Translate reports that it means fennel.
No matter. Get an order of D5 (Fennel with Pork) and prepare for a treat. To me, they taste like dill and they're wonderful.
I've seen a beef and dill combination elsewhere as well. Does anybody else here crave these as much as I do?
---
<!–– -------------------------Durian Pizza------------------------- ––>
10/18/2017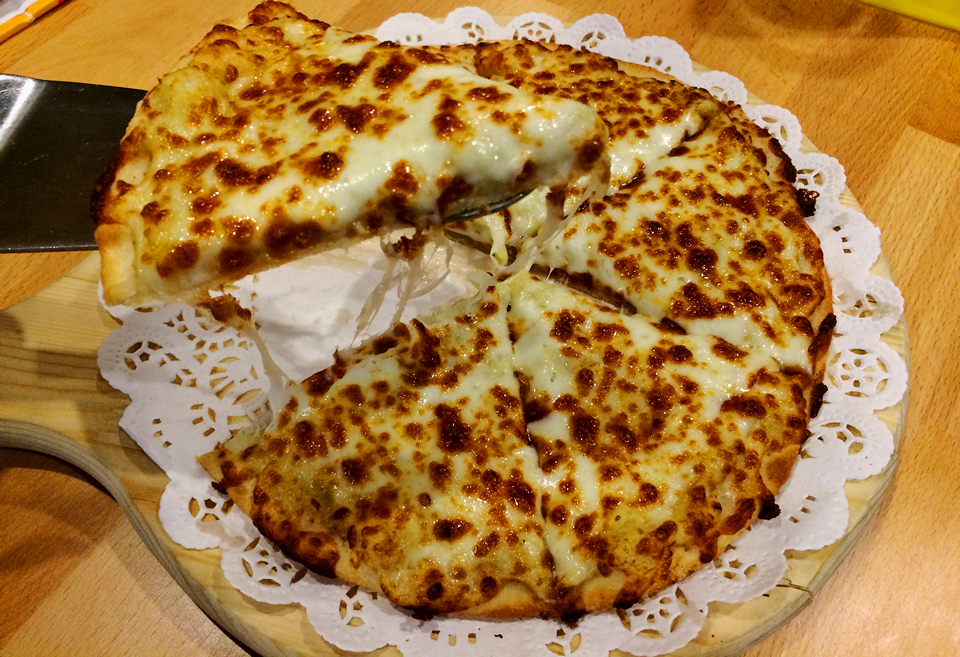 You know the old adage about durian, right? "Smells like hell, tastes like heaven!" Well, this may be the gateway drug for durian novitiates: Durian Pizza at C Fruitlife, 135-29 Roosevelt Ave, Flushing, Queens. For those of you who are curious about the flavor of durian, this offering is very mild and may well ease you into some comfy durian love; and for those of us who are hardcore durianheads, we wouldn't mind if this were even a little more, um, pungent! They offer two versions, Musang King, the Malaysian variety, and the less expensive Monthong from Thailand. Lots of other Hong Kong style desserts as well as snacks to be found, some with a more salubrious bent, some just for fruity sweetness.
---
<!–– -------------------------Mithai------------------------- ––>
10/15/2017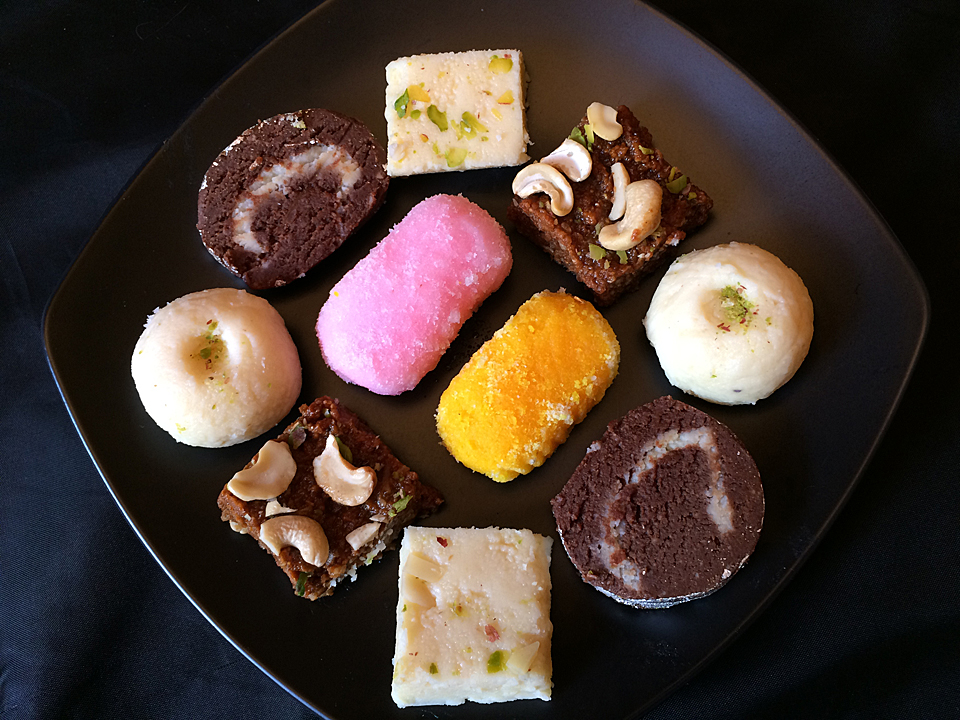 Dear Friends: I can no longer keep this to myself. I am an addict, hooked on mithai. What's that? You don't know about mithai? Mithai are Indian sweets and since Diwali, the Hindu Festival of Lights, is almost upon us, I can think of no better time than now to tell you my tale. So gather 'round your diyas and check out my latest post "
Indian Sweets 101: Meeting Mithai
" on my website, www.ethnojunkie.com!
---
<!–– -----------------------King Tut Pie----------------------- ––>
10/14/2017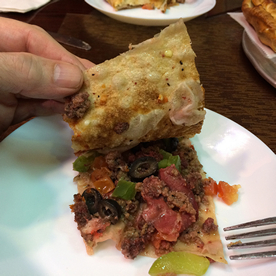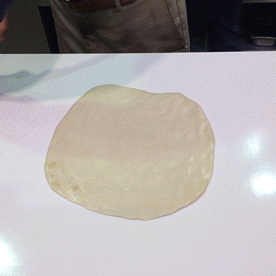 Feteer (فطير) is Egypt's spin on stuffed, crispy, flaky-crust goodness, and at King Tut Pie, 478 72nd St in Bay Ridge, Brooklyn, you can watch them skillfully toss the dough until it's paper thin as they make yours to order. They offer about a dozen delicious savory varieties (ours was the King Tut Special with beef, sausage, pastrami, veggies, and cheese) as well as seven dessert options (we got the custard, nuts, and raisins feteer) and it was as enjoyable to watch them make it as it was to eat it.
🇪🇬
The first photo is a peek inside the delicious finished product…
🇪🇬
…and beginning with the dough, the animation shows each step as they (2) roll it out, (3) toss it around and stretch it out until (4) it's paper thin, (5) fold it to make layers, (6) add meats, (7) veggies, (8) and cheese, (9) fold it up, and (10) bake it to perfection.
---
<!–– -----------------------My Pumpkin Pie----------------------- ––>
10/13/2017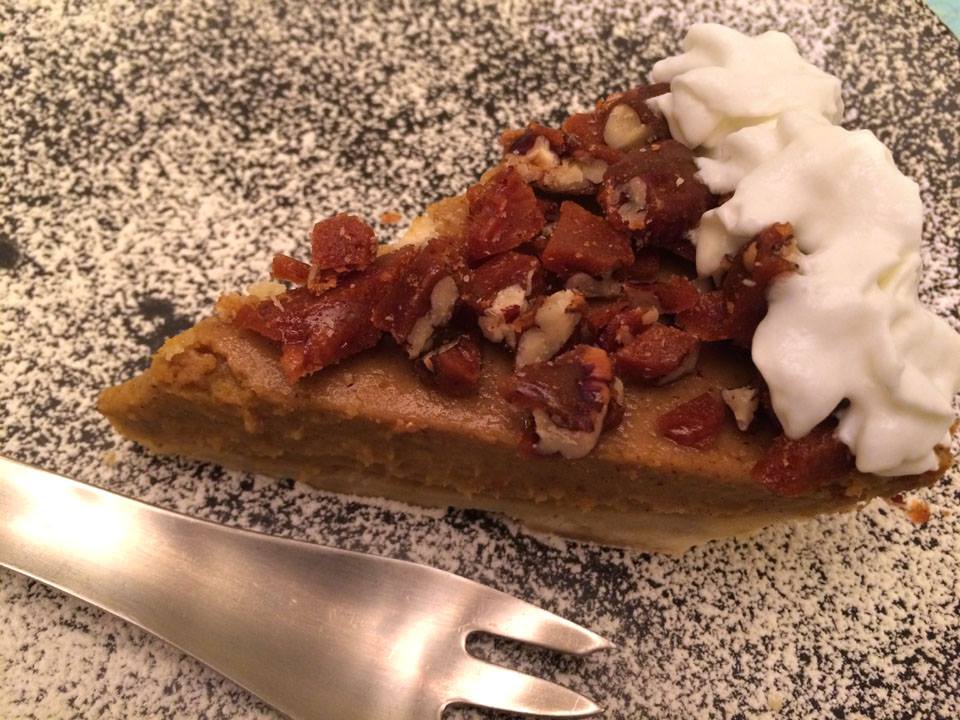 More of my home cooking!
🎃
It's pumpkin season and I'm preparing my perennial parade of peak-of-perfection pumpkin pies! I'm pleased as punch and proud (okay, enough with the p's) that there's so much 💖 for these babies; I seriously did go through countless iterations developing my recipe until I got it to exactly my idea of what the ultimate pumpkin pie should be. (One of the tricks is to use only fresh pumpkin – none of this canned stuff.) That's homemade pecan brittle adorning the top and real honest to goodness snow on the plate. (Okay, I lied about the snow – it's powdered sugar – but the rest is gospel!)
---
<!–– -----------------------My Pumpkin Pie----------------------- ––>
10/10/2017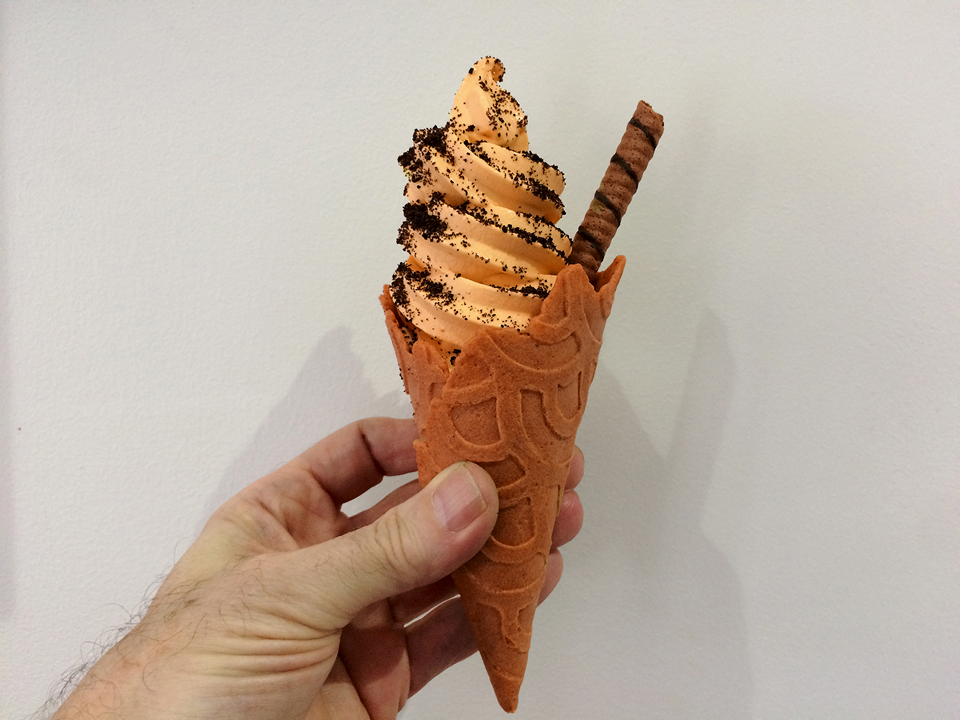 'Tis the Season! Well, I guess it's always the season for
something
and this time of year it's pumpkin spice
everything
. Shown here, pumpkin spice soft serve in a pumpkin spice cone. I'm pleased to report that not only did the ice cream hit the spot, but the cone actually tasted like pumpkin spice, so 💯 extra points guys. Lots more choices as well at Taiyaki NYC, 119 Baxter Street, Manhattan, NY.
---
<!–– -----------------------Ugly Baby----------------------- ––>
10/9/2017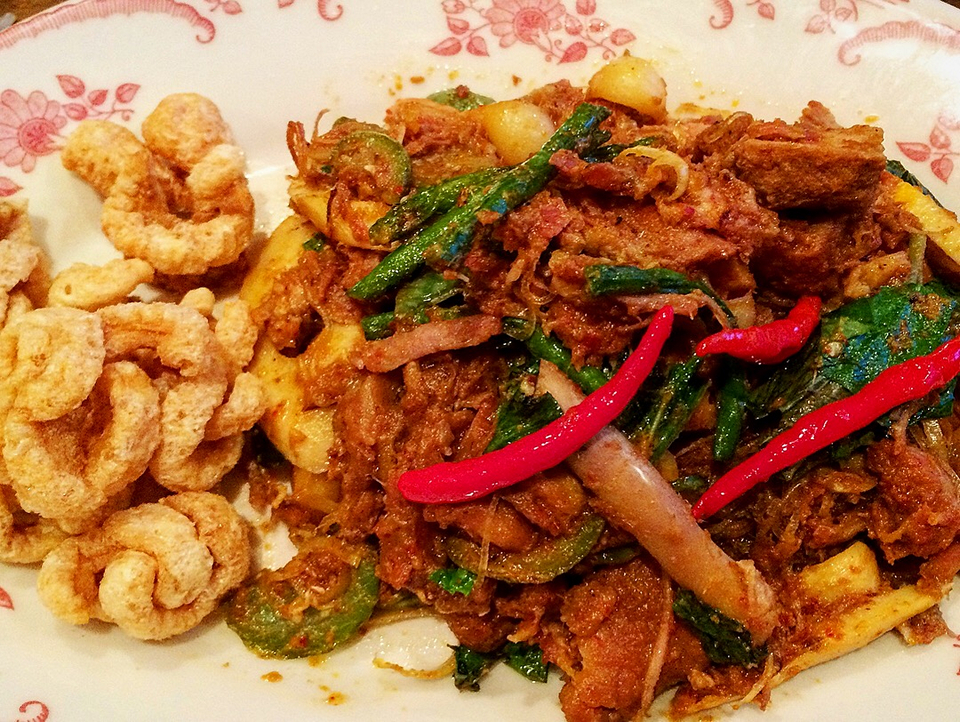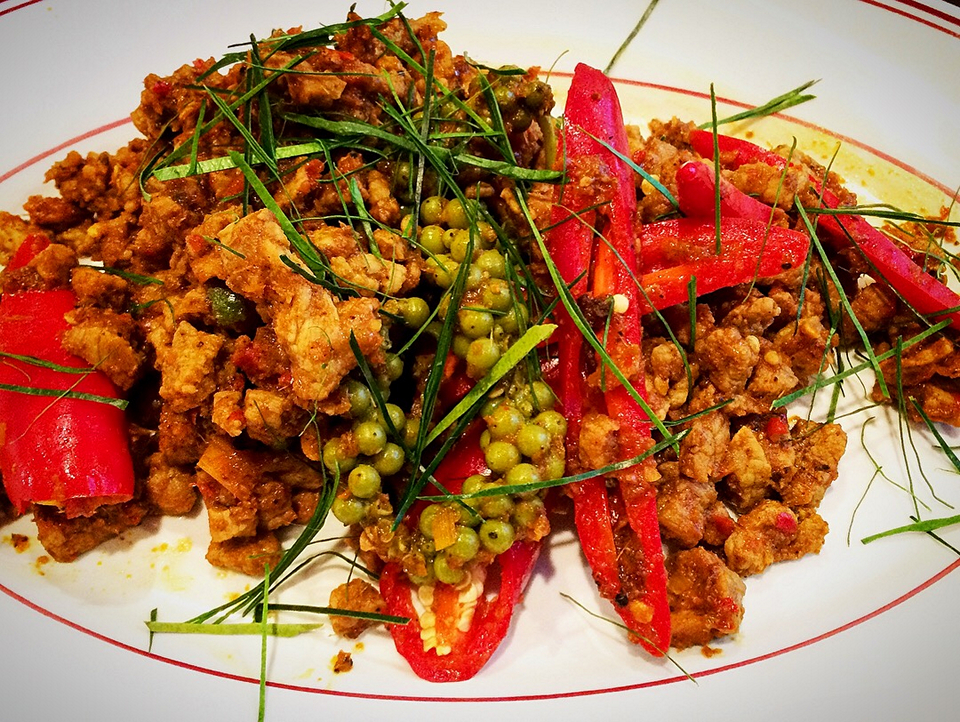 If I recall correctly, it's a cross-cultural superstition and particularly so in Thailand: if you've just given birth to a beautiful baby, you proclaim it ugly lest an evil spirit punish your hubris and abduct your newborn. Such is the story behind the name of this outstanding new restaurant, Ugly Baby, at 407 Smith Street in Carroll Gardens, Brooklyn. The chef, half of the team that graced us with Red Hook's Kao Soy and Chiang Mai, is back with a vengeance, and authenticity seems to be the name of the game. I've only tried three dishes (a situation soon to be rectified) but I wanted to share them with you as soon as I could; it may already be my new favorite Thai 🇹🇭 restaurant.
(1) Laab Ped Udon – Spicy duck salad. Could this be the best lab ped I've ever had?
(2) Kang Hoh – Northern dry hung le (a curry paste) and red curry paste with pork shoulder, spare ribs and mung bean noodles. Not a dish you see everywhere: you definitely need to try this one!
(3) Kua Kling – The menu describes this as "southern dry eye round curry – brutally spicy". It was. Not a dry eye in the house! A high spice level – even for me and I have a high tolerance – so I suggest that you get at least one order of sticky rice and do a bit of the beef and a bit of the rice in each bite for balance. That way, you'll actually get to taste the complex flavors of this dish (it's not just hot!) and you'll find it delicious. 🌶️🌶️🌶️
---
<!–– -----------------------Guan Fu----------------------- ––>
10/1/2017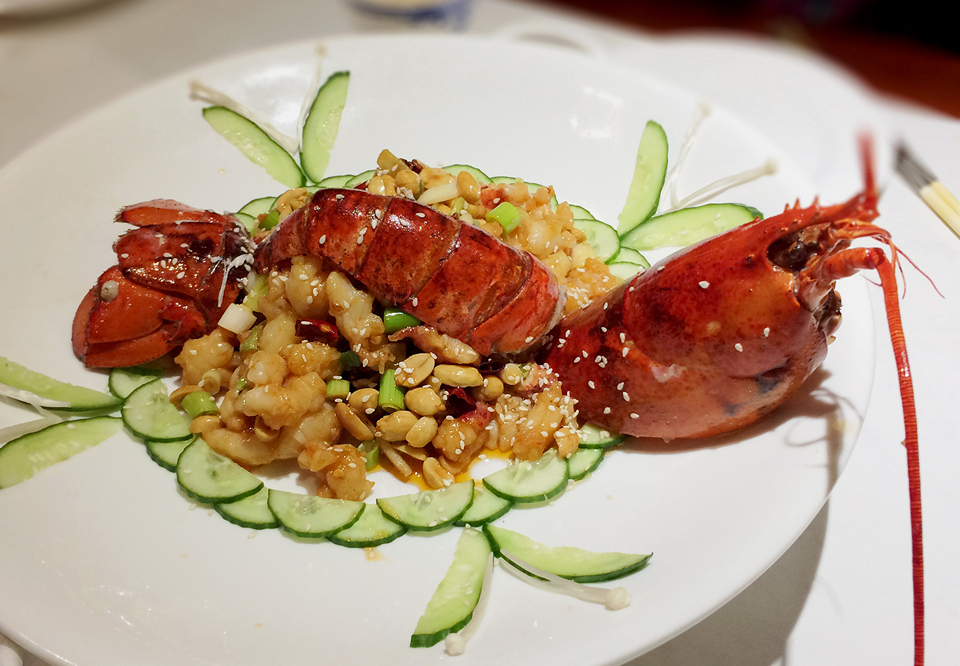 At the beginning of October, it was my great pleasure to experience the amazing Sichuan restaurant, Guan Fu at 39-16 Prince St, G01, Flushing, Queens. I did a series of Instagram posts, all of which (and more) are reflected in my
review
.