People often inquire about what kind of cooking I like to do and my facile reply is, "Ethnic food, primarily." Invariably, they then ask, "What's your definition of ethnic food?" and my response generally goes along the lines of "Cuisine that hails from anywhere you aren't at the moment. Surely a burger and fries is ethnic food to someone somewhere on the planet." So to borrow a page from Einstein, everything is relative.
There are those who take exception to the phrase "ethnic food", instead preferring "world food" or "international food". It's all good as far as I'm concerned. My dictionary defines ethnic as "characteristic of a people sharing a common and distinctive culture, religion, language, or the like." That definition resonates for me. The fact is that I'm as much into the languages, the music, and the cultures of people across the world as I am the cuisines.
But do take note: I resolutely champion the tenet that world/international food should never be relegated to the "cheap eats" category. I've dined at some ethnic restaurants where the talent and creativity (not to mention the quality of the ingredients) that went into preparing the food easily justified a higher price tag as would any equivalent experience at a schmancy "upscale" venue. The check may be a bit more than what we're accustomed to but, in my opinion, those restaurants that are striving to share their culinary treasures with us who hunger to learn about their cuisine and culture rate a firmament of stars.
So here are a few photos of dishes I've prepared or perfected or even invented. (Click the photos for closeups.)
China
Shu Mai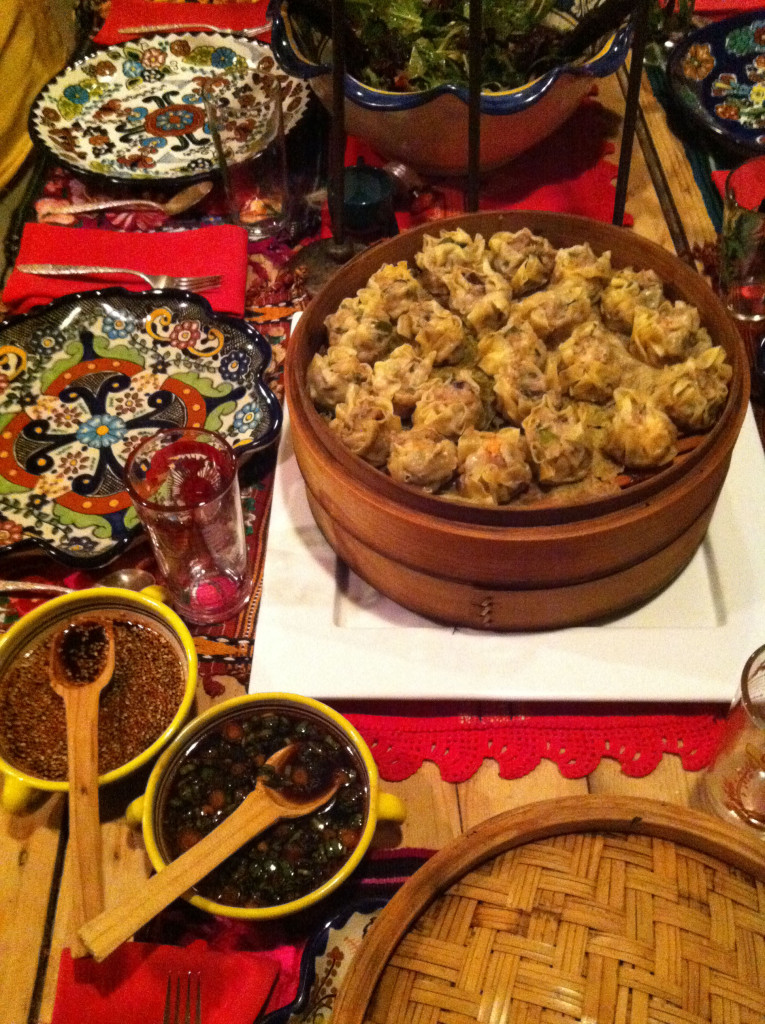 My friend Zarela Martinez, renowned TV chef, celebrated cookbook author, and owner of the (sadly now closed) sensational restaurant, Zarela, invited me to a potluck dinner party. Being the incredible Mexican chef that she is, I reasoned that perhaps her guests might choose to bring Latin-inspired food as well. Stiff competition! So since there were no restrictions on what we might bring, I thought that Chinese dumplings would be safe territory. I'm pleased to report that they were a hit!
My version of Xi'an Style Hand Pulled Noodles with Spicy Cumin Lamb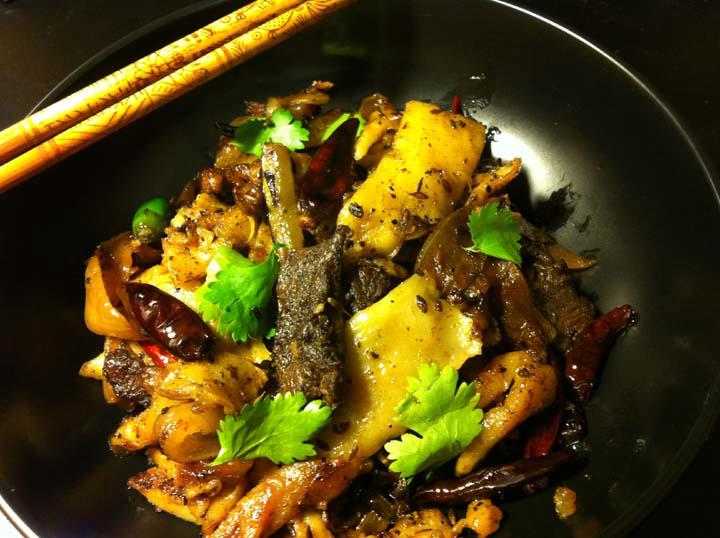 Fresh lamb kidneys from the farmers' market stir fried with dried red chilies, Sichuan peppercorns and cumin. Accompanied by red bell pepper, fresh green chilies, snow peas, scallions, and onion with sesame oil and other seasonings.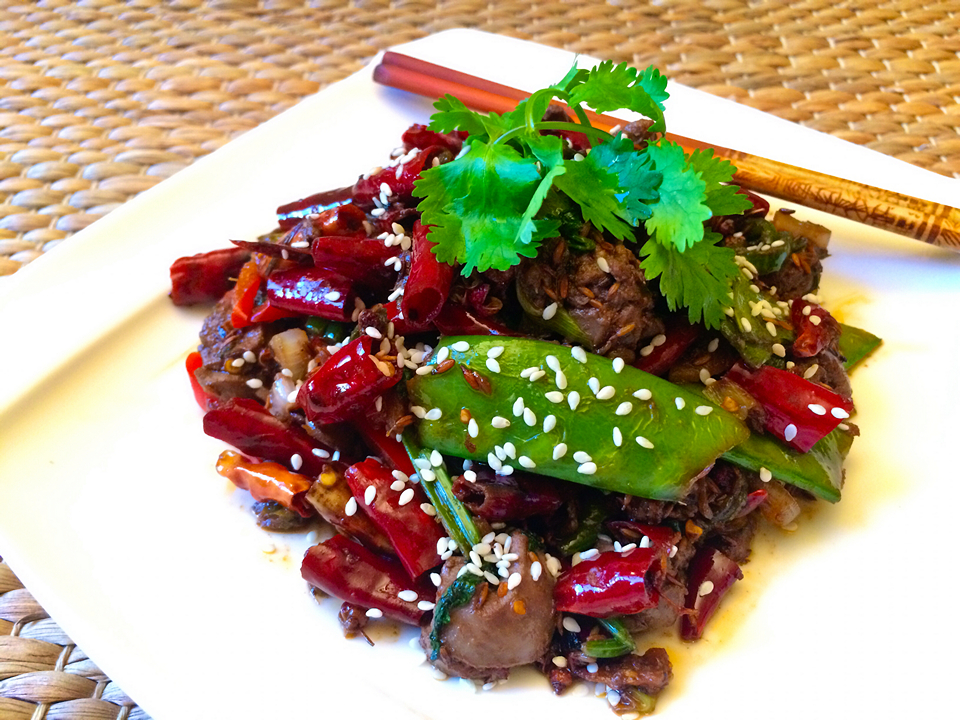 My take on Legend of Taste's delicious Smoked Pork with Garlic Leaf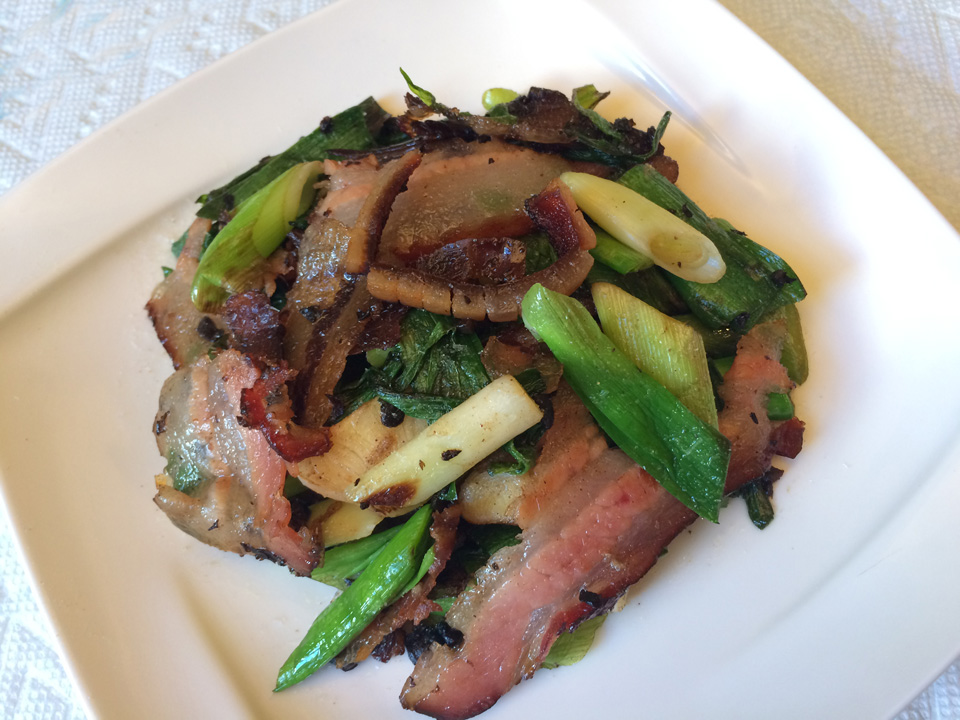 Stir Fried Arrowhead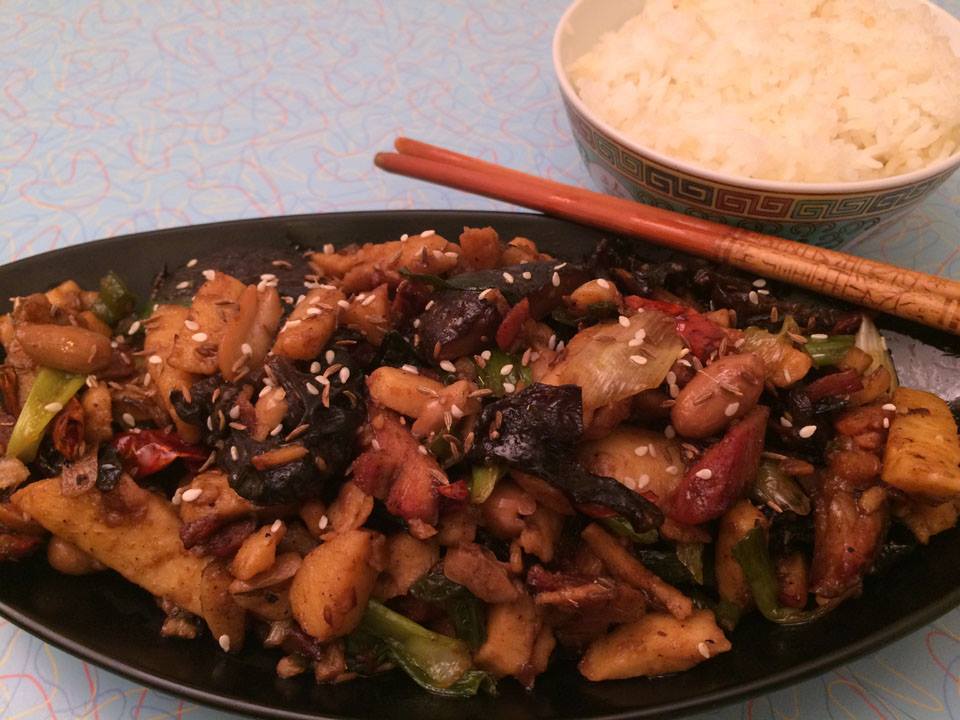 Those bits that look vaguely like potatoes are Chinese arrowhead (no, not arrowroot), an aquatic tuber traditionally cooked up around the lunar new year. I wanted to make something special with them (it was for a New Year celebration, after all) but all I had time for was a simple stir fry with char shu, dried shiitake mushrooms, cloud ears, peanuts, scallions, cumin and four colors of hot peppers (fresh green, dried red, Sichuan black, and ground white – gotta keep it festive!)
Yu Choy Stir Fry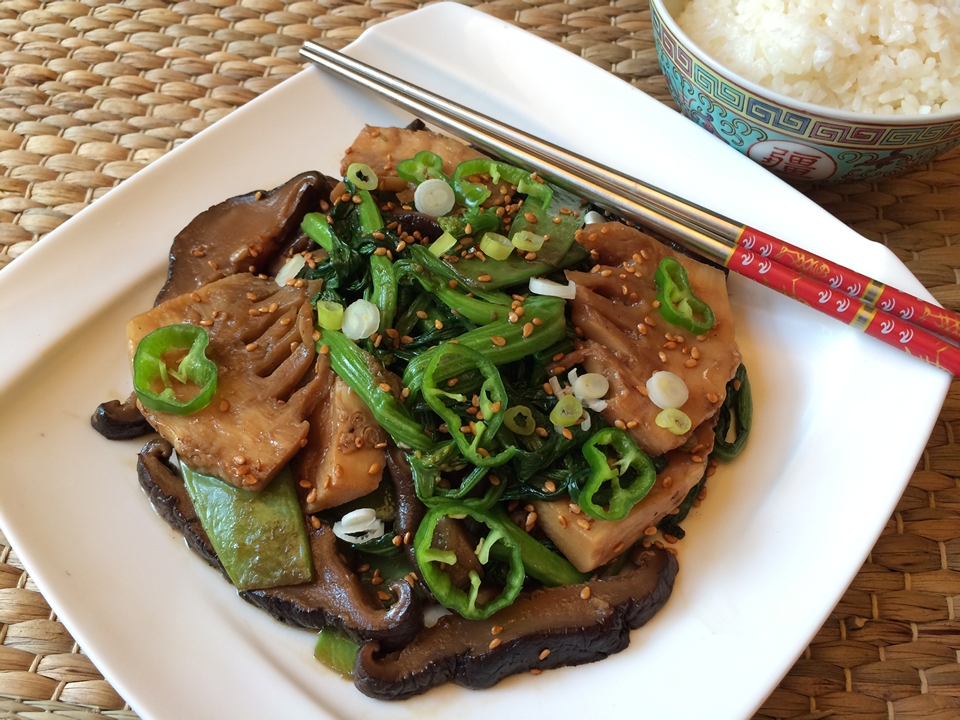 A simple stir-fry with yu choy (one of many types of Chinese greens), fresh bamboo shoot (so much better than canned!), shiitake mushrooms and snow peas in oyster sauce plus a few more seasonings. But I'm never happy without a little heat: a bit of spicy green pepper never hurt anyone!
Hey, I just realized this is a vegetarian dish! My vegetarian friends will be thrilled!
Oh, wait. Oyster sauce. Never mind. 😕
More Dumplings and Spicy Sichuan Lamb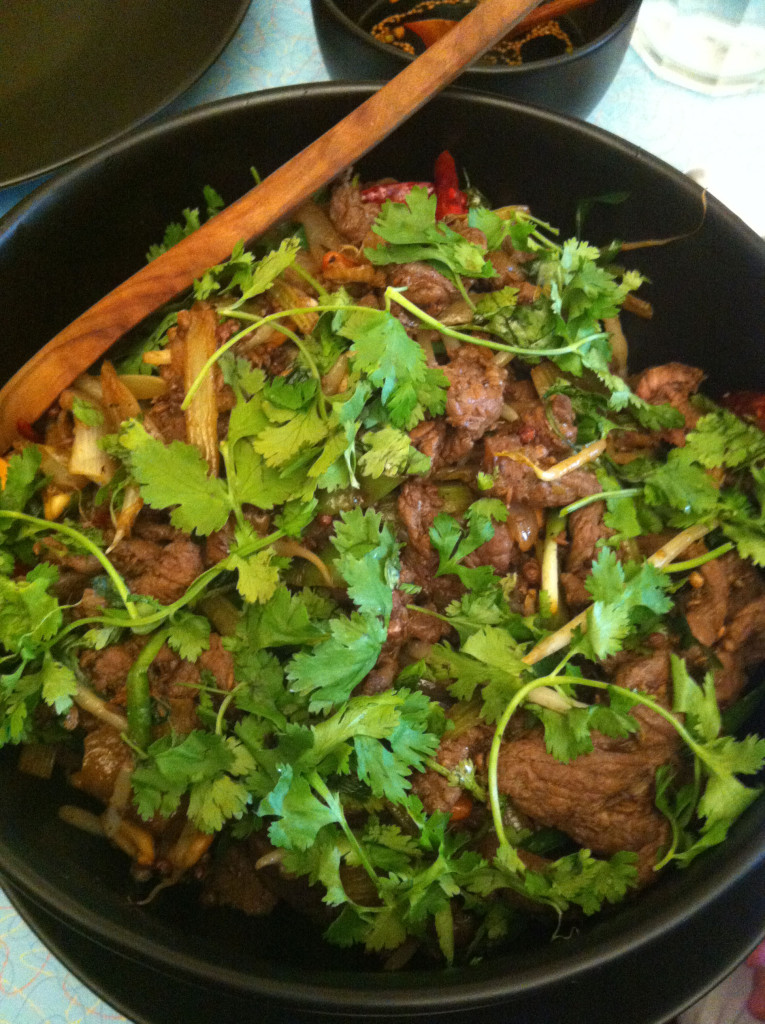 Japan
Makizushi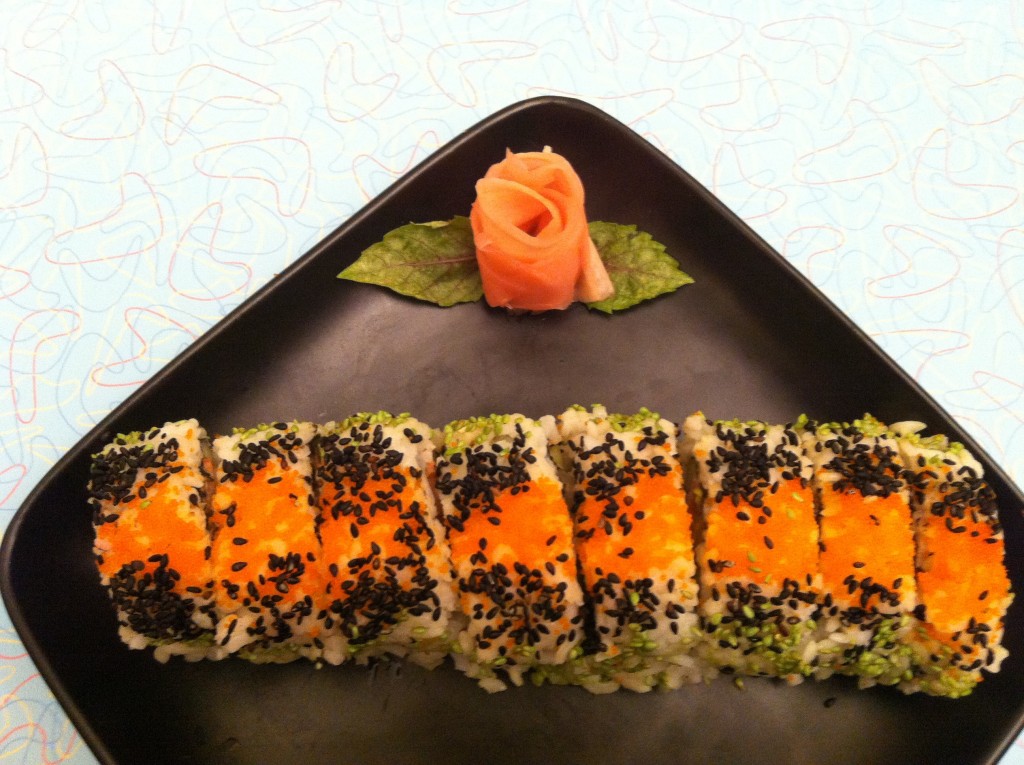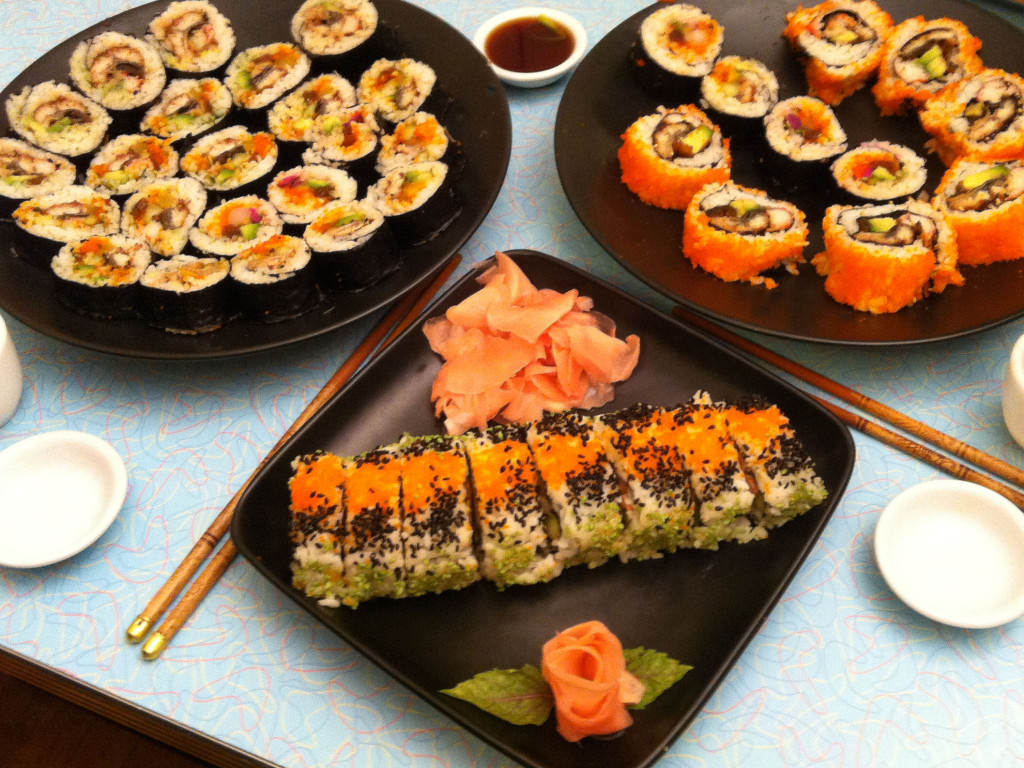 Eel, avocado, kani (crab stick), tamago (sweet egg), kampyo (dried gourd), various pickles and more. The flower is made of gari (pickled ginger) and shiso leaf.
India
Gajjar Halwa and Kesar Badam Burfi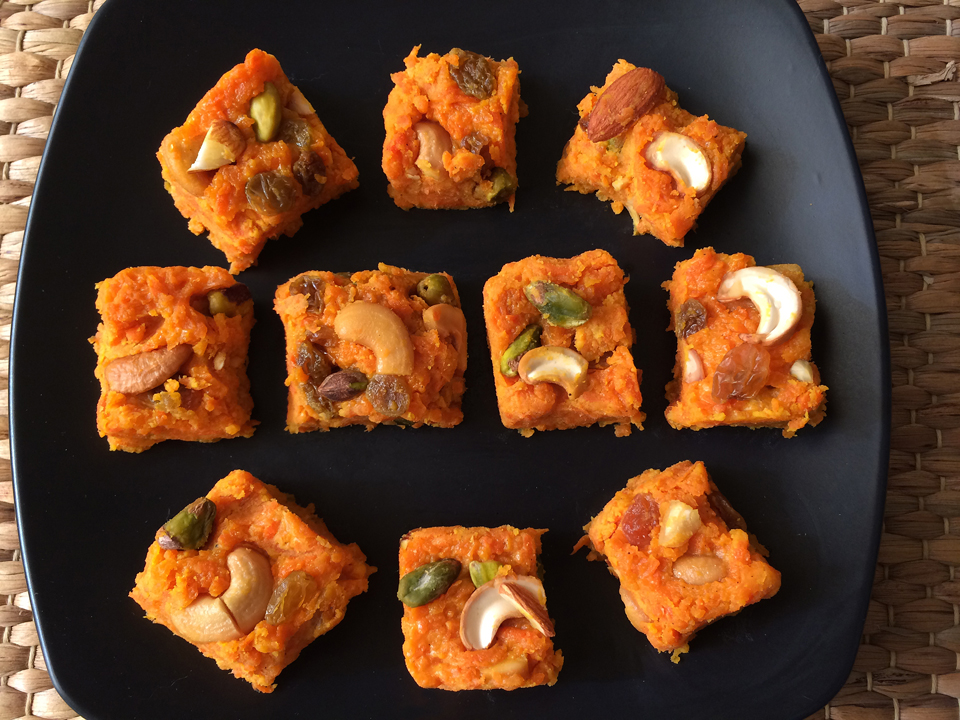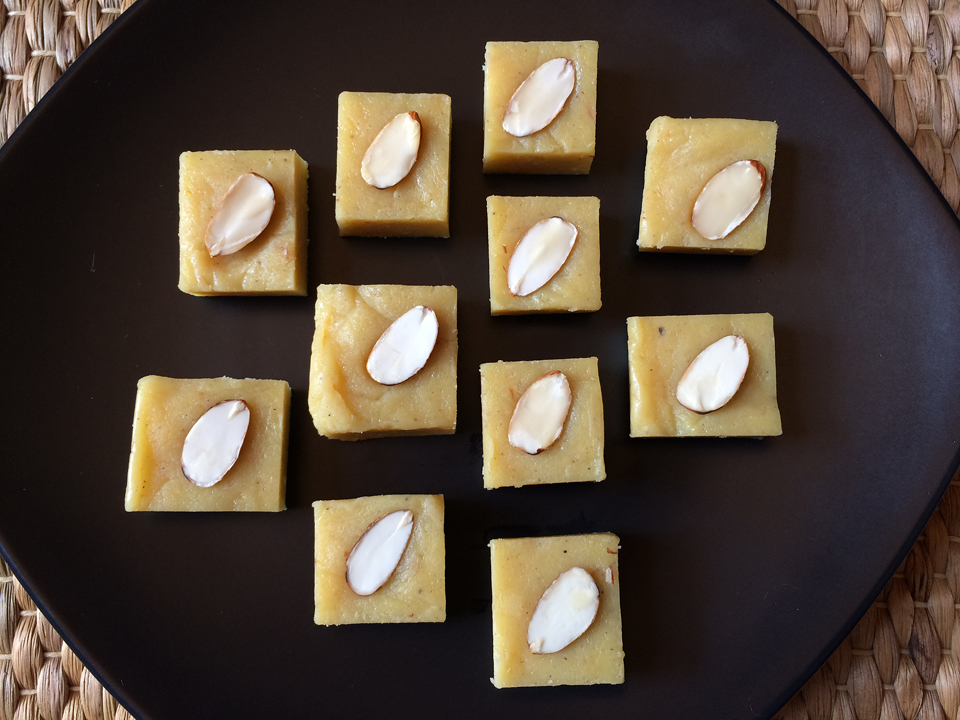 I can no longer keep this to myself. I am an addict, hooked on mithai. Mithai are Indian sweets and because I can never get enough, I had no choice but to learn to make some myself: Gajjar Halwa is carrot based and Kesar Badam Burfi is dense and heady with saffron and almonds. Share the saga of my happy addiction here.
Morocco
Rabbit Tagine with Persimmons, Loquats, and Chestnuts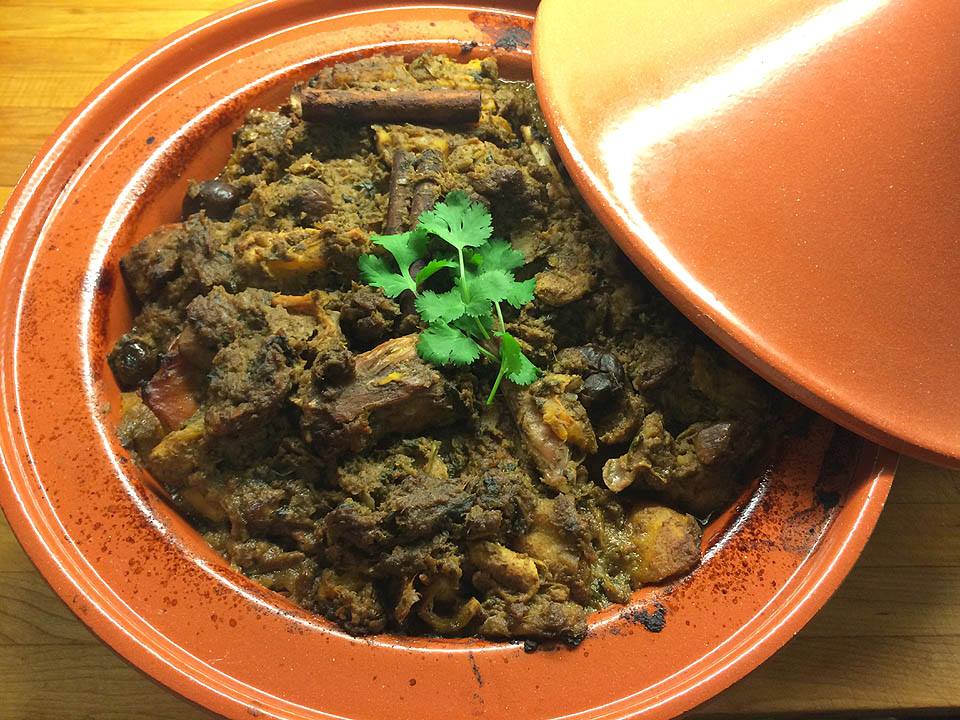 I wanted to create something unique for my pal Gael Greene's birthday potluck, so I made Rabbit Tagine with Persimmons, Loquats, and Chestnuts. (I don't think anyone has done that combination before.) The word "tagine" functions both as the name of the cooking vessel and the stew-like fare prepared within. The dish is shown here pre-garnish and sans photo of the saffron couscous with currants and just a touch of argan oil that accompanied it. Wish I had thought to grab some leftovers before everybody else did!
West Africa
Palmnut Cream Stew and Thiakry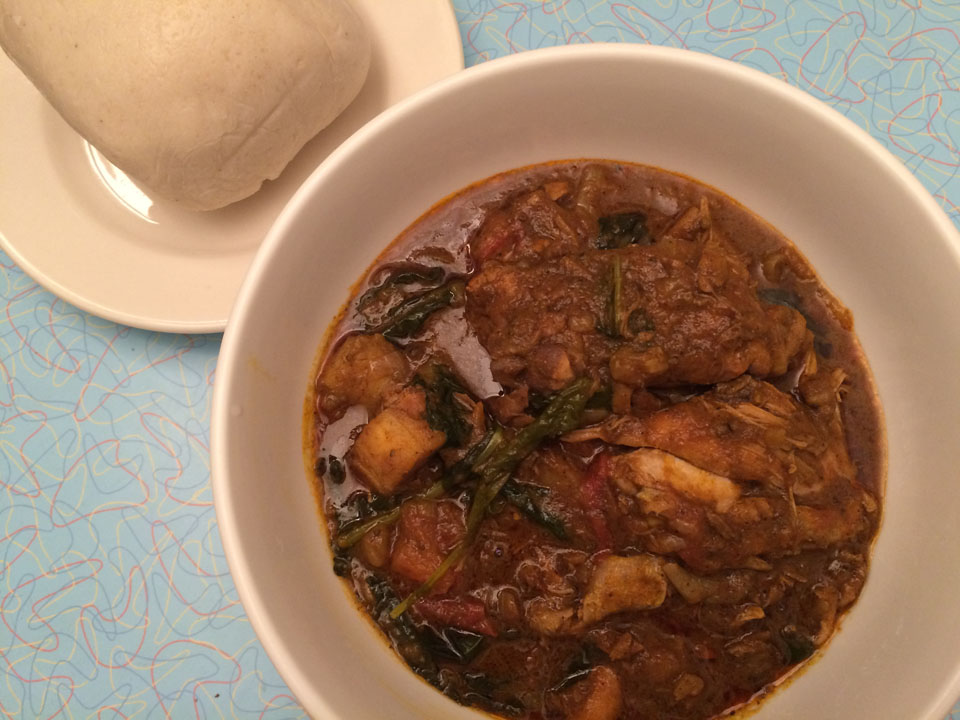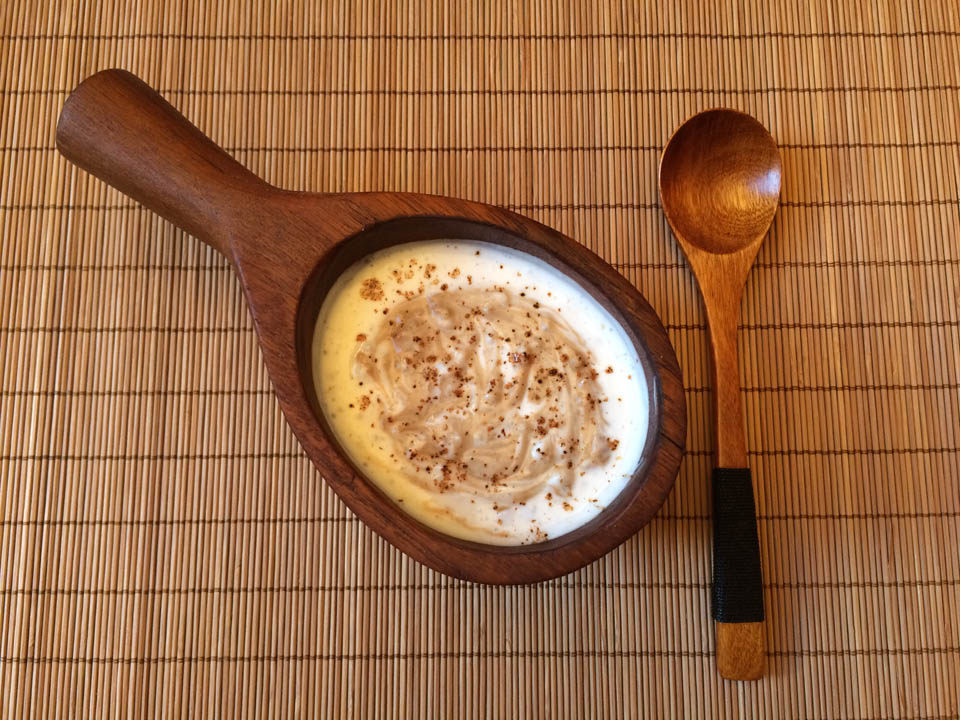 I've been getting into cooking West African cuisine lately. Here's my rendition of Palmnut Cream Stew with chicken, smoked dried fish, squash, plantain, tomato and kale. That's fufu (pounded yam) on the side. Turnip Greens with Peanut (not shown) rounded out the meal. And staying with the West African theme, dessert was Thiakry, a sweet dish made of millet. My spin on it contains swirls of baobab with peanut crème (which itself is the basis for another dessert called Ngalakh).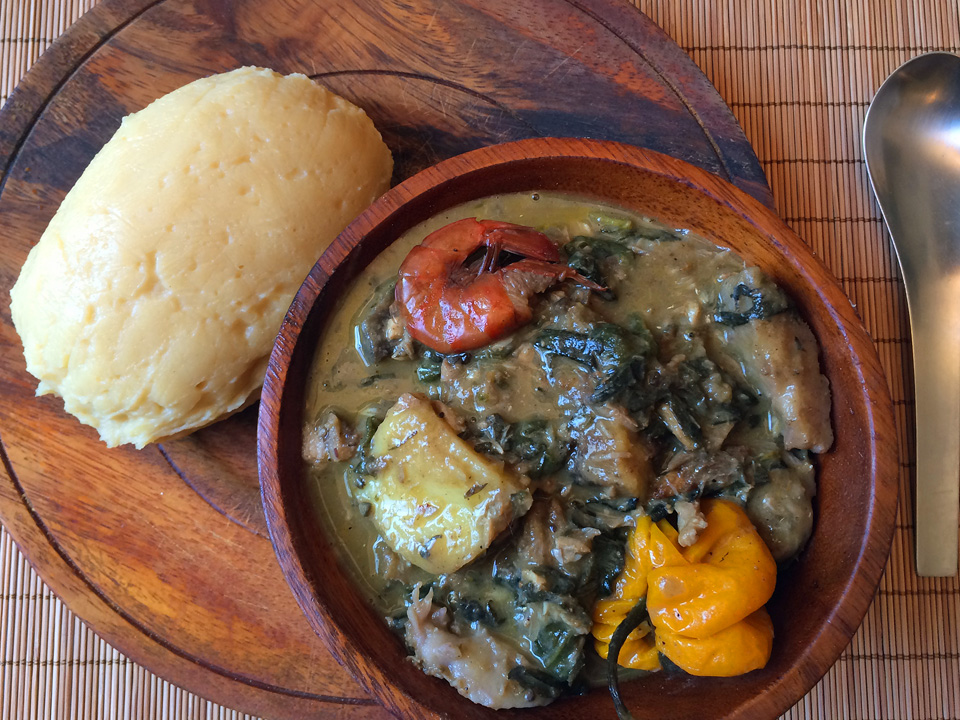 Another foray into cooking West African food, this time a fish and yam soup. Fish (fresh red snapper, stockfish, smoked bonga fish, dried prawns, crayfish powder), two kinds of yam, potato leaf, water leaf, and a fistful of spices. Fufu, plantain this time, at the ready.
Middle East
Koshary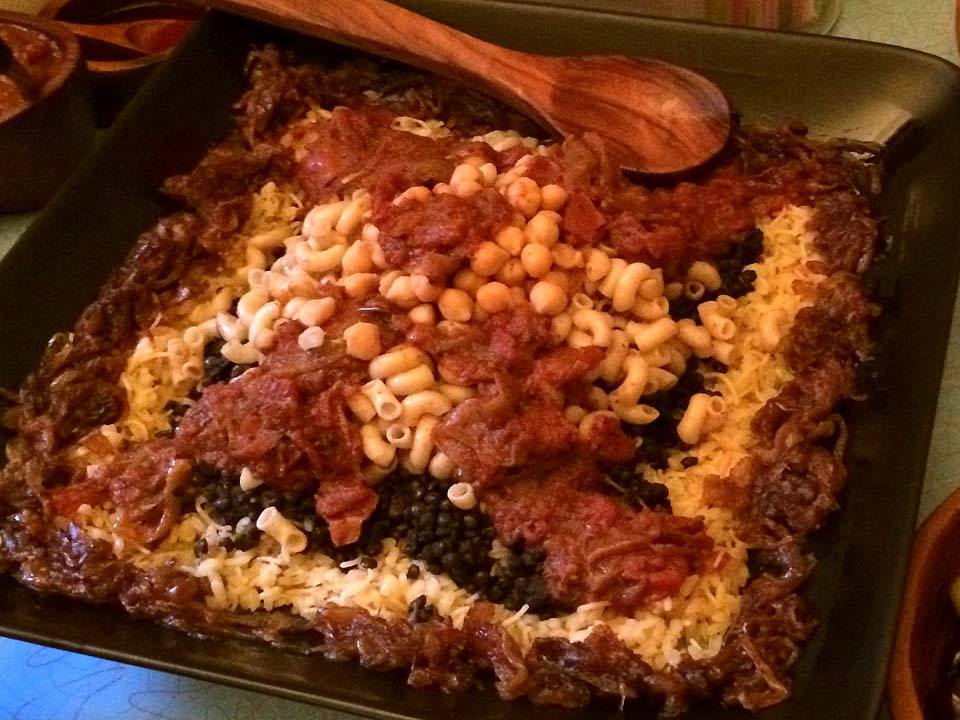 I made this Egyptian comfort food for a friend's birthday. Layers of caramelized onions, rice, vermicelli, black beluga lentils, elbow macaroni (yes, elbow macaroni!), chickpeas, and tomato sauce – seasoned with heavenly spices (baharat and others) and piled into a pyramid.
The usual suspects accompanied the feast…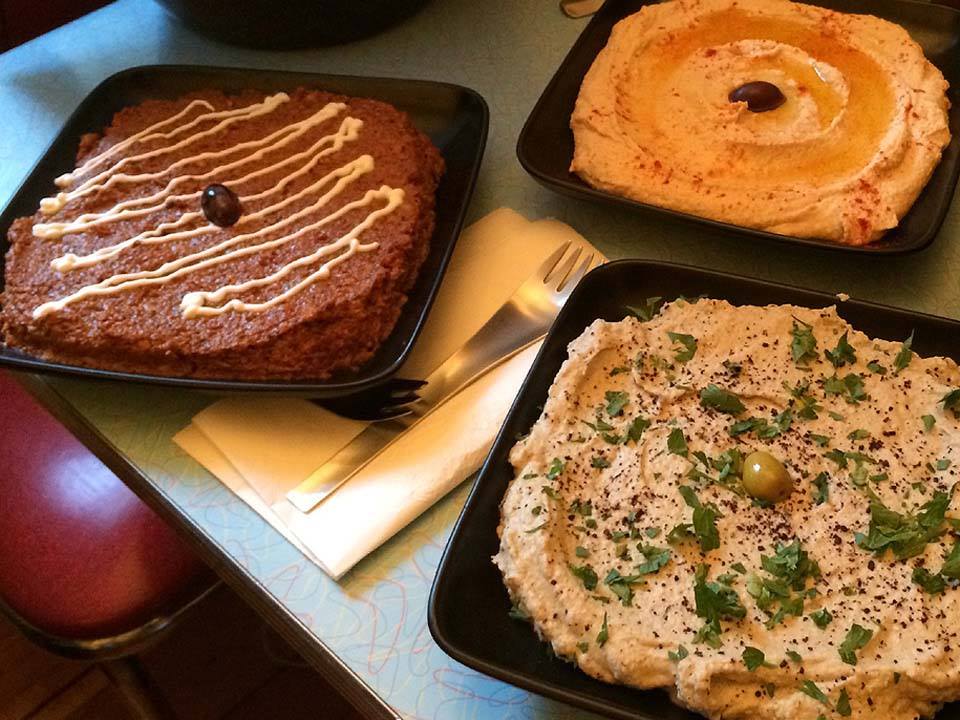 …muhammara (a red bell pepper and walnut dip), hummus, and baba ganoush.
Colombia
¡Arepas!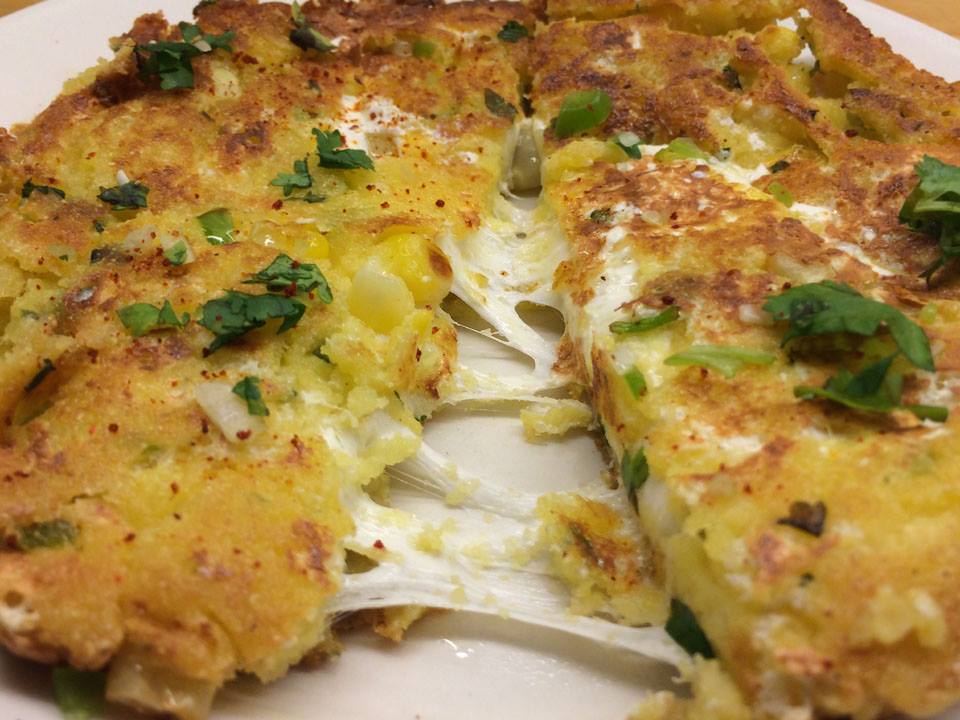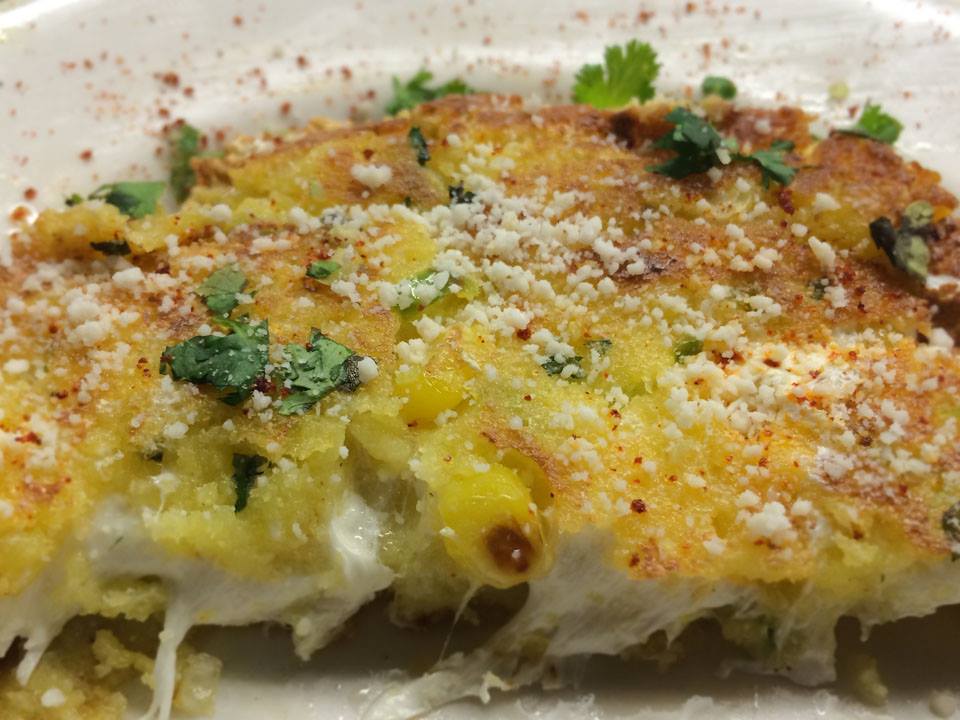 Cheesy corny goodness! Arepa con Choclo with fresh grilled sweet corn, quesillo (Mexican string cheese), scallion, jalapeño, cilantro macho, pápalo, (two amazing fresh herbs) and cotija (grated Mexican cow's milk cheese).
Thailand
Thai Duck Salad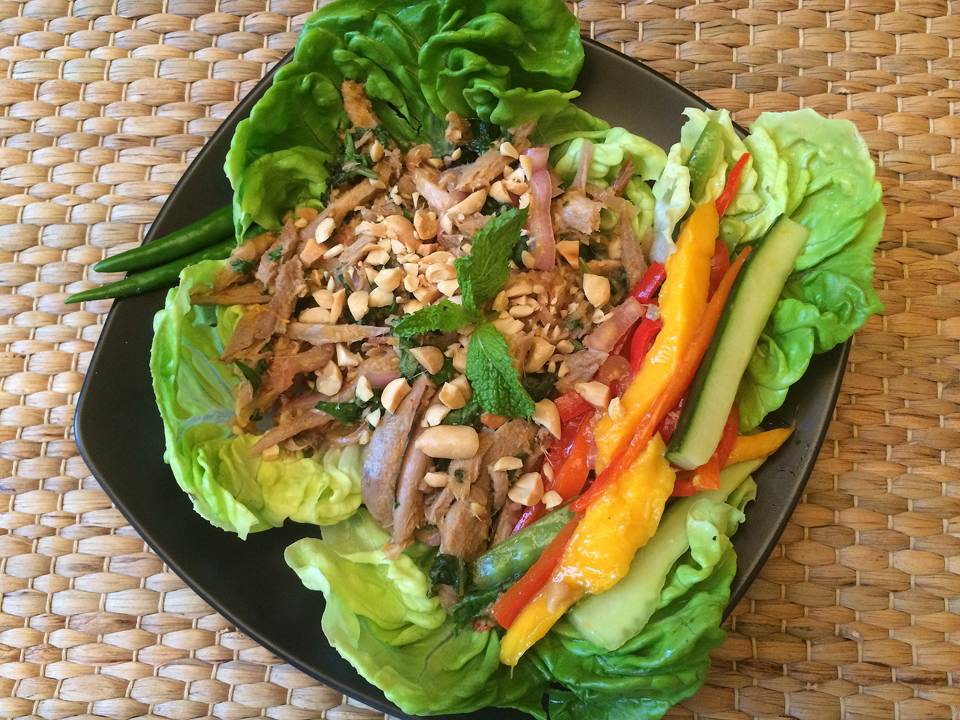 Roast duck with Thai basil, cilantro, mint, shallots, and lemongrass, with a chili paste, fish sauce, sugar, and lime juice dressing. On the side, there's red bell pepper, snow peas, cucumber, and mango all topped with peanuts and served over soft butter lettuce.
Penang Curry Eggplant with Jackfruit and Jackfruit Seeds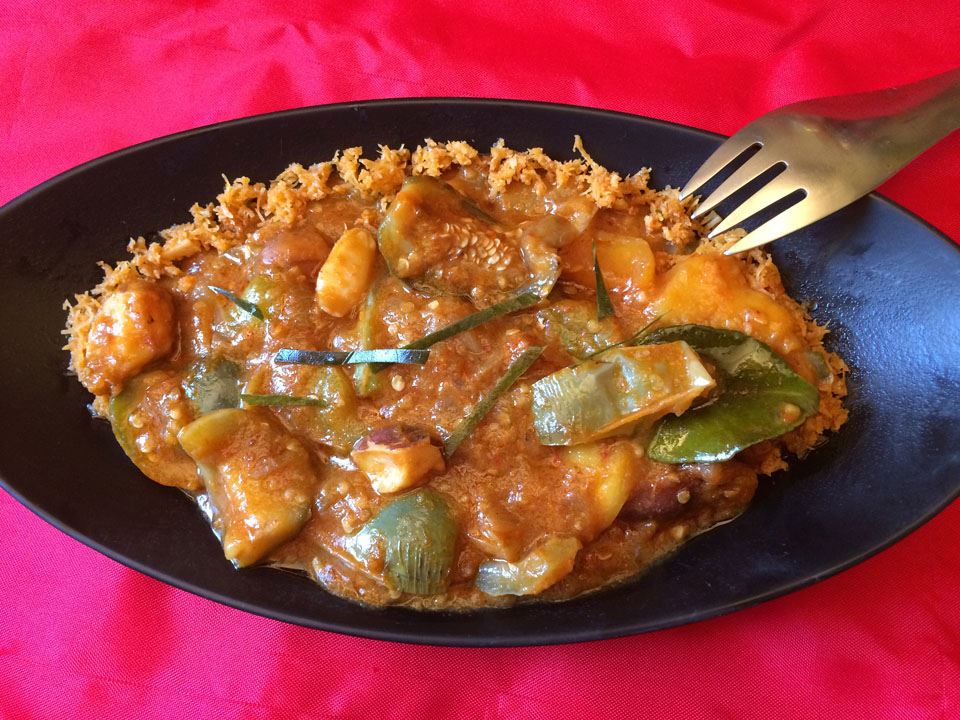 I had this idea when jackfruit was in season. If you buy a huge hunk, you can break it down yourself (although it's a sticky mess) and in addition to the delicious, sweet fruit, you get a bonus when you roast or boil the seeds. Their flavor is mild and nutty, somewhere between a baked potato and a chestnut. The roasted version figured into this dish.
Som Tum – Green Papaya Salad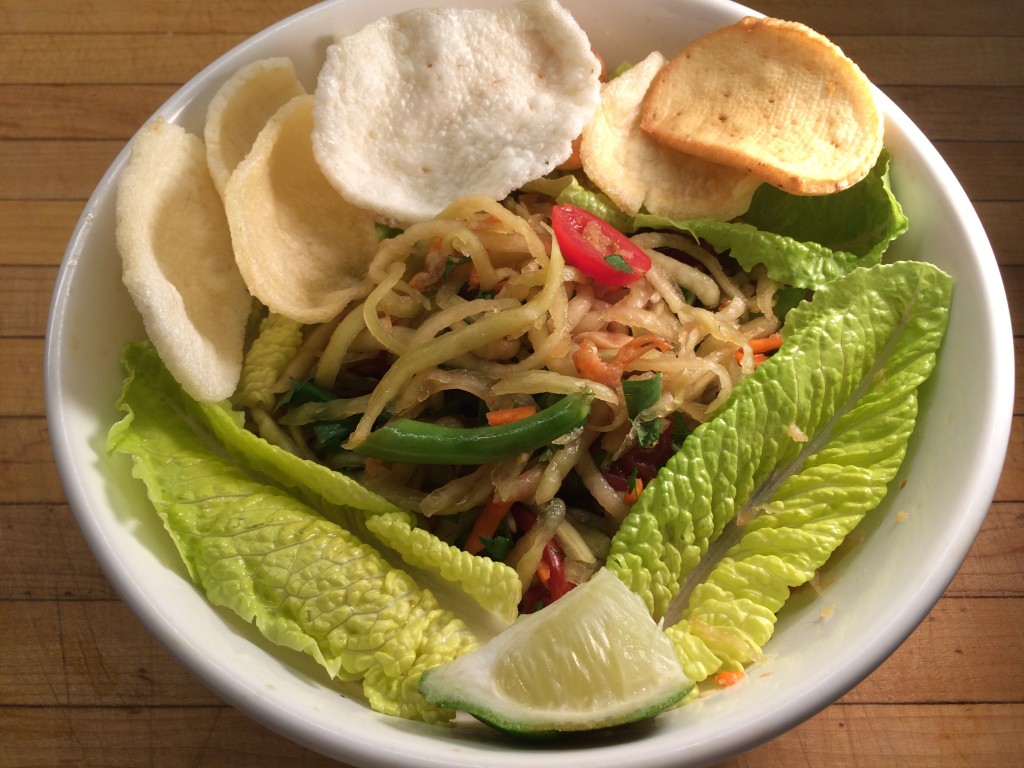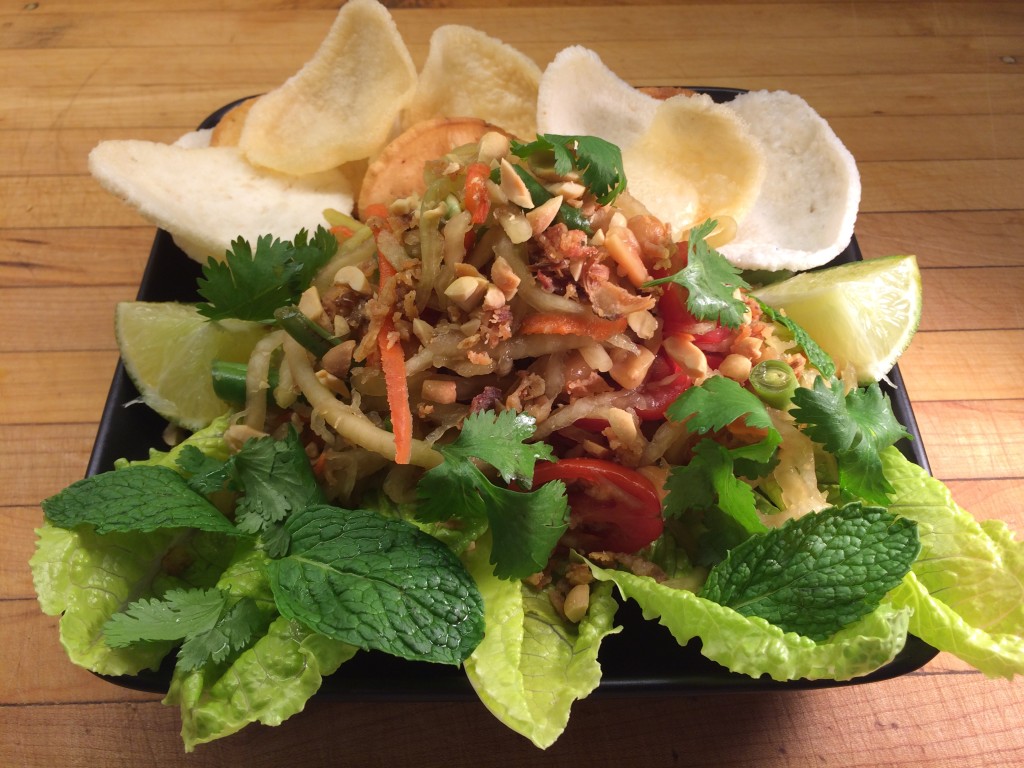 Spicy, sweet, salty, sour. Yep, that about covers it.
Experiments (Just messin' 'round)
Croatian Smoked Pork Crêpes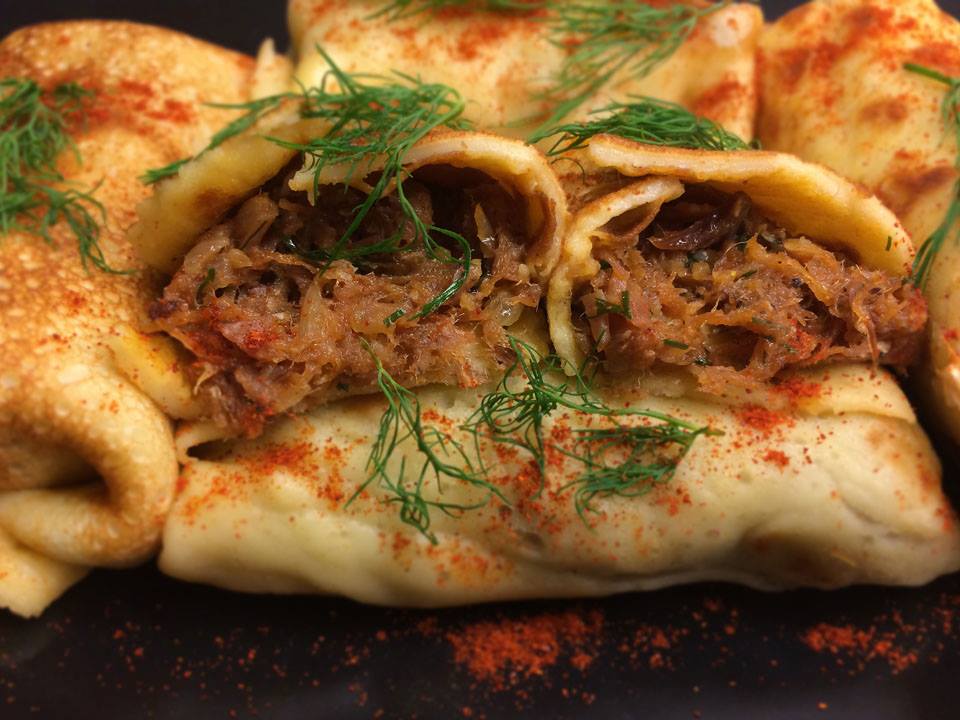 I got some Croatian smoked pork but was uncertain about what I wanted to do with it. Ultimately I simmered it until it was falling apart, shredded it, sautéed it with onion, garlic, tomato and pepper pastes, sumac, coriander seed, fennel pollen, fresh dill and more. But now what? Turns out it was a perfect filling for crêpes!
Sautéed Skate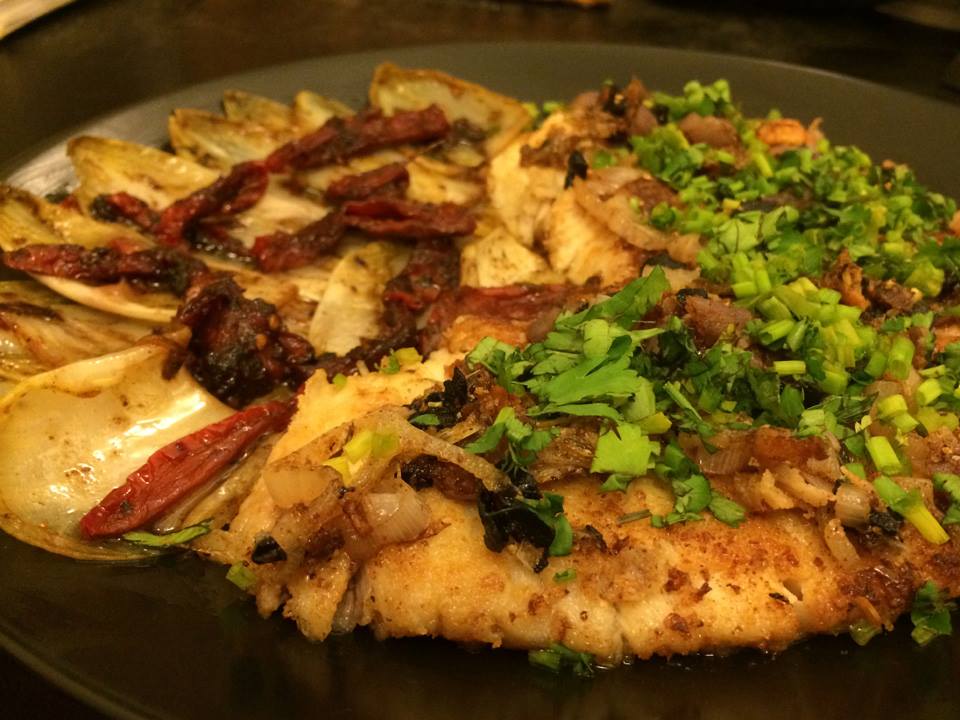 Skate with brown butter, black garlic, shallots, lemongrass, chives and cilantro accompanied by braised endive with sun dried tomatoes in a balsamic reduction.