Instagram Post 1/27, 28, 29/2020
I was no stranger to the food at Am Thai Bistro on Church Ave in Brooklyn and always thought it was a cut above the norm for the area (if not especially creative) so I surmised we'd be in relatively good hands at its owner's new undertaking, Thai Cook in Elmhurst. Sharing space with iCook Buffet, a BBQ/hotpot place at 81-17 Broadway, the menu couldn't be more different from its Flatbush sibling; IMO this venture is the real deal and easily stands up to its neighborhood Thai competitors of renown.
Ten of us assembled there for lunch (which is code for we had the opportunity to taste ten different dishes) and therein lies the rub: we all agreed that everything we ordered was outstanding, so I'm stymied by culinary mastery and can't recommend favorites. Therefore let us stipulate that you won't go wrong with any of the items in this post. Incidentally, don't forget to order sticky rice with your meal. Some dishes do come with regulation rice – see photos – but all of the sauces are so delicious that you'll surely want some sticky rice to soak up every drop!
(Click on any image to view it in high resolution.)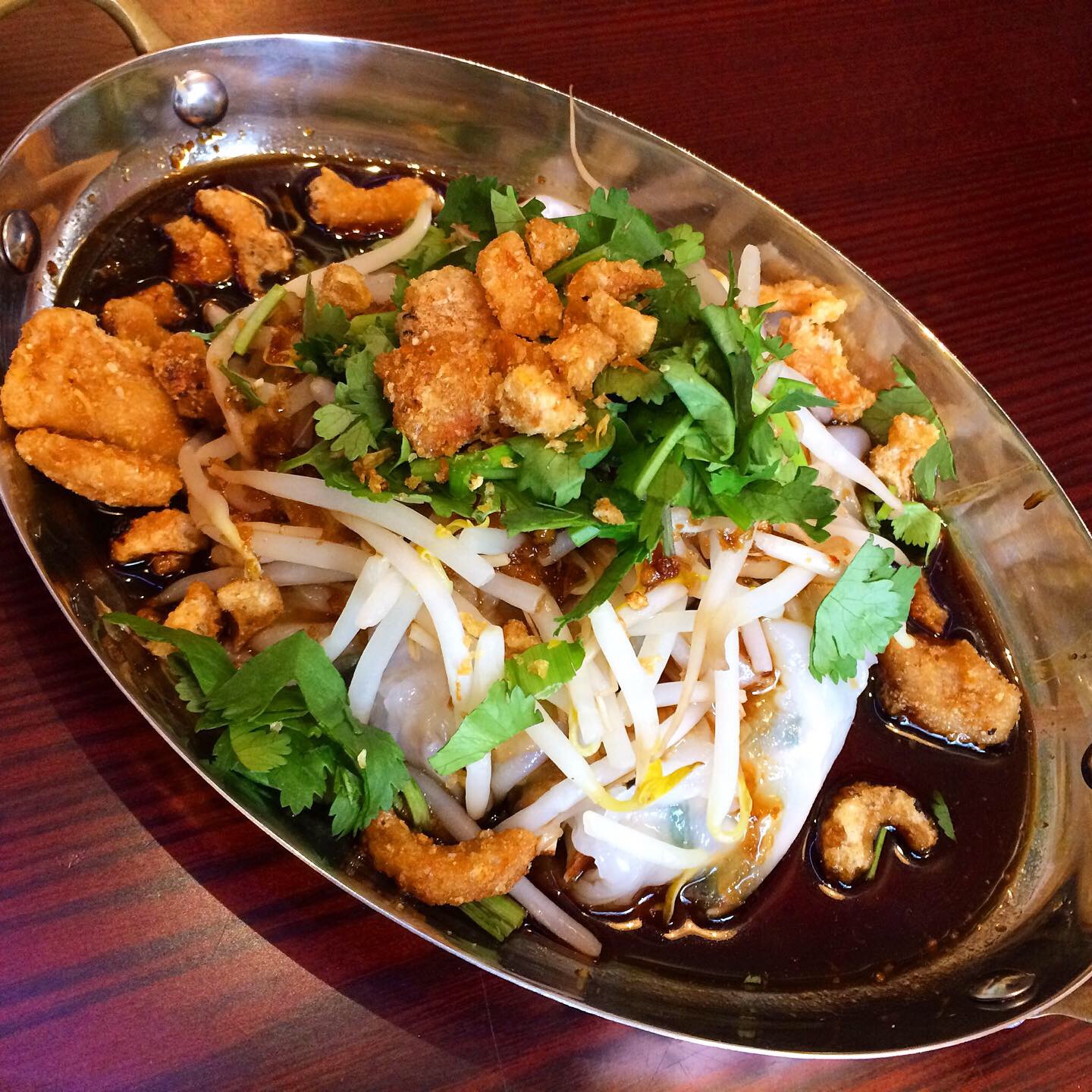 We started with Fresh Crepe: a rice flour wrap swaddling bean curd, sweet radish, and chives served with sweet soy-garlic sauce. I'm not certain what all those crispy bits were but they elevated the dish significantly.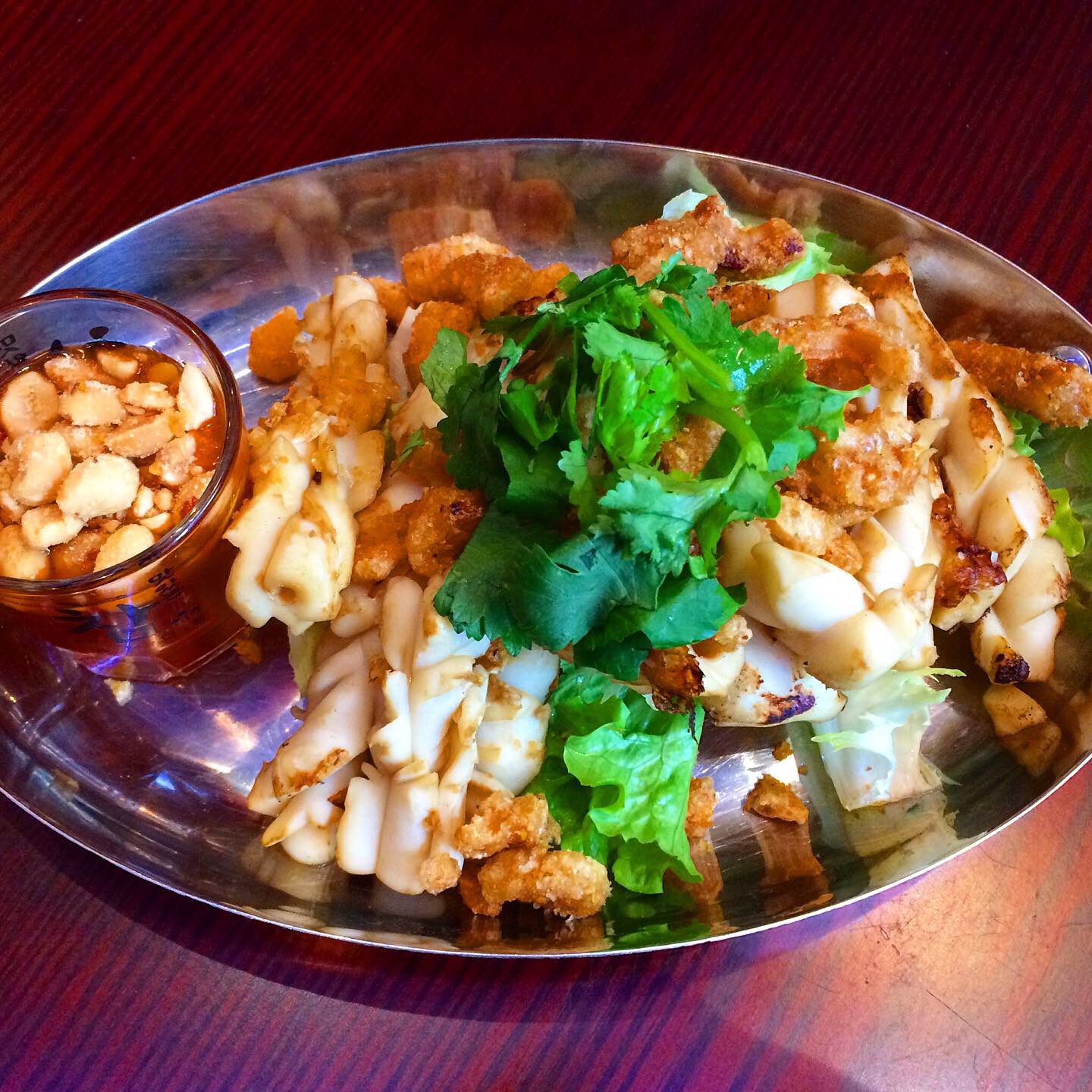 Grilled Squid: amazingly tender scored squid with sweet/sour/spicy sauce and peanuts. More yummy crispy bits.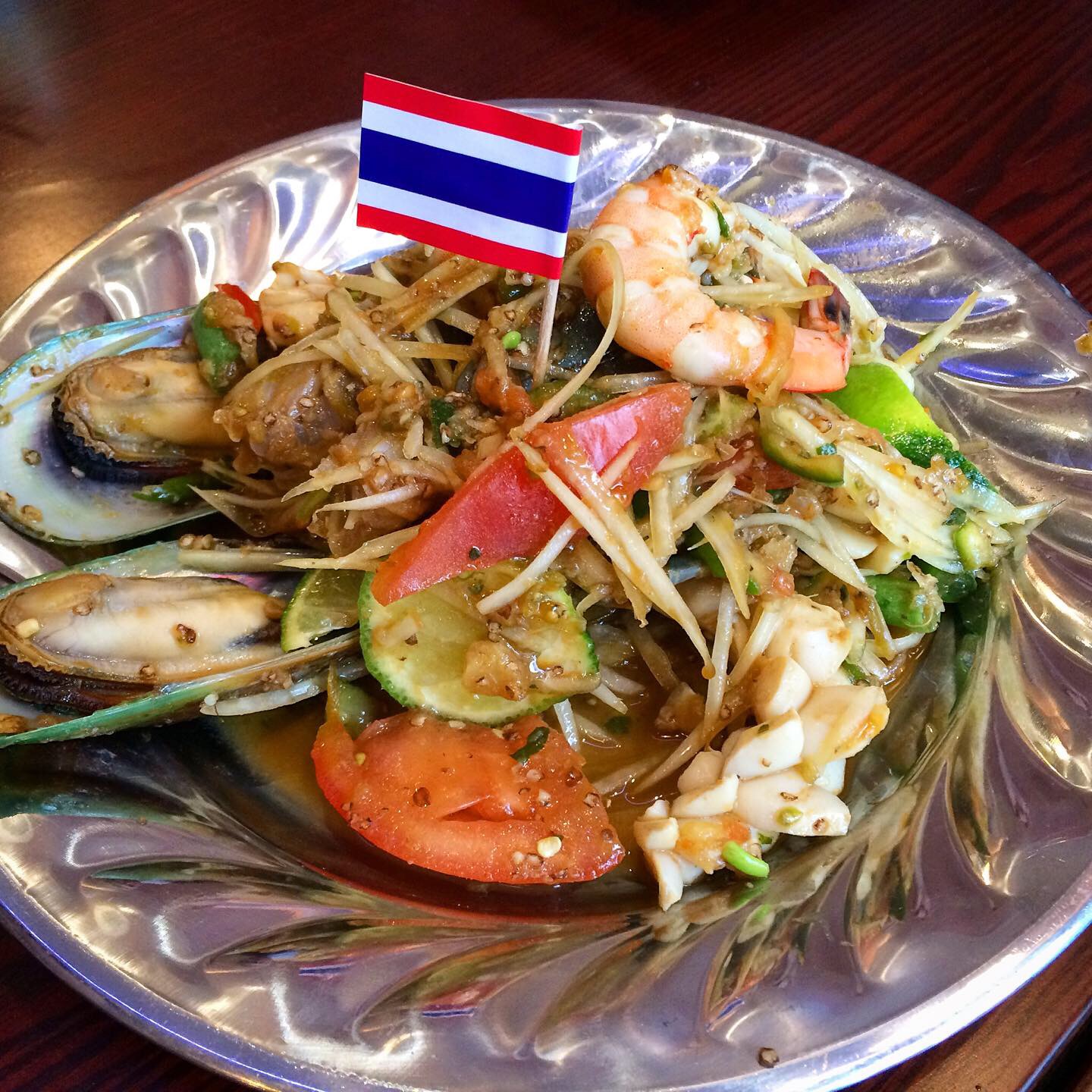 Tum Thai Cook from the Papaya Salad section of the menu. Mixed seafood (with that incredibly tender squid), blue crab, shrimp, and New Zealand mussels. Very spicy.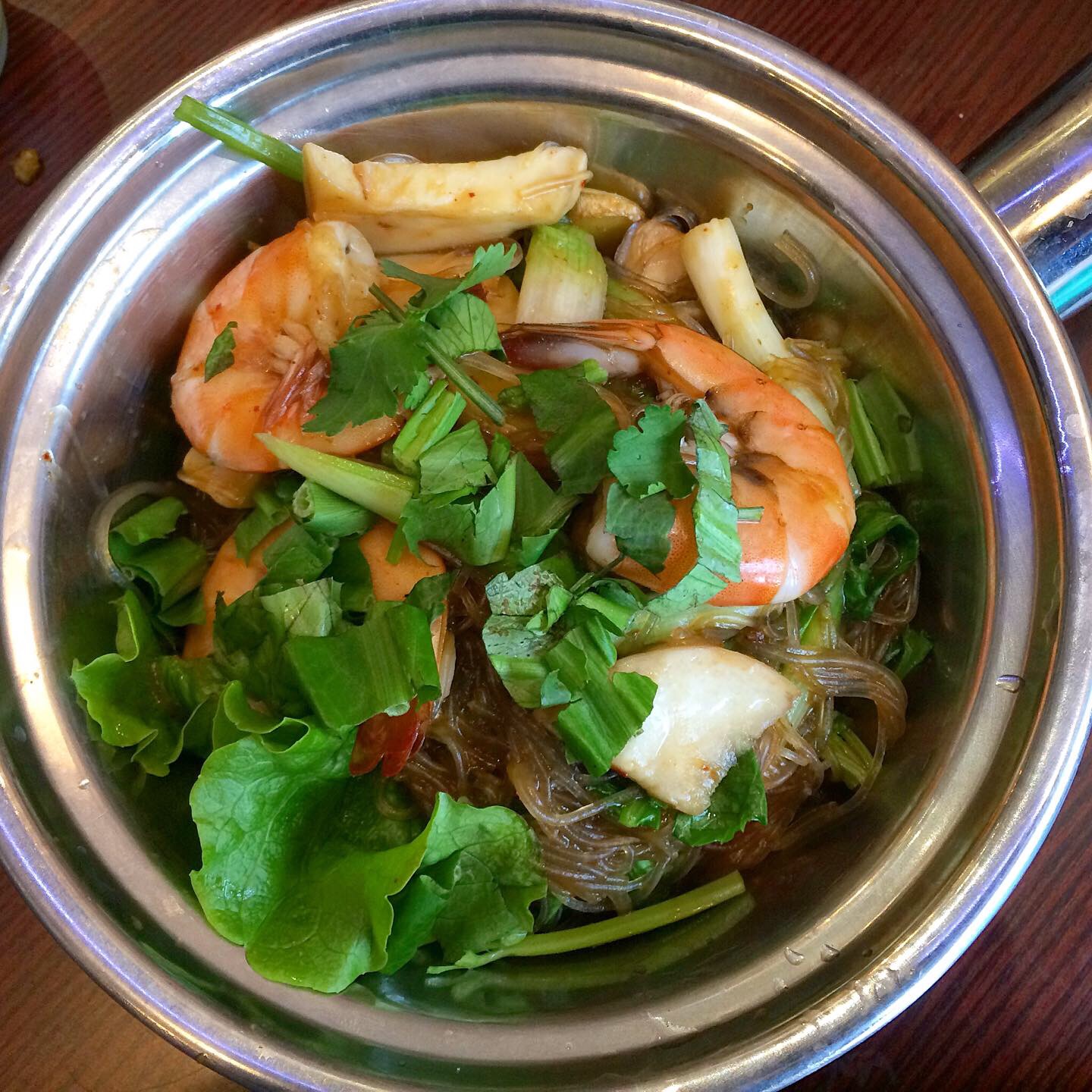 This is Aob Woon Sen. We opted for shrimp although crab and veggie versions are available; it highlights oyster mushrooms, celery, sliced ginger, pork belly, and glass noodles and is served with their signature Millionaire sauce. The sauce is chef Boonnum Thongngoen's custom recipe for the classic Thai sauce of chilies, garlic, shallots, cilantro, sawtooth coriander, makrut lime leaf, fish sauce and lime juice. She named it in honor of her husband who lost a metaphorical million in failed restaurants back in Thailand but retained his family recipe for the bespoke sauce. Excellent.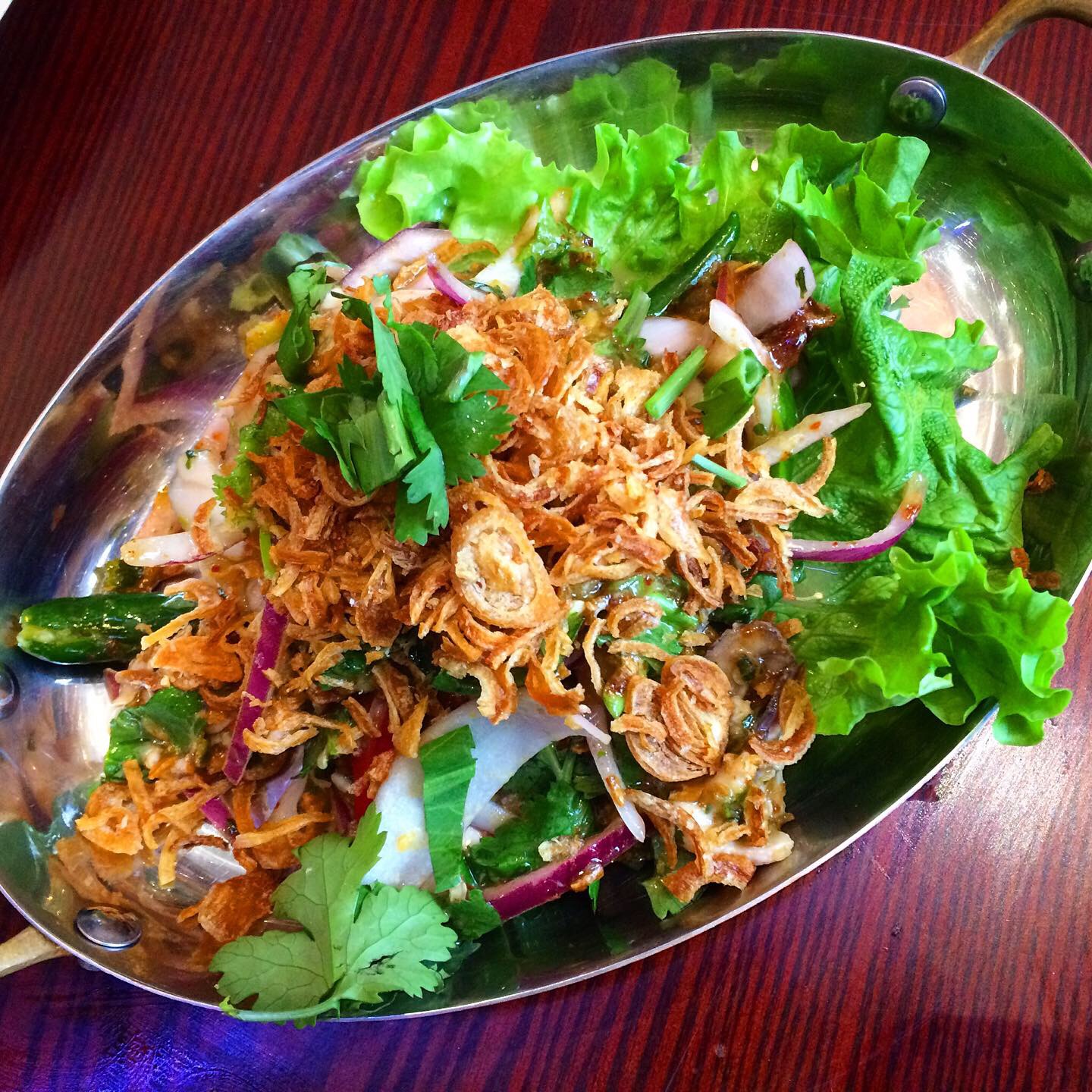 Spicy Yummy Salad (in other words a Thai yum) with oysters (they're in there) accompanied by red onion and scallions in cilantro/mint/lime sauce with crispy fried shallots on top and their signature Millionaire dressing on the side. Good stuff.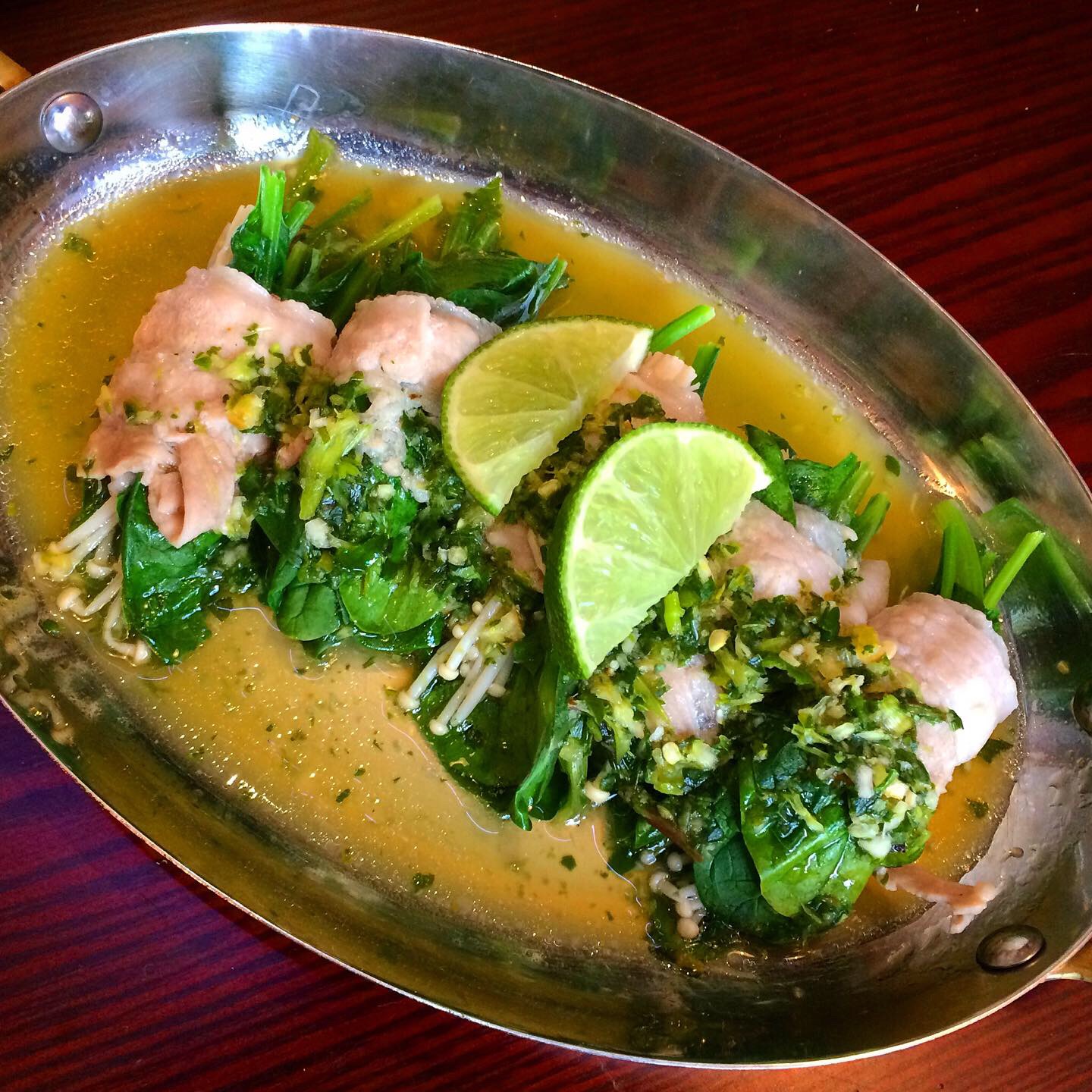 From the Steamed portion of the menu, sliced pork rolled around tiny enoki mushrooms with a lemongrass, mint, cilantro, chili, and fresh lime juice dressing.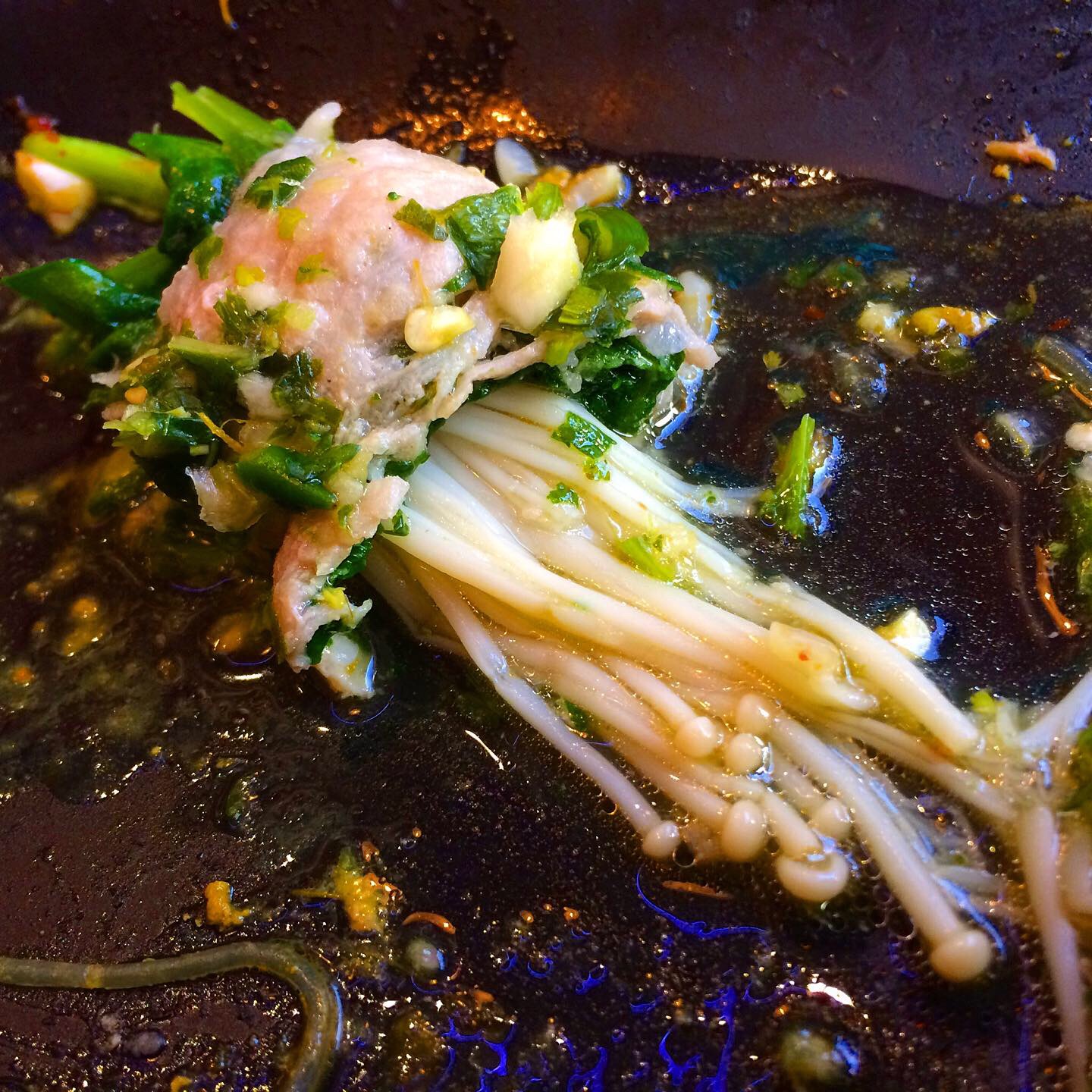 Not a squid: those are the enoki mushrooms oozing out of the pork!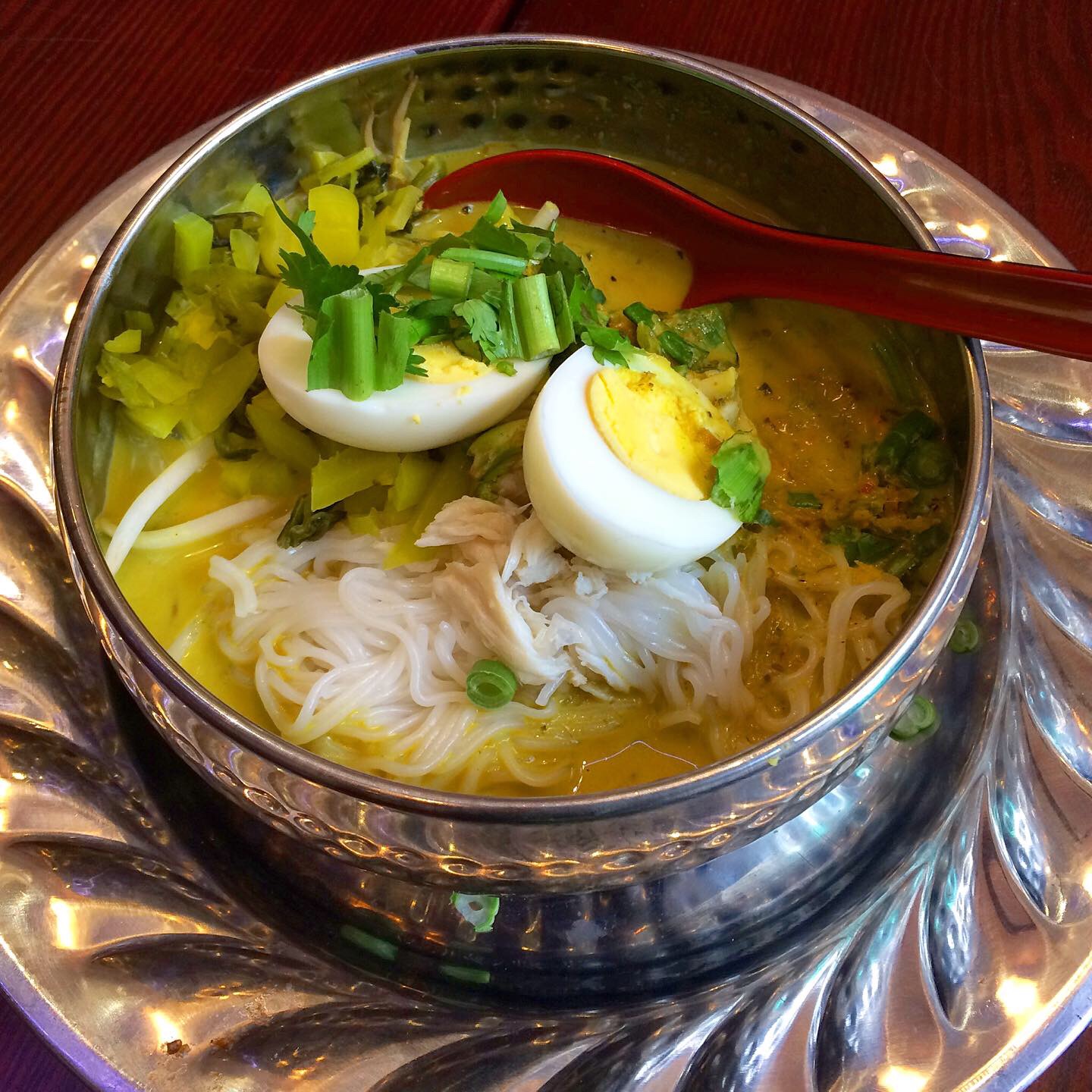 This is Coconut Crab Curry Noodle from the Noodle & Rice section of the menu. Spicy Southern Thai yellow curry with vermicelli noodles and pickled mustard greens. No discernable crab meat, but the flavor was there. And a hardboiled egg.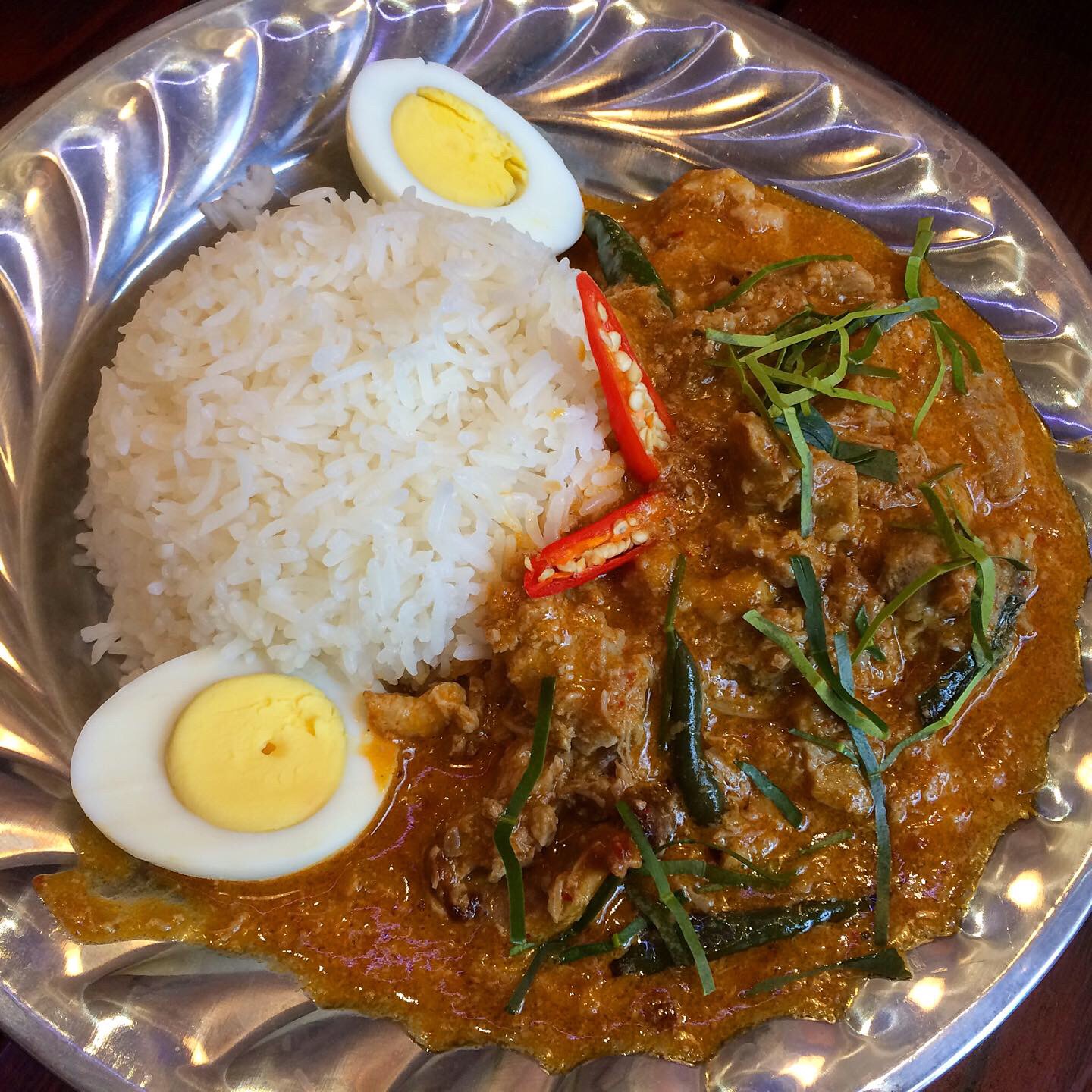 Also from the Noodle & Rice corner, Home Cooked Style Panang Curry (coconut milk) with beef. And a hardboiled egg.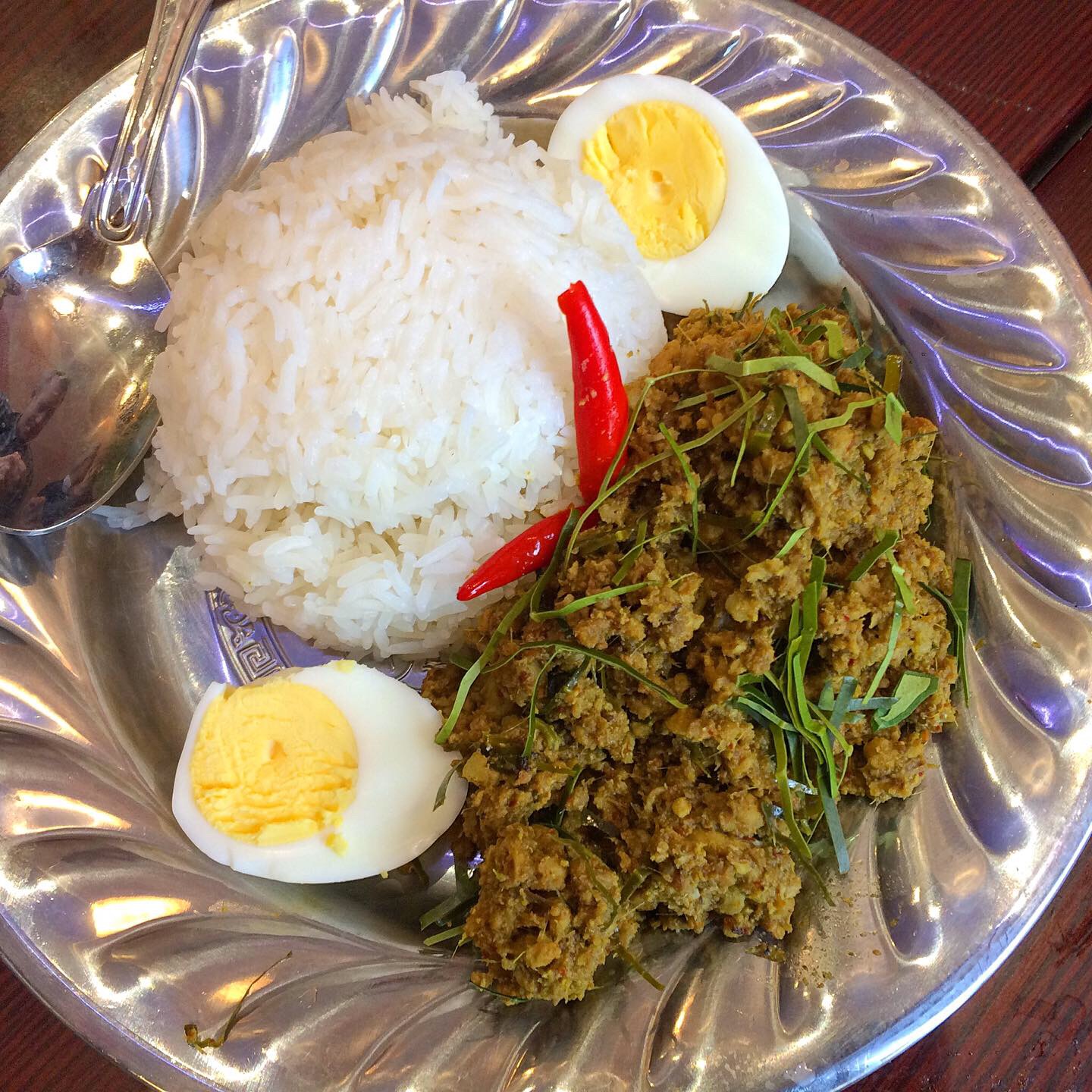 From Mom's Specials, Khua Kling, a spicy Southern Thai dish with dried beef and curry paste. And a hardboiled egg.
Thai Cook is located at 81-17 Broadway in Elmhurst, Queens. It shares a space with iCook Buffet and once inside it's easy to access one from the other, but cognoscenti will use the entrance on the right and walk down the hallway to hit the heights directly.