Maybe it was because on that day I had eaten less than I should have and walked farther than I should have carrying more than I should have on less sleep than I should have gotten the night before. Maybe.
Emotionally, it was a little surreal – like a scene in a French New Wave film from the late 50s, underscored with that quaint, quirky, quintessentially European music that telegraphs an atmosphere of utter happiness and convivial hyperfamiliarity, music that gets louder just before everything starts to get strange.
The weather was perfect for outdoor dining that day. "A drink to start?" asked our cheerful-as-a-Disney-bluebird server as if we were regulars or on some level had known each other forever. The menu listed one of my favorites. "Horchata, please," I requested, expecting either the creamy white rice drink or the opaque, grayish jicaro-based beverage. She quickly returned with a semi-translucent vividly pinkish-purple (or possibly purplish-pink) citrusy libation and disappeared before I had a chance to inquire.
Surreal is when the unfamiliar happens in familiar surroundings.
An animated manager-type emerged as out of a trippy mid-last-century flick, ever so eager and more than happy to help us, his newest old friends, with ordering from the extensive menu. "But first," I asked, "this is horchata?" He accommodatingly explained that it was Ecuadorian horchata, horchata lojana to be precise, an herbal drink made from a combination of flowers and herbs: lemon verbena, lemongrass, lemon balm – that explains the citrusy notes – mint and chamomile to name just a few of the ingredients. Horchata can blush: we live, we learn.
The pageant of surreal delight continued: the diner behind me excitedly exhorting a curious sidewalk passerby to come in and try the delicious food, she eats there all the time (turns out she lives just upstairs), and here are her recommendations; the couple seated catty-corner to me (he spoke only Spanish, she had some English), overheard as she was enthusiastically and sibilantly demonstrating an English plural for his edification: "Say beanssss." These days, it doesn't take much to bring a smile to my face. "This place engenders joy!" I thought aloud, caught up in the aura.
Enough about the ebullient ambiance. You want to know about the food, don't you?
(Click on any image to view it in high resolution.)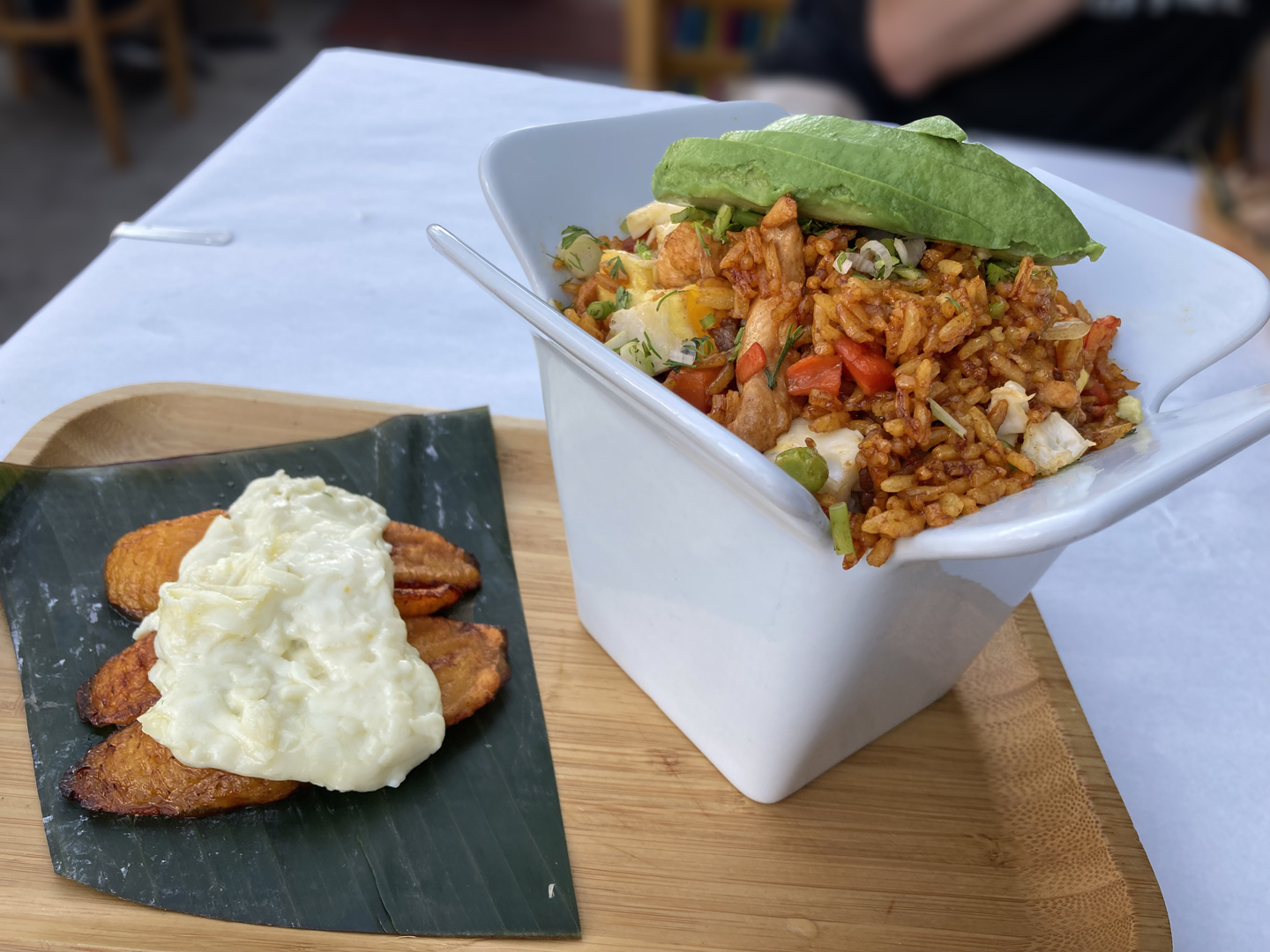 Leticia's had been recommended by a friend for their Chaulafan – a cognate of Chinese chao fàn, fried rice – and it was excellent. Ecuadorian style fried rice with shrimp, chicken, beef, vegetables, eggs, onions, bell peppers, and sliced avocado on top paired with sweet plantain under a hillock of cheese sauce. The surreal part? Its ceramic serving vessel was so cleverly designed to look like a Chinese take-out food container that it made Andy Warhol's famous artwork seem like just another advertisement for Campbell's Soup.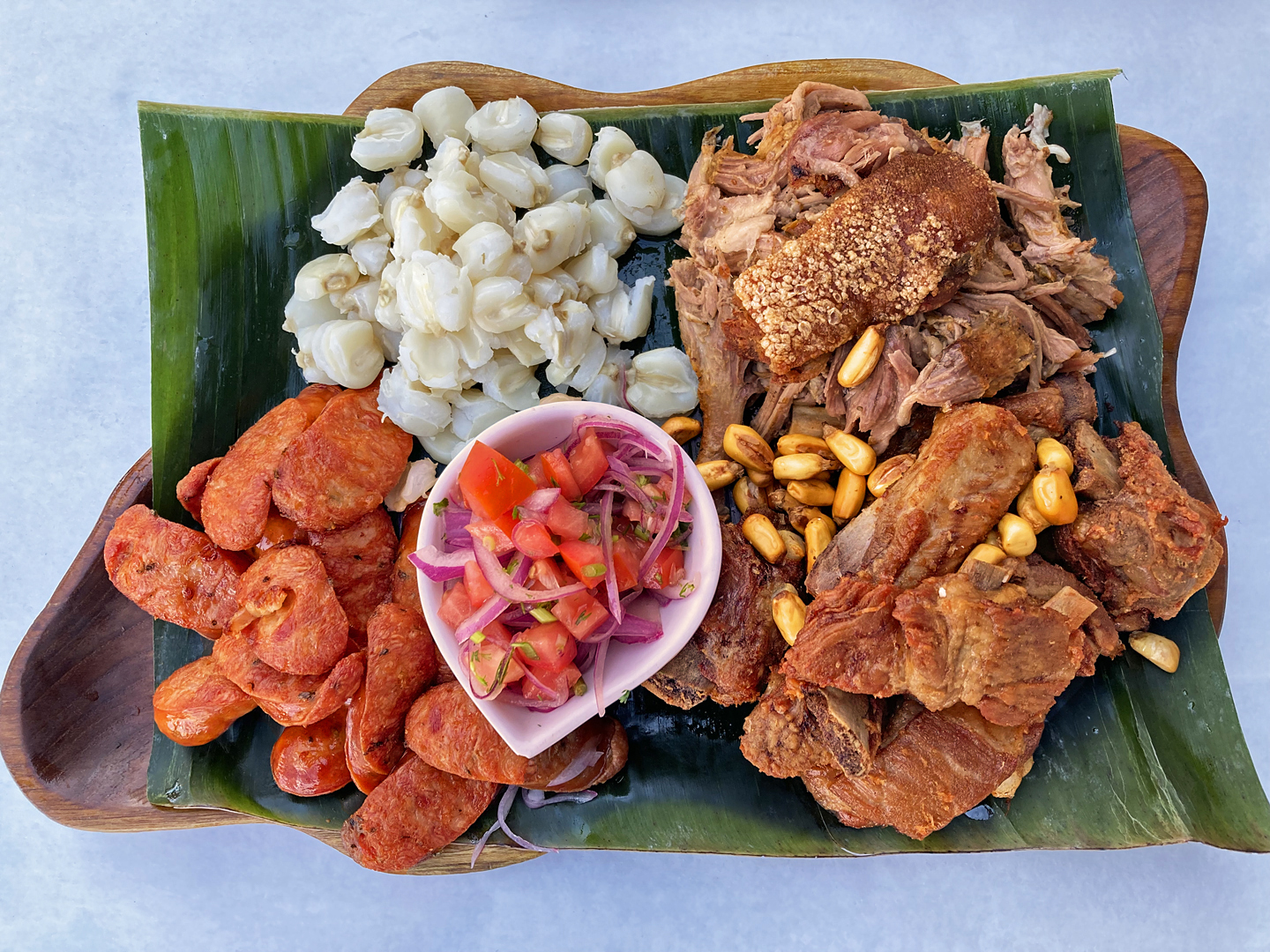 Tres Chanchitos (translation: three little piggies). A trio of succulent meats featuring hornado – perfectly cooked slow roasted pork (note the crown of crispy skin), fritada – juicy fried pork ribs, and chorizo – Ecuadorian sausage, served with pickled onions and tomatoes, mote (aka hominy, or corn on steroids) and chulpi (aka maiz tostado, or corn nuts). "Chanchito" also refers to a three-legged pig (surreal again), a good luck talisman and the shape of many molcajetes (including mine).
So there you have it. In some restaurants the charming staff and the ambiance make it unique, in some the food is absolutely on point; Leticia's delivers both and manages to go far beyond just special – like I said, the place engenders joy.
You already know that I'm going back. I wouldn't be surprised if I run into you there. Because after all, surreal is when the unfamiliar happens in familiar surroundings.


Leticia's is located at 40-32 National Street (at 103rd St just off Roosevelt Ave) in Corona, Queens.