It was that time of the year again and I had to spend down my freezer and fridge to make room for Thanksgiving and Christmas cooking and baking. The challenge was to use up what I had without buying even more stuff! All ingredients guaranteed sourced from whatever I happened to have in my freezer, fridge, and pantry.
(Click on any image to view it in high resolution.)
Challenge #1: Turkey thighs, jerk seasoning, Croatian pancetta, leftover potatoes, mango coulis, agrodolce sun-dried red peppers, celery, onion, buttermilk dressing, garnished with husk cherries. The result: Sweet 'n' Spicy Jerky Turkey Salad.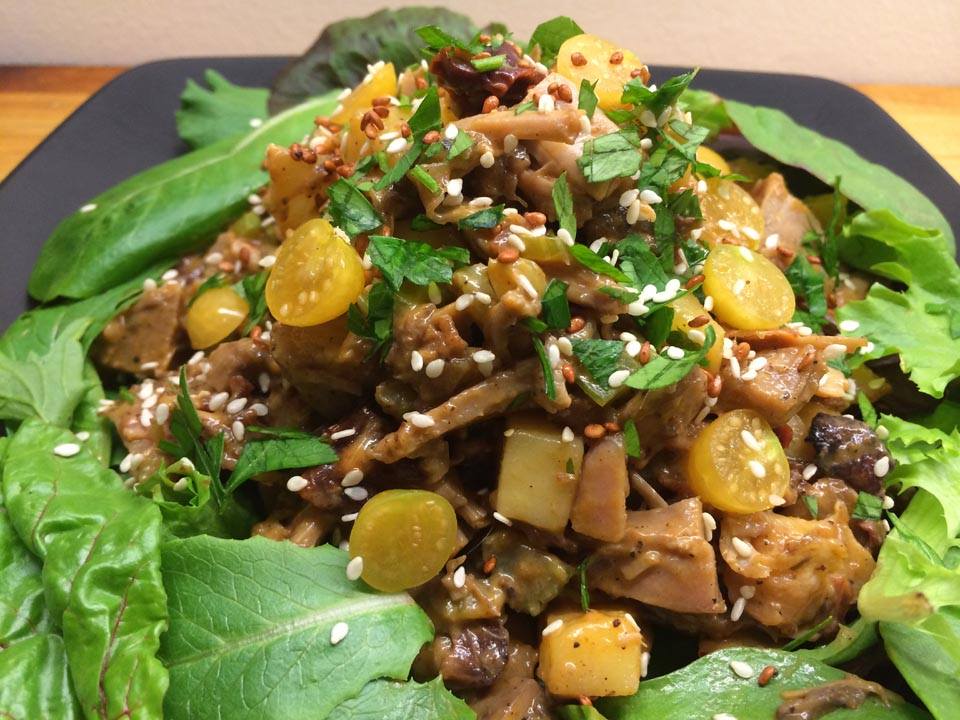 Challenge #2: Leftover Chinese BBQ rabbit, king mushrooms, wood ears, scallions; lots of spicy sauces from the pantry. The result: Spicy Hunan Stir-fried Rabbit. Really good. (And since those sauces were added with reckless abandon, I have absolutely no idea of how much of what went into it so I will never be able to recreate this spectacular dish. Never. Ever.)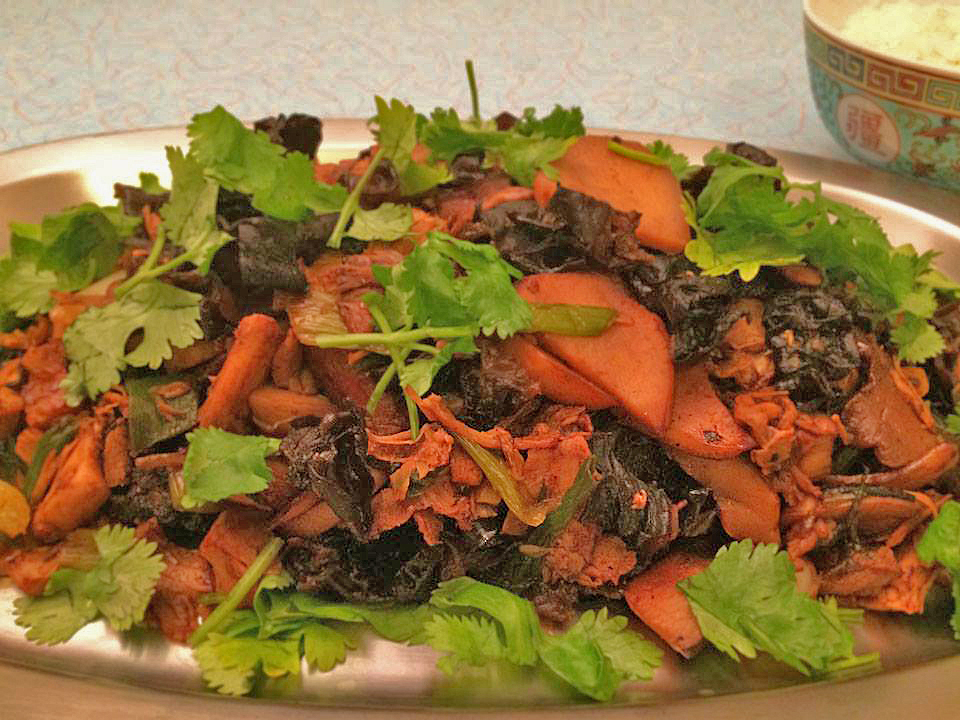 Challenge #3: Wonton wrappers, ground pork, ground Thai sausage, Thai curry paste, and galangal from the freezer; and from the crisper drawer, lemon grass, kaffir lime leaf, and more from the pantry. The result: Thai Potstickers.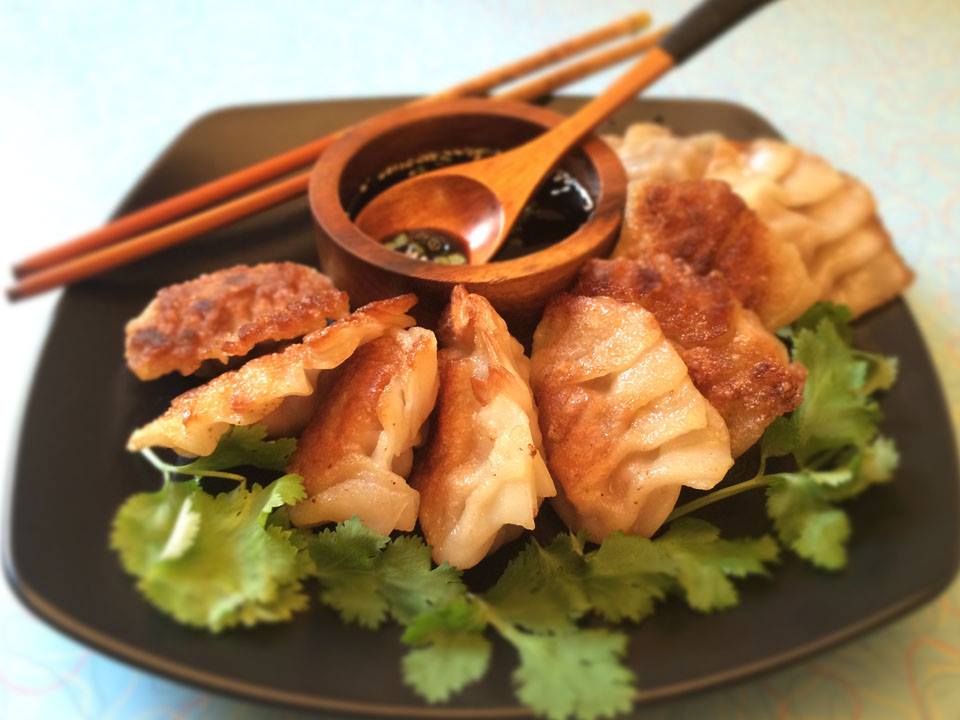 Challenge #4: So remember that Croatian smoked pork that I simmered until it was falling apart and used in crêpes? You didn't think I was going to toss that amazing broth (which was delicious on its own), did you? Tonight's challenge: use up the frozen broth! I sautéed leeks and carrots from the fridge crisper drawer, added the pork broth plus some leftover Colombian papas from the freezer to thicken and flavor the soup, found some vegetable wonton wrappers in there too that I cut into strips to use as noodles, added kale, a little sage and thyme, topped it with grated Parmigiano Reggiano. I always forget how amazingly rich and easy soup can be. Freezer is about half full now. Getting there!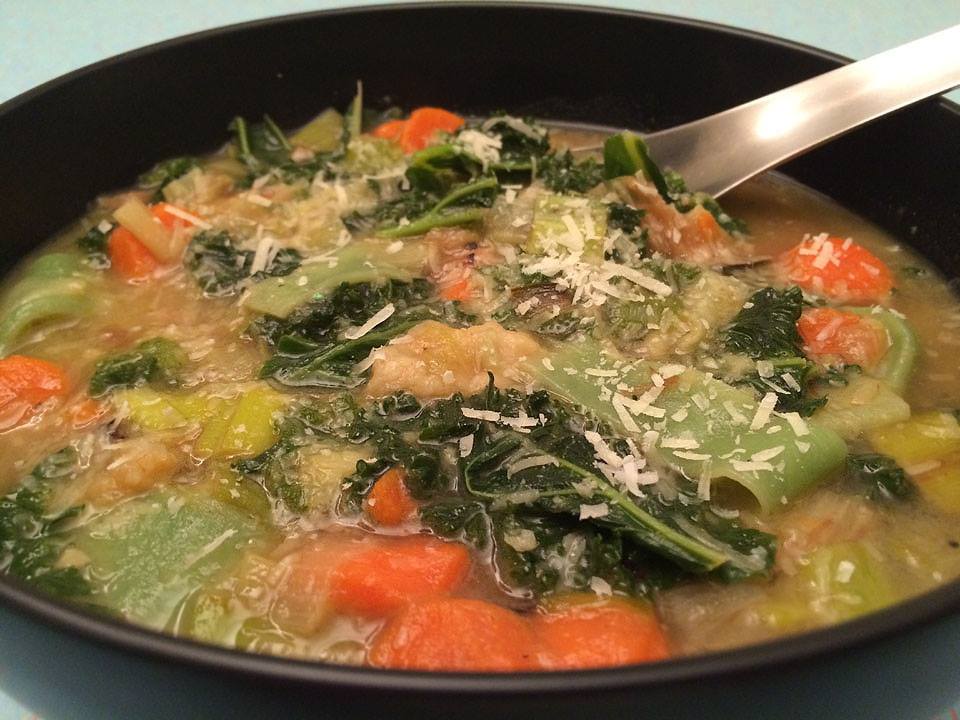 Challenge #5: So Challenge #4 incorporated the leeks I had in the crisper drawer, but I hadn't used the tops, so I added some other veggie scraps and made vegetable broth. I combined that with some leftover Hunan dried beef and lamb with mushrooms I had in the freezer (as flavoring agents) plus yee-fu noodles, Chinese sausage (lap cheong), preserved duck egg yolks, dried shiitake mushrooms from the pantry and the last of the kale (finally!). Lots of seasoning included chilies, oyster sauce, black vinegar, sesame oil and more. The result: Hunan Little Bit of Everything Soup. Served it to about 25 folks who gave it a thumbs up. Not too shabby.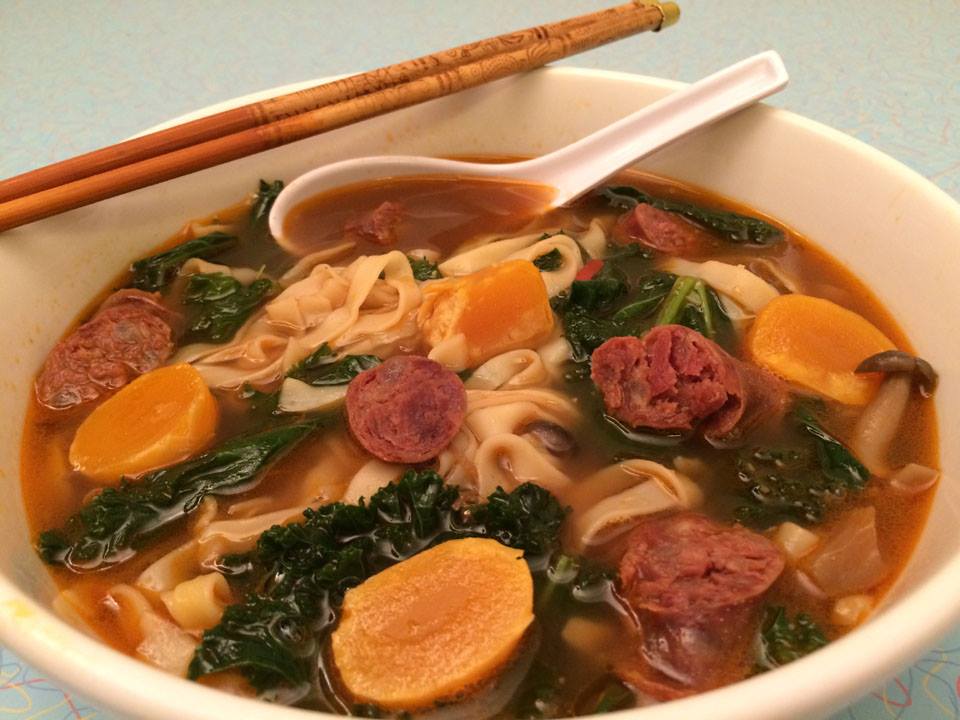 Challenge #6 and Final: Sort of a vaguely Italian-Egyptian-Puerto Rican-Peruvian-Mexican layered concoction. Extreme closeup: For the base (it's all about that base), crispy fried polenta with black truffle crème (using up the corn meal from the last batch of cornbread) topped with black beluga lentils seasoned with baharat (left over from the time I made koshary, acting here as understudy for black beans, I suppose), a sprinkle of cotija cheese, and at the apex some pernil from the freezer sautéed with a handful of choclo and a rescued dollop of mole. And yes, it worked – both in terms of taste and making room in the freezer!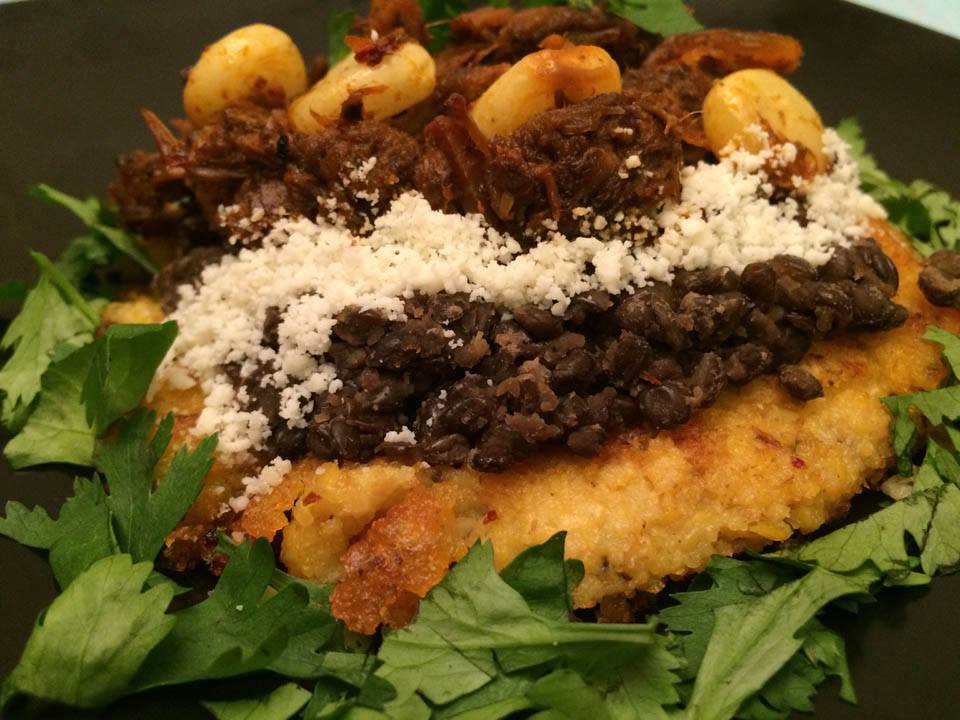 Now on to the holidays!