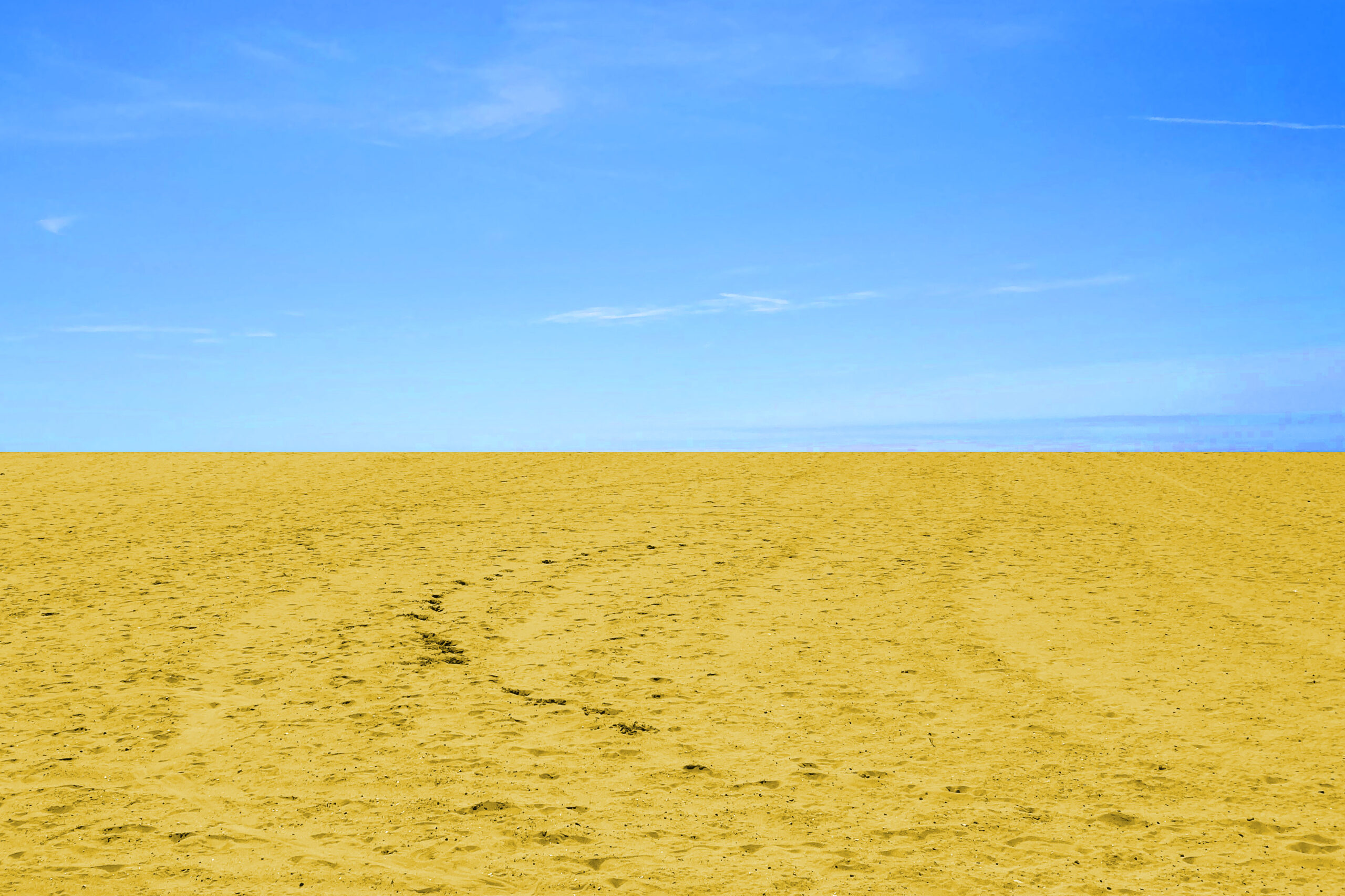 Odessa is a port city on the Black Sea in southern Ukraine. It is a popular tourist destination known for its beautiful beaches and charming 19th-century architecture.
In the latter half of the last century, many Odessites who emigrated to the US came to Brooklyn's Brighton Beach neighborhood, now known as "Little Odessa". I took this photograph on that beach – and tweaked the colors, just a bit.
---
As a kid, I studied history from a book titled World Civilization; "civilization" was defined as the advancement of the arts, science, culture and statecraft. At the time, it seemed to me that statecraft had as much to do with waging war as anything else. History was something that was about 2 inches thick and had 537 pages.
When I was in high school, I would eavesdrop on my father reliving World War II in exhaustive detail with his buddy, Jack, over highballs; they had served together in the army overseas. I still have his captain's bars and his Purple Heart. War became a little more real, more than just something you read about; war had certainly affected my father.
In college, we would watch television nightly, transfixed as Walter Cronkite narrated terrifying scenes from the war in Vietnam; I wondered if I would be drafted. War became even more real; war was affecting me.
But now, I know someone who actually lives in Kyiv and although I am fortunate to not be an eyewitness myself, the horrors of war have never been more real for me.
Her hobby is cooking; that's how we met – through Instagram of all things. She loves nature in its beauty ardently, the flora and the fauna. We communicate on occasion, a genuine, personal one-to-one correspondence. She is very real.
And every time I hear the reports of the latest atrocities, I worry if she is well. If she is alive.
This corner of my website is dedicated to you, Olya. You and all the brave, stalwart, resilient, heroic, beautiful people of Ukraine.
Stay safe, Olya. Stay safe.
🇺🇦 Слава Україні! Героям слава! 🇺🇦


---
Over the years, I have enjoyed and continue to learn more about Ukrainian cuisine; I prepare it at home, and now bring people to visit Little Odessa in Brooklyn so they can experience it firsthand.
It is a small gesture, I know, but at least I can introduce others to a part of the vibrant culture of these resolute people who are giving their lives and losing their loved ones in their quest to preserve democracy.
Here, then, are a few dishes from my Ukrainian posts, with more to come.
There's considerable crossover among the cuisines in Eastern Europe, but in this post I'm highlighting a dish I prepared that's dear to the hearts of Ukrainians, banush (бануш, aka banosh, банош), a cornmeal porridge, first cousin to Romanian/Polish/Moldavan mamaliga and Italy's polenta; the Ukrainian style is made with sour cream – make it with water and you've got Cousin Mamaliga or Zia Polenta. Most recipes I've seen call for cutting the sour cream with water but I use chicken broth instead plus the addition of a little butter for richness and bacon fat for a hint of smokiness.
It's typically served with a sharp sheep's milk cheese like bryndza crumbled on top and bits of bacon or salo, sometimes with mushrooms as well. I've plated it alongside grilled kovbasa on a bed of caramelized onions with sour cream on the side. Just one example of Ukrainian soul food.
(It's no coincidence that I've chosen a blue plate for this yellow dish.)


Borsht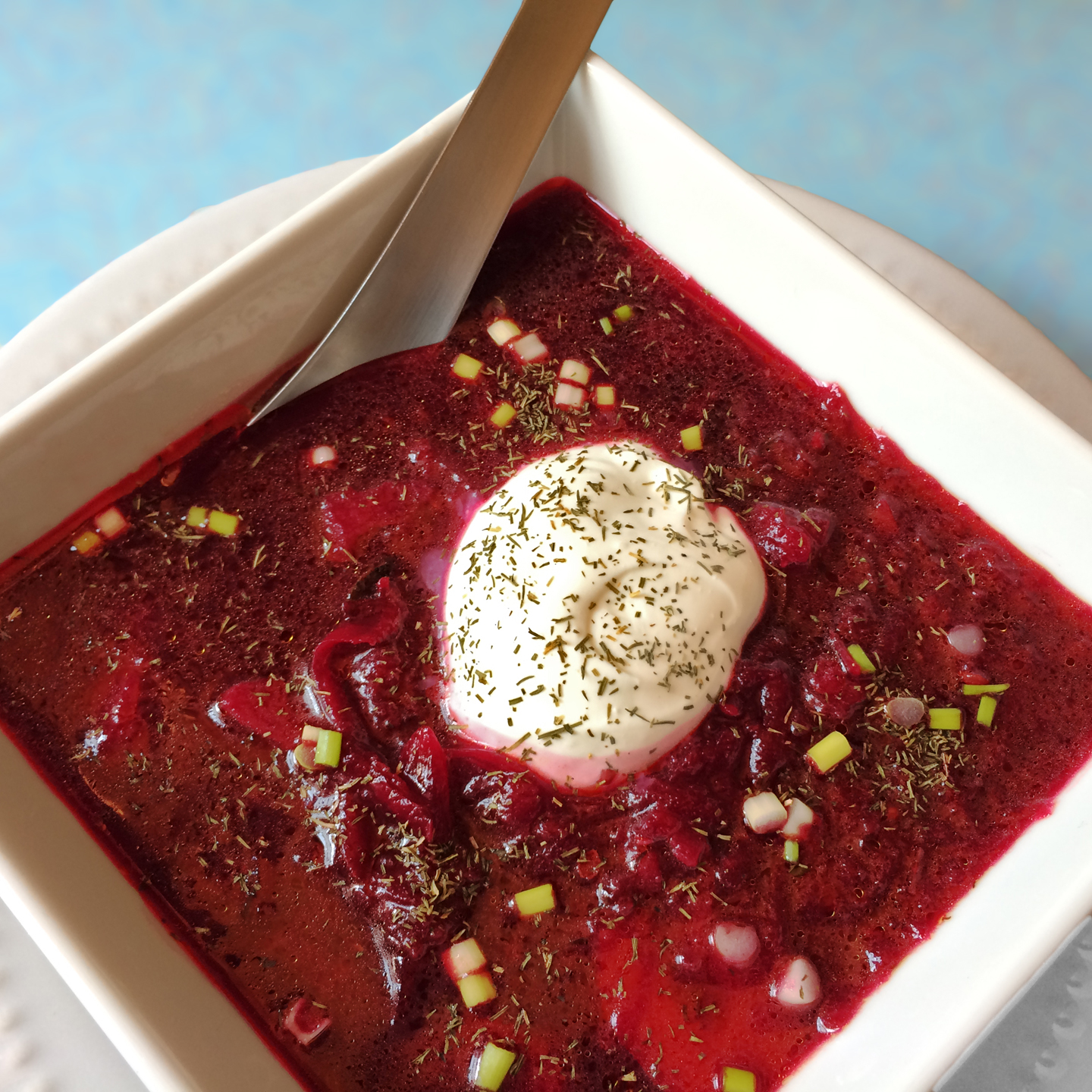 Home cooking from last summer – borscht, a refreshing, cold beet soup which, according to Wikipedia, is the national dish of Ukraine.


Ukrainian Blintzes
When I was a kid, I watched my grandmother make her memorable blintzes and she made them often; what I know, I learned from her.
Here's my rendition.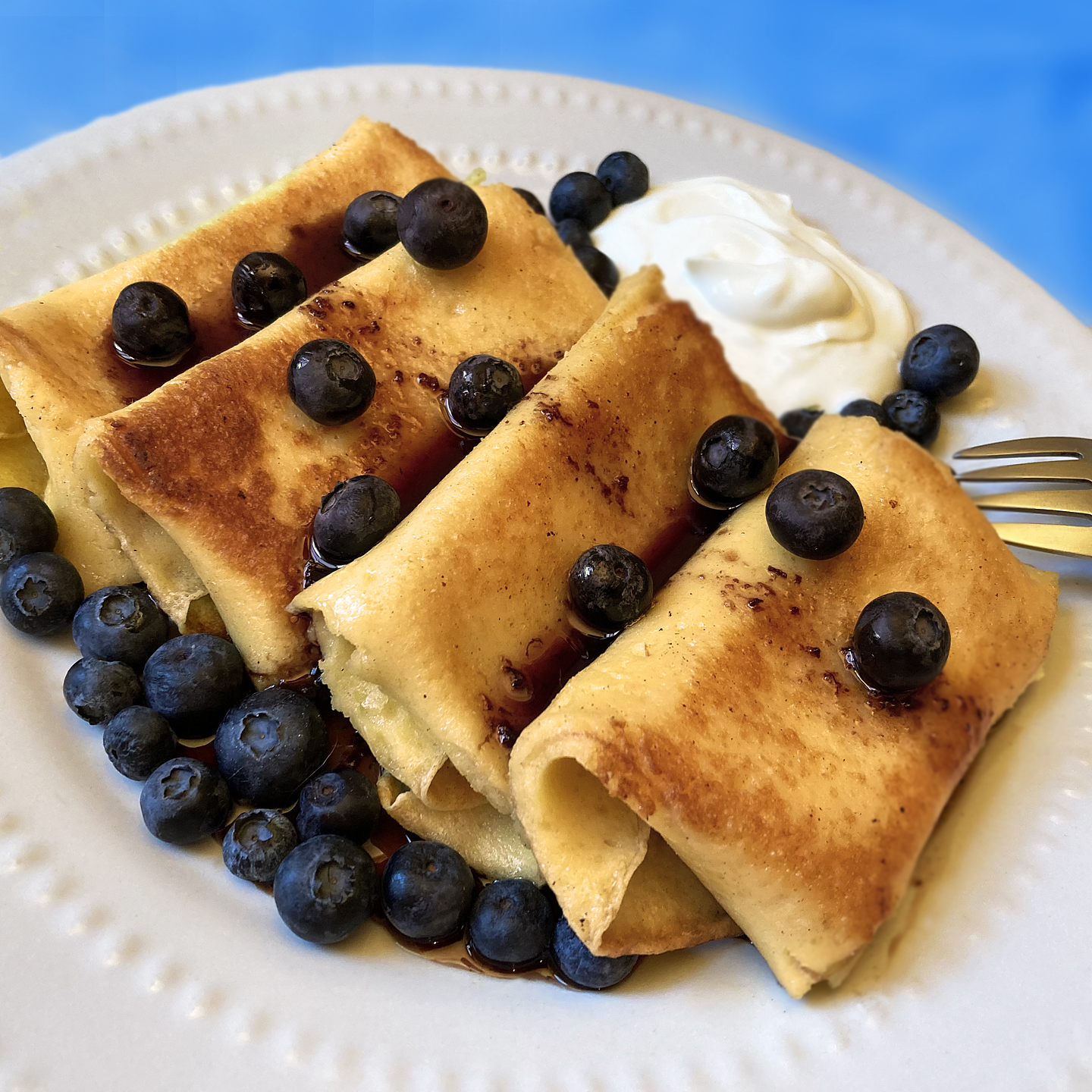 A peek inside.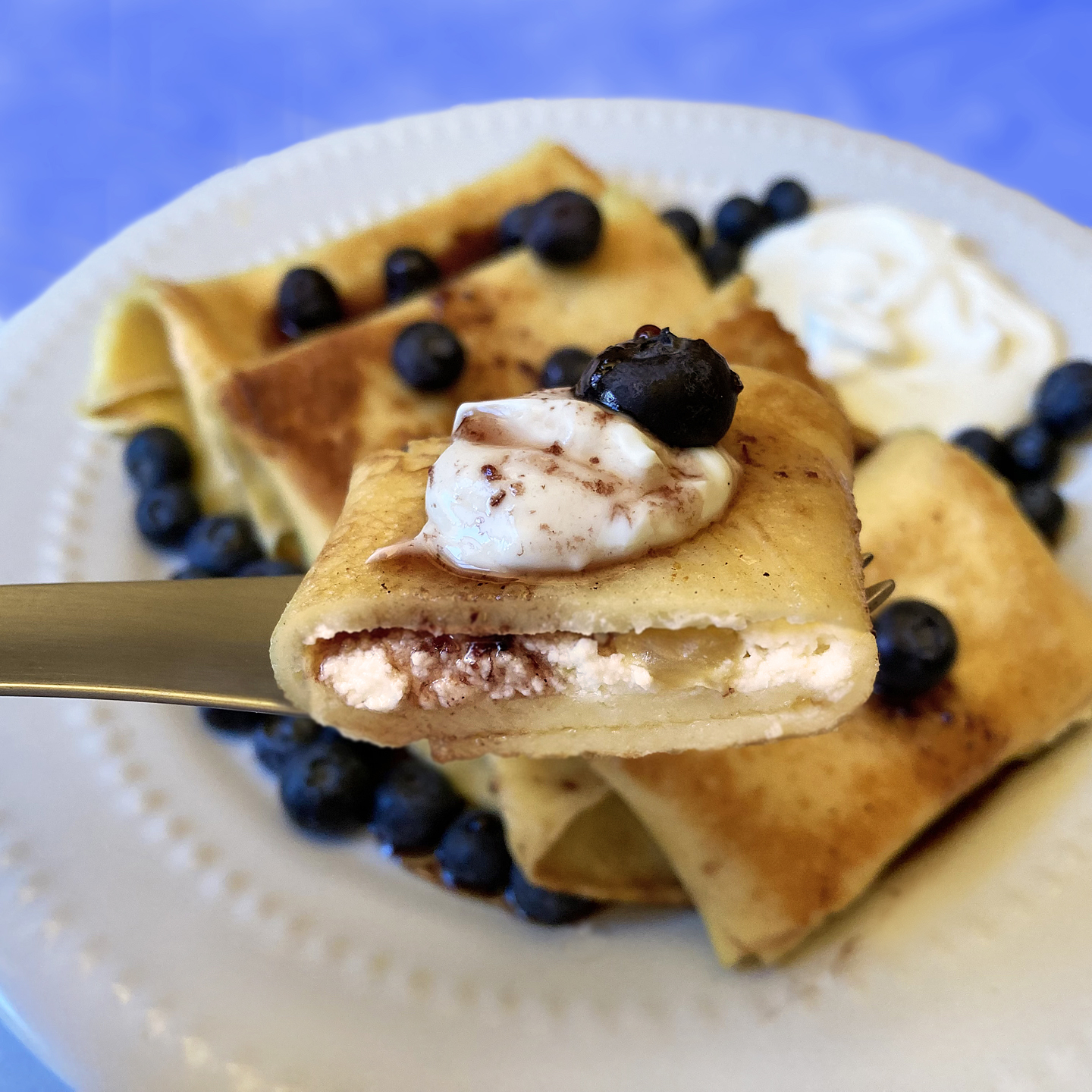 How were they? In a single (Ukrainian) word, "ням!" Grandma would approve.


Streecha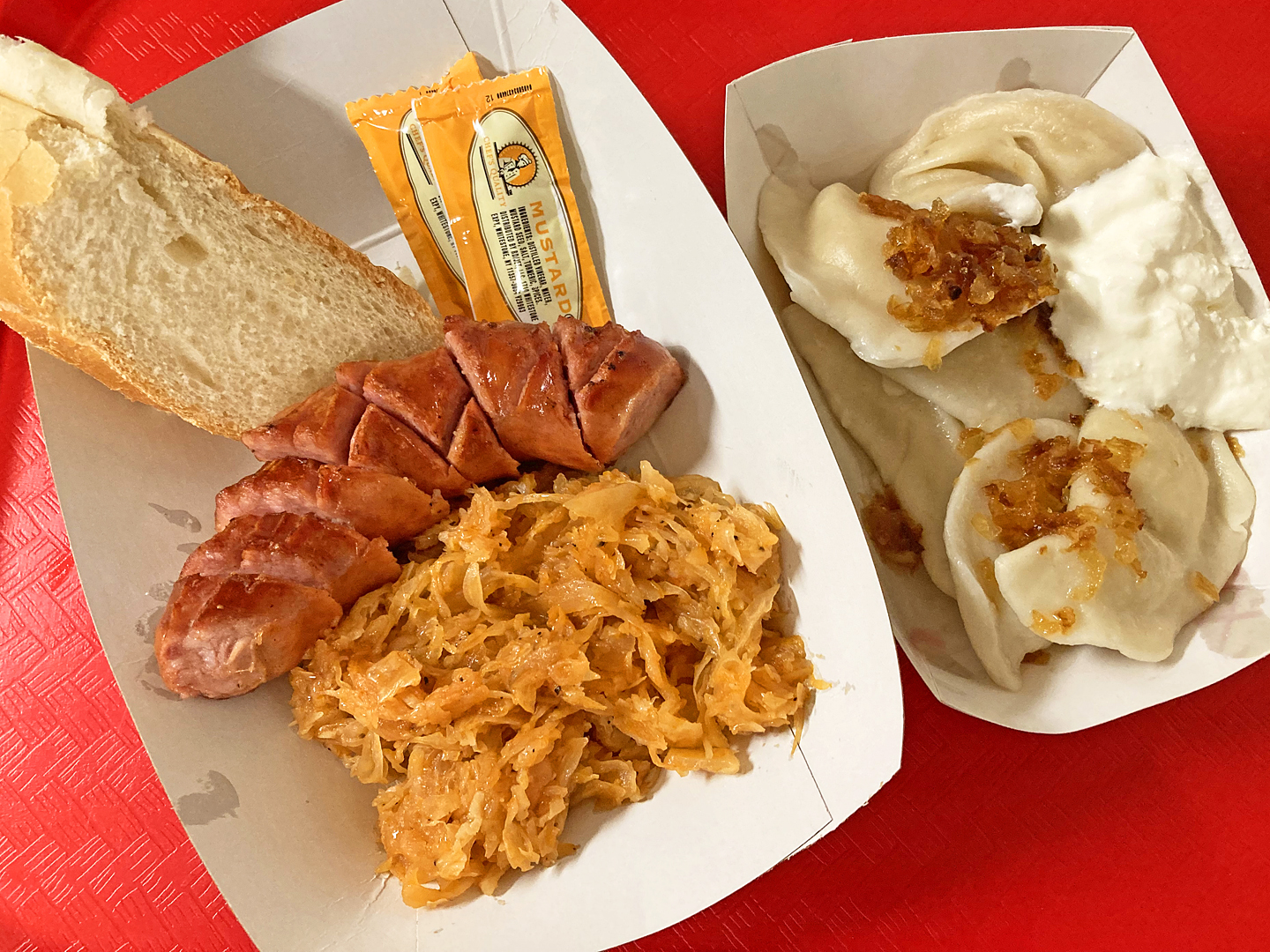 Streecha is a charming-in-its-bare-bones-informality Ukrainian restaurant hidden away in the homey basement of Saint George Ukrainian Catholic Church in Manhattan's East Village – and it's a gem. The sparse menu always includes Borsch (beet soup), Varenyky (potato dumplings – with toppings, please), Holubtsi (stuffed cabbage), and Sausage with Cabbage. The sausage is a link of top-notch savory pork kielbasa with an affirmative snap when you bite into it, and the cabbage, despite its sauerkraut-like appearance, is a deliciously sweet cabbage/carrot/onion mélange.
But the Daily Special is a Daily Mystery; it's not posted anywhere online or even on the premises, so if you want to find out what's cookin', go there and inquire, order it, and be pleasantly surprised.
And yes, I'll be back. Streecha is located at 33 East 7th St in New York City.


Varenyky (вареники)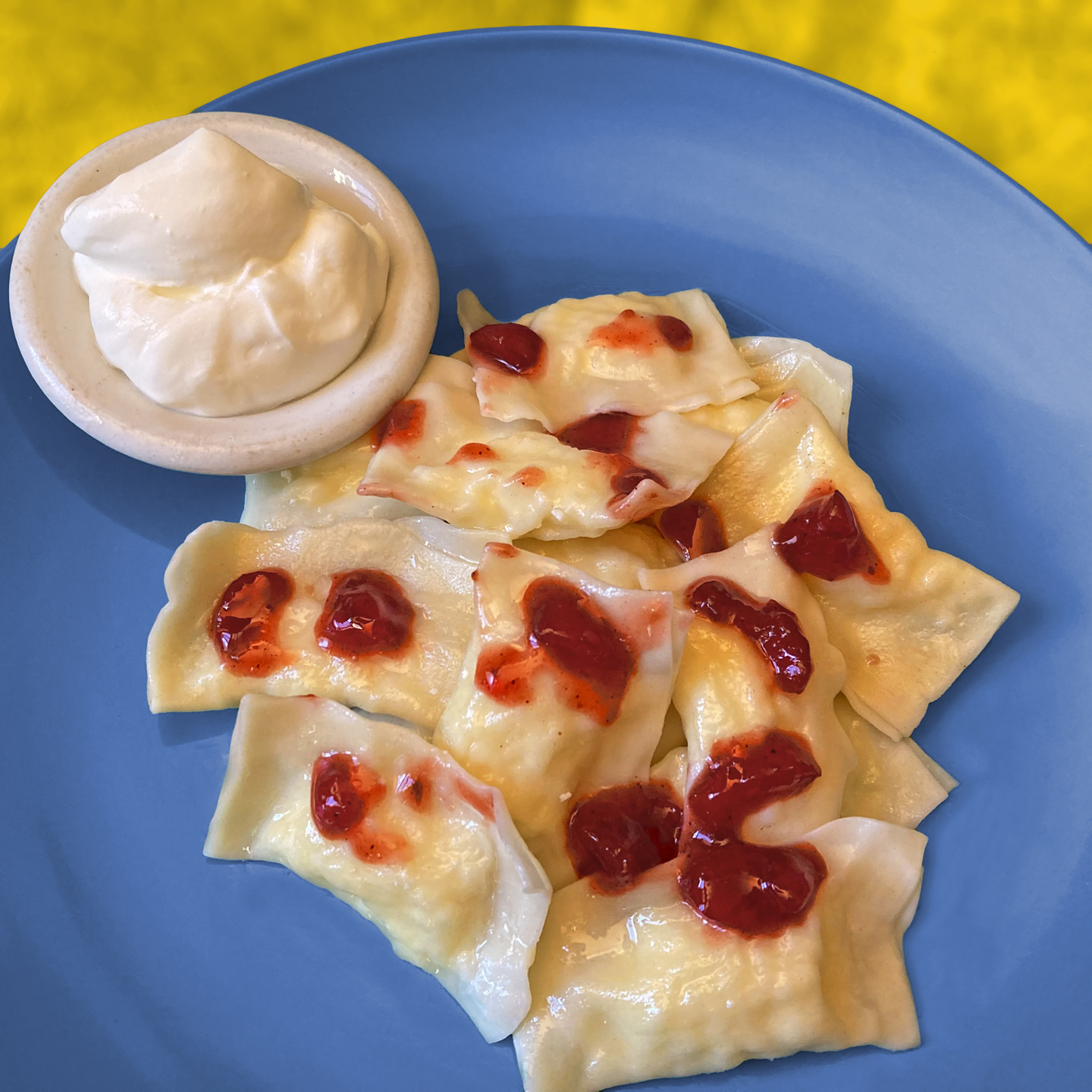 Counterpoint to the savory potato varenyky from Streecha, here's an example of the sweet cheese variety served with a homemade sour cherry sauce (plus sour cream on the side, of course).
And again, the blue and yellow color scheme was by design.


Kholodets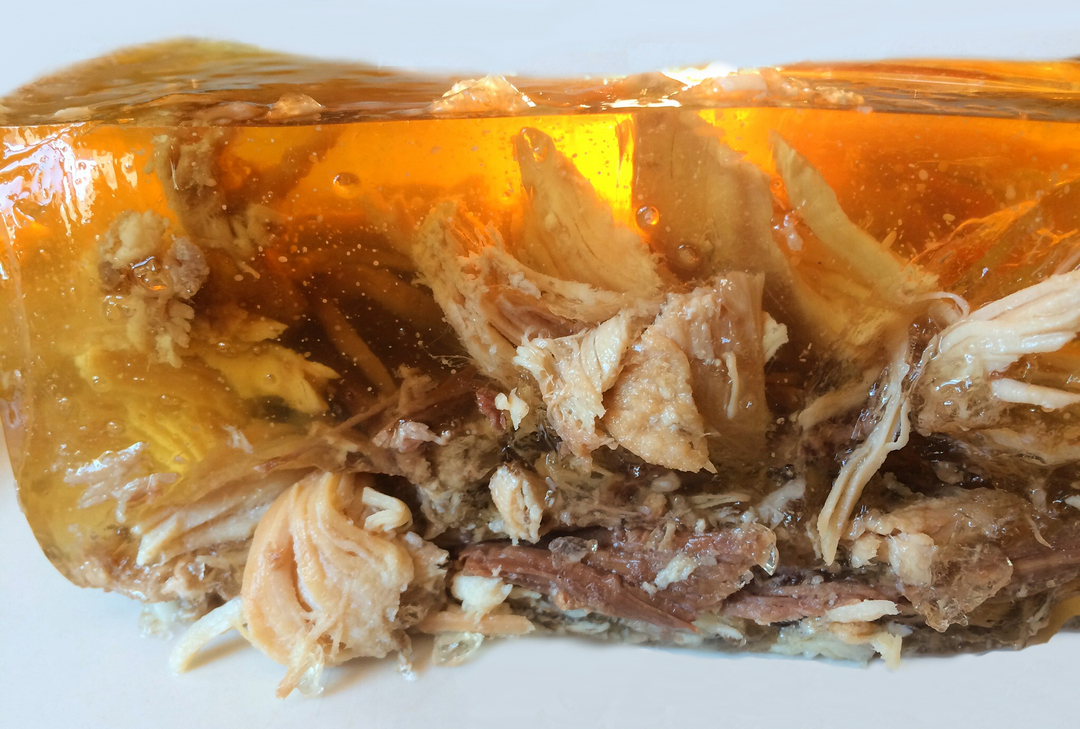 This is kholodets (холодець), a savory meat aspic popular in Ukrainian cuisine. Chilled meat stock gels naturally because of its high collagen content although gelatin is sometimes added to double down on the texture. Formerly a wintertime addition to the menu, contemporary refrigeration has made kholodets a year round treat.
I couldn't resist backlighting this example that's mostly chicken with a clandestine carrot slice or two set into aspic. Its appetizing flavor is anything but neutral; neutral gelatin would be gross, right? If you think of it as "meat jello" or some kind of weird delicacy, you probably won't like it; I suggest approaching it with an open mind (and an open mouth) and try to appreciate it for the delicious dish it is – in this case, cold chicken in its perfectly seasoned jus.


A Ukrainian Ice Cream Novelty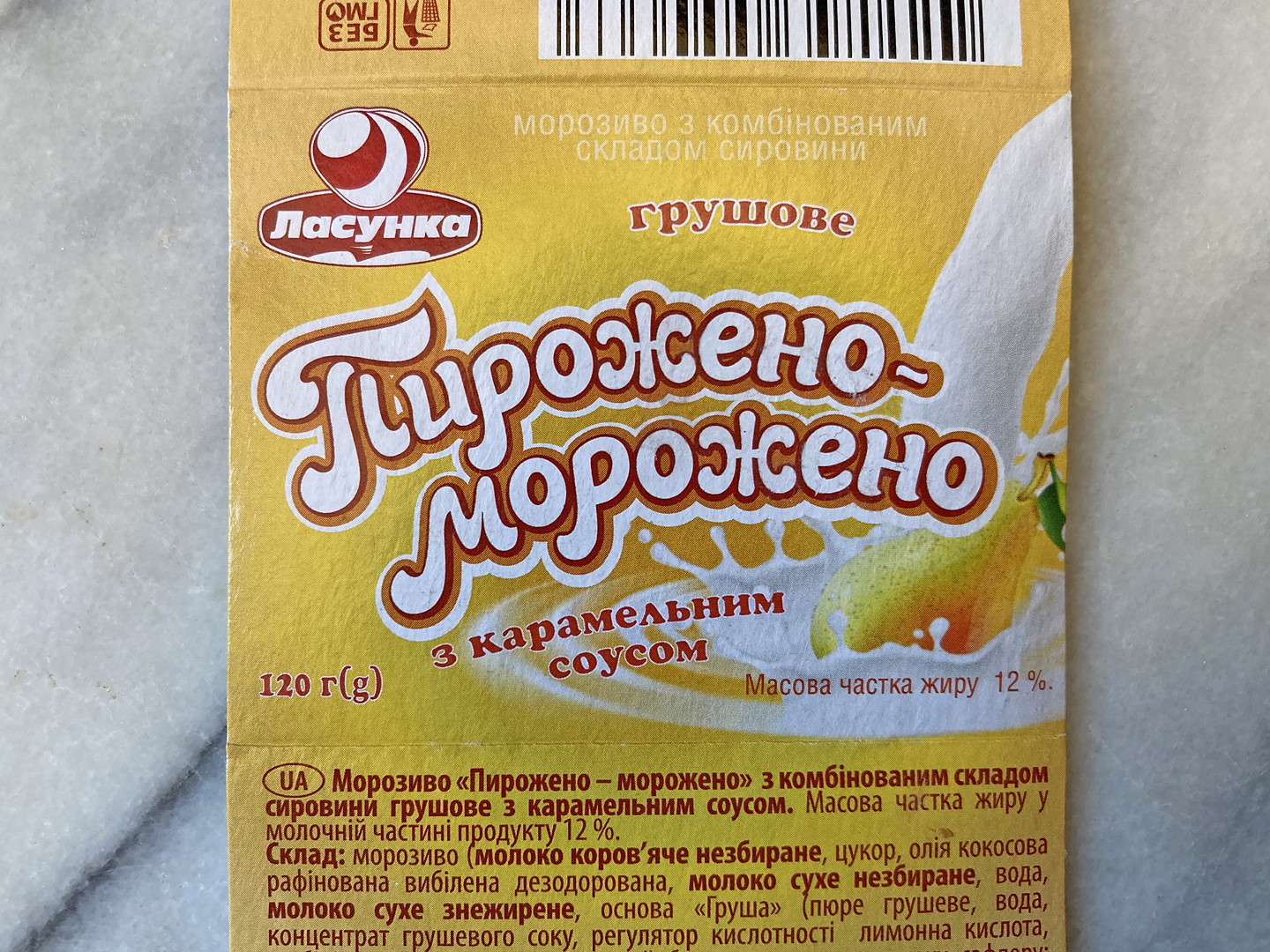 I came across this treat while doing prep for my Little Odessa ethnojunket. The brand is Ласунка (Lasunka) a leading producer of ice cream in Ukraine; loosely translated, it means sweet treat; пирожено-морожено means cake-ice cream; грушове indicates pear (pictured on the label – look closely); and з карамельннм соусом translates as "with caramel sauce." (Дякую, Гуглити.)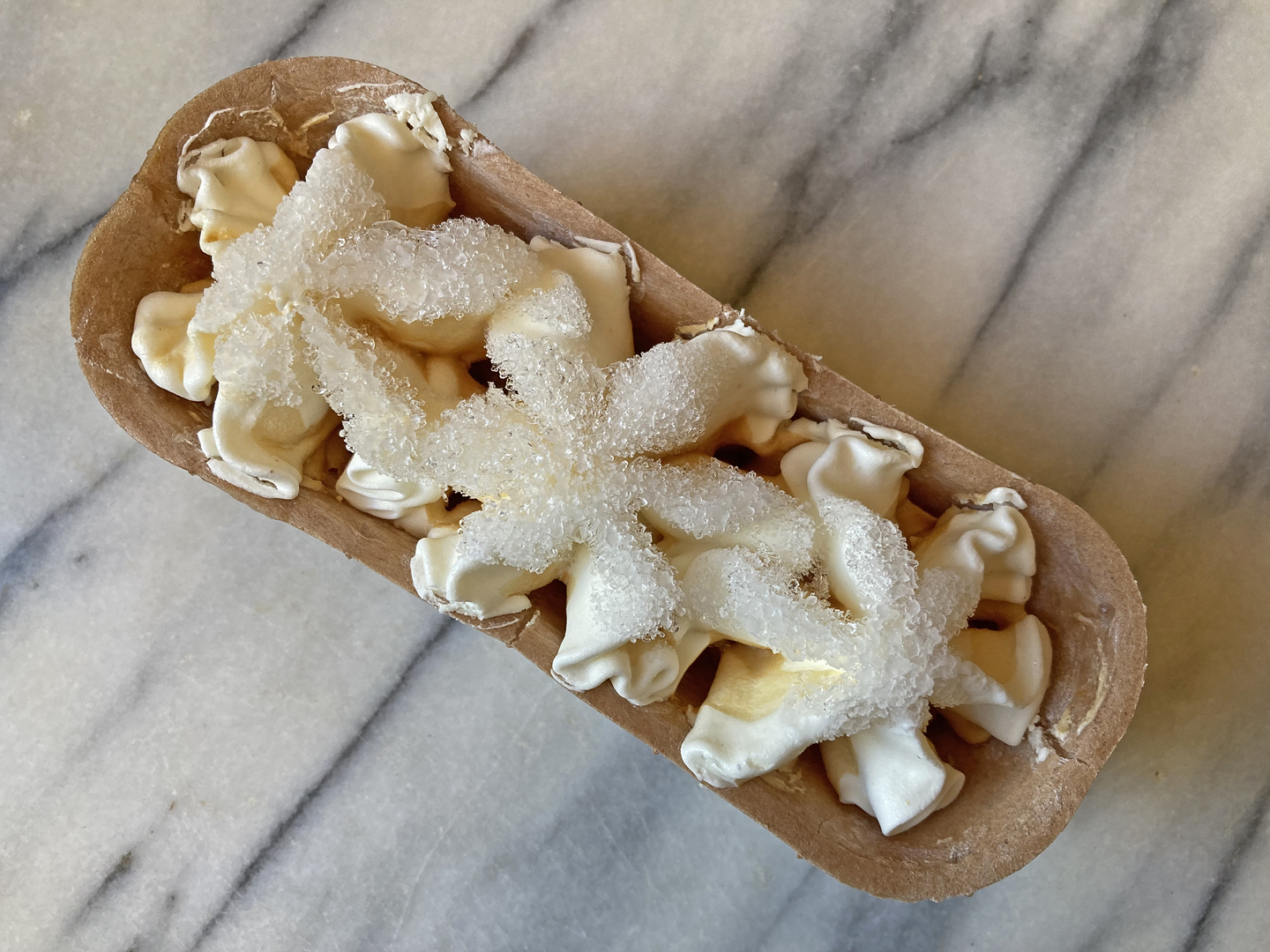 What appears to be a brown cardboard cup is actually a soft edible bowl (the "cake") cradling three cute soft ice cream florets. The ice crystals are the byproduct of storage, not the product of creativity, but they were so pretty, I couldn't resist taking a photo before dispatching them.
Best described as a porridge, it's sweet from honey and raisins, chewy from wheat berries, crunchy from nuts, and distinctive and delectable from the poppy seeds; the wheat berries symbolize immortality and hope, the honey and poppy seeds represent happiness, tranquility, and success. This is my rendition that includes toasted almonds (although walnuts are customary) and dried apricots. It's an indispensable dish for the family's feast on Eastern Orthodox Christmas Eve throughout Ukraine.


Orthodox Easter Kulich
Most holidays come equipped with delectable, traditional foods and Orthodox Easter is no exception; it occurs on the Sunday following the first full moon that appears on or after the spring equinox.
According to Wikipedia, the Eastern Orthodox Church, officially the Orthodox Catholic Church, is the second largest Christian church with approximately 220 million baptized members. The majority of Eastern Orthodox Christians live mainly in Southeast and Eastern Europe, Cyprus, Georgia and other communities in the Caucasus region, and in Siberia reaching the Russian Far East.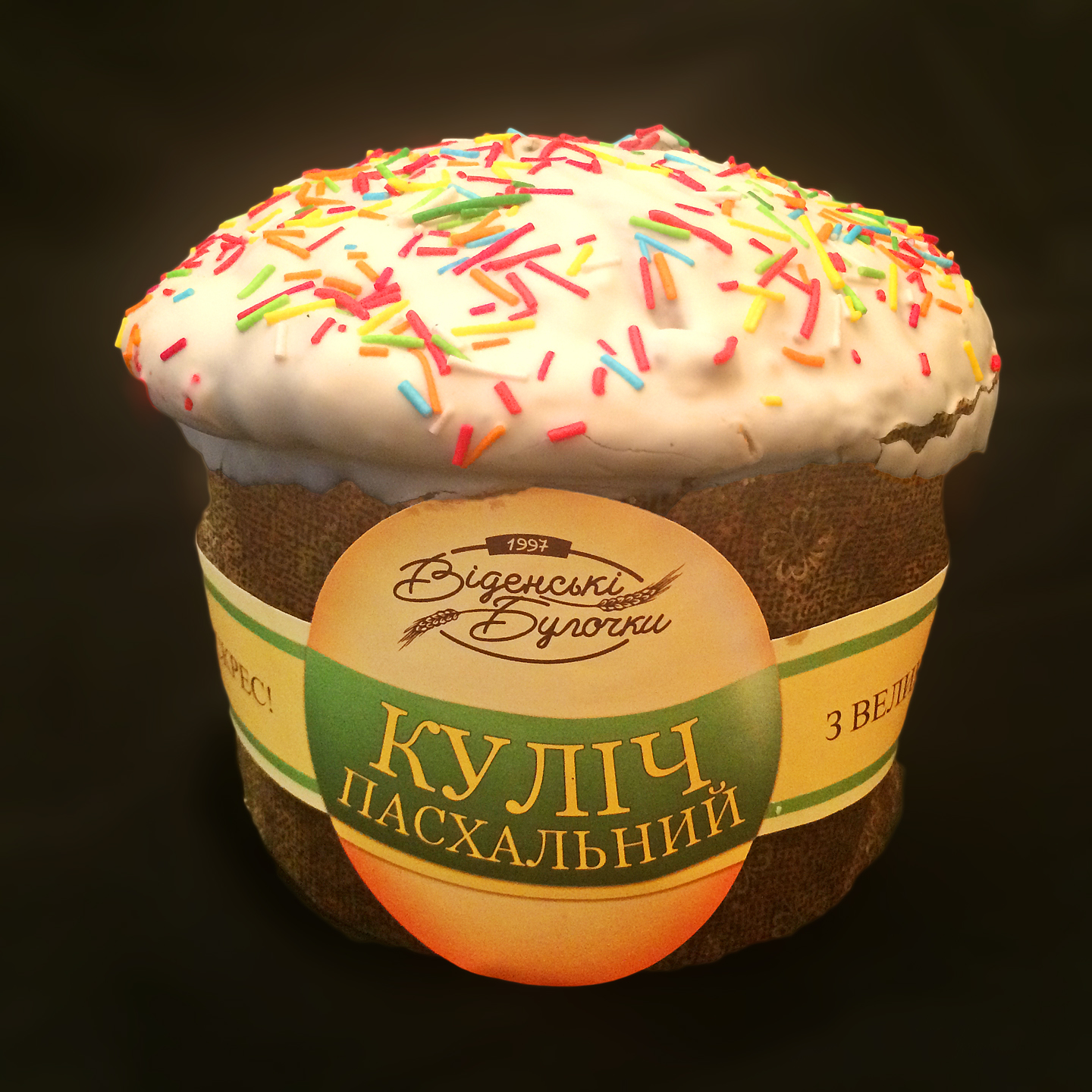 On a recent peregrination through Brooklyn's Little Odessa on Brighton Beach Avenue where Eastern European shops abound, it seemed that every market was selling kulich, an Orthodox Easter bread. The cylindrical kulich is often baked at home in a coffee can to achieve the characteristic shape; this diminutive example stands only about five inches high. The Ukrainian legend reads куліч (cake) пасхальний (paschal) and around the beltline з великоднем (Happy Easter) христос воскрес (Christ is risen).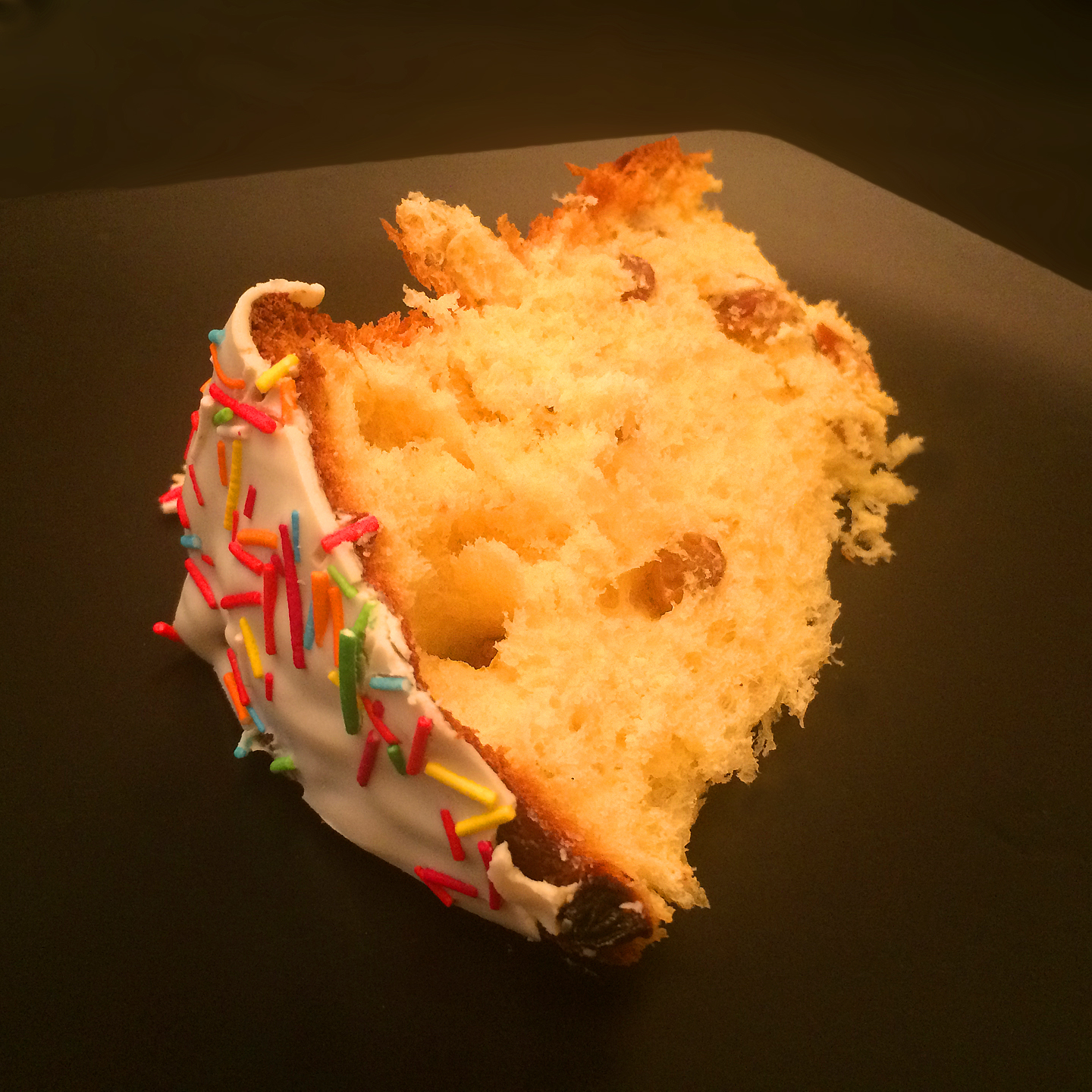 It's somewhere along the bread <-> coffeecake continuum, laden with raisins, and always dressed with a snow-white sugar-glazed cap and colorful sprinkles.
And at Orthodox Easter this year especially, our thoughts and hearts are with the heroic, resilient, brave, beautiful people of Ukraine. We are all Ukrainians now.