This section is dedicated to my personal home cooking; here's where you can check out some photos of dishes I've created for friends and family. Some are tried and true recipes from my repertoire (I've created over 350 of them!), some were crafted for special occasions like holidays, some were part of a theme (a Burmese Birthday, Ethnic Potlucks, Food Waste, etc.), and some were simply experiments – developing or perfecting a recipe, for example.
By the way, in case you're curious, here's a photo from my kitchen that might help to establish my culinary bona fides. It's a spice rack that I had custom made that holds 100 herbs and spices. But I ran out of room, so I bought the apparatus you see in the upper right that holds another 36. But I ran out of room there as well, so, out of frame, there's a wooden crate that holds even more. Yes, I do refresh them frequently!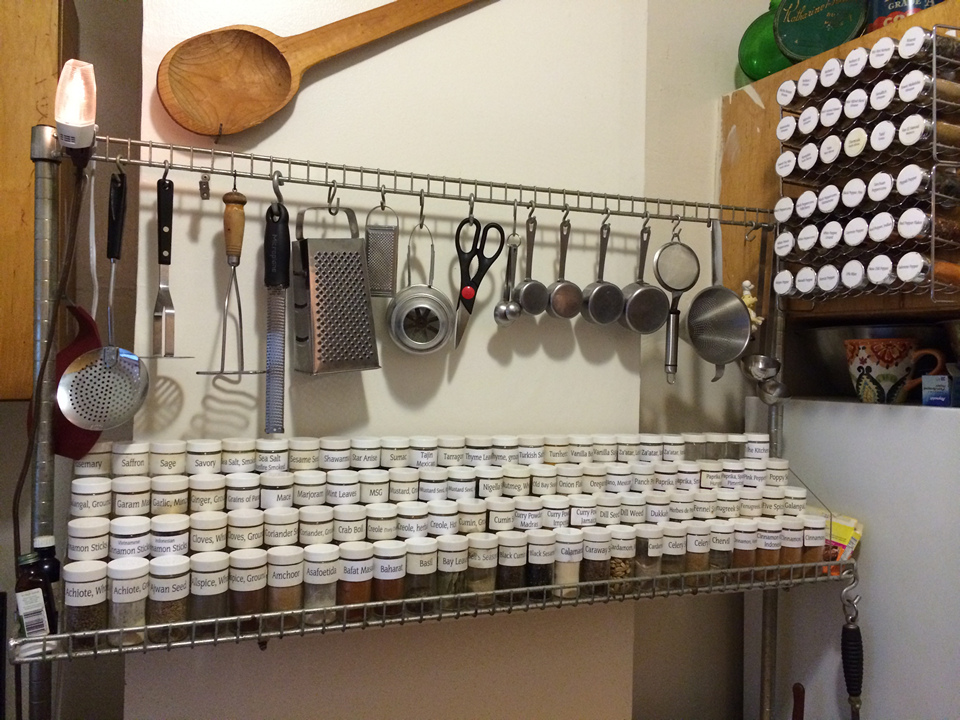 And if you're curious about how I got started cooking in the first place, read the lurid details here.
Anyway, welcome to the personal home cooking section of my website. Poke around. See what looks good. Send me a comment or a question. I might even share a recipe with you.
But only if you've been very good. 😉
Fresh Out of the Kitchen
Sweets
Ethnic Food
Food Waste – or, 'Tis the Season
The Road to Mandalay
Holidays
And in addition to those special sections, click here to see all of the blog posts that fall into the Home Cookin' category.