People often inquire about what kind of cooking I like to do and my facile reply is, "Ethnic food, primarily." Invariably, they then ask, "What's your definition of ethnic food?" and my response generally goes along the lines of "Cuisine that hails from anywhere you aren't at the moment. Surely a burger and fries is ethnic food to someone somewhere on the planet." So to borrow a page from Einstein, everything is relative.
There are those who take exception to the phrase "ethnic food", instead preferring "world food" or "international food". It's all good as far as I'm concerned. My dictionary defines ethnic as "characteristic of a people sharing a common and distinctive culture, religion, language, or the like." That definition resonates for me. The fact is that I'm as much into the languages, the music, and the cultures of people across the world as I am the cuisines.
But do take note: I resolutely champion the tenet that world/international food should never be relegated to the "cheap eats" category. I've dined at some ethnic restaurants where the talent and creativity (not to mention the quality of the ingredients) that went into preparing the food easily justified a higher price tag as would any equivalent experience at a schmancy "upscale" venue. The check may be a bit more than what we're accustomed to but, in my opinion, those restaurants that are striving to share their culinary treasures with us who hunger to learn about their cuisine and culture rate a firmament of stars.
So here are a few photos of dishes I've prepared or perfected or even invented.
(Click on any image to view it in high resolution.)
China
Shu Mai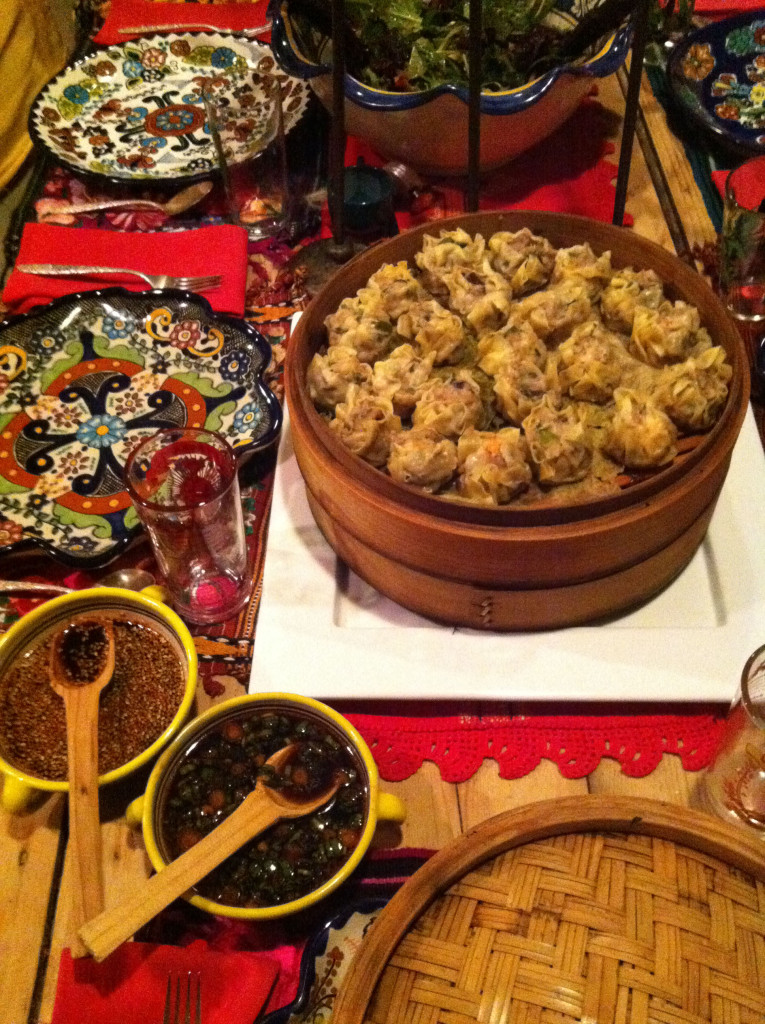 My friend Zarela Martinez, renowned TV chef, celebrated cookbook author, and owner of the (sadly now closed) sensational restaurant, Zarela, invited me to a potluck dinner party. Being the incredible Mexican chef that she is, I reasoned that perhaps her guests might choose to bring Latin-inspired food as well. Stiff competition! So since there were no restrictions on what we might bring, I thought that Chinese dumplings would be safe territory. I'm pleased to report that they were a hit!
Bā Bao Cài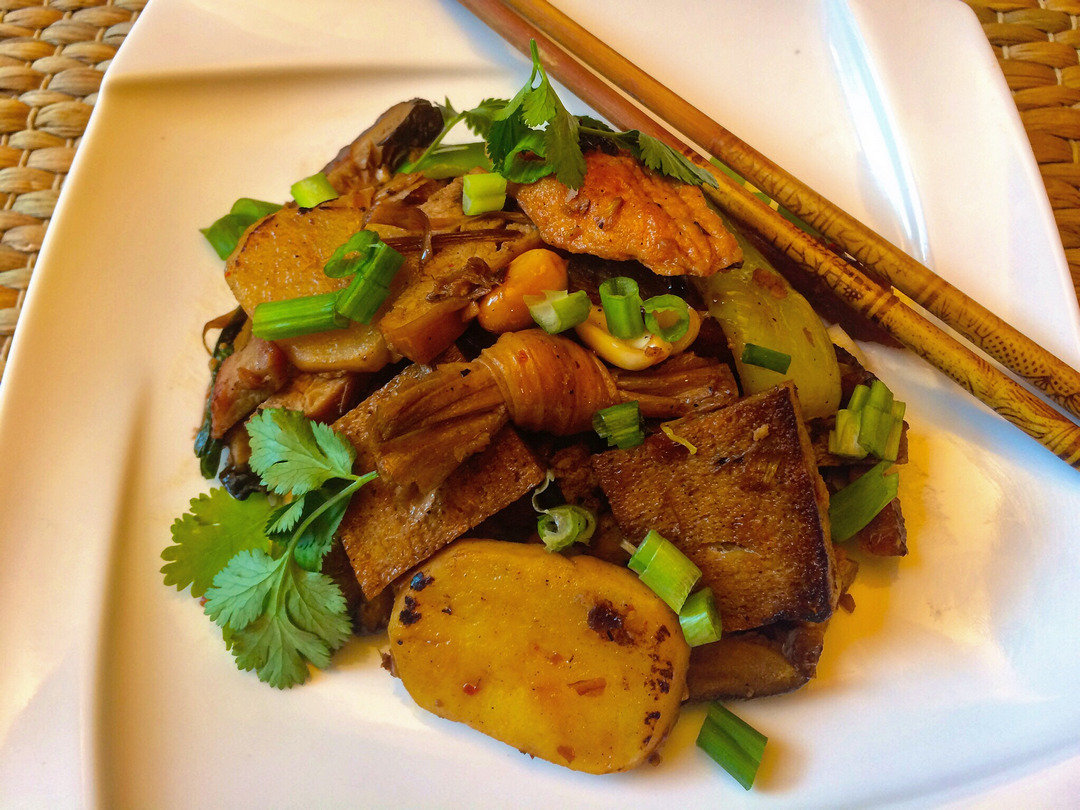 One of the dishes I like to make for Chinese New Year is Bā Bao Cài (Eight Treasure Vegetables) 八宝菜. By way of identification, the object that looks a slice of potato in this photo is arrowhead (sometimes called Chinese arrowroot), easy to find in Chinatown this time of year; behind it is a chunk of gluten (seitan) – it soaks up sauce like a sponge; a bean curd knot – you can buy these fresh, frozen, or dried and they're adorable; up near the chopsticks is a piece of sweet & spicy prepared bean curd; peanuts; and less obvious in this photo are dried lily buds, an indispensable ingredient in Moo Shu Pork; dried bean curd skin; smoked tofu; dried shiitake mushrooms; and wood ear (black fungus). Trust me, they're in there; dig for buried treasures if you like. You could almost play Where's Waldo with it! Lots of seasonings went into the savory sauce, too many to list here. (You think I'm gonna give away my recipe?! 😉)
So there's my spin on Eight Treasure Vegetables. Oh wait. That's ten treasures, not eight. So I guess I made Shí Bao Cài!
恭喜發財!
My version of Xi'an Style Hand Pulled Noodles with Spicy Cumin Lamb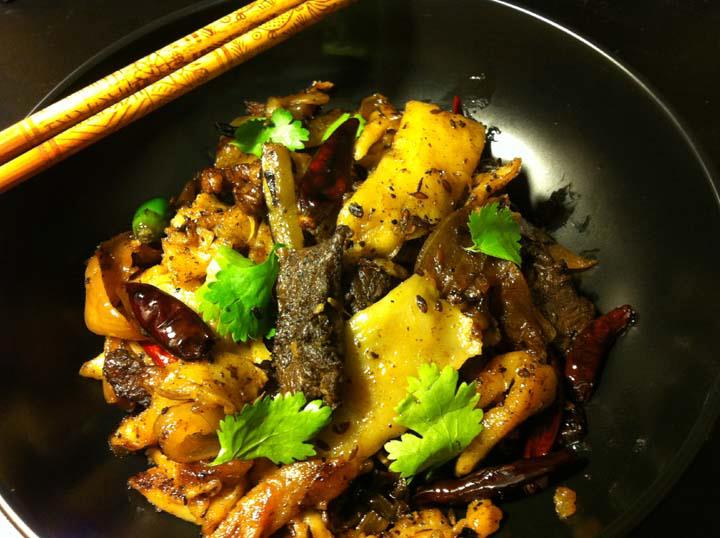 Fresh lamb kidneys from the farmers' market stir fried with dried red chilies, Sichuan peppercorns and cumin. Accompanied by red bell pepper, fresh green chilies, snow peas, scallions, and onion with sesame oil and other seasonings.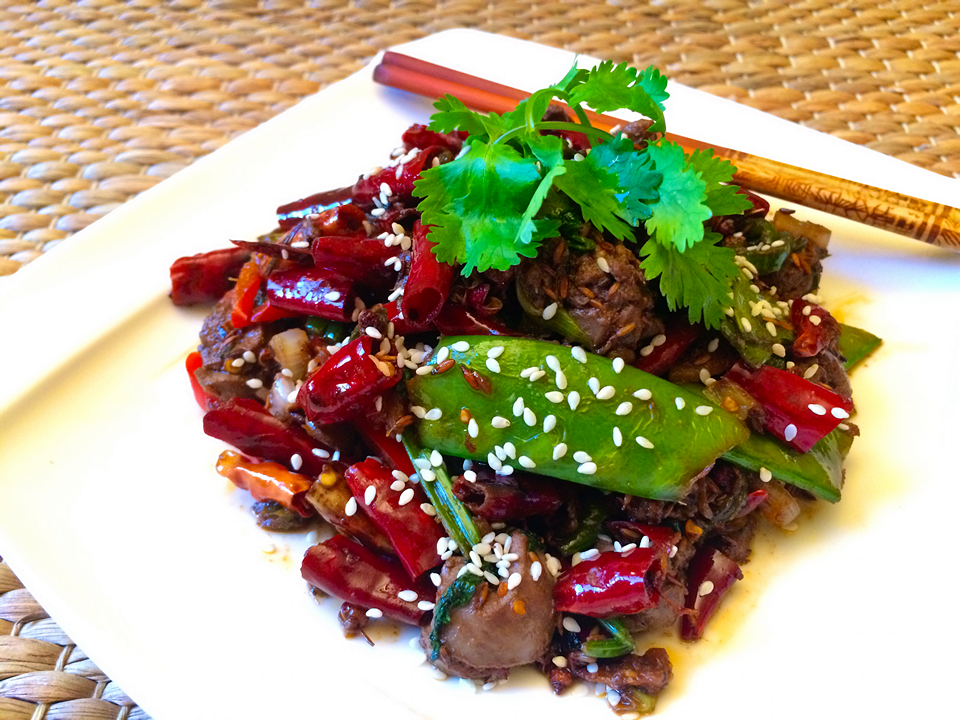 My take on Legend of Taste's delicious Smoked Pork with Garlic Leaf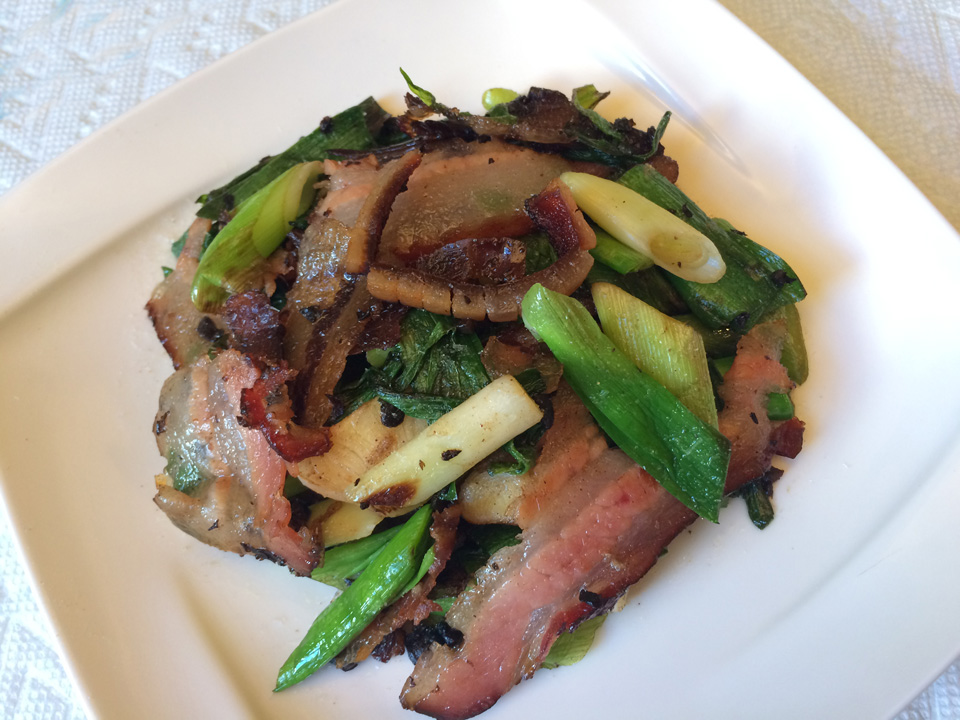 Reunion Dinner Duck Soup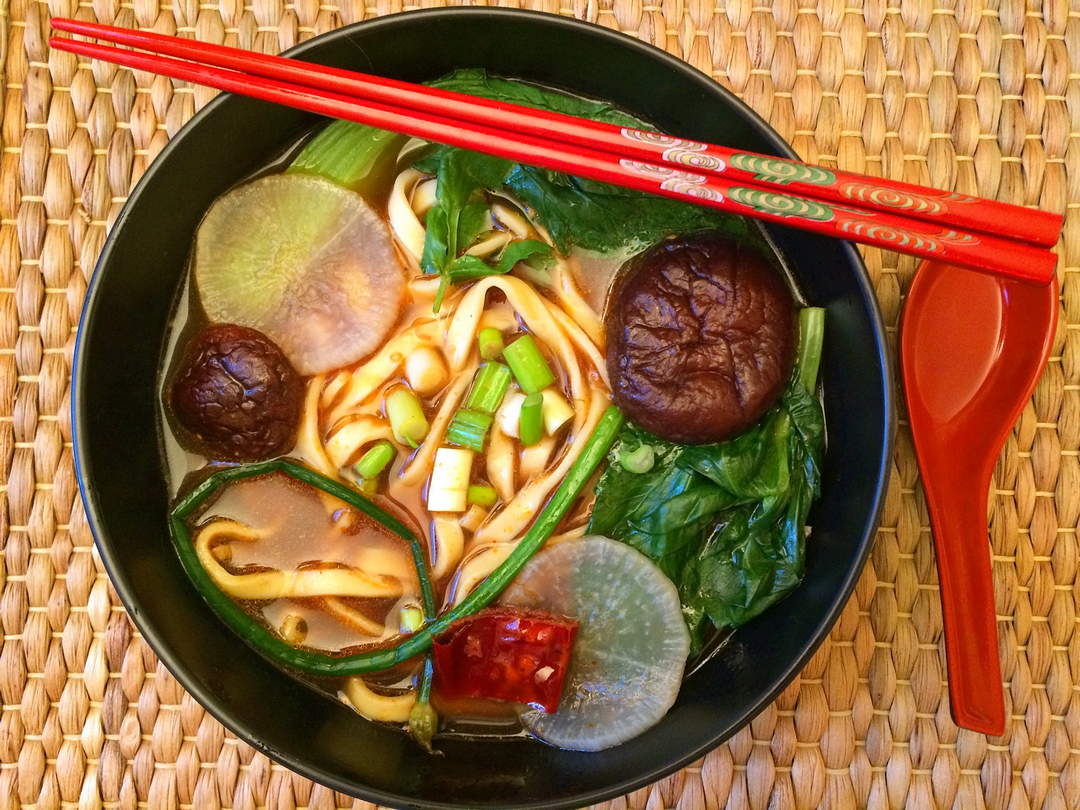 The Chinese celebration of the Lunar New Year, also known as Spring Festival, is a dazzling two-week long celebration occurring in January or February, a banquet for the soul that is laden with more symbolism than a Jungian interpretation of a Fellini dream sequence inspired by a Carlos Castaneda novel.
And that's one of the elements that I love most about the holiday: wordplay and homophones figure into the choices for traditional foods along with their colors and shapes. For Lunar New Year's Eve ("Reunion Dinner"), I prepared a duck soup with shiitake mushrooms, daikon, flowering chives, bean leaf, Shanghai bok choy, scallions, cilantro, dried red chili pepper, and too many seasonings to mention, but the focus is on the long noodles that are aspirational of a long life.
Longevity Noodle Stir-Fry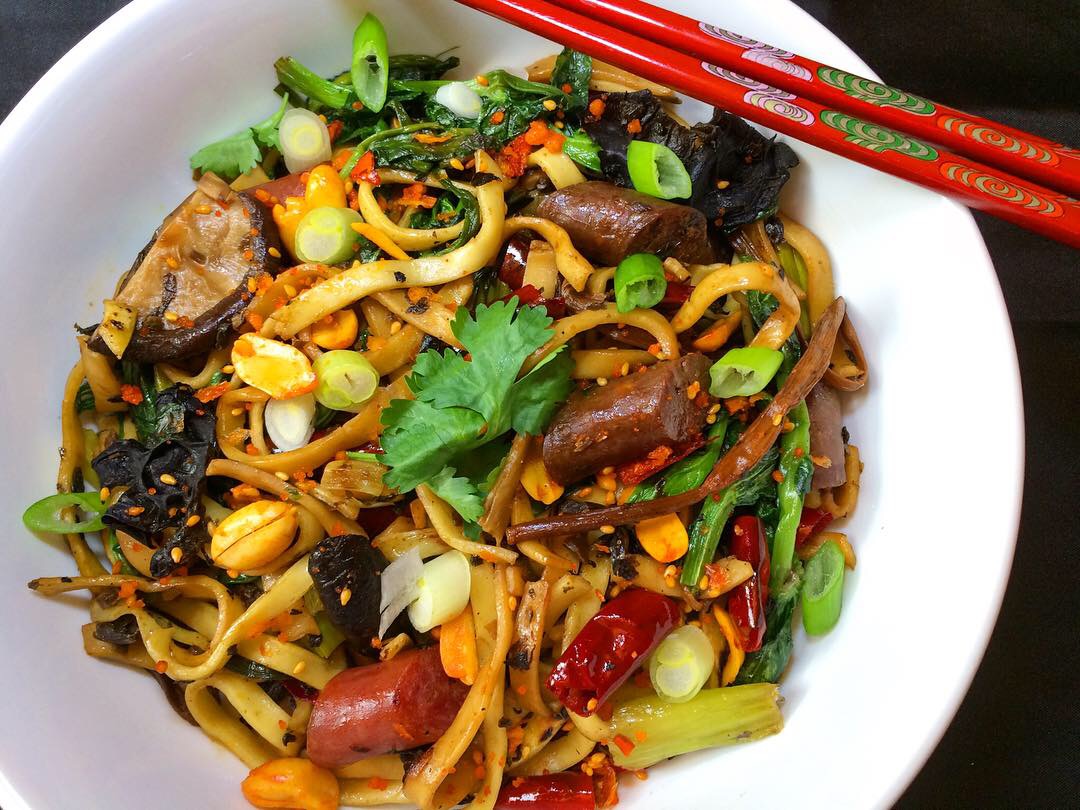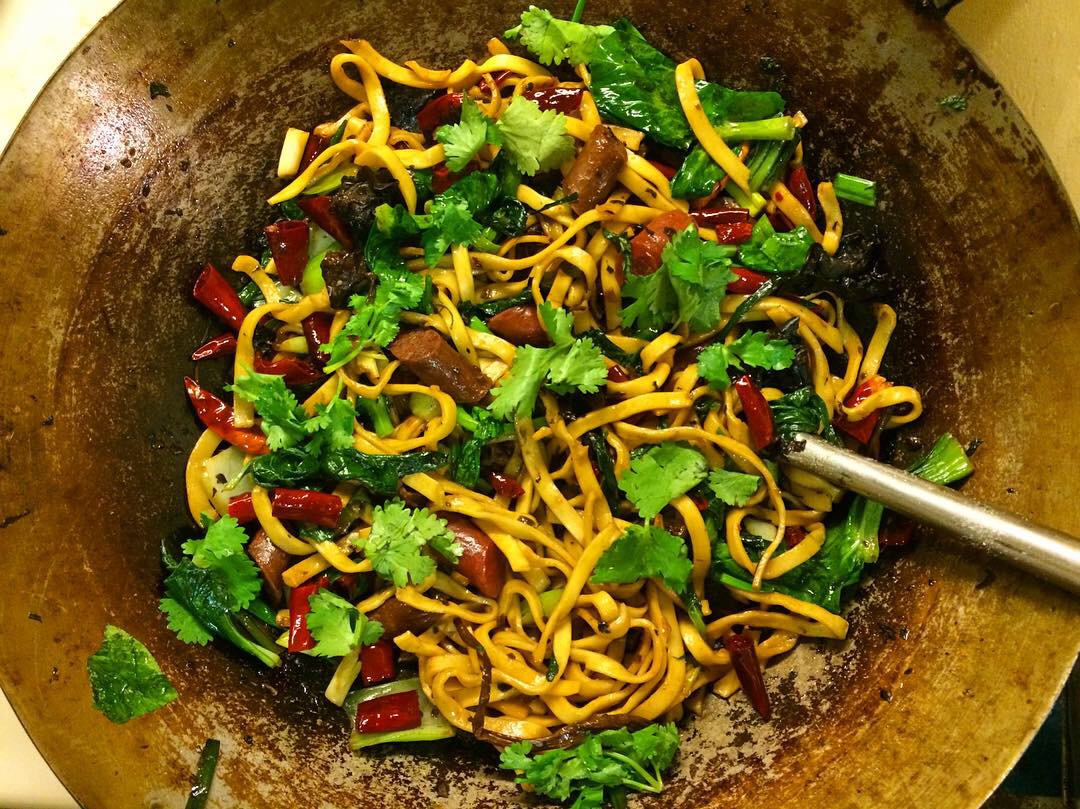 More home cookin'. A few posts ago, I showed you some homemade soup I prepared for Chinese New Year that featured long luxurious noodles, traditionally symbolizing wishes for a long life. I also did a stir fry with those noodles which I'm happy to report turned out deliciously as well. I added some lap cheong (Chinese sausage) to kick up the protein (yes, I know, and fat) but the rest of the ingredients were either vegetables I had left over from making the soup or dried/preserved items I always have on hand.
[1] If you're curious, you can play Where's Waldo in the bowl with the following: Shanghai bok choy, bean leaf, shiitake mushrooms, black fungus (wood ear fungus), huang hua (dried lily flowers), ya cai (Yibin preserved mustard greens), scallions, flowering chives, cilantro, dried red chilies, peanuts, and sesame seeds.
[2] The wok in progress (forgive the pun 😉).
恭禧發財! Gōng xi fā cái!
Stir Fried Arrowhead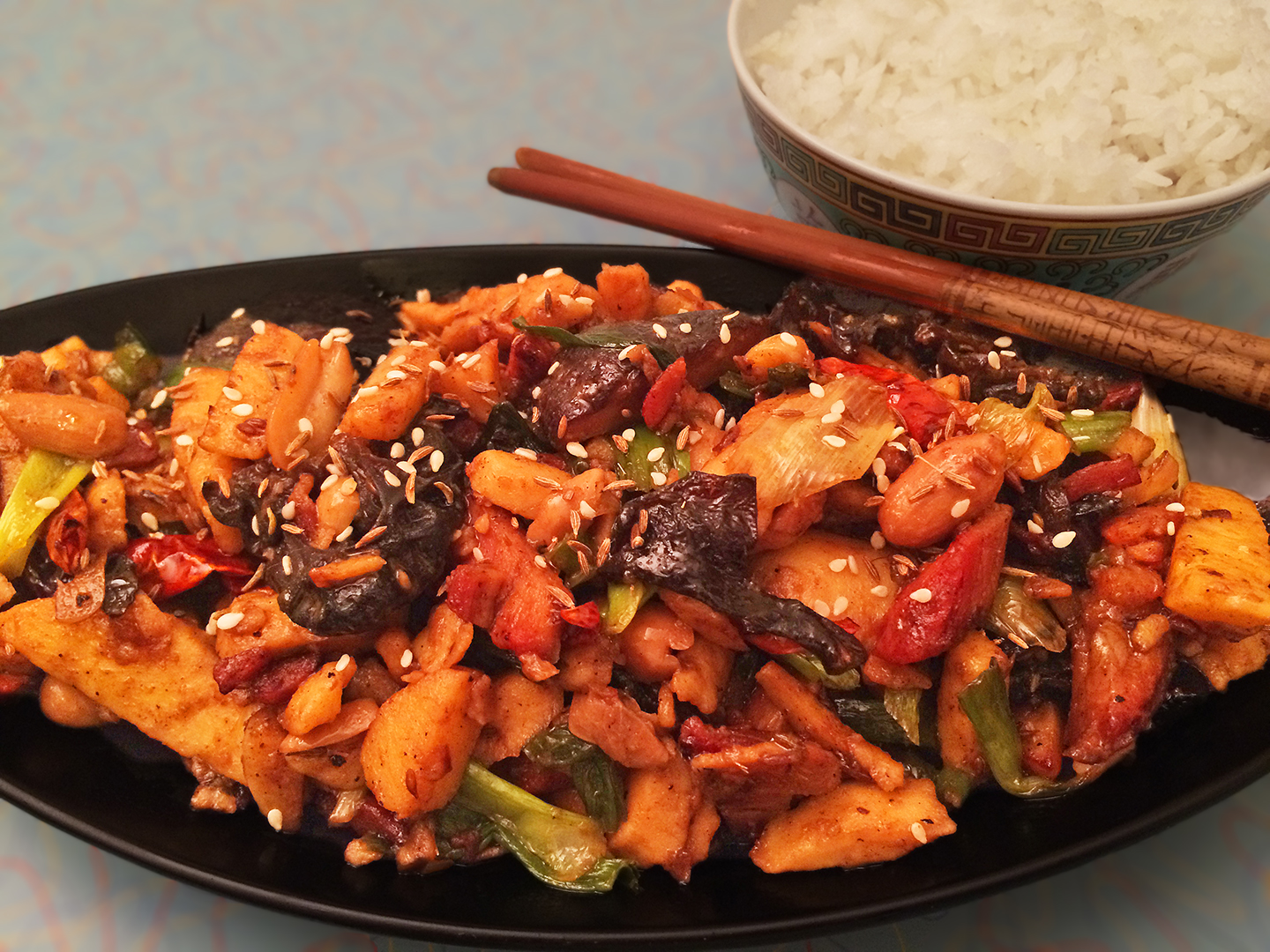 Those bits that look vaguely like potatoes are Chinese arrowhead (no, not arrowroot), an aquatic tuber traditionally cooked up around the lunar new year. I wanted to make something special with them (it was for a New Year celebration, after all) but all I had time for was a simple stir fry with char shu, dried shiitake mushrooms, cloud ears, peanuts, scallions, cumin and four colors of hot peppers (fresh green, dried red, Sichuan black, and ground white – gotta keep it festive!)
Yu Choy Stir Fry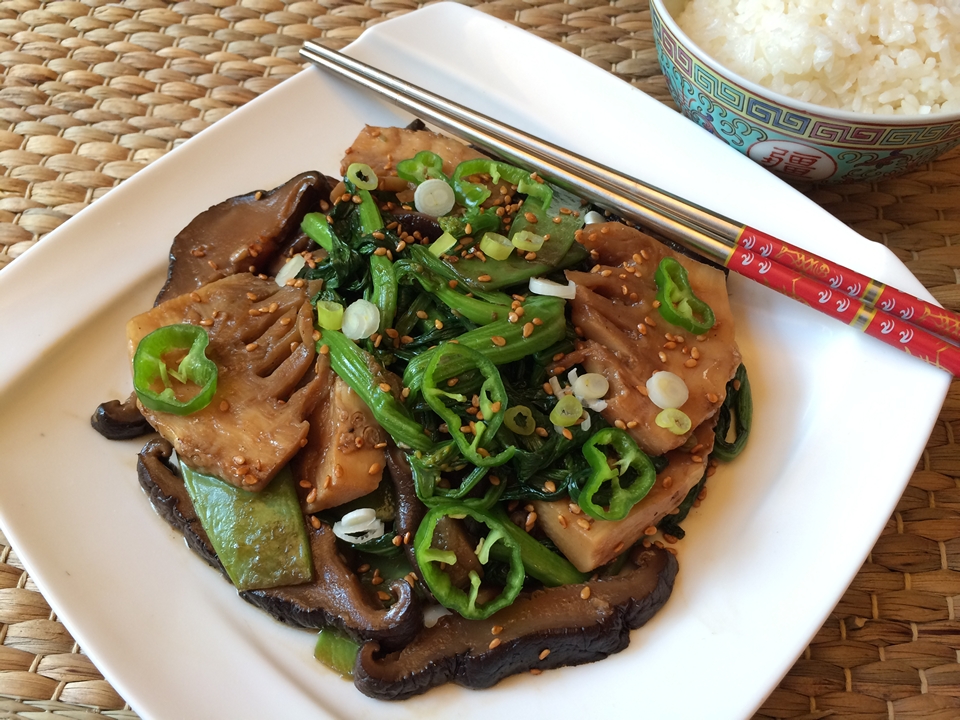 A simple stir-fry with yu choy (one of many types of Chinese greens), fresh bamboo shoot (so much better than canned!), shiitake mushrooms and snow peas in oyster sauce plus a few more seasonings. But I'm never happy without a little heat: a bit of spicy green pepper never hurt anyone!
Hey, I just realized this is a vegetarian dish! My vegetarian friends will be thrilled!
Oh, wait. Oyster sauce. Never mind. 😕
More Dumplings and Spicy Sichuan Lamb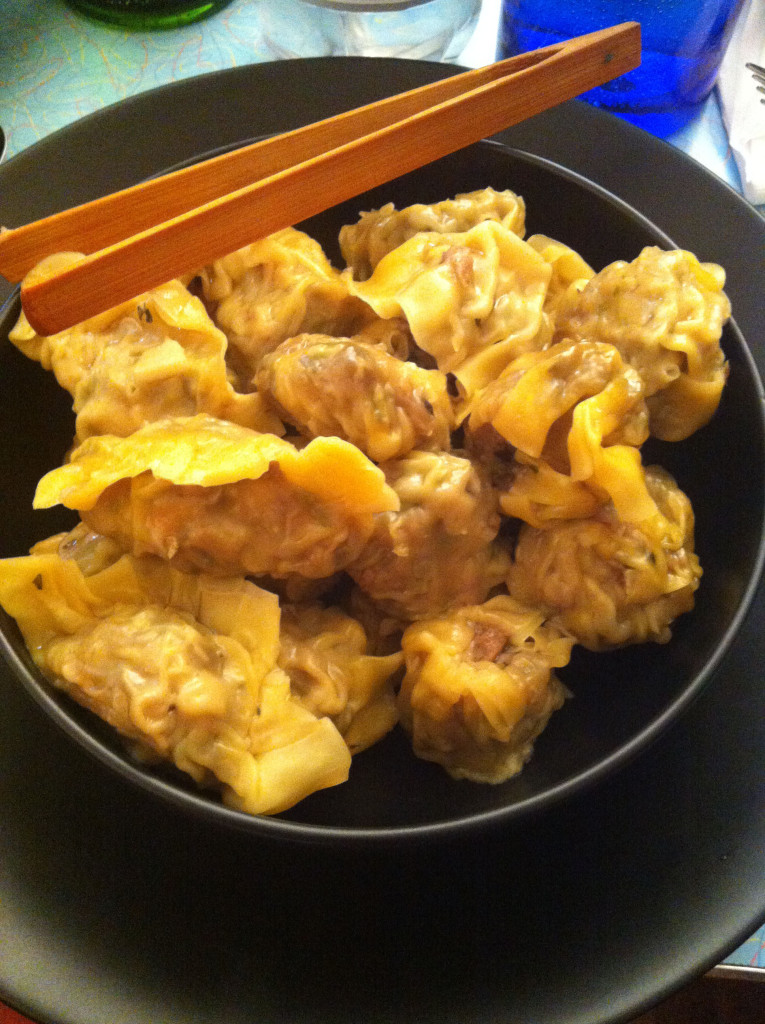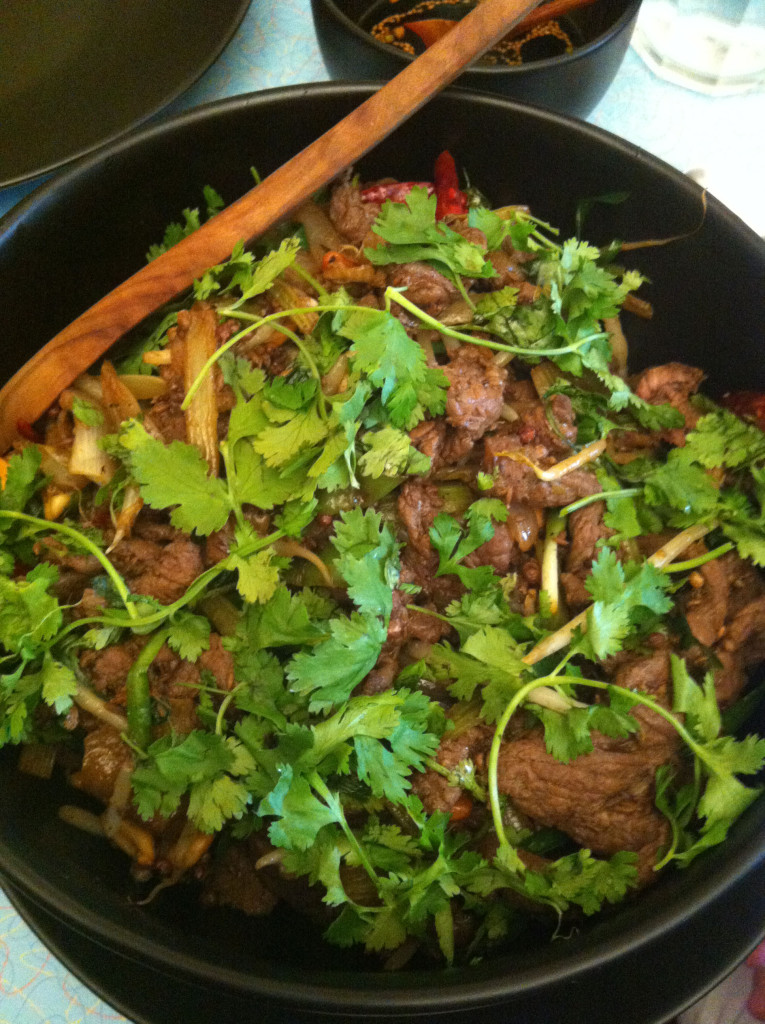 Japan
Futomaki in an orange and black costume for Halloween!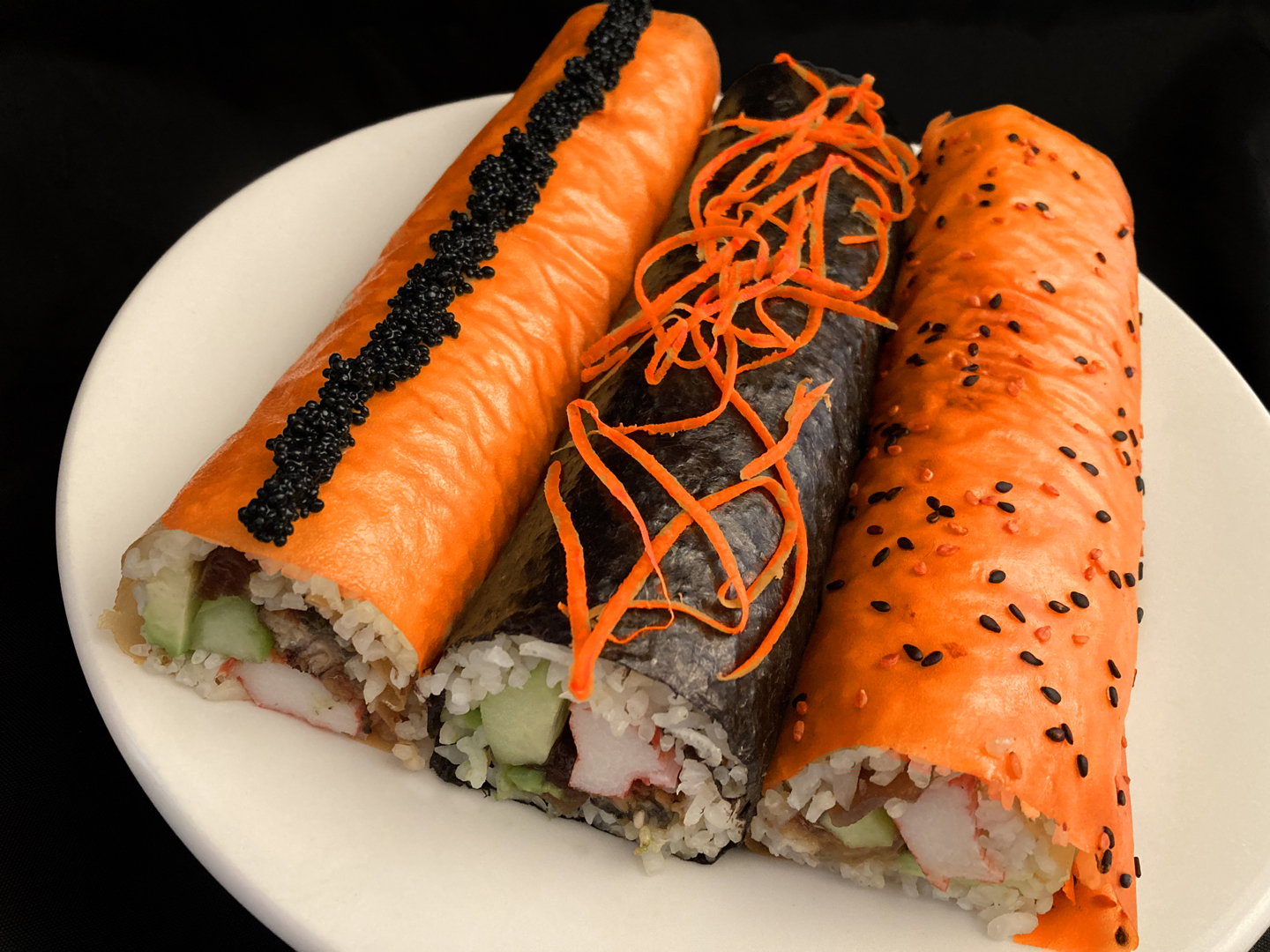 Japanese Potato Salad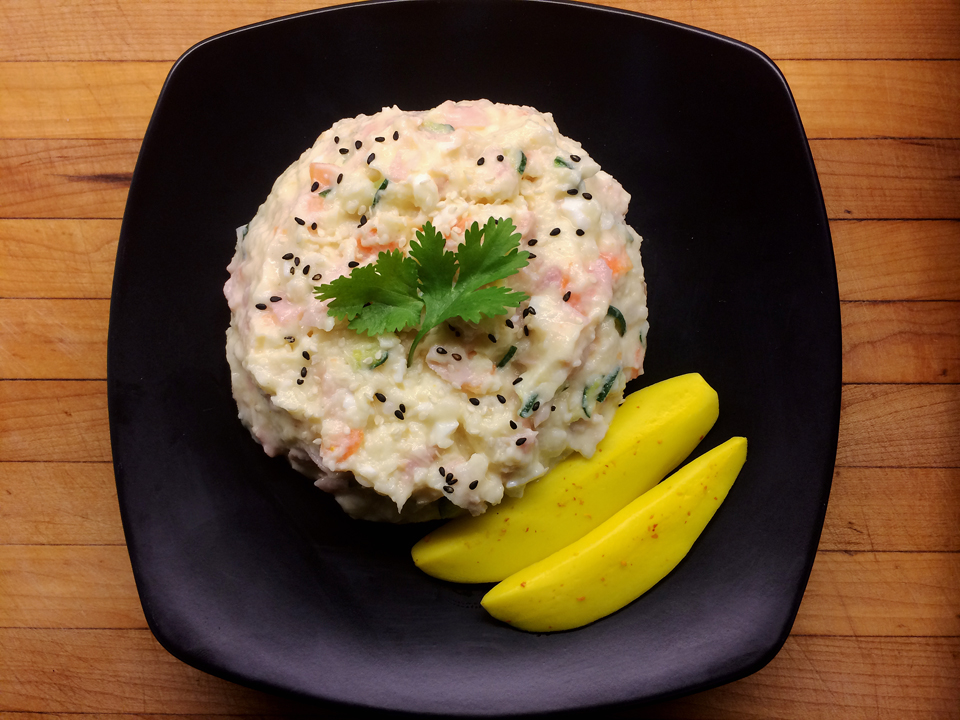 More of my home cooking from Japan 🇯🇵 by way of Brooklyn 🇺🇸!
Here's my rendition of Japanese potato salad. (Yes, it's a thing.) Its name, ポテトサラダ, is pronounced approximately "potato salada"; needless to say, there's a word for potato in Japanese, じゃがいも, "jagaimo", but since the dish is rather American, the English name is used more commonly. The texture is key to this dish: the potatoes are partially mashed but there are still abundant chunks. It works because the mashed potatoes meld with and become an integral part of the dressing; the chunks remain to provide occasional bites of straight ahead potato.
My ingredient list cleaves pretty closely to the canonical Japanese version: potato, carrot, cucumber, hardboiled egg, sweet onion, ham; and the dressing is fairly authentic: mayo (only Kewpie of course!), rice wine vinegar, and neri wakarashi (Japanese mustard paste) but I've added a little sweet miso paste as well as a few shakes of ichimi togarashi (dried Japanese red pepper) and sansho (dried Japanese green pepper peel) to kick it up a little, and a sprinkling of shichimi (a seasoning mix of Japanese red pepper, sesame seed, orange peel, yuzu, etc.) and black sesame seeds on top. Simple, but most satisfying.
Of course, the ingredients' proportions are what distinguish one recipe from another, so I haven't really revealed any secrets here!
Those are Thai spicy pickled mangoes on the side for flavor and color contrast.
Makizushi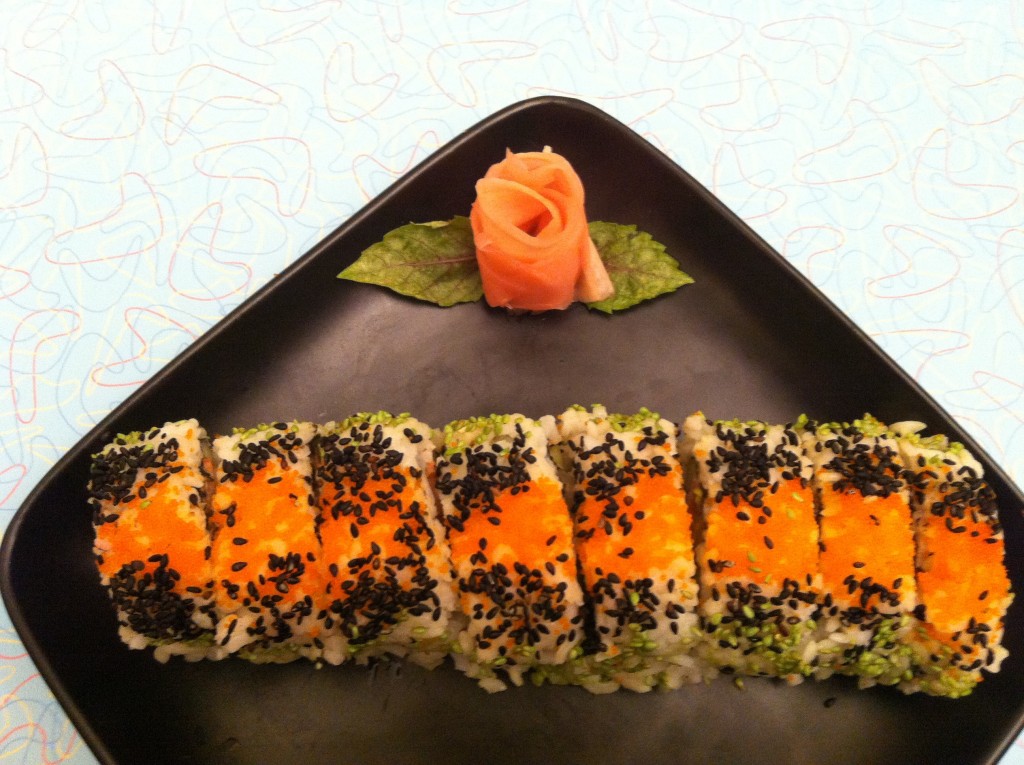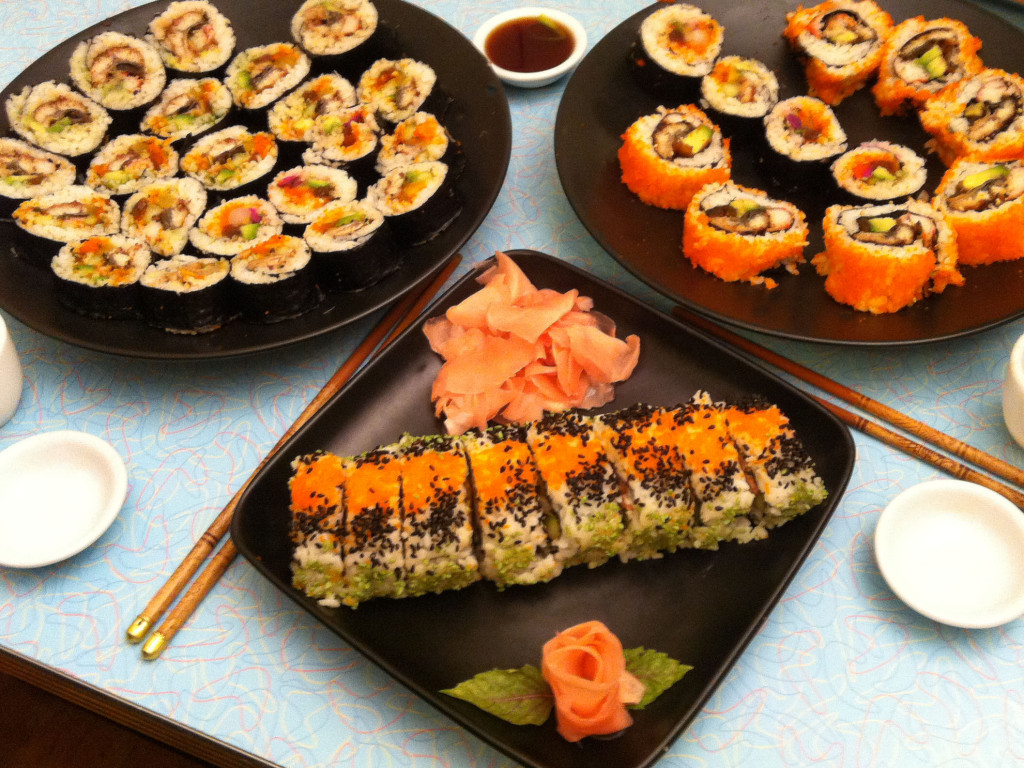 Eel, avocado, kani (crab stick), tamago (sweet egg), kampyo (dried gourd), various pickles and more. The flower is made of gari (pickled ginger) and shiso leaf.
Thailand
Thai Pumpkin Soup with Coconut Milk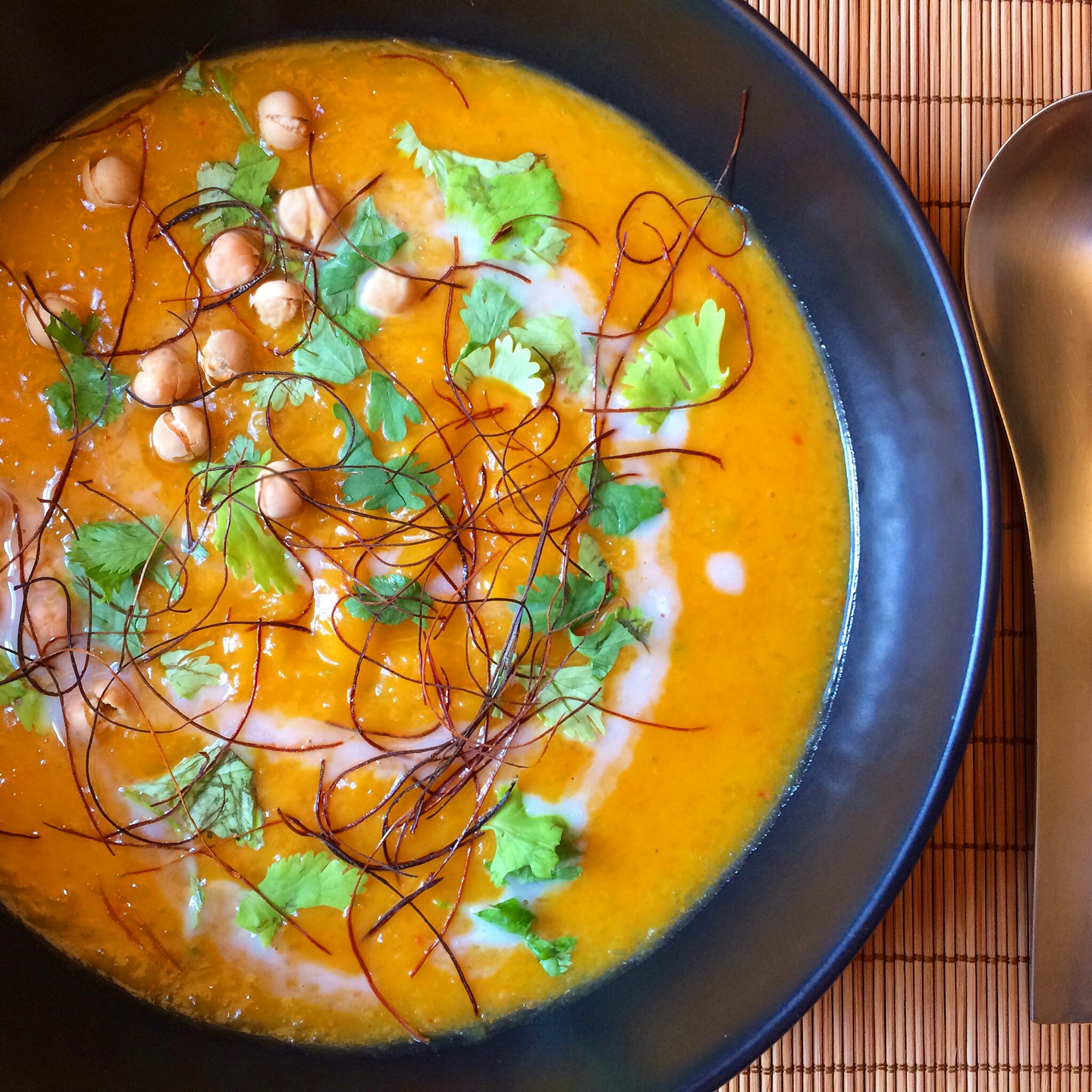 If you're curious about the garnishes (aside from the cilantro and spibbles of coconut milk), the little spherical bits are crispy dried peas for some crunch, and the gossamer threads are dried shredded red pepper for some pretty.
Thai Duck Salad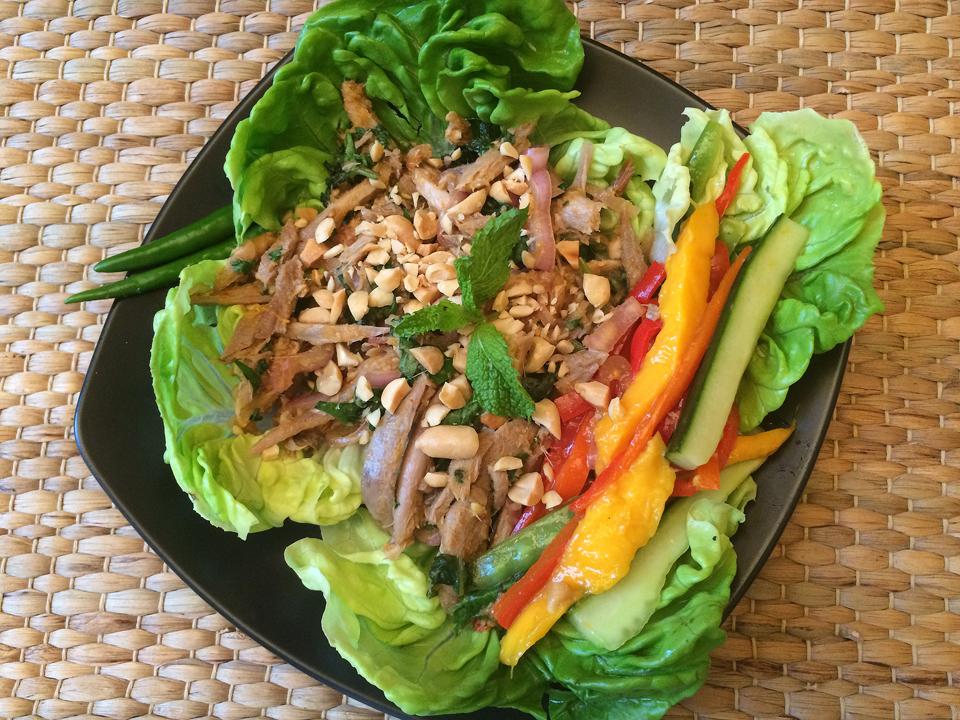 Roast duck with Thai basil, cilantro, mint, shallots, and lemongrass, with a chili paste, fish sauce, sugar, and lime juice dressing. On the side, there's red bell pepper, snow peas, cucumber, and mango all topped with peanuts and served over soft butter lettuce.
Penang Curry Eggplant with Jackfruit and Jackfruit Seeds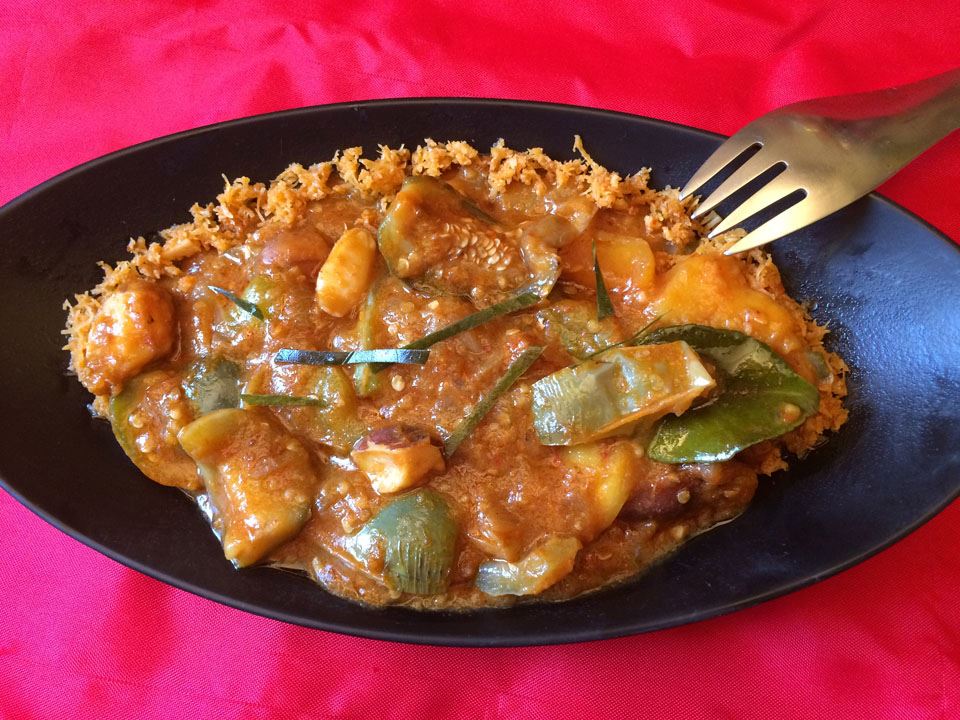 I had this idea when jackfruit was in season. If you buy a huge hunk, you can break it down yourself (although it's a sticky mess) and in addition to the delicious, sweet fruit, you get a bonus when you roast or boil the seeds. Their flavor is mild and nutty, somewhere between a baked potato and a chestnut. The roasted version figured into this dish.
Som Tum – Green Papaya Salad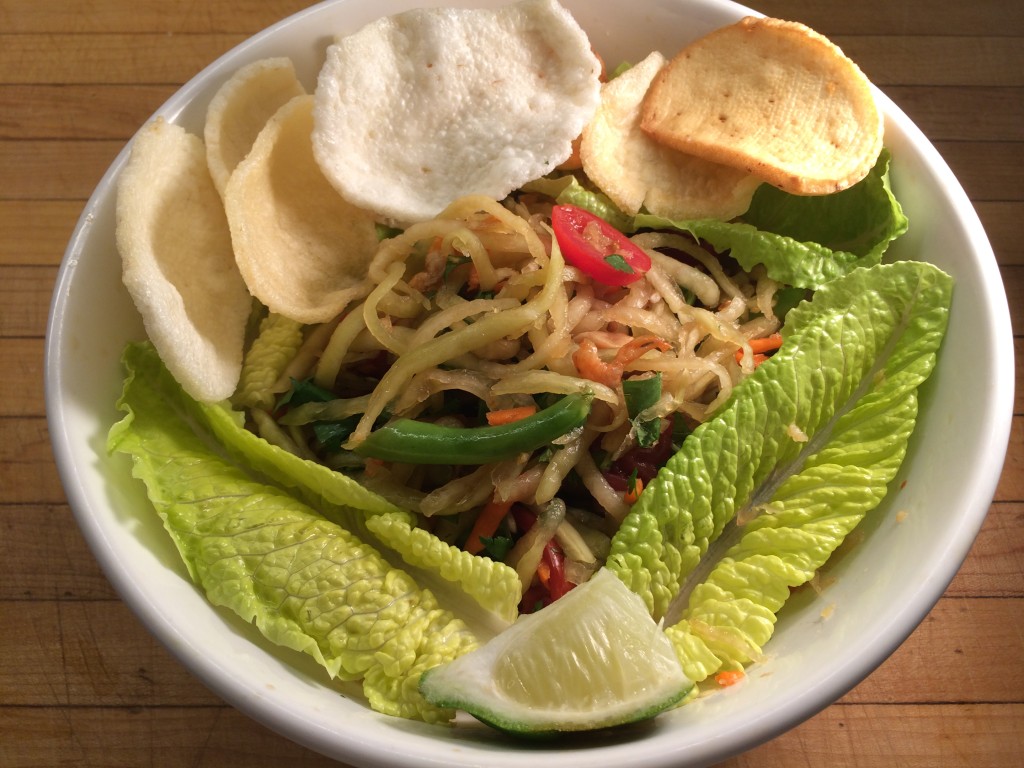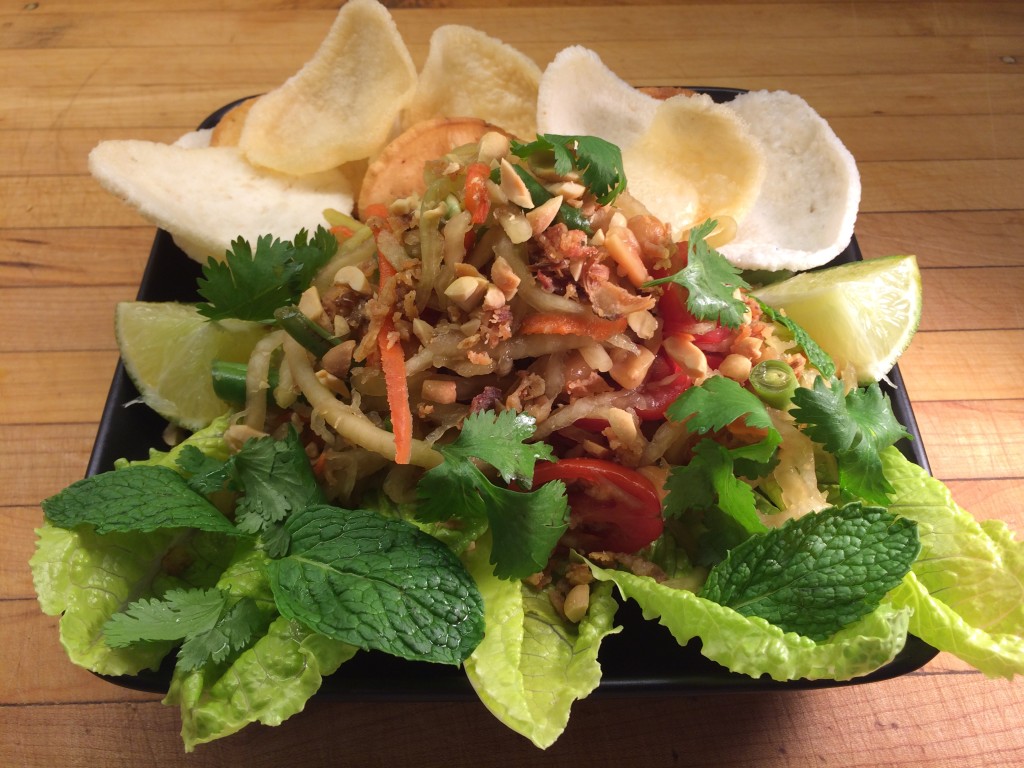 Spicy, sweet, salty, sour. Yep, that about covers it.
Cambodia
Chrouk Metae Paik Kouk (Spicy Jicama Slaw)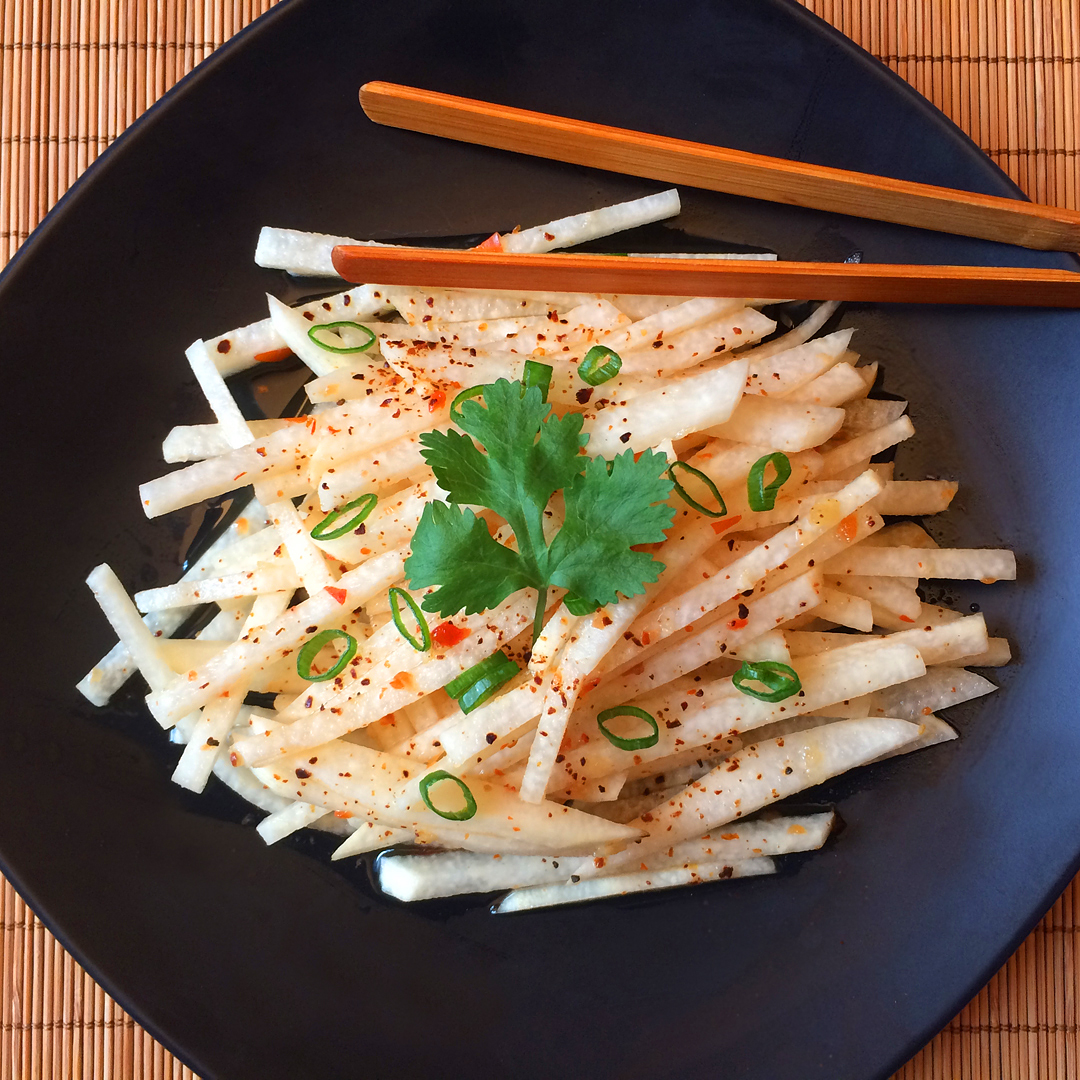 Saich Ko Chrawkak (Grilled Beef on a Stick)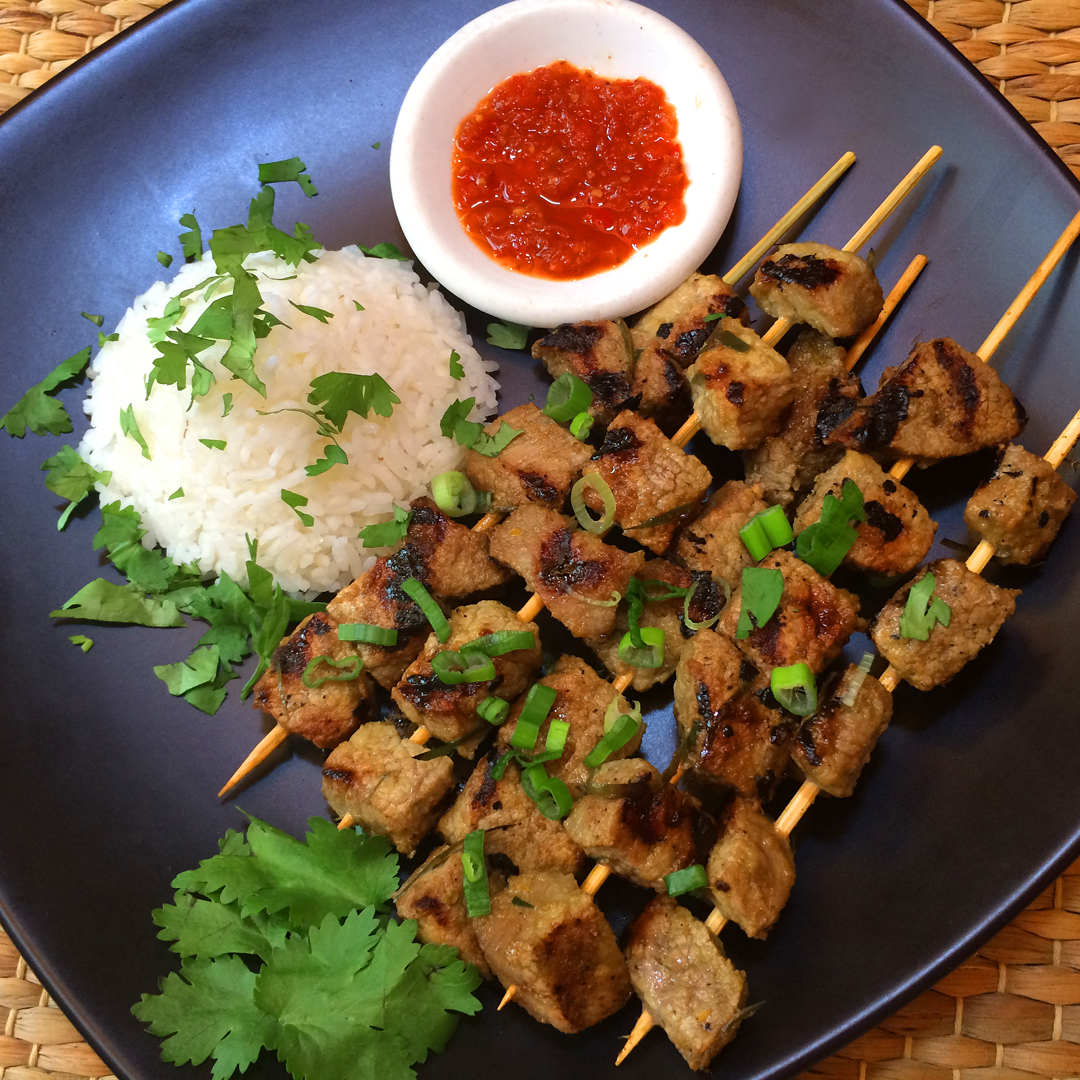 Indonesia
Mie Goreng – Indonesian Fried Noodles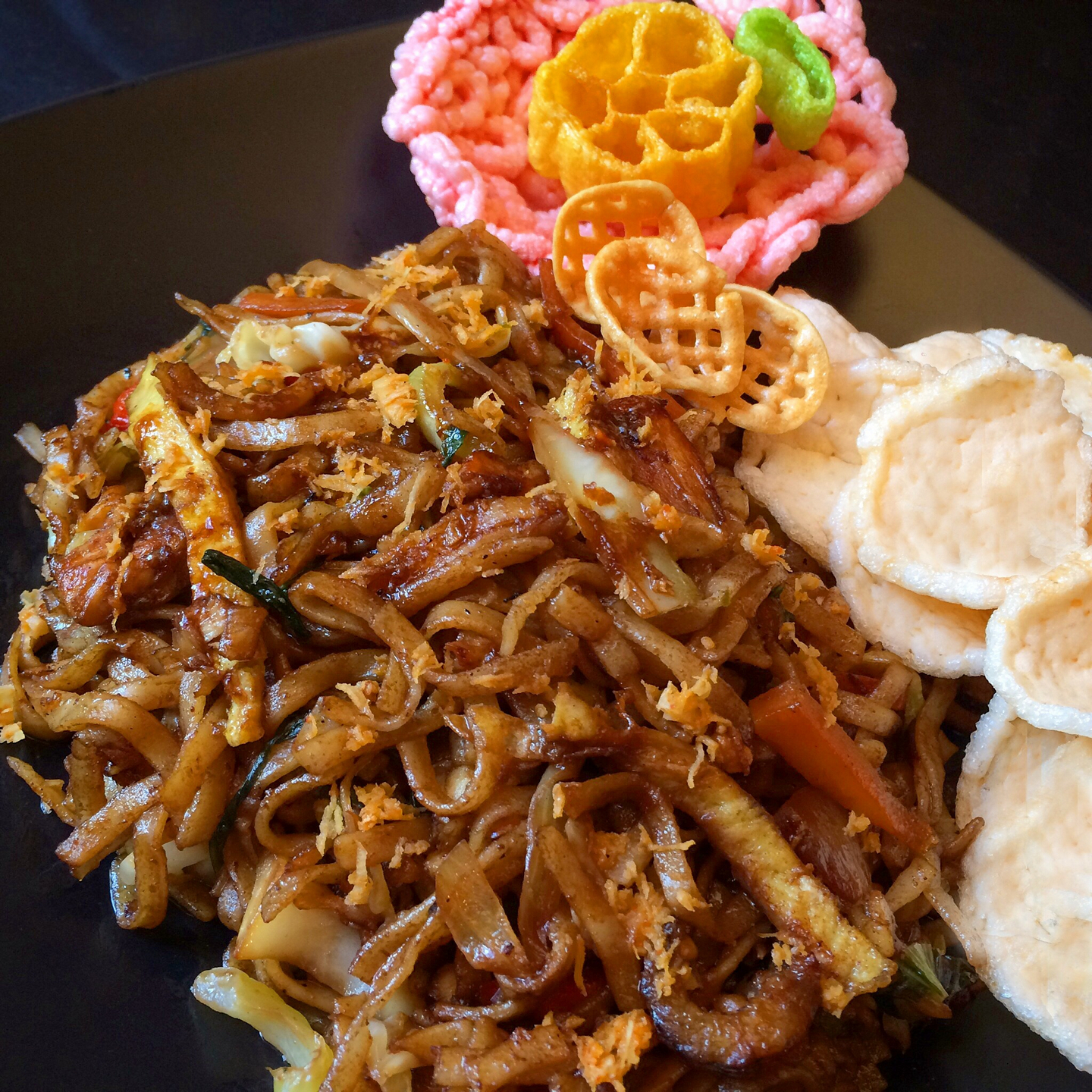 The marvelous white crisps on the right are shrimp flavored Indonesian krupuk (you might see kerupuk) and they're positively addictive.
Indonesian Fried Chicken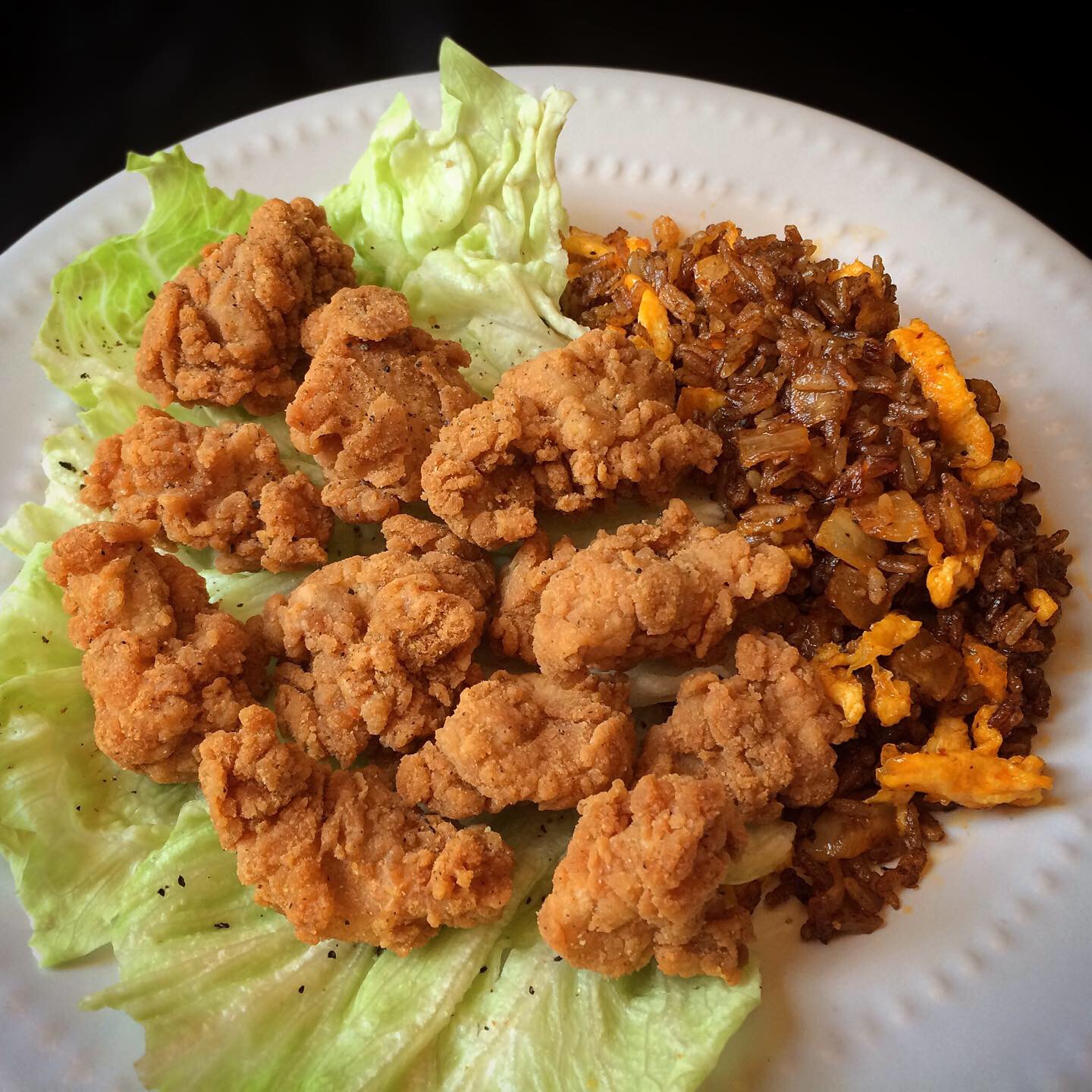 Nasi Goreng (Indonesian fried rice) on the side.
India
Chana Masala with homemade Paratha (from scratch!) and basmati rice.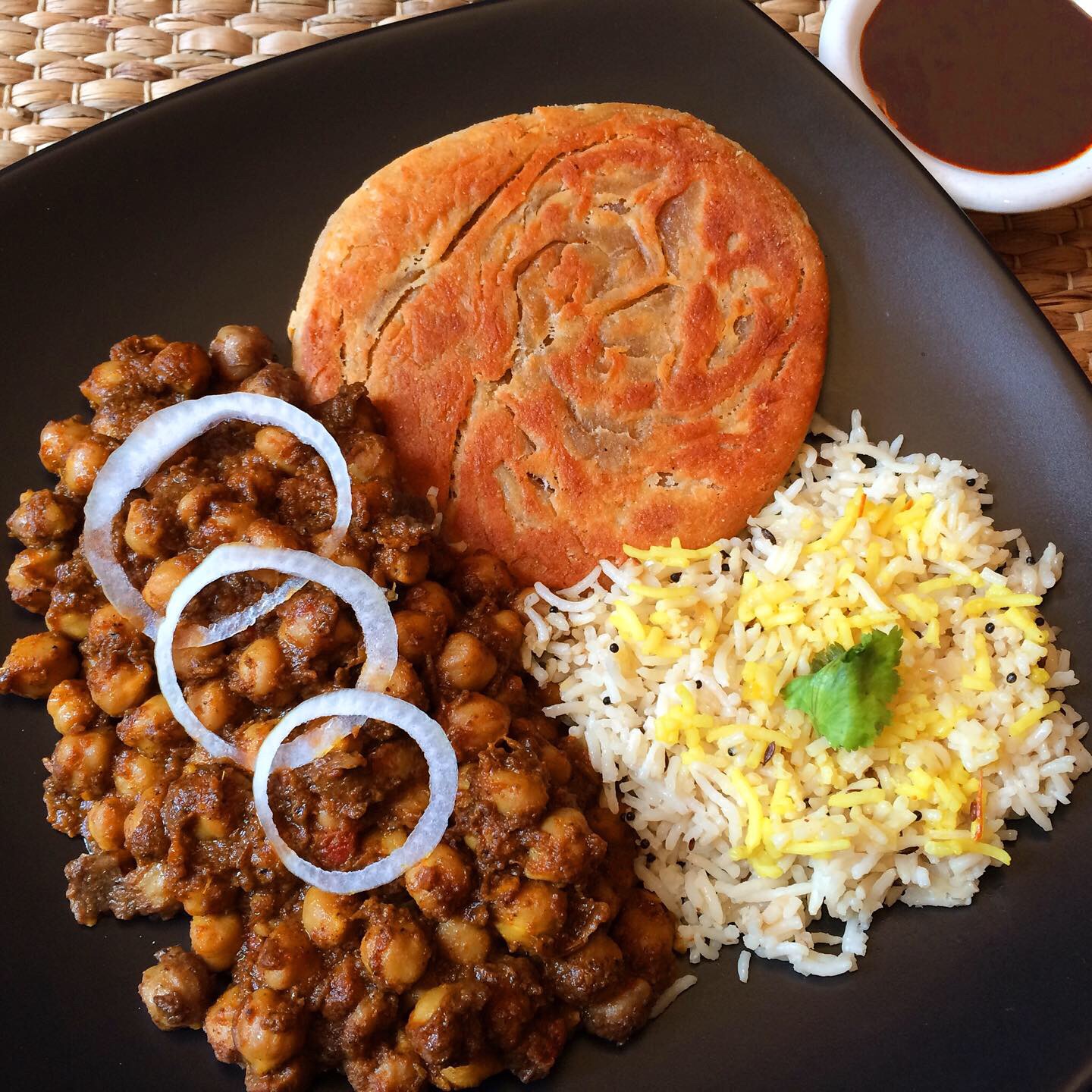 Gajjar Halwa and Kesar Badam Burfi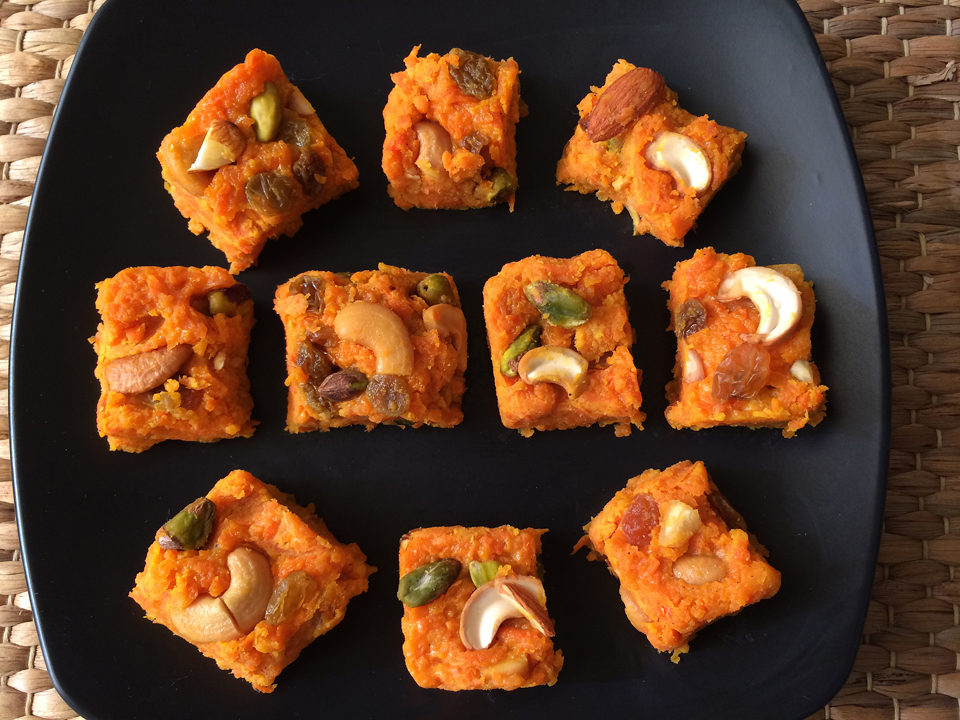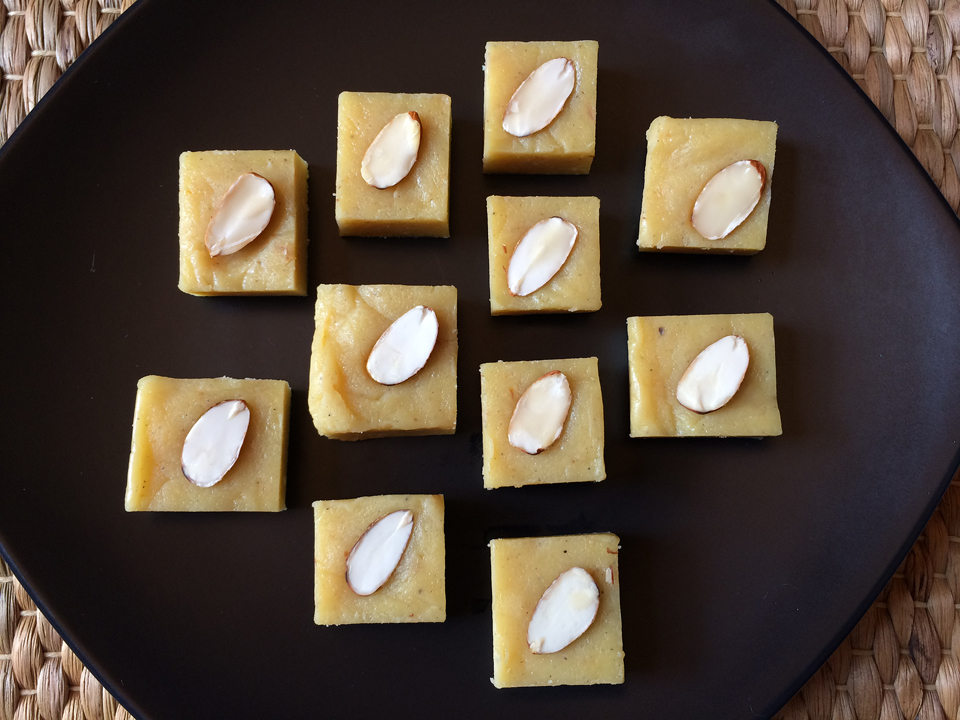 I can no longer keep this to myself. I am an addict, hooked on mithai. Mithai are Indian sweets and because I can never get enough, I had no choice but to learn to make some myself: Gajjar Halwa is carrot based and Kesar Badam Burfi is dense and heady with saffron and almonds. Share the saga of my happy addiction here.
Iran
Fesenjan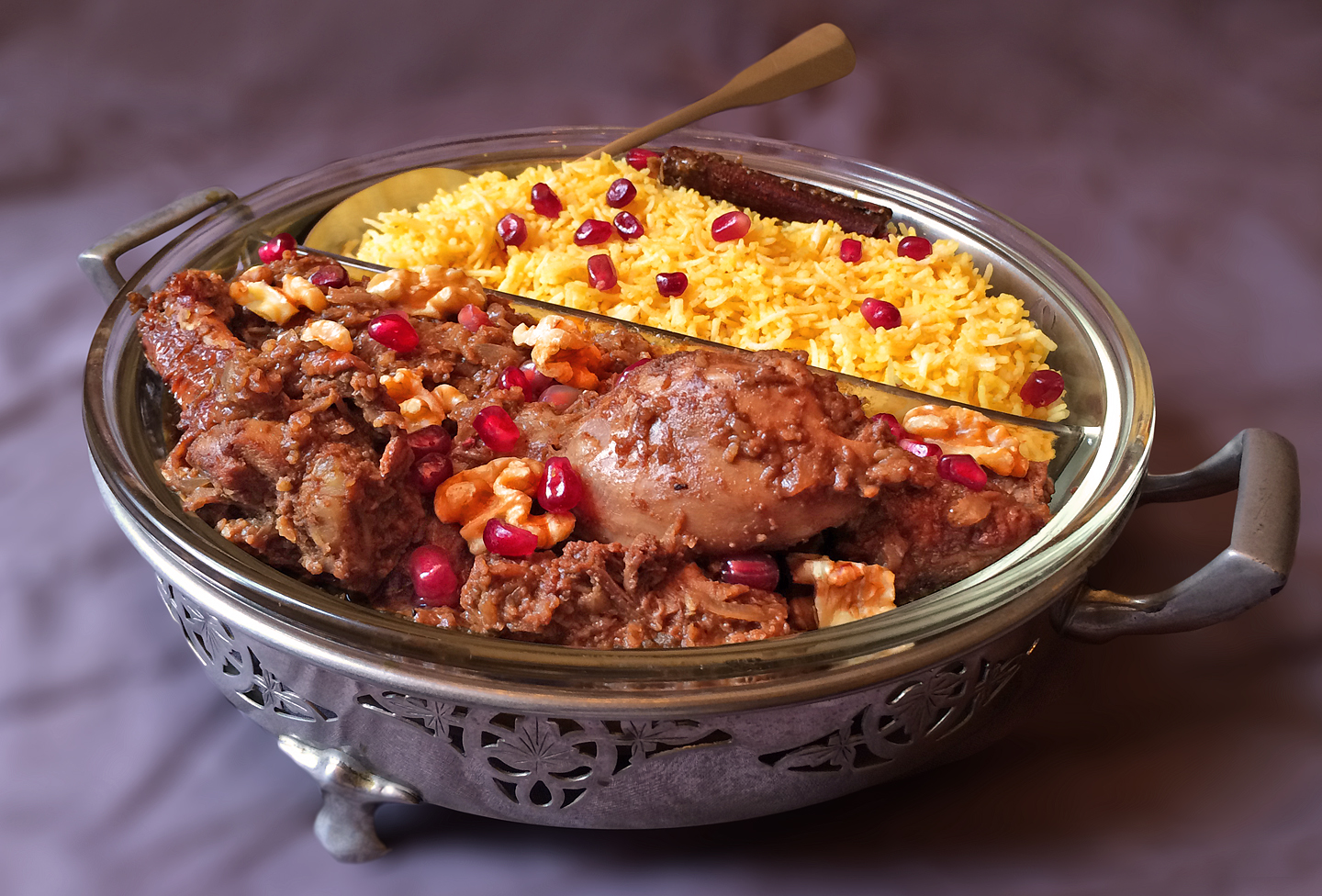 In Iran, a rich stew (a khoresh) is not uncommon at the dinner table. This Persian dish is often made with chicken, sometimes with duck like this one; the other two essential ingredients are walnuts and pomegranates in some form – my version uses pomegranate molasses although I've seen pomegranate juice pressed into service as well. Saffron rice in the supporting role.
(And that's my grandmother's serving dish if you're curious.)
Tahdig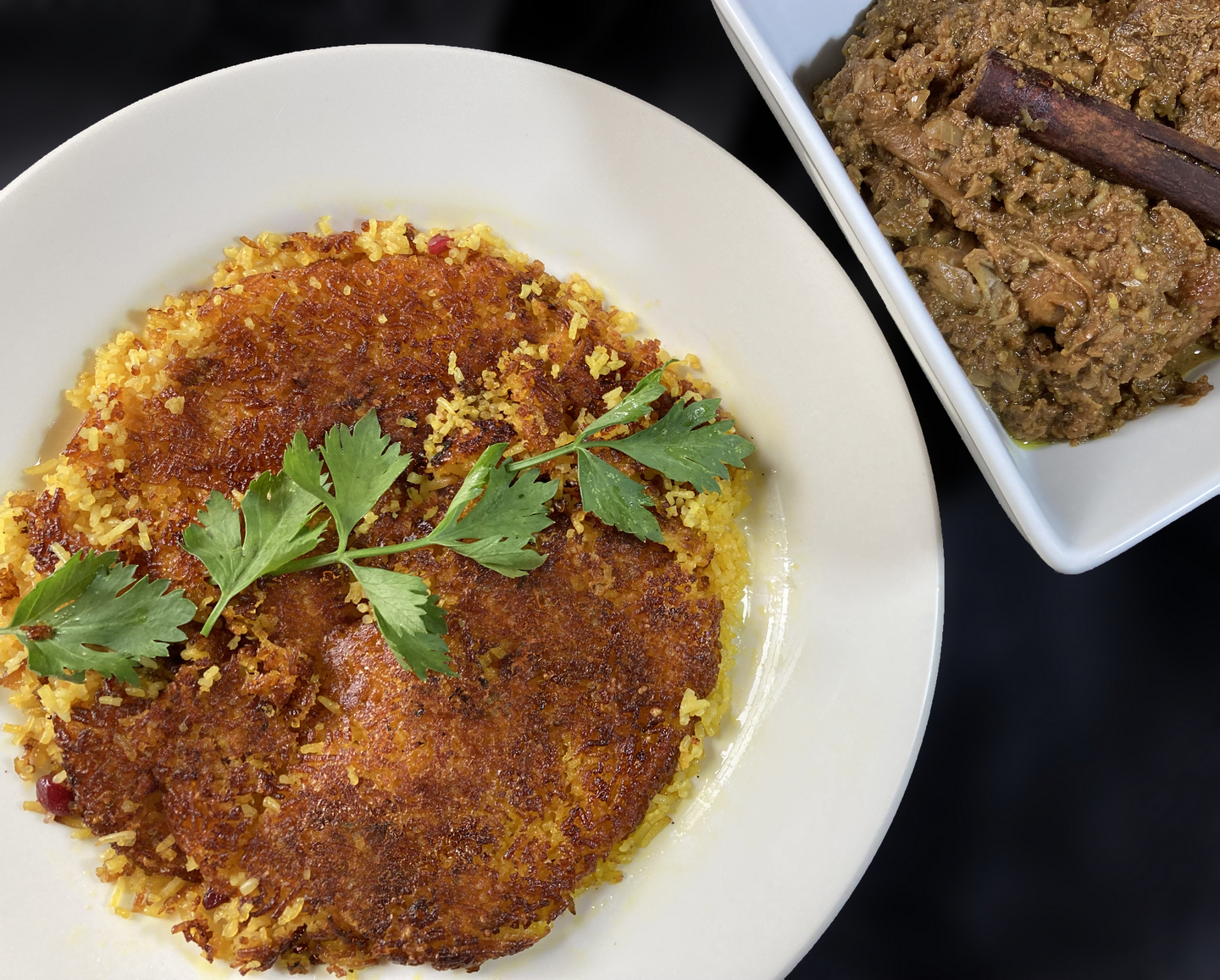 The saffron rice dish that's all about the crispy layer that forms at the bottom of the pot, Persia's answer to Spain's socarrat or China's guōbā.
Egypt
Koshary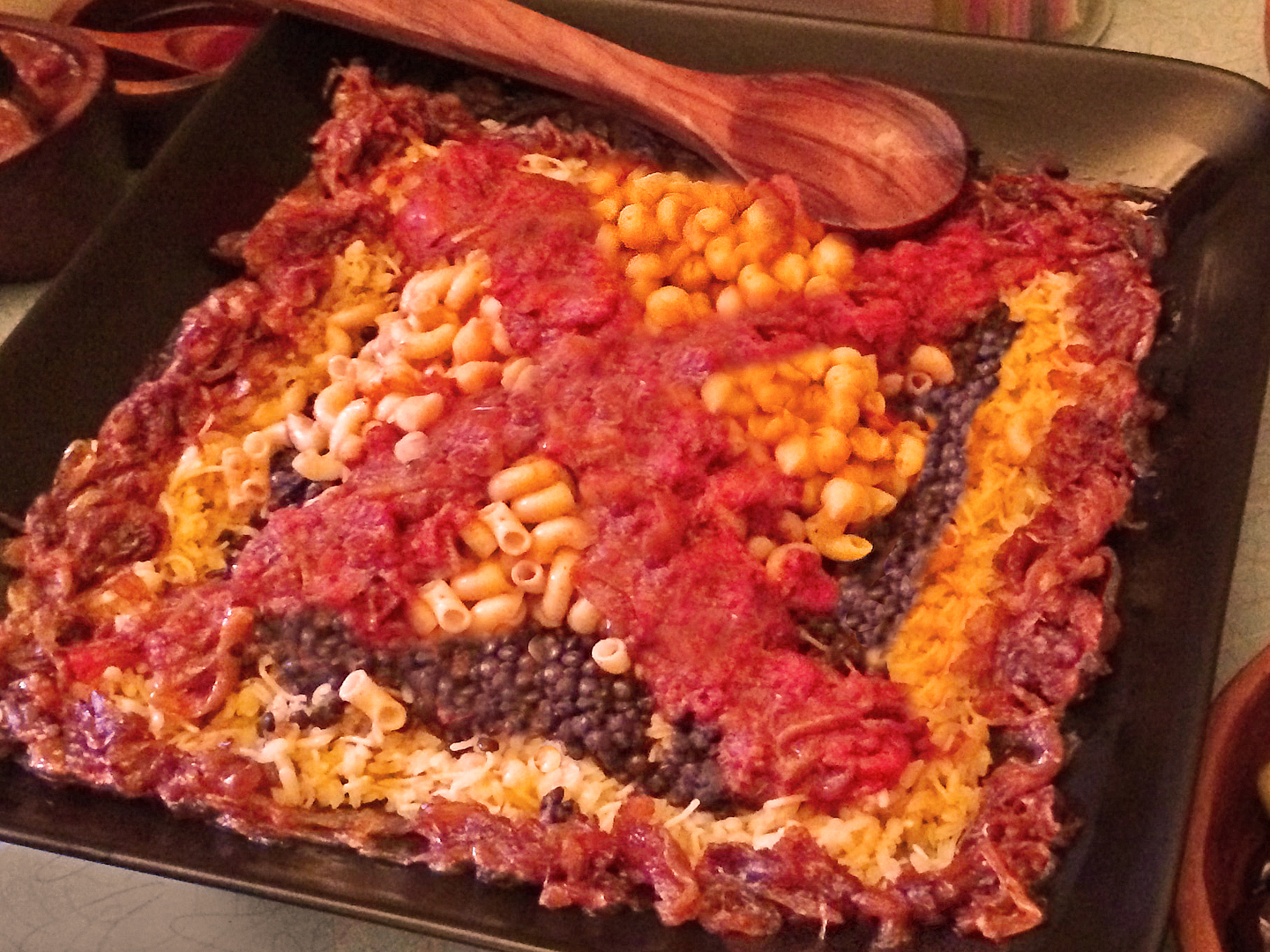 I made this Egyptian comfort food for a friend's birthday. Layers of caramelized onions, rice, vermicelli, black beluga lentils, elbow macaroni (yes, elbow macaroni!), chickpeas, and tomato sauce – seasoned with heavenly spices (baharat and others) and piled into a pyramid.
The usual suspects accompanied the feast…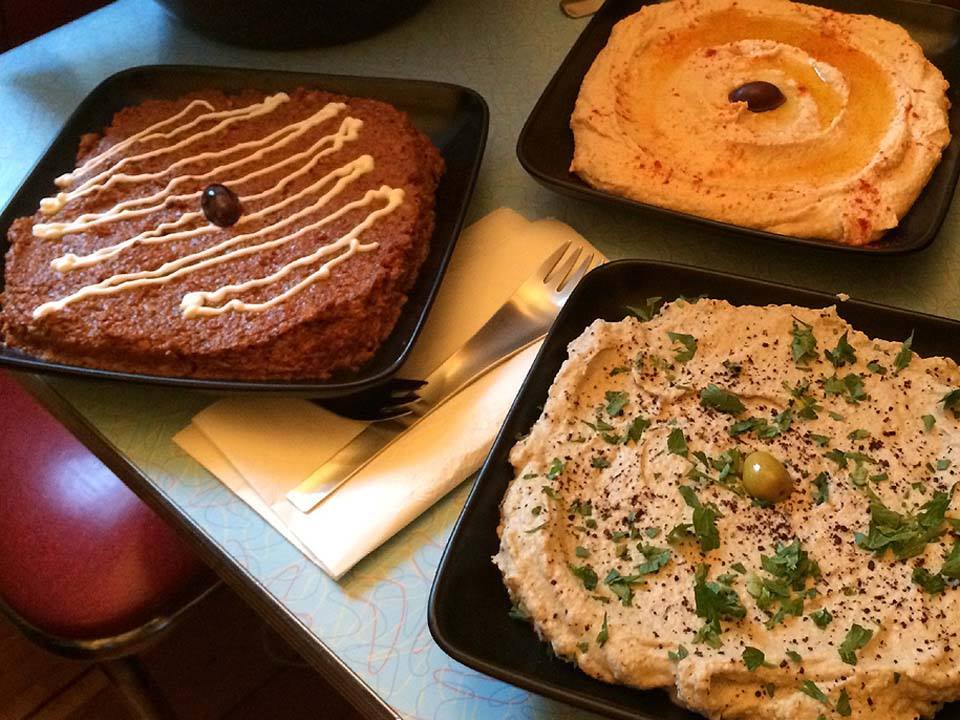 …muhammara (a red bell pepper and walnut dip), hummus, and baba ganoush.
Middle East
Shakshuka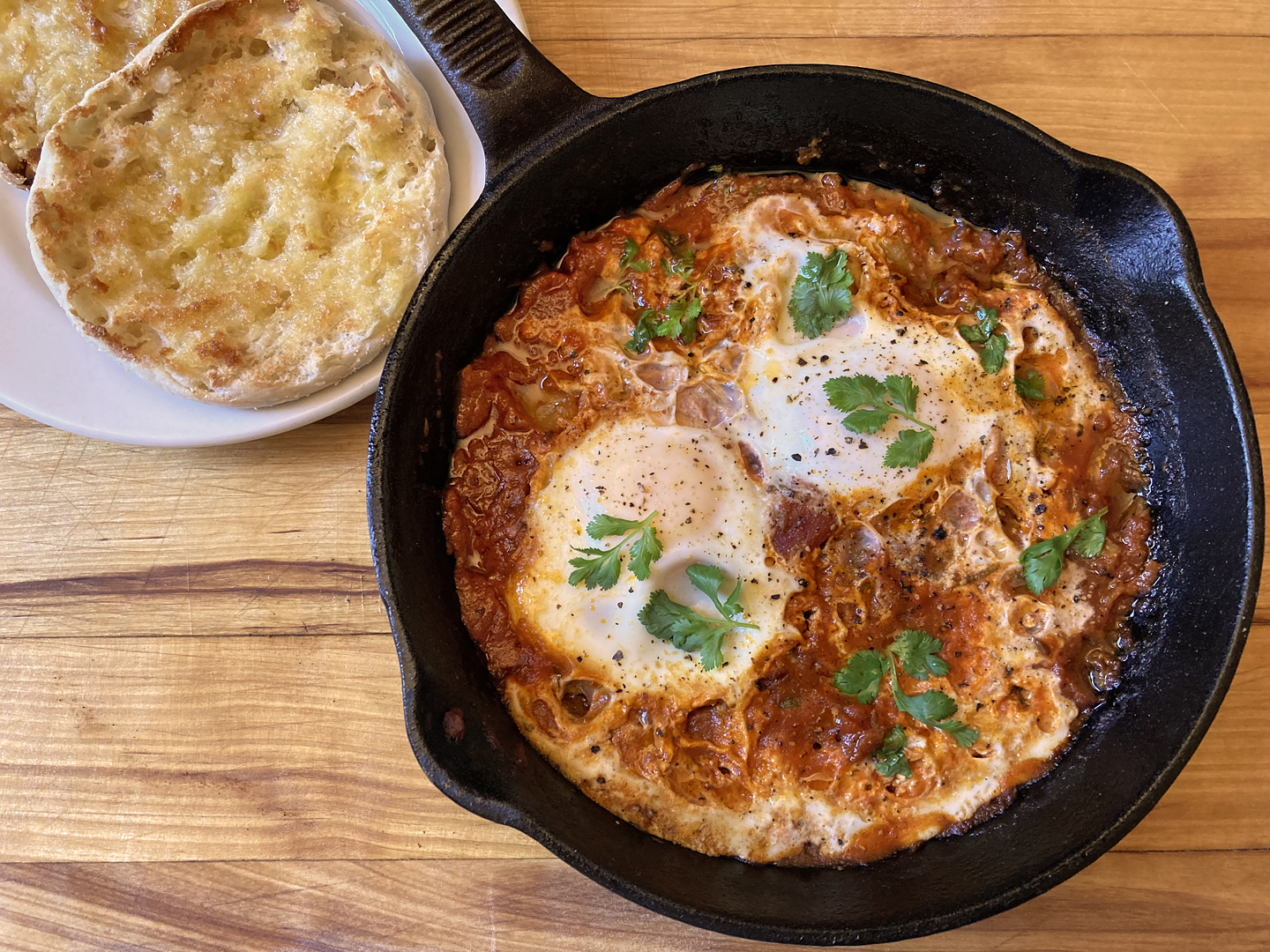 Eastern Europe
Halušky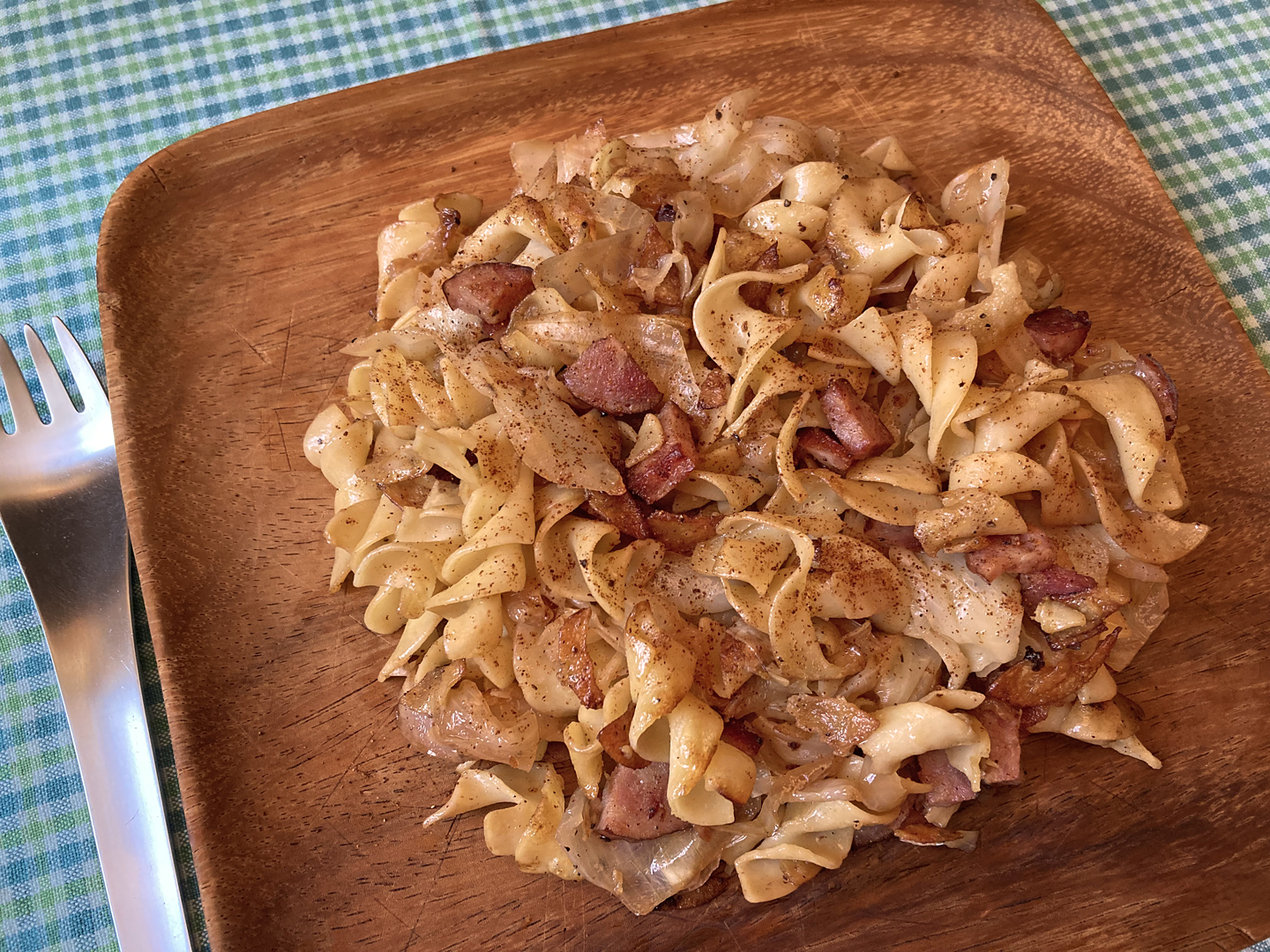 Ukraine
Borscht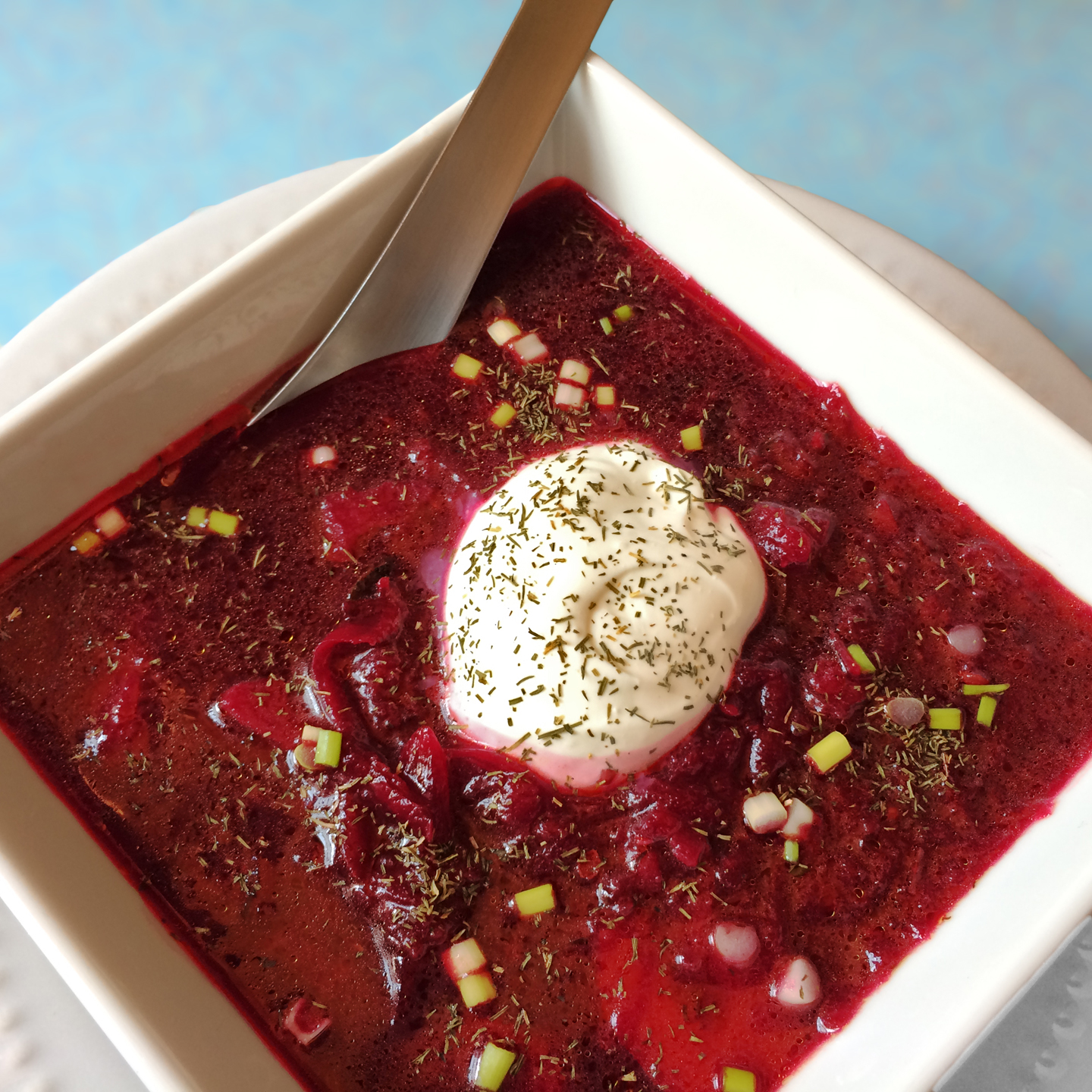 Home cooking from last summer – a refreshing, cold beet soup which, according to Wikipedia, is the national dish of Ukraine.
Blintzes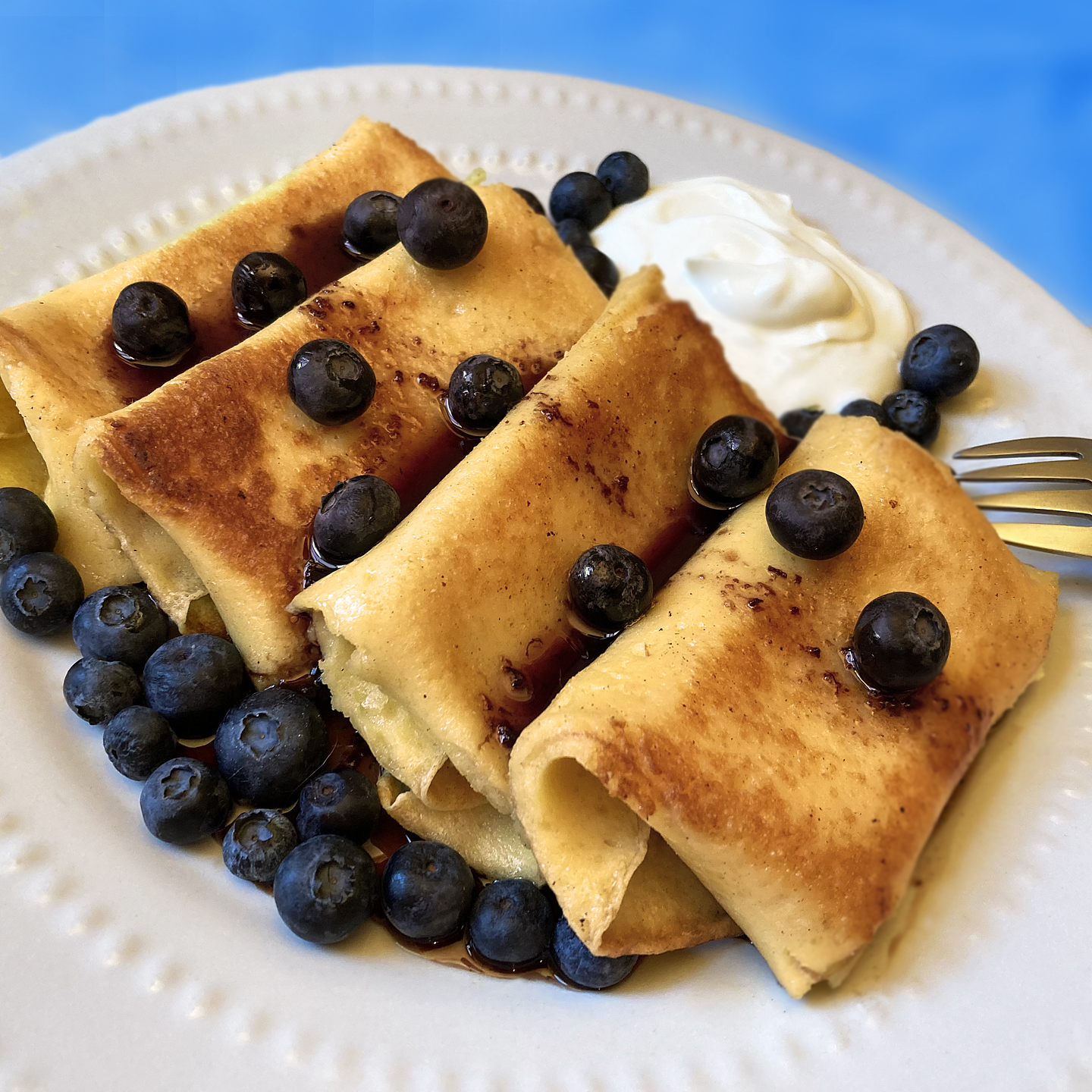 Homemade blintzes decked out with fresh blueberries, blueberry syrup and sour cream – note the blue and yellow theme.
Banush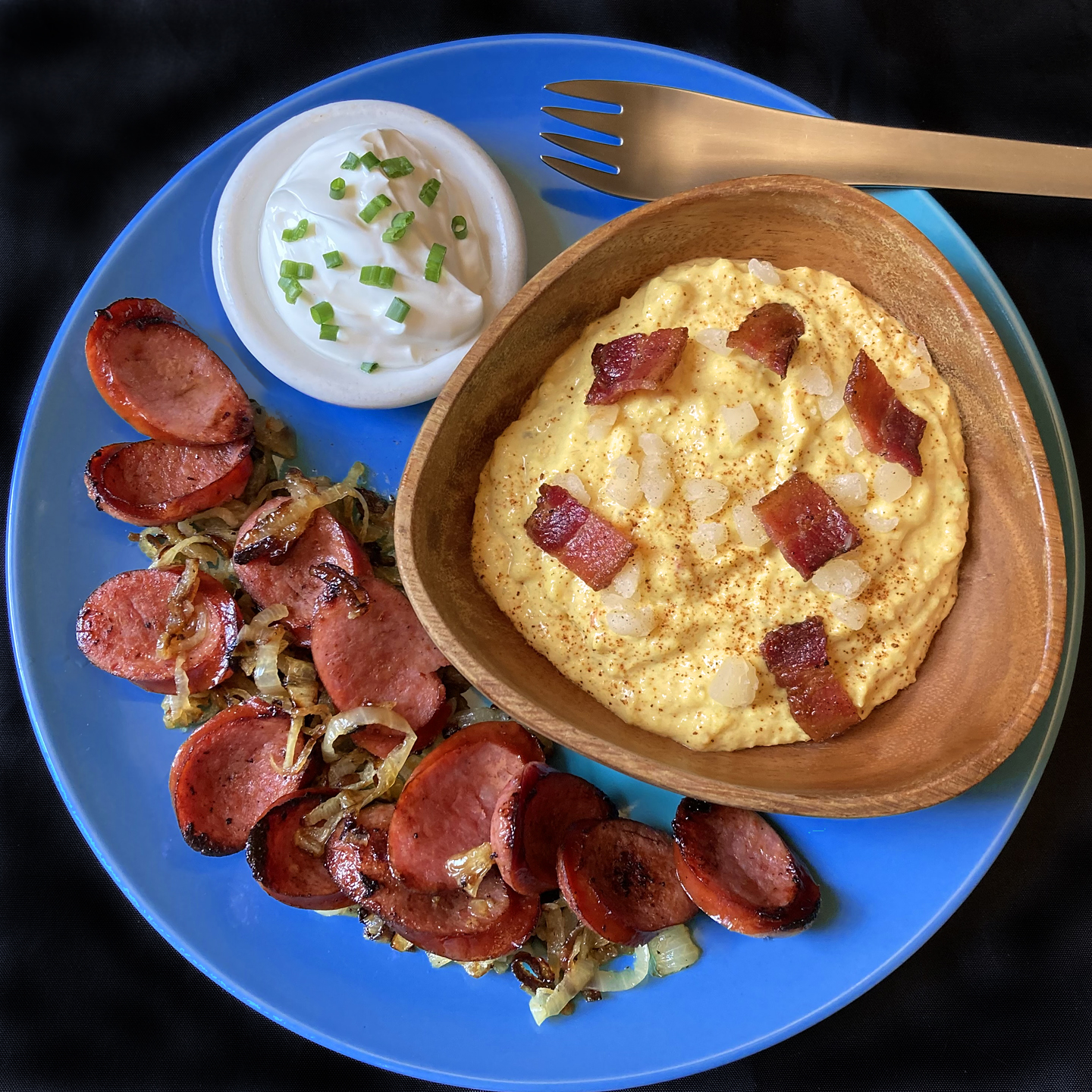 Banush is a cornmeal porridge made with sour cream rather than water. It's typically served with a sharp sheep's milk cheese like bryndza crumbled on top and bits of bacon or salo. I've plated it alongside grilled Eastern European sausage on a bed of caramelized onions with sour cream on the side.
Kutia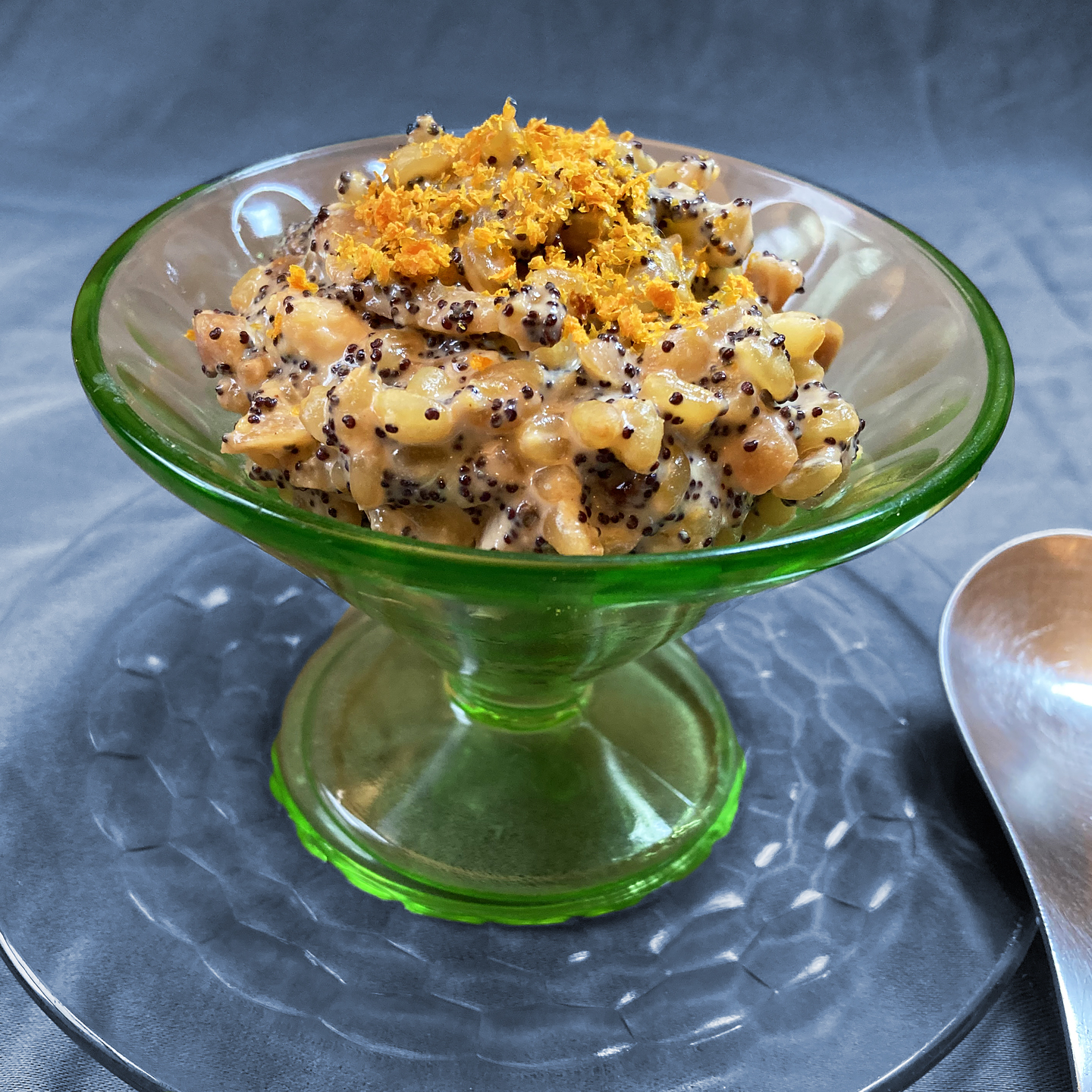 Best described as a porridge, it's sweet from honey and raisins, chewy from wheat berries, crunchy from nuts, and distinctive and delectable from the poppy seeds. This is my rendition that includes toasted almonds (although walnuts are customary) and dried apricots. It's an indispensable dish for the family's feast on Eastern Orthodox Christmas Eve throughout Ukraine.
Albania
Albanian Sudzuk Soup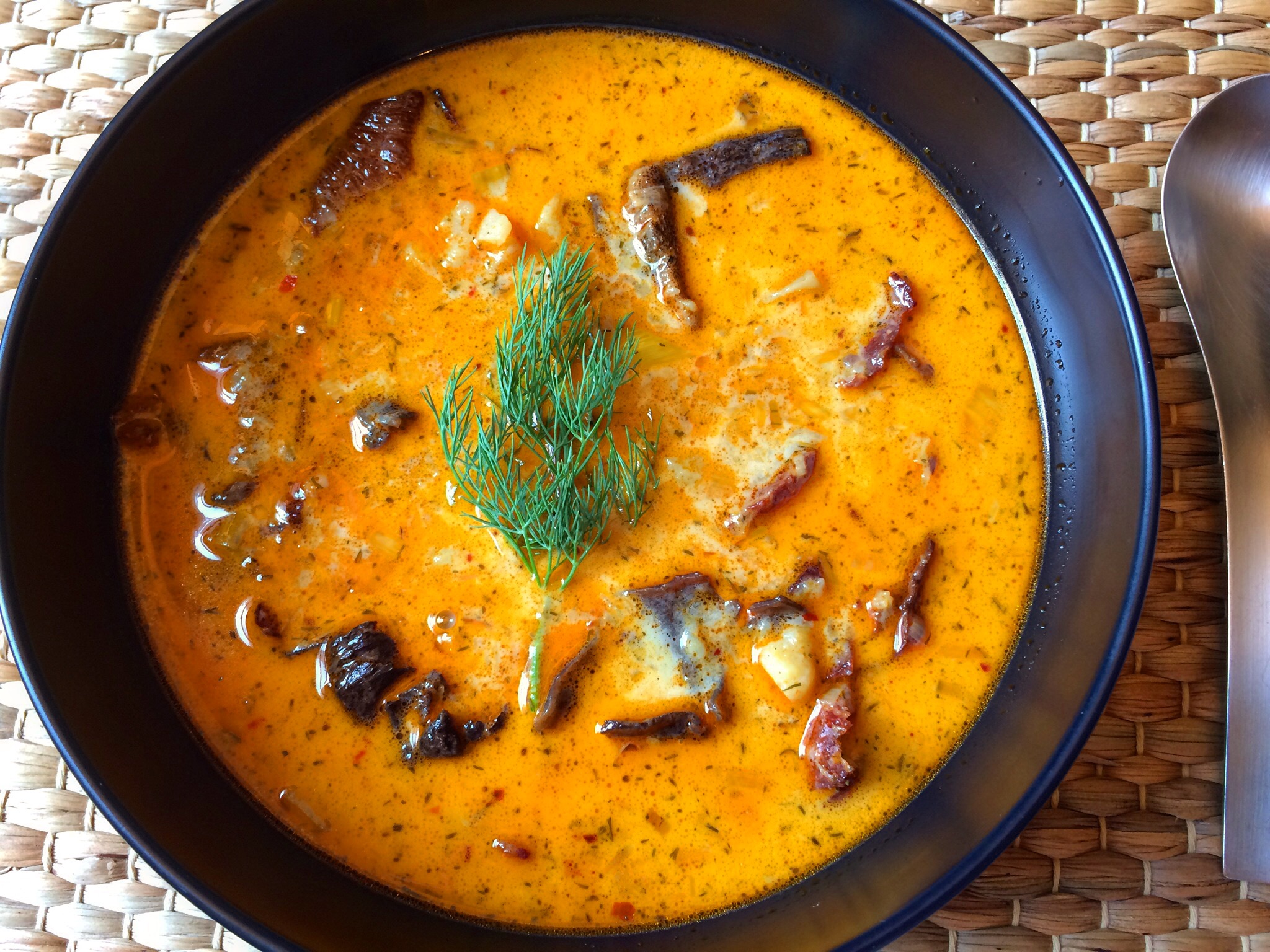 Here's another experiment pursued with my customary reckless abandon and utter disregard for recipes: Albanian Sudzuk Soup. (Although they probably don't really make this in Albania. But you never know….) Hot Albanian sudzuk (so many spellings for sujuk!), a dry, spicy sausage, was the basis for this soup; leeks and potatoes figured in prominently along with dried mushrooms and a few herbs and spices, the most significant of which was dill. Added a little heavy cream at the end to round it out.
France
Basa Meunière, two renditions. Marginally French. (You can read the whole story here!)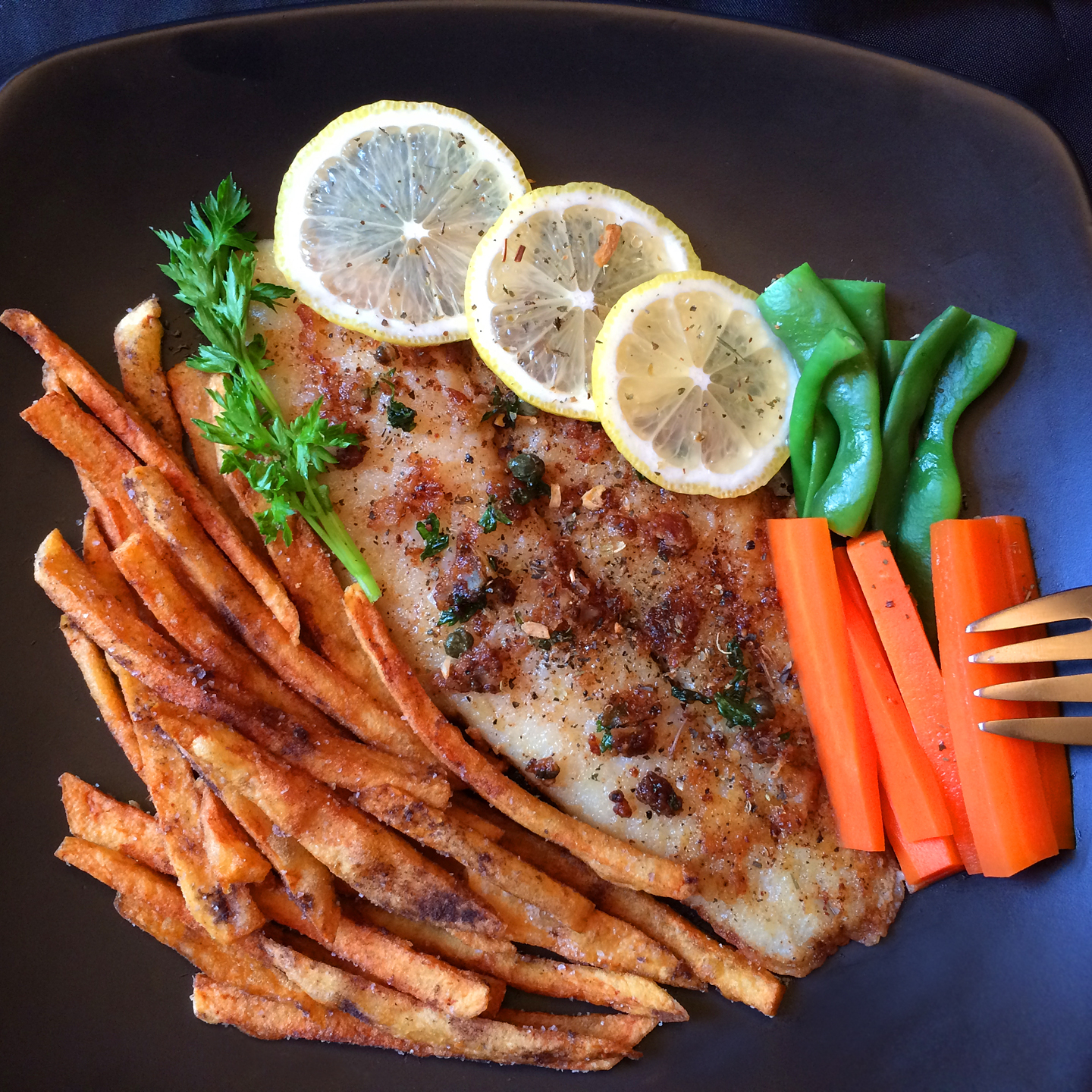 I had been playing around with truffle fries as an accompaniment. A toss of steamed veggies on the side, because how much Fried can you eat? (Don't answer that!)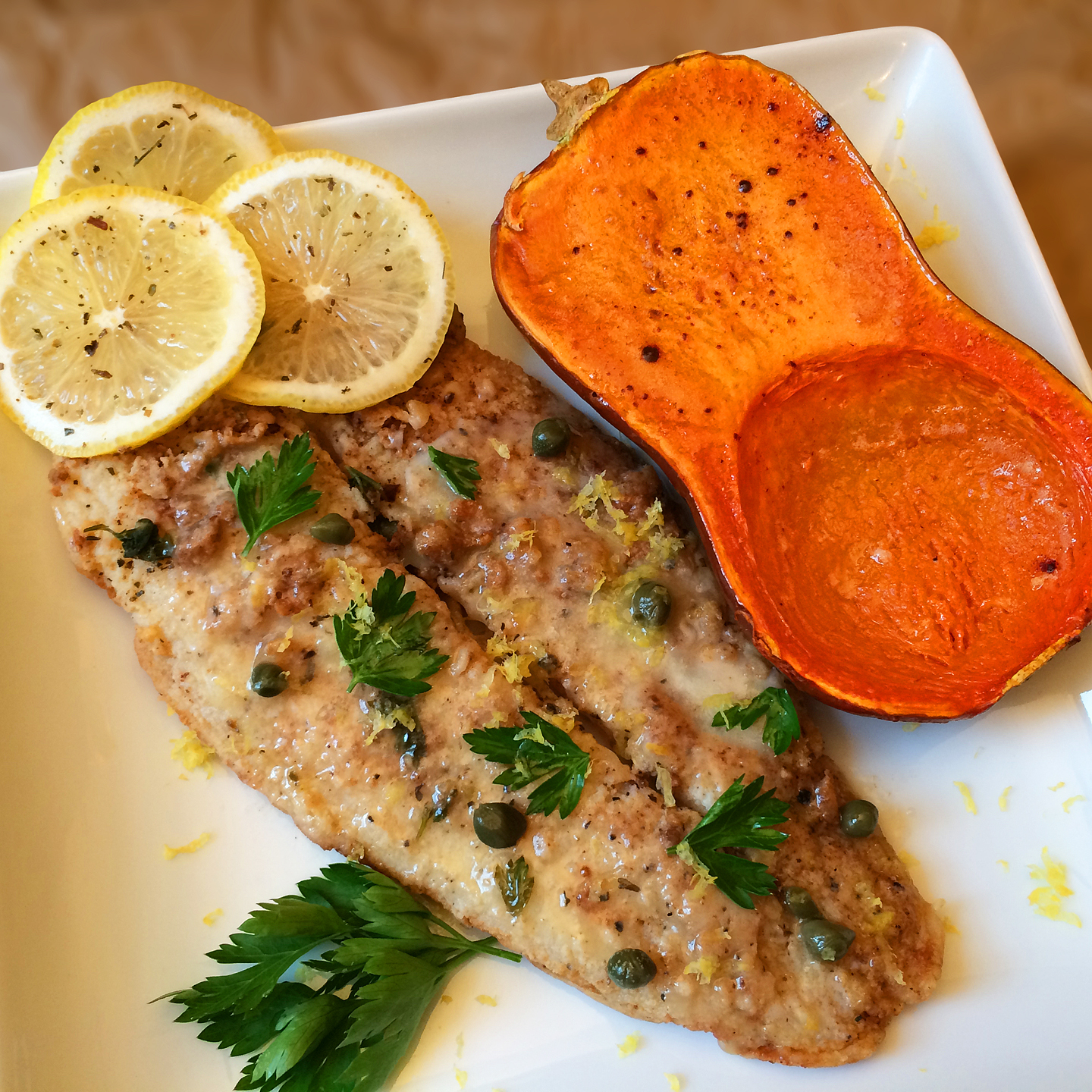 Served with some incredible simply roasted honeynut squash. (I sang its praises in part of my Winter Squash Deep Dive series here.)
Italy
Lasagna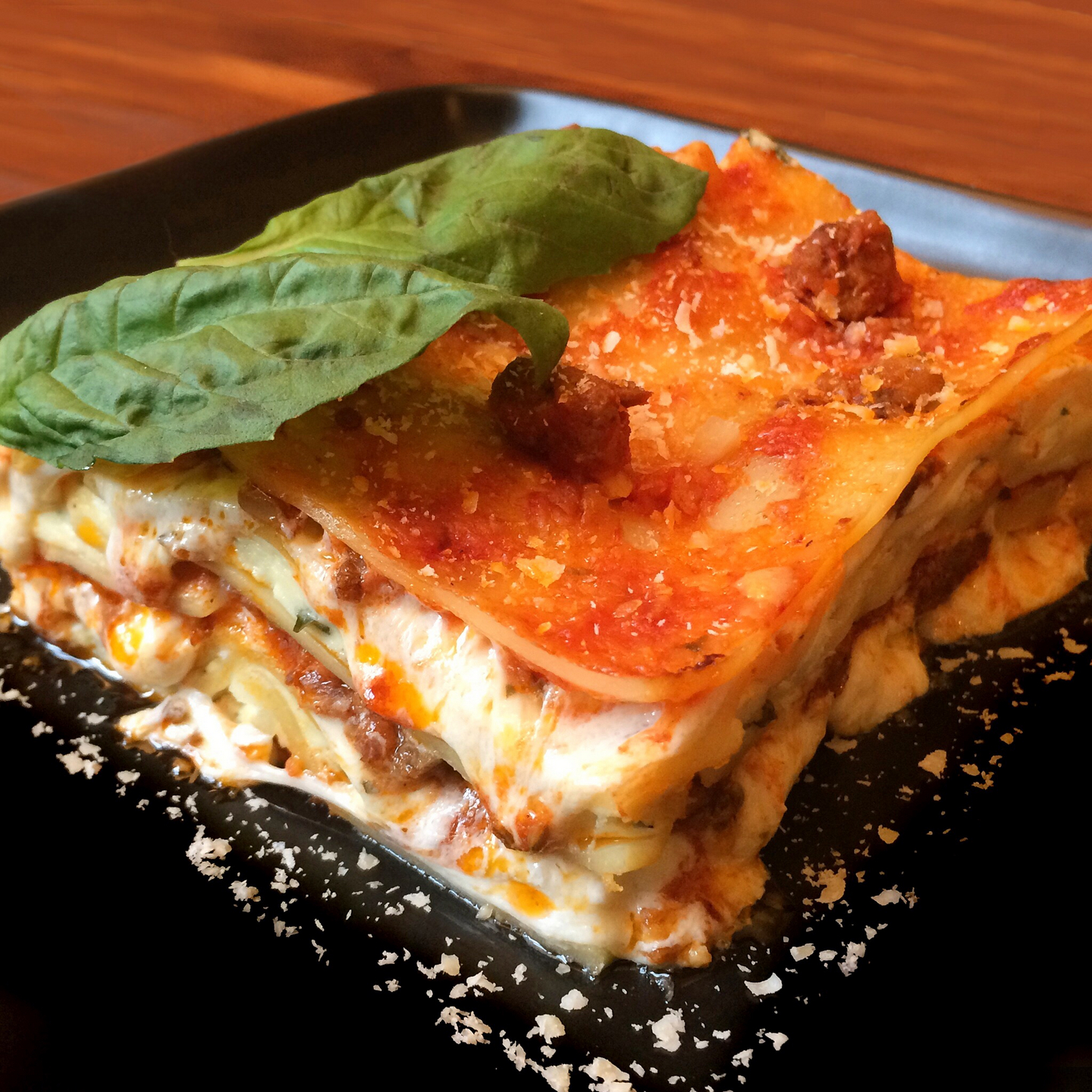 Insalata di Frutti di Mare (aka Insalata di Mare)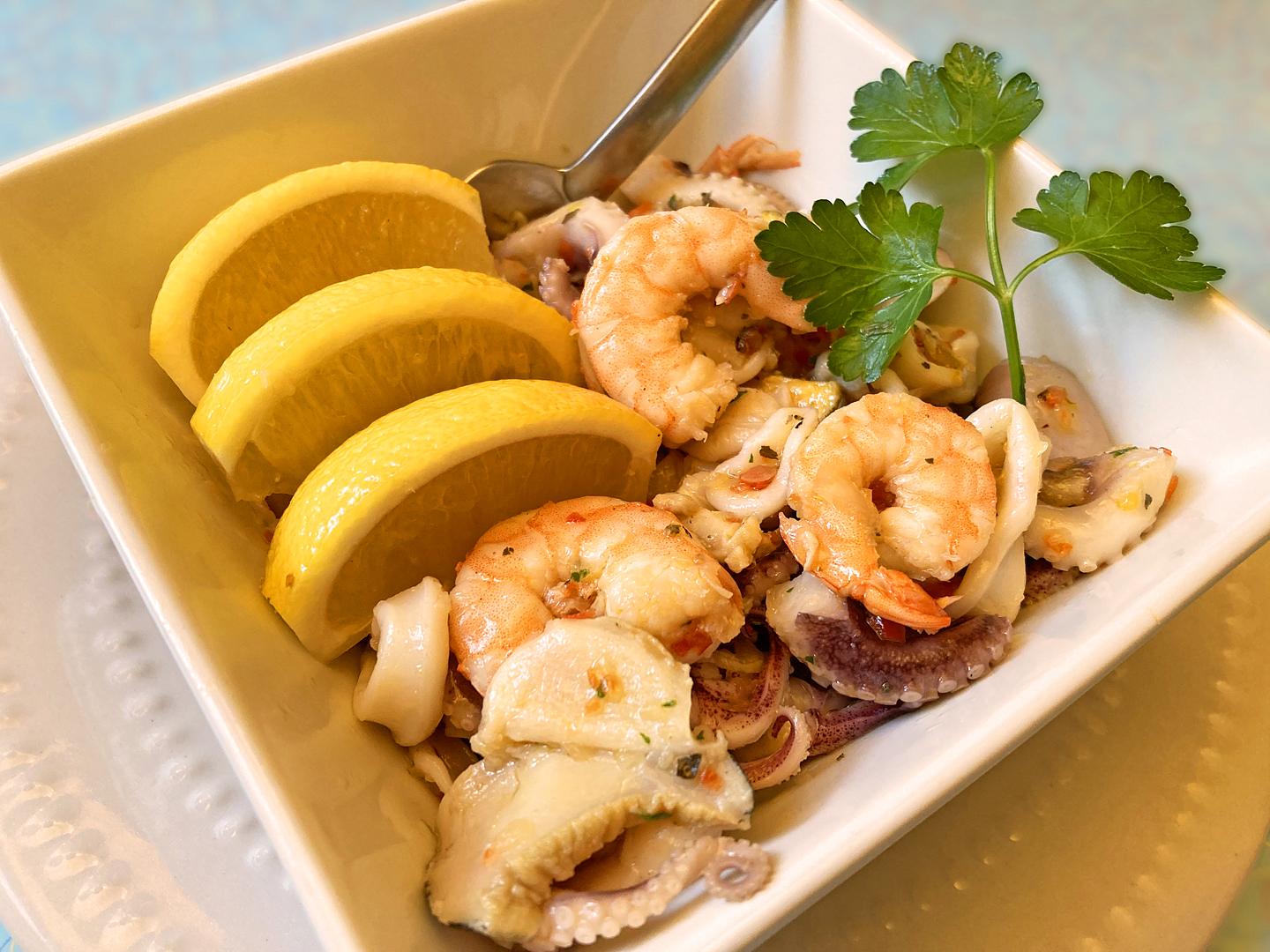 The quartet of shrimp, calamari (squid), polipetti (baby octopus), and scungilli (conch) plus various veggies for crunch and zest is augmented by a harmonizing dressing of EVOO, lemon juice, and herbs.
Portugal & Brazil
Kale and Chouriço Soup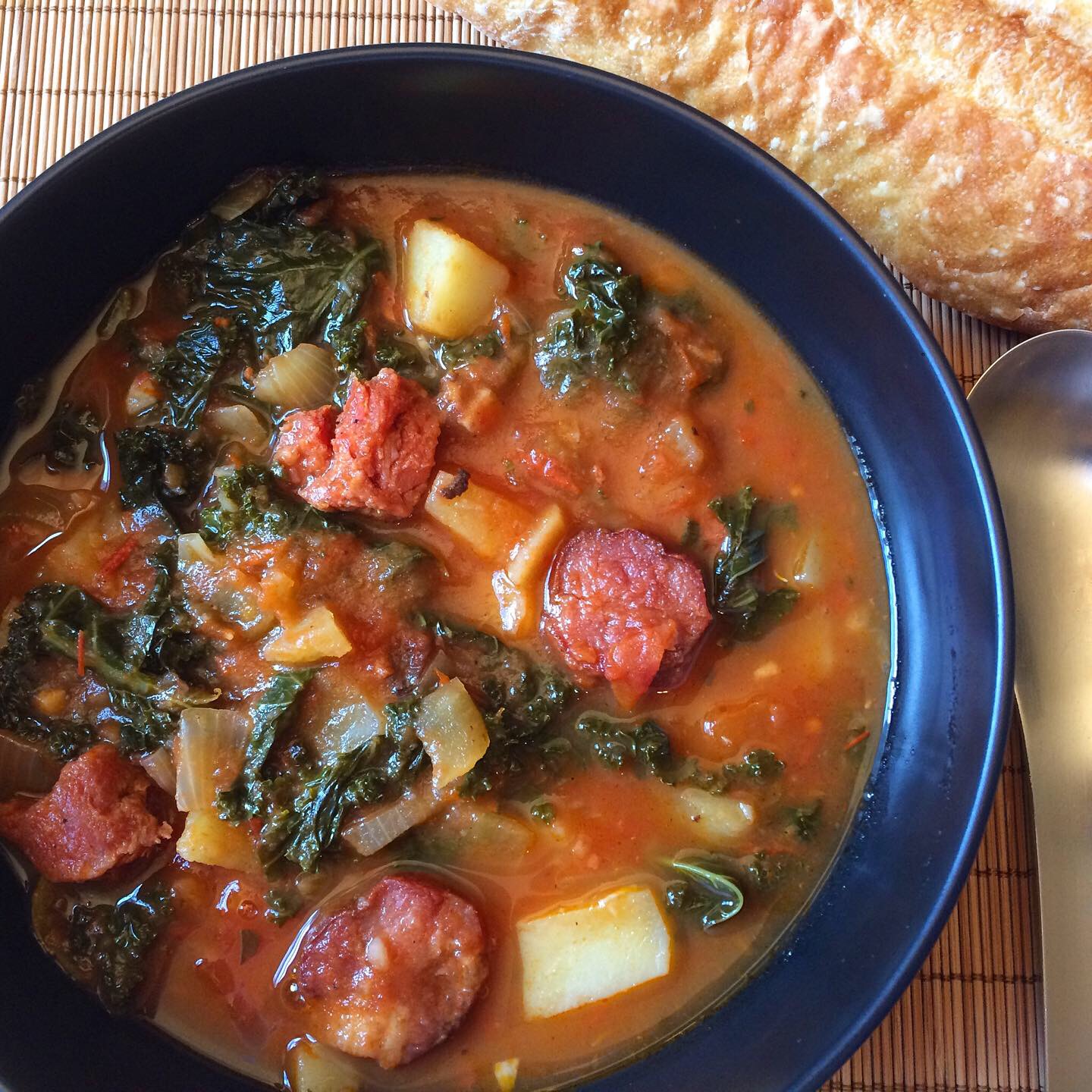 Morocco
Rabbit Tagine with Persimmons, Loquats, and Chestnuts


I wanted to create something unique for my pal Gael Greene's birthday potluck, so I made Rabbit Tagine with Persimmons, Loquats, and Chestnuts. (I don't think anyone has done that combination before.) The word "tagine" functions both as the name of the cooking vessel and the stew-like fare prepared within. The dish is shown here pre-garnish and sans photo of the saffron couscous with currants and just a touch of argan oil that accompanied it. Wish I had thought to grab some leftovers before everybody else did!
West Africa
Palmnut Cream Stew and Thiakry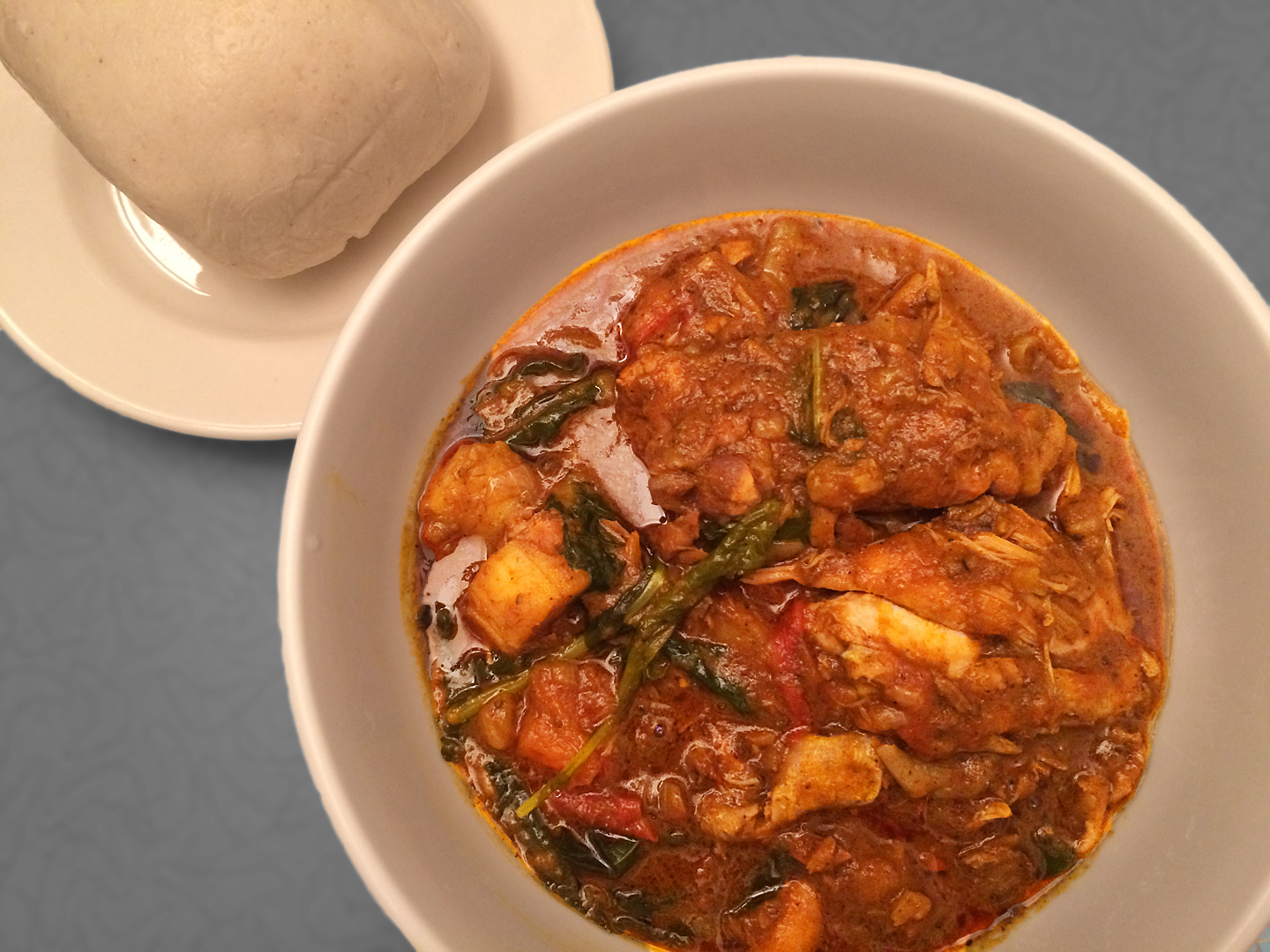 I've been getting into cooking West African cuisine lately. Here's my rendition of Palmnut Cream Stew with chicken, smoked dried fish, squash, plantain, tomato and kale. That's fufu (pounded yam) on the side. Turnip Greens with Peanut (not shown) rounded out the meal.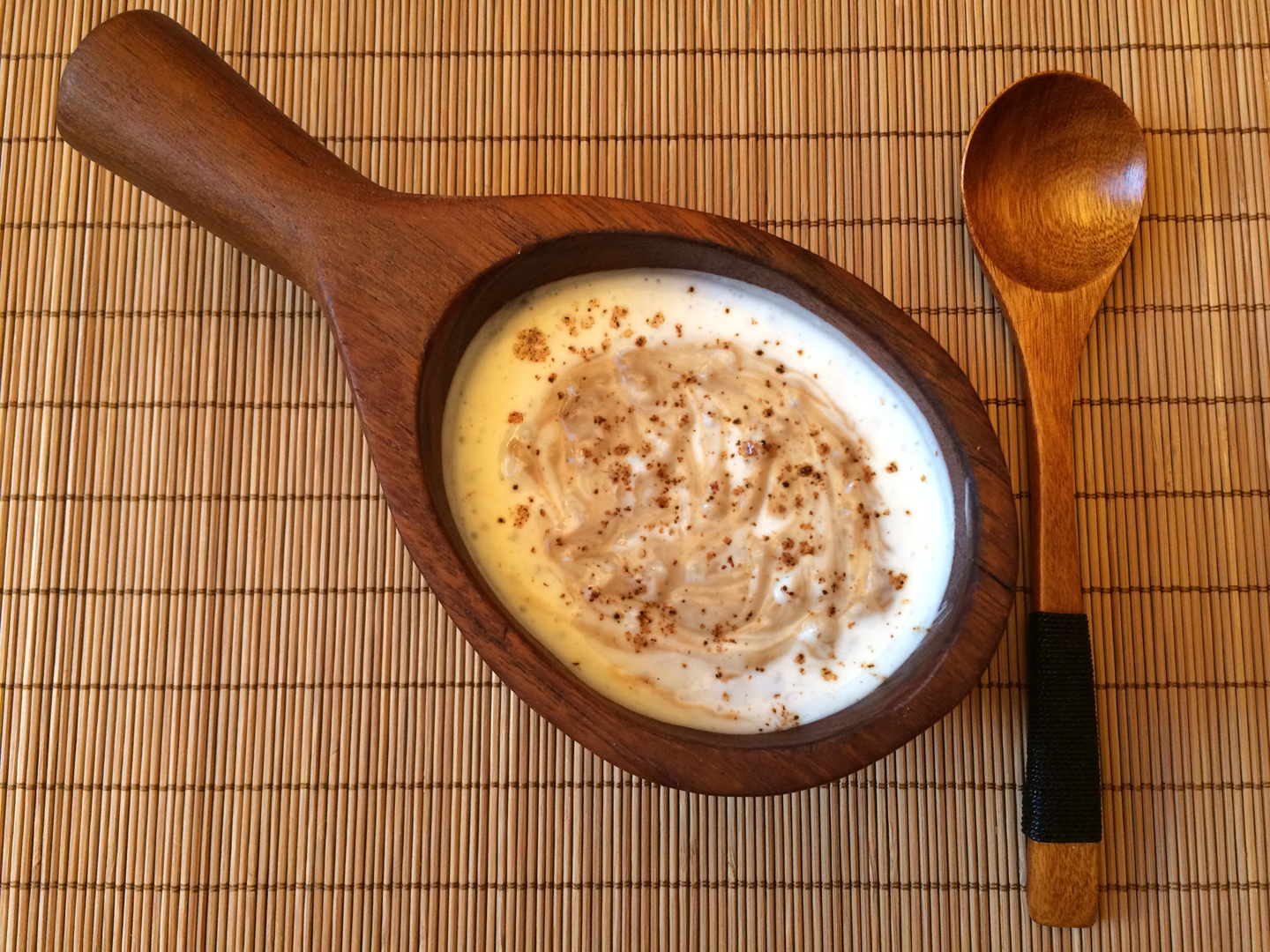 And staying with the West African theme, dessert was Thiakry, a sweet dish made of millet. My spin on it contains swirls of baobab with peanut crème (which itself is the basis for another dessert called Ngalakh).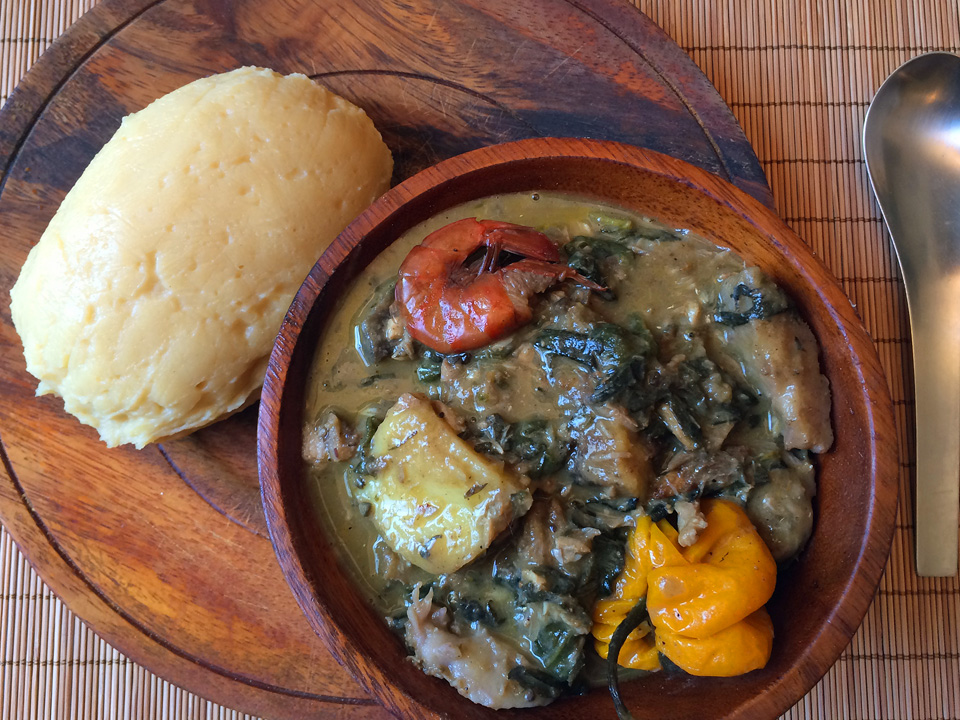 Another foray into cooking West African food, this time a fish and yam soup. Fish (fresh red snapper, stockfish, smoked bonga fish, dried prawns, crayfish powder), two kinds of yam, potato leaf, water leaf, and a fistful of spices. Fufu, plantain this time, at the ready.
Groundnut Stew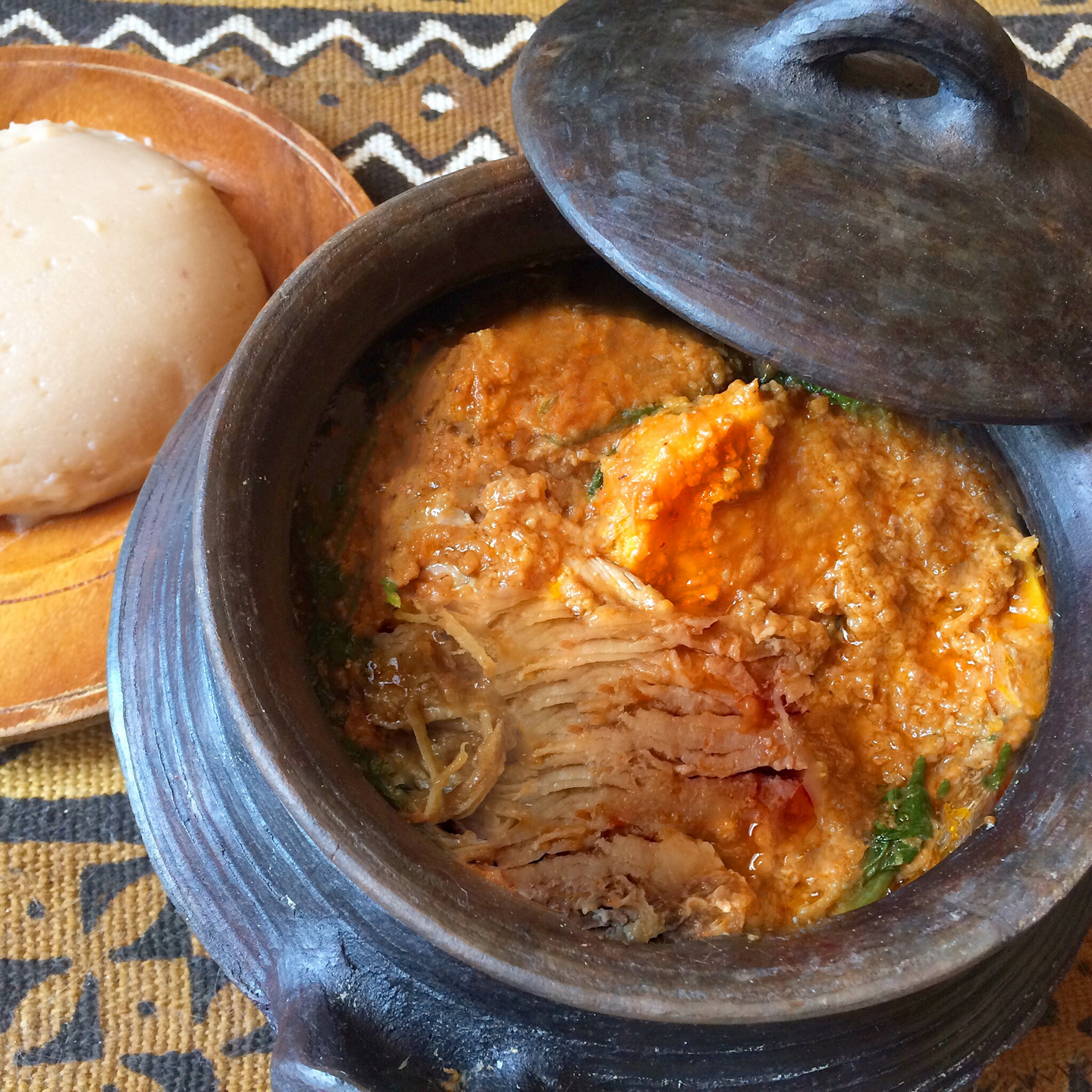 Also known as peanut stew, maafe, sauce d'arachide, and other handles depending upon its country of origin; pounded cocoyam (aka malanga) on the side.
Jollof Rice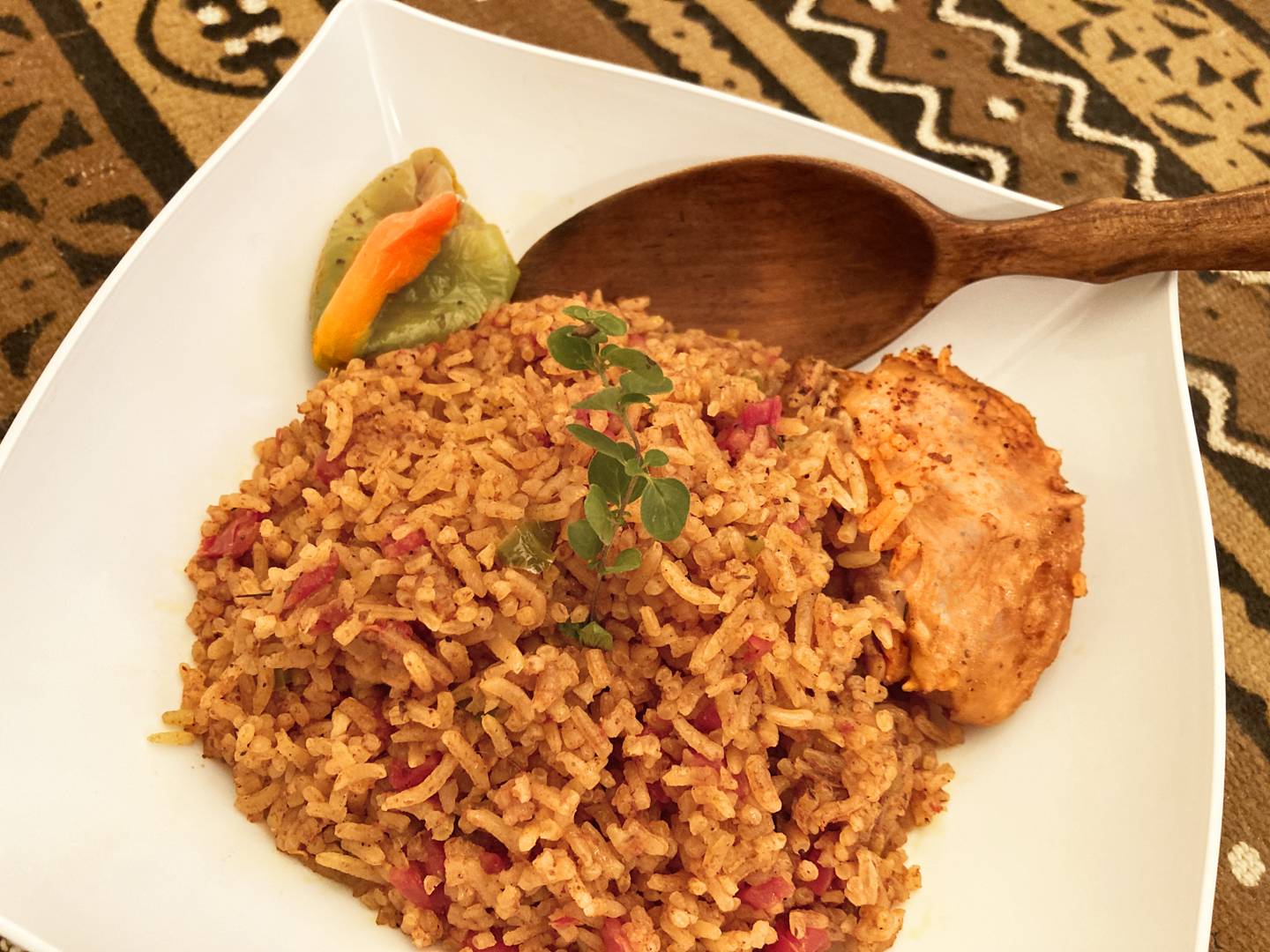 A playful rivalry endures between Ghanaian and Nigerian recipes over this popular dish and I'm not getting in the middle of it! This one is closer to a Ghanaian version in that it uses jasmine rice as opposed to the long-grain rice found in Nigerian kitchens. There's a base of tomatoes, onion, green peppers, ginger and garlic, and the seasoning I used this time (it's not set in stone) contains Maggi cubes, Jamaican curry powder, star anise, smoked paprika, soumbala, pepper soup spice blend, and a touch of shito (hot pepper sauce) among others. That's a green, yellow, and orange Scotch bonnet pepper in the corner and a smoked turkey tail on the side.
Kelewele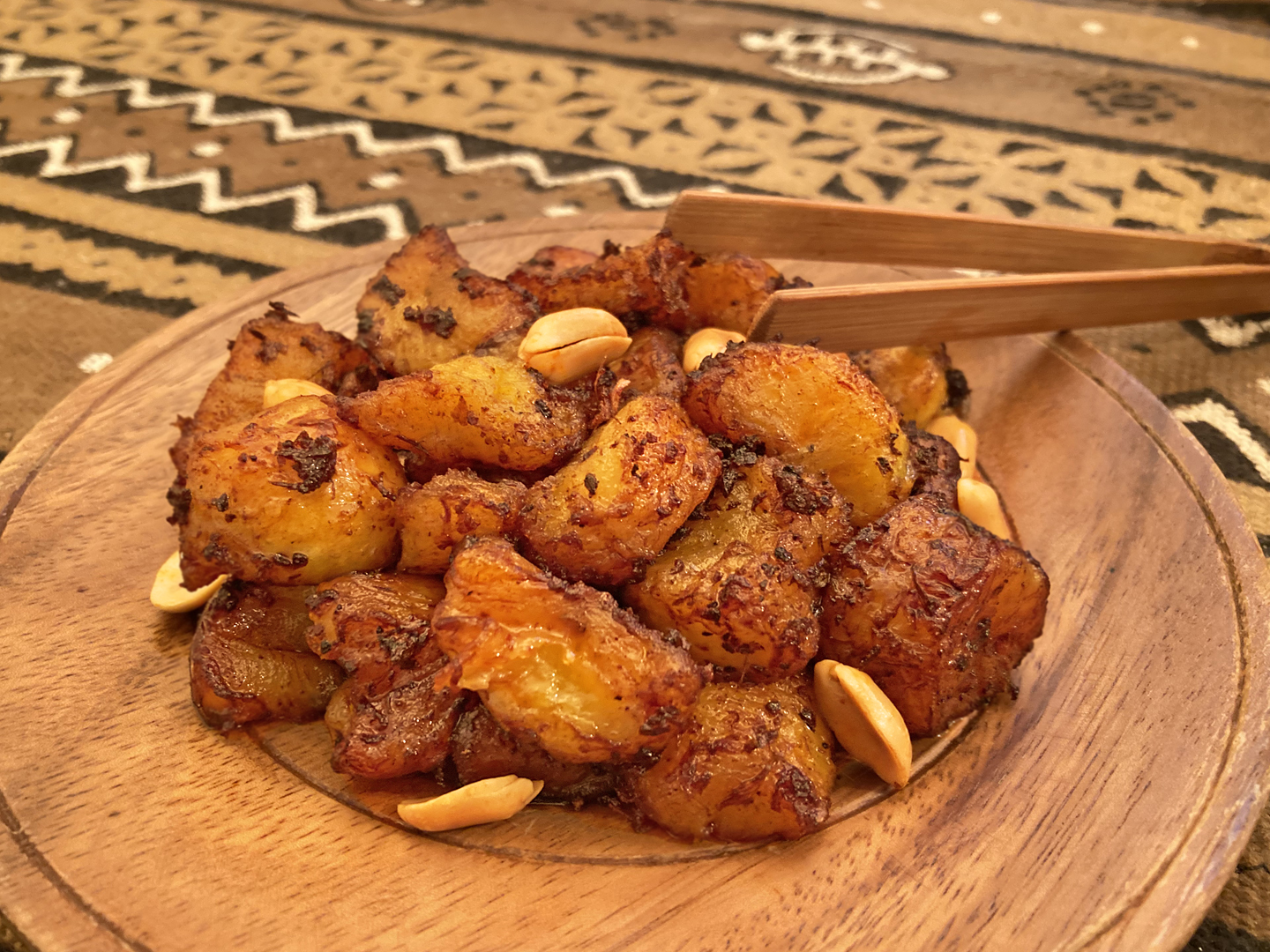 Spicy, fried ripe plantains with a toss of peanuts for some crunch. Every country in West Africa has its own recipe, of course!
South Africa
Chicken Livers Peri Peri, a spicy treatment brought by the Portuguese in colonial times. On the side is Geelrys, yellow rice with raisins.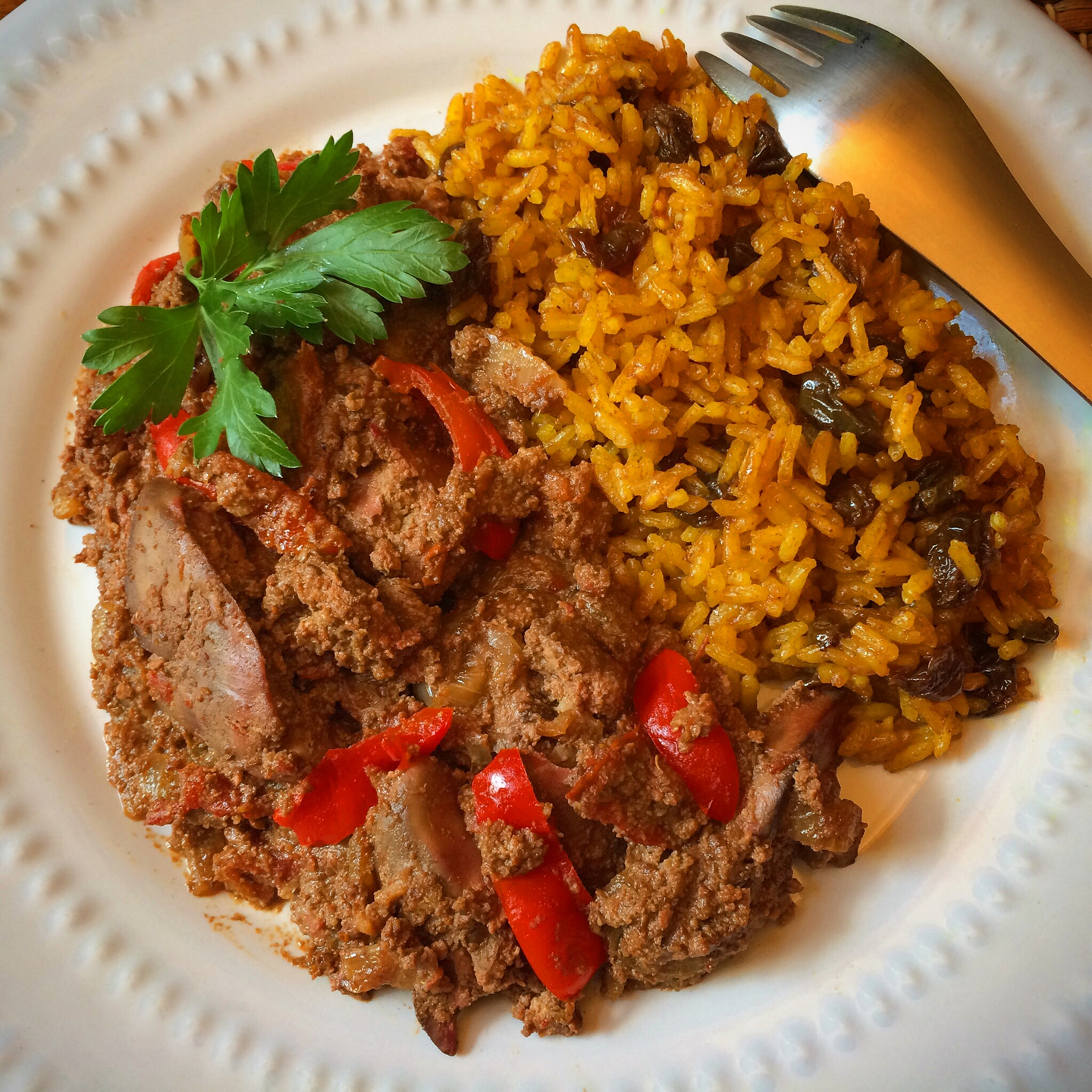 Mexico
Oaxacan Mole with Chicken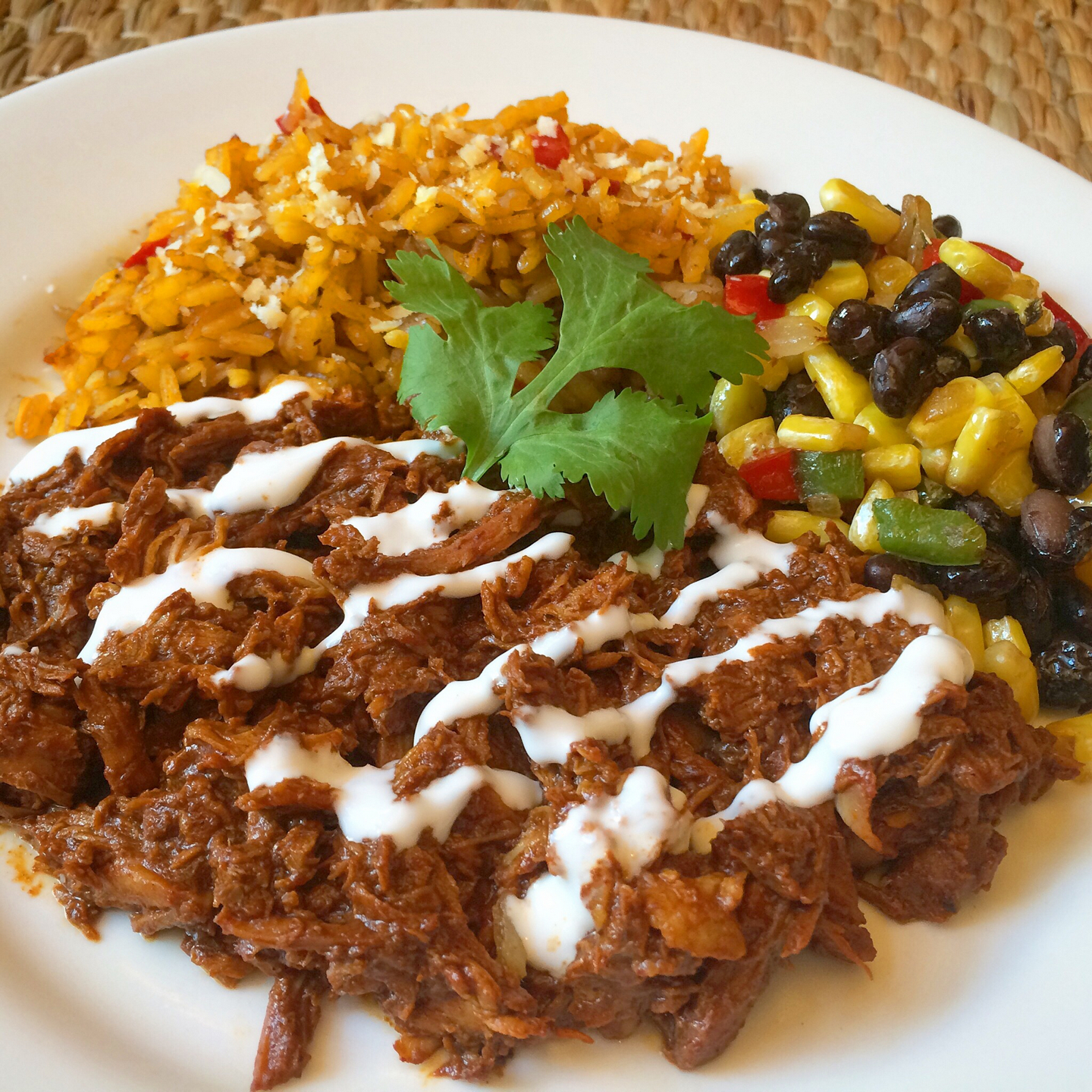 Mexican rice and a black bean and corn mix on the side.
The Greater Antilles
Pernil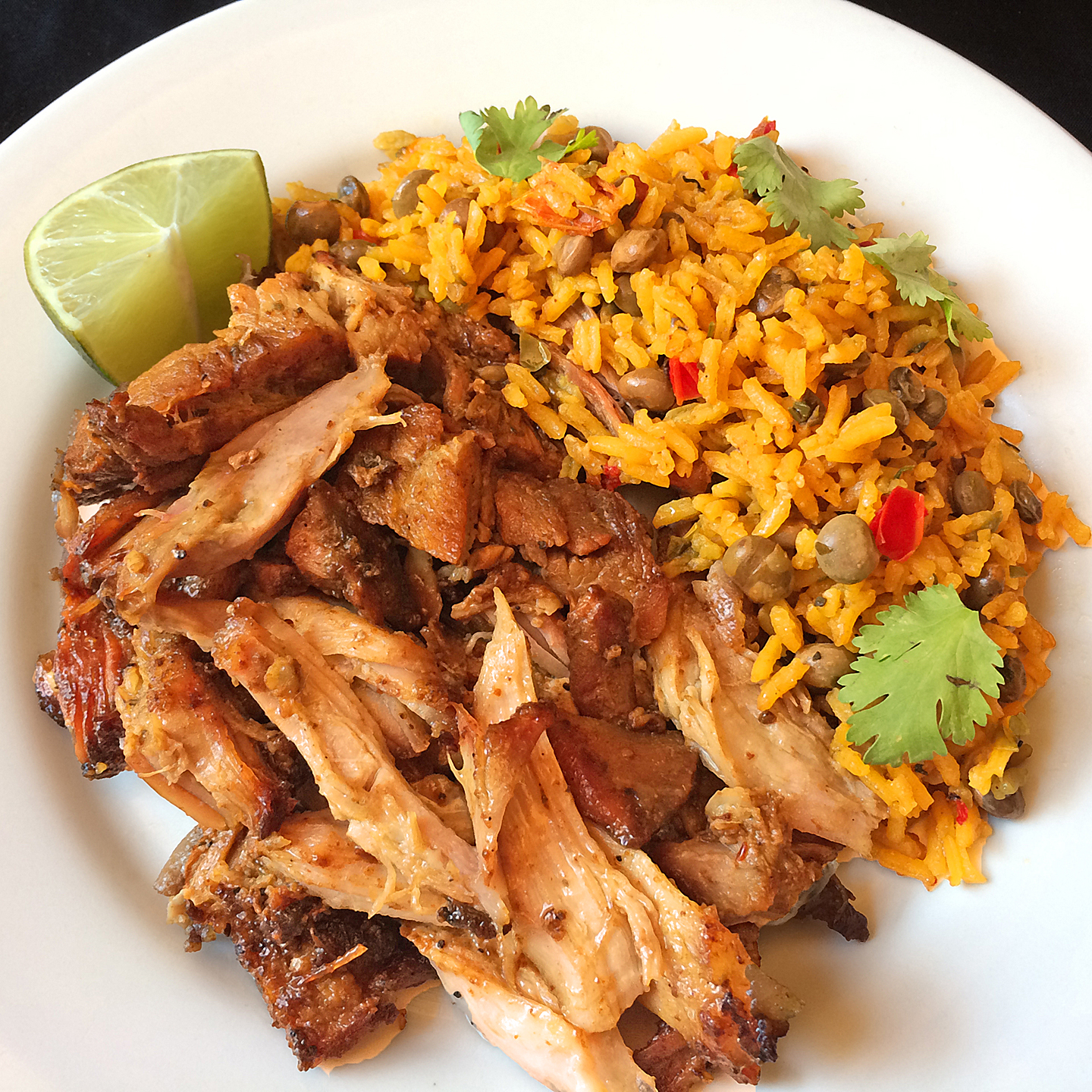 The Greater Antilles is a grouping of the larger islands in the Caribbean Sea, including Cuba, Puerto Rico, and the Dominican Republic among other island states; the cuisines certainly differ from one to the next, but this dish belongs to everyone – with a few subtle, signature tweaks, of course! Here's my version of that succulent roast pork served with arroz con gandules (the time-honored accompaniment of rice and pigeon peas) and…
Maduros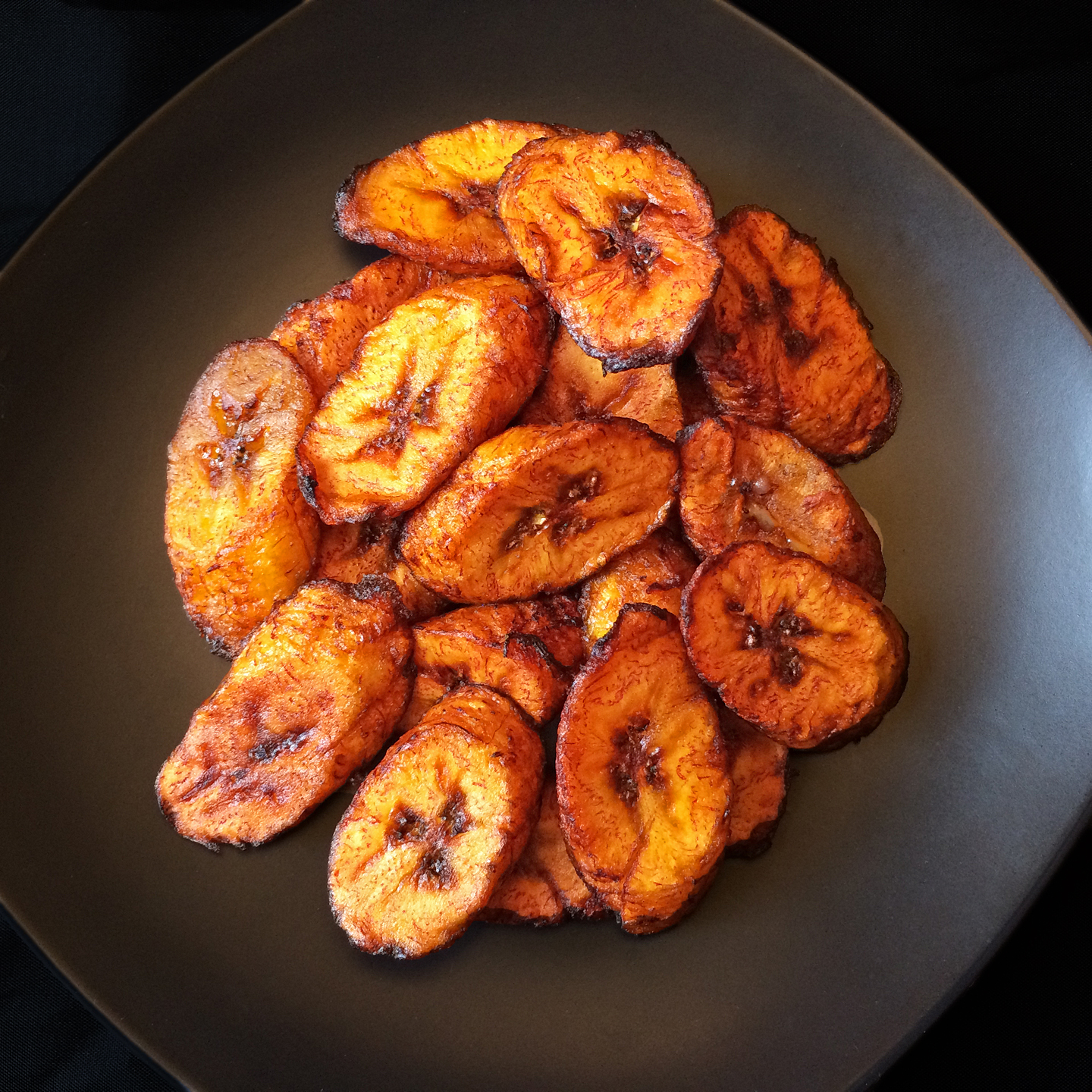 …fried ultra-ripe plantains.
Jamaica
Ackee & Saltfish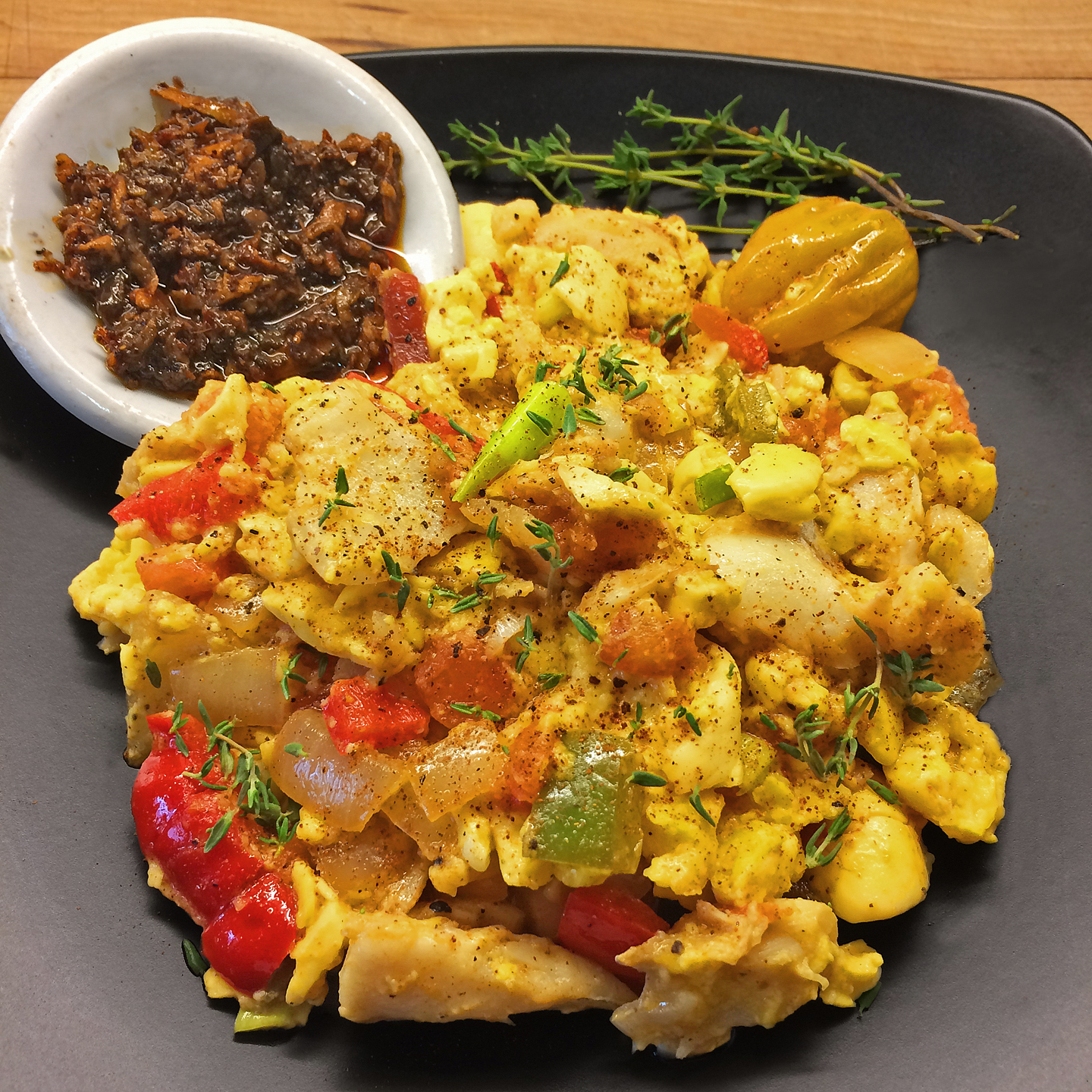 Also part of the Greater Antilles, Jamaica can lay claim to this as its national dish.
Colombia
¡Arepas!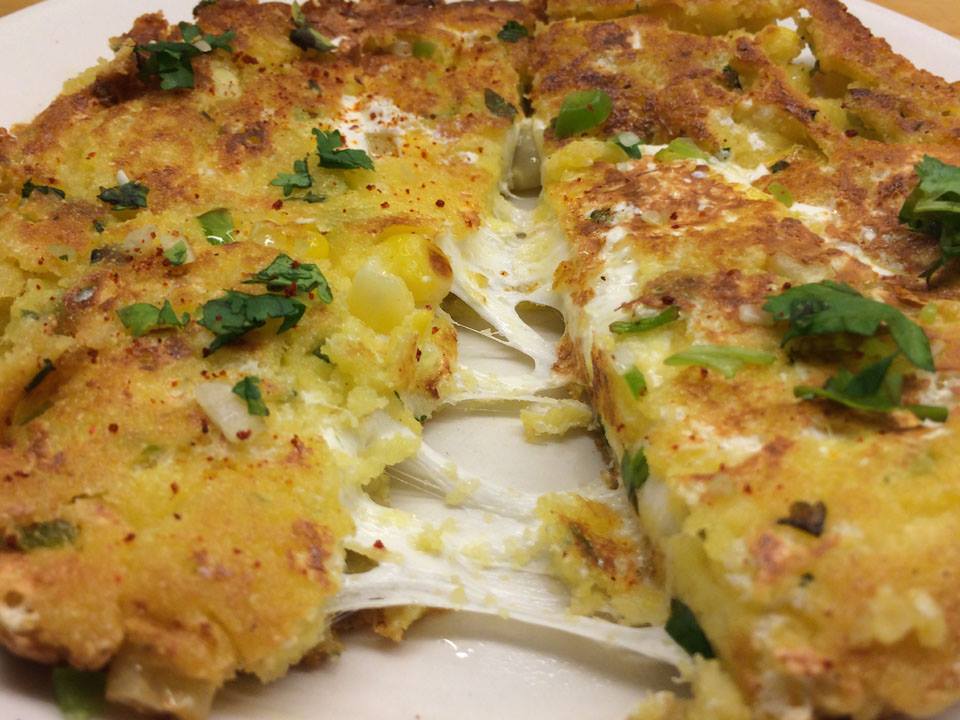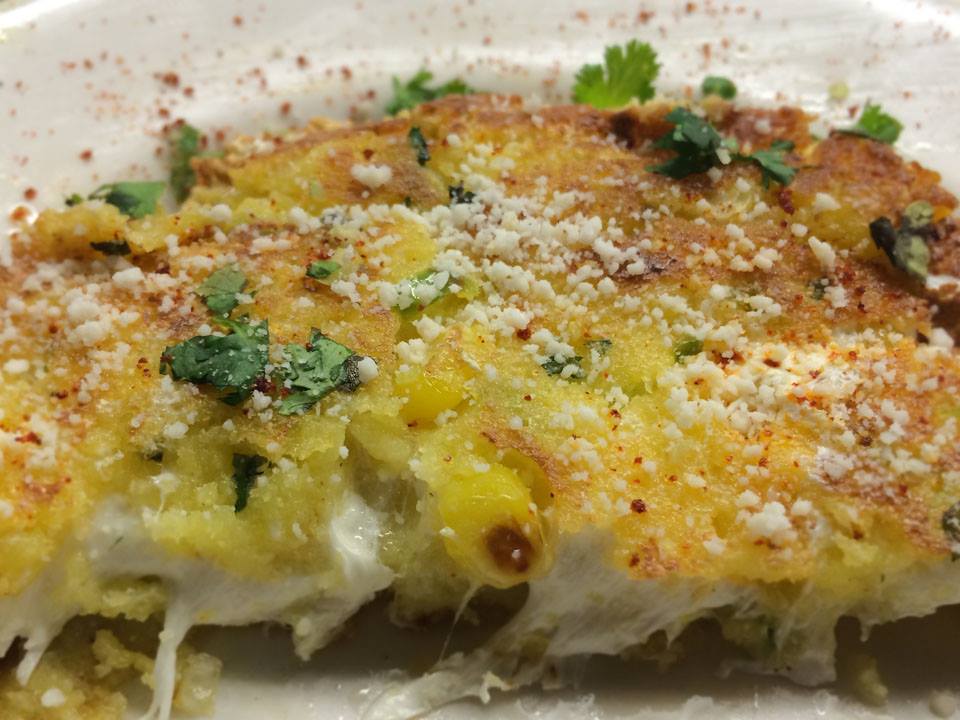 Cheesy corny goodness! Arepa con Choclo with fresh grilled sweet corn, quesillo (Mexican string cheese), scallion, jalapeño, cilantro macho, pápalo, (two amazing fresh herbs) and cotija (grated Mexican cow's milk cheese).
Experiments (Just messin' 'round)
Chinese-Italian Inspiration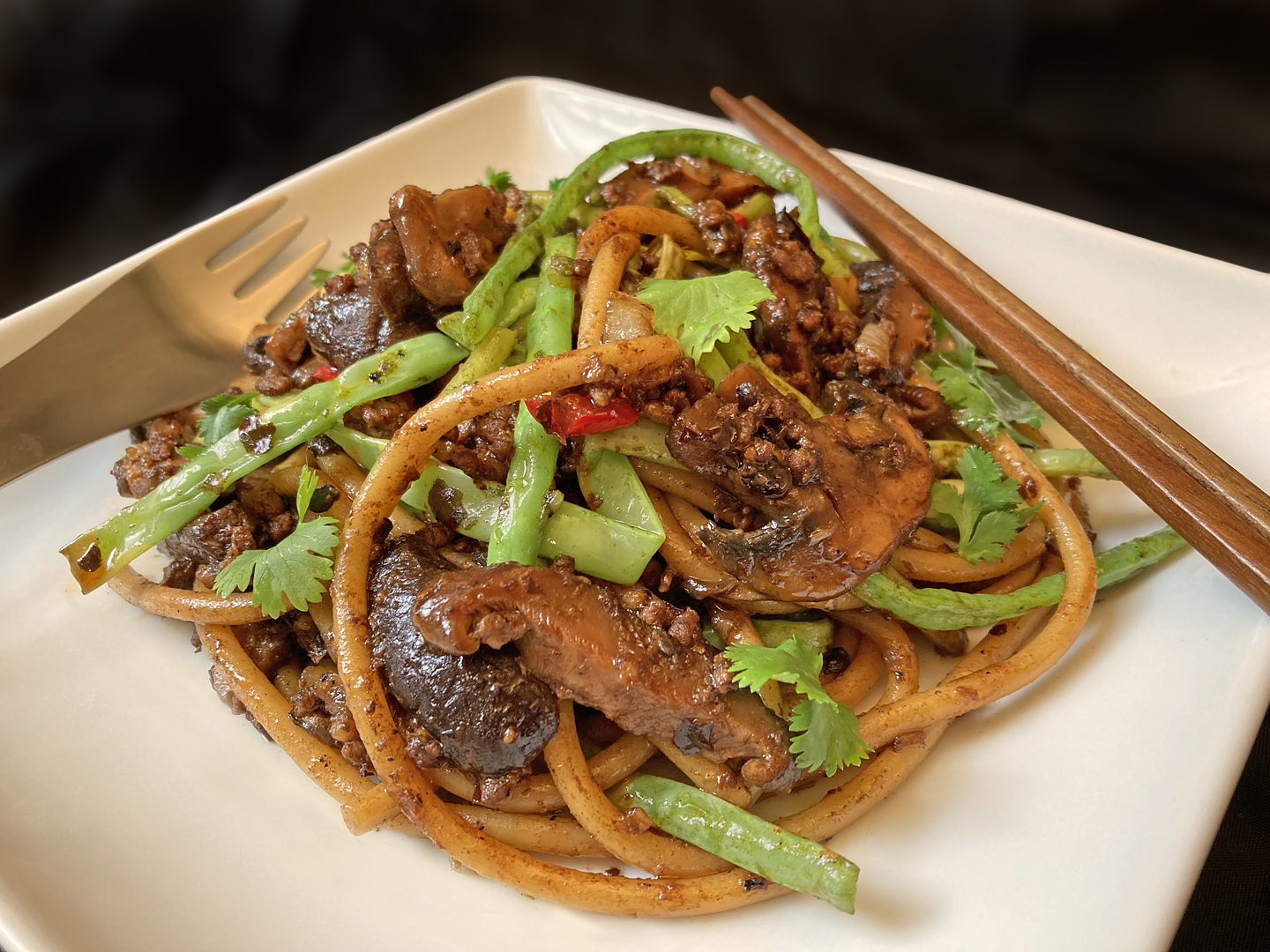 Other than as a source for ideas, I'm not one to slavishly follow others' recipes; my preference is to innovate rather than replicate. (Not to mention that in doing so, no one can complain that I didn't "get it right". 😉) I was once asked where I find inspiration for my own concoctions, so apropos of that question, here's the story of how this dish came about.
Sweden (by way of IKEA)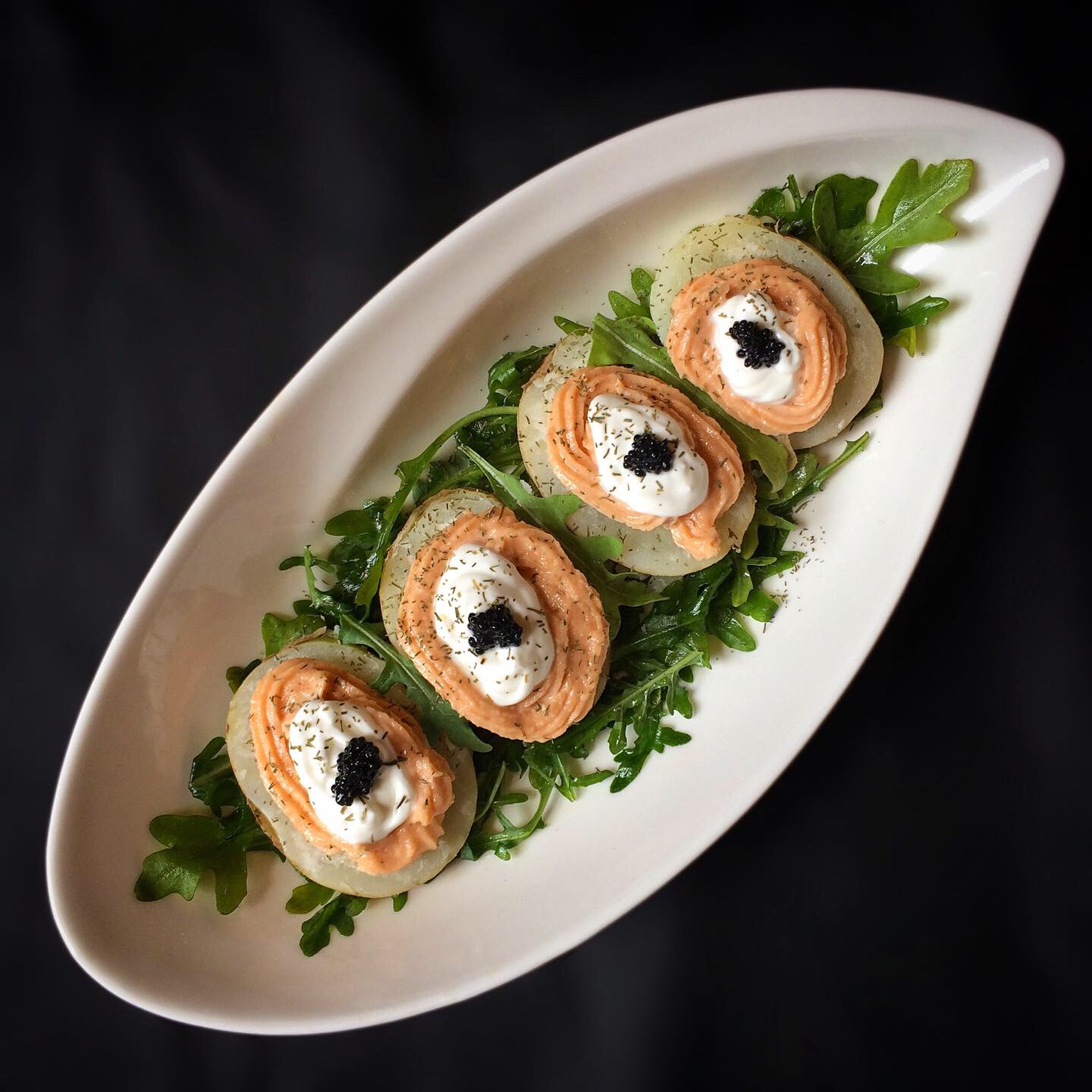 Boiled potato rounds supporting a squeeze of pastej lax (a salmon spread), crowned with sour cream, topped with a dollop of tångkorn (a vegan seaweed caviar), and a sprinkle of dill, resting on a bed of baby arugula in a balsamic vinaigrette – just to suggest that this erstwhile jazz pianist can go classical from time to time.
Croatian Smoked Pork Crêpes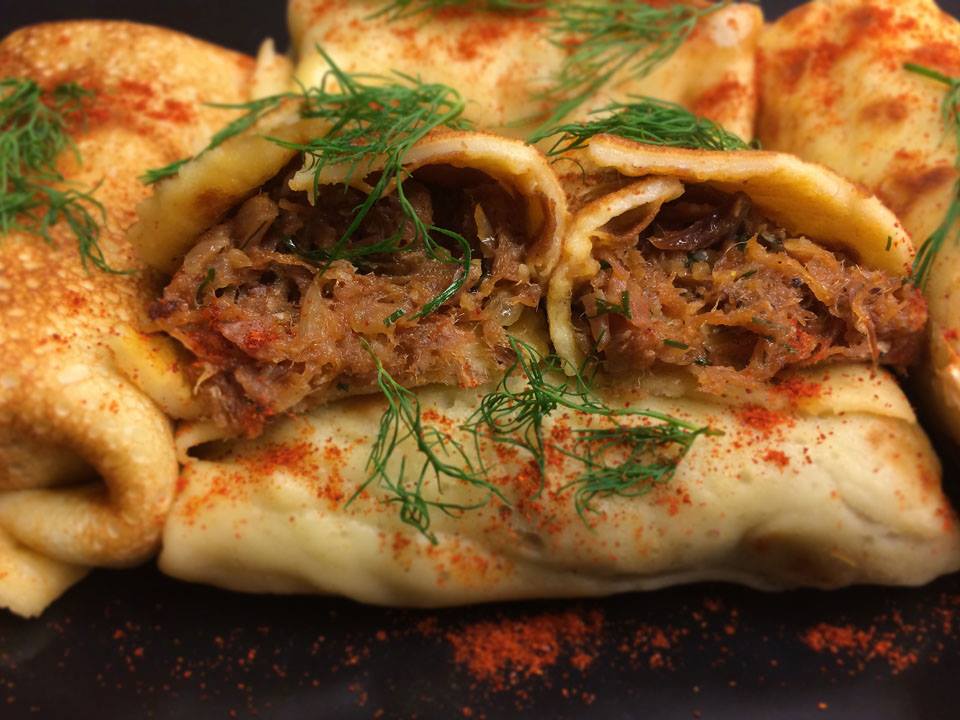 I got some Croatian smoked pork but was uncertain about what I wanted to do with it. Ultimately I simmered it until it was falling apart, shredded it, sautéed it with onion, garlic, tomato and pepper pastes, sumac, coriander seed, fennel pollen, fresh dill and more. But now what? Turns out it was a perfect filling for crêpes!
Sautéed Skate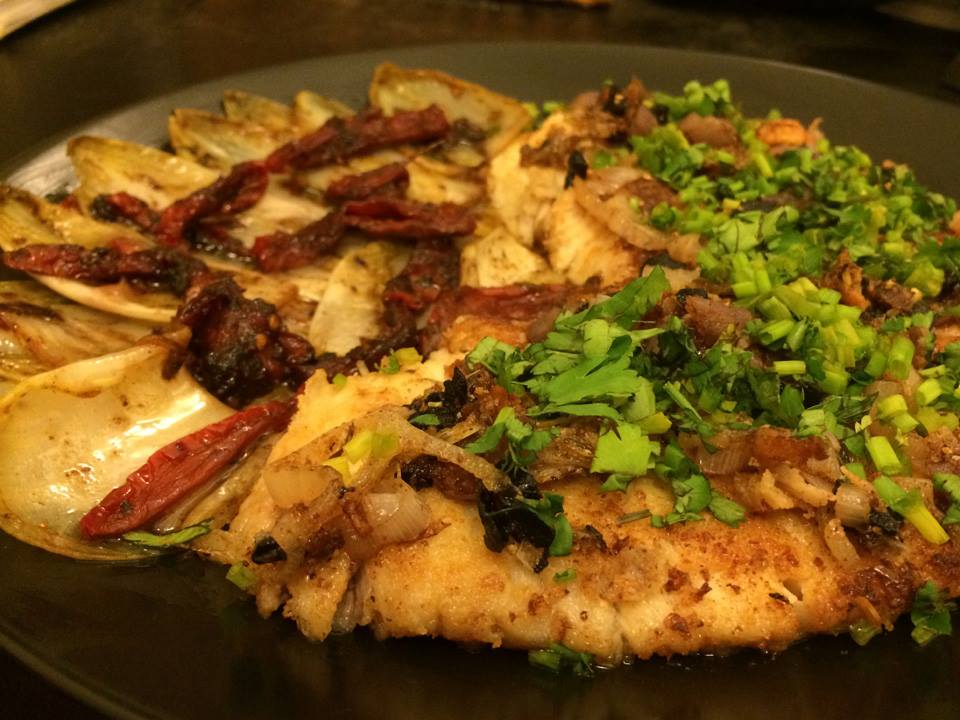 Skate with brown butter, black garlic, shallots, lemongrass, chives and cilantro accompanied by braised endive with sun dried tomatoes in a balsamic reduction.