(Click on any image to view it in high resolution.)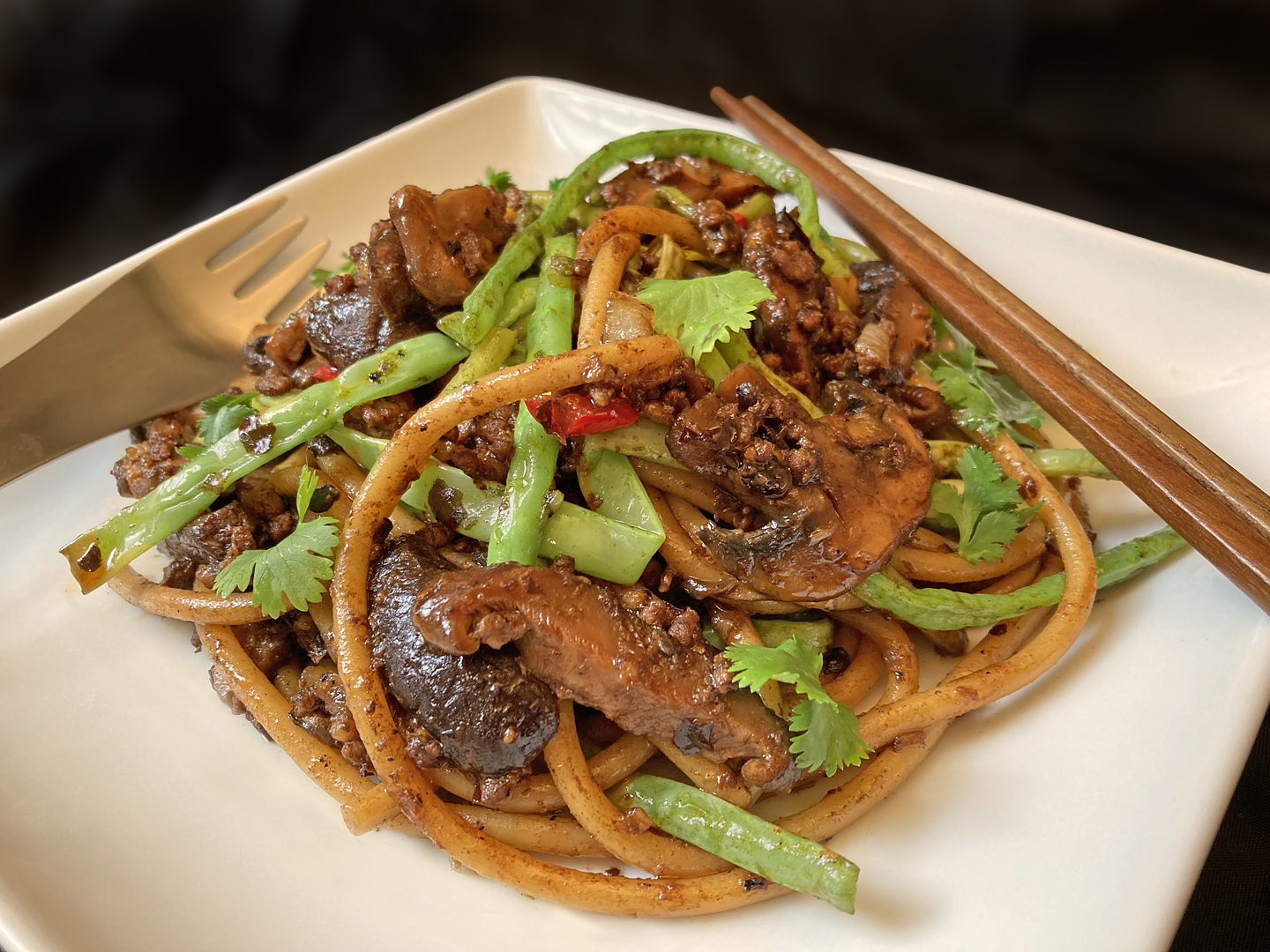 Other than as a source for ideas, I'm not one to slavishly follow others' recipes; my preference is to innovate rather than replicate. (Not to mention that in doing so, no one can complain that I didn't "get it right". 😉) I was once asked where I find inspiration for my own concoctions, so apropos of that question, here's a recent story:
I had been chatting with a charming woman who maintains a patch in a local victory garden. In the course of our conversation, she mentioned that she was half Chinese and half Italian. (Imagine being a kid growing up with two sets of holiday traditions – so jealous!) She offered me some Chinese long beans that she had grown which I eagerly accepted. I was pondering how to prepare them: I could adhere to some classic time-honored long bean technique but I felt inspired to do something more with them, perhaps to create a dish that might reflect the dual heritage of the person who had cultivated them.
So this was my process. Looking at the shape of the Chinese beans, long, thin, and cylindrical, it was a cinch to come up with an element from Italian cuisine that would match: a member of the spaghetti family was the obvious choice. For this application I chose bucatini (aka perciatelli) since when fully cooked it would be nearly as thick as a long bean.
Now for some vegetables: I decided that Chinese dried mushrooms (aka shiitake) and fresh Italian cremini would harmonize nicely so they became a significant component along with chopped onion and red bell pepper in the base because those are cross cultural, and garlic, of course. Lots of garlic. For a bit of protein, ground pork went into the mix since pork is common to both regions.
And a sauce to bring it all together: Was there one that made use of some ingredients associated with both cuisines? Sichuan Yu Xiang sauce would be perfect. (Yu Xiang means "fish-flavored" but don't be misled by the phrase – it neither contains nor tastes like fish; rather this delicious blend refers to a combination of ingredients, a little sweet and sour, a little spicy and salty, often used in preparing fish.) It comprises an assortment of classic Chinese condiments including doubanjiang (chili bean paste), Zhenjiang black vinegar, Shaoxing cooking wine and soy sauce plus, the way I make it, some tomato based sauce, so that's a loose nod to Italy.
IMHO, the dish totally worked.
That's the cool thing about inspiration – you never know where it's going to happen, but it always happens when you least expect it.


Only one question remains: Do you eat this with chopsticks or a fork?