(Click on any image to view it in high resolution.)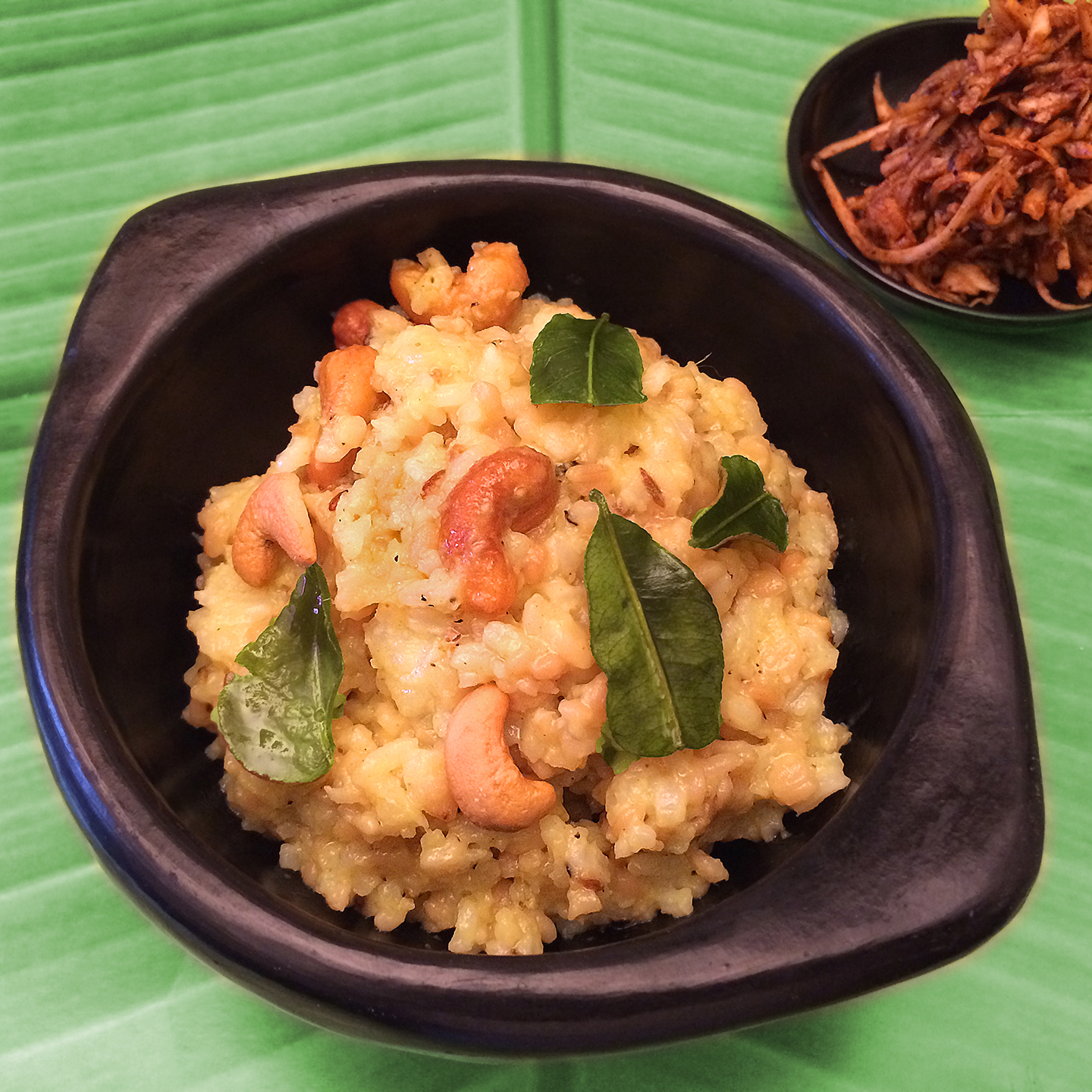 Pongal, the holiday, is a four day long harvest festival occurring around mid-January (on the 14th this year) that is observed primarily in the South Indian state of Tamil Nadu but like most spiritual anniversaries can't really be confined to a specific geographical area, diasporas being what they are. One of the most important holidays celebrated by the Tamil community, it is characterized by social gatherings, time-honored rituals, prayers for health, happiness, and prosperity, and, of course, traditional foods. Bidding farewell to the winter solstice and marking the beginning of the sun god's annual ascent in the zodiac, each day of the holiday features its own set of conventions. It is the second and principal day on which pongal, the dish, is prepared.
The word pongal means to boil or spill over and the seasonal milk plus newly harvested rice preparation does indeed overflow as it cooks, symbolizing the abundant harvest for which participants exuberantly give thanks. The dish manifests in two varieties: sweet (chakkara or sakkarai pongal) which calls for jaggery (unrefined cane sugar) along with raisins, cashews, and spices like cardamom, and savory (ven or khara pongal) which emphasizes an array of more potent spices and herbs.
A multitude of recipes is extant, of course, some saturated with copious ghee (usually the savory variants), some shot through with coconut (usually the sweet), but most of the recipes I've found call for the addition of moong dal (mung bean or green gram) to keep company with the rice, similar to North Indian dal khichdi. For today's culinary adventure, I decided to prepare the savory version.
After toasting the dal, I cooked it together with rice in equal parts (again, recipes vary, often with more rice than dal) using more water than customary to achieve the proper cohesive consistency; they're prepared sans seasoning – all of the distinctive ingredients are folded in afterwards.
One of the essentials of many world cuisines involves dry toasting spices to bring out their essence. In addition to employing that technique, Indian cuisine takes it one step further by making a tadka, tempering whole herbs and spices in oil to bloom their flavors beyond dry roasting and to flavor the oil as well; it's the foundation of many Indian dishes and one I frequently use. In this case, ghee provided the lipid component (make sure it's high quality and fresh) and my "distinctive ingredients" were cashew nuts, cumin seeds, cracked Tellicherry peppercorns for their citrusy notes, curry leaves, grated fresh ginger, green chilies, a pinch of hing (aka asafoetida) and turmeric.
Simply fold the tadka into the prepared rice and dal mixture, cook for another minute or two, et voilà. The texture of the dish should be a little like risotto, think porridge rather than discrete grains like biryani – after all, it's comfort food; some recipes even call for mashing the rice a bit. It's often served with coconut chutney (see photo) and sambar.
I confess to consuming it with greedy gusto since this particular combination of cashews, herbs and spices really resonates for me; of course, now I'm craving the sweet version too. Next time!


Happy Pongal!