There's excellent Filipino food waiting for you at Lahi, 51-24 Van Loon Street in Elmhurst, Queens. I initially encountered them as vendors at the Queens International Night Market in 2017 and I'm happy to report that their brick and mortar establishment is top notch. Folks who know me are aware that I'm totally hung on this cuisine and since it's my mission as ethnojunkie to get others hooked on amazing, delicious ethnic food, I'm posting a series of photos (in no particular order) to pique your interest from various lunches and dinners we enjoyed there.
(Click on any image to view it in high resolution.)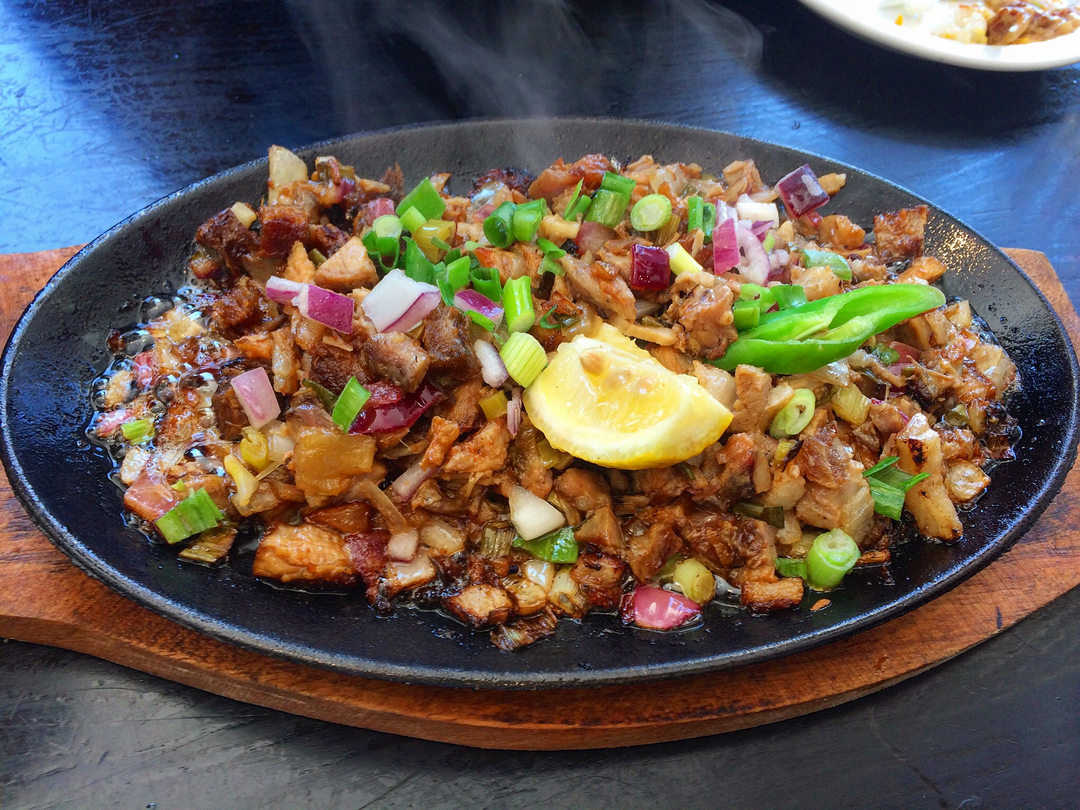 Sizzling Sisig. Baboy is Tagalog for pork, and these folks know how to do baboy, baby; look closely and you can see the sizzle and steam. Crispy chopped pork belly with onions served on a sizzling cast iron platter. Sisig originated in Pampanga, a province in the Philippines northwest of Manila, where it's made with pork offal: pig's ear, jowl, shoulder, and often topped with a fried egg. The chef at Lahi prefers fried pork belly for its flavor and texture. One of my very favorite Filipino dishes and a must-have.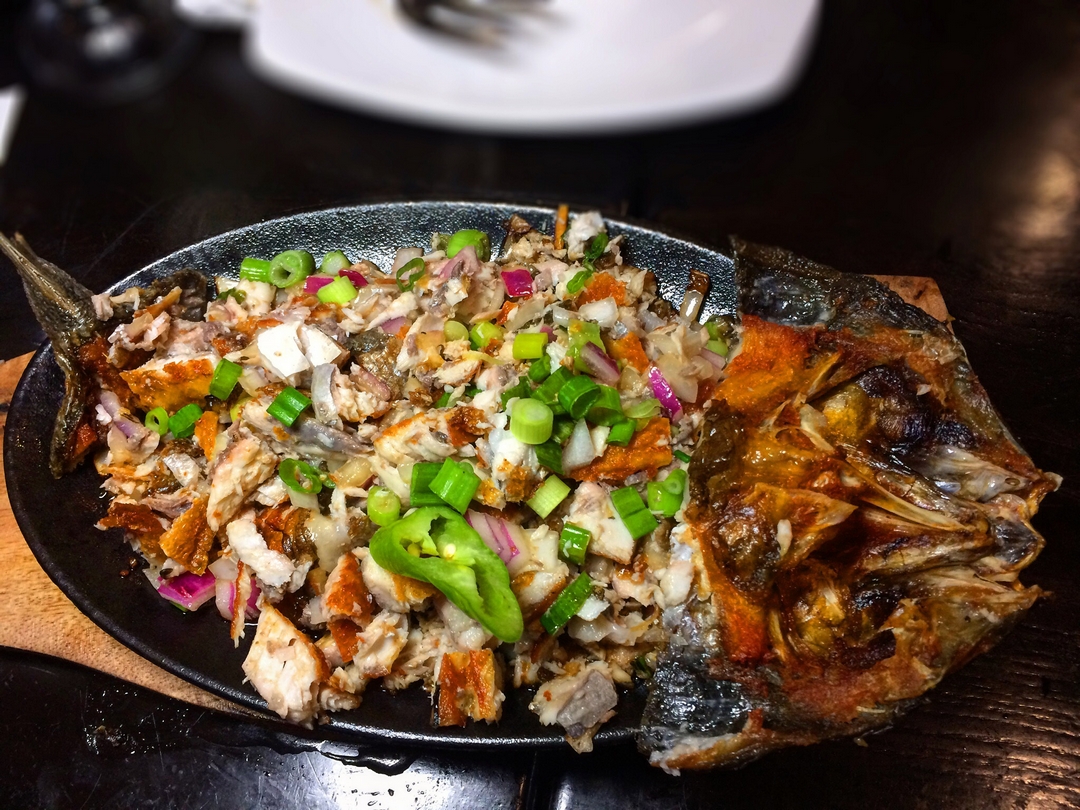 It's easy to think of sisig solely as delicious sizzling crispy pork parts, but this mouthwatering dish comes in a many varieties. Here's Sisig Bangus, chopped crispy milkfish with onions floating on a sizzling hot plate. I'm especially partial to their presentation; it leaves no doubt as to what you're about to dive into!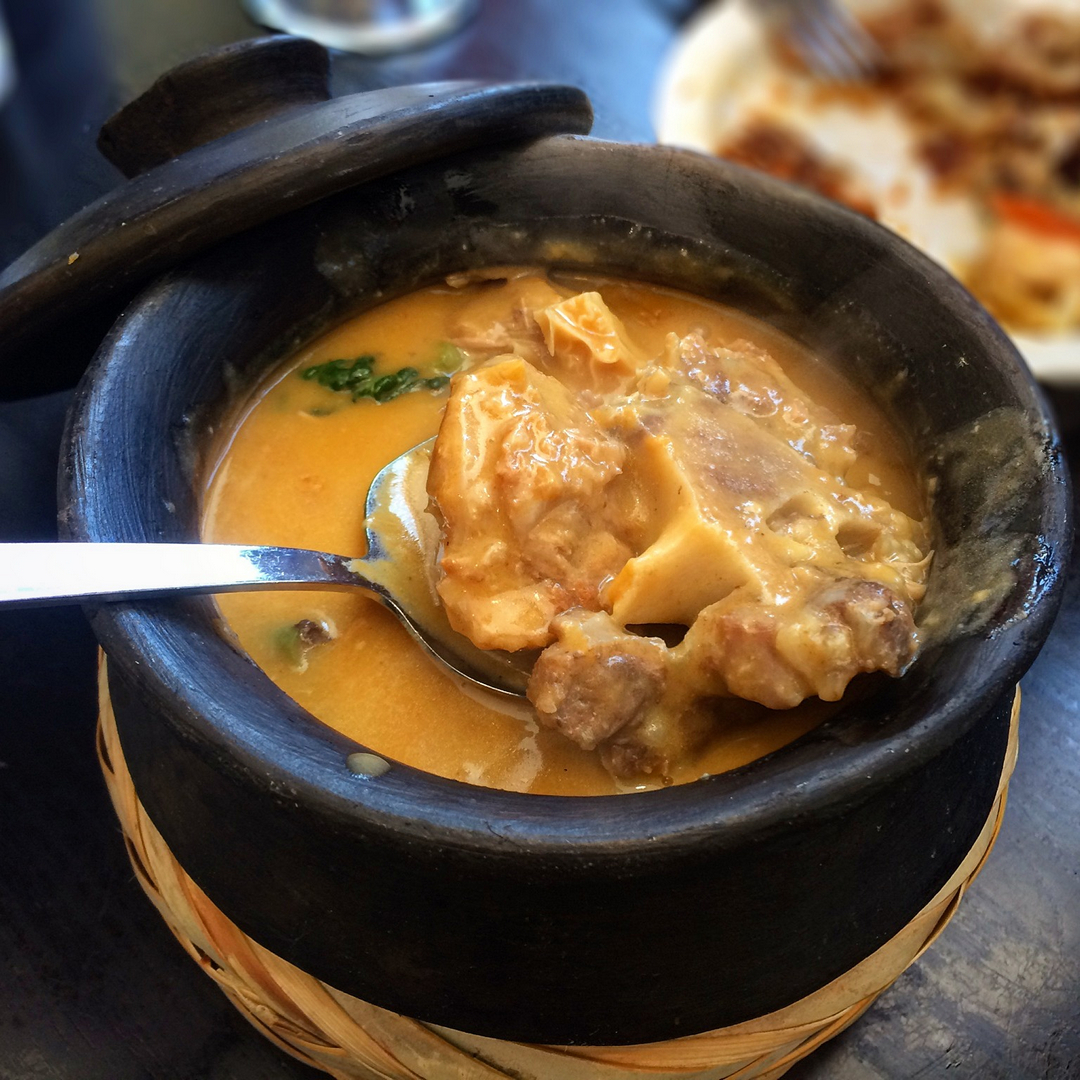 Kare-kare (a cognate of the word kari, i.e., curry) is a classic Filipino stew: oxtail, tripe, and veggies in a savory, creamy peanut sauce. Pass the rice, please!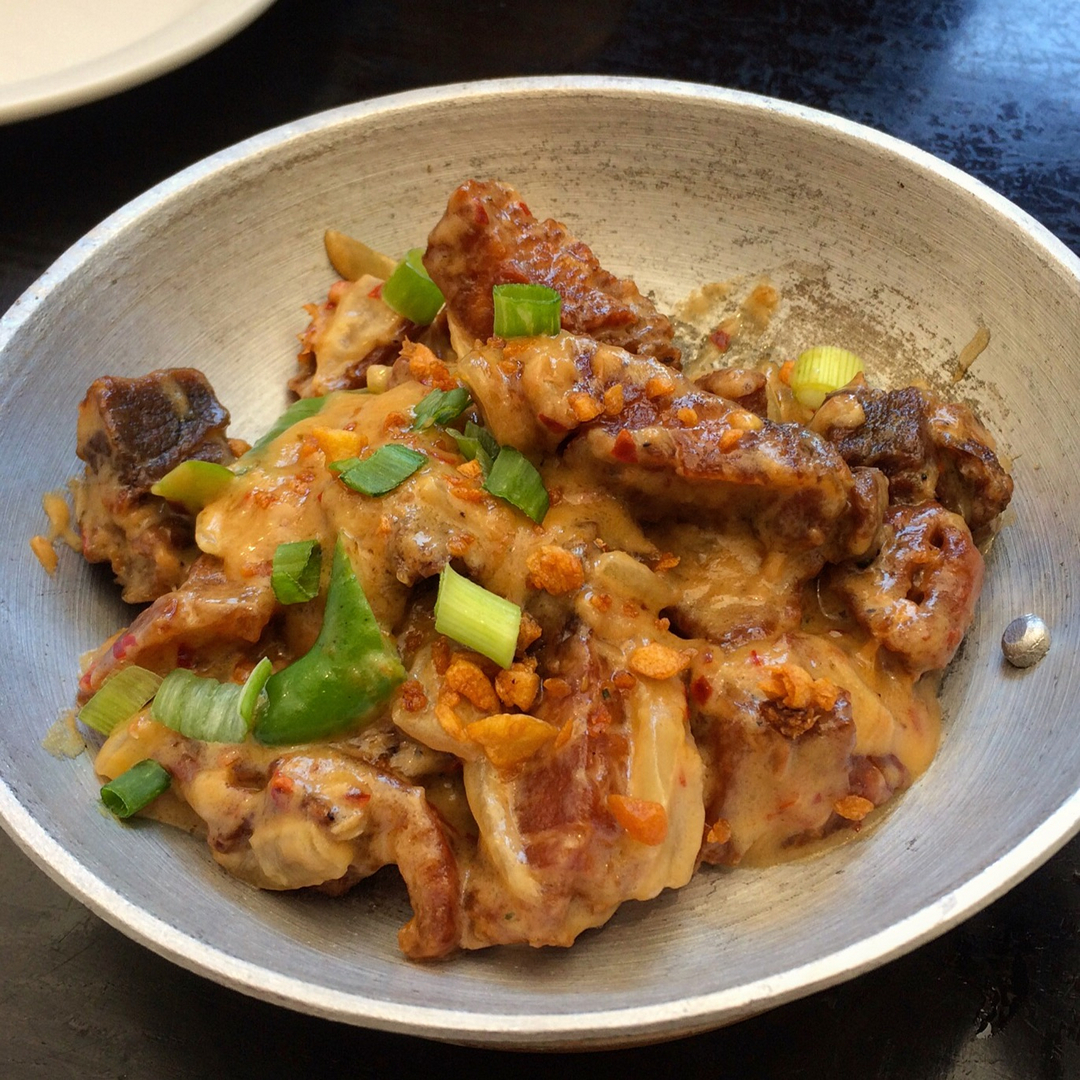 Here's Lahi's version of another Filipino classic, and one of my favorites, Bicol Express. Crispy pork belly stewed in coconut milk infused with shrimp paste and laden with green chilies. Named for the Bicol Express, a passenger train that ran from Manila to the Bicol region in the Philippines, I guess you could think of this dish that's both creamy and spicy as running from one terminus on the flavor route to another.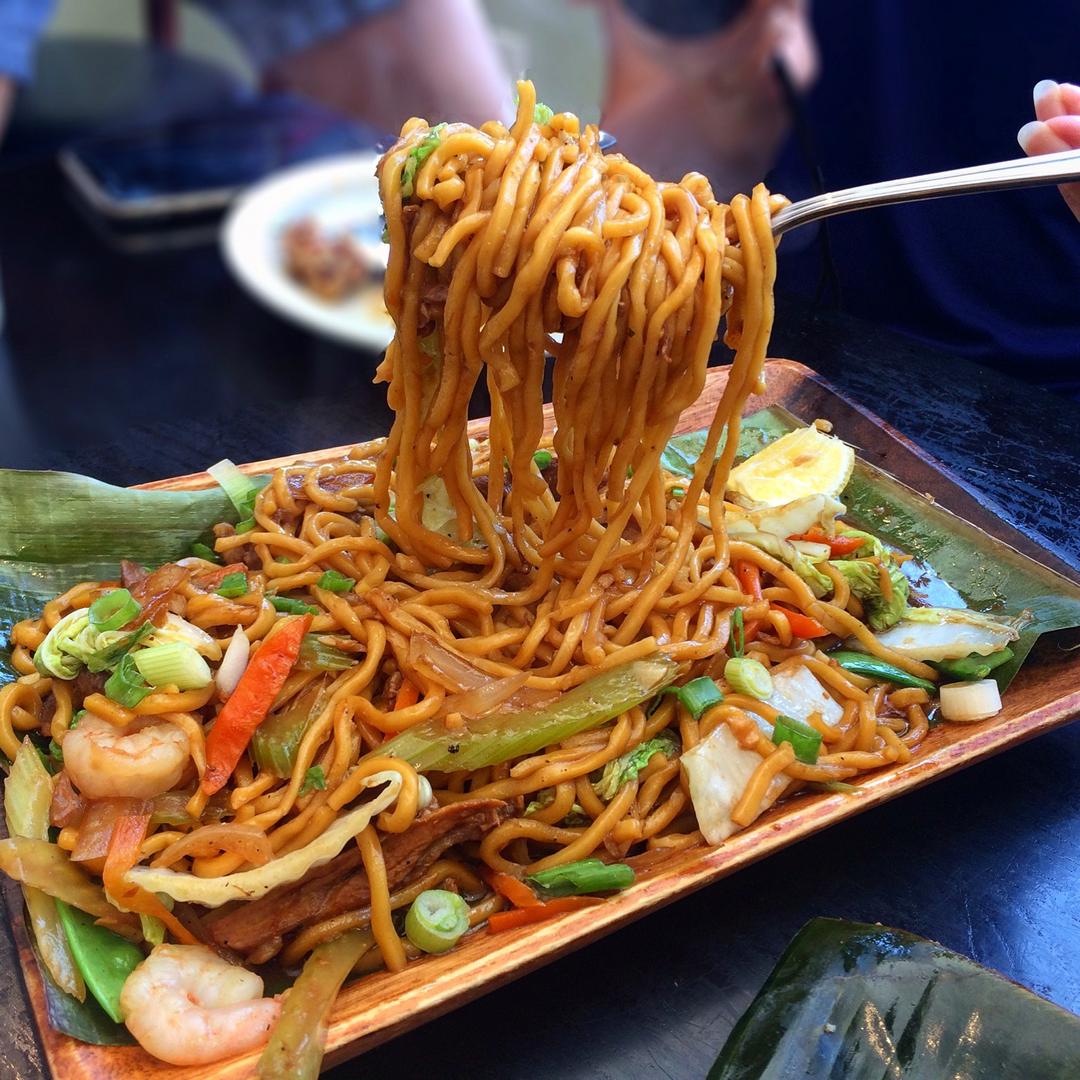 Chami, a cognate of chow mein. Yellow miki noodles (fresh thick egg noodles) stir fried with shrimp and veggies in a sweet and mildly spicy sauce. You don't see this one everywhere.
Two delicious vegetable (but not vegetarian) dishes: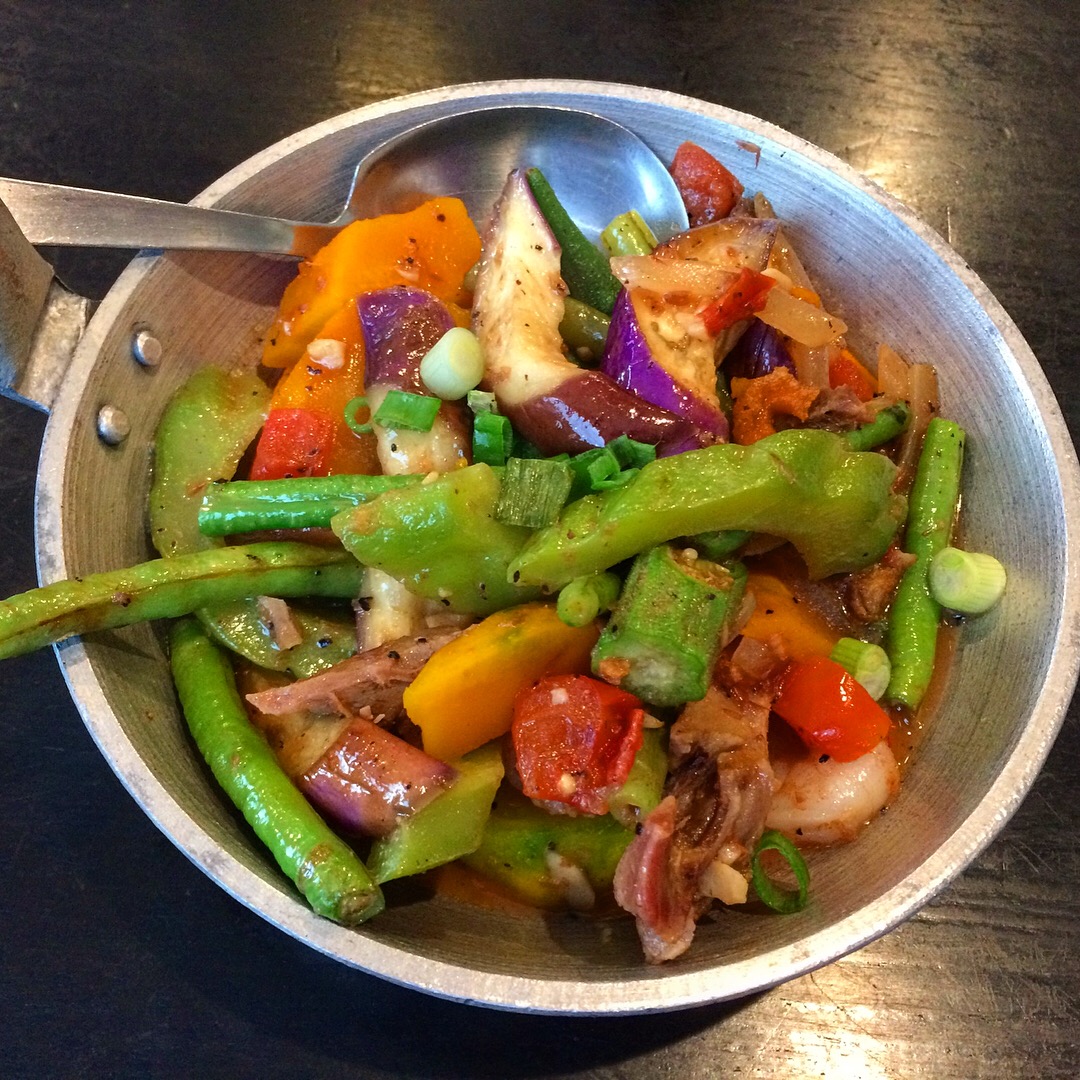 Pinakbet. Sautéed veggies with pork and shrimp in shrimp paste, and…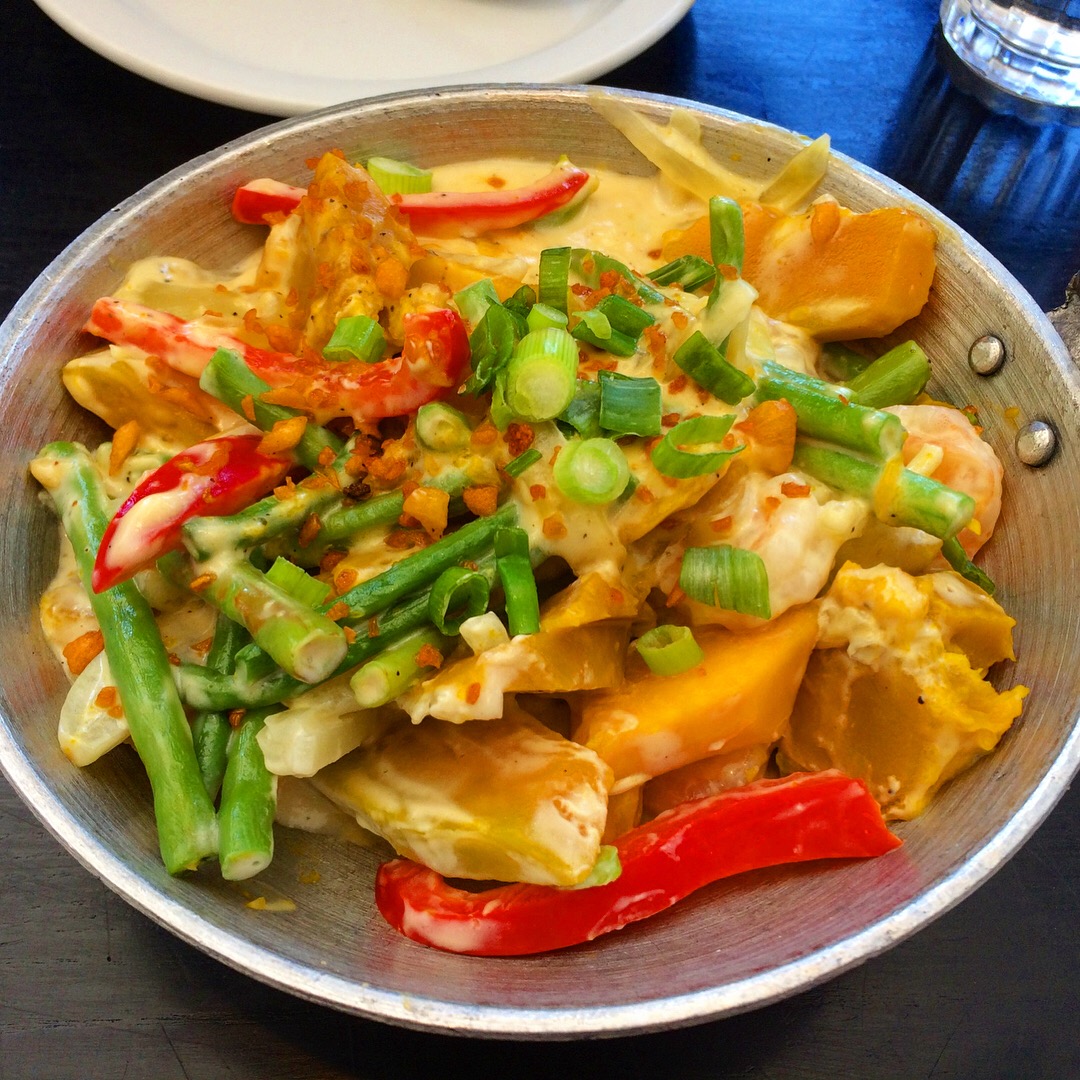 …Ginataang Sitaw at Kalabasa. Ginataang means it's cooked in coconut milk, sitaw are the beans, and kalabasa is the type of squash used here. Factor in some sweet red pepper and shrimp and that's the dish. Both are delicious, but I have to admit that I'm cuckoo for coconut!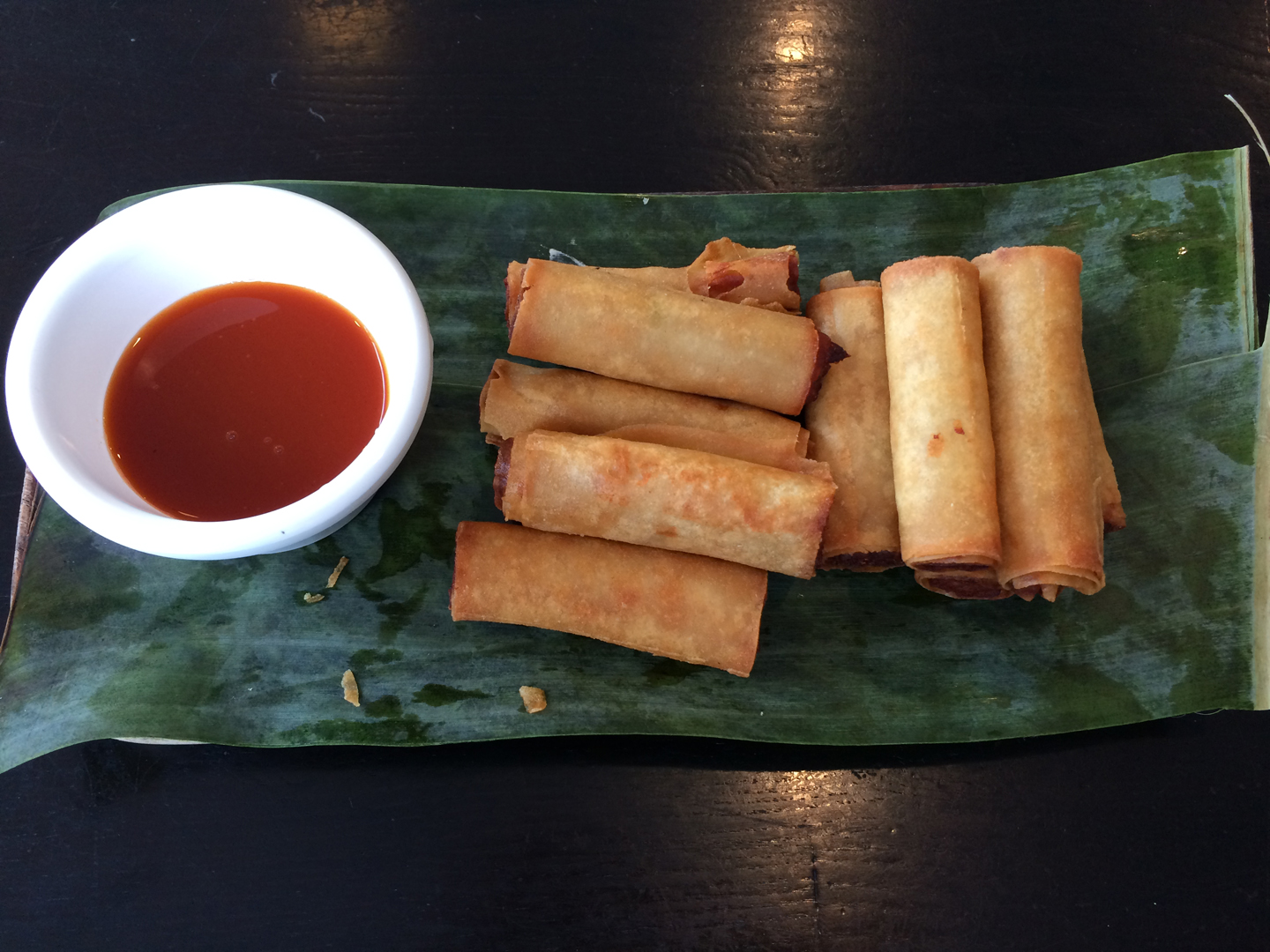 Lumpia are spring rolls, sprung originally from China. A savory appetizer or snack filled with chopped vegetables and sometimes meats, they're deep fried and crispilicious.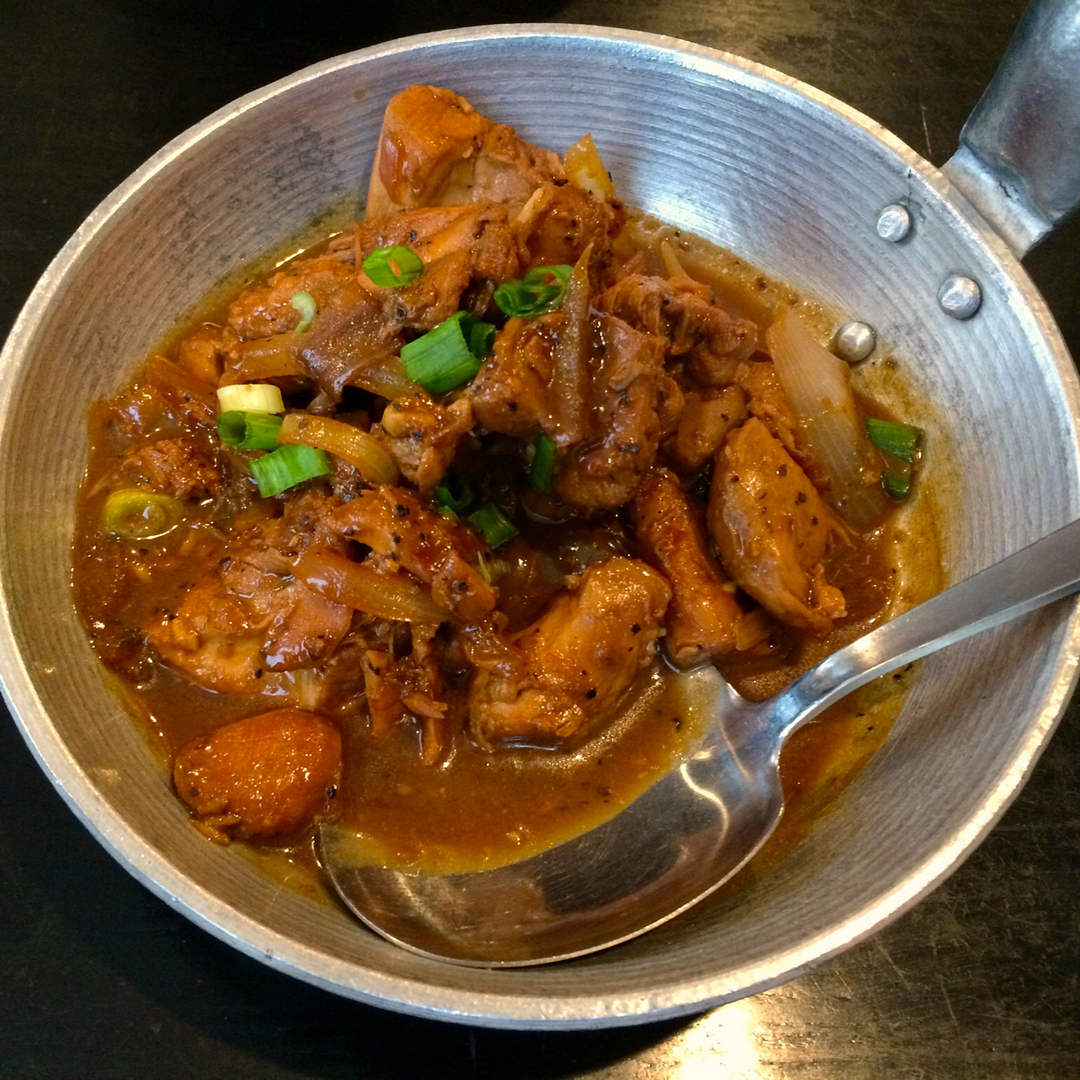 Chicken Adobo, from the Spanish word adobar, to marinate. The protein can be almost anything – chicken, pork, seafood, even vegetables – but finessing the adobo is the critical part; the marinade consists of four key ingredients, soy sauce, vinegar, garlic and black pepper. Some folks say that adobo is the Philippines' national dish – but there are so many unique dishes to choose from! Suffice it to say, it's a great cuisine.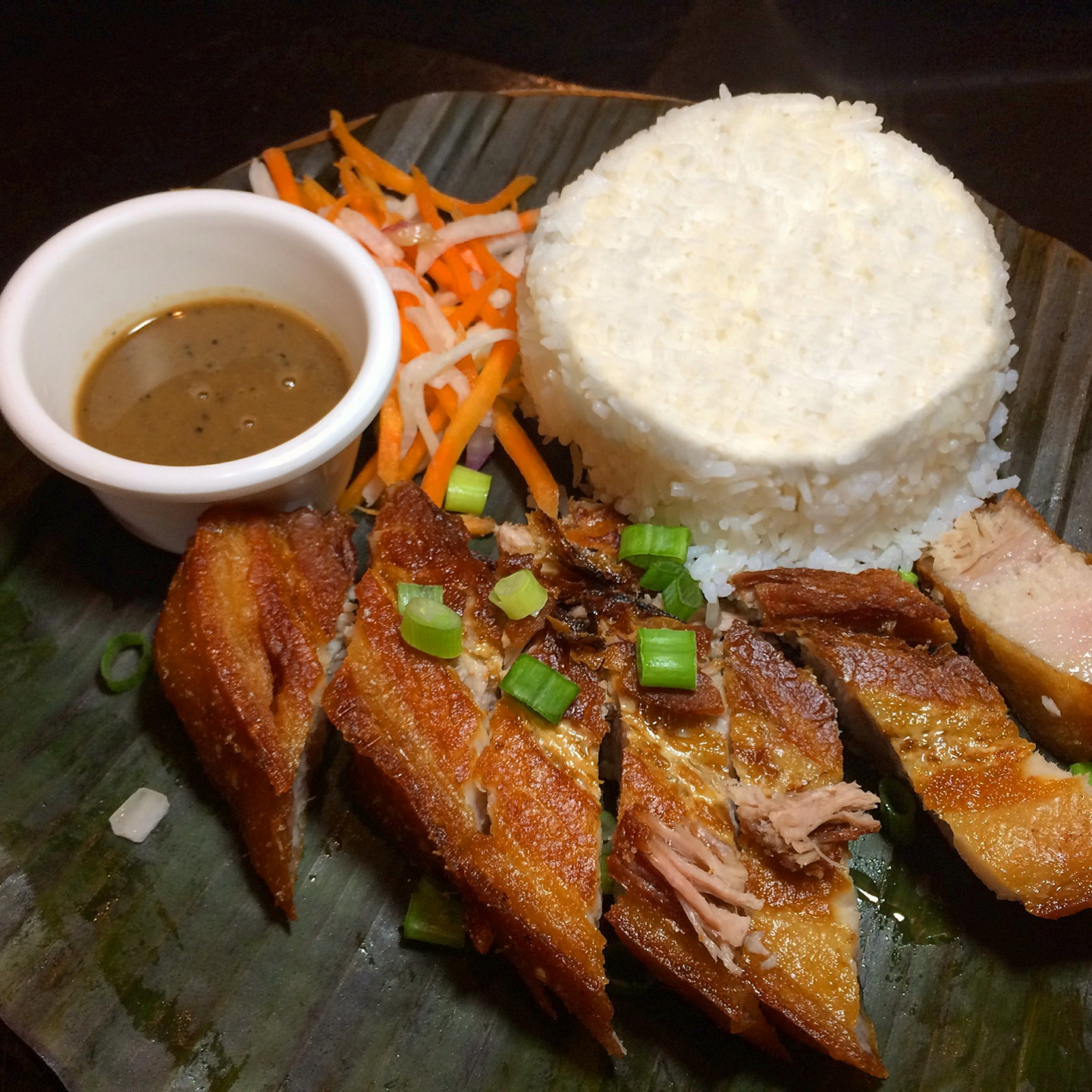 Lechon Kawali. Lechon is roast suckling pig and kawali refers to the way in which it's prepared, deep fried in a wok (kawali). It's sliced into delicious chunks and served with a sauce usually made from (but not really tasting like) liver. Crispy skin, meltingly tender pork belly – I have yet to meet anyone who doesn't love this dish!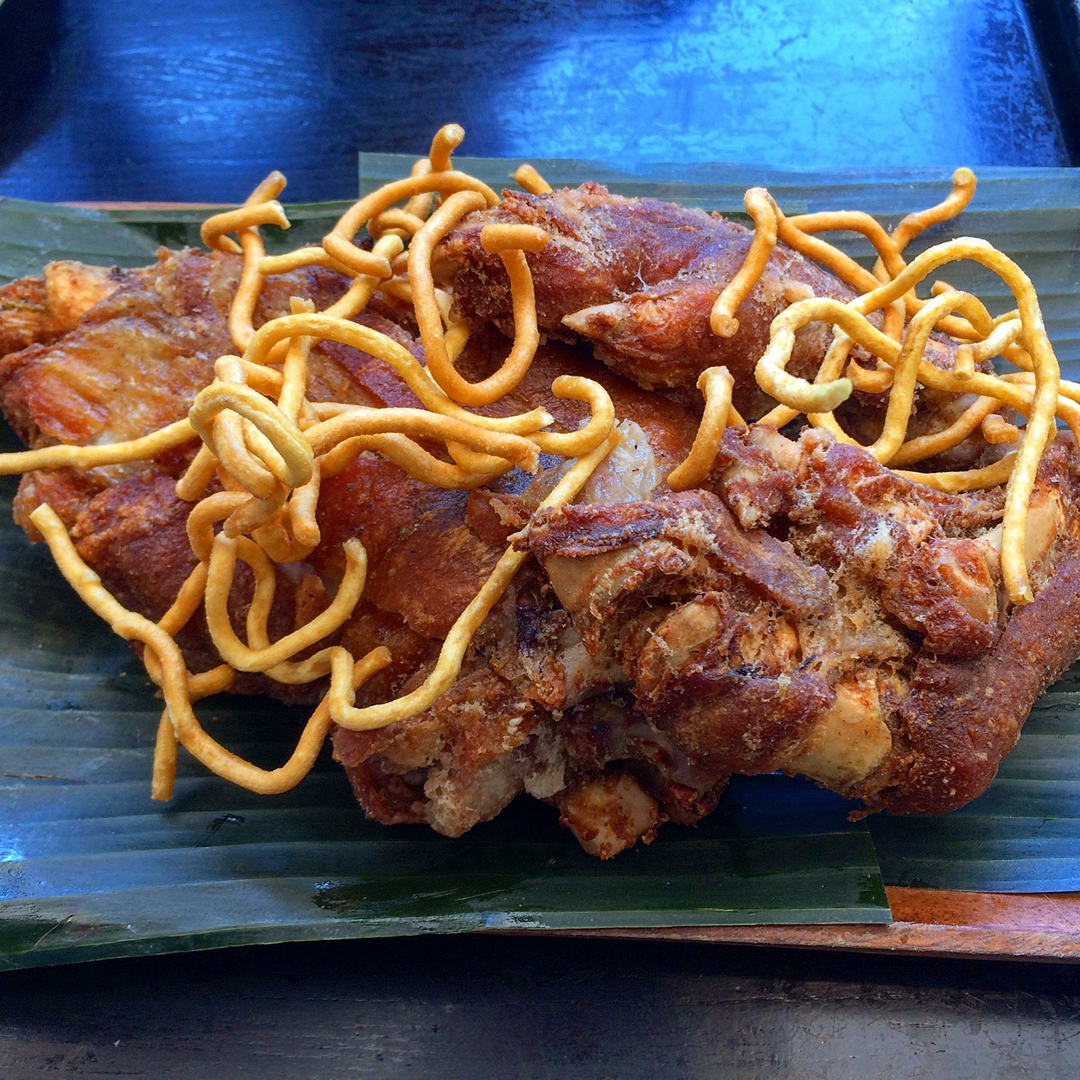 Like I said about the folks at Lahi: they know how to do pork! In this context, the Tagalog word pata, as in Spanish, means an animal's leg, and Crispy Pata is one of my absolute favorite Filipino dishes. It's a pig knuckle/trotter/hock, deep fried until the skin is crispy and the meat is meltingly tender, accompanied by a soy-vinegar dip. Here, it comes to the table topped with crunchy fried noodles, a garnish I've not seen elsewhere which perhaps gilds the lily a bit, but I'm not complaining. One day, I'll eat a whole one of these by myself, even if somebody's watching! (Although they might want some too. 😉)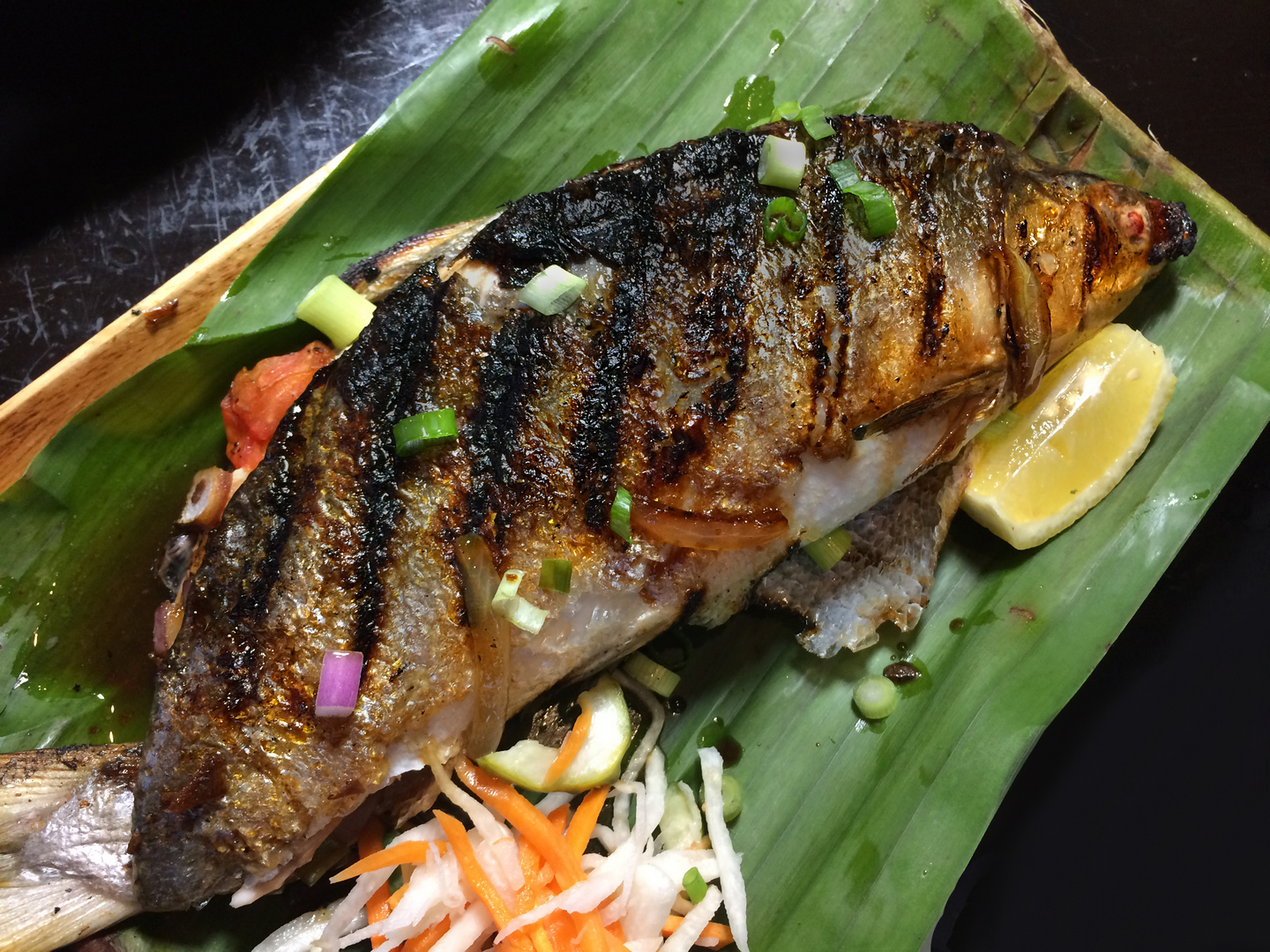 Inihaw na Bangus. Inihaw means grilled, broiled, roasted or barbecued (in other words, using direct high heat) and bangus is Tagalog for milkfish, the Philippines' versatile national fish. Stuffed with chopped onions and tomatoes, this straightforward simply grilled dish provided a delicious contrast to some of the richer fare.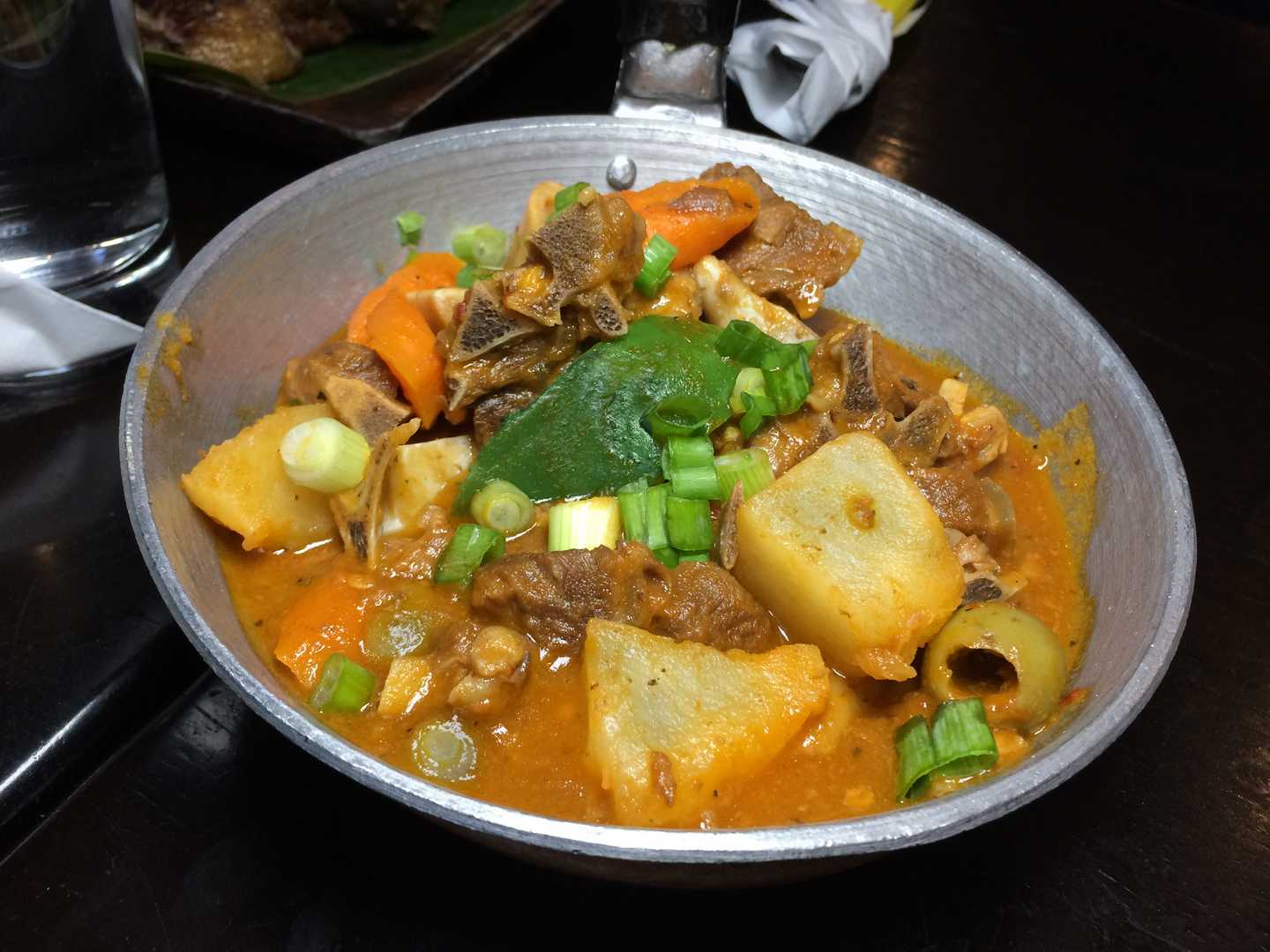 Kalderetang Kambing. Kambing is the word for goat (in Indonesian and Malay languages as well) and a kalderetang, from the Spanish caldereta, is a stew. Succulent goat meat in a tomato based sauce with potatoes, carrots, olives and a little spicy kick.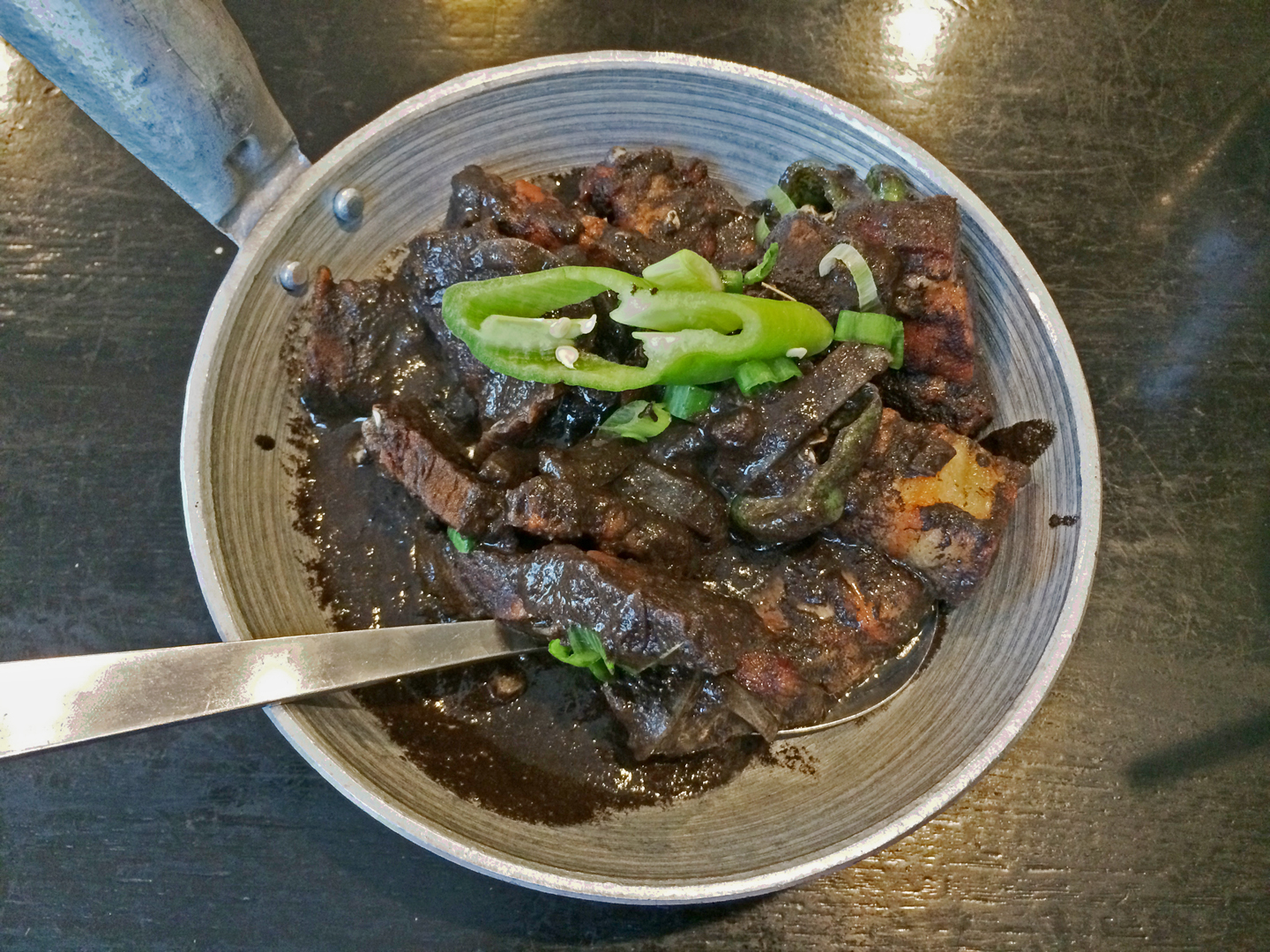 Dinuguan. A rich stew made of pork offal in a luscious gravy. Yes, the gravy contains pork blood, but don't knock it until you've tried it! One of the diners at the table described it as chocolate pork – and everybody loved it. You will, too!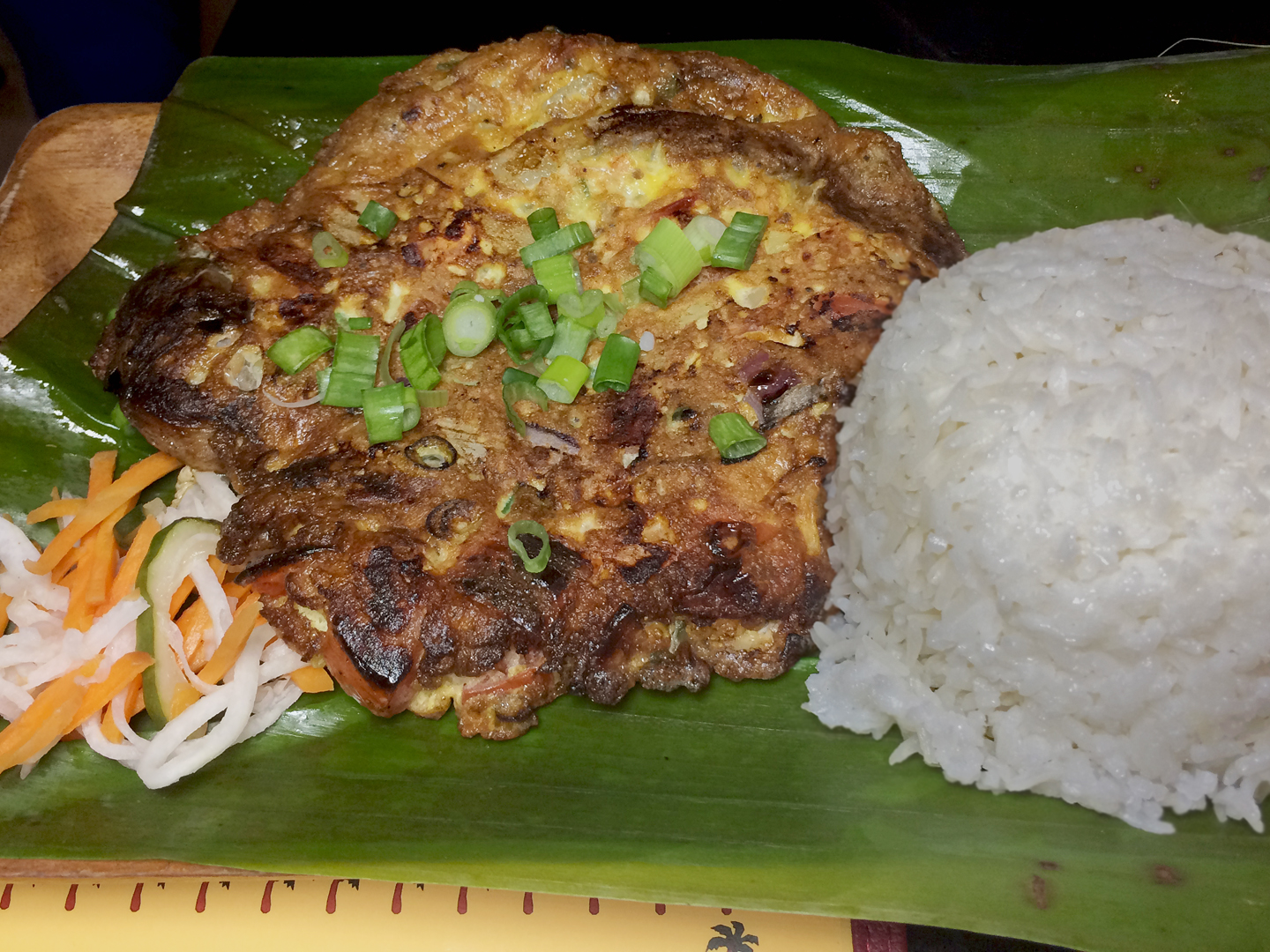 Tortang Talong. Eggplant omelette with onions and tomatoes.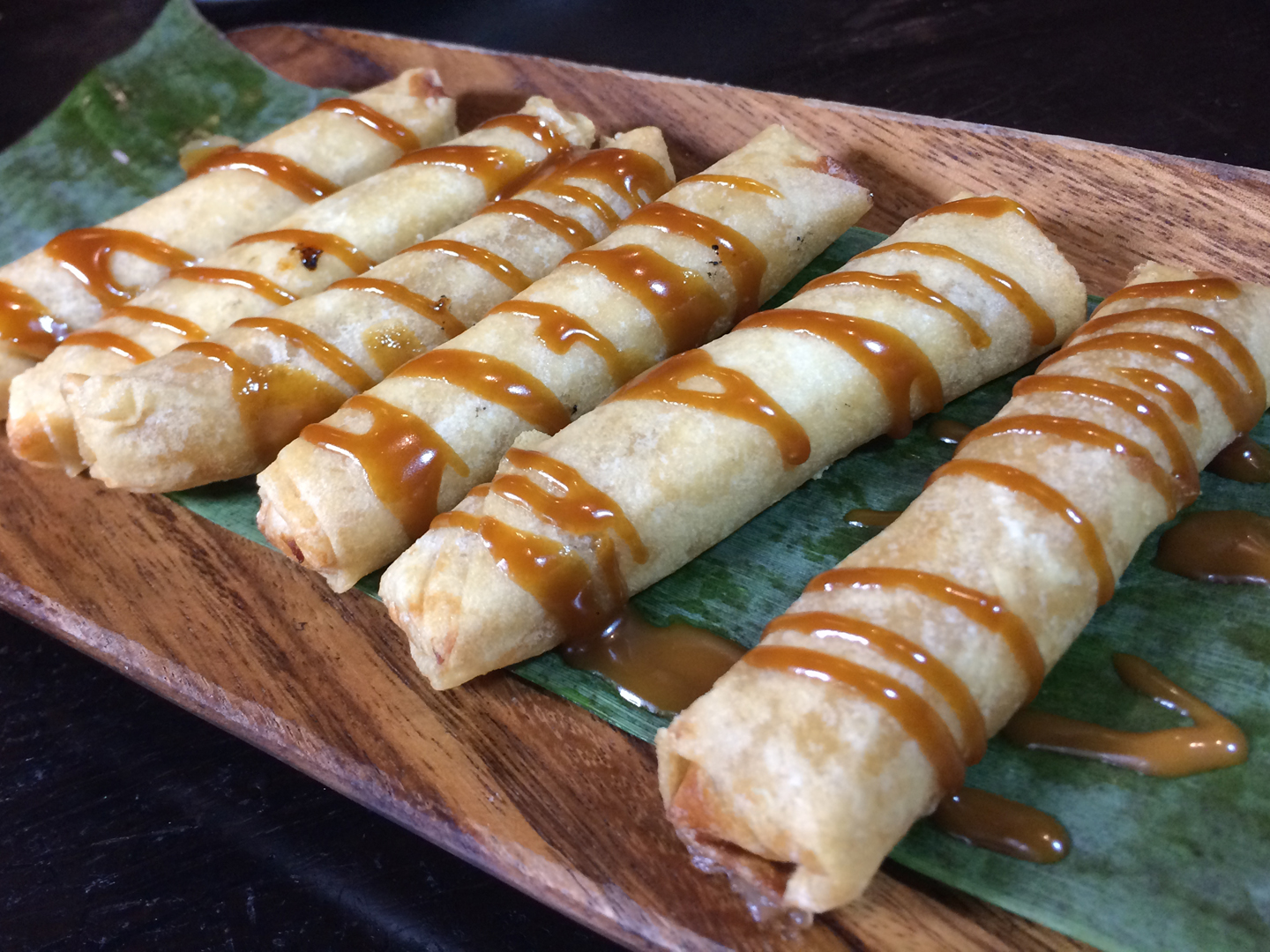 Turon: crispy fried banana roll, served here with coconut milk syrup.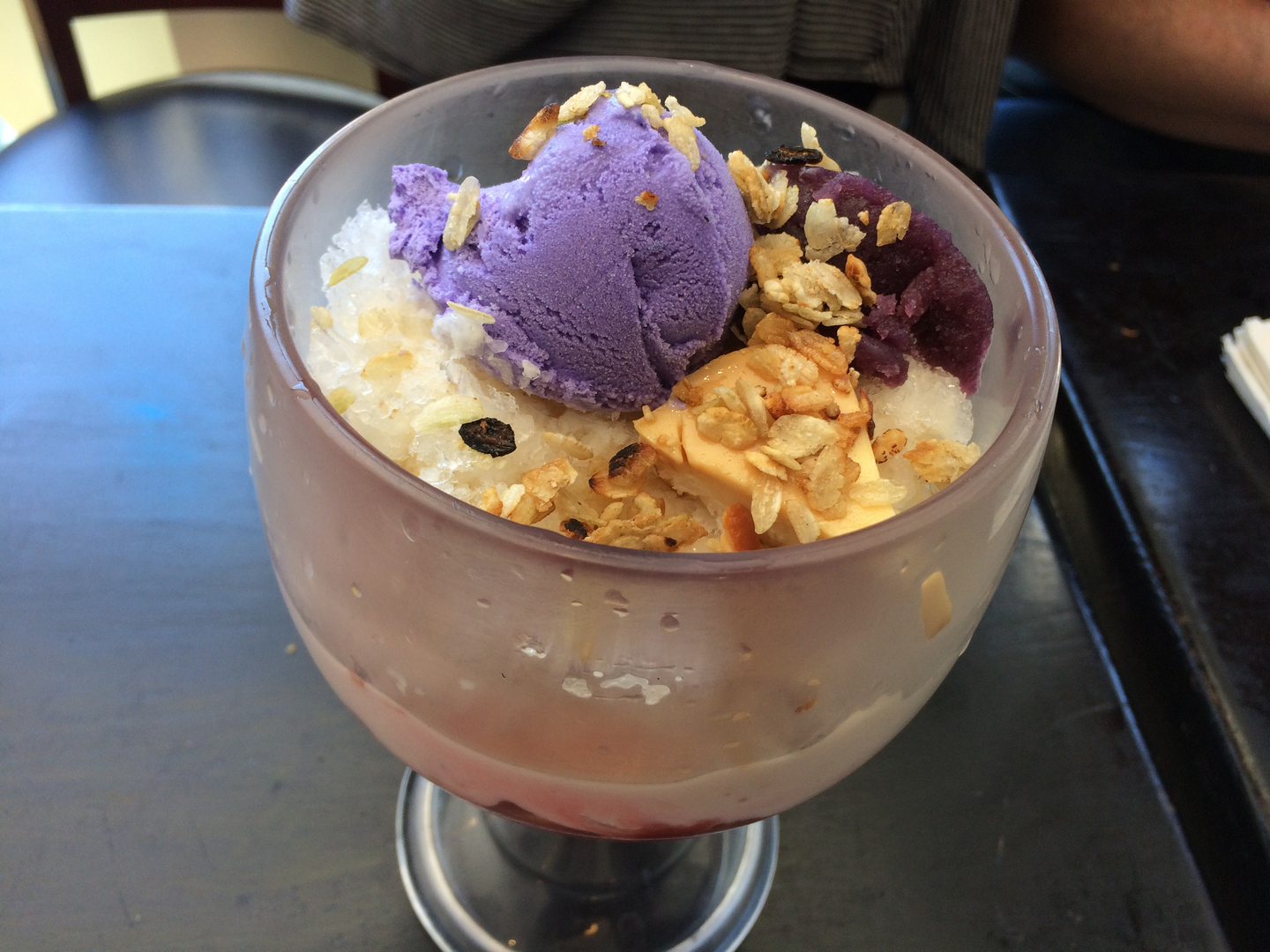 Halo-halo, Tagalog for "mixed". Over-the-top, famed Filipino shaved ice dessert with something for everyone: sweetened beans, agar jellies, fruits, ube ice cream, and leche flan, sprinkled with crunchy pinipig (pounded toasted rice).


Lahi is located at 51-24 Van Loon Street in Elmhurst, Queens.