Part of what I'm calling the "Golden Oldies" series: photos from bygone days taken at restaurants that are still doing business, still relevant, and still worth a trip. These came from a number of visits; some made it to Instagram, others made it here to ethnojunkie.com, and still others never made it off my hard drive, so this is a collection that spans a few years of happy eating.
Dek Sen (literally "child noodles"), one of my favorite casual restaurants for Isaan Thai cuisine, has never let me down. Located at 86-08 Whitney Ave, Elmhurst, it has always been a stop along my Ethnic Eats in Elmhurst ethnojunket and will be again when things get rolling.
(Click on any image to view it in high resolution.)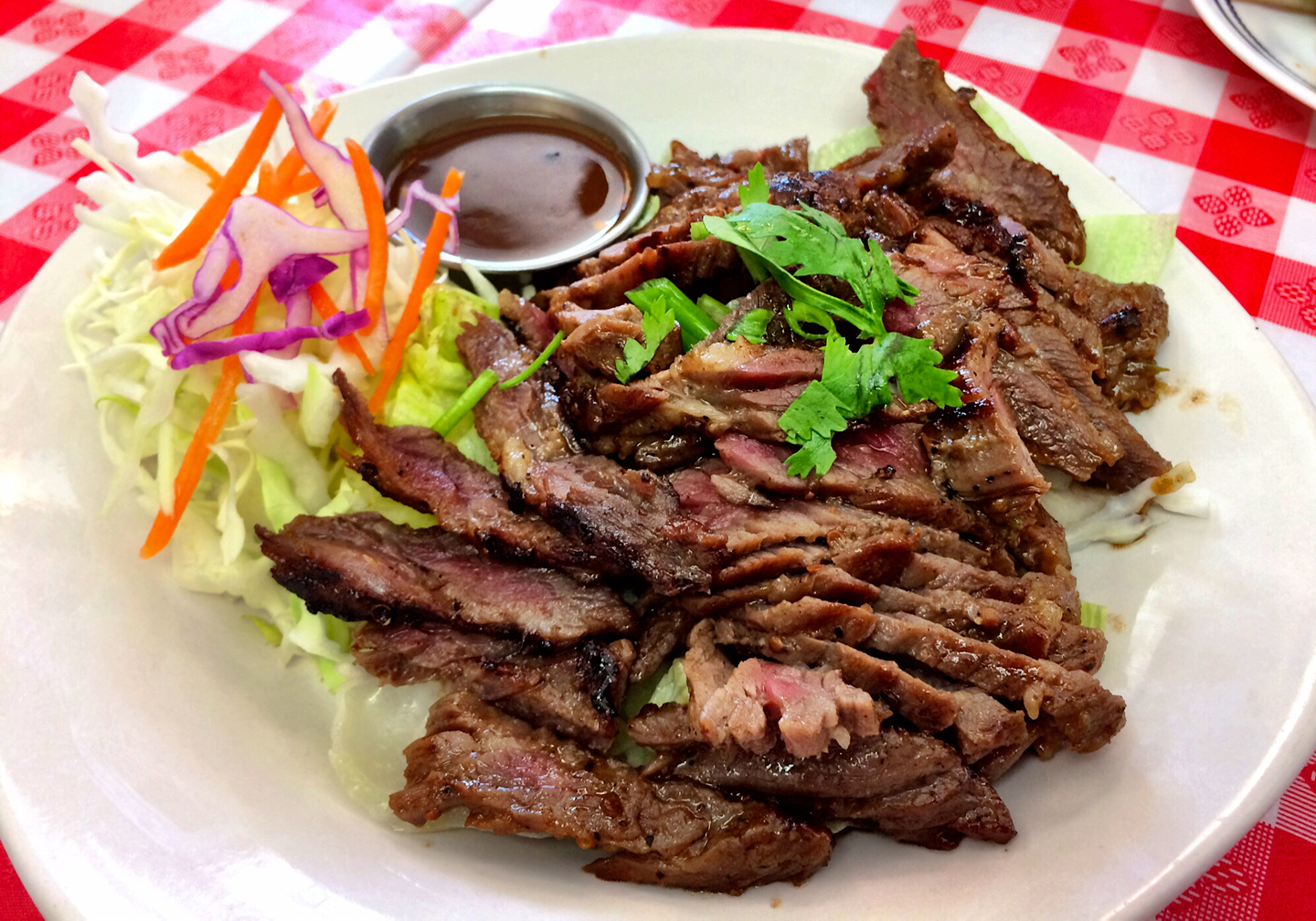 Tiger Cry from the Starters section of the menu. Grilled marinated skirt steak with jaew sauce (chili dipping sauce). If this is what it tastes like when tigers cry, I guess those must be tears of jaew. <groan>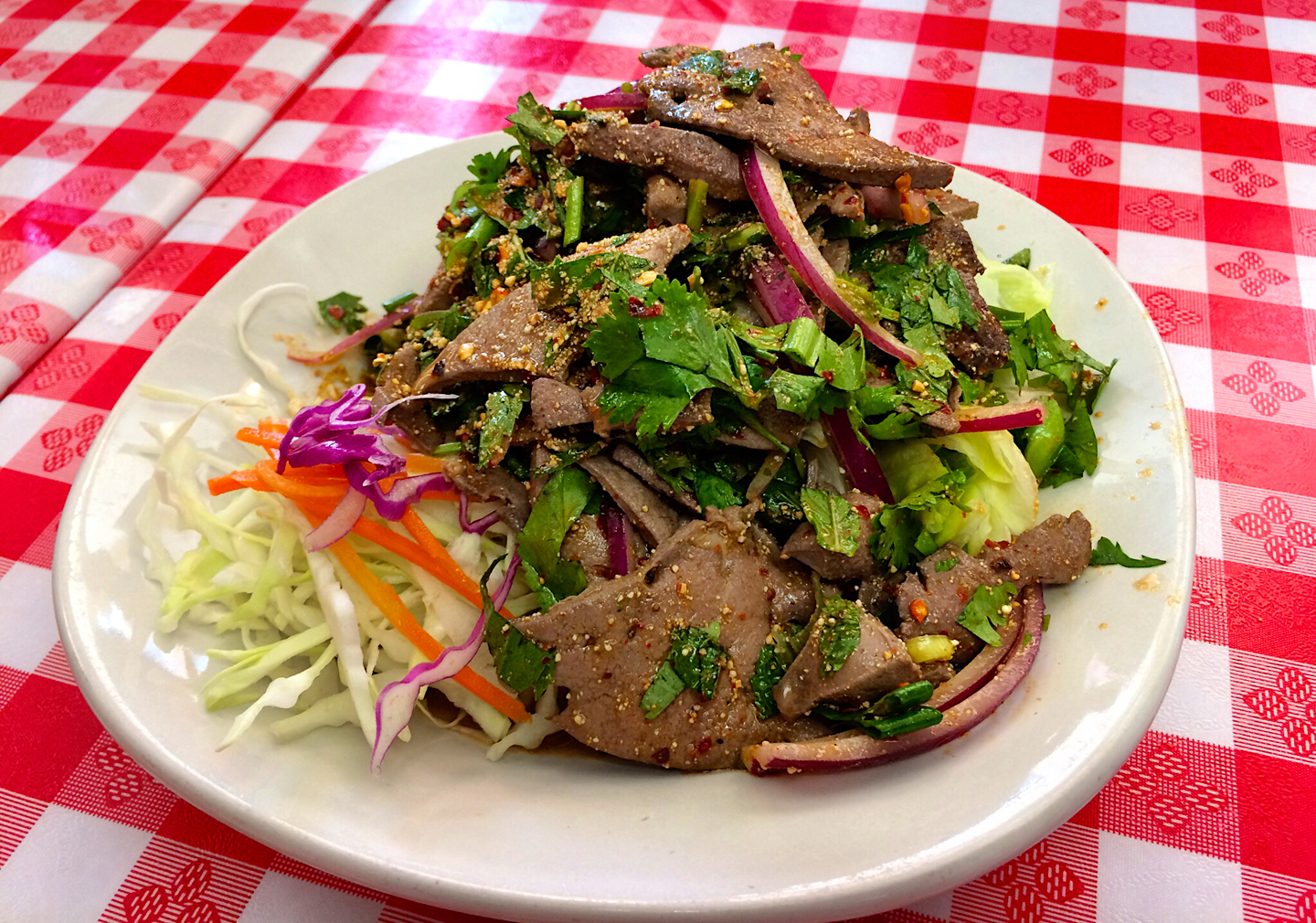 Dek Sen's Tub Wann appetizer won't leave you wannting: pork liver and red onion on a bed of greens. Ground roasted sticky rice for some crunch, lime juice, mint, scallion, and cilantro for some punch.

Zabb (very literally "delicious") Wings. When you see zabb (you might also see zaab) it's your clue that you're dealing with food from the northeast region (Isaan, Isan, Isarn, et al.) of Thailand. Dusted with a crunchy coating that combines chili and lime, these wings are crisp, spicy, not at all greasy, and they definitely live up to their moniker.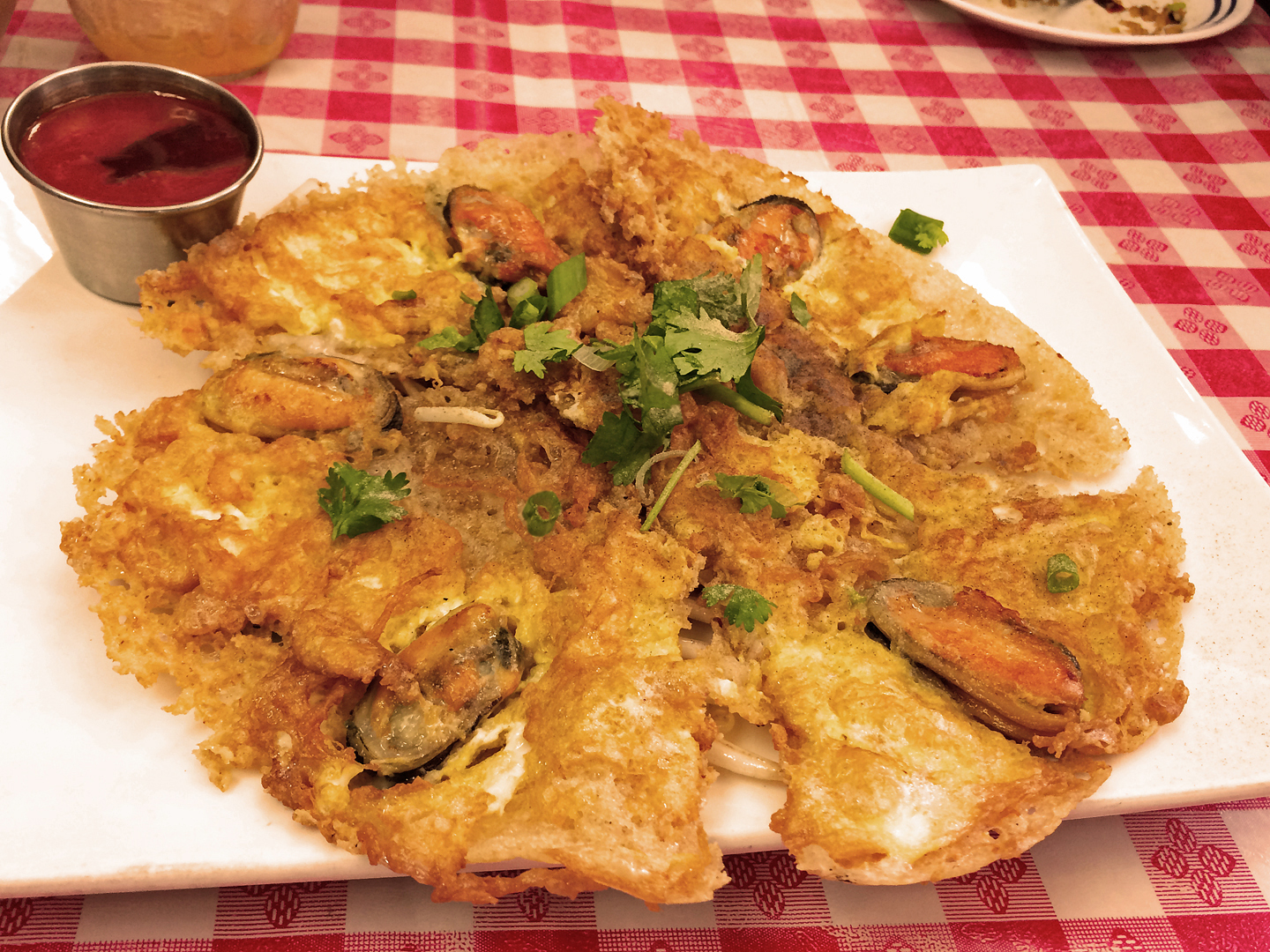 Crispy Mussels Pancake, a signature dish. Fried egg pancake with mussels over sautéed bean sprouts served with Sriracha sauce.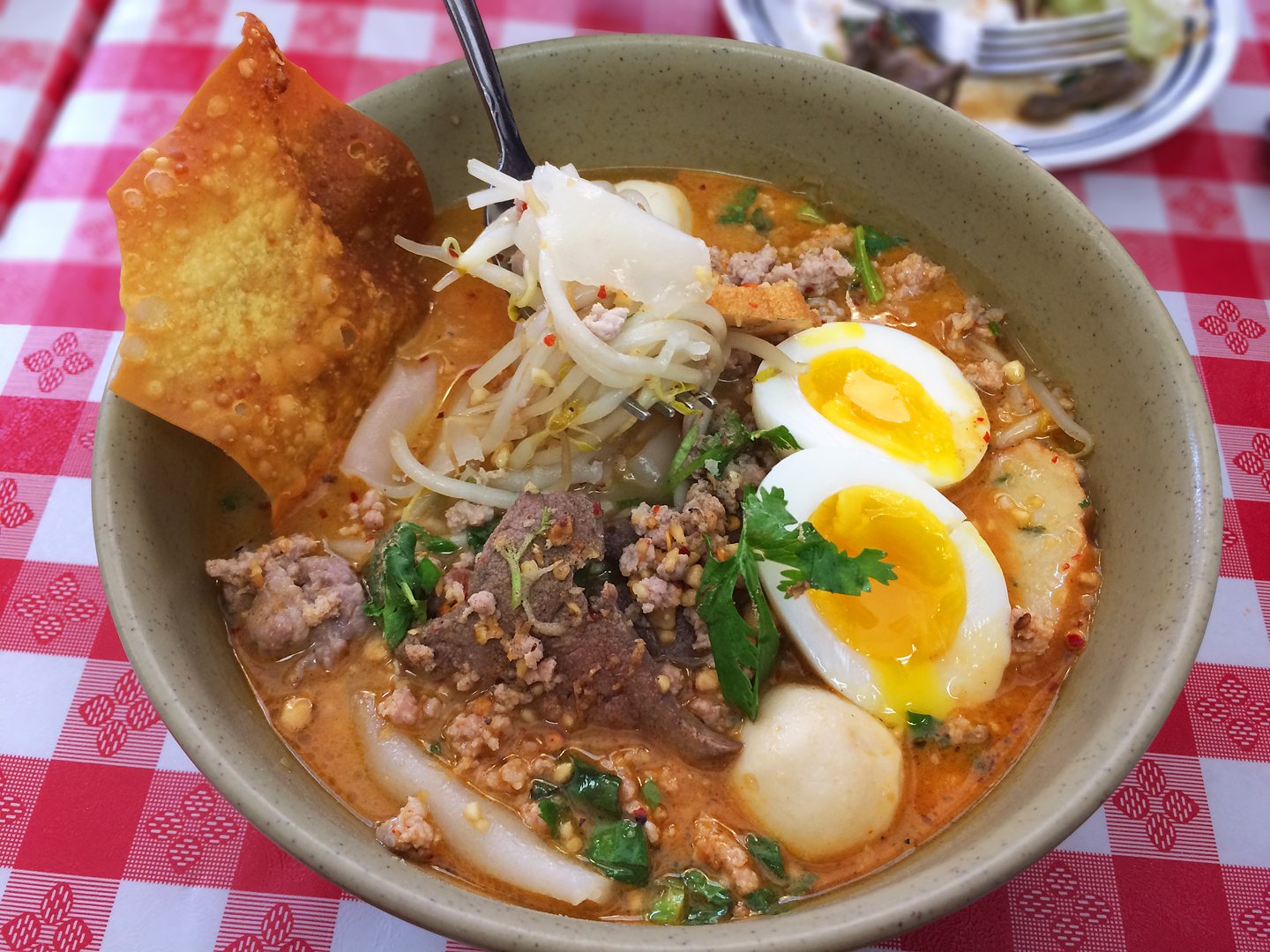 The ever popular hot and sour soup, Tom Yum ("tom" means boil and "yum" means mixed). This one features minced pork, pork liver, fish balls, a perfectly boiled egg, bean sprouts, peanuts, scallions, and cilantro and is topped with fried wonton and fried garlic. Yum indeed!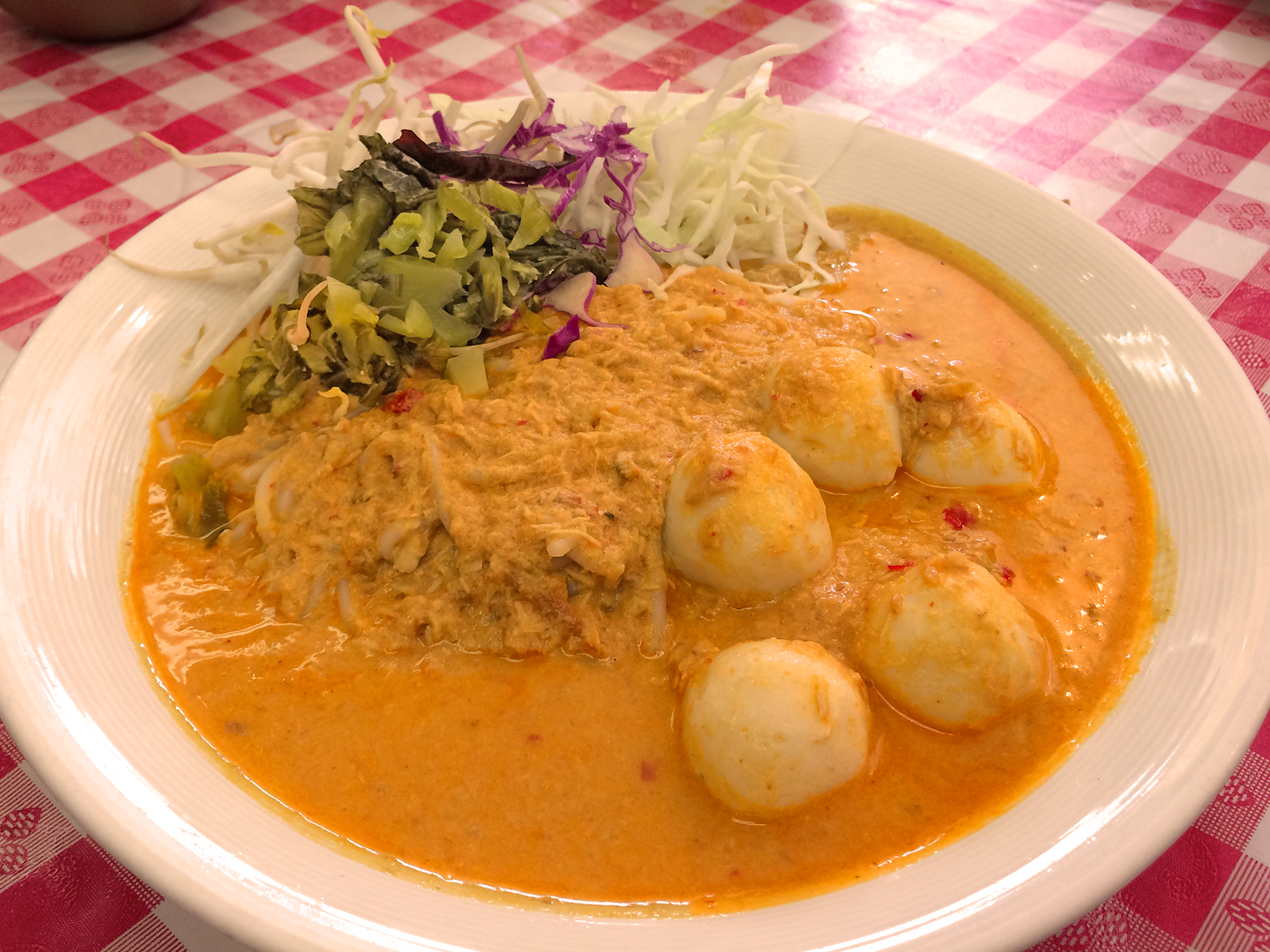 Ka Nom Jeen Nam Ya (you might see khanom chin or other spellings). Khanom jeen are thin vermicelli noodles made from mildly fermented rice, here supporting "special curry chicken" with fish balls and fresh vegetables, a signature dish.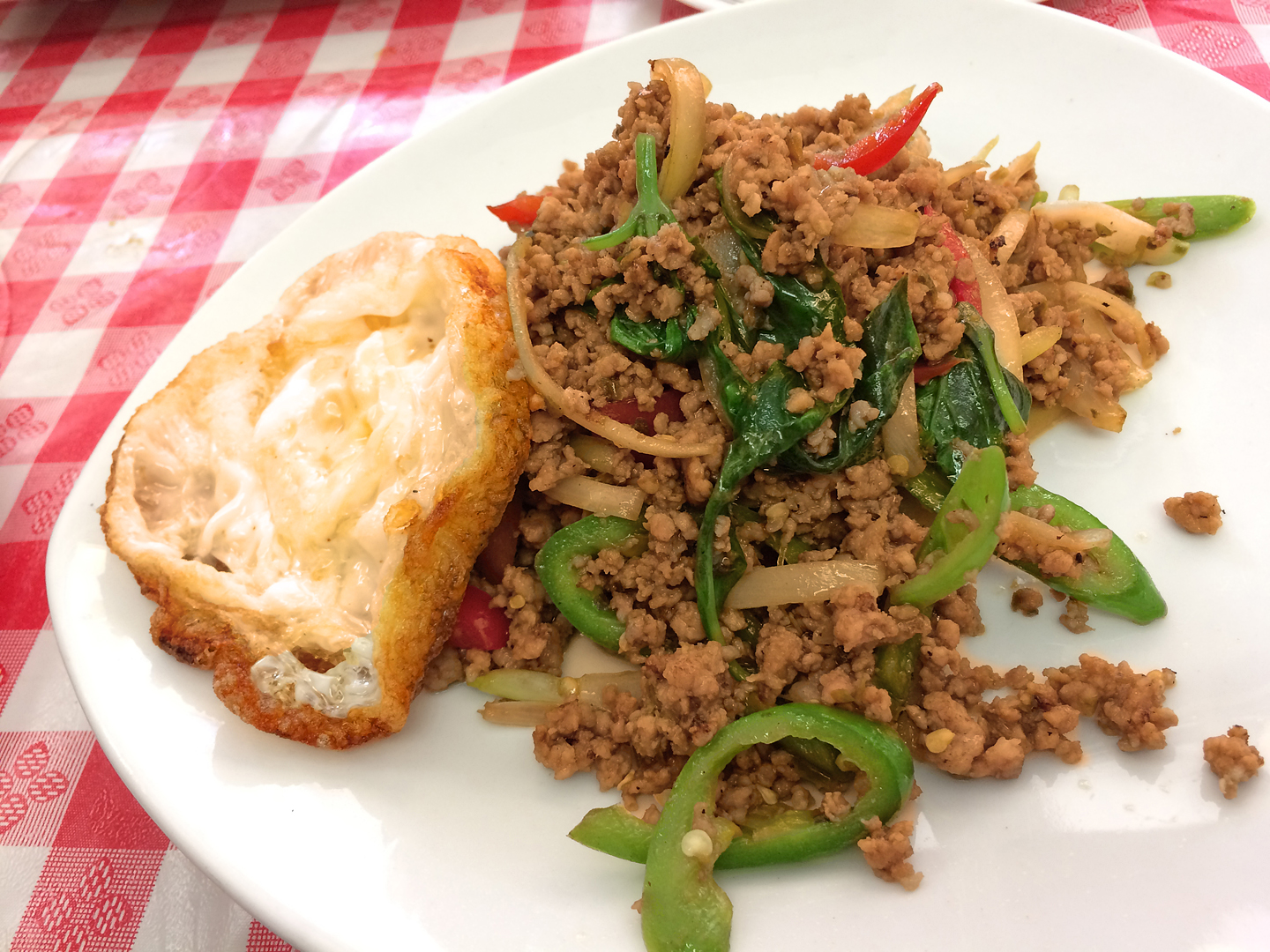 Pork and Pepper with Egg. A spicy offering with a focus on ground pork crowned with basil; the crispy fried egg on the side acts as a foil to the spice level of the pork.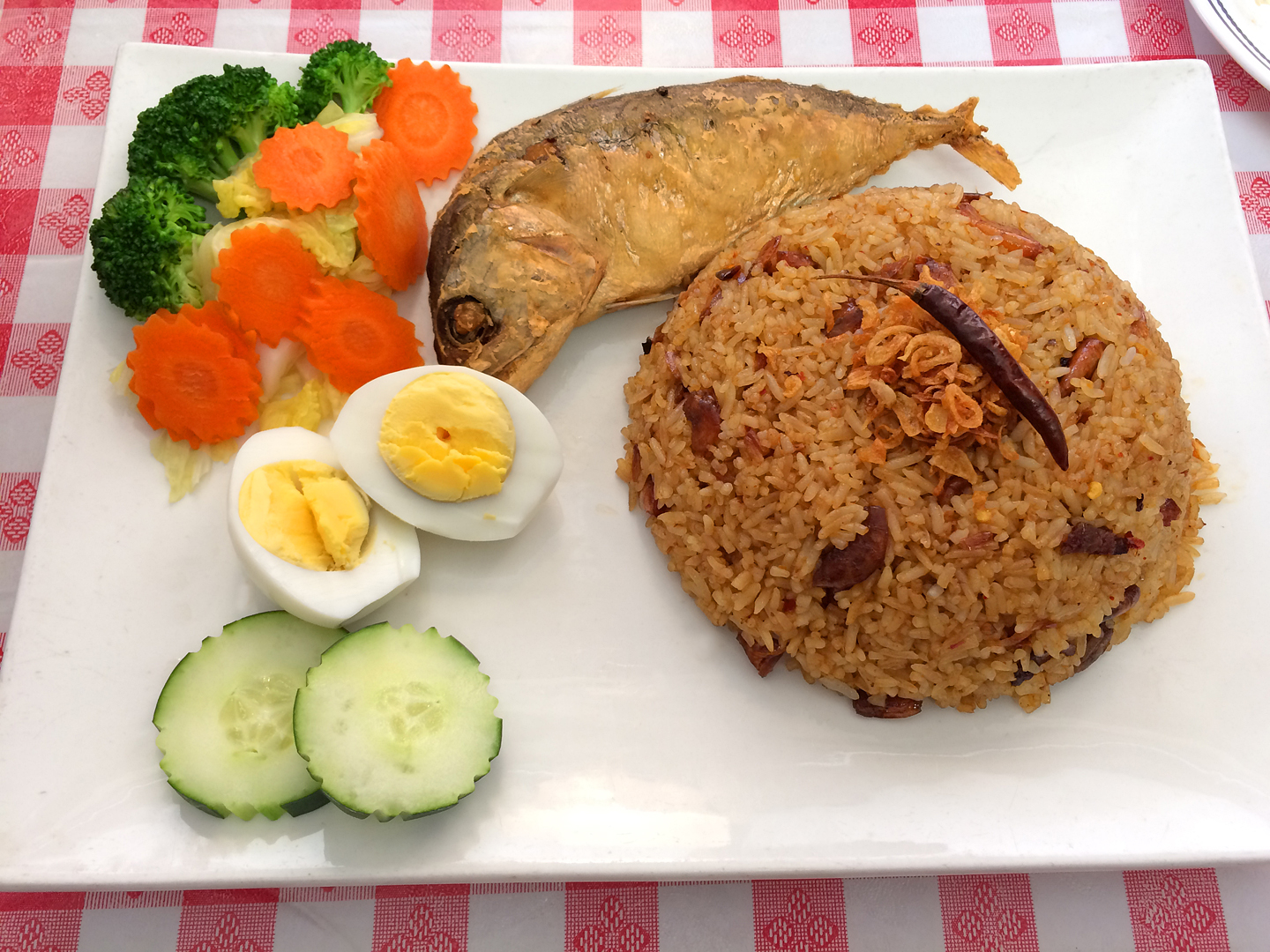 Phuket Chili Fried Rice. Saw this one on the blackboard so I don't know if it's a regular. It's redolent of homemade royal shrimp paste and served with mackerel, a boiled egg, and steamed vegetables.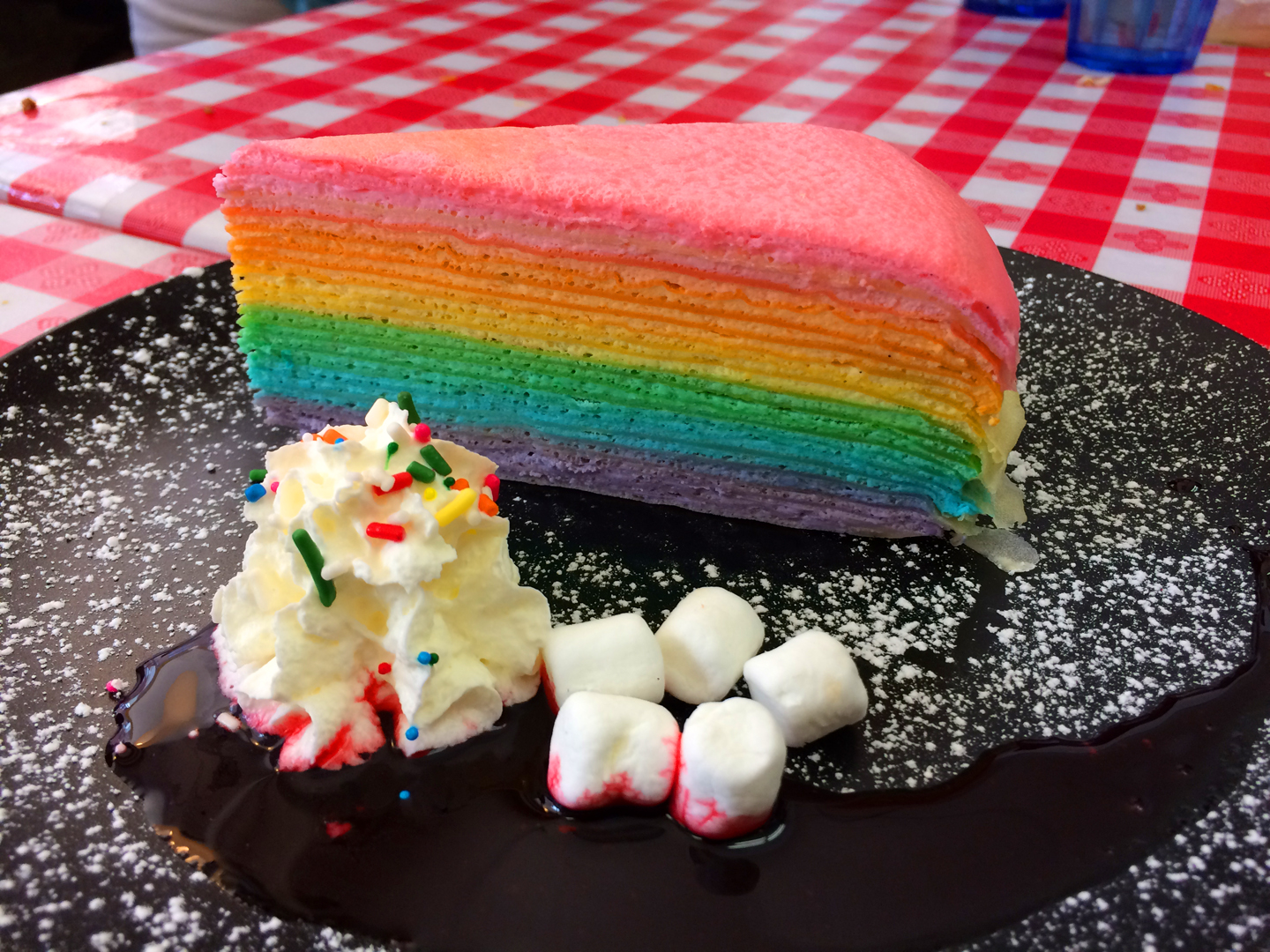 And what's for dessert? Rainbow Crepe Cake! This was only the 4,257,369th photo of Dek Sen's rainbow crepe cake on Instagram! 😉 But I might just have been one of the first to mention that it tasted delicious as well. "Dek" means child in Thai and if this doesn't have you channeling your inner unicorn, I don't know what will.


Dek Sen is located at 86-08 Whitney Ave, Elmhurst, Queens.