When I write about restaurants on Instagram, they're usually brief takes accompanied by a photo or two. But because of Instagram's character count limitations, it's often necessary to break up a review into several parts. This one originally appeared across multiple posts published in December 2019.

---
Coco at 82-69 Broadway in Elmhurst, Queens features reliable, people-pleasing, accessible Malaysian cuisine. I've enjoyed their fare on so many occasions that I thought it fitting to do another rogues' gallery of some winners, so here are a few of my favorite dishes from their seemingly infinite menu compiled from a number of group dinners. They're presented in no special order: everything was delicious and everyone was delighted.
(Click on any image to view it in high resolution.)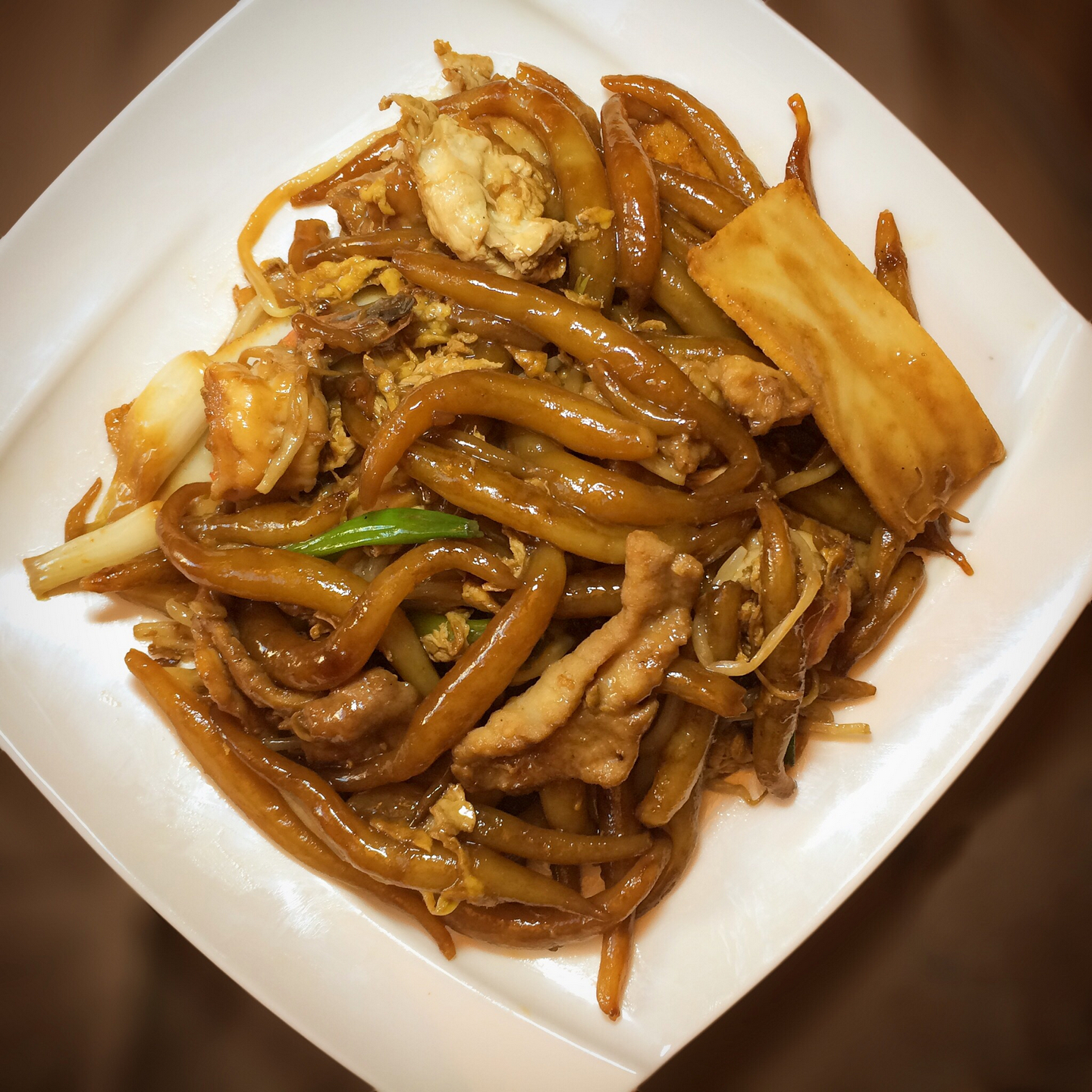 Stir Fried Pearl Noodle
Decades ago, one of my favorite dim sum parlors in Manhattan's Chinatown was the beloved Hee Seung Fung, better known to its patrons as HSF. (Anybody here remember it?) It was there that I first encountered a dish called Silver Noodle. Served under an inverted small plastic bowl to keep it warm, it consisted of thick, chewy semi-translucent rice noodles with every imaginable protein and a variety of vegetables in a brown sauce. But the key ingredient, the one flavor that stood out above the rest for me, was its wok hei (aka wok qi), the breath of the wok, created by stir-frying over incendiary heat.
When HSF closed, I didn't know where to track down this seductive dish; I've since learned that it can be found in restaurants featuring Malaysian, Singaporean, Hong Kong, and other cuisines that hail from regions near Guangdong. Silver noodles go by many handles, silver needle noodles and rat tail noodles (because of the tapered shape at one end) to name but two. Shown here is the rendition cooked up by Coco. They do my memories justice.
We usually score an order of this on my Ethnic Eats in Elmhurst ethnojunket by the way. (Hint: Click here! 😉)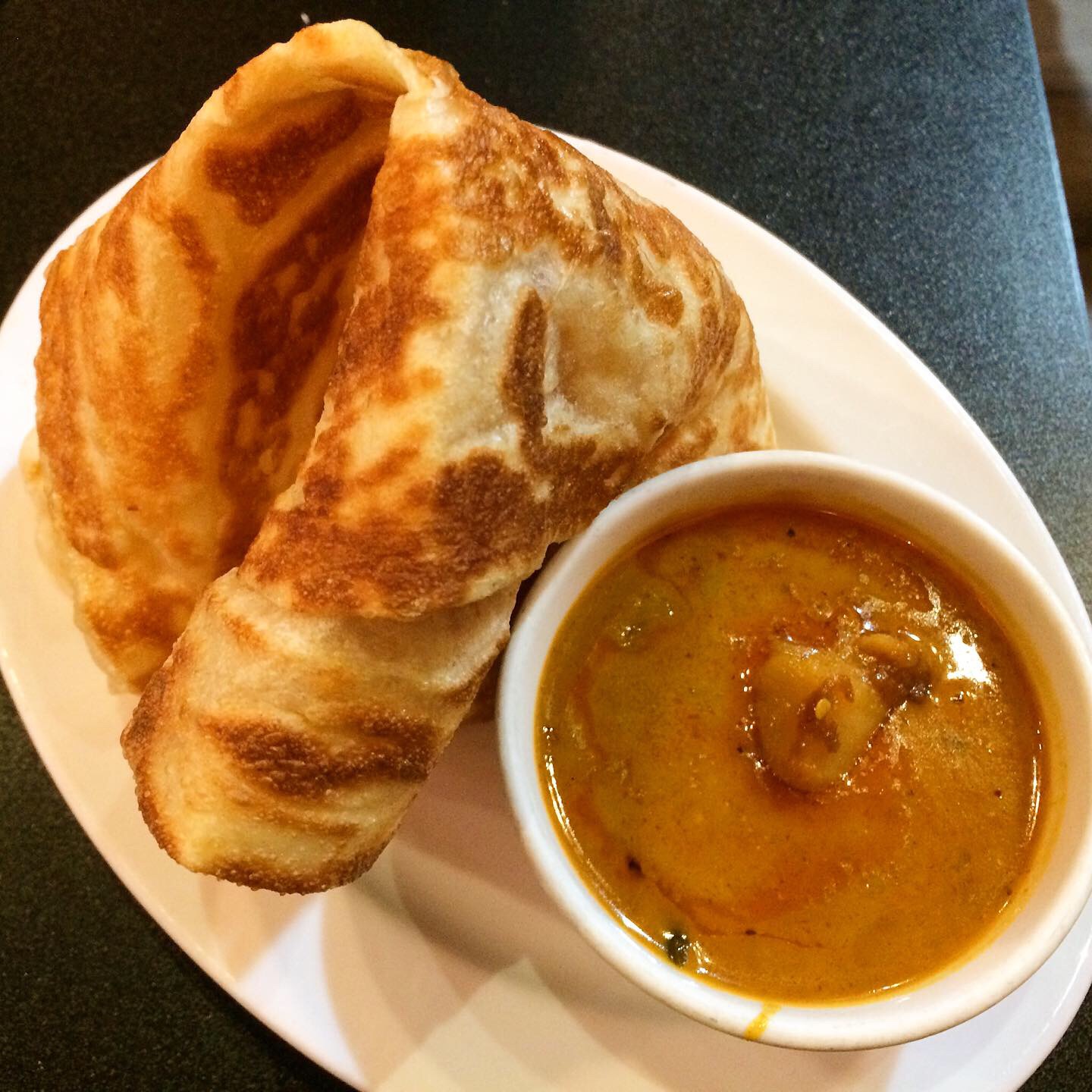 Roti Canai
I'm told that if you don't order the Roti Canai for an appetizer in a Malaysian restaurant it's breaking some sort of rule (just kidding), so here is Coco's version; it's essentially a flaky, crispy, paratha-like flatbread with a spicy, sweet, chicken curry sauce on the side for dipping.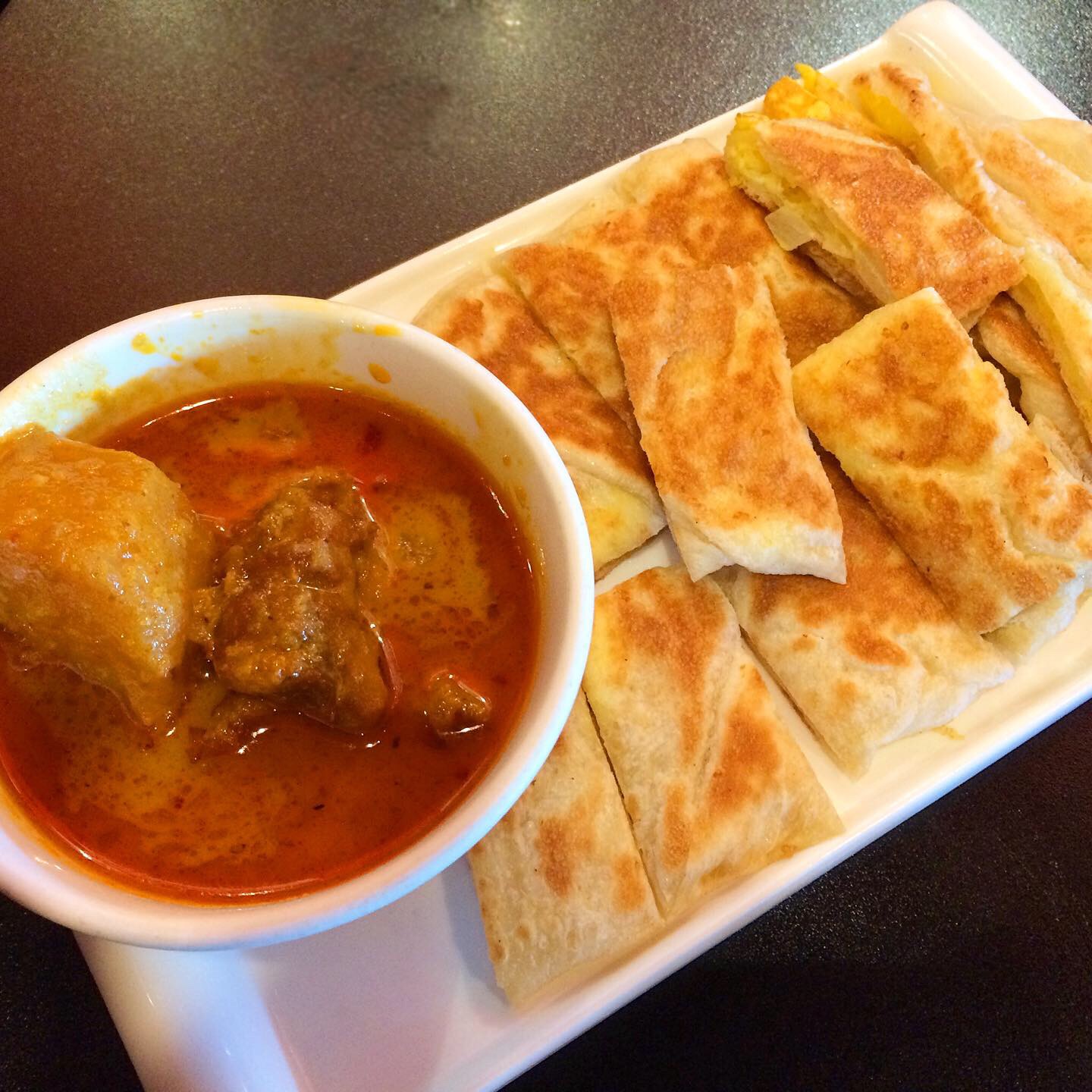 Roti Telur
Roti telur conceals an egg (telur means egg) and onions among the folds of the roti.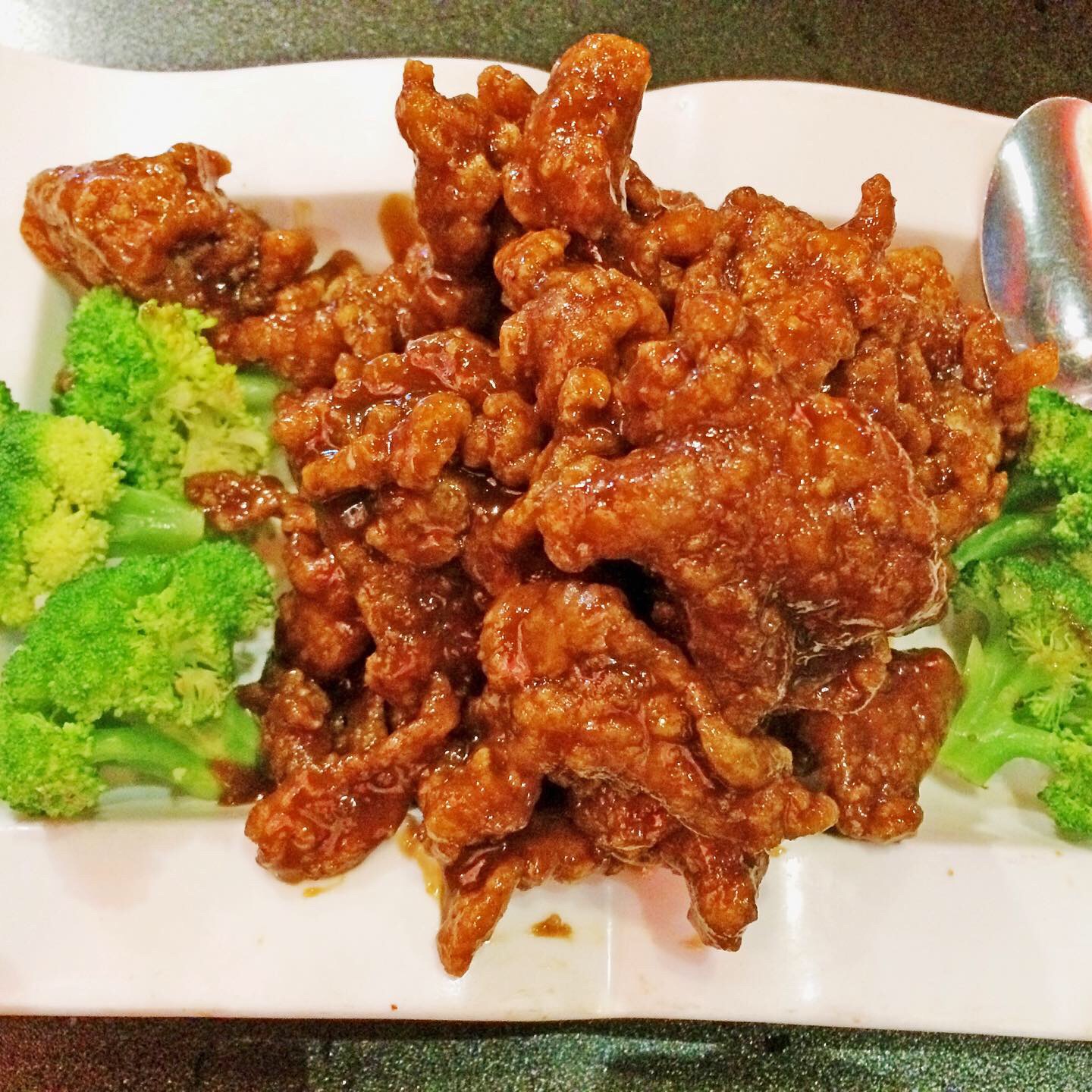 Coffee Sauce Pork
Sometimes restaurant dishes are fancifully named. Not this one. If you don't like coffee, Coffee Sauce Pork isn't for you. But if you do, this crispy curious combination is worth a shot. Be prepared for someone at the table to intone "Cawfee Sawce Pawk" and go all SNL on you.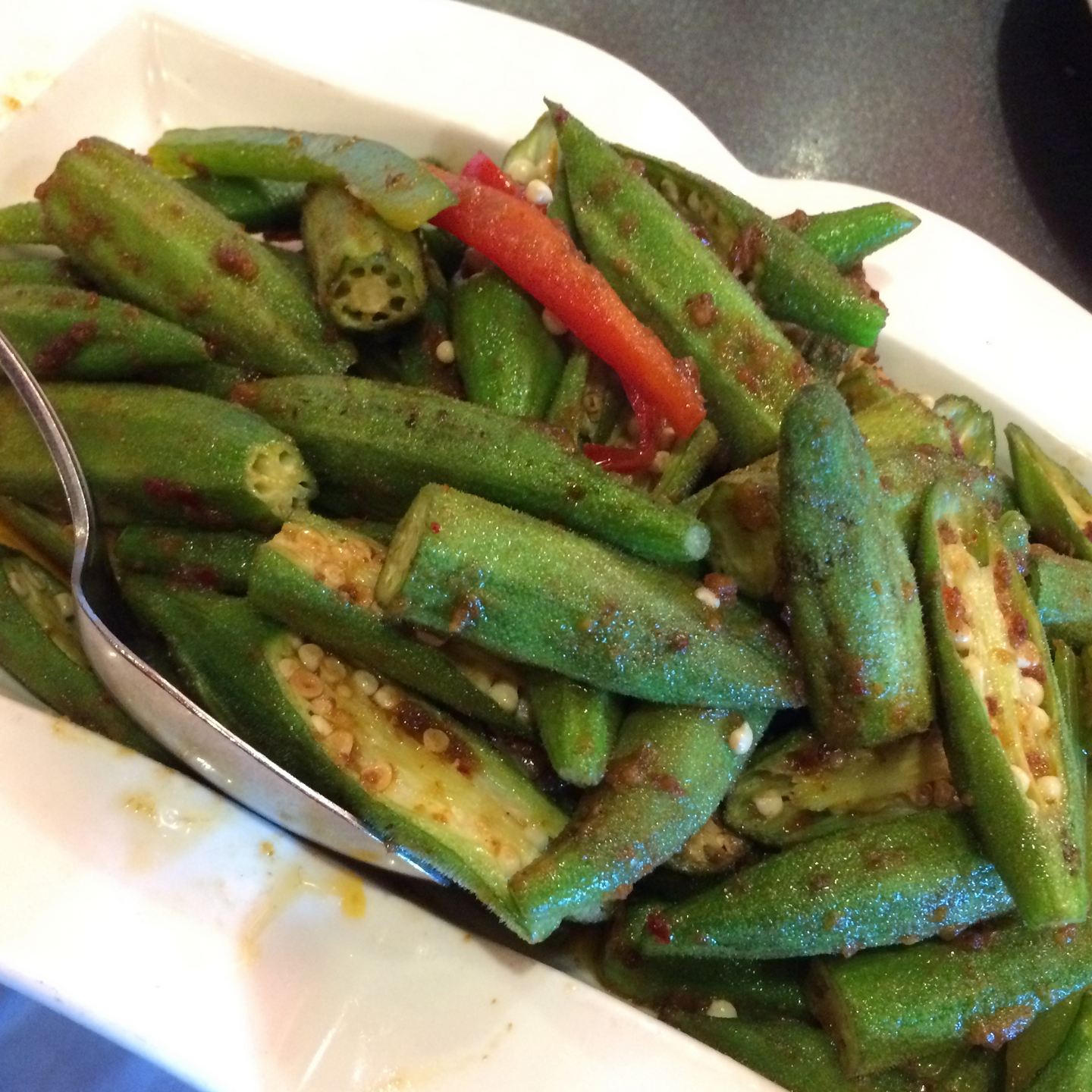 Belacan Lady Fingers
Lady fingers, a more colorful name for okra, in the pervasive Malaysian fermented shrimp paste.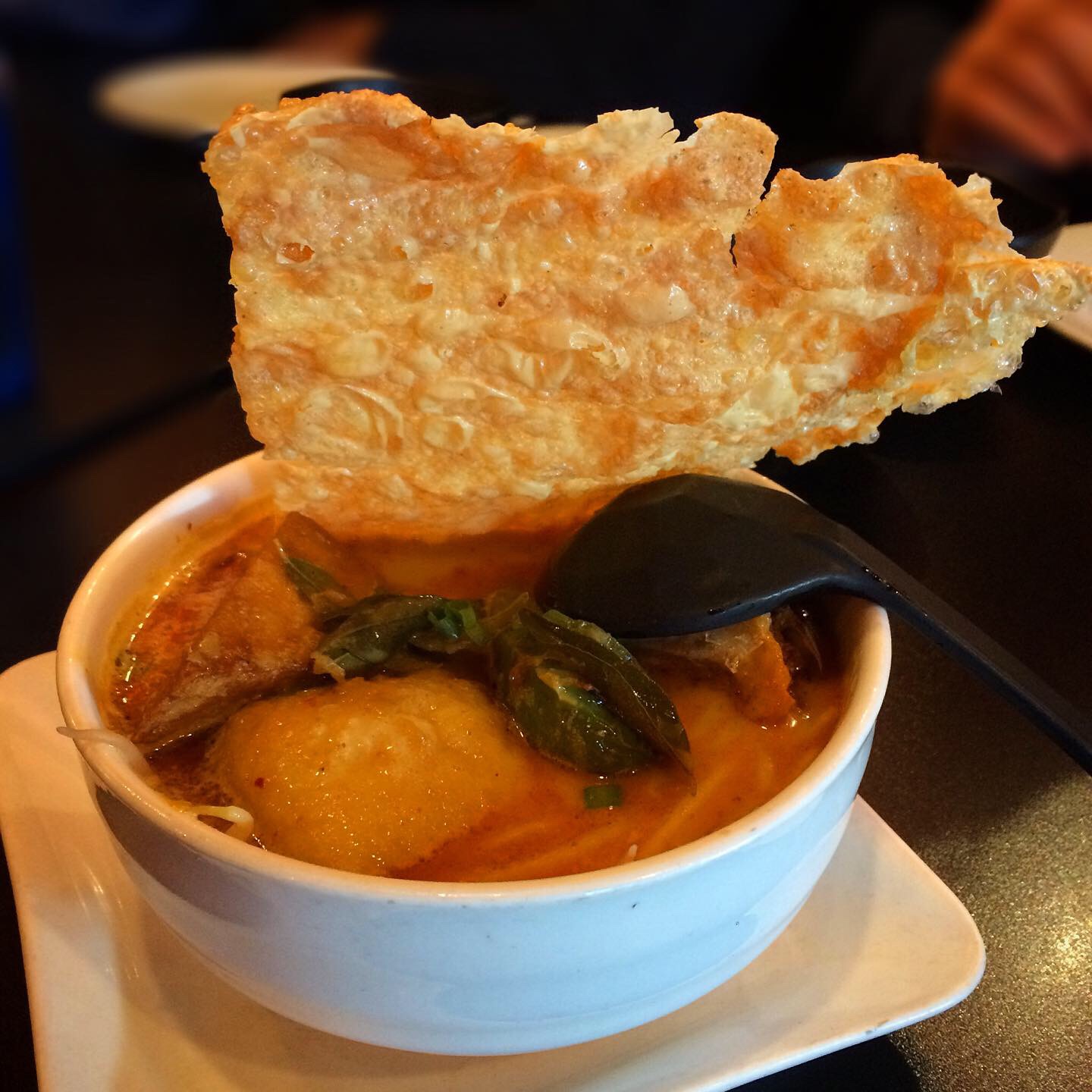 Curry Young Tofu Soup
Curry Young Tofu Soup can be found amid the Appetizers section of the menu, not the Soups. I suspect there are more names for this delightful soup than there are recipes for the dish itself, but Yong Tau Foo is not uncommon. With origins in Hakka Chinese cuisine, this Malaysian version was varied and satisfying.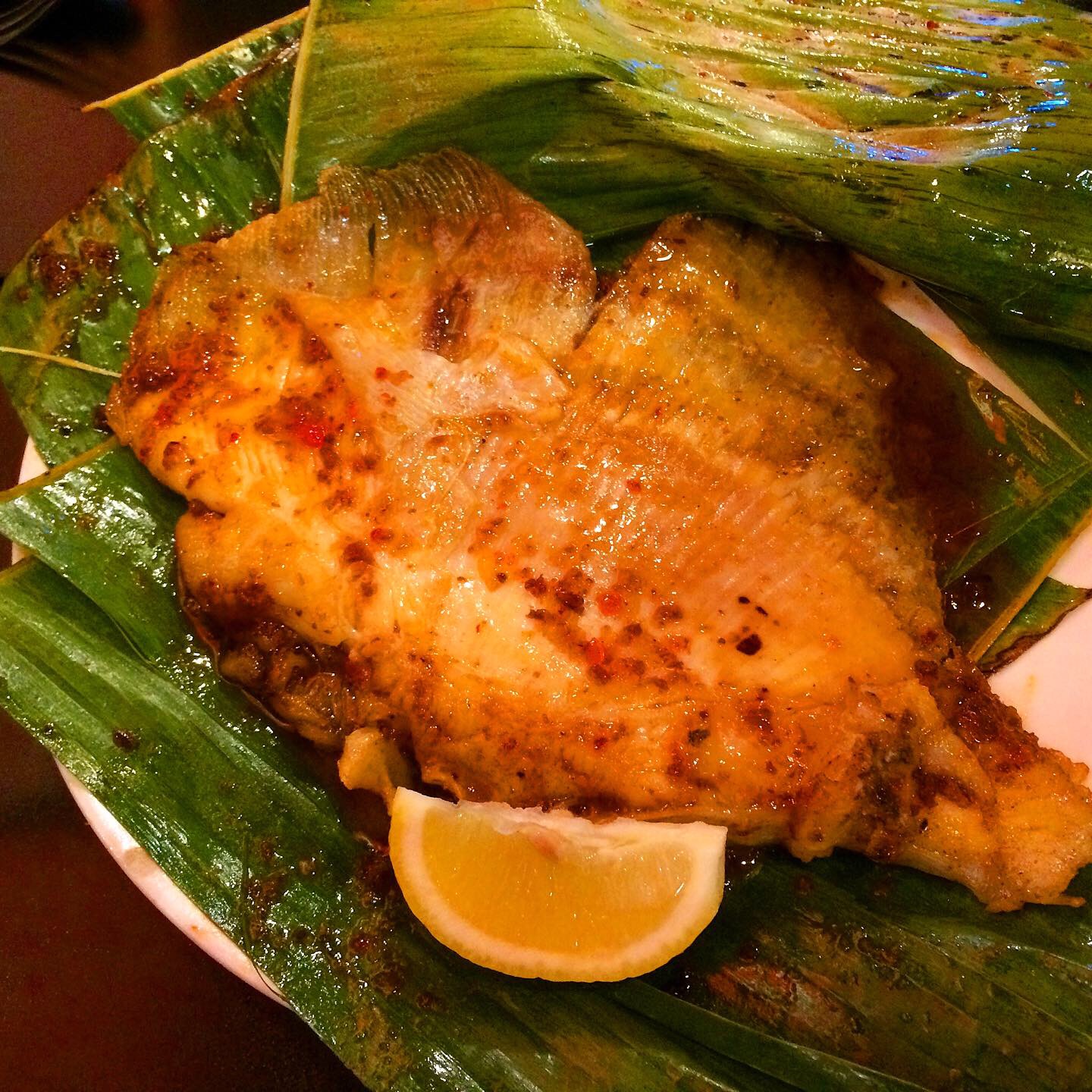 Stingray wrapped in Banana Leaf
One of the house specialties at Coco. Only moderately spicy, served with a piquant sauce on the side, the texture and flavor of stingray (also known as skate wing) falls somewhere along the fish <-> shellfish continuum. No bones about it, but an ample cartilaginous skeleton that provides easy access to the flesh; look for the sweet meat on both sides of the structure. Good eats.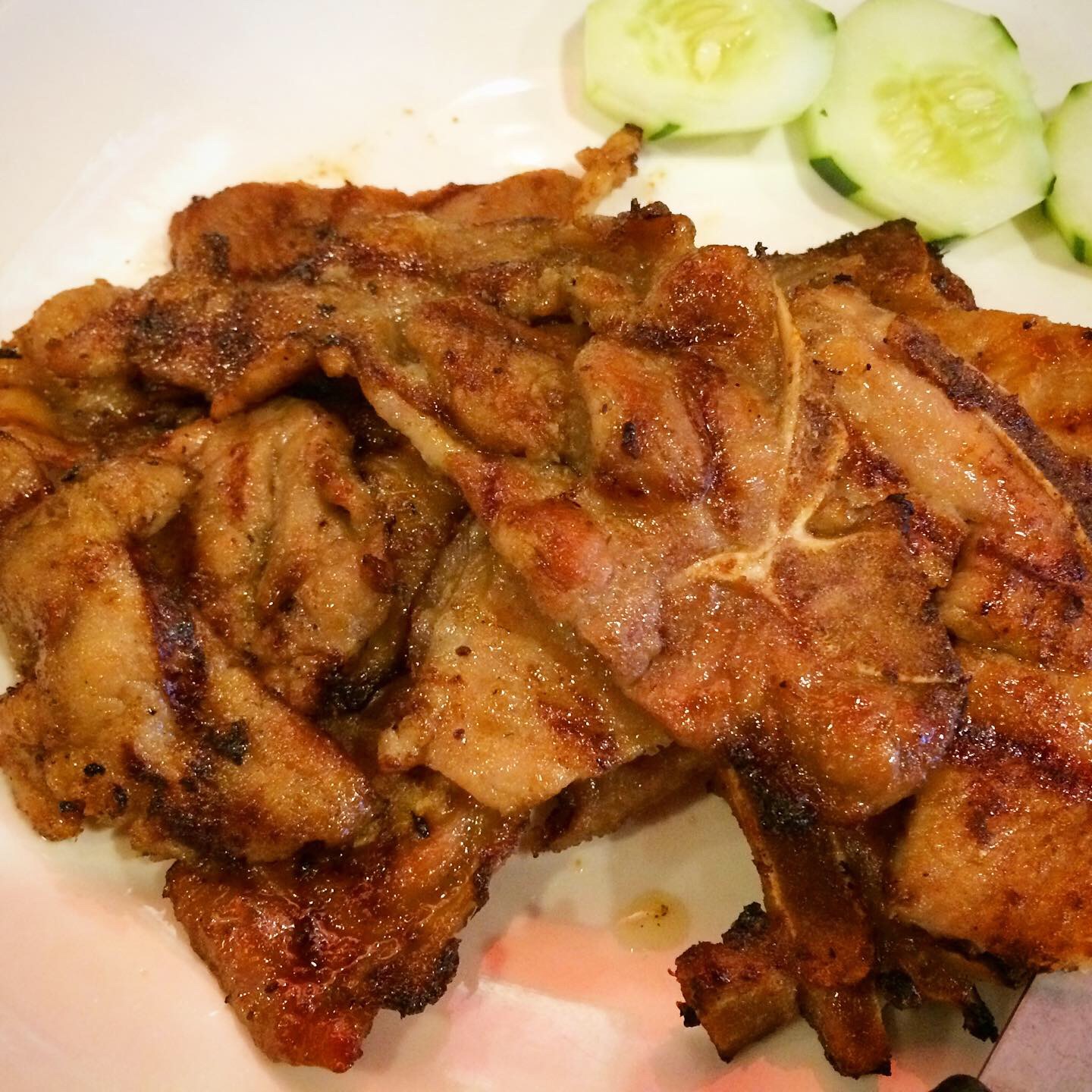 Grilled Pork Chops
Perfectly cooked, expertly seasoned, a plateful of tastiness.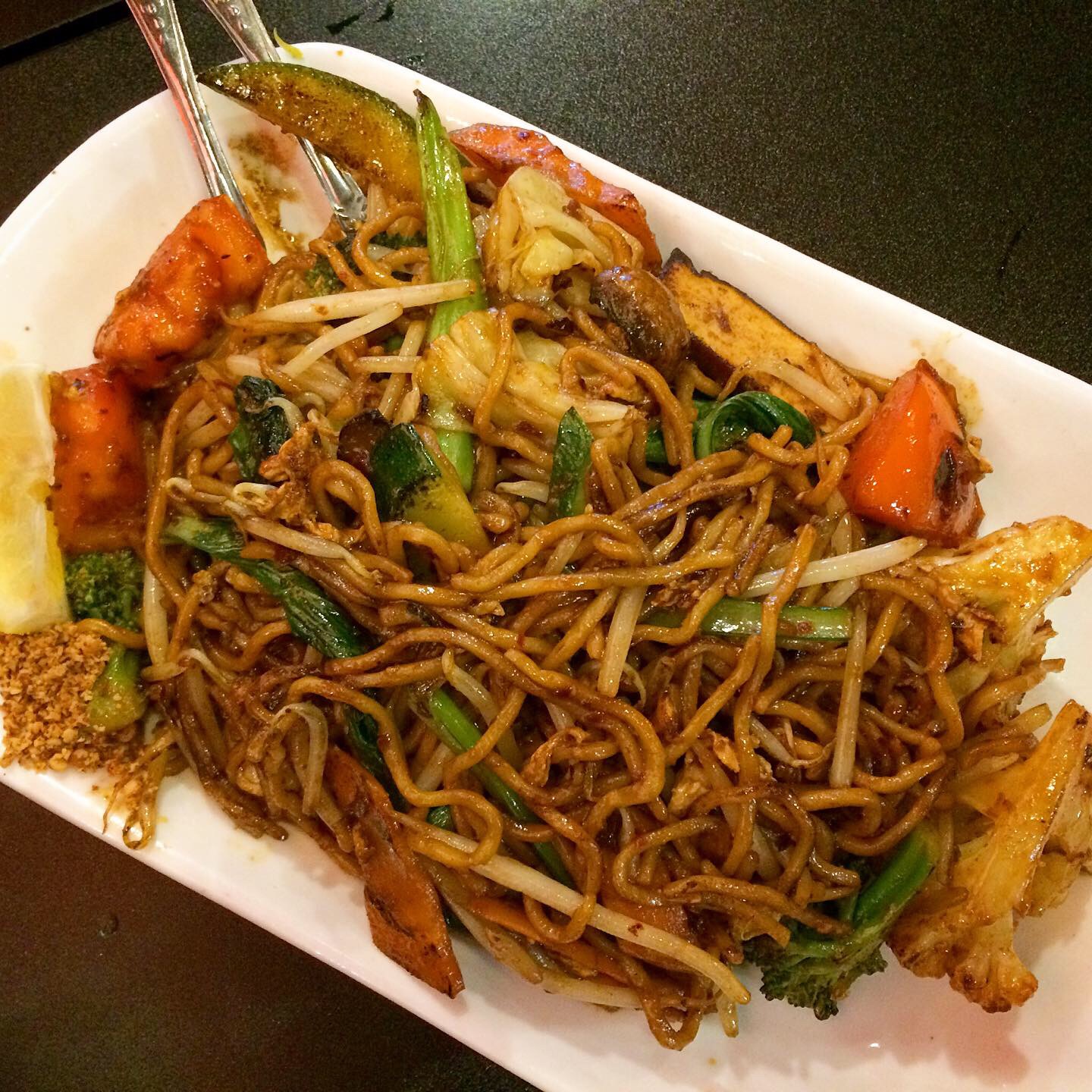 Indian Mee Goreng
You might see Mie Goreng but it simply means fried noodles. Spice level adjustable to the taste of the diners, here served with vegetables due to peer pressure. 😉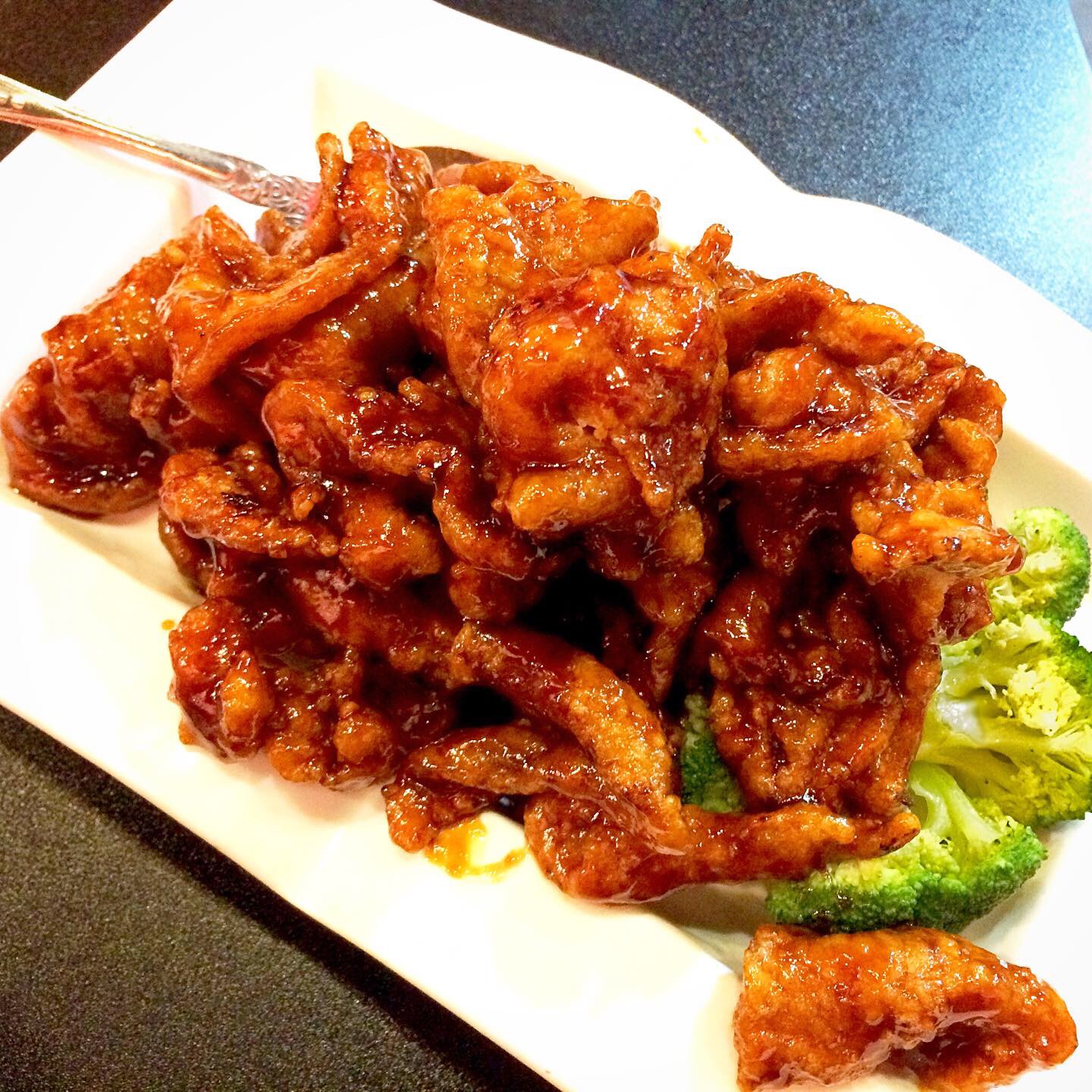 Malaysian Marmite Chicken
There are two kinds of people in this world: those who've never tasted Marmite and those who loathe it. Just kidding. A gift from the Brits, used as an ingredient in cooking or simply spread on a hapless slice of bread, this dark brown, umami-rich, sticky yeast extract could easily serve as a dictionary definition's example of "acquired taste". All of which was enough for me to insist on getting an order of Malaysian Marmite Chicken for the group. The verdict? Crispy, sweet, and fantastic! The moral? Context is everything.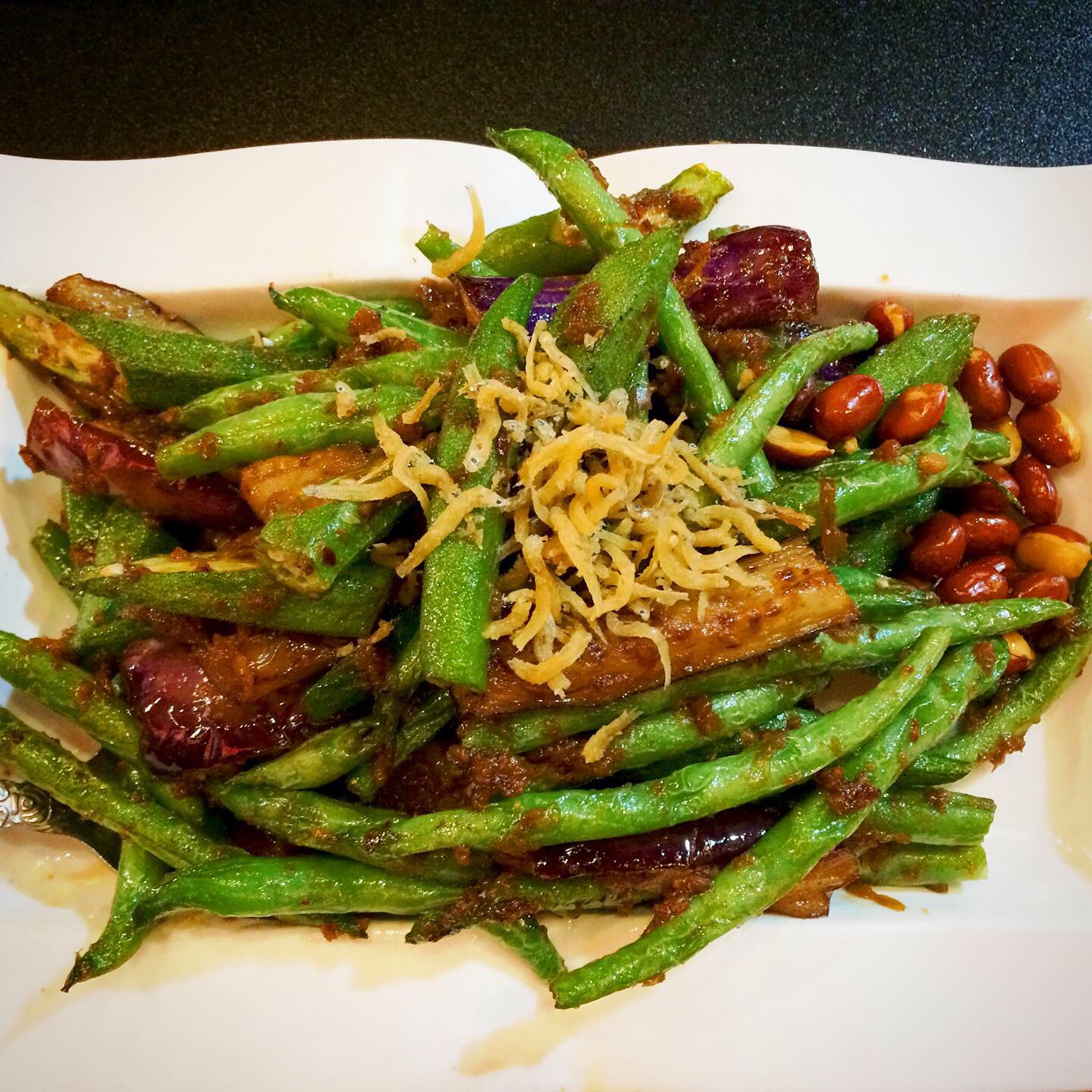 Four Varieties with Belacan
Okra, green beans, eggplant and peanuts in belacan, the ubiquitous Malaysian fermented shrimp paste. Tasty.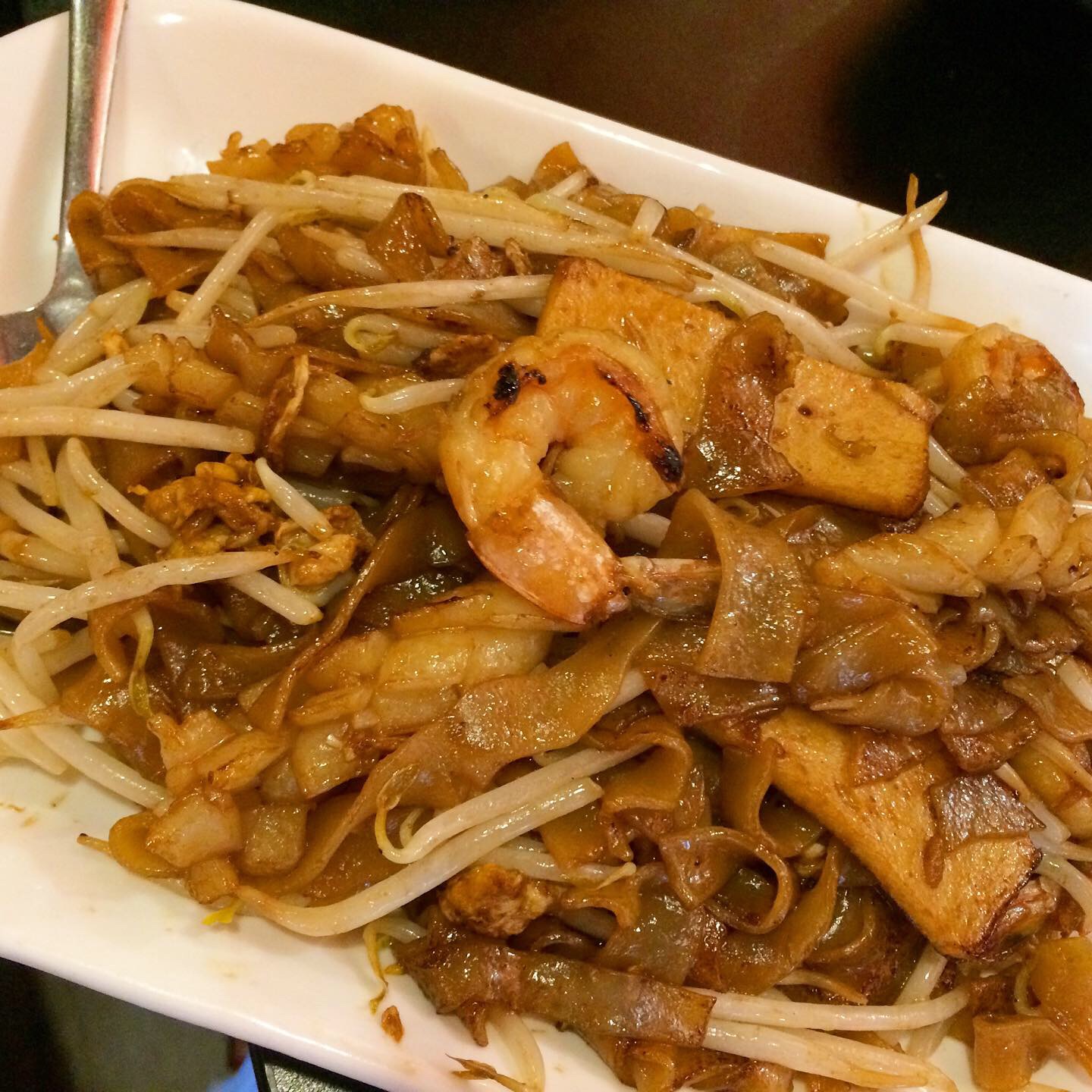 Chow Kueh Teow
Chow Kueh Teow (you might see Chow Kway Teow), one of Malaysia's (many) national dishes. The literal translation is stir-fried rice cake, but this seafood version included shrimp, squid, noodles, bean sprouts and lots more. A classic.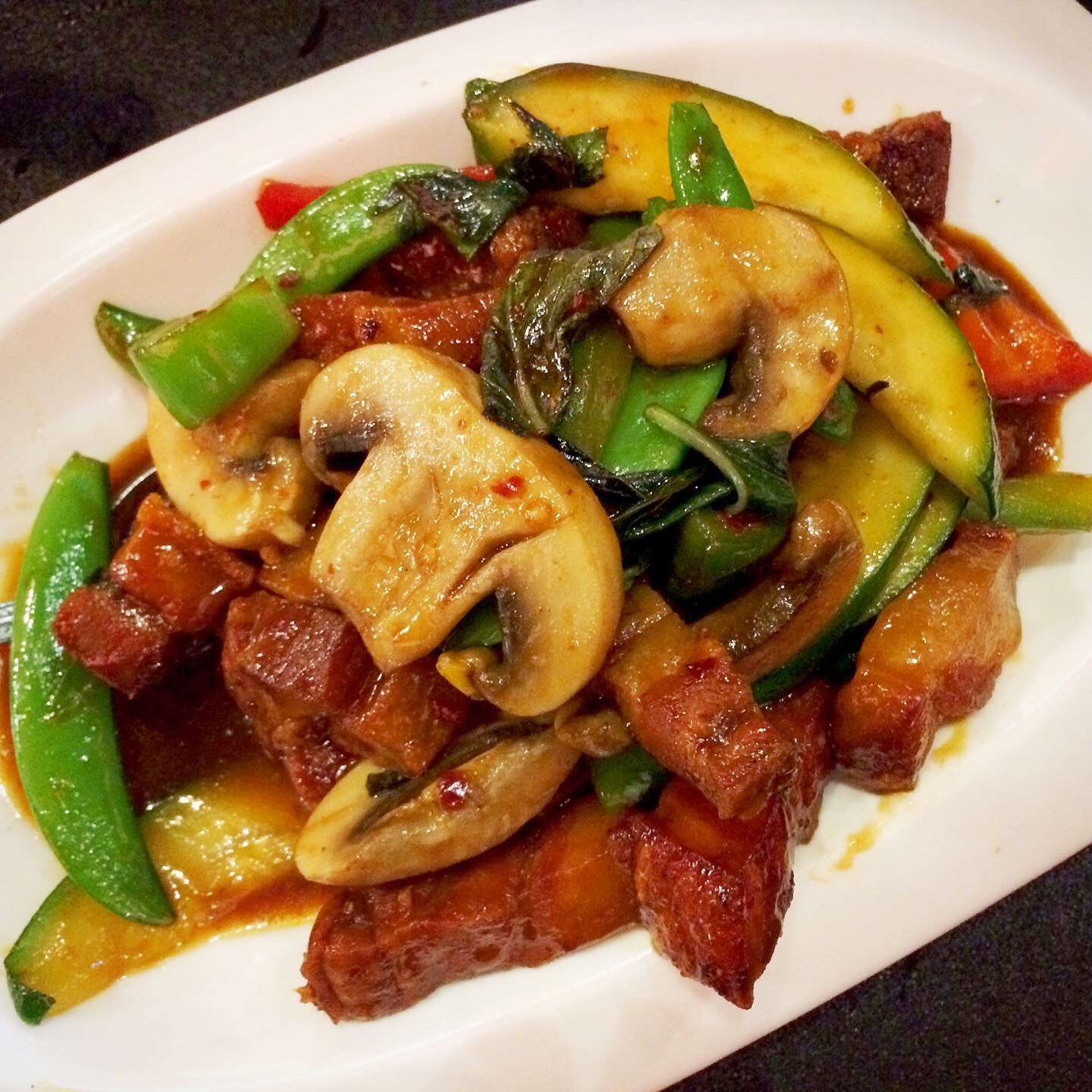 Pork Belly with Basil Sauce
Lots of veggies to balance the fatty richness of the pork in a savory sauce. It's one of the five basic food groups, I'm told. 😉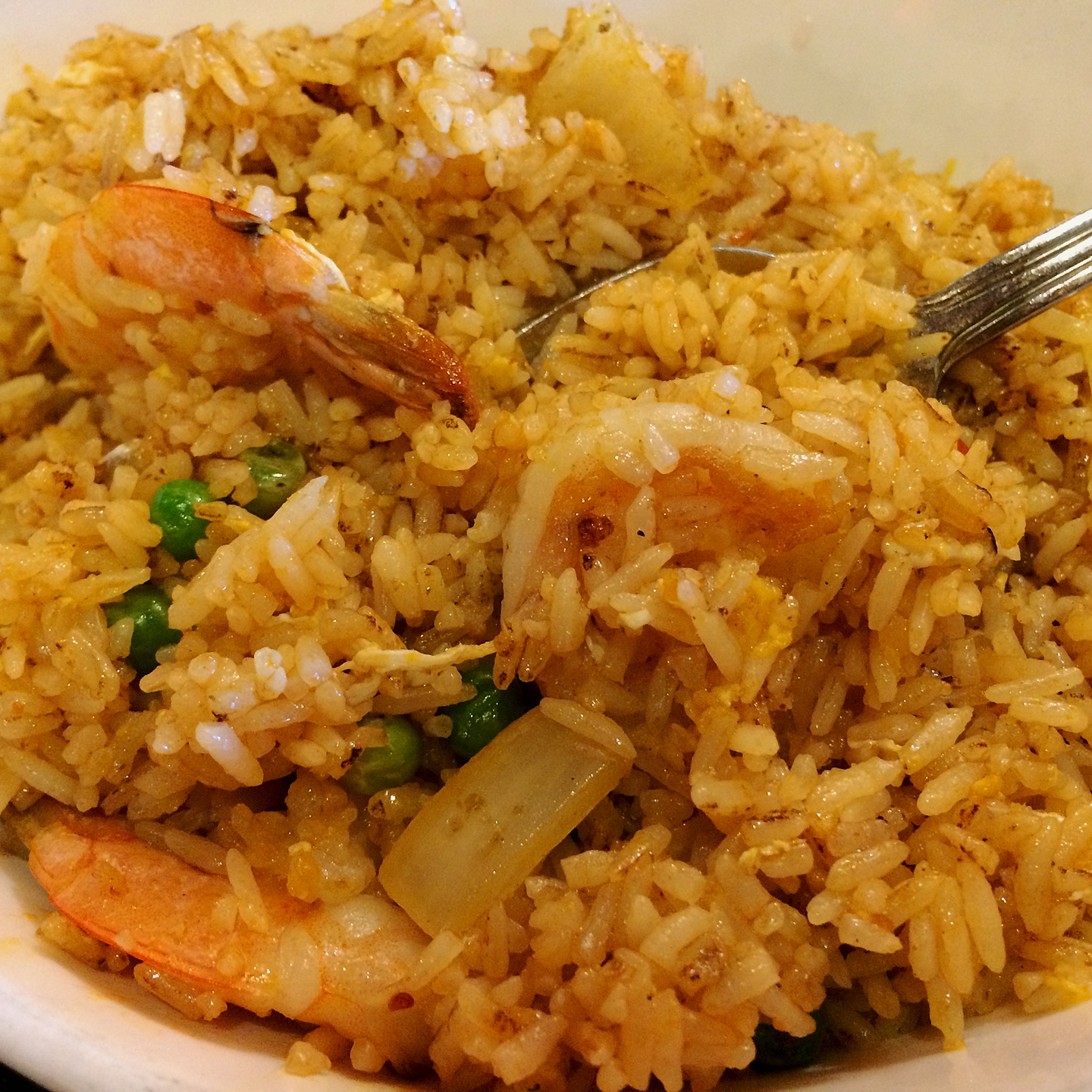 Malaysian Nasi Goreng
Nasi Goreng simply means fried rice; we chose shrimp from among many options.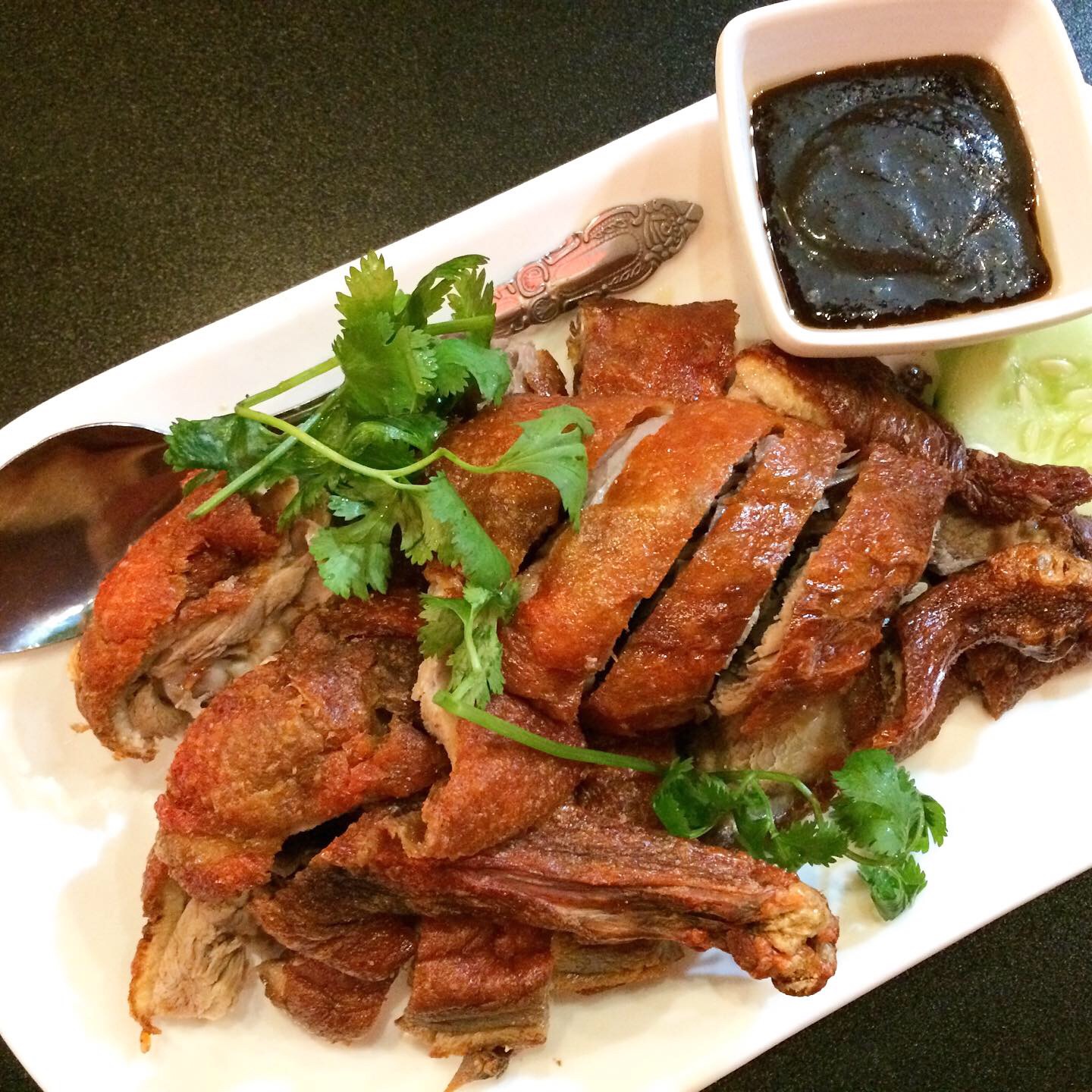 Crispy Fried Duck
Yet another crowd-pleaser. It's crispy. It's fried. It's duck. What more could you possibly need? (Other than an additional order, perhaps.)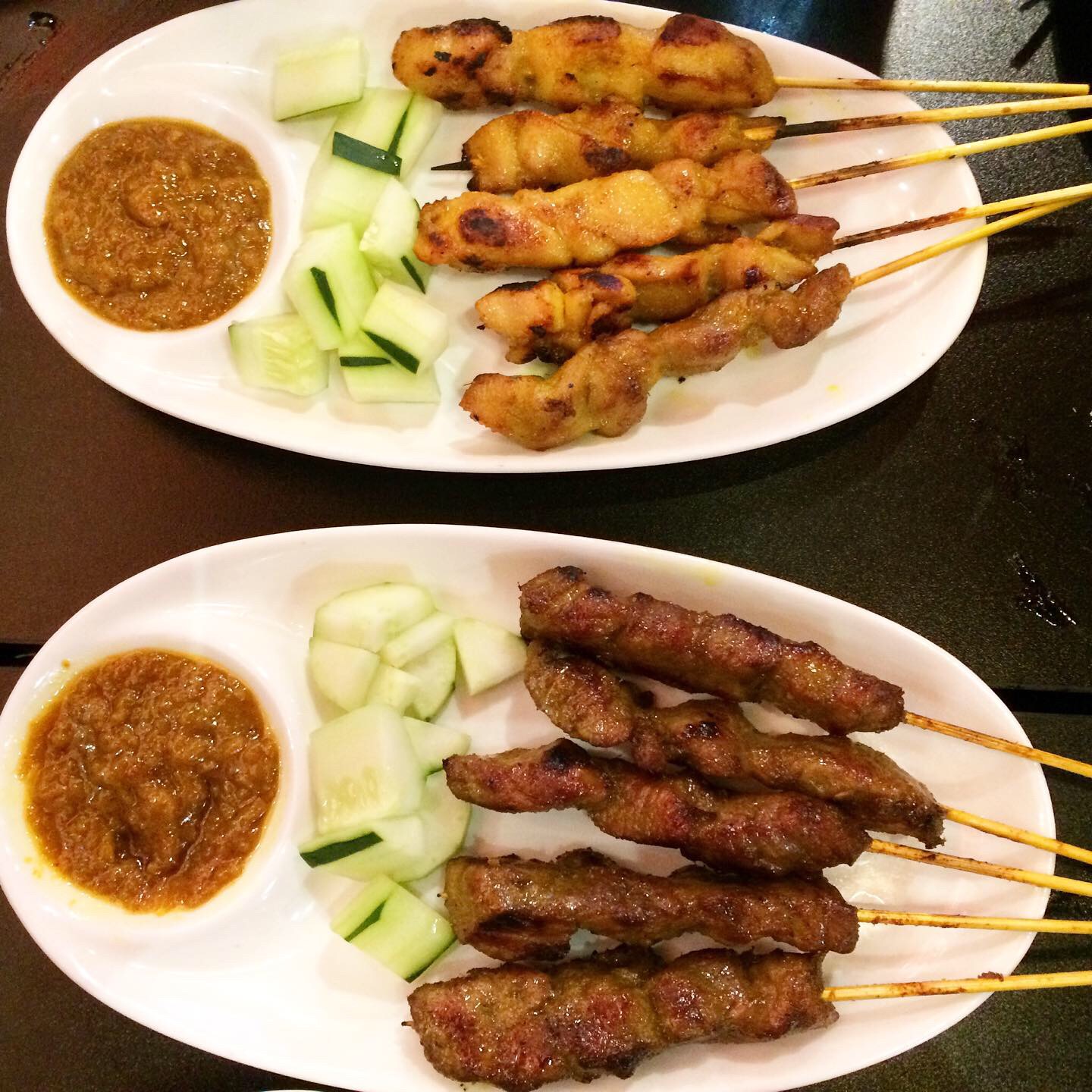 Chicken and Beef Satay
From the Appetizers section of the menu. With roots in Indonesia, it's possibly the first dish that comes to mind at the mention of Southeast Asian street food. (The Indonesian spelling is Sate.) Nicely seasoned and happily not overdone, these were comped at one of our banquets.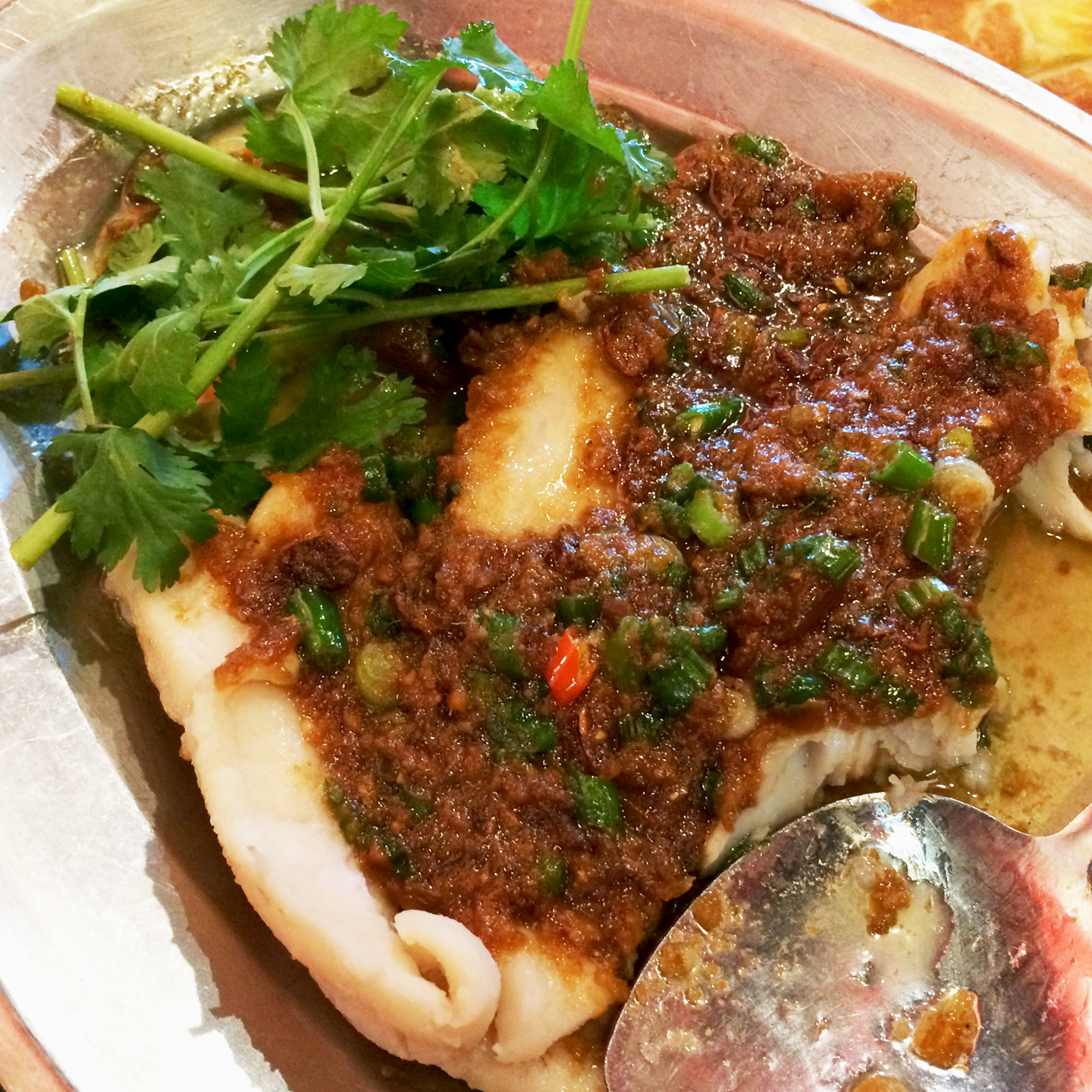 Steamed Fish Fillet in Malaysian Hot Bean Sauce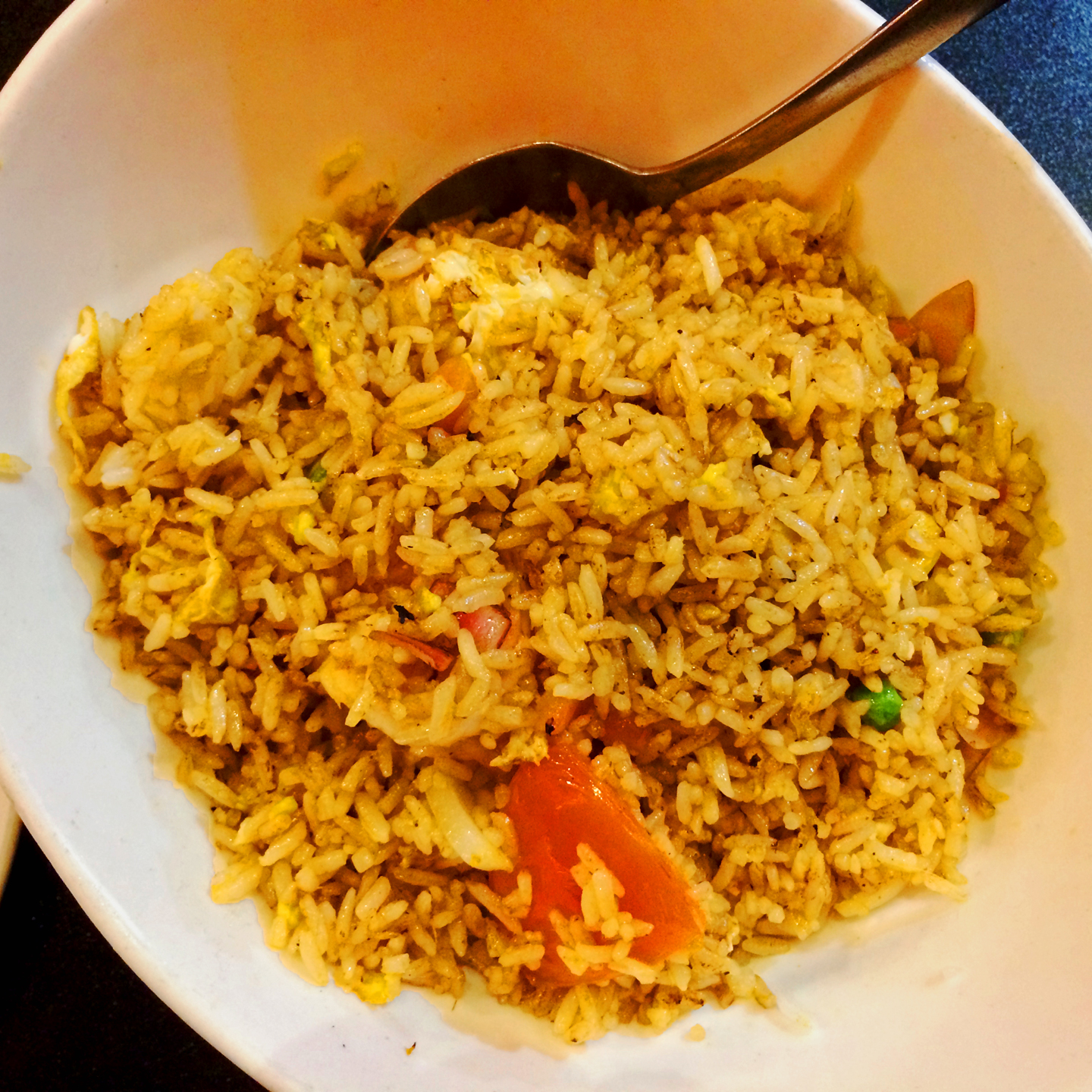 Thai Tom Yum Fried Rice
Tom Yum is a type of hot and sour Thai soup seasoned with lemongrass, makrut lime leaves, galangal, lime juice, fish sauce, and crushed red chili peppers. Here, those ingredients are used to create a unique version of fried rice.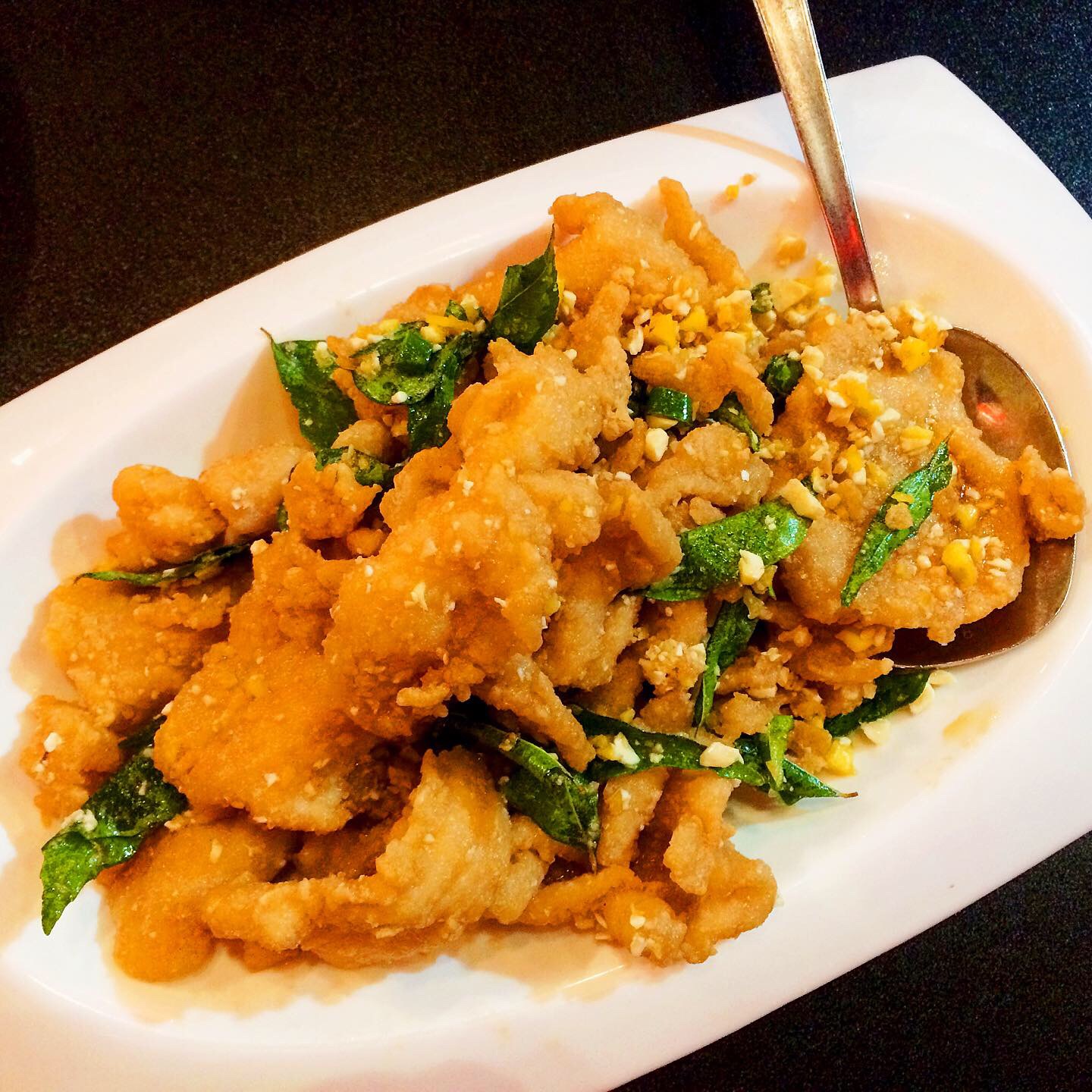 Salted Egg with Chicken
If you've never experienced this dish and you spot it somewhere, I urge you to try it; be on the lookout for it in regional Chinese restaurants around the city as well. Mashed cooked salted duck egg yolks are fried to a frazzle and are then stir fried with just about anything from poultry or seafood to vegetables (an egregious oversimplification) which serves to coat the chief ingredient. The word "addictive" is overused in food writing, but it does convey its potential. Coco's version has a teeny kick, a welcome attribute.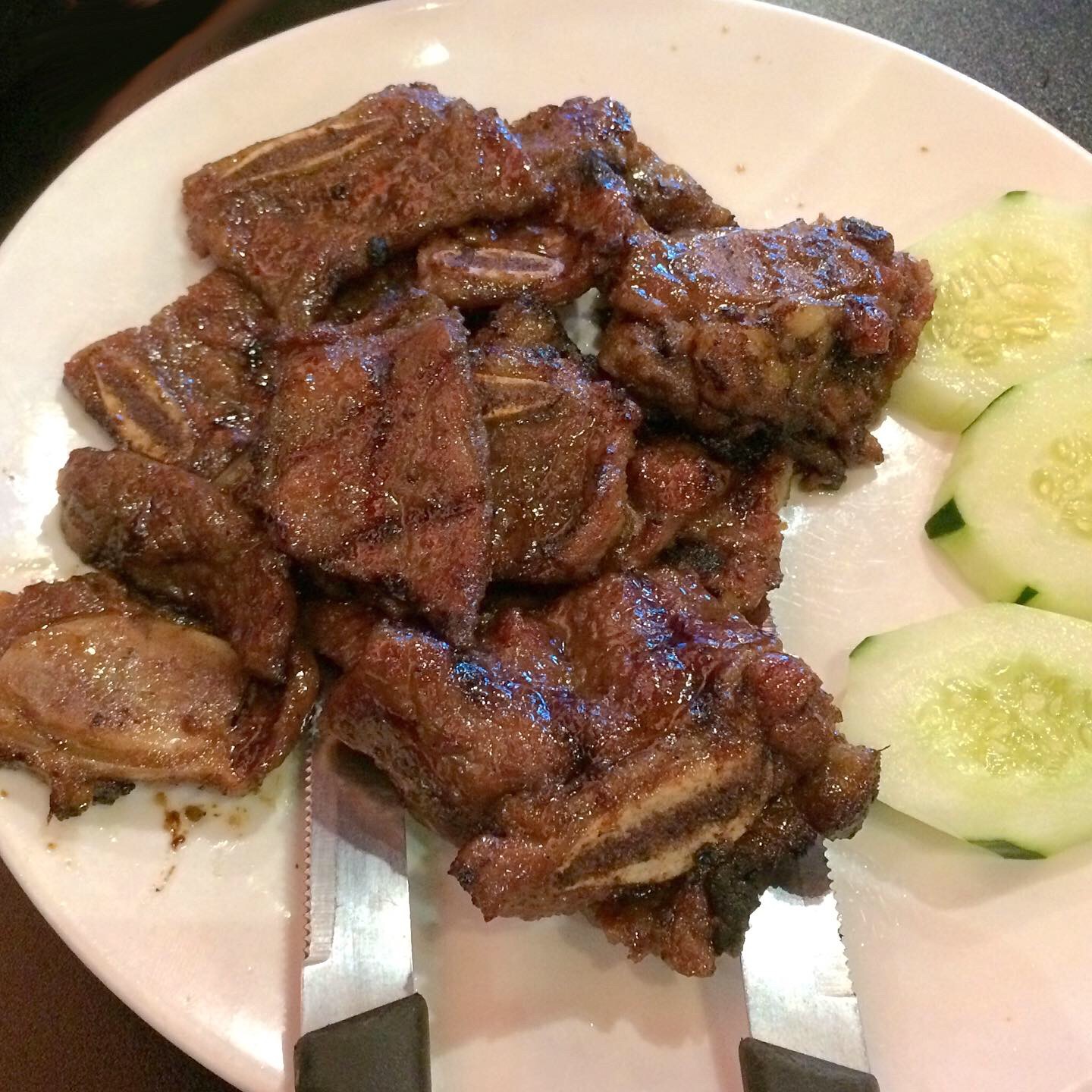 Grilled Beef Short Ribs
Tender, meaty, well-seasoned, and met with appreciative sighs of yumlike murmurs from the assemblage.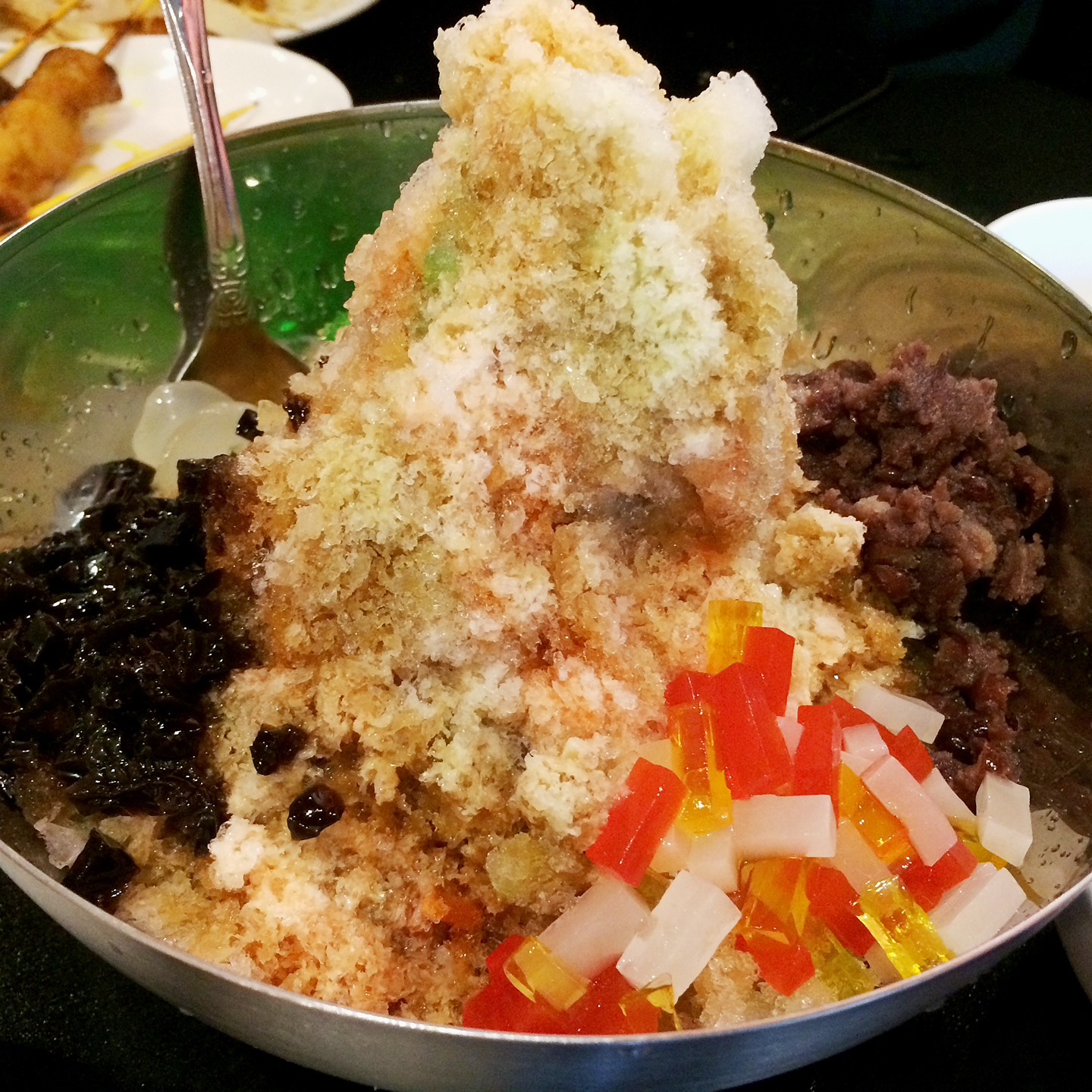 Rainbow Ice
Shave ice is a popular dessert across many cultures, particularly those of warmer climes. Here's Coco's contribution.


Coco is located at 82-69 Broadway in Elmhurst, Queens.