(Click on any image to view it in high resolution.)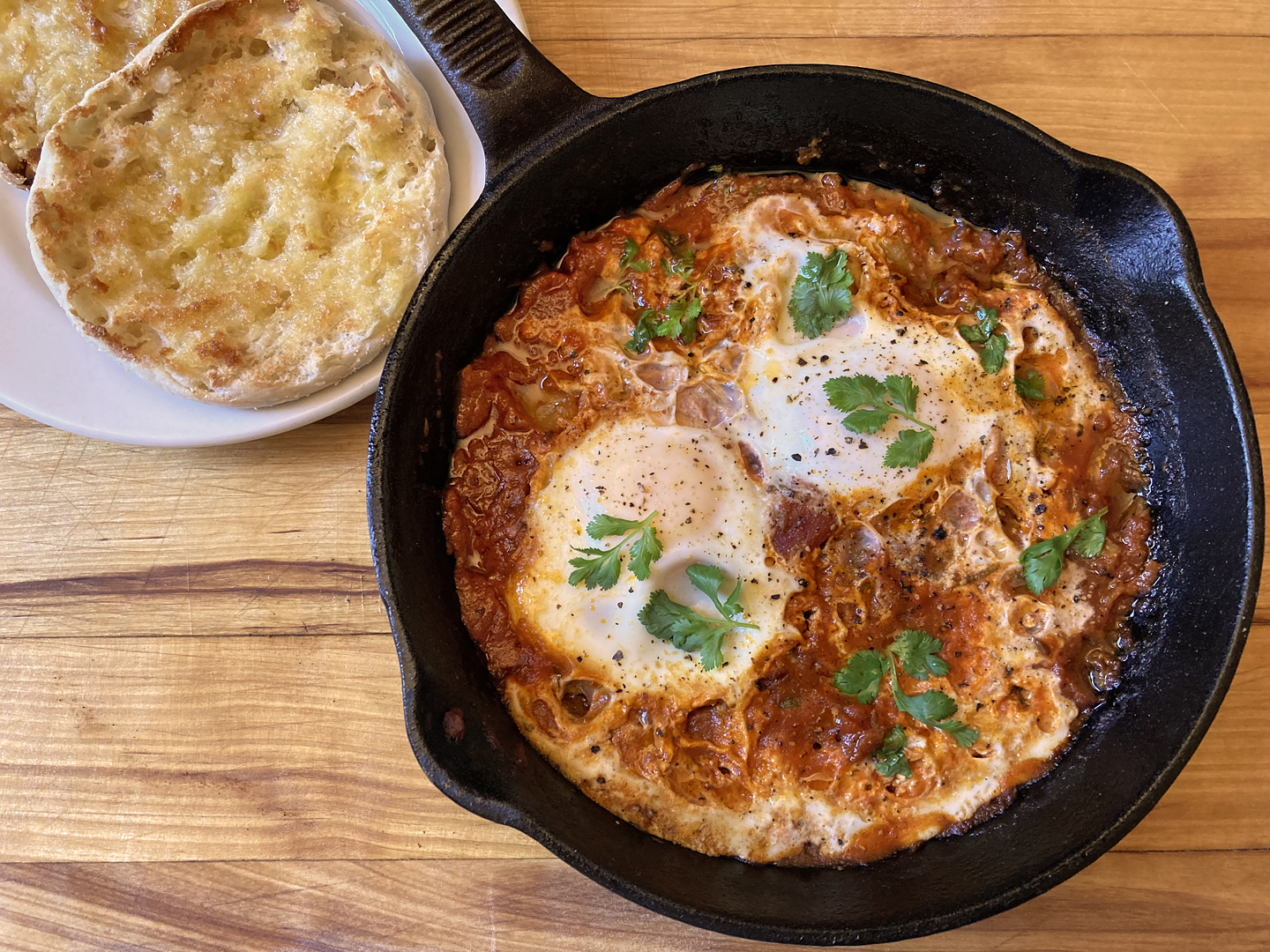 I hadn't been considering taking a photo of this and there isn't even any backstory except that I had been reading a food website's newsletter that happened to be singing the praises of shakshuka. I'm told that I'm hopelessly suggestable when it comes to food choices (okay, fine, guilty as charged) so you know what took place next, totally spur of the moment.
Shakshuka comes with some weighty baggage regarding its origin and consequently a predictable carry-on of spelling alternatives. Best I can tell, it got its start in Ottoman North Africa; Morocco, Algeria, Tunisia, Libya, Turkey, Israel, Palestine, and Yemen among others proudly include it among their national cuisines, each with its own accent of course.
Essentially, shakshuka is tomato sauce (canned tomatoes are fine if you don't have great fresh tomatoes and great amounts of time) pointed up with onions, peppers, and garlic in which eggs are poached; the basic recipe is pretty simple although it calls for a soupçon of finesse at the stove when nestling the raw eggs into the sauce. But beyond the fundamentals, international flights of fancy take off involving an assortment of seasonings that run the gamut from sweet to spicy and the inclusion of black olives, preserved lemon, feta cheese and such, as well as representative meats and vegetables (think merguez or chickpeas). Space and deference to your plans for the remainder of the day preclude my listing them all here.
My extemporaneous seasonings that day included lots of toasted ground cumin and whole cumin seeds, smoked paprika, harissa to kick it up, and cilantro as an integral ingredient as well as a garnish. Pretty straightforward, but I was motivated, and sans forethought I used whatever I had on hand. I did veer from the canon, however, by anointing it with white truffle oil post poach.
I can't imagine this dish without bread – but English muffins instead of a more appropriate North African or Middle Eastern bread? Say it with me: because that's what I had on hand!