(Click on any image to view it in high resolution.)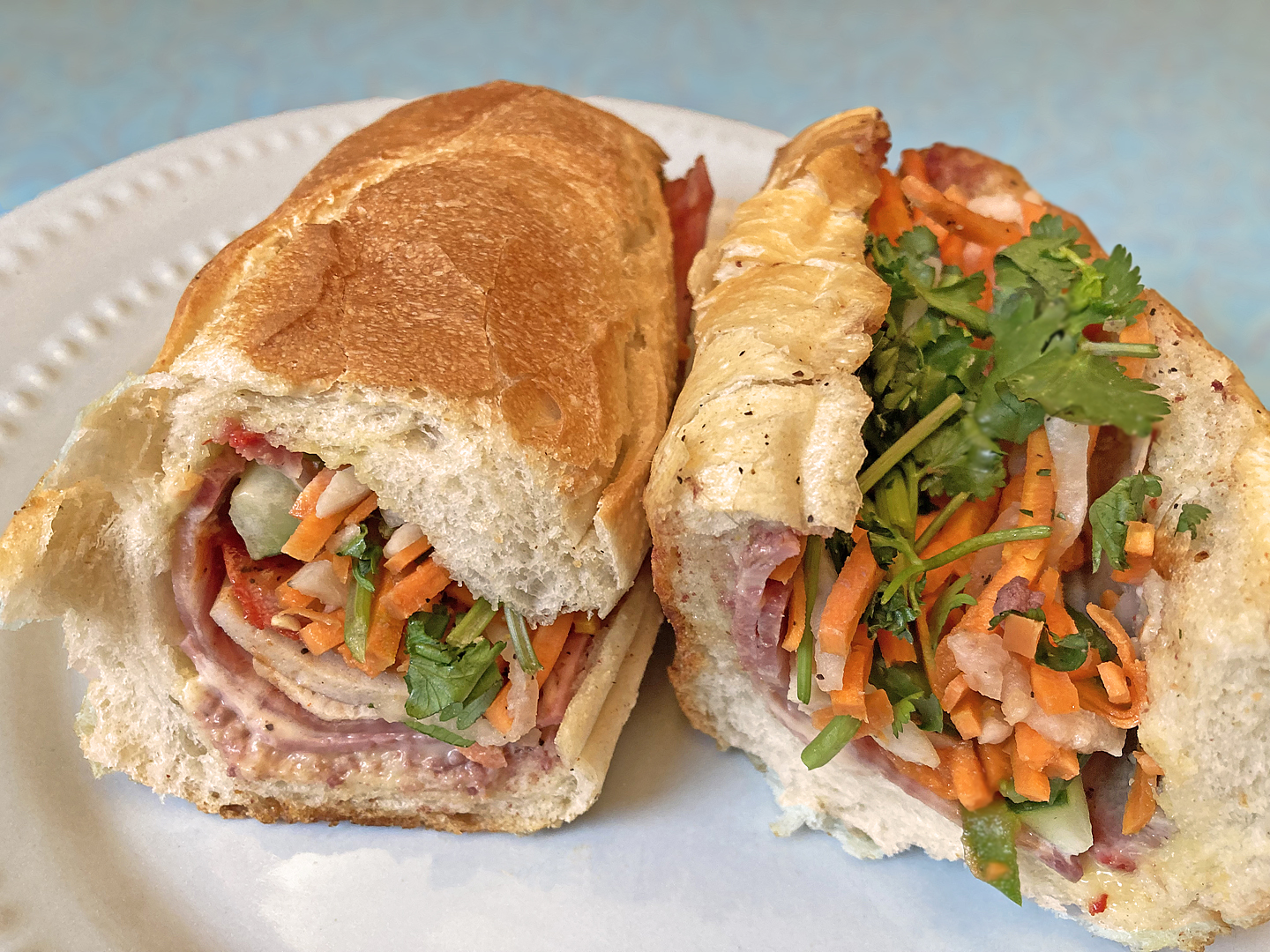 It seems that Bánh Mì, the deservedly vaunted Vietnamese sandwich, is ubiquitous these days. In the past I loved them, but lately it feels like the thrill is gone. Have I gone off my feed on these beauties? I vividly remember the bánh mì I once craved. What happened?
So I decided to return to a place that I used to visit frequently about 20 years ago, before bánh mì eateries were as common as taco joints: Bà Xuyên at 4222 8th Ave in Brooklyn's Sunset Park. For old times' sake, I got a Bánh Mì Thịt Nguội, the Combination #1, in an attempt to try to figure out why my tastes had changed so radically.
Turns out my tastes have not changed. Not in the least. The #1 was still number one. But the pervasive copycats have been ruining it for everyone. And we've become inured to their (IMHO lackluster) product. I've even heard a few foodies applaud the bánh mì from some of those wannabes.
For starters, using the right bread is crucial. A Vietnamese baguette is paramount, as opposed to a hero roll you could pick up in the bakery department of your local supermart. They're made with a combination of wheat flour and rice flour – for that initial crunch and subsequent crackle. It should be toasted, slightly sweet, sturdy enough to stand up to its fillings but still airy, fluffy and a little chewy, with a crust that's crisp but not so inflexible as to declare war on the roof of your mouth.
Now for the fillings. Pay attention, impostors: it's more than just a few slices of Vietnamese cold cuts and some shredded veggies. For the classic, Bà Xuyên's sine qua non condiment is a blend of Vietnamese pâté and melted butter (and probably some Maggi seasoning) slathered on the bread before loading it with ham, head cheese, pork roll, pork teriyaki and BBQ pork, and finally topping it with sliced cucumber, perfectly pickled carrots and daikon radish plus cilantro and spicy green pepper.
My two cents. Sorry, not sorry.
Marvin and Tammi said it best: Ain't nothing like the real thing, baby!