Part of what I'm calling the "Golden Oldies" series: photos I had posted on Instagram in bygone days that surely belong here as well, from restaurants that are still doing business, still relevant, and still worth a trip. This one originally appeared as two posts, published on March 28-29, 2018.
Ever been up for Southeast Asian food but couldn't decide which cuisine would best tickle your tastebuds? Then Wok Wok Southeast Asian Kitchen, 11 Mott Street, Manhattan, has your answer with its dizzying array of Southeast Asian fare. They cover a lot of territory serving up dishes from Malaysia, Thailand, Indonesia, Vietnam, Philippines, India, Singapore, and various regions of China, and perusing their colorful menu is like taking a survey course in popular street food of the region.
(Click on any image to view it in high resolution.)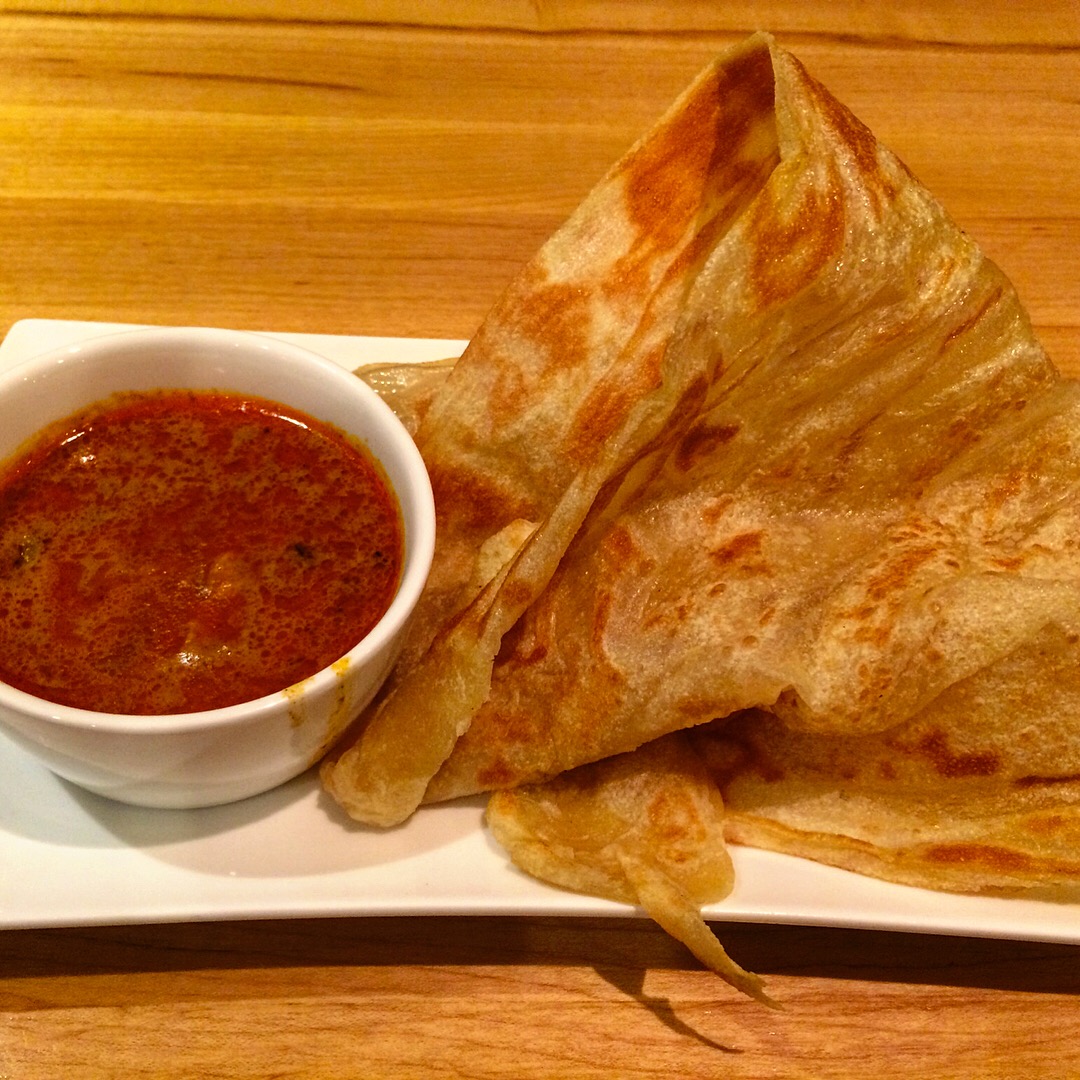 We started with Original Roti, a dish you may know as roti canai, consisting of Indian style flatbread with a chicken and potato curry sauce for dipping. Properly crispy outside and fluffy within, it was the perfect medium for savoring the luscious sauce.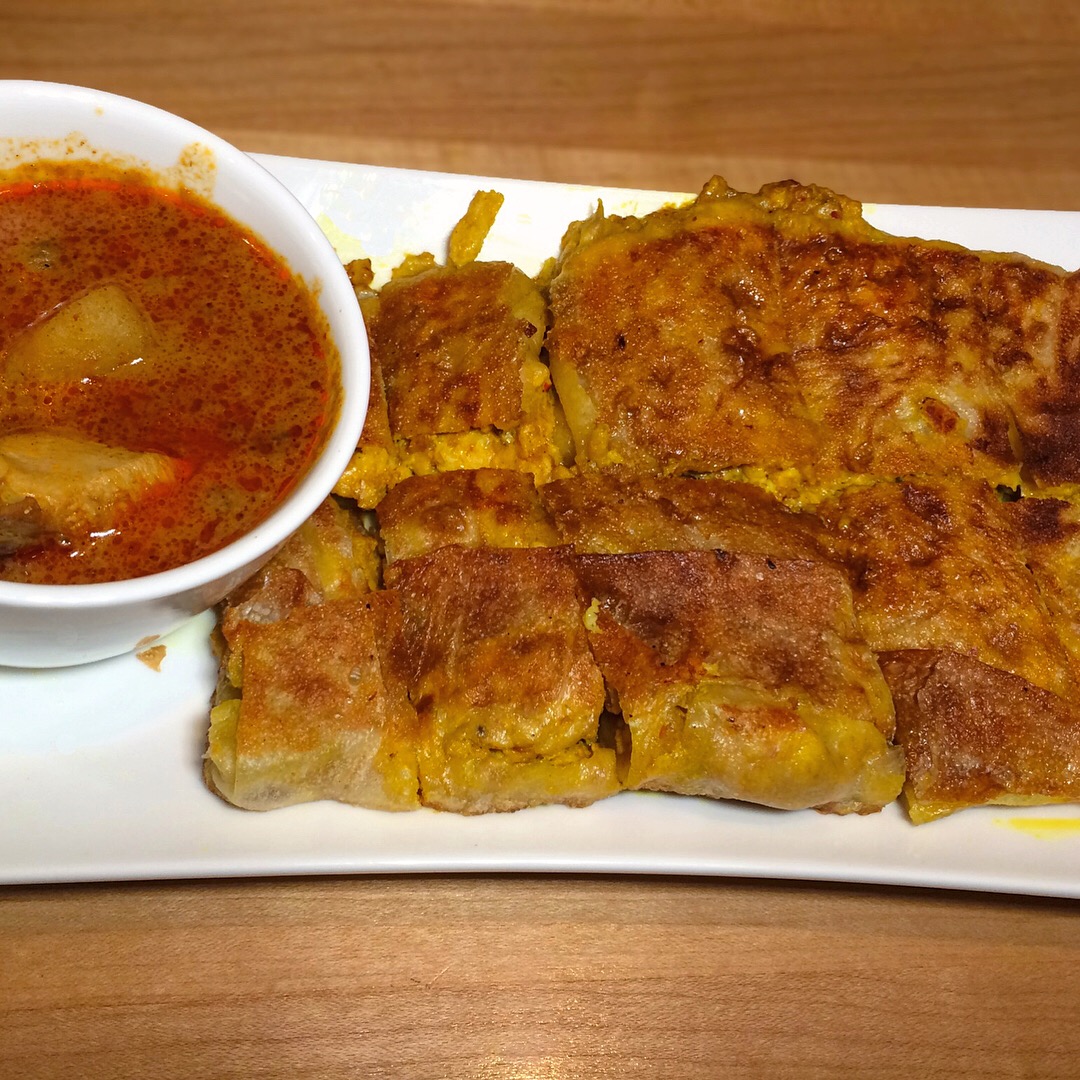 Roti Murtabak, another crepe, this time folded around a spiced chicken and egg mixture and also accompanied by the potato chicken curry, had a pleasantly spicy little kick to it. A cut above what we've had elsewhere.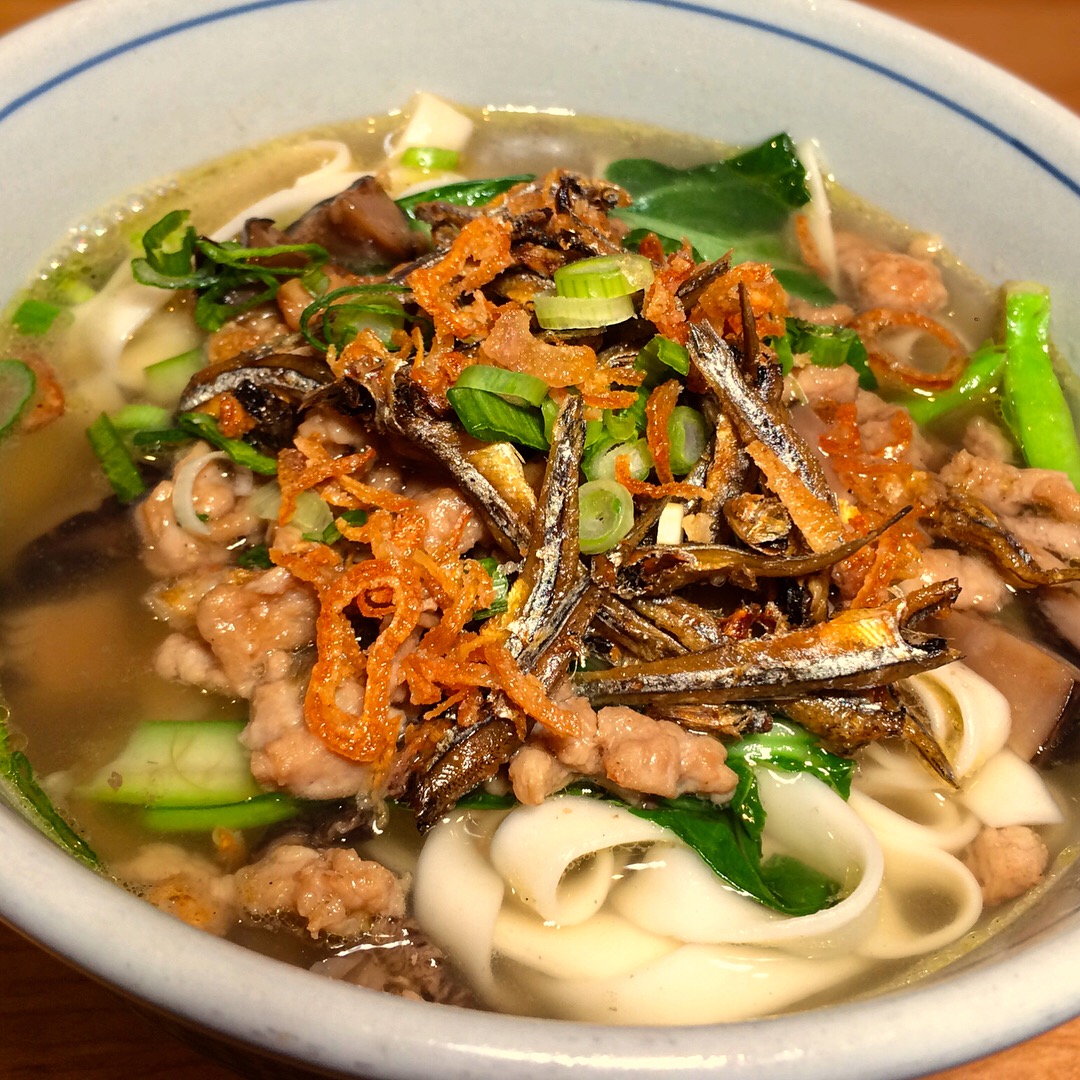 Our soup course was Hakka Mushroom Pan Mee, a study in contrasts. Springy handmade noodles topped with silvery crispy dried anchovies, earthy mushrooms, chewy bits of minced pork, and tender greens in a clear broth that was richer than I had anticipated.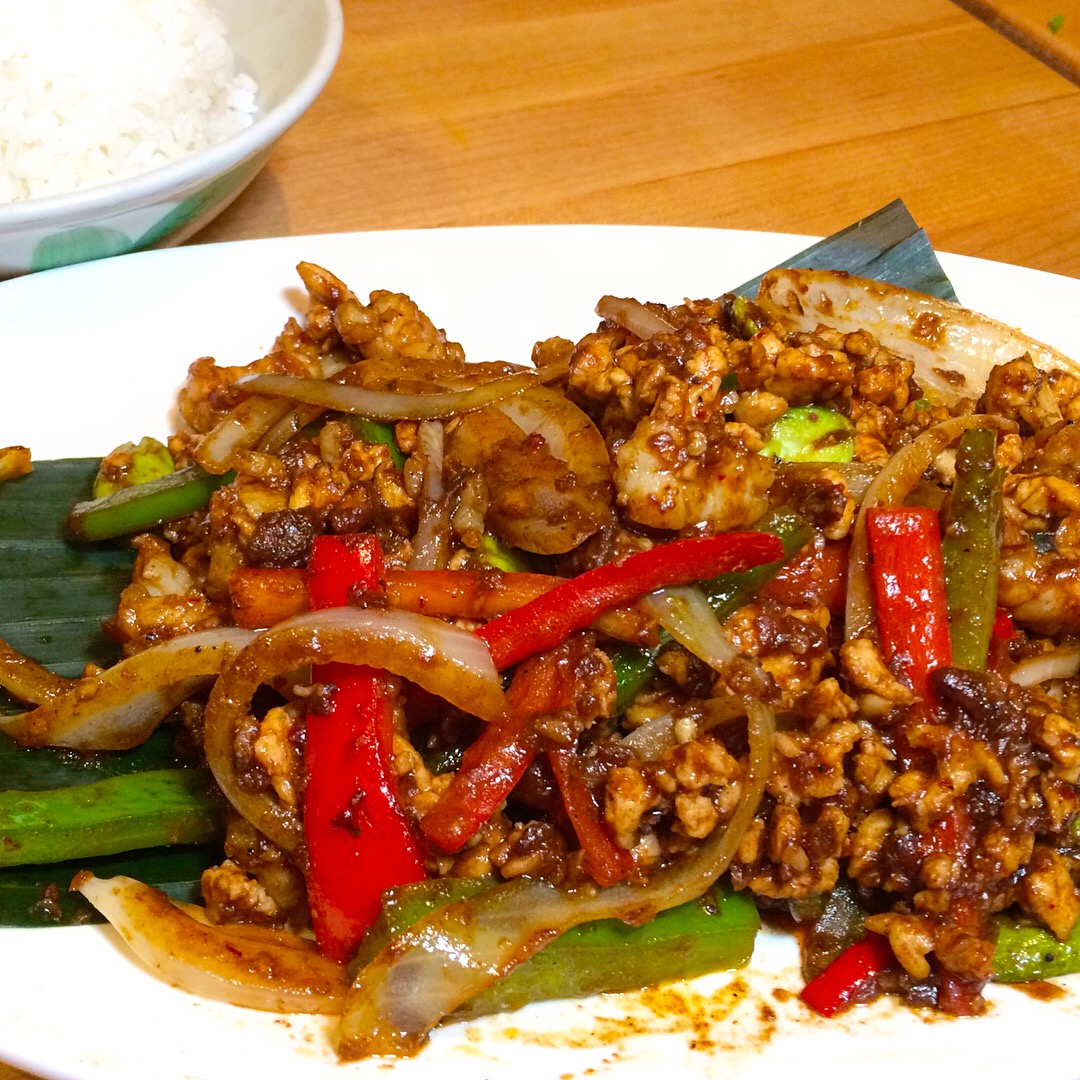 Spicy Minced Chicken, Shrimp and Sato – ground chicken and chunks of shrimp with sato cooked in a belacan based sauce. Sato, also known as petai and sometimes stink bean, is a little bitter, a little smelly perhaps, but quite enjoyable. Belacan is fermented fish paste; most Southeast Asian cuisines have their own spin on this pungent condiment, and it's particularly characteristic of Malaysian food. Maybe it's an acquired taste, but I think it imparts a subtle flavor that renders this dish delicious.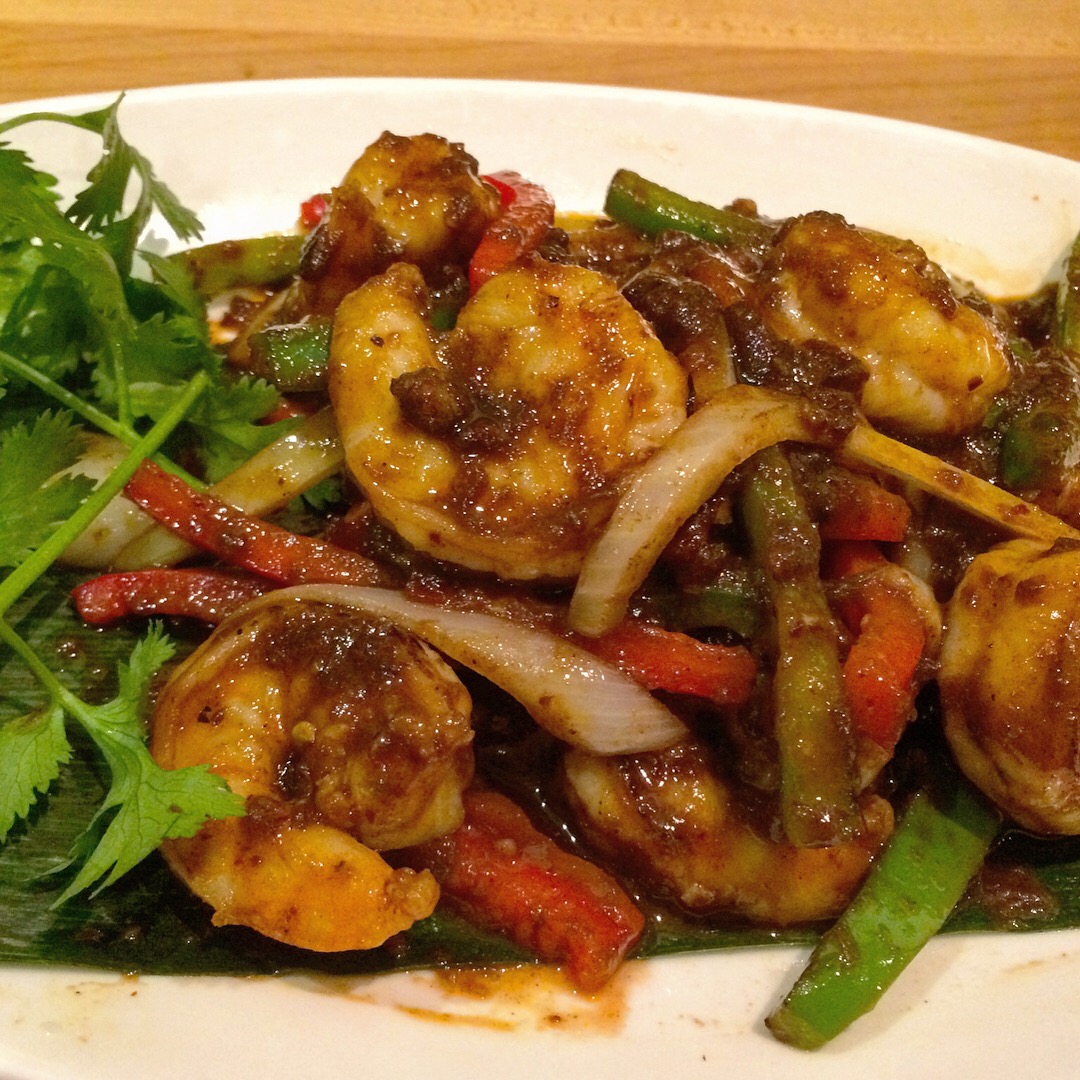 Spicy Sambal Seafood – plump and juicy jumbo shrimp sautéed in spicy Malaysian belacan sambal with onions and peppers was excellent – best enjoyed over rice.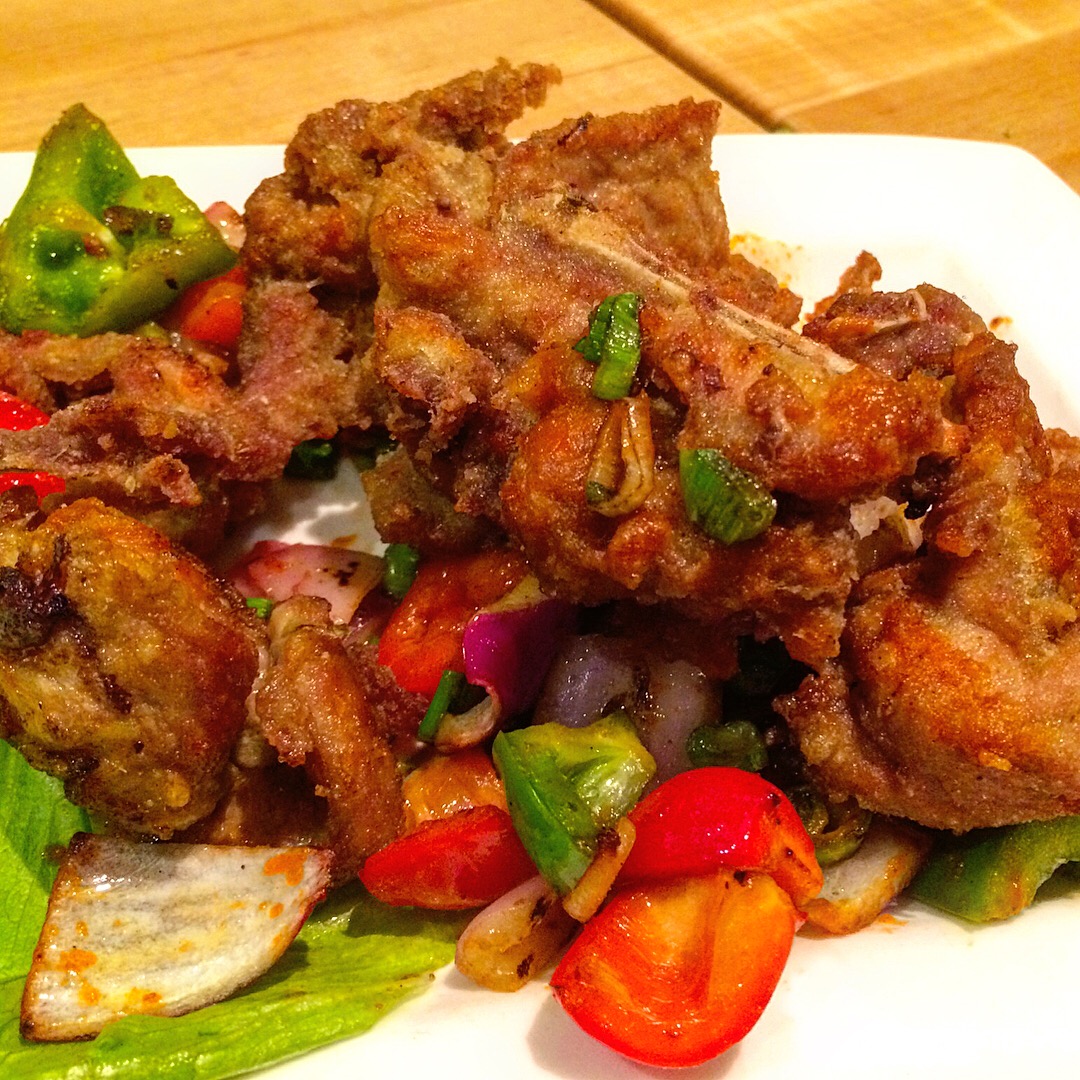 Malaysian Salt & Pepper Pork Chop had a tiny bit of sweet and sour sauce gracing it. We've tasted versions of this dish that were crisper and thinner and unadorned by any manner of sauce. Not bad at all, but not what we were expecting from the name.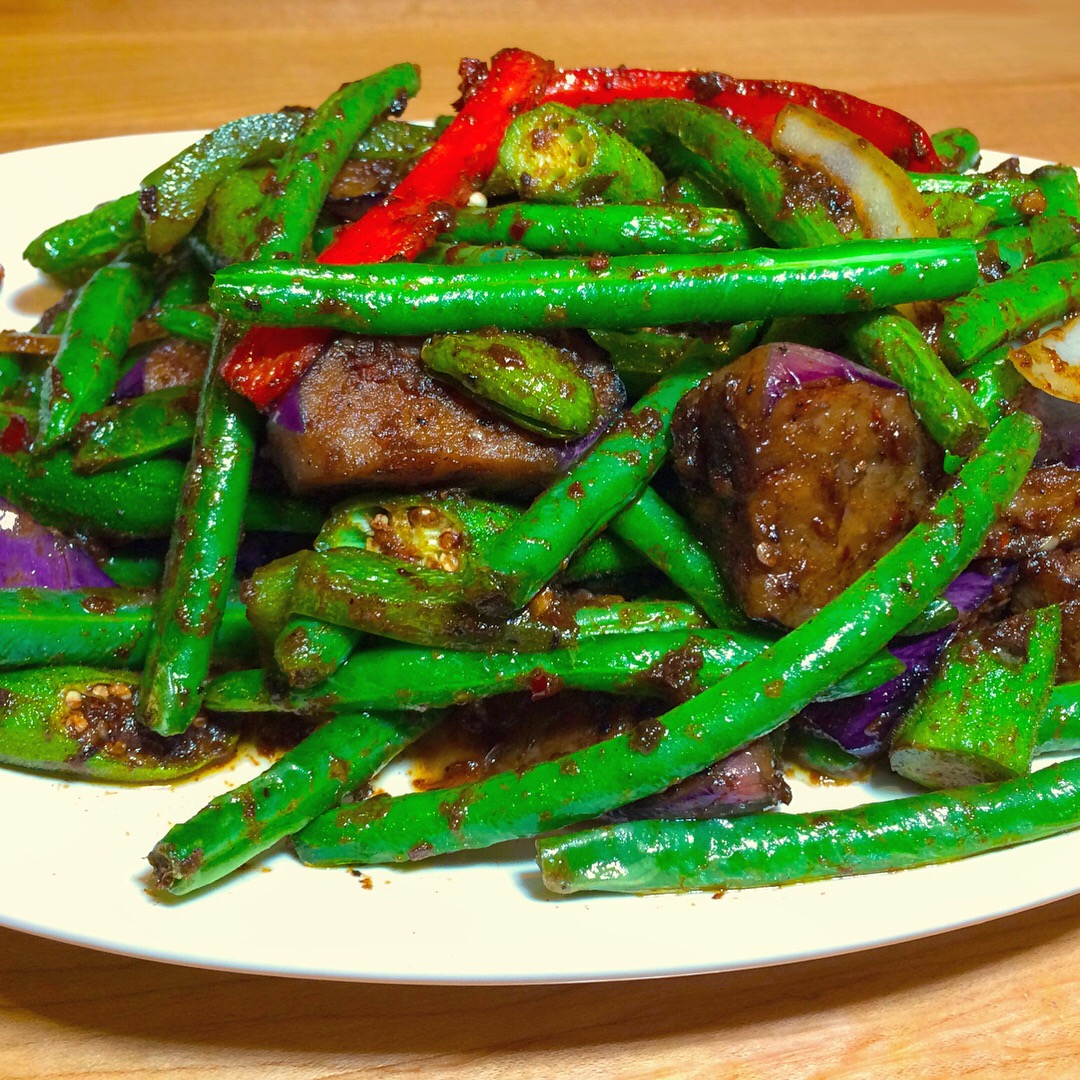 Four of a Kind Belacan – to me, the only thing these four vegetables have in common is that they're all green! Beyond that, the flavors, textures, and even the shapes differ radically – and that's a good thing in my opinion. String beans, eggplant, okra (not at all slimy), and sato are united by the medium spicy belacan sambal; stink bean and belacan play well together and the combination is a singularly Malaysian flavor profile.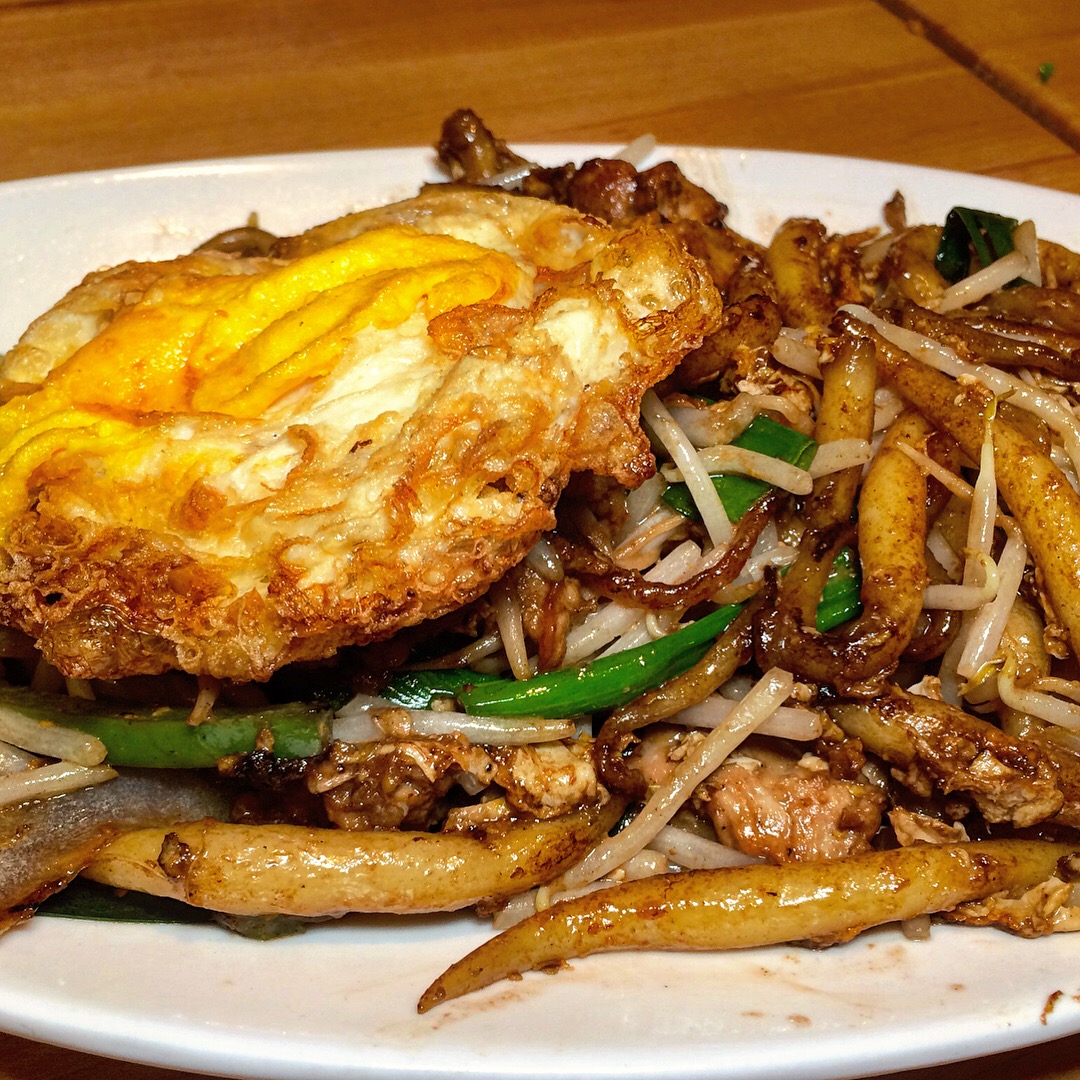 Stir Fry Pearl Noodle featured eggs, bell pepper, Spanish onion, scallion, and bean sprouts with pork. This is actually one of my favorite dishes and not all that easy to find. Pearl noodles, sometimes known as silver noodles, silver needles, and other fanciful names, are chewy rice noodles that are thick at one end and then taper to a point at the other (look closely at the little tail at the bottom of the photo and you'll see why one of those fanciful names is rat tail noodle). They're generally stir-fried to pick up a little browning and a lot of wok hei (aka wok qi, the breath of the wok) that ineffable taste/aroma that can only be achieved by ferocious cooking over incendiary heat. Not at all spicy, this one is always a favorite.
Due to a communications mix-up, a couple of dishes came out that weren't what we ordered. Everything we tasted that day was very good, but I want to make sure that you don't end up with two or three similar dishes – for example, one belacan and/or sato offering is plenty for the table – because I want you to experience a broad range of flavors, and Wok Wok is most assuredly up to the task. Choose a wide variety of disparate dishes, perhaps even from different parts of Southeast Asia, and you'll go home happy and satisfied!


And a reminder, once again, to please SUPPORT CHINATOWN!


Wok Wok Southeast Asian Kitchen is located at 11 Mott Street, Manhattan.