My Instagram posts are usually brief takes on restaurants accompanied by a photo or two. (You can see my feed, updated almost daily, here in the "Instagram" category – no signup required.) But folks sometimes ask for fuller reviews and more photos, so in response, here's a more comprehensive report on one of my favorites.
---
It is my distinct pleasure to turn you on to Alley 41 in Flushing, one of the new breed of contemporary Sichuan restaurants, and not to be missed. Alley 41 describes itself as "authentic Szechuan cuisine with a touch of creativity". I describe it as amazing, awesome, and astounding. And that's just the As. Award-winning Master Chef Jiang has composed a menu of dishes that could make even the most stoic diner gush with delight; everything we ordered had a unique, personal spin and was wonderful. There are only so many synonyms for delicious, and toothsome fell out of favor half a century ago, so I'll abandon verbal descriptions and let you ogle the photos. With a seemingly infinite menu, this is one restaurant I'll never tire of.
Here are a few of the extraordinary dishes we tried. (Click any photo to view in glorious high resolution.)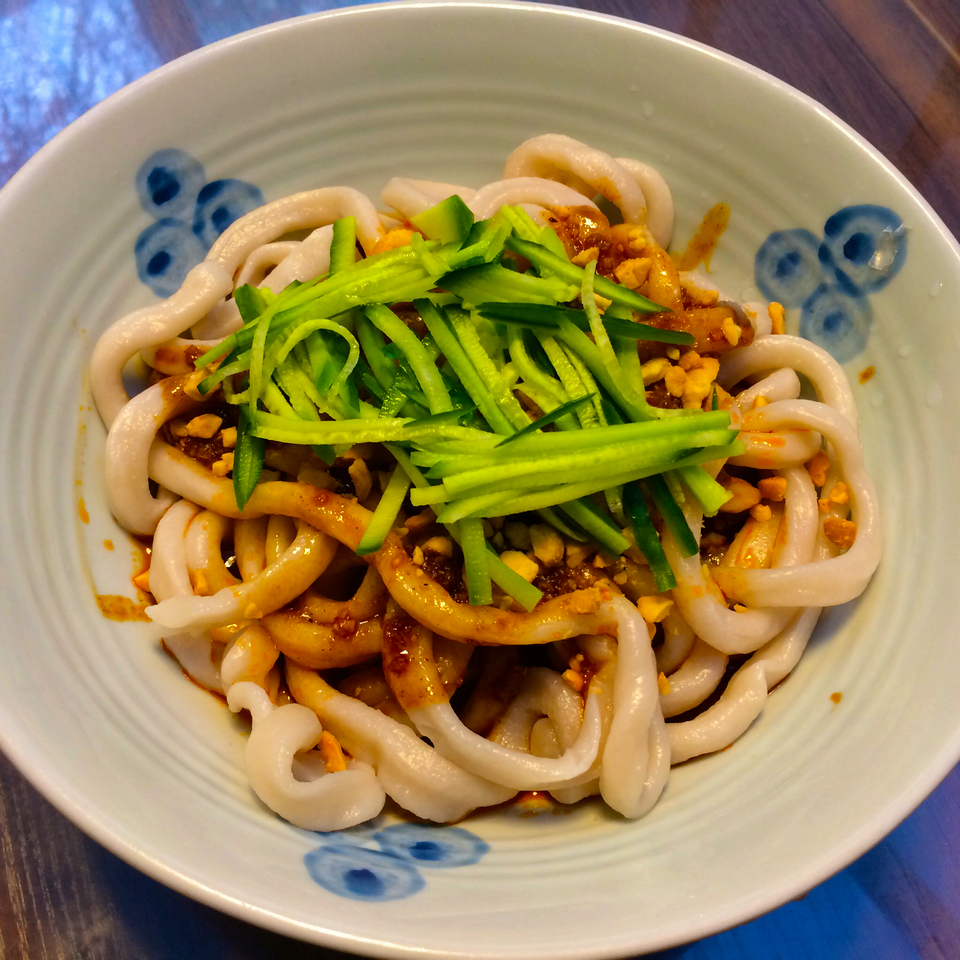 Our first visit to Alley 41 occurred when Chinese Lunar New Year was just around the corner, and I recalled that enjoying long noodles portends a long life. These Sweet and Spicy Noodles are the longest and thickest I've ever encountered, so I gather I'm headed for a long (and chubby) lifetime! If memory serves, each was about a yard long (no hyperbole in this hyperbowl) with an awesome chew, napped with a sauce made of sheer happiness. I say that because their name, tiánshui miàn (甜水麵) taken literally character by character, means sweet water noodle, but the first two characters together can mean "happiness" and I'm sticking with that translation. It's a Sichuan restaurant, but I'm told that these noodles hail from Dongbei.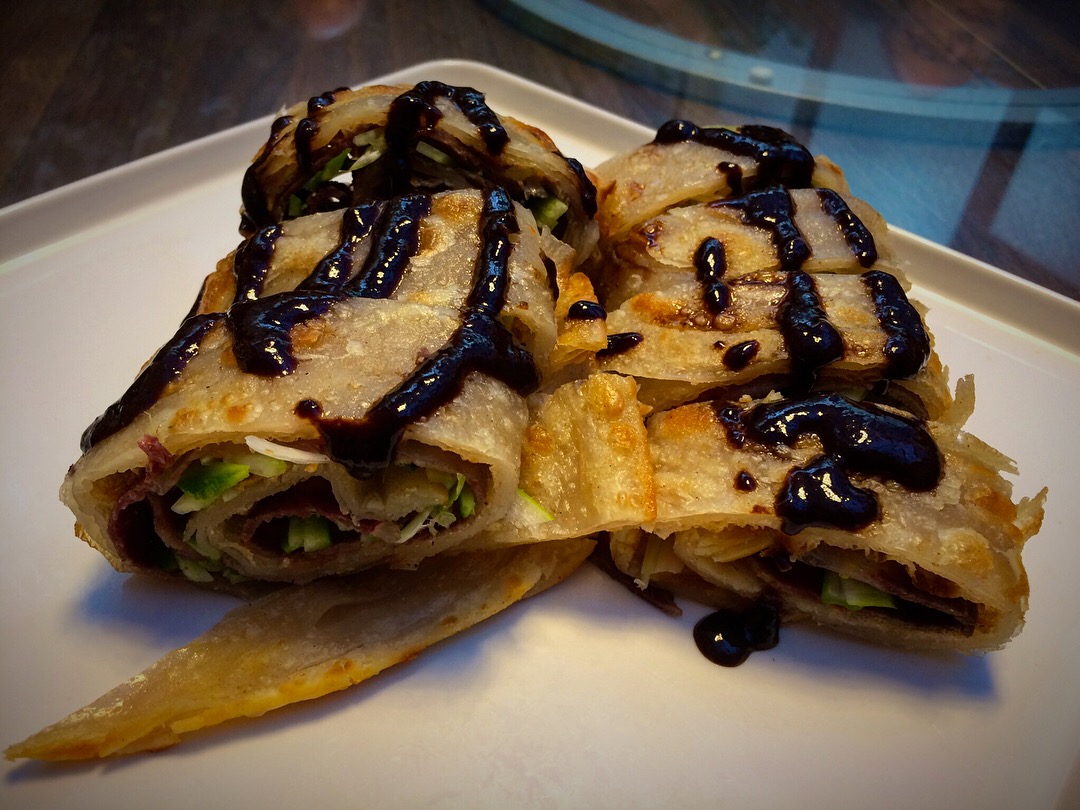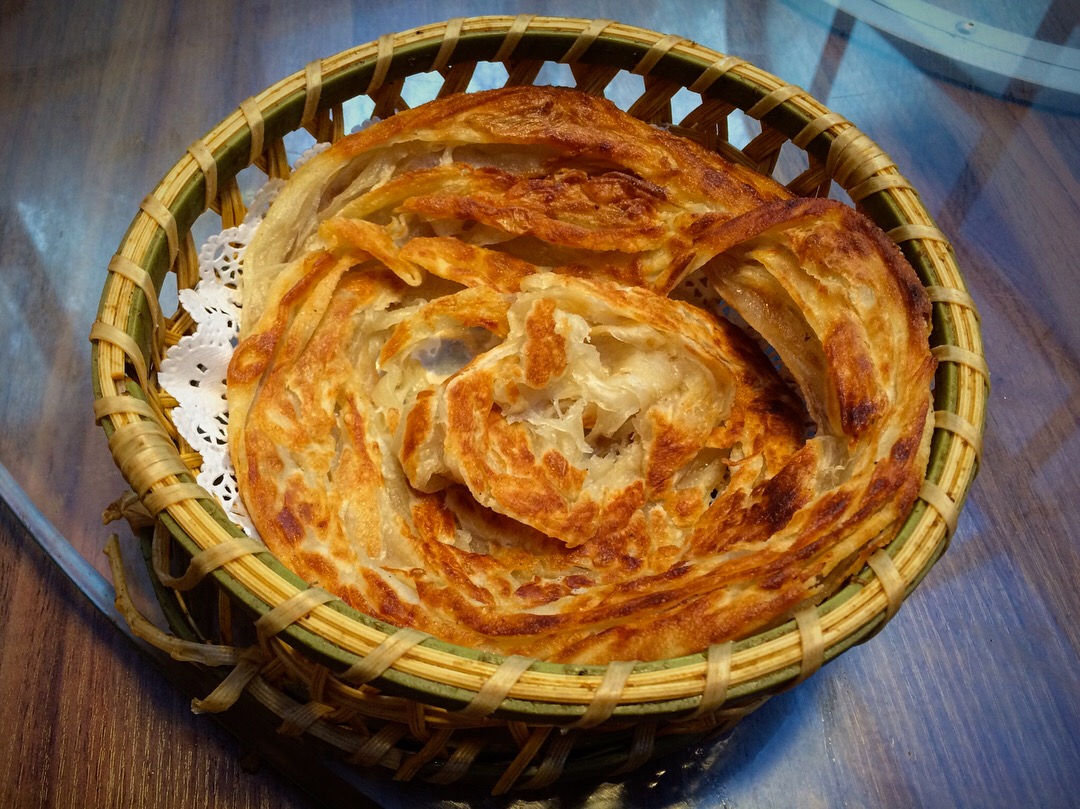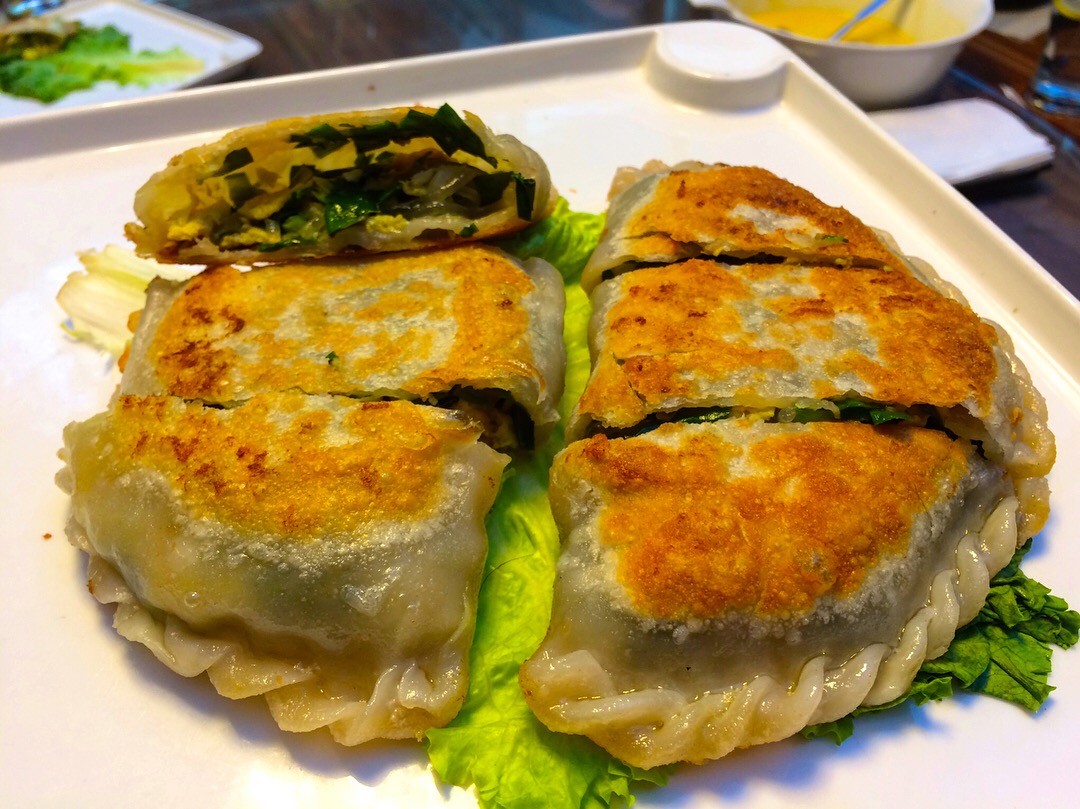 Three of the appetizer/snack items we tried: Chinese Beef Burritos, Thousand Layer Pancake, and Chinese Leek Turnovers.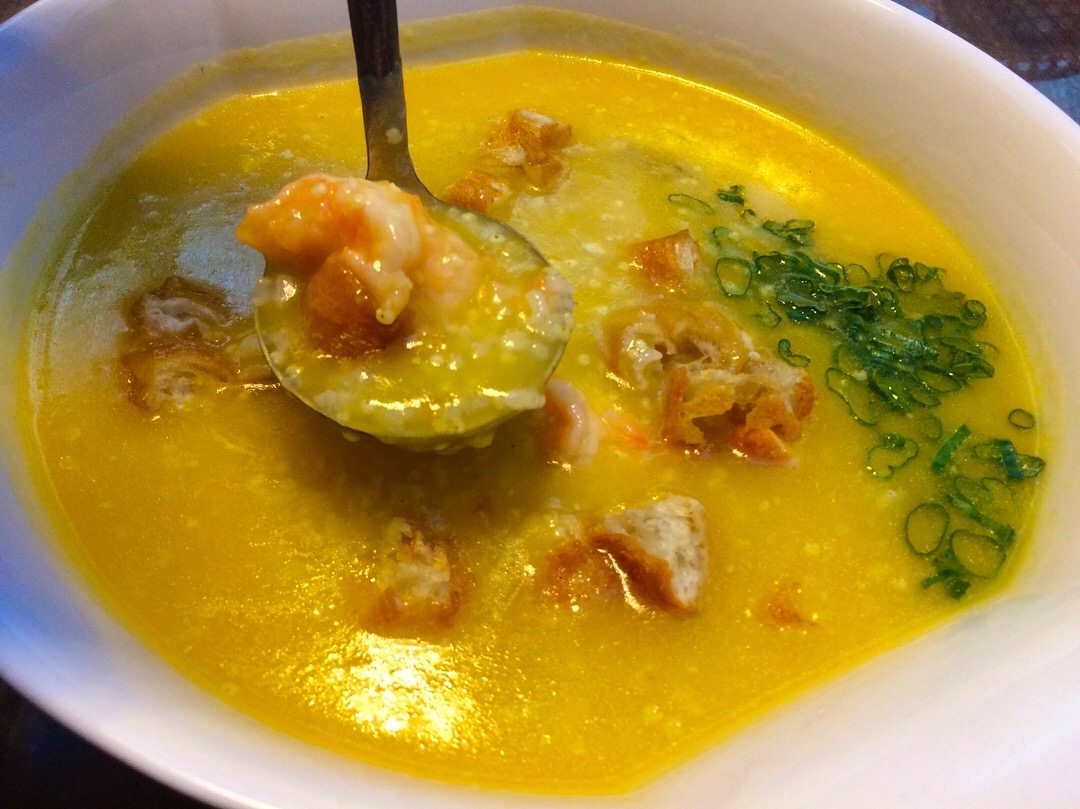 Seafood and Pumpkin Congee. Deceptively light, the unique blend of ingredients – savory seafood, crispy youtiao (Chinese cruller) for texture, scallion for a little punch, and that surprising pumpkin jook made for a delightful combination.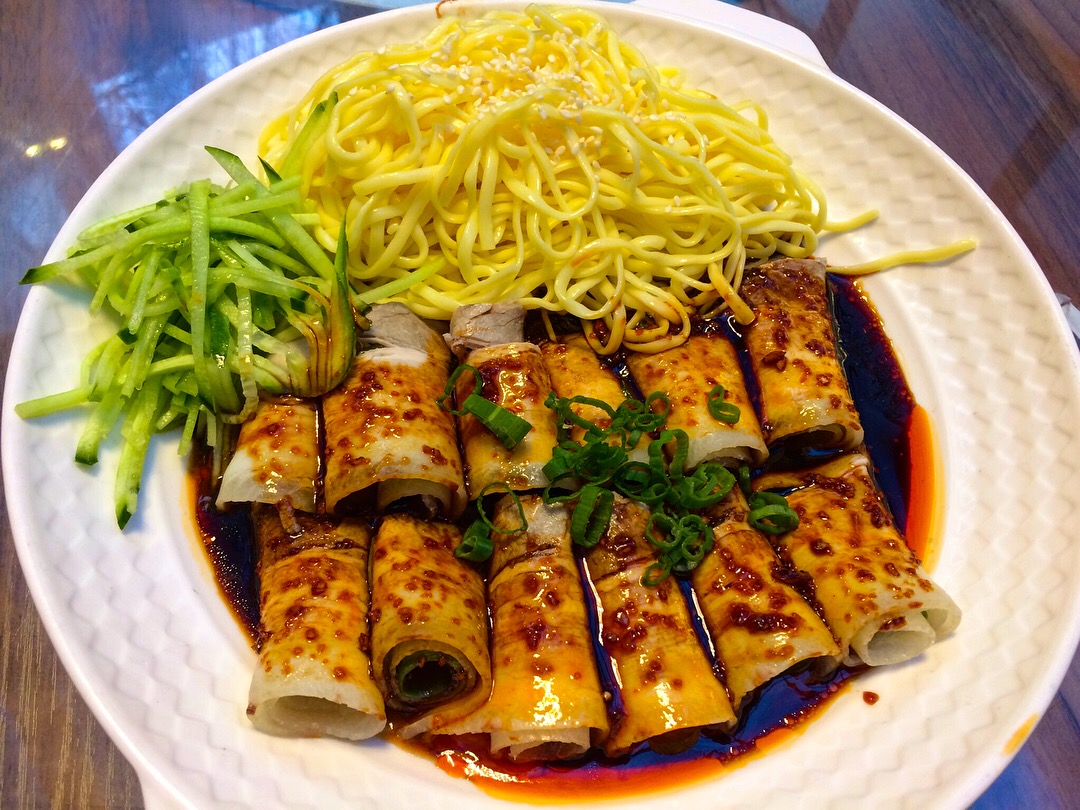 Pork Belly in Garlic Sauce was beautifully presented. Rolled up with cucumber, scallion and cold noodles, not to mention the perfect accompanying sauce, they were irresistible.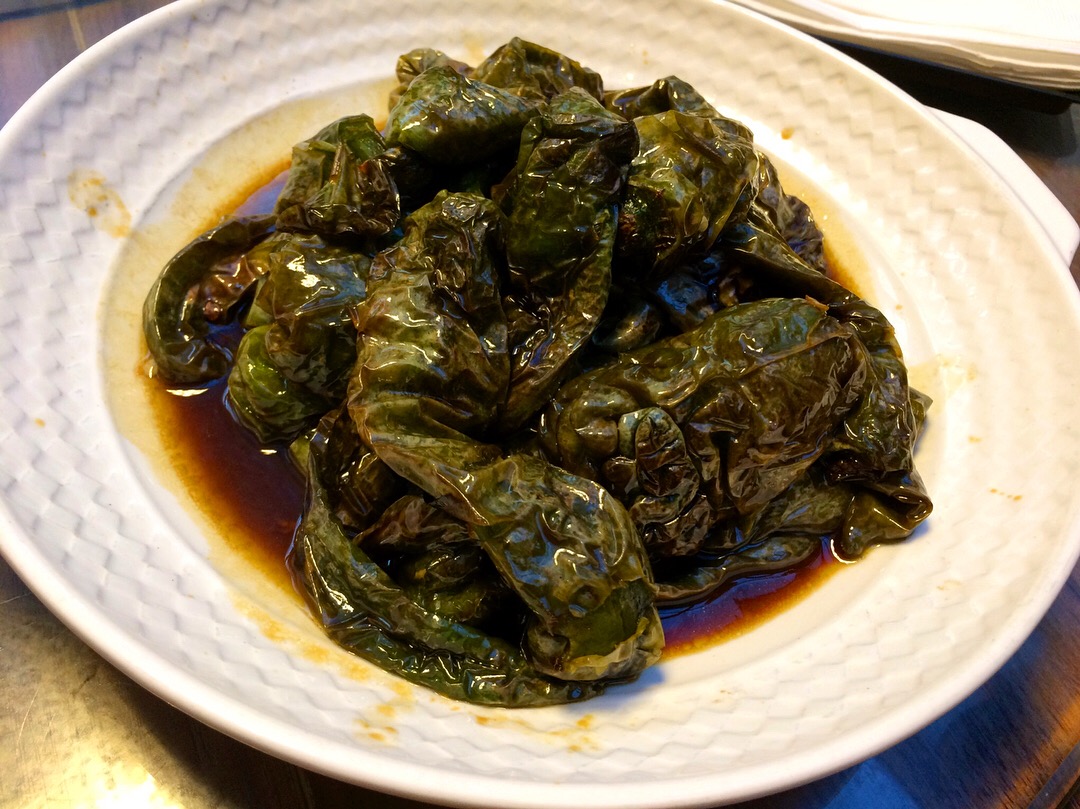 They may look simple, but the Smoky Wok Tossed Spicy Asian Green Chilies brought a touch of heat and a ton of flavor to what only seemed like a modest dish.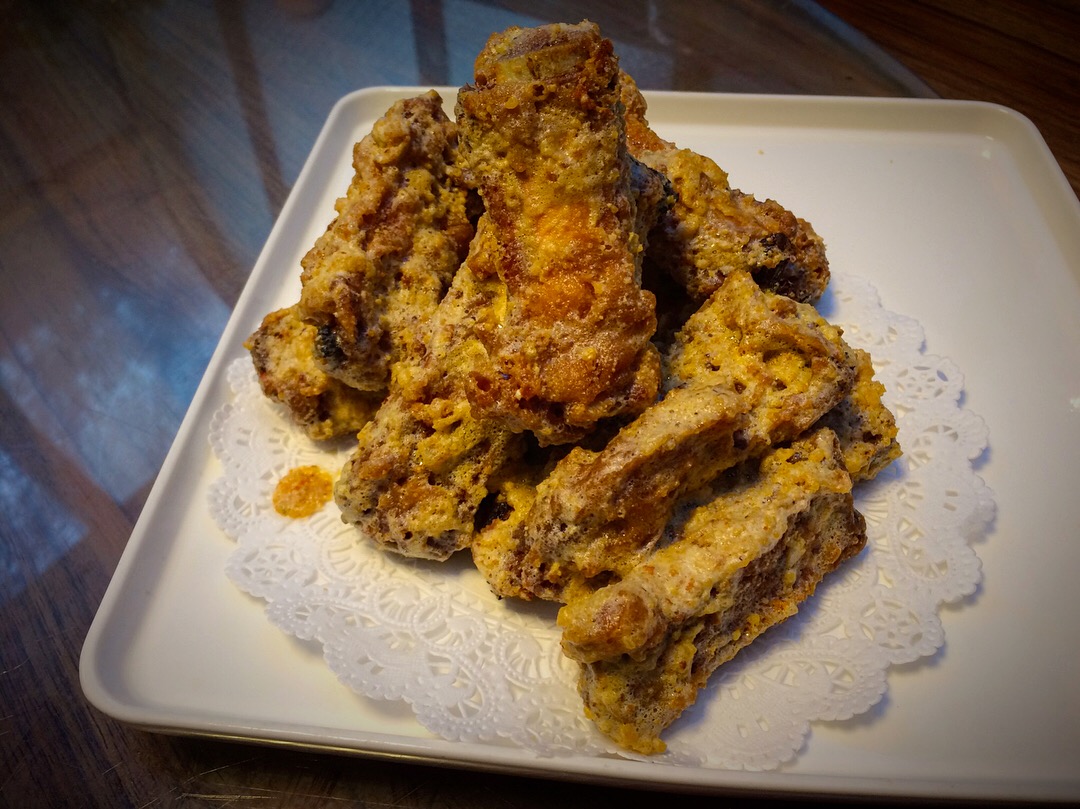 Spare Ribs with Salted Duck Egg. (Along with a few others, this one doesn't appear on the current menu. If you've got some kind of portable internet access device and you're eager to try these dishes, bring it along and pull up my photos; a picture is worth a thousand words!)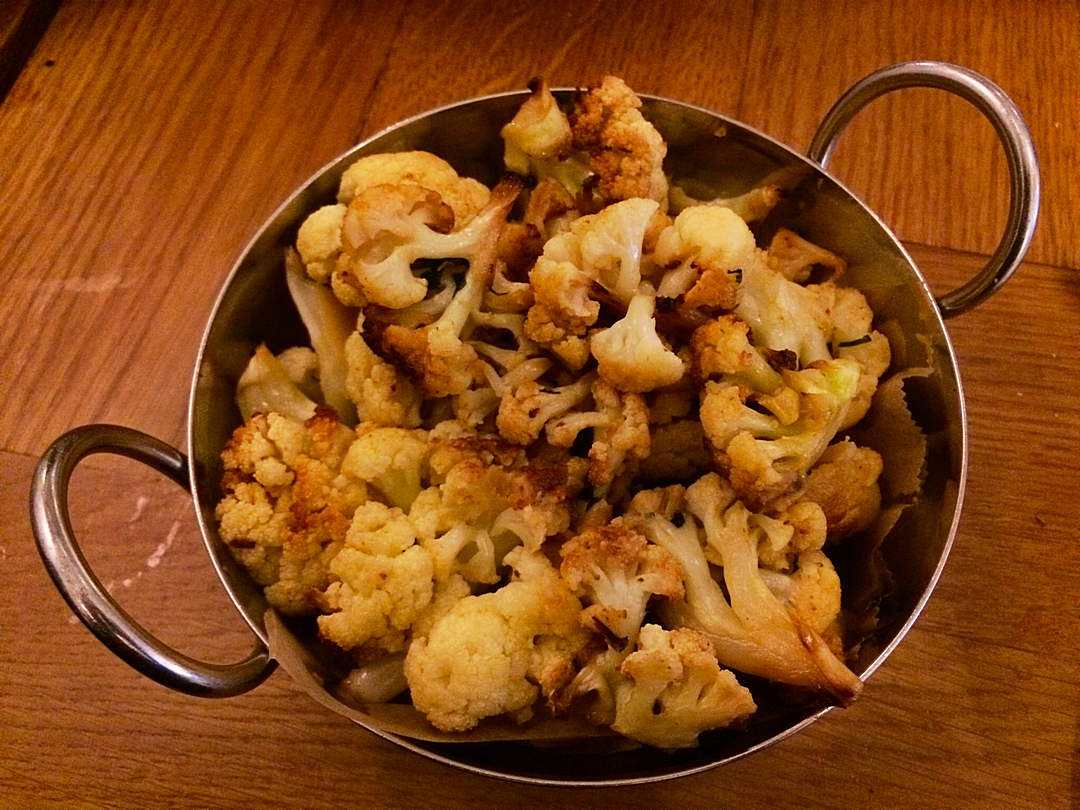 Sautéed Cauliflower with Soy Sauce. With this cauldron of cauliflower, folks at the table who cry "more veggies" were more than satisfied. The structure of Chinese cauliflower is less compact than the dense Northern European version you might be accustomed to and that makes for a more tender texture after cooking and allows it to soak up more sauce.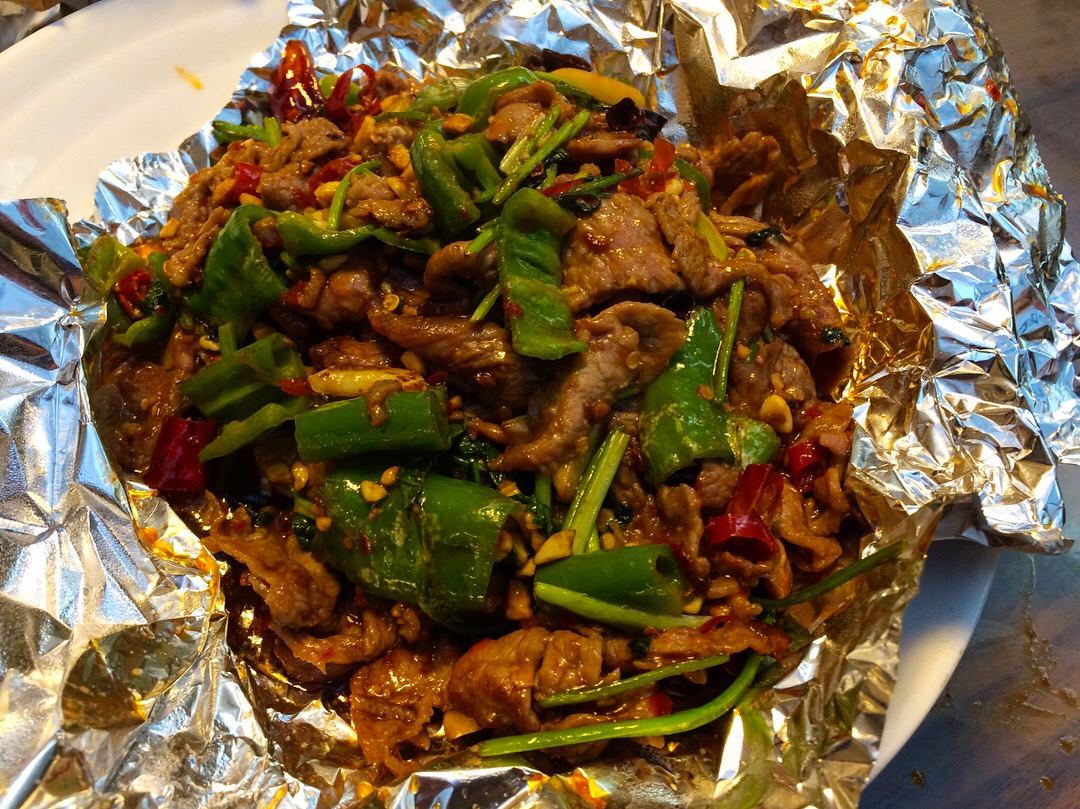 Lamb with Hot Pepper Sauce. Delicious and delicate, I wouldn't have minded a little more heat, but I'm not complaining.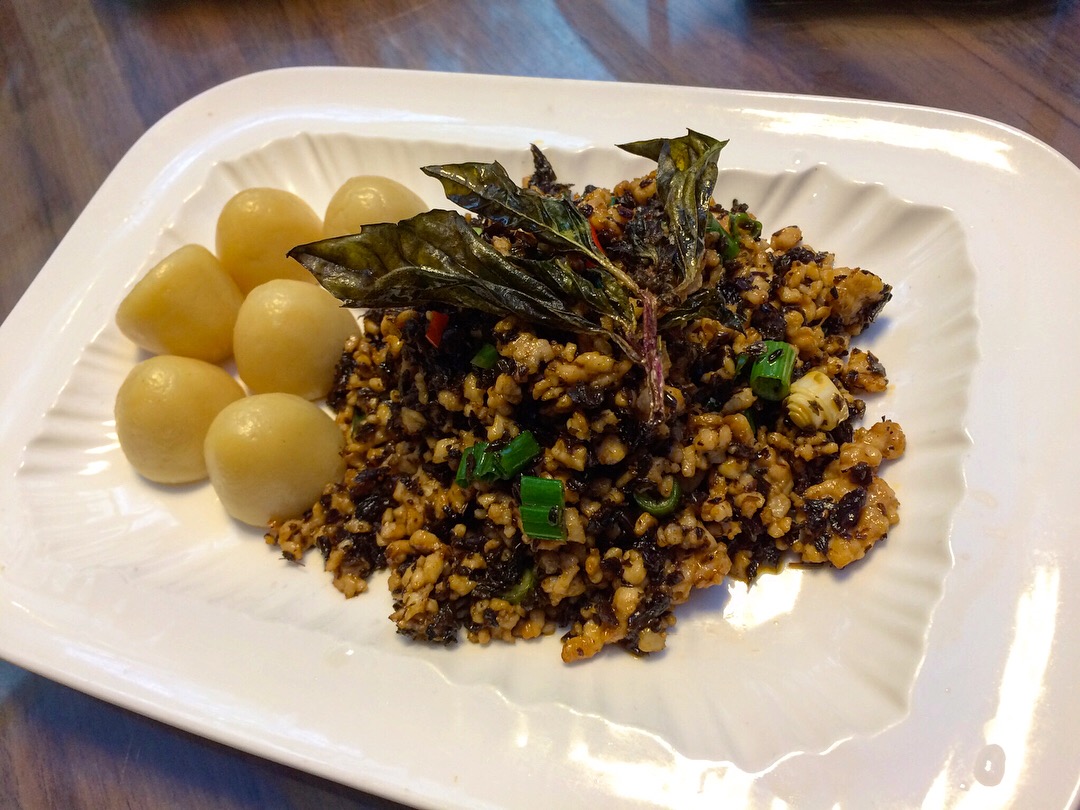 Sautéed Diced Chicken with Basil and Yib Veggie Buns (or so the menu read). I believe the name refers to Yibin, the city in Sichuan province. To me, the little buns looked like mini wotou, hollow, conical, steamed cornbread (and yes, you can buy those in food courts in Flushing if you know where to look).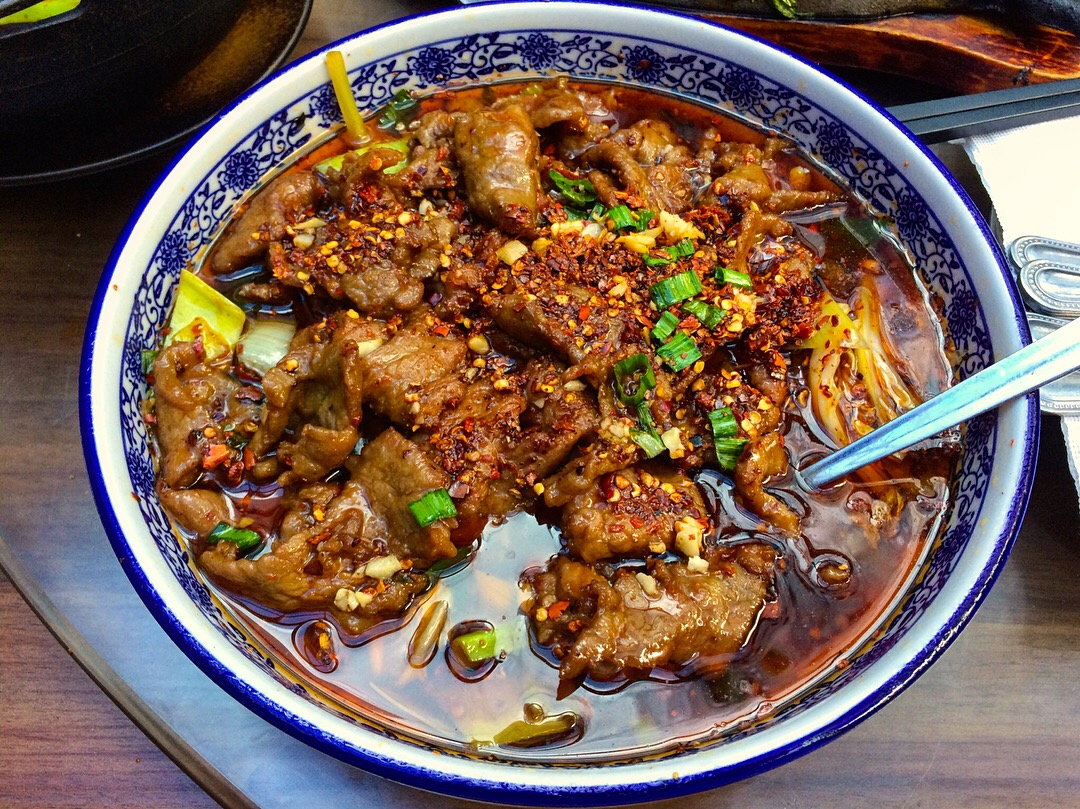 Braised Tender Beef with Veggies. You'll want some rice with this one to counterbalance the savory sauce. Good eats!
Frog with Dry Pepper. Green pepper, lotus root, leeks, bean curd skin and more combine with bits of frog in this tasty stir fry.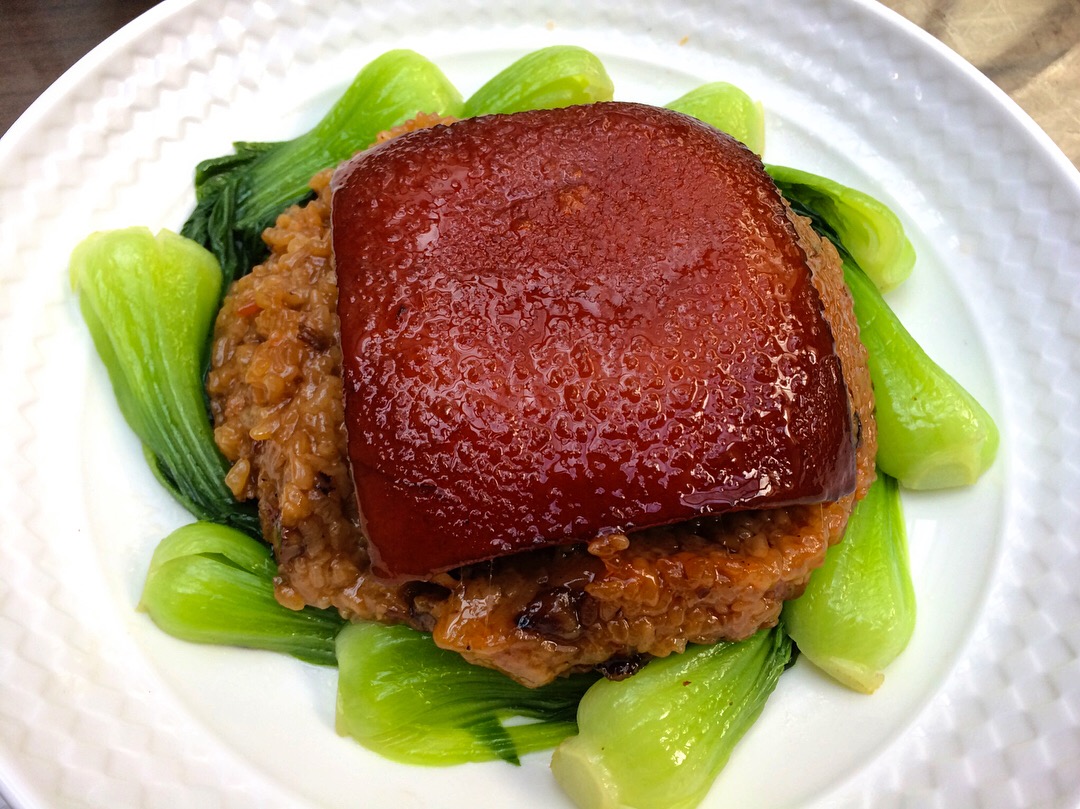 I admit it; I'm a sucker for dishes like this one. Steamed Fatty Meat (pork belly) with Sticky Rice – to me it tastes like the most unimaginably rich comfort food!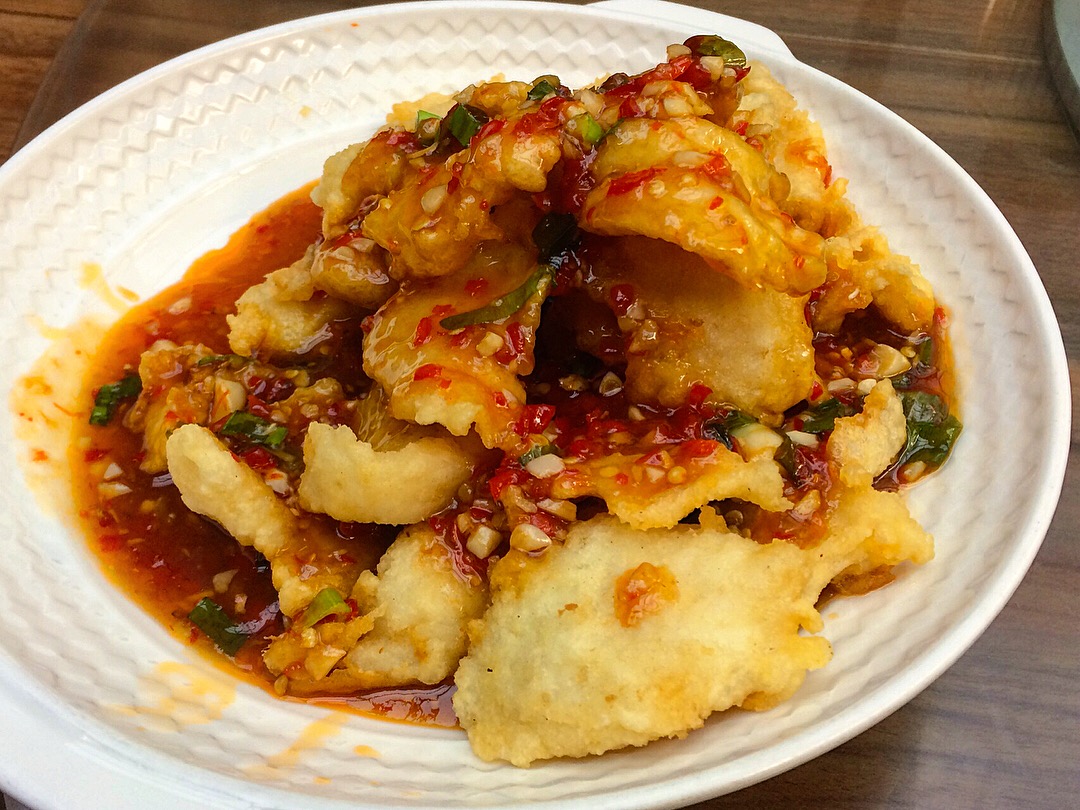 Flounder in Garlic Sauce. Crispy and light with just enough spice to complement but not overpower the delicately fried fish.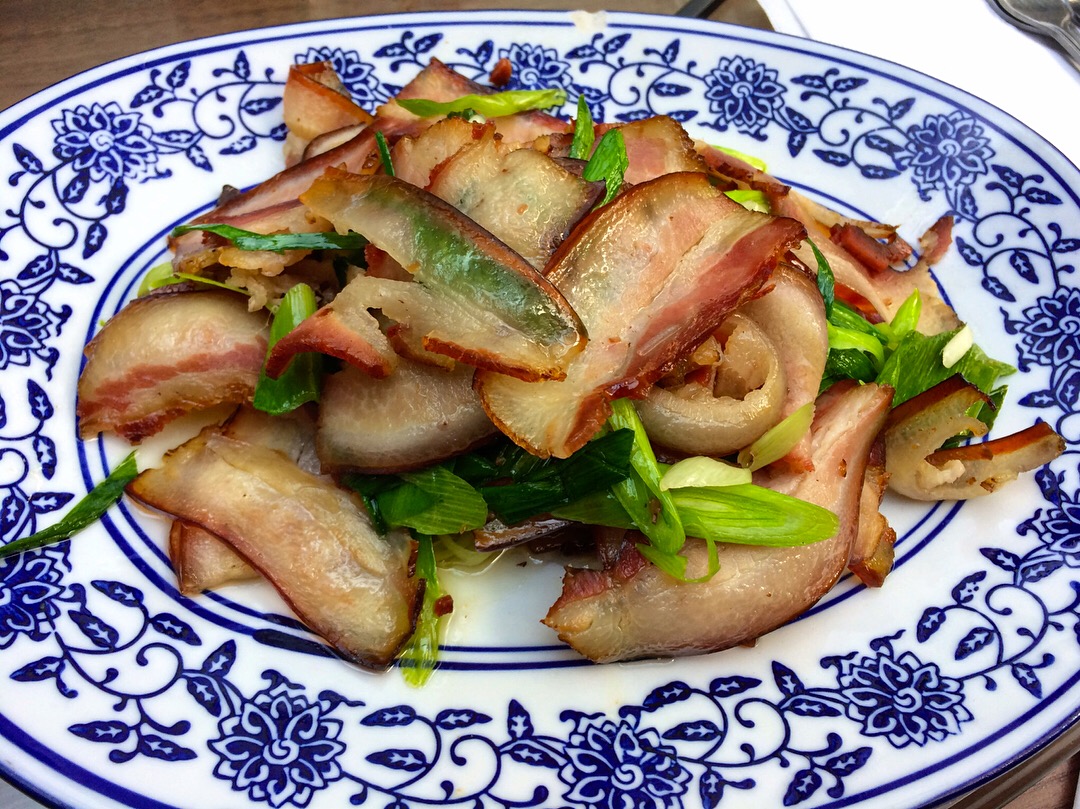 Stir-Fried Smoky Pork with Green Leek. With the one-two punch of smoky pork belly and zesty leeks, this dish makes its presence felt in no uncertain terms.
Spicy Lamb with Cumin Flavor. Sizzling, spicy, succulent, scrumptious! Seems to be a universal favorite.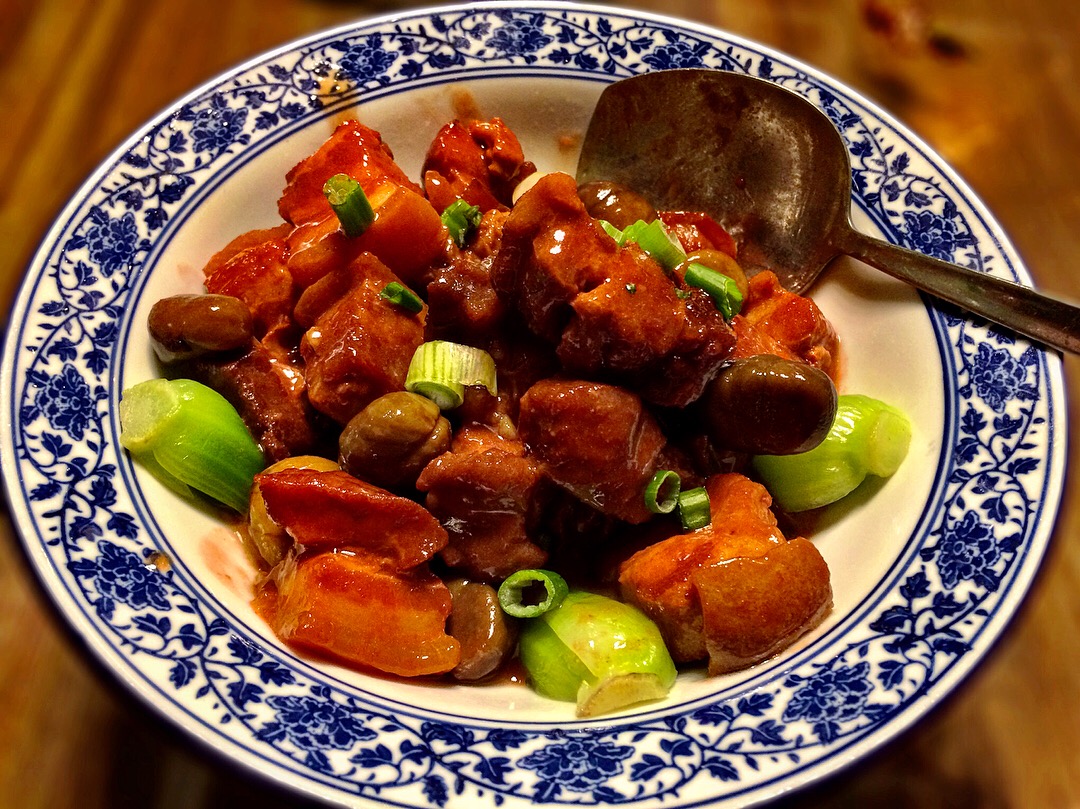 Braised Pork with Chinese Chestnuts. Pork belly and chestnuts in a savory sauce turned out to be a wonderful combination.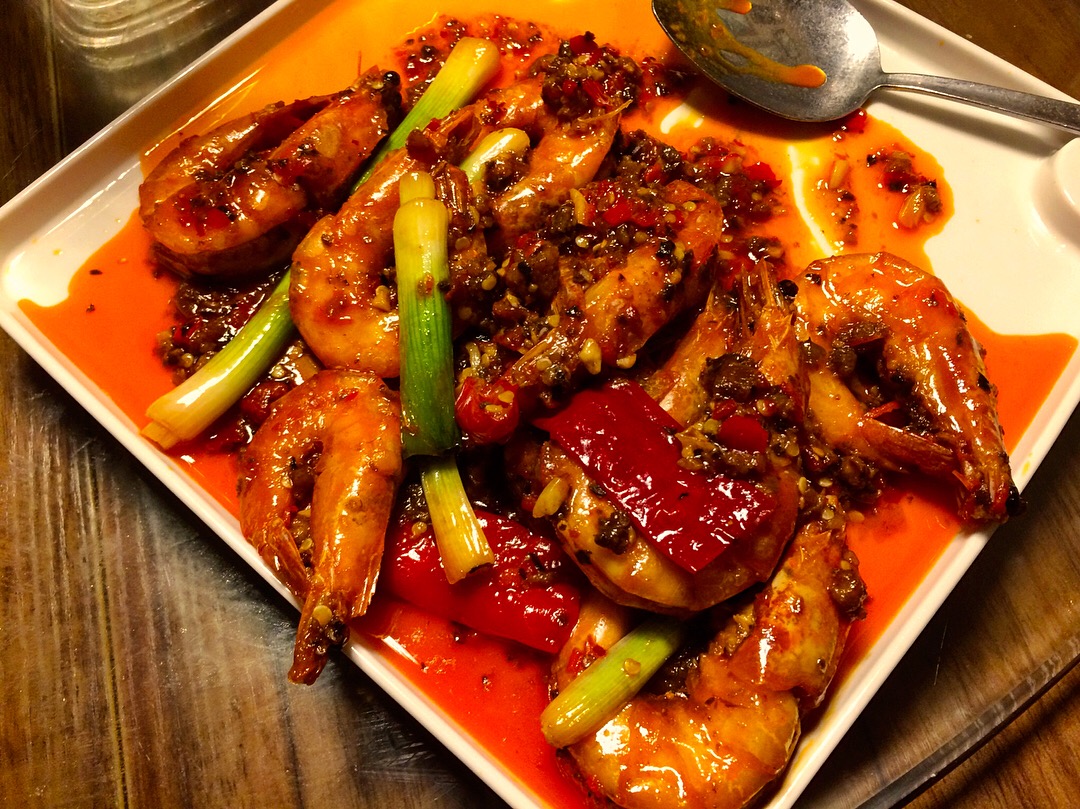 Sautéed Prawns with Spicy Chili Minced Pork. Delicious head-on (is there any other way?) prawns with bits of pork in a gently spicy sauce with scallions and red pepper. Straightforward and elegant at the same time.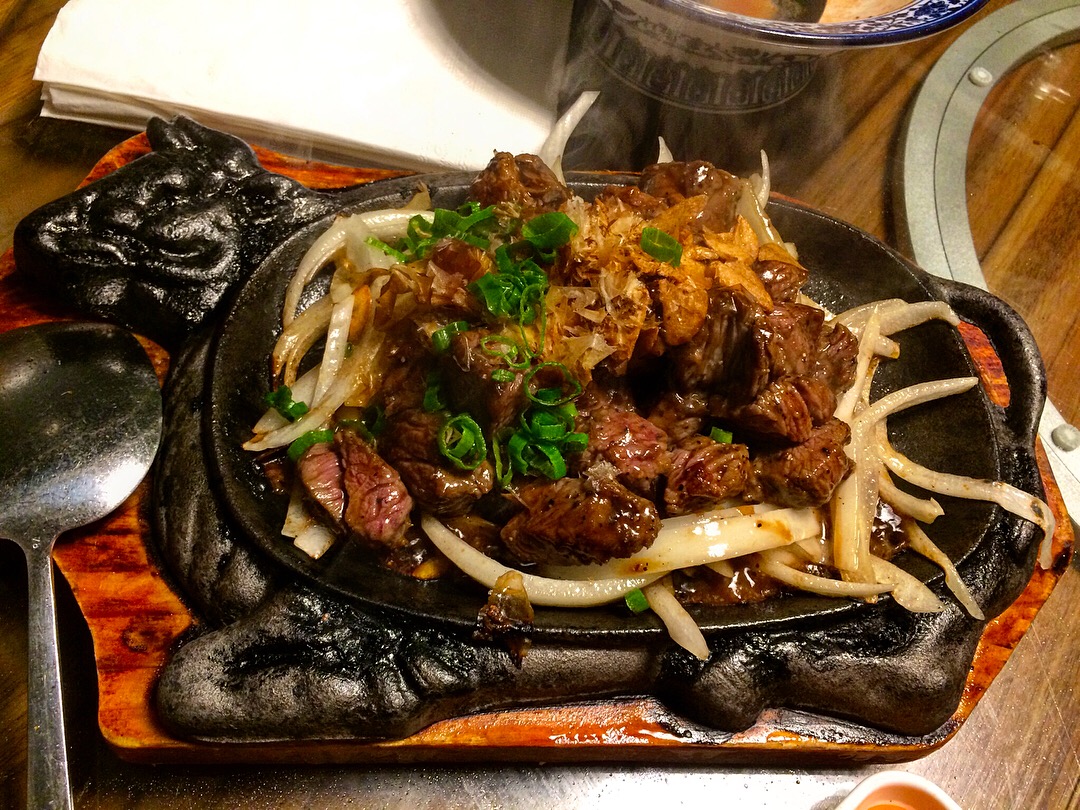 Sizzling Minced Beef with Black Pepper. Got this one because I wanted to see what the geniuses at Alley 41 would do with black pepper – not that I'm tired of red chilies or Sichuan peppercorns or any other form of kicked up goodness, of course – and I wasn't disappointed. The flavor was surprisingly complex, not at all one-note which can happen with black pepper, the beef perfectly tender, and the onions were just the right accompaniment. The dish came to our table steaming and sizzling with bonito flakes dancing atop as if in celebration of our get-together. Naturally, the platter was extremely hot – not a bull you'd want to grab by the horns!
My highest praise for Alley 41, 136-45 41st Ave, Flushing. I guess I'm not going to be satisfied until I've tried everything on their 46 page menu. If you haven't been there yet, I strongly recommend it. And if you have, isn't it time to go back? 😉