When I write about restaurants on Instagram, they're usually brief takes accompanied by a photo or two. (You can see my feed right here on ethnojunkie.com by selecting the "Instagram" category from my home page – no signup required.) But because of Instagram's character count limitations, it's often necessary to break up a review into several parts. This one originally appeared as five posts from two visits, published on June 21, 2016 and April 29–30 and May 1–2, 2019.

---
If ever there were a Sichuan standby, it's Little Pepper Restaurant at 18-24 College Point Boulevard, Queens. Despite its move from Flushing to College Point, the kitchen continues to turn out solid journeyman work that's difficult to find fault with, delivering exactly what you'd expect and precisely what you traveled there for. In no particular order:
(Click any photo to view in glorious high resolution.)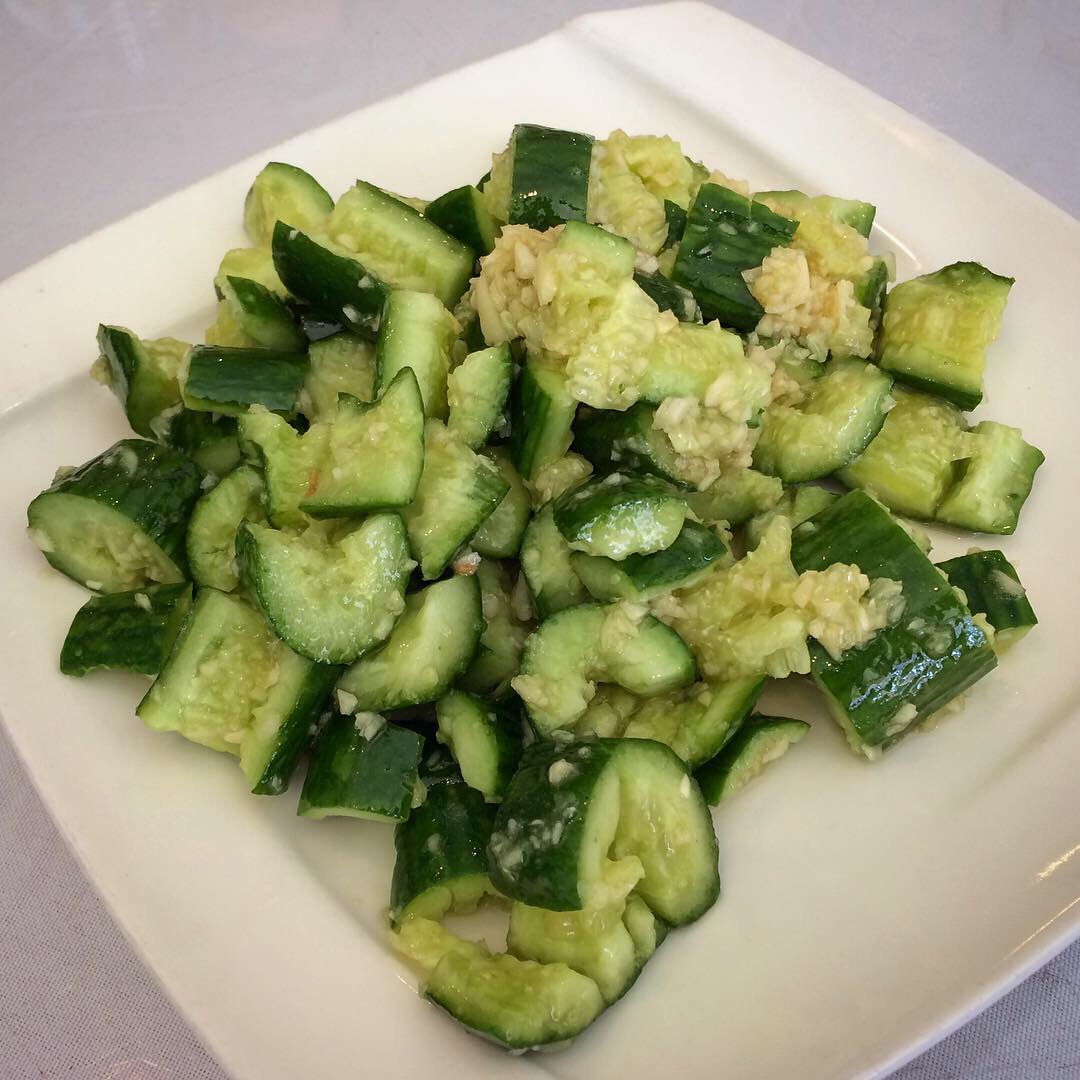 Fresh Cucumber with Mashed Garlic Sauce is an exercise in balance. The dish only seems simple: seeded, smashed Persian cucumbers blanketed with a salty, sweet/sour garlic dressing. Applied with a heavy hand, it would have been suffocating, with a timorous touch, it would have been an afterthought; here, it's a dexterous thumbs up.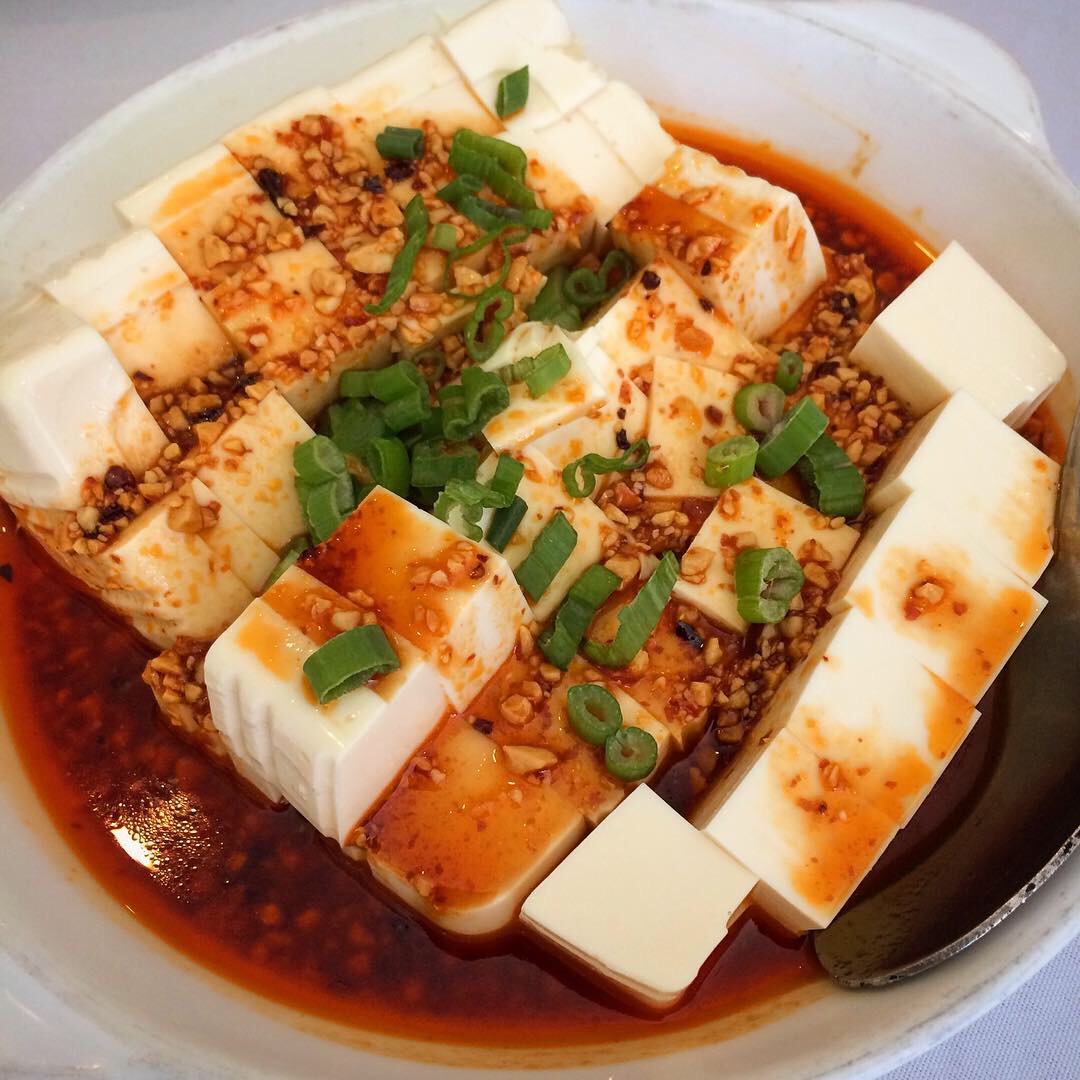 Silken Tofu with Fresh Scallion. Gossamer cubes of cloudlike tofu in a very spicy, somewhat salty sauce dressed with peanuts and fresh scallions. So good.
Sliced Pork Belly with Chili Garlic Sauce from the Appetizer section of the menu. Unquestionably sweet, a little spicy, intensely porky, with a substantial hit of garlic because pork and garlic, right?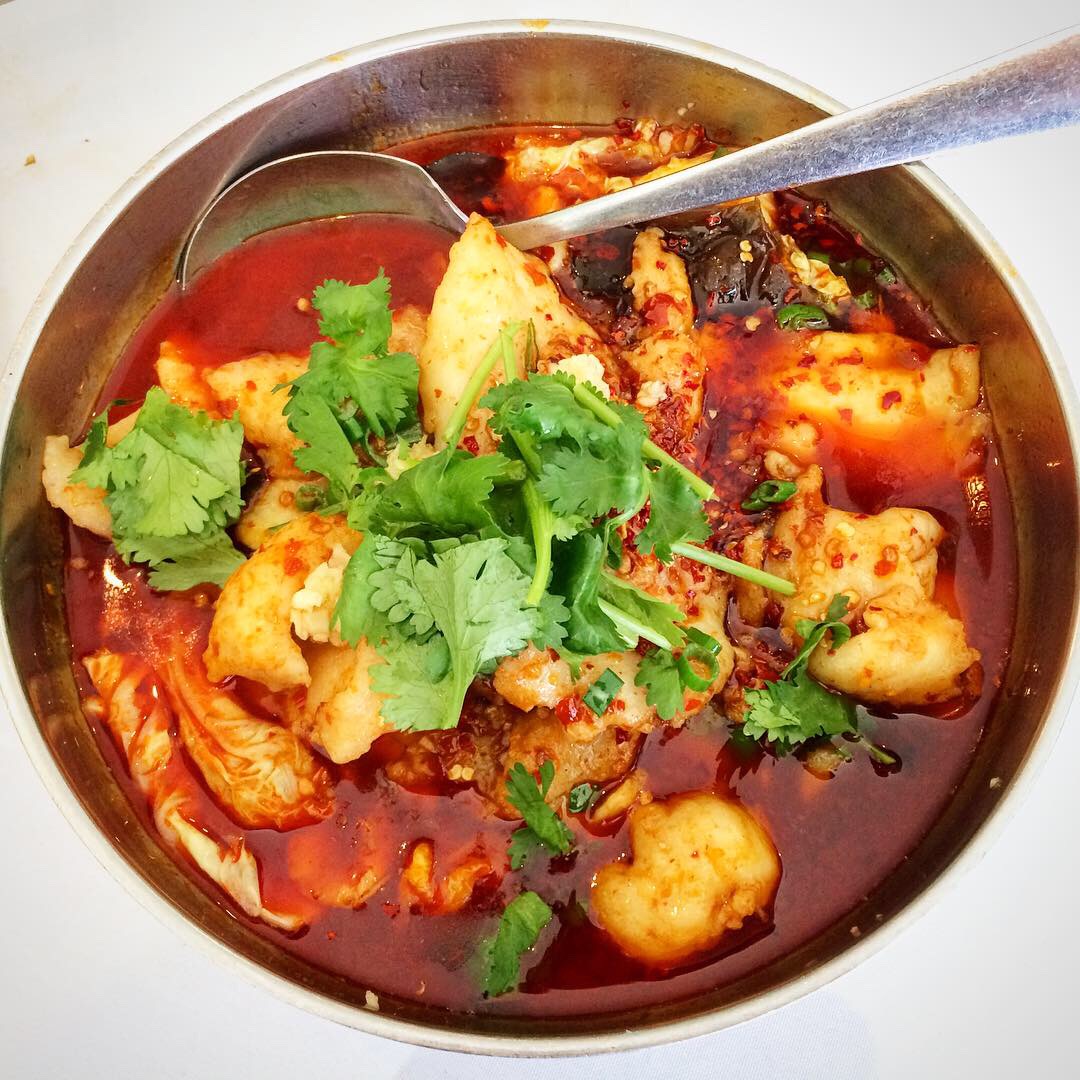 Braised Sliced Fish in Spicy Soup Base. Just what it sounds like – melt in your mouth fish in a spicy broth that begs to be poured over rice.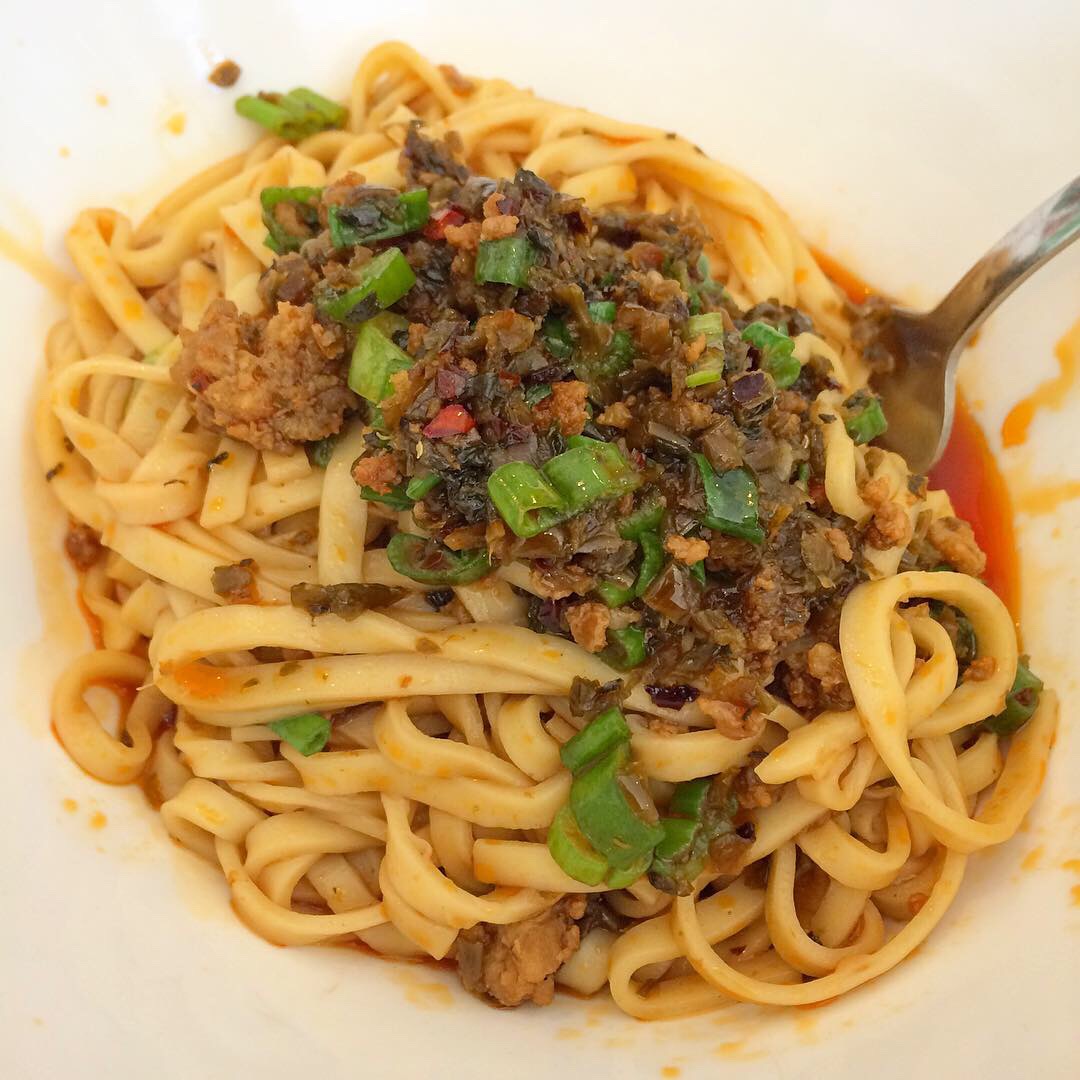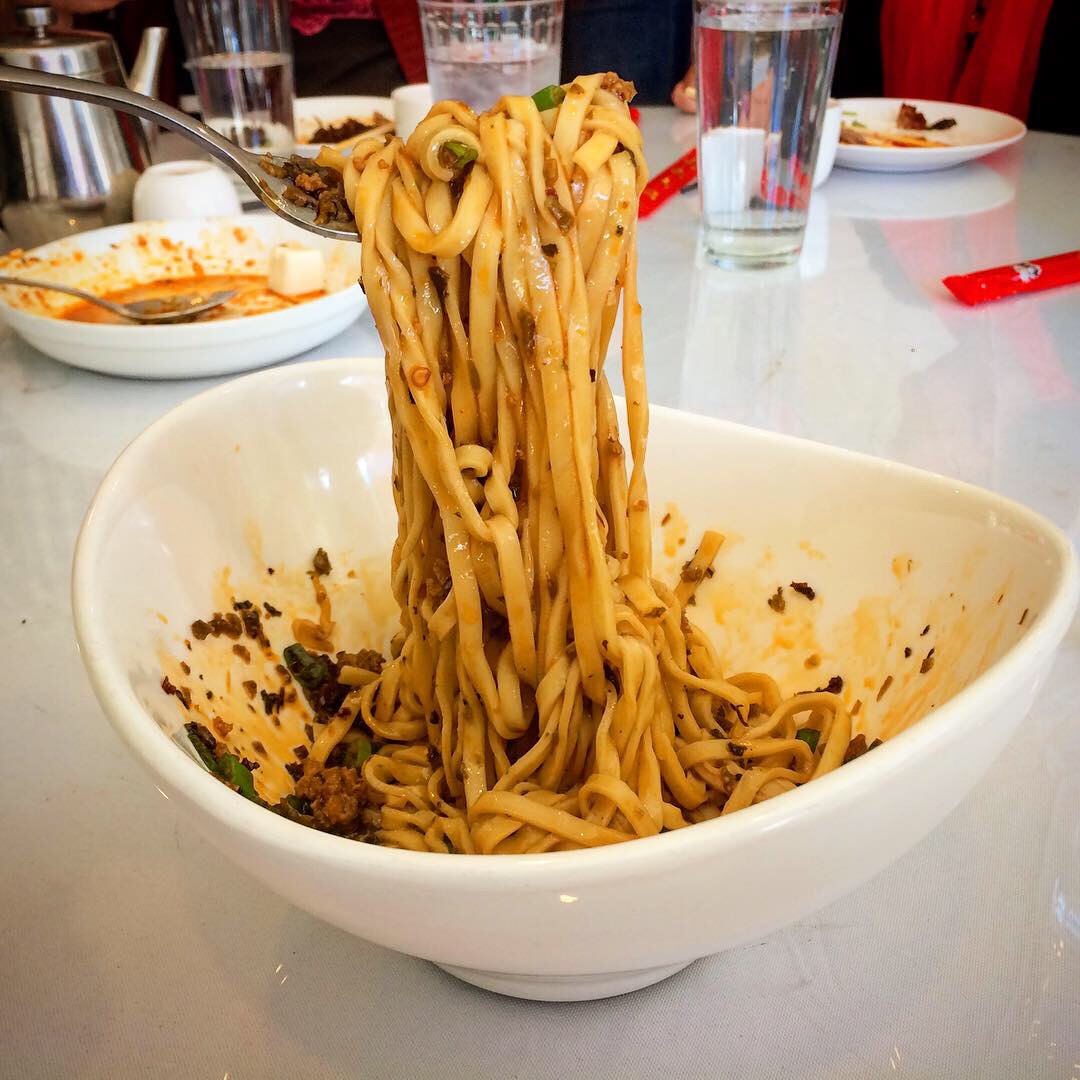 Dan Dan Noodle with Minced Pork – with a nice chew and redolent of málà oil, it's a classic rendition. Second photo: the obligatory noodle lift.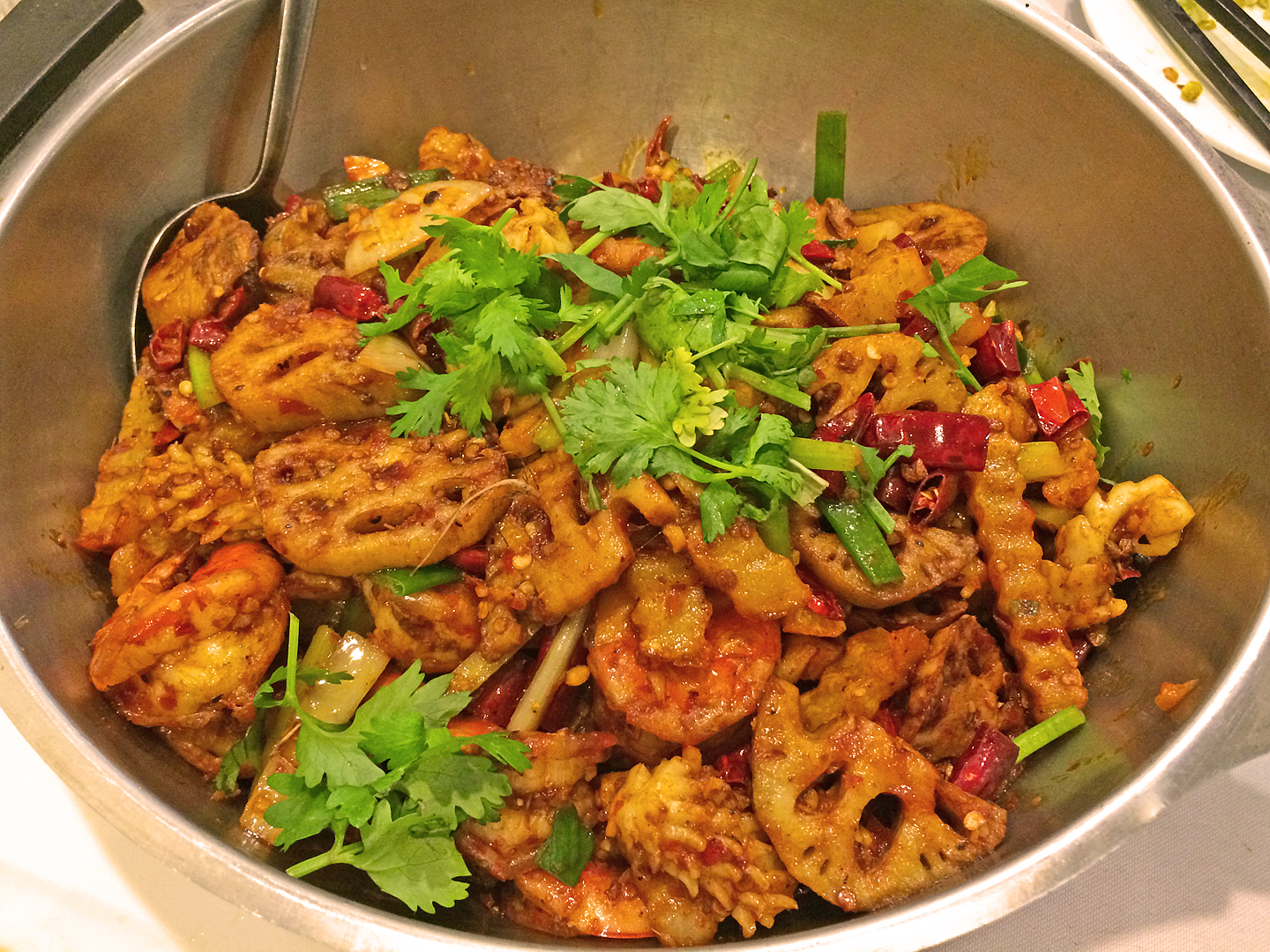 Griddle Cooked Squid and Shrimp. Griddle cooked (or griddled) is another term for dry-pot cooking; if you've enjoyed hot-pot, just eliminate the soupy component and you've got dry-pot. (Yes, that's an oversimplification, but you get the idea.) It's usually served directly in its cooking vessel.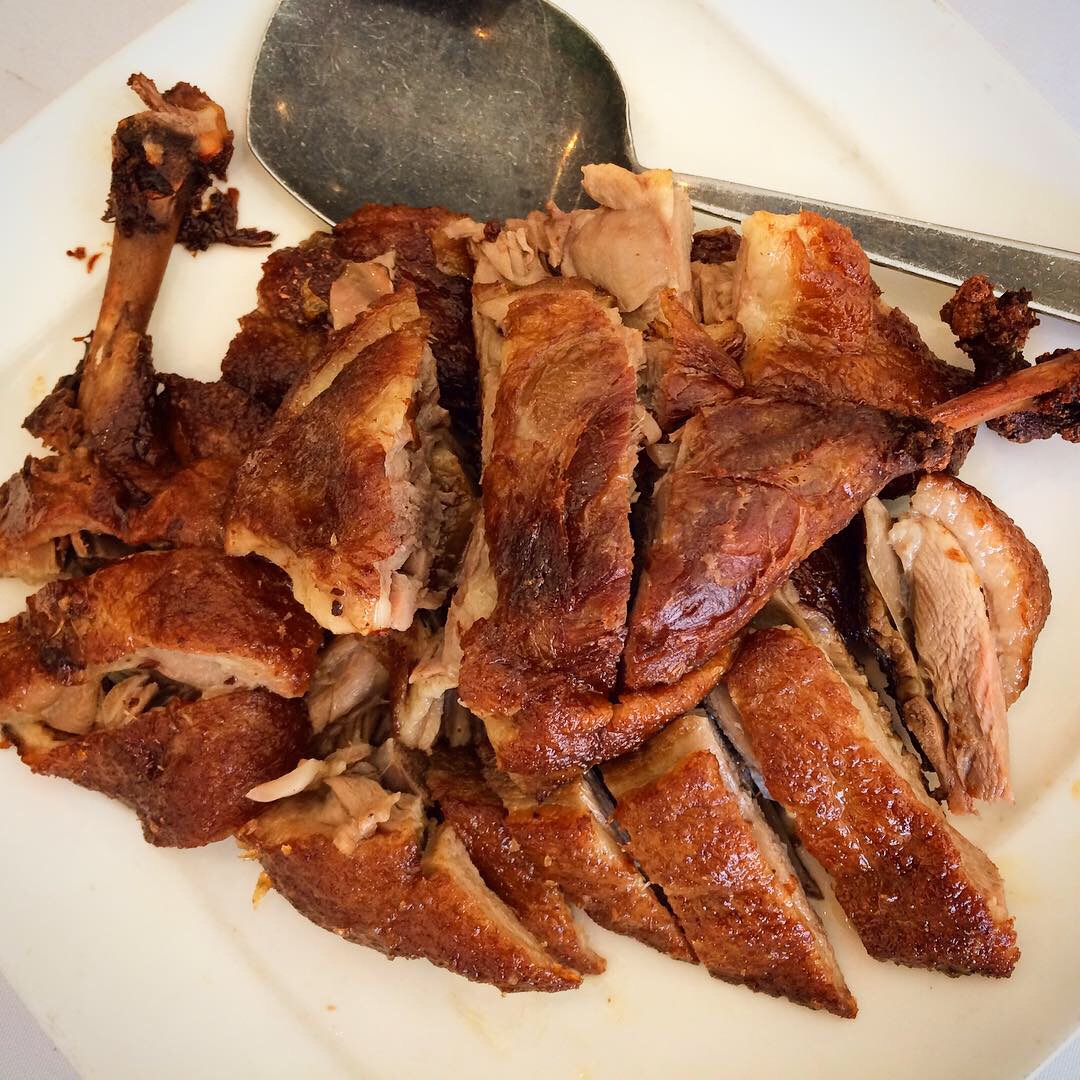 Smoked Tea Duck Sichuan Style. Does this really need a description? Smoky, crispy, fatty, ducky, infused with star anise and other enhancements, the meat was so tender it practically fell apart. I could have eaten the whole plateful by myself. Next time, I just might.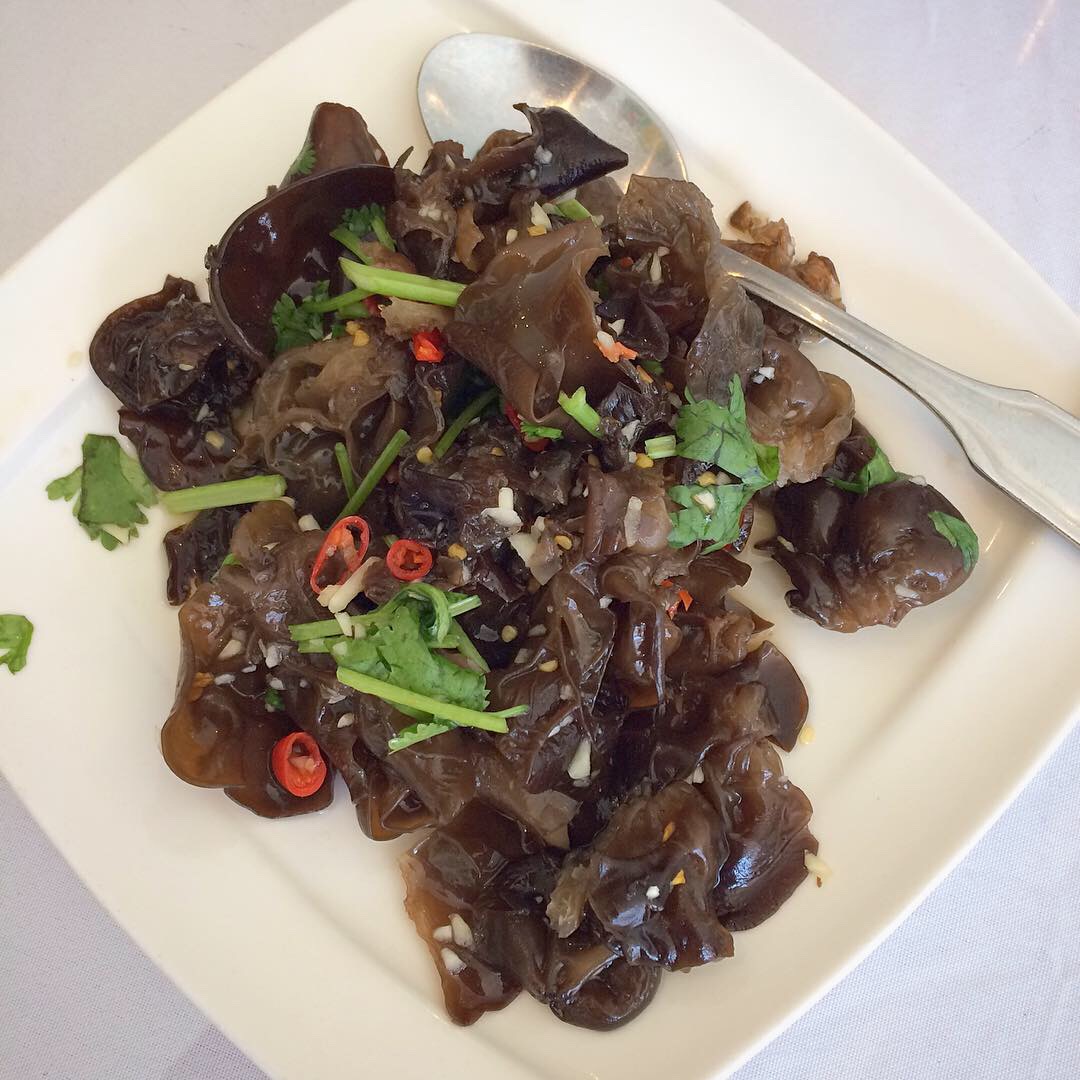 Tree Mushrooms with Chinese Spices. You might see cloud ear, wood ear fungus, black fungus or a dozen other names, but it will appear as 木耳 ("tree ear") on the menu. Garlicky, a little vinegary, and spicy from the red peppers, the cilantro was a necessary diversion. Did I mention garlic? Like all of the appetizers we enjoyed that afternoon, this was a bit salty, but in a good way.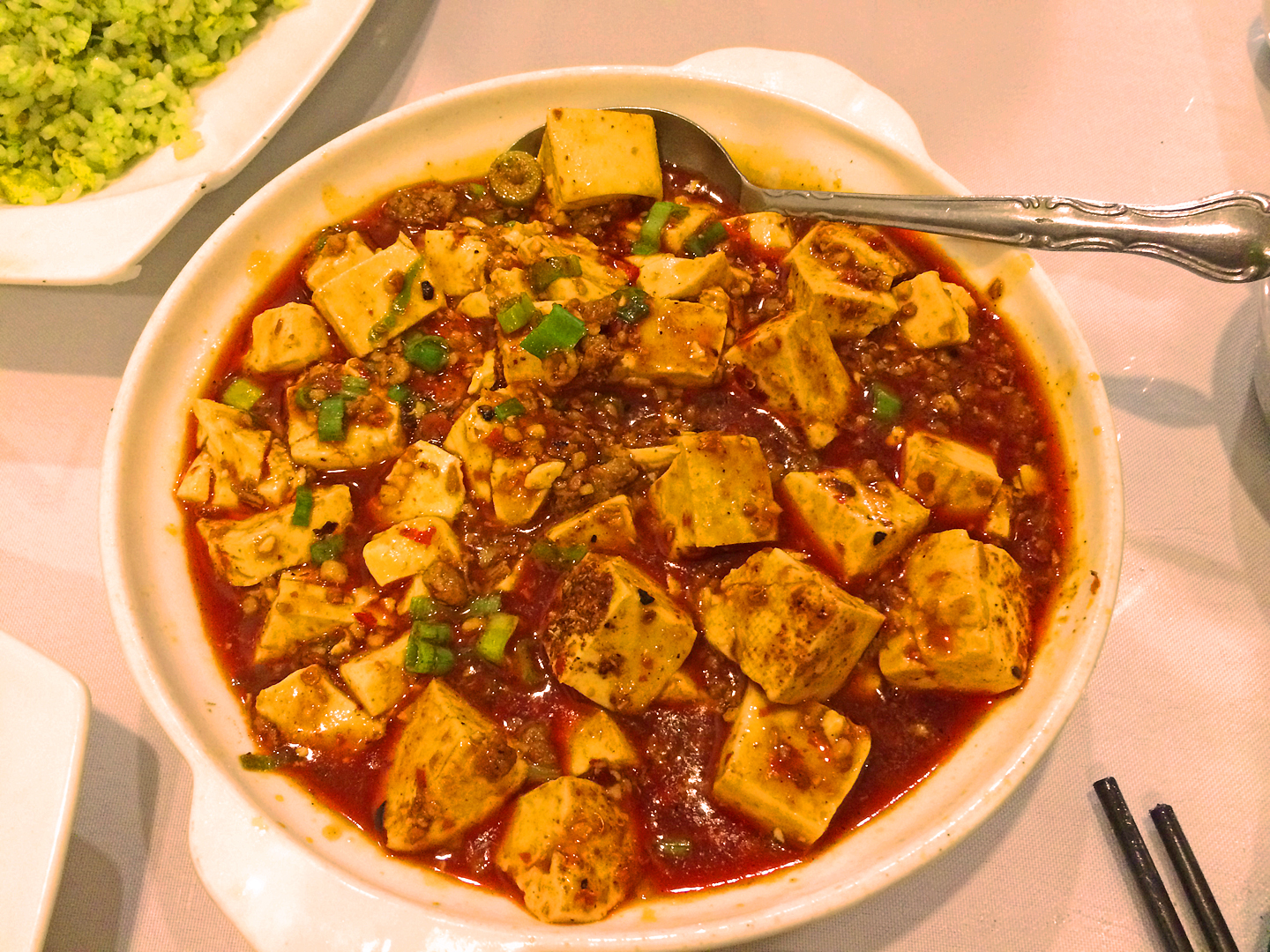 Mapo Tofu. Another classic.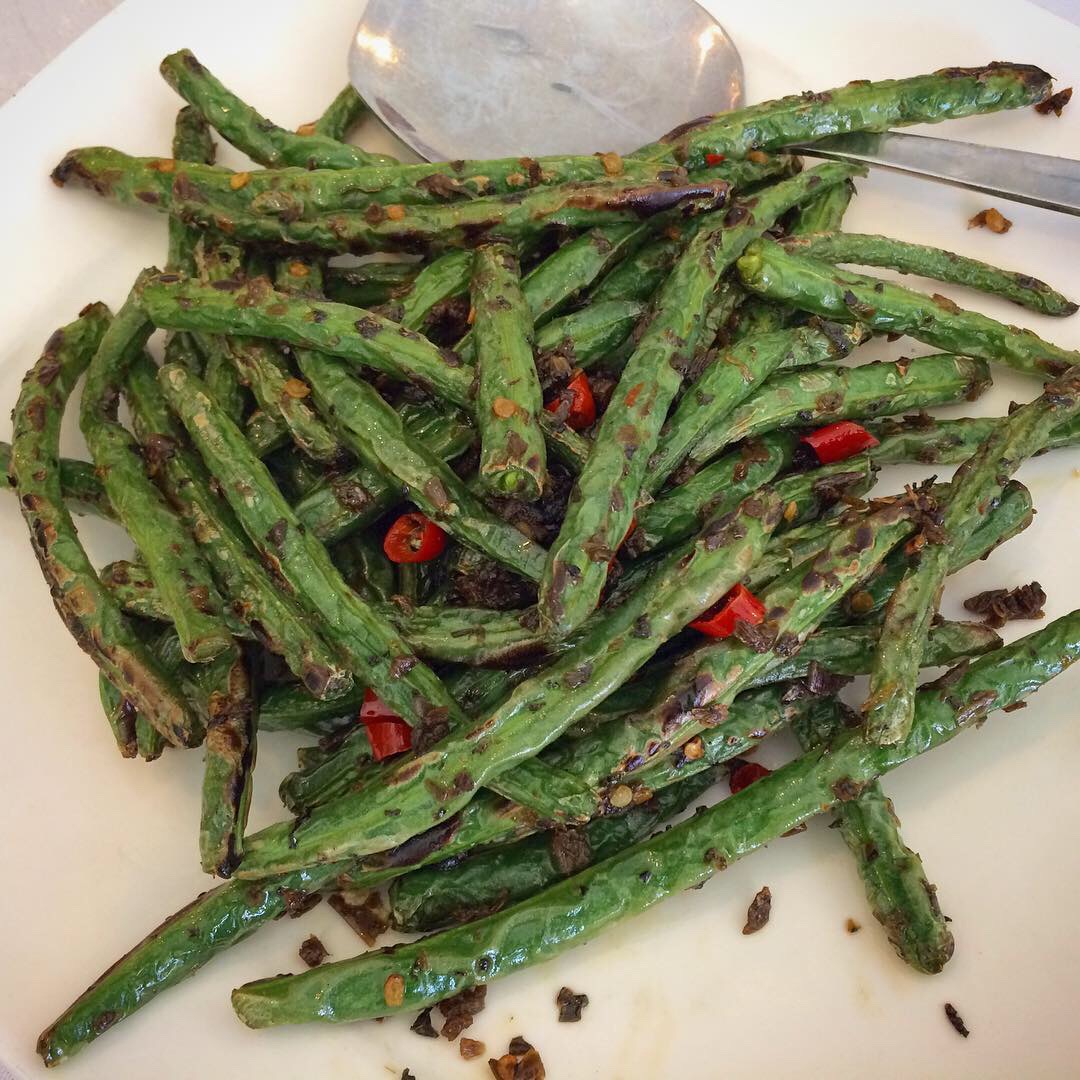 Dried Sautéed String Beans. A prime example of wok hei (you might see wok hay, wok chi, or wok qi): "the breath of the wok"; its flavor and aroma are unforgettable – and nearly impossible to achieve in the home kitchen. Attainable by stir frying over incendiary heat, it's a hallmark of Chinese cuisine; the char you see on the fresh green beans is its badge of honor. Tiny bits of Yibin yacai, the stems of pickled mustard greens, de rigueur in Sichuan cooking, provide contrast and are customary in this dish.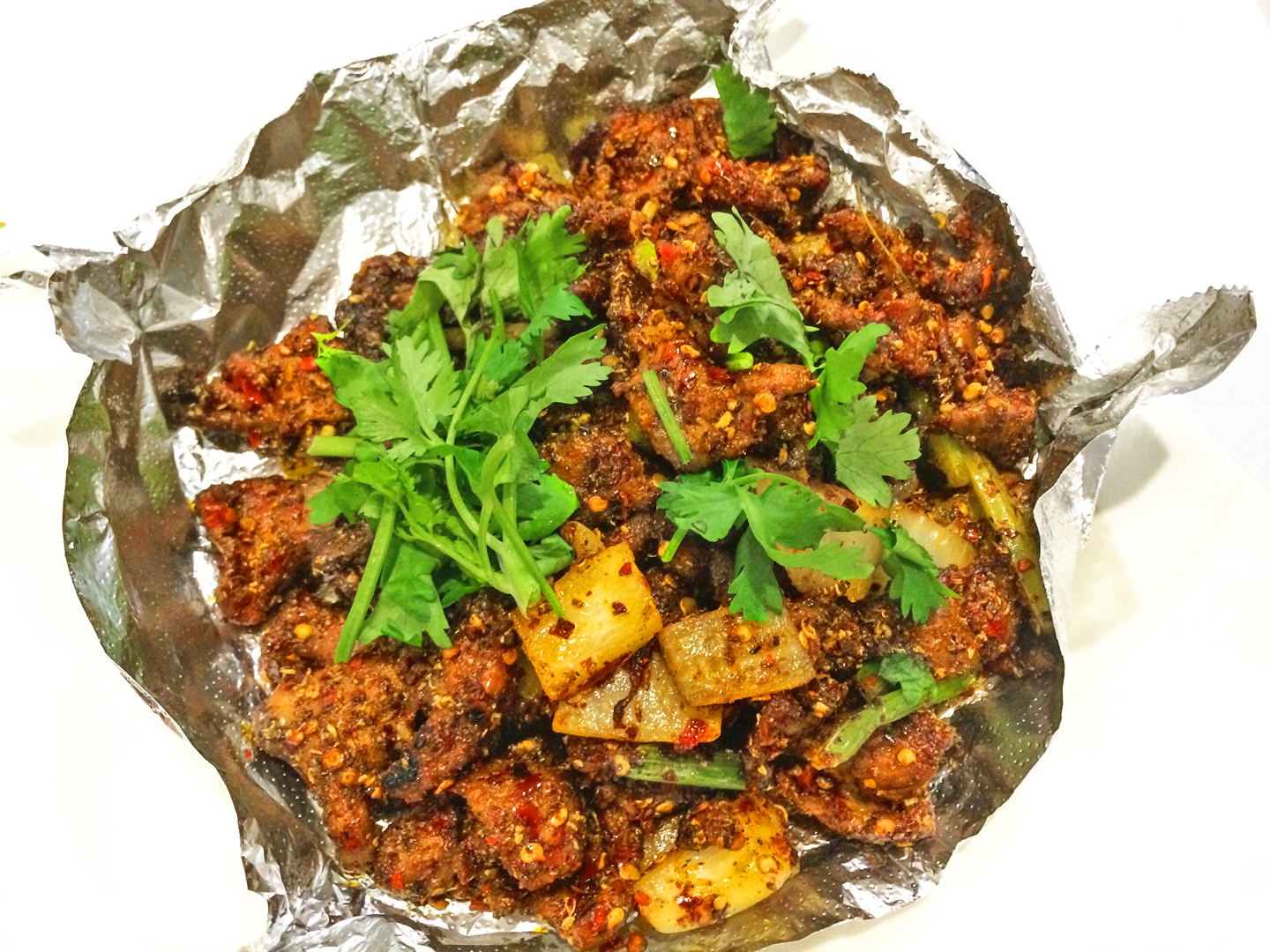 Lamb in Hot & Spicy sauce with Cumin. The magical duo of lamb and cumin. 'Nuff said.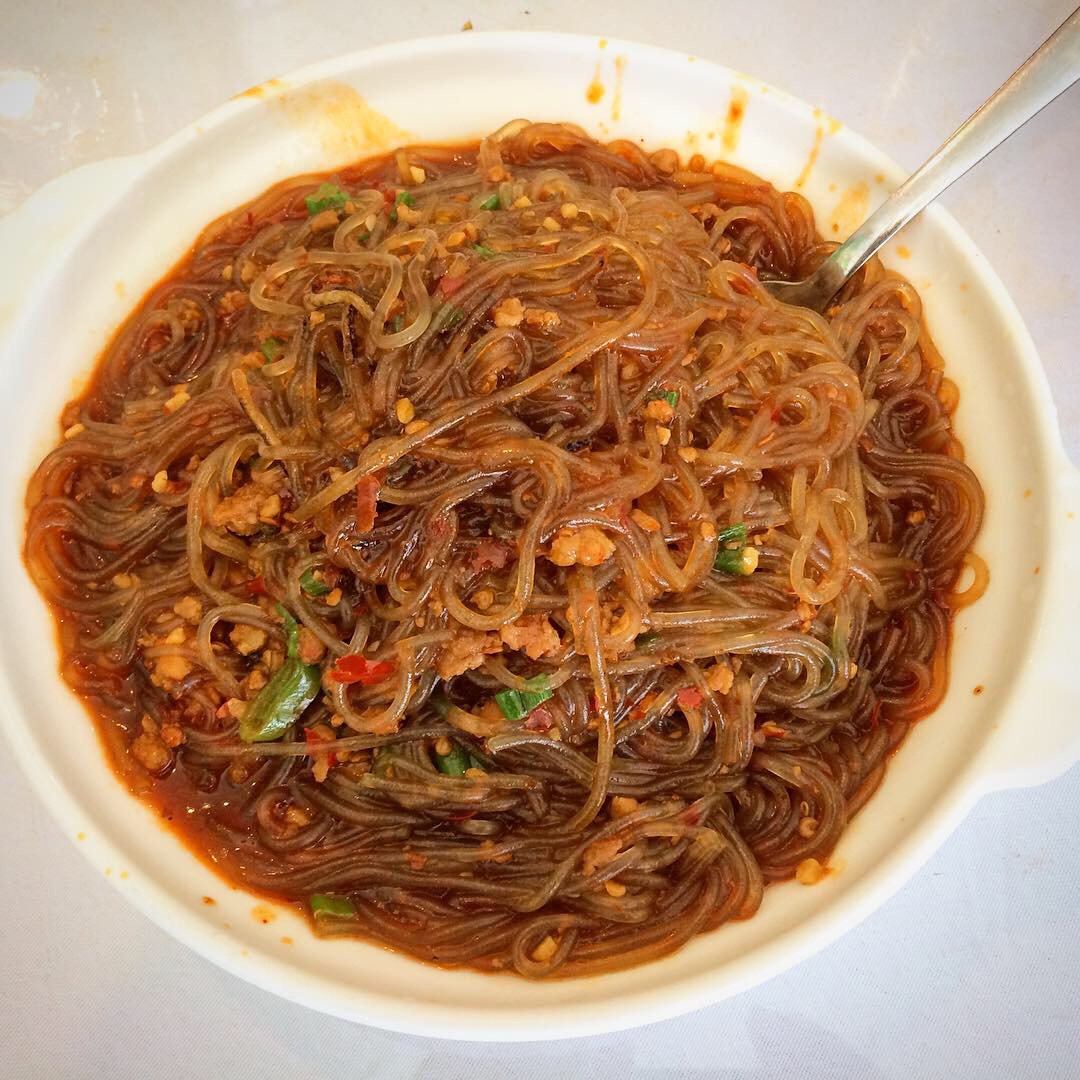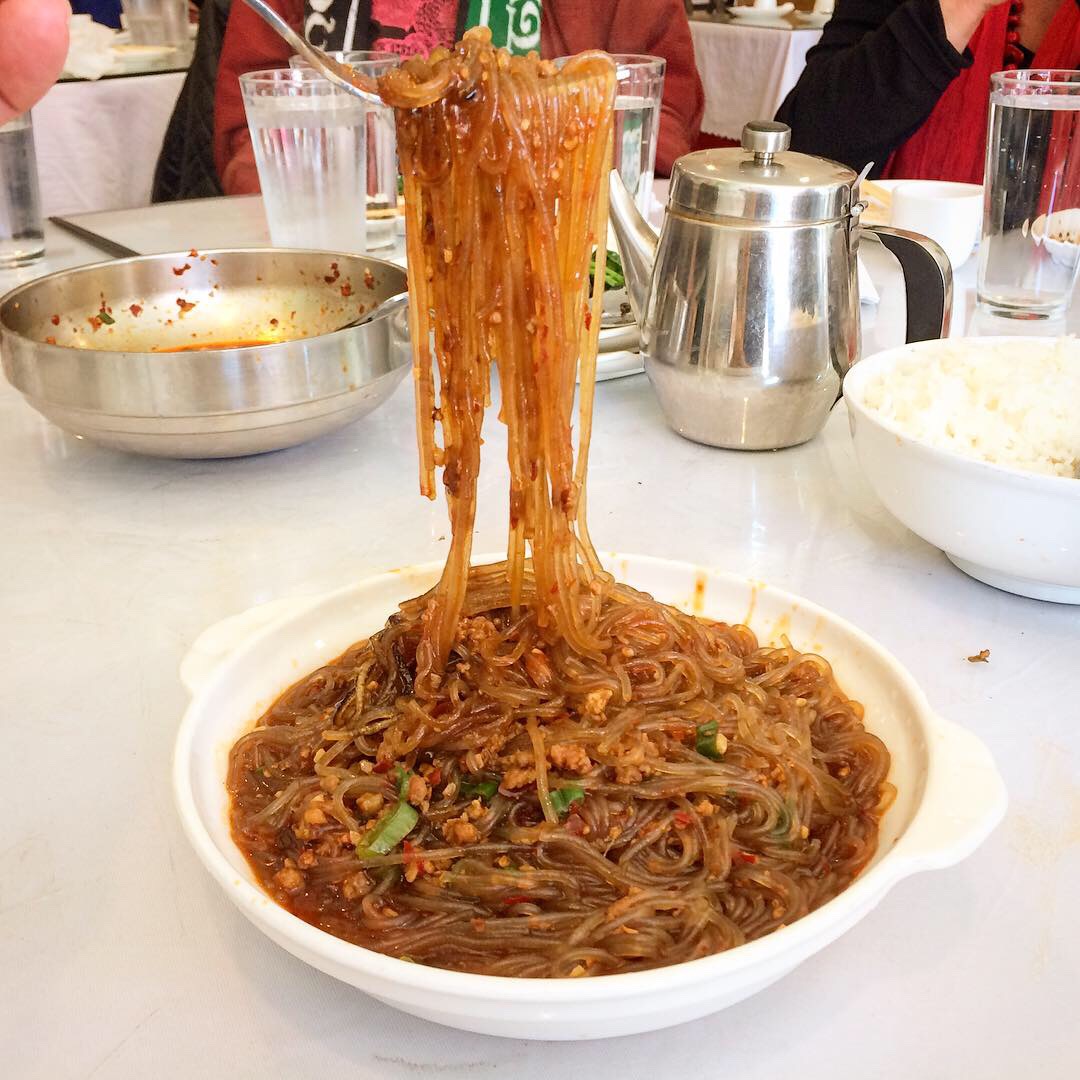 Minced Pork with Clear Noodle. I know this one by its more fanciful moniker, Ants Climbing Up a Tree. It consists of bits of ground pork in a bean paste based sauce poured over "cellophane noodles", translucent noodles usually made from mung bean starch. The bits of pork (the ants) cling to the noodles (the tree limbs) because of the slightly sticky nature of the sauce, hence the name. Second photo illustrates. At various restaurants where I've enjoyed this, the sauce has ranged from almost soupy to rather dry which was the case this time; it was also less sweet, saltier, and spicier than what I'm accustomed to, but highly enjoyable.
I once made this for someone as part of a mini-banquet and she refused to eat it. I assured her that no ants were harmed in the making of this dish. She said she realized that, of course, but the idea of noodles made from cellophane put her off.
You win some, you lose some.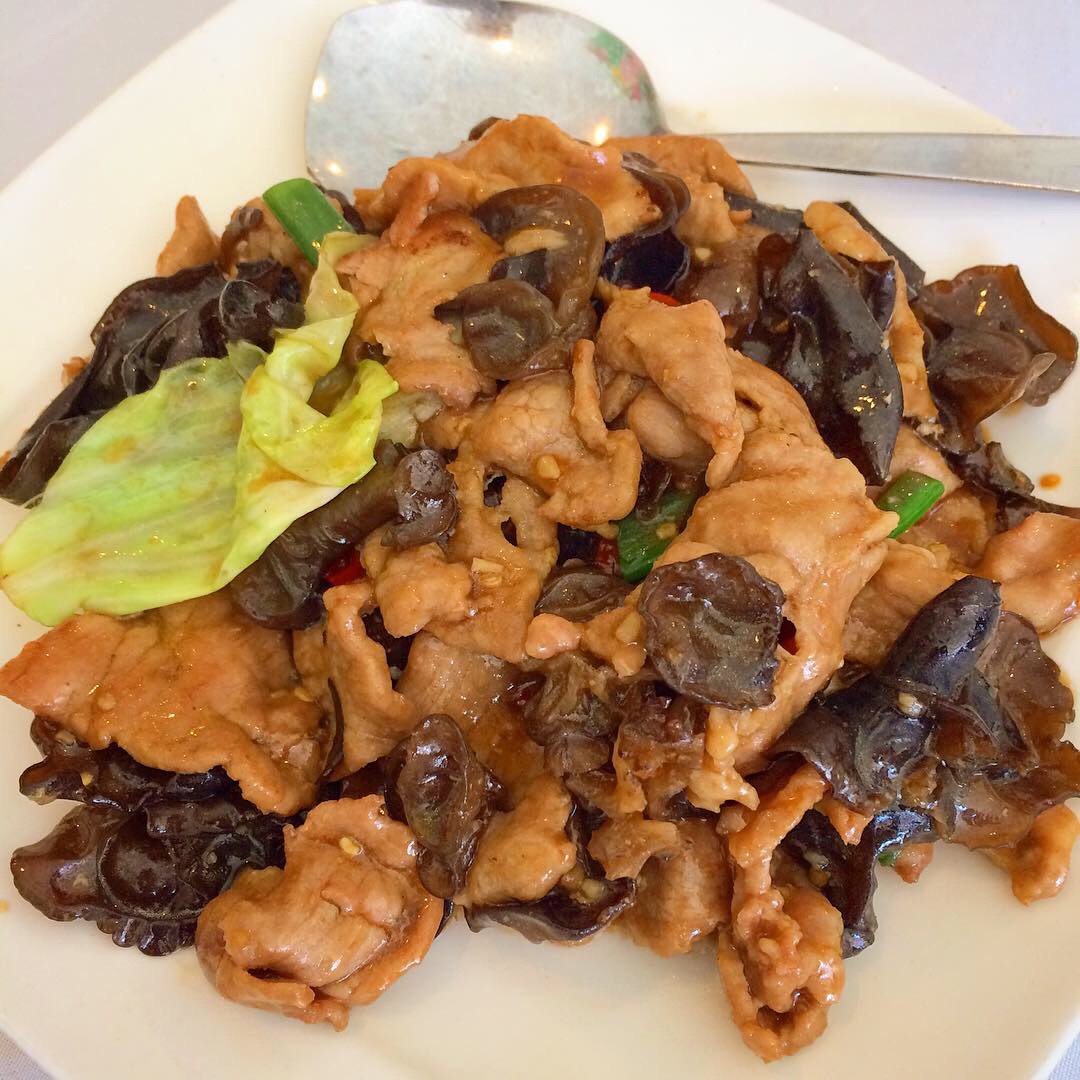 This is Sliced Pork with Wood Ear. You already know about the captivating flavor and aroma of wok hei, "the breath of the wok", derived from stir frying food over intense heat; the pork in this dish is infused with that magic and at the same time is moist and tender, most likely the result of velveting, a marinating technique used in Chinese cuisine. A great choice.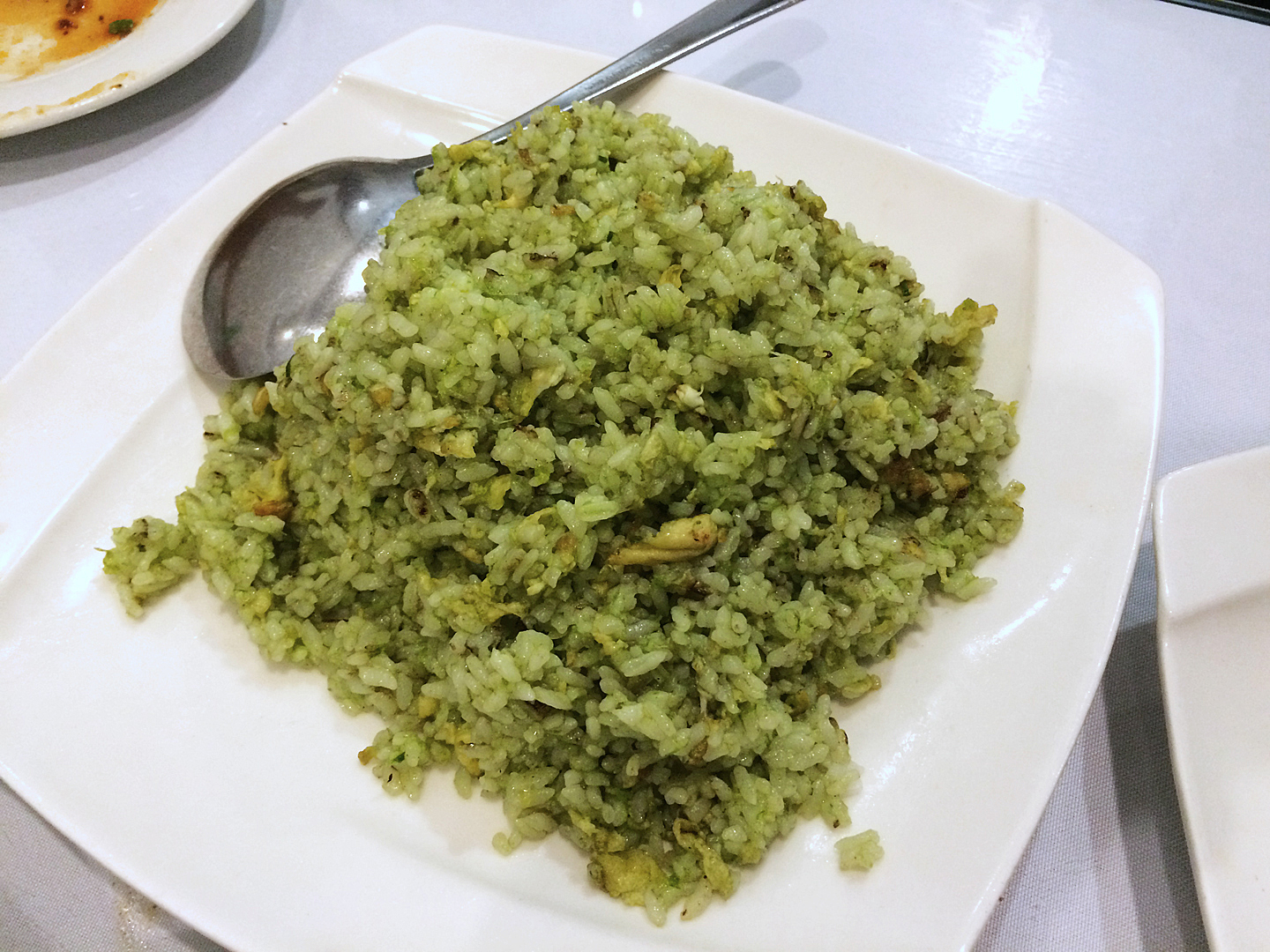 Scallion Fried Rice. Comfort food.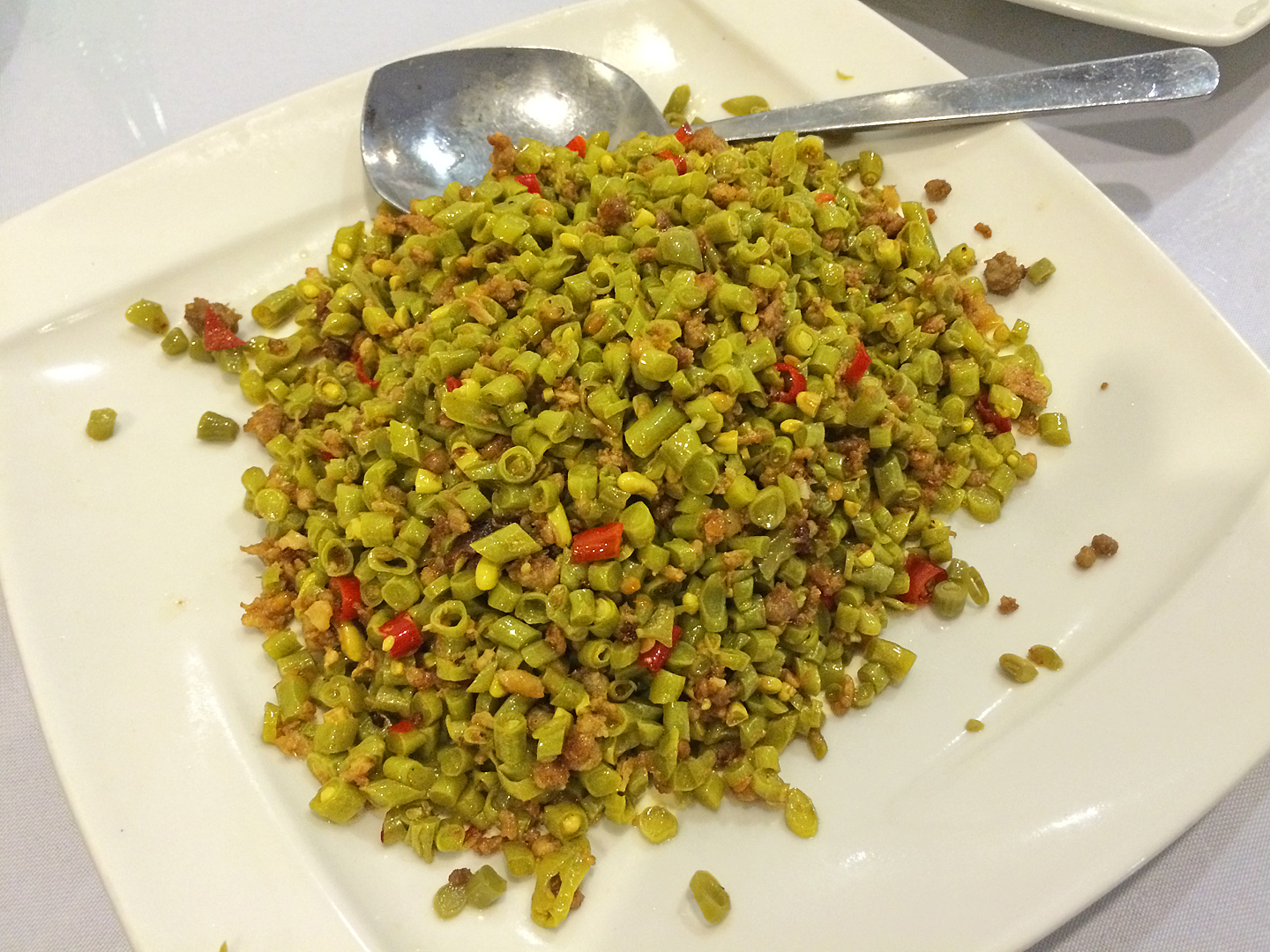 Sichuan Pickled Cowpea with Minced Pork – if you're in the mood for something completely different (assuming you've never tried it 😉).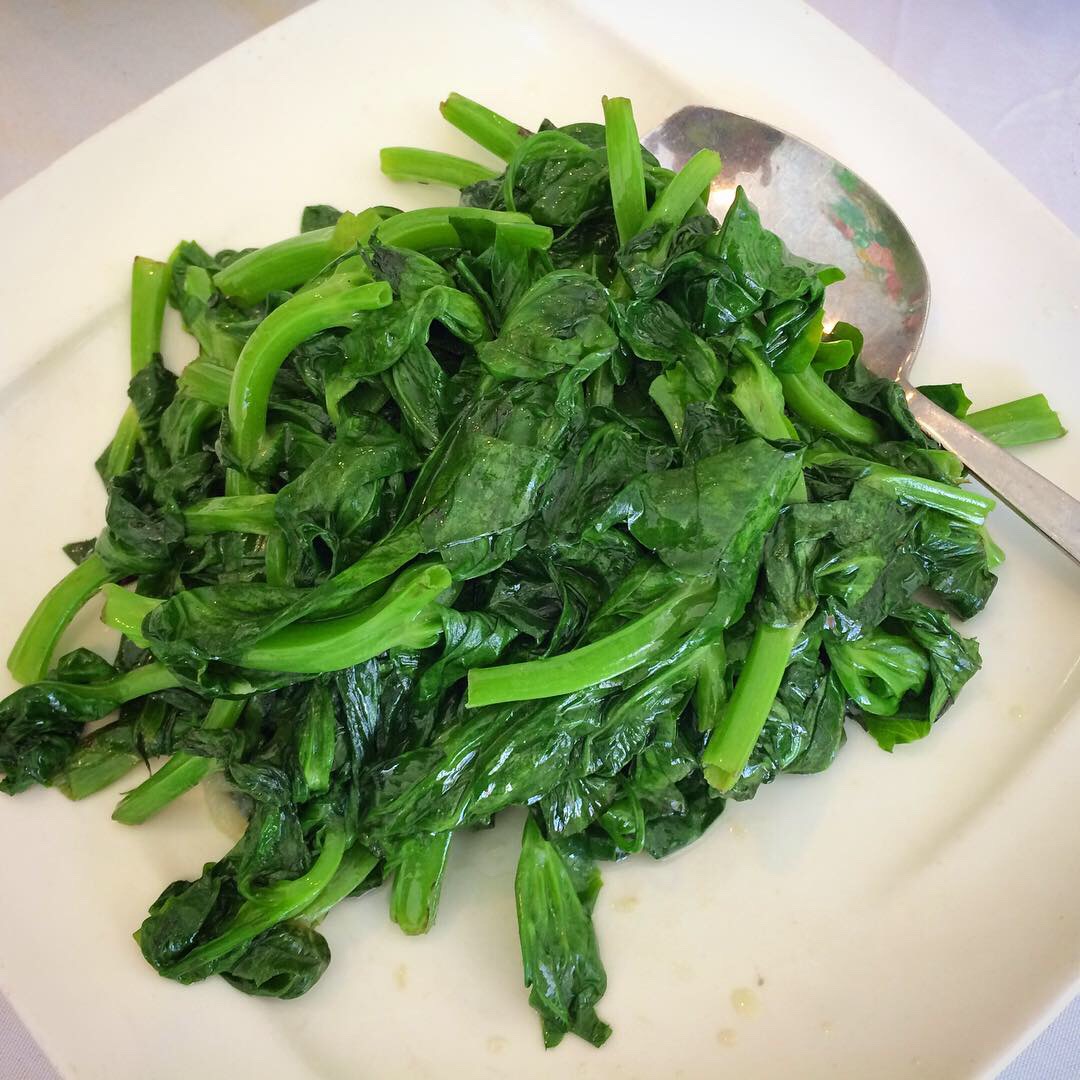 Sauteed Snow Pea Leaves, for those at the table who crave their green veggies; these are simply prepared and excellent.


Revisiting Little Pepper is like getting together with an old friend you haven't seen for a while; not necessarily any surprises to shout about, just that warm feeling that everything you loved about them in the past is still going strong and had just been waiting for you to reconnect.