When I write about restaurants on Instagram, they're usually brief takes accompanied by a photo or two. But because of Instagram's character count limitations, it's often necessary to break up a review into several parts. This one originally appeared as five posts, published in 2018 on October 27, 28, and 30 and on November 4 and 8.

---
Nouveau Sichuan, if you'll permit my neologism, seems to be the craze among Chinese restaurants these days. Classic Sichuan dishes appear beef cheek by pork jowl with fanciful presentations of innovative altered-state creations on menus that would make a coffee-table book pale into insignificance. Daxi Sichuan, 136-20 Roosevelt Ave on the second floor of Flushing's New World Mall, is one such exponent of the trend. Daxi wants to be known for its "modern interpretation of classic dishes" and our experience was certainly characterized by their attention to panache.
(Click on any image to view it in high resolution.)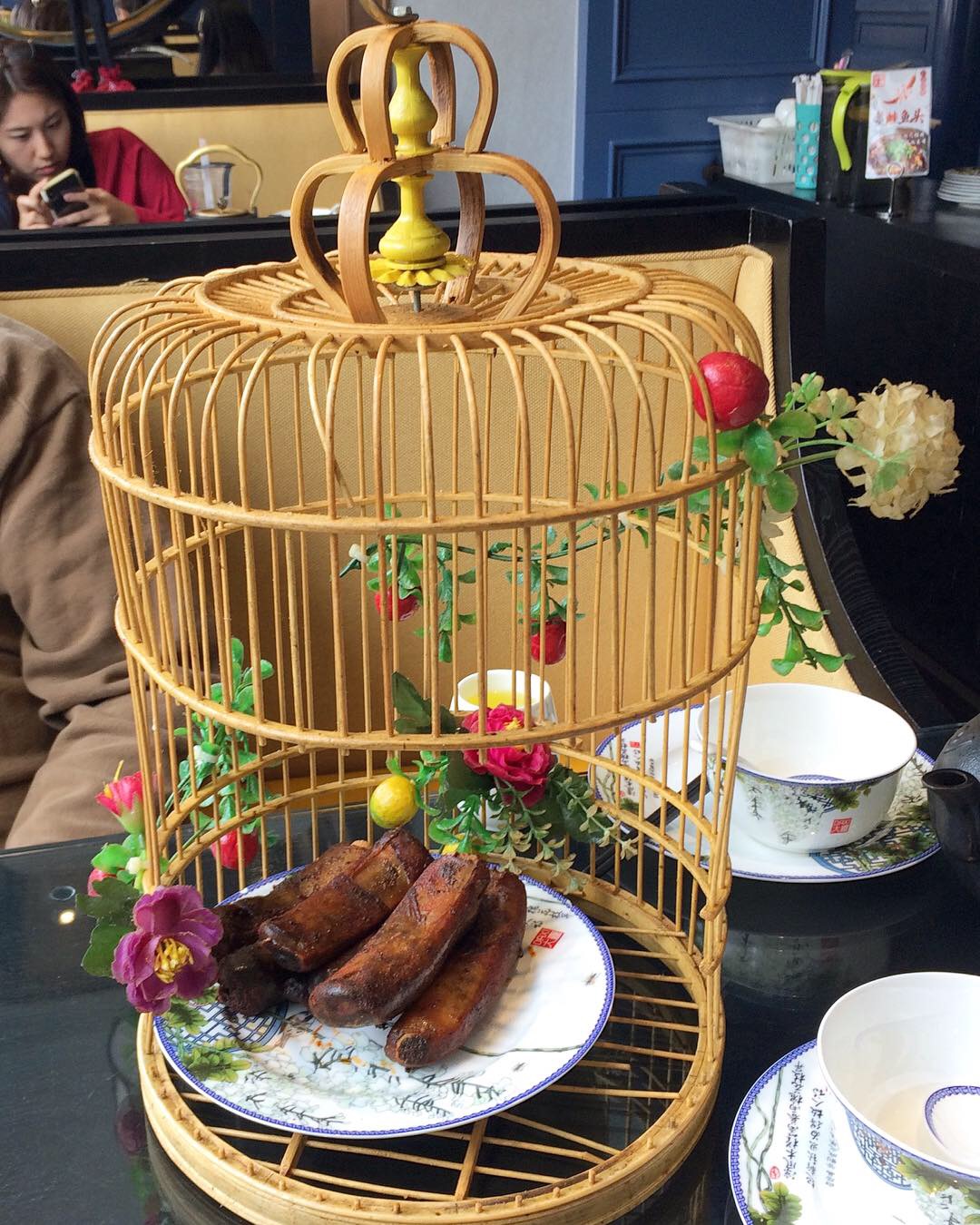 On a recent visit, we ordered the much touted Tibetan-Style Pork Ribs; they arrived in a bamboo birdcage festooned with plastic flowers. I'm not entirely certain that I get the connection (maybe it's a pun on rib cage?), but there they were on a plate at the bottom of the cage (uh, where again?), pork squeezed into a sausage casing, sheathing a rib bone, and looking for all the world like a trompe-l'oeil hot dog but tasting like a proper pork rib albeit a little on the dry side.
I'm assuming the birdcage is unavailable for take-out or delivery.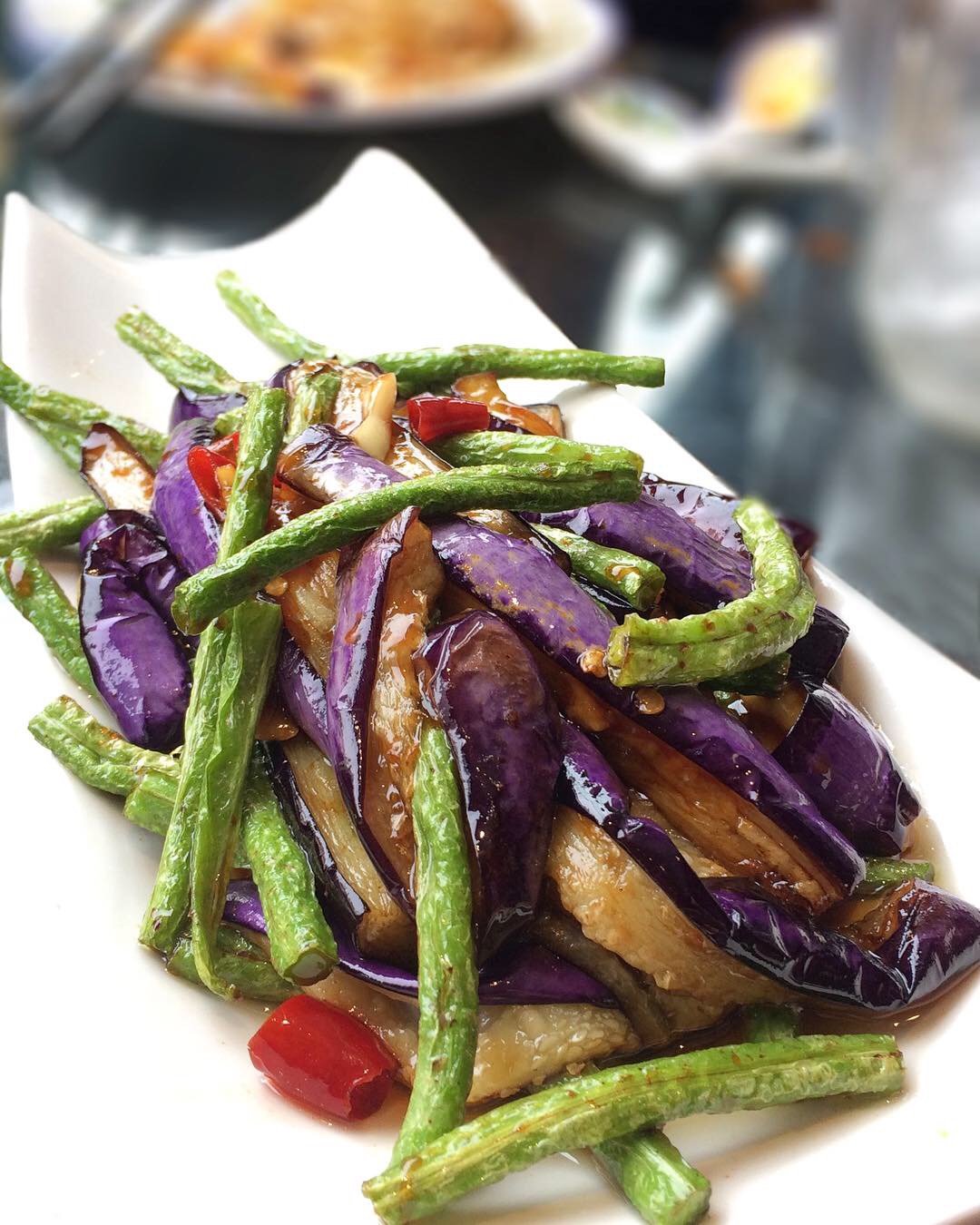 In contrast, here is our order of adeptly prepared Stir Fried Eggplant and String Beans; definitely delicious and free from artifice.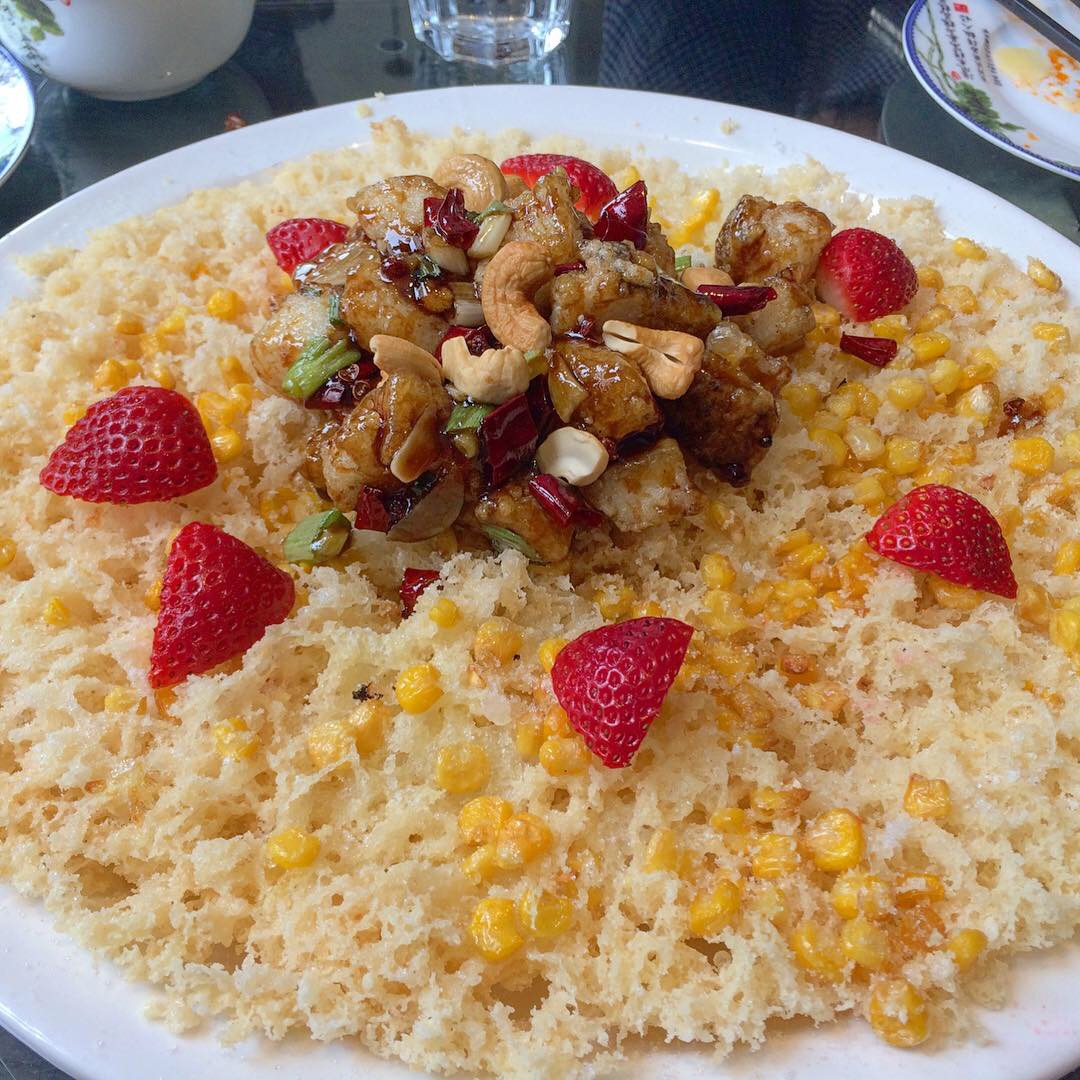 From the unique and novel side of the kitchen, this is Crispy Mandarin Fish. I'm told that its addictive crunchy pillow is made from deep fried ground dried corn. The sweet fish with cashews (and, um, strawberries?) was delicious, the crumbly cushion a perfect foil for the tender meat. My only wish would be for there to have been a higher fish to crunch ratio.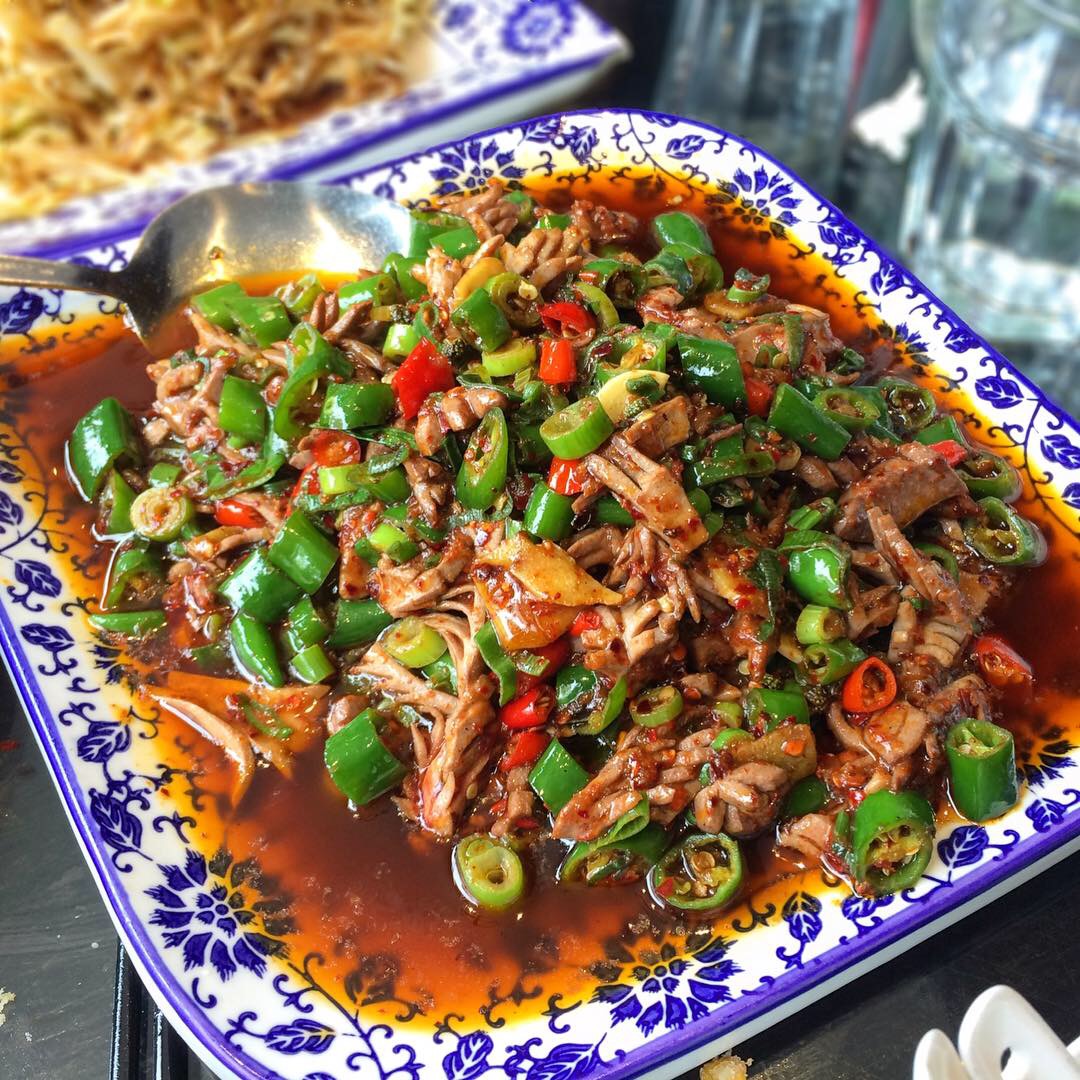 And from the classic side, Sautéed Kidney with Green Pepper (and red peppers too!) just the way it should be: tender and flavorful with a little kick.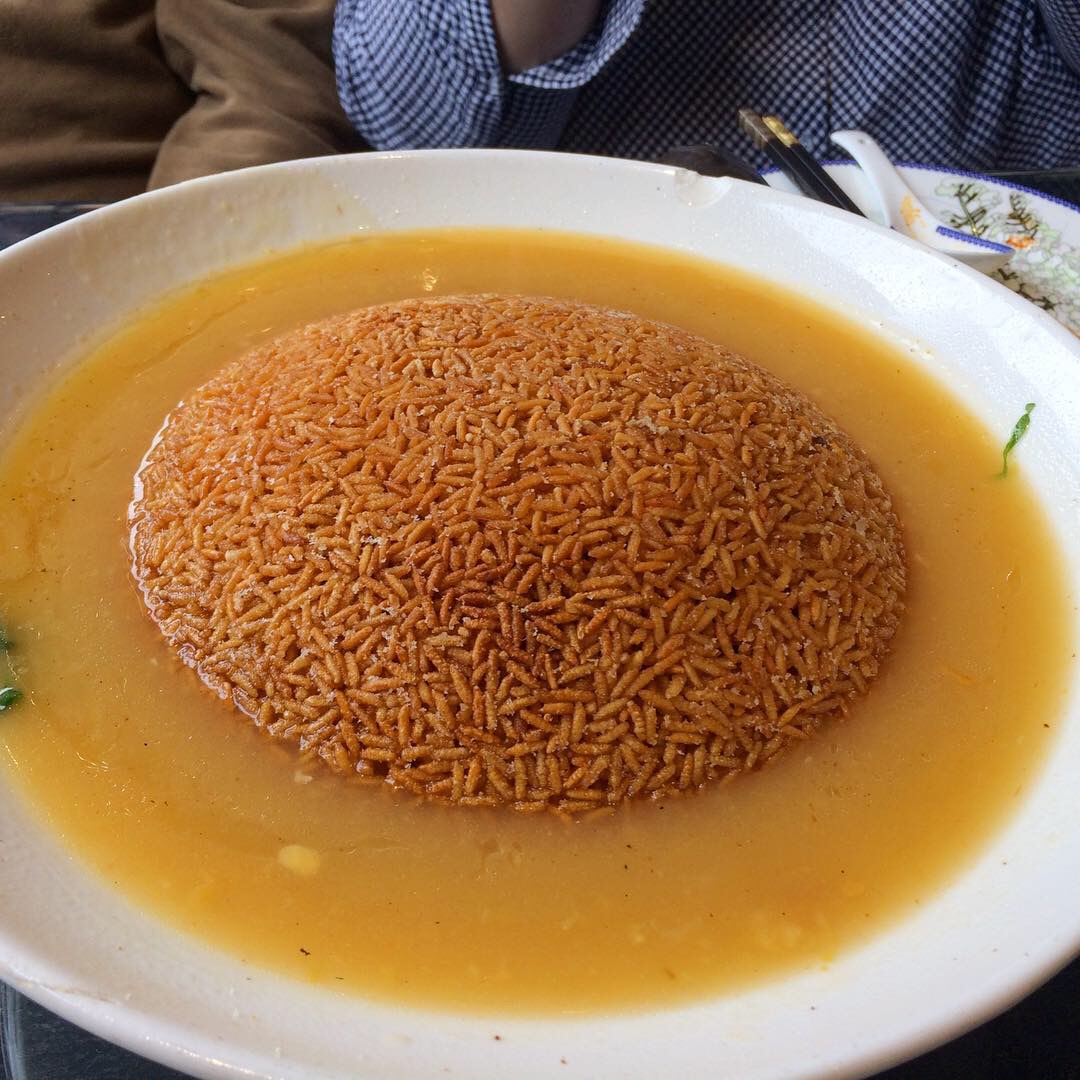 Dinner and a show at Daxi Sichuan. Exhorted by our server to hurry up and finish taking our pictures lest the crispy rice get soggy, we dutifully complied. She then proceeded to smash the parabolic rice cake with uninhibited abandon using the back of her ladle as a bludgeon until it was well incorporated into the Seafood Crispy Rice Soup: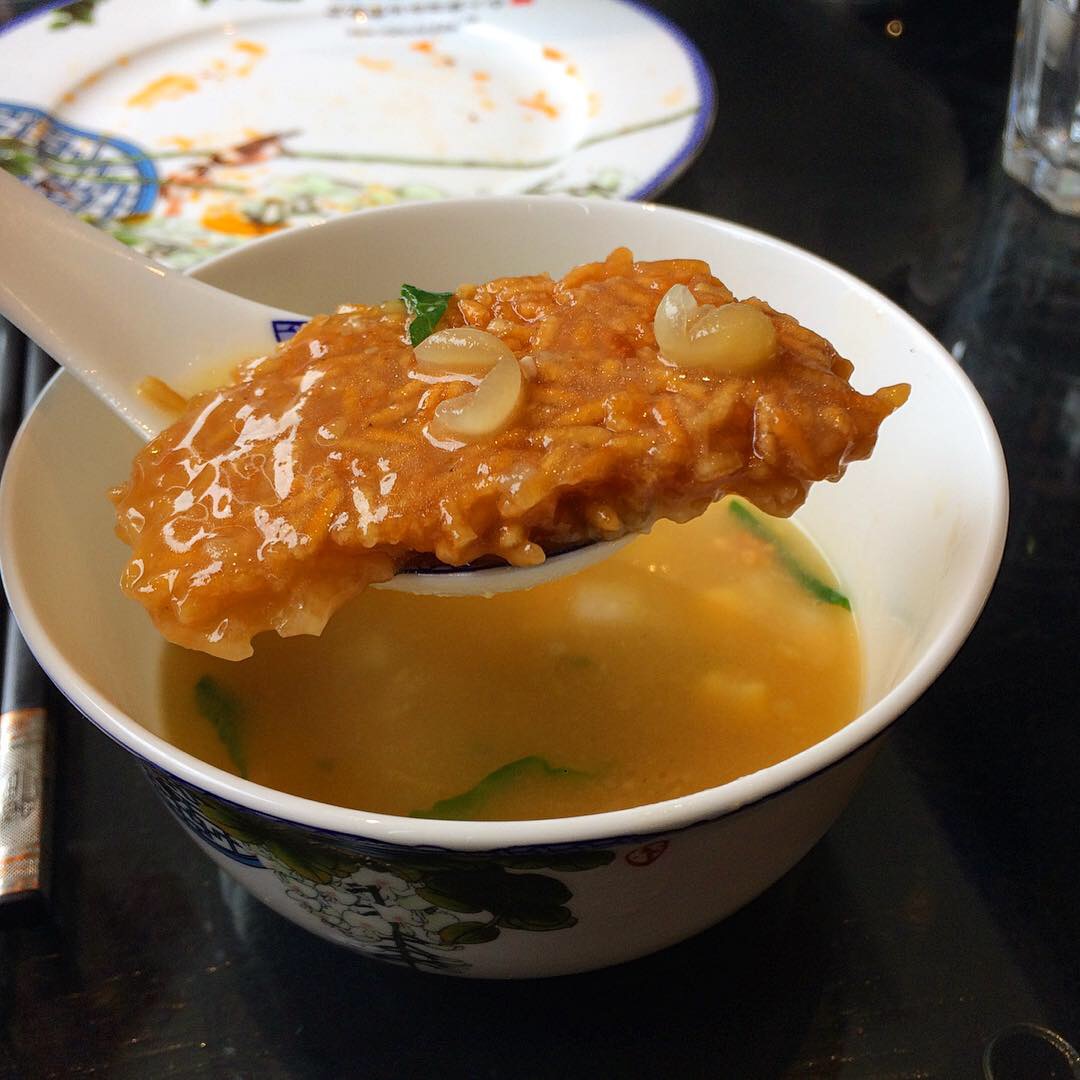 The crunchy bits were certainly tasty, as was the soup, but we were hard pressed to find any seafood in it. So again, although the dishes were certainly good, they were less captivating than the presentation.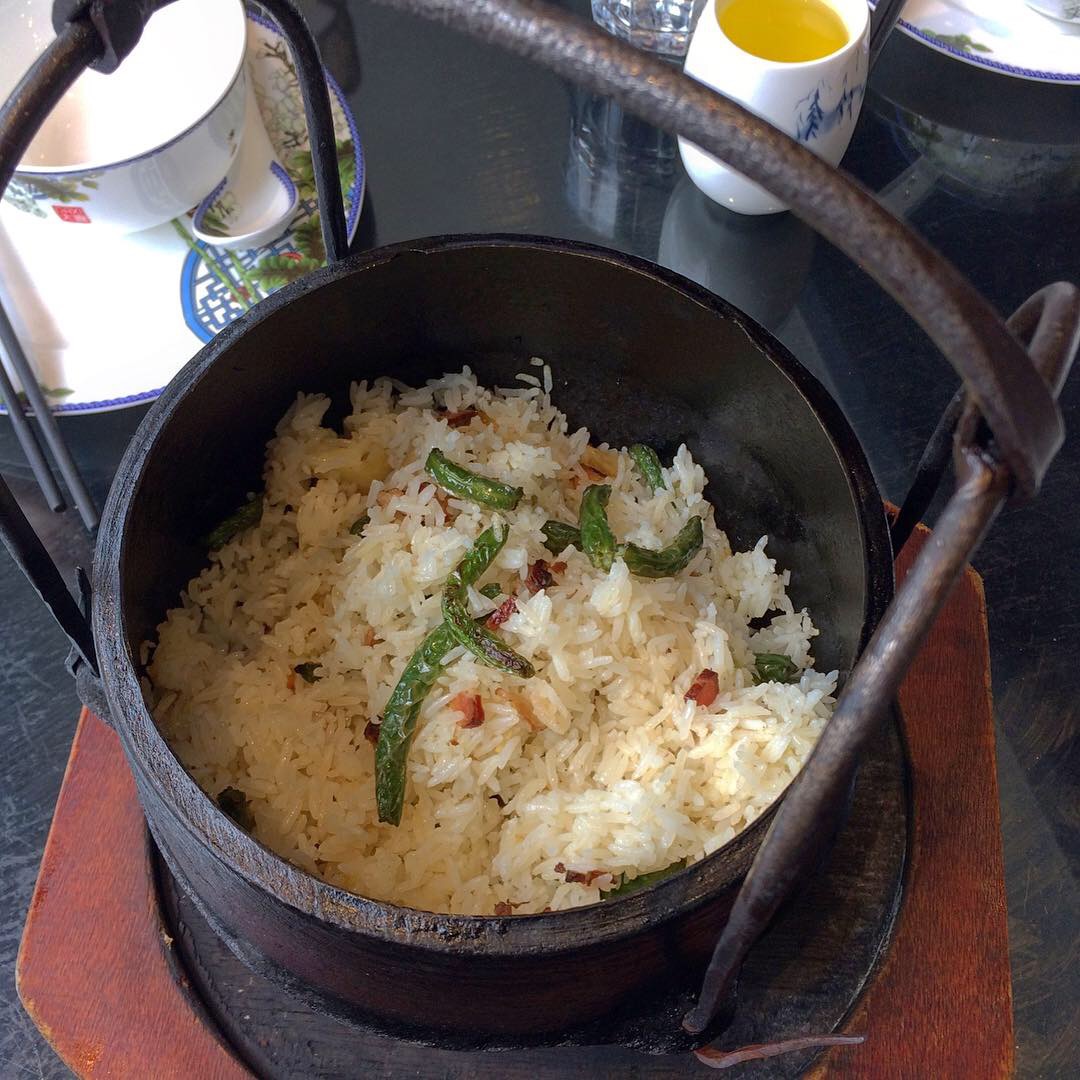 House Special Rice & Cured Meat Country Style. The outsized, lavish menu enticed us with a larger than life depiction of this charming presentation of rice brimming with cured meat and other tempting tids and bits. Although the cast iron pot arrived as pictured, the rice was less lavishly embellished than we had anticipated. Still, the dish was certainly good if a bit overhyped. If it had arrived on a standard serving plate, I would have been just as happy.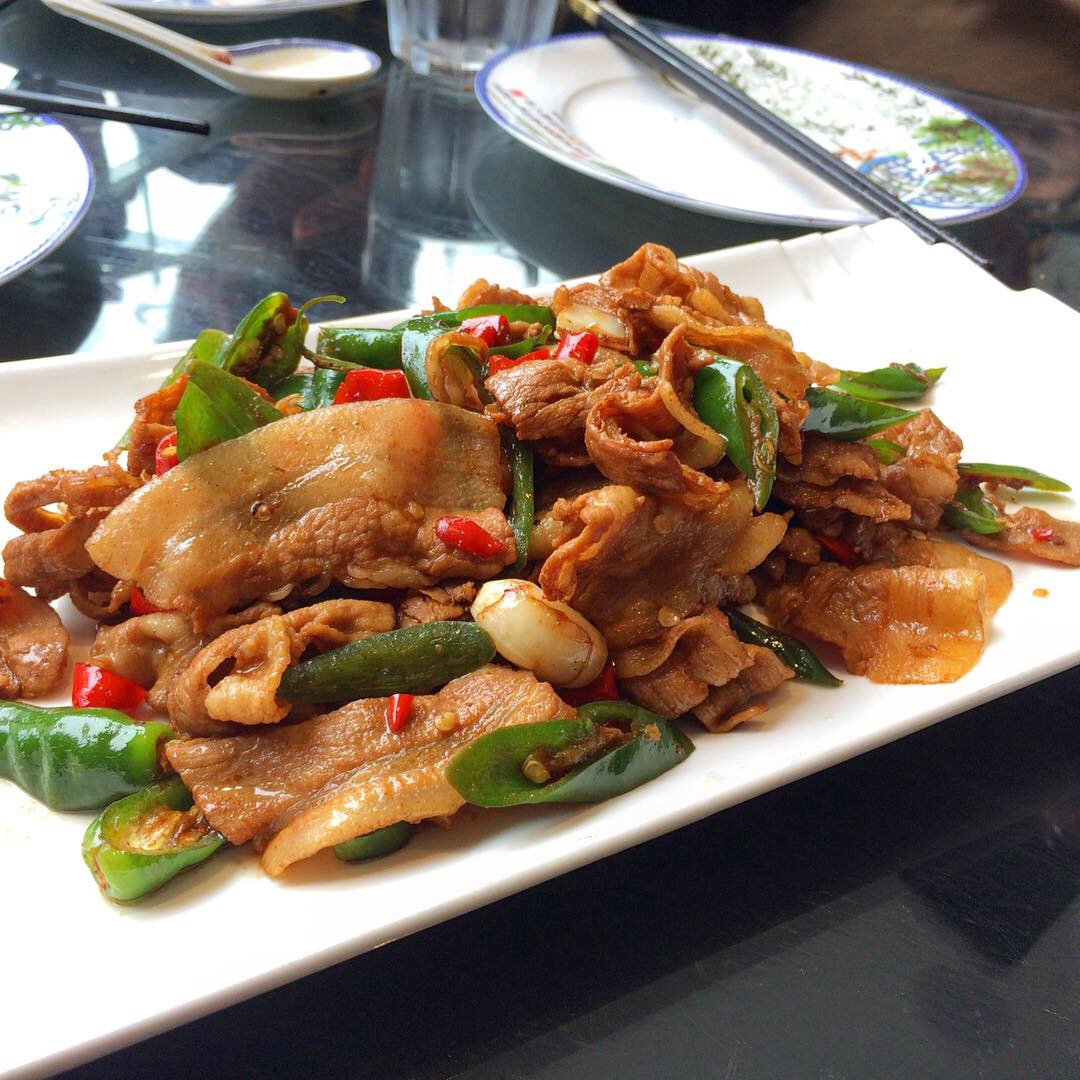 Sautéed Pork Chengdu Style. Chinese bacon with spicy green pepper and garlic; simply produced and tasty. They do well when they're not trying too hard to impress with stylishness.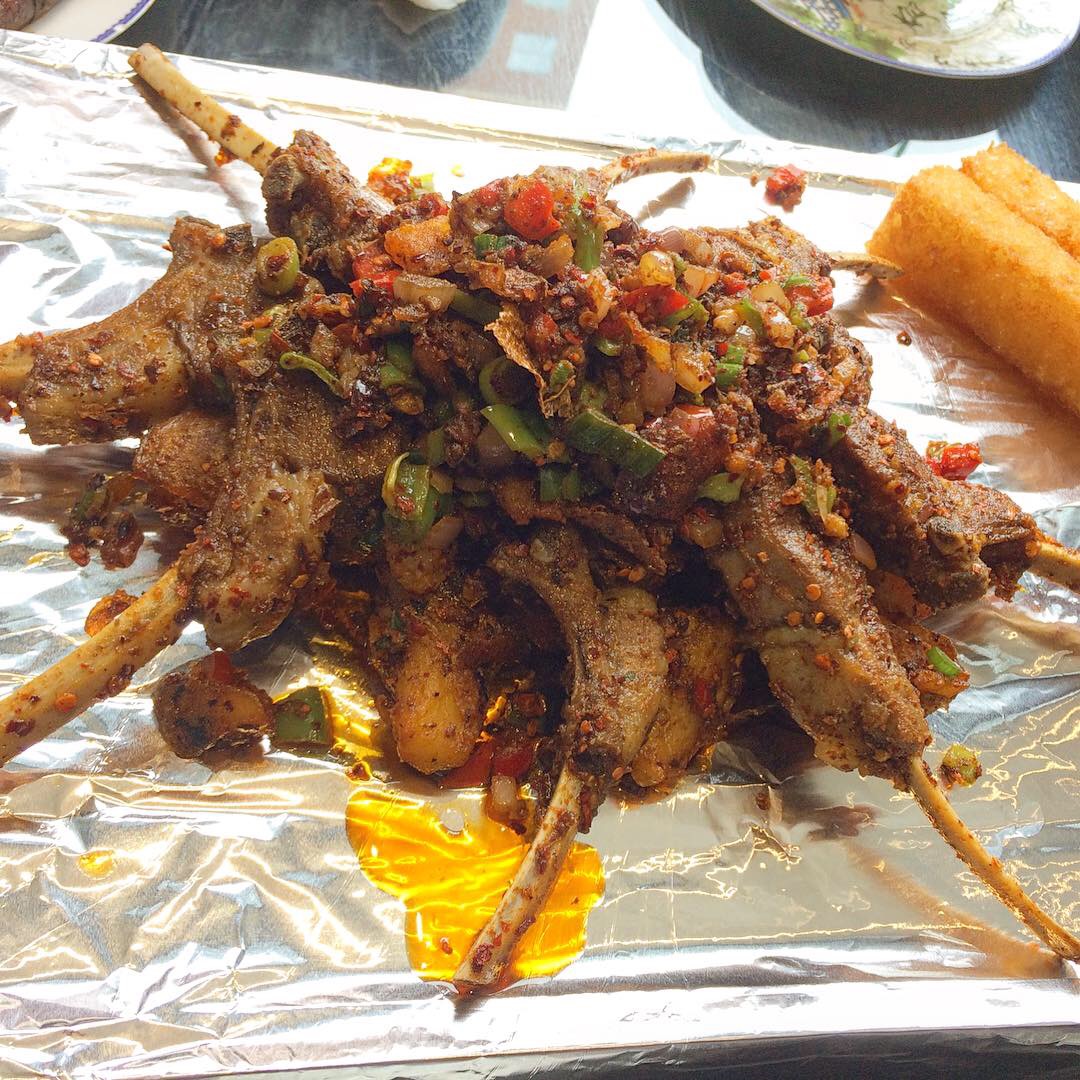 Tibet Style Lamb with Brown Sugar Rice Cake. First question: I count eight chops in compass point configuration but only two rice cakes. Those rice cakes were tasty – but were they intended as merely a flavorsome garnish? (Upon review, the menu depicted more.) The lamb was good as well, but the undergirding of spicy potatoes, peppers and onions was excellent.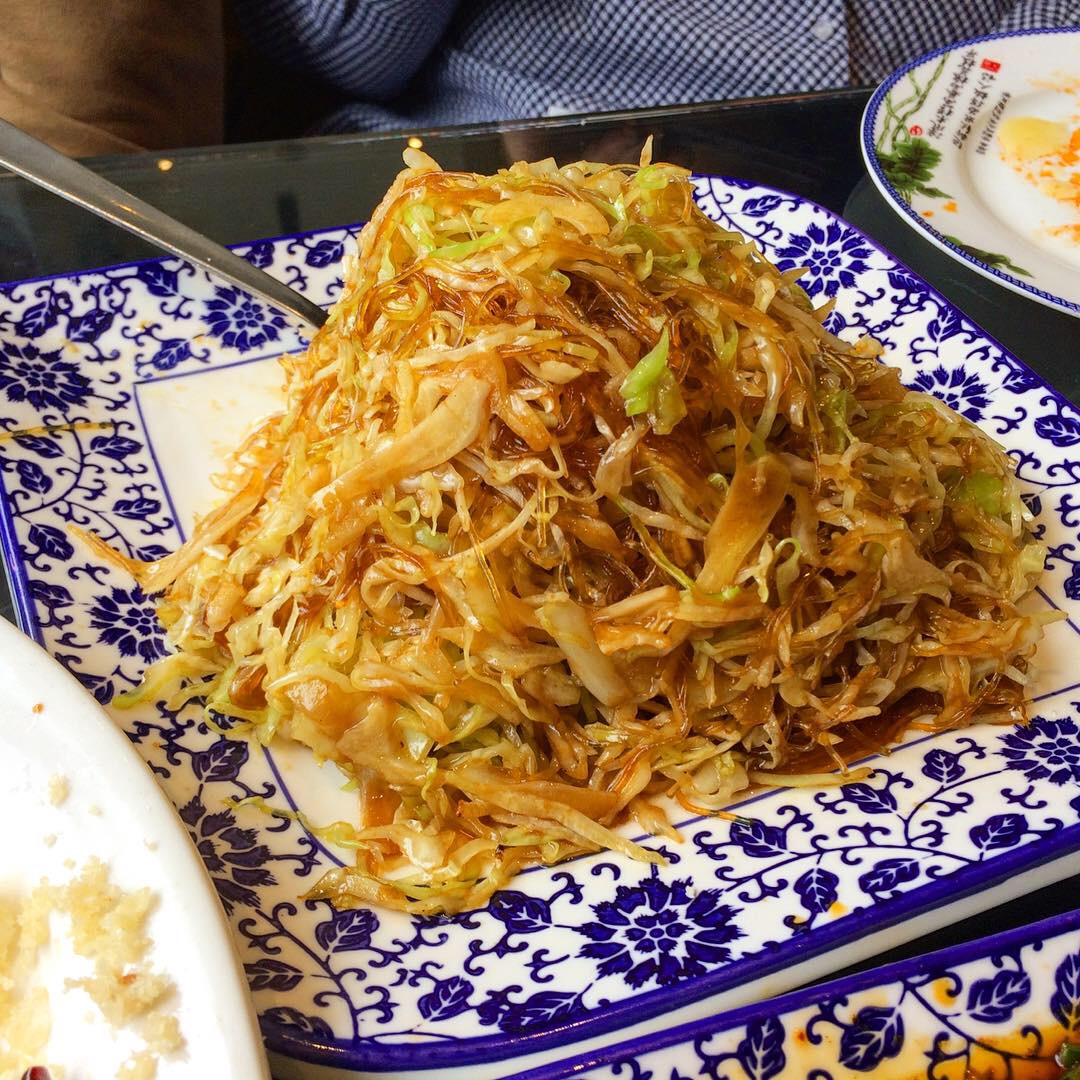 And finally, Stir Fried Cabbage and Bean Vermicelli. Gimmick-free, sans over-the-top-staging; simple, homespun and delicious. And maybe that's the method in their madness at Daxi Sichuan; they aim to cover both sides of the culinary divide with some dishes that focus on eye-catching presentation and others that sustain us with mouth-watering comfort food. After all, they did just net a 2019 Michelin Bib Gourmand award.


Daxi Sichuan is located in Flushing at 136-20 Roosevelt Ave on the second floor of the New World Mall.