(Click on any image to view it in high resolution.)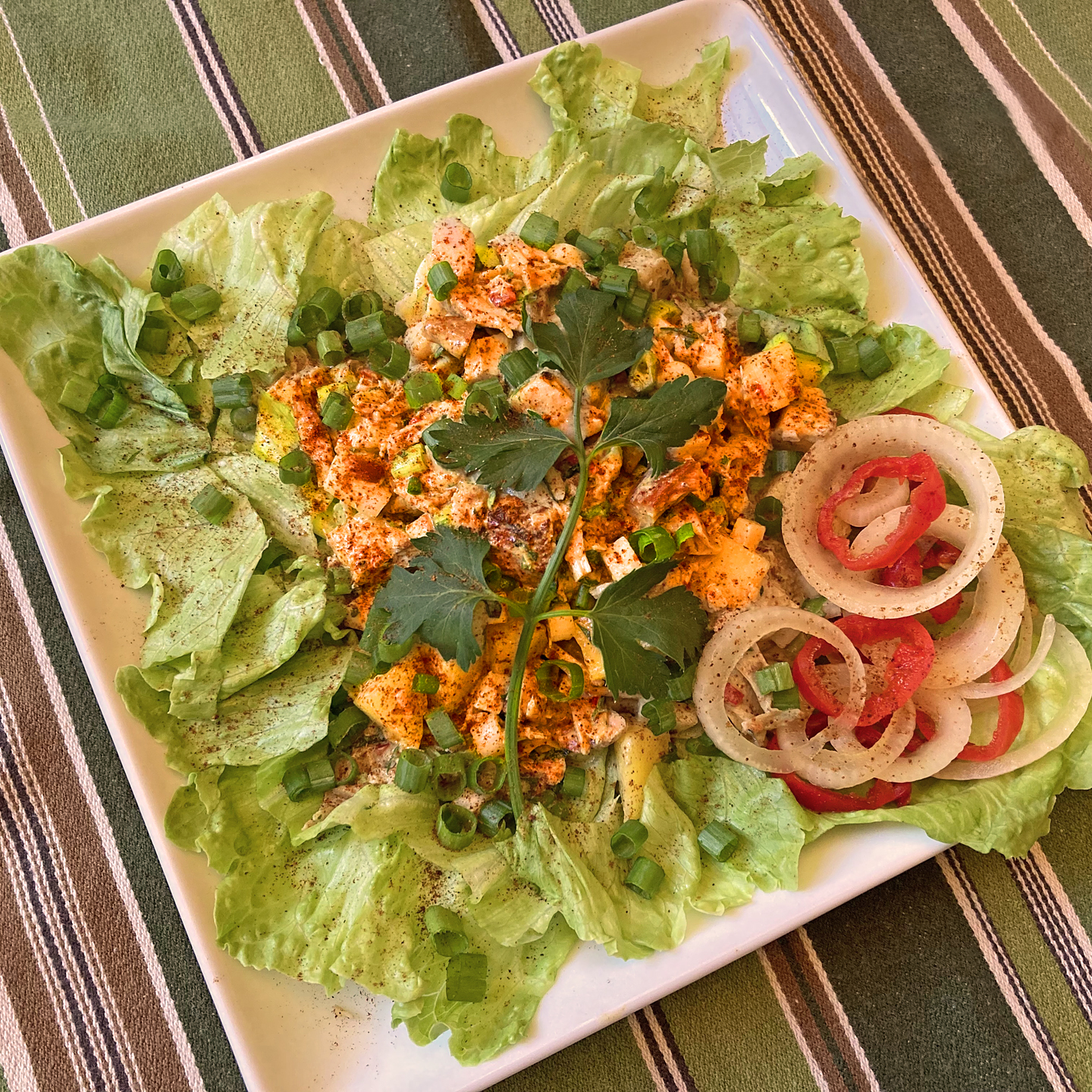 It had been One Of Those Days and I decided to reward myself with jerk chicken from one of the best spots in Brooklyn for that sort of thing. I hadn't been there for a couple of years (feels like I haven't been anywhere for a couple of years) so my visit was long overdue.
I got a large order, brought it home, and proceeded to chow down – but after a few ravenous chomps, I realized that somehow its distinctive mojo had dwindled during the long hiatus.
Apparently it was still One Of Those Days.
So I stashed the remainder in the fridge with an eye toward reinvention; jerk chicken salad sounded like a plan. But when I embarked on the task, after tasting a bite, I became aware that most of the character had resided in the now flabby skin – definitely not a component for chicken salad of any stripe – hence the Jamaican accent would need to come from the dressing.
I always have a can of coconut milk in the pantry, but the base required something tangier. So I combined buttermilk with one of my "secret" ingredients, coconut milk powder; I never use the stuff to reconstitute into coconut milk, its intended destination, but rather for augmentation purposes like this. I tossed in a succession of ingredients with my customary reckless abandon, tasting along the way. (If you're curious: I ended up with a little jerk seasoning that had been languishing in a jar in the fridge, Pickapeppa sauce, Jamaican curry powder, allspice, a few drops of liquid smoke, sugar, salt and pepper; the herbal element consisted of minced fresh hot pepper, cilantro, and fresh thyme, all allowed to rest so the flavors could meld.)
When the dressing was ripe, I folded it into the diced chicken along with diced mango for sweetness, diced jicama for crunch, and the white parts of chopped scallion for zing, let that mature for a while, and then plated it topped with cutting celery (aka leaf celery), the green parts of the scallion, and a sprinkle of smoked paprika.
Turns out there was no need to be concerned about how much cash I had shelled out on the original – I was delighted with the outcome. I should have heeded those Jamaican words of wisdom: "Don't worry…be happy!"