The Jewish holiday Purim begins this year (it's 5782 according to the Jewish calendar) on Wednesday evening, March 16, and ends on the following Thursday evening. Although the photos in this post were originally published a year ago, some things never change. Tradition!
The story of Purim memorializes the time in ancient Jewish history when Haman, royal vizier to King Ahasuerus of Persia, had been plotting to exterminate all the Jews in the empire. His plan was thwarted by Mordecai and Queen Esther, his adopted daughter, and the deliverance is one of joyful celebration, steeped in traditional ceremonies and festivities. Among the many icons of the holiday, one of the most renowned is the hamantasch, literally "Haman's pocket".
(Click on any image to view it in high resolution.)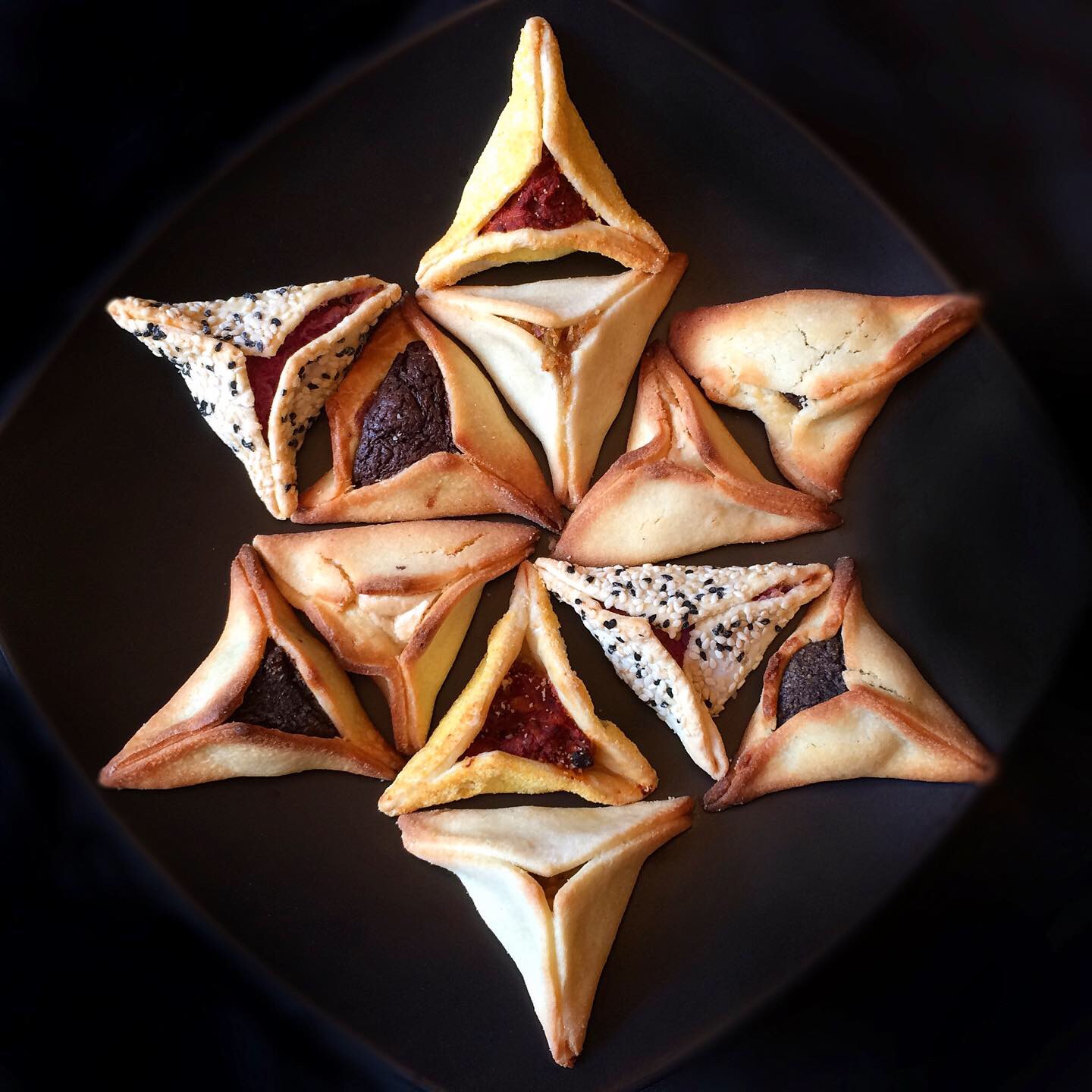 Hamantaschen are delicious triangular baked pastries conventionally filled with thick prune jam (lekvar) or ground poppy seeds (muhn), but these days creative cookery presents some serious competition. Happily, the always mind-blowing Breads Bakery with four locations in Manhattan, covers the entire spectrum. On this plate, there's sweet poppy seed, halva, chocolate, and apple along with a pair of savory challengers, purple haze and pizza. The former, covered in sesame and nigella seeds, holds sauerkraut – a little sweetish and worth a bite even if you don't care for sauerkraut. The latter is filled with a blend of tomato paste, mozzarella and parmesan cheeses, basil, garlic, and olive oil and tastes exactly like what you'd expect with that set of ingredients; try warming this one up. Fusion food for sure. This year's specialties are apple, apricot, poppy, chocolate, and pizza with walnut pesto.