You know about K-pop, right? This is K-dog. "Oh K-Dog" to be precise, and it seems like there are dozens of outposts across the country (this one can be found at Queens Crossing Food Court, 136-17 39th Ave in Flushing) and from what I see, it's a thing.
(Click on any image to view it in high resolution.)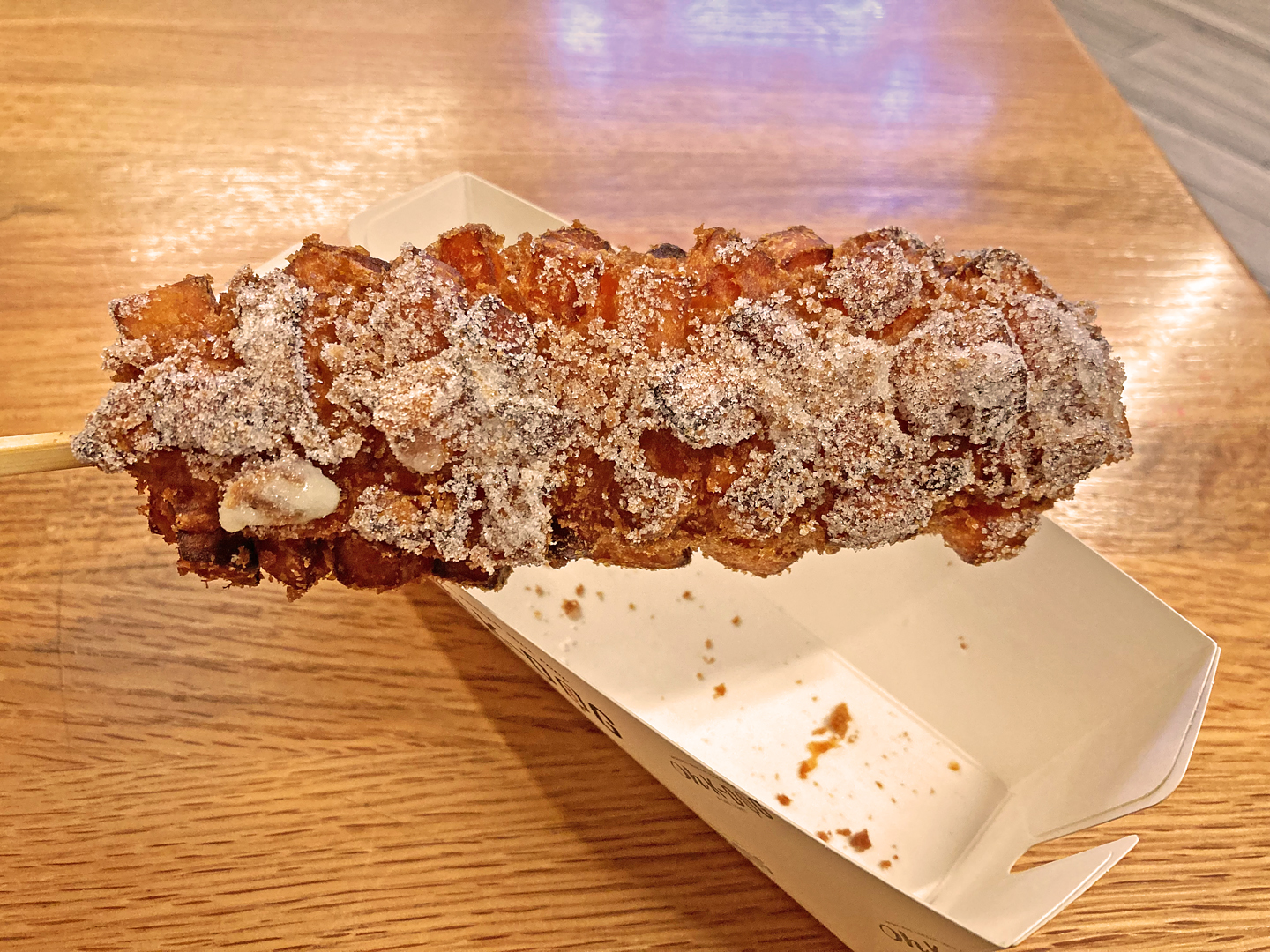 In their own marketspeak, "Korean rice hotdogs have become a craze in Korea, quickly becoming one of the most popular street foods. Unlike a typical hot dog, we specialize in using a stick to deep fry our signature item until it crisps golden brown."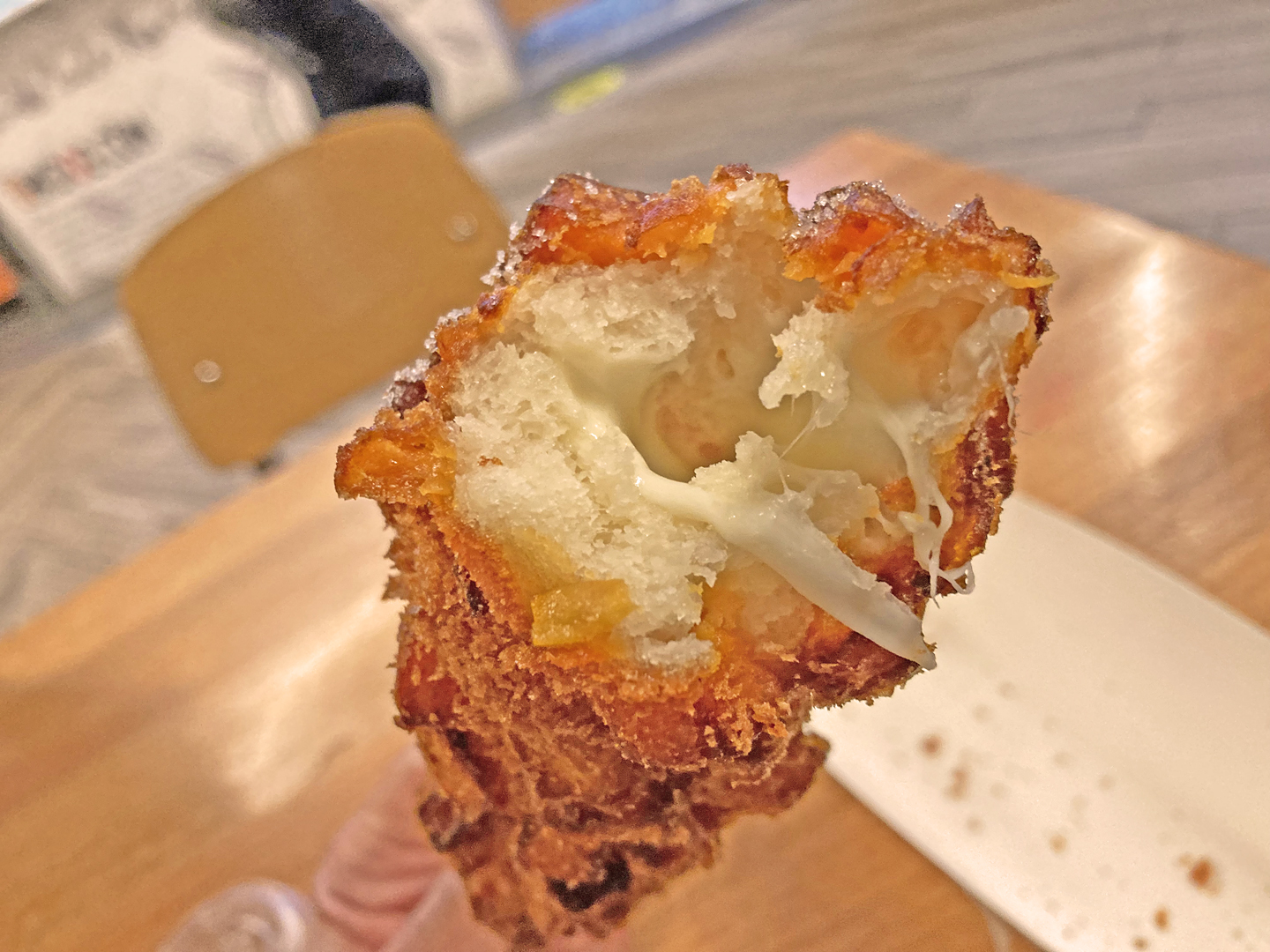 So instead of a bun for a dog carrier, it's battered, yielding a soft, bready interior and a crispy exterior. Not into hot dogs? Me neither, but you can swap in a cylindrical Korean rice cake or a log of mozzarella for the dog. To gild the lily, you can add diced potato or sweet potato to embellish the delicacy.
I opted for a sweet version: mozz inside, sweet potato chunks outside. I was asked if I wanted sugar or cinnamon sugar sprinkled on top. "Half and half?" I ventured, dodging the decision, and I was rewarded with an unexpectedly tasty treat.
And only then did the real fun begin. Off to the side, there's a variety of condiments with which to experiment including ketchup, honey mustard, sweet chili, gochu hot sauce, garlic sauce, and cheese mustard among others. Cheese mustard? It tasted of neither cheese nor mustard but it turned out to be the perfect complement to my order.
But wait there's more! For the final act, you can sprinkle on your choice of toppings like honey butter, parmesan cheese, onion sprinkle, snowing seasoning, and coconut.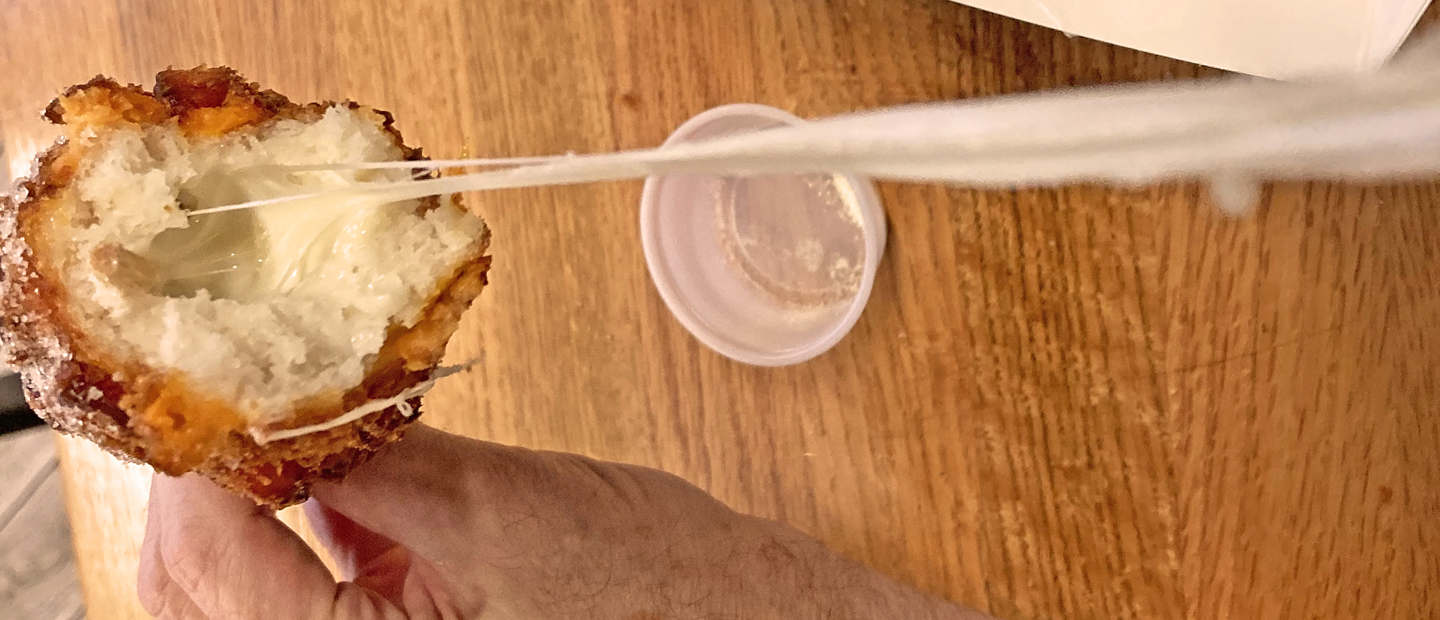 When flying solo, I am physically incapable of positioning a camera, holding a chunk of food and doing an Instagram cheese pull, but hopefully you get the idea. At the counter, there's a mesmerizing video loop of a young woman handily demonstrating those skills. Dinner and a show.
I wanted to dismiss this as an exercise in silliness, but I got hooked on it – as did some guests on my Flushing ethnojunket.
And I haven't even tried their other specialty, Egg Toast, and its variations. Next time.