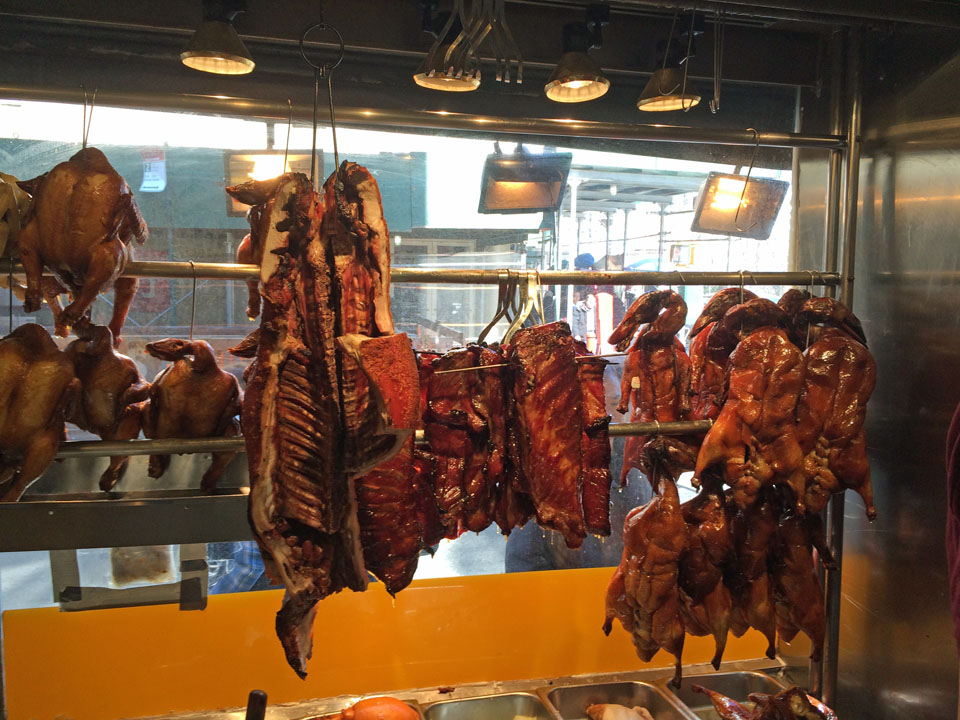 Before we expose this canard canard (got that one out of the way early!), let's be clear that there is a significant difference between a proper rendering of Genuine Peking Duck and The Dish We're About to Make.
Genuine Peking Duck is eminently shareable, incredibly impressive, and absolutely delicious.
Step One: The Chinese tai see foo (master chef) starts with a breed of duck (Pekin) that is specially raised for this dish. After plucking, eviscerating, and general cleaning, the duck is scalded in boiling water, dried, and air is pumped under the skin. Traditionally, the chef blows into a small hole that has been punched in the skin at the base of the neck, thus separating the skin from the meat (yes, essentially it's a duck balloon) and then it's tied off. This procedure ensures that the skin will be crispy because that's what this dish is all about. The duck is then refrigerated for 24 hours. From there, it's coated with a sugar-based glaze – maltose, honey, there is some latitude here – that coaxes the skin to brown during cooking and hung in front of a fan for as much as another 24 hours. Finally the duck is roasted. (And that's the short version that omits detail, although in no version do we omit the tail.) – End of Step One.
The Dish We're About to Make is eminently shareable, incredibly impressive, and absolutely delicious.
Step One: Go to your local Chinatown and purchase one of the Cantonese roast ducks you see hanging in the window. – End of Step One.
So you see why we're Faking Peking Duck, right?
Note: as soon as you ask for a roast duck, the fellow behind the counter will take one down and brandish his cleaver in order to chop it up (for that is what one does with Cantonese style roast duck). STOP HIM! Perhaps he speaks English, or if not you can resort to sign language, or if you're brave you can say "Mm sai jahm!" (Cantonese for "Don't need to chop!") – but you want it whole.
By the way, you might also see flattened ducks that look a little like Georgian Chicken Tabaka or like Daffy the time he didn't get out of the way of the steamroller Bugs was driving. Those are pei-pa ducks, so called because of their resemblance to the Chinese banjo of the same name. Delicious as those BBQ ducks are, you don't want one for this recipe. It also bears mention that the roast ducks have been more fully seasoned from within (think five spice, soy sauce, etc.) than true Peking Duck, so the flavor of the meat will be a little different.
At this point, the recipes converge and we can delve into presentation and construction.
In addition to the duck, you'll need: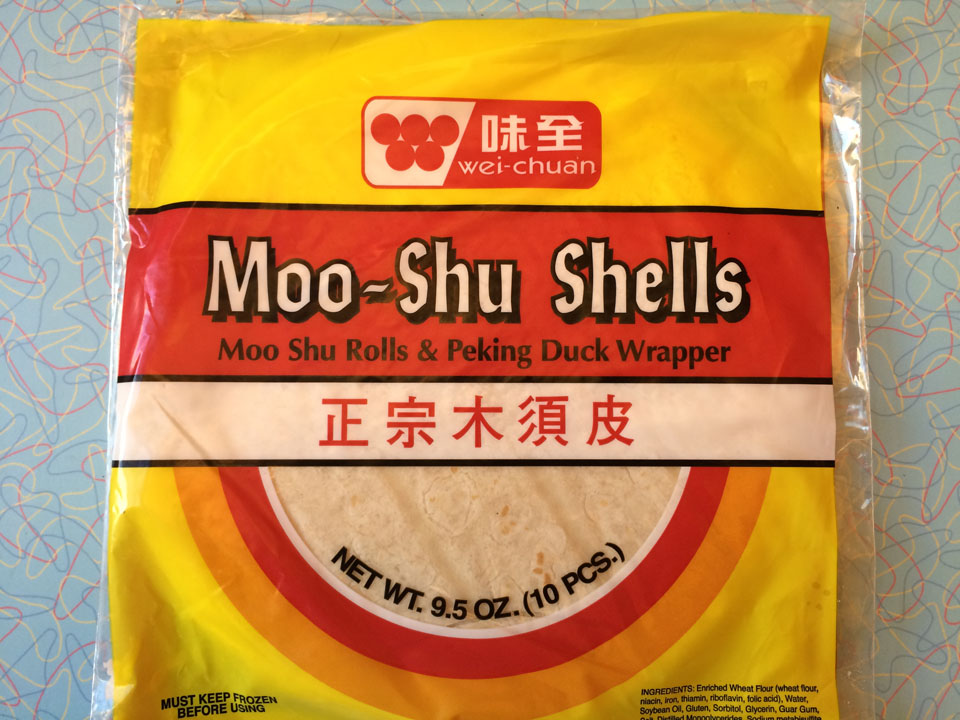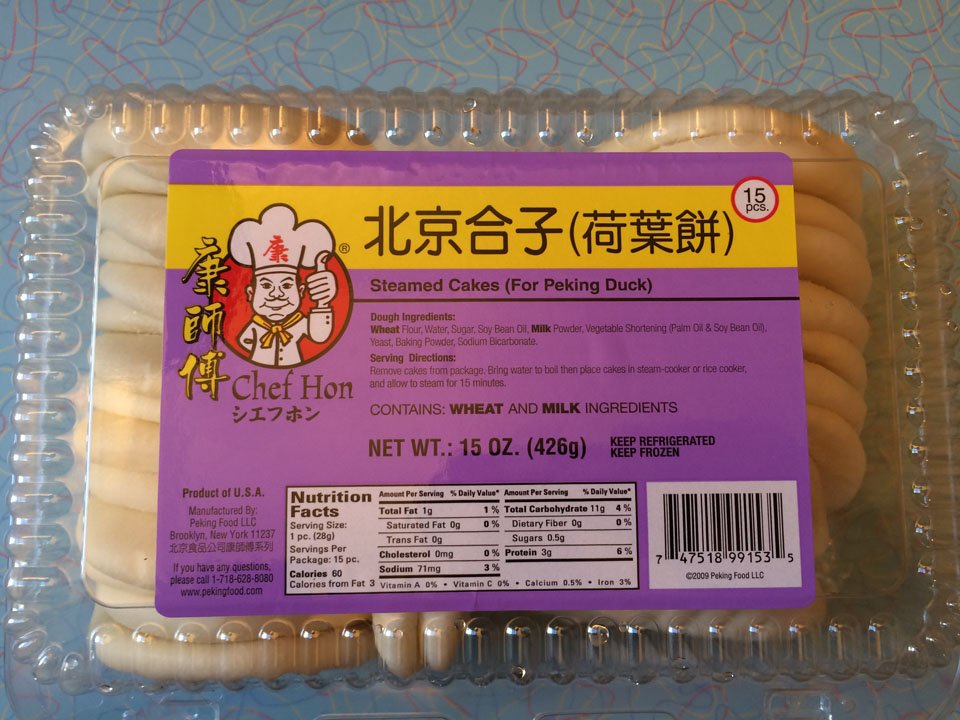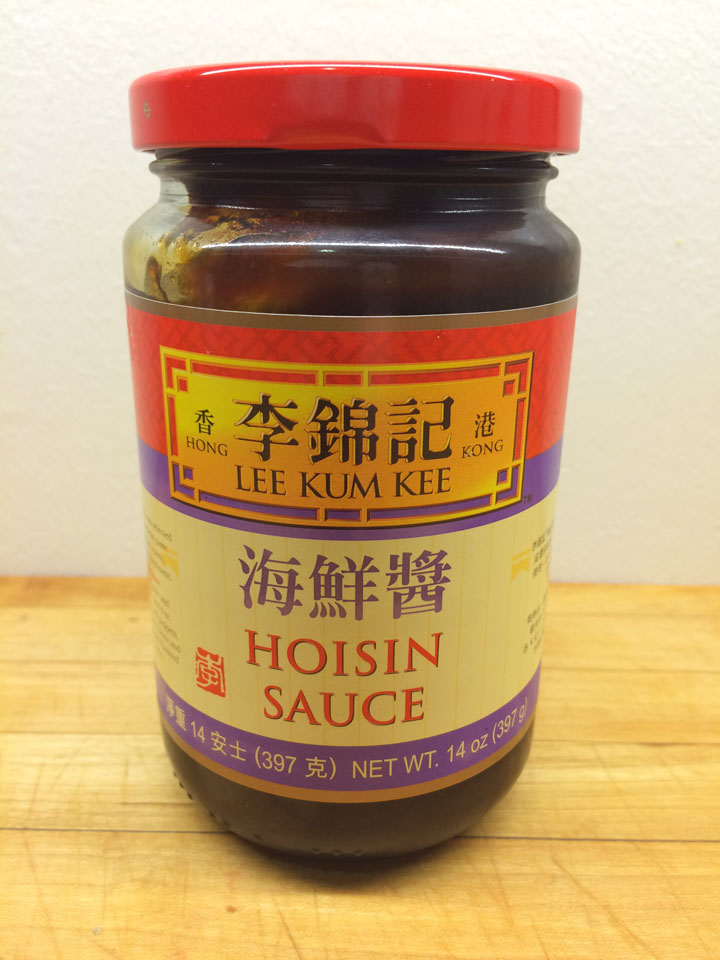 • Chinese pancakes (bing) for steaming. Moo shu wrappers are perfect; most likely they're available at a store near where you buy the duck. White Chinese buns (bao) are great too.
• Hoisin sauce: I generally mix the hoisin with a little honey to tame its intensity and add a little sweetness. Same store.
• Scallions: slice into long julienne strips (about 4 inches).
• Cucumber: remove the seeds (even from a seedless) and slice as you did the scallions.
Preparation: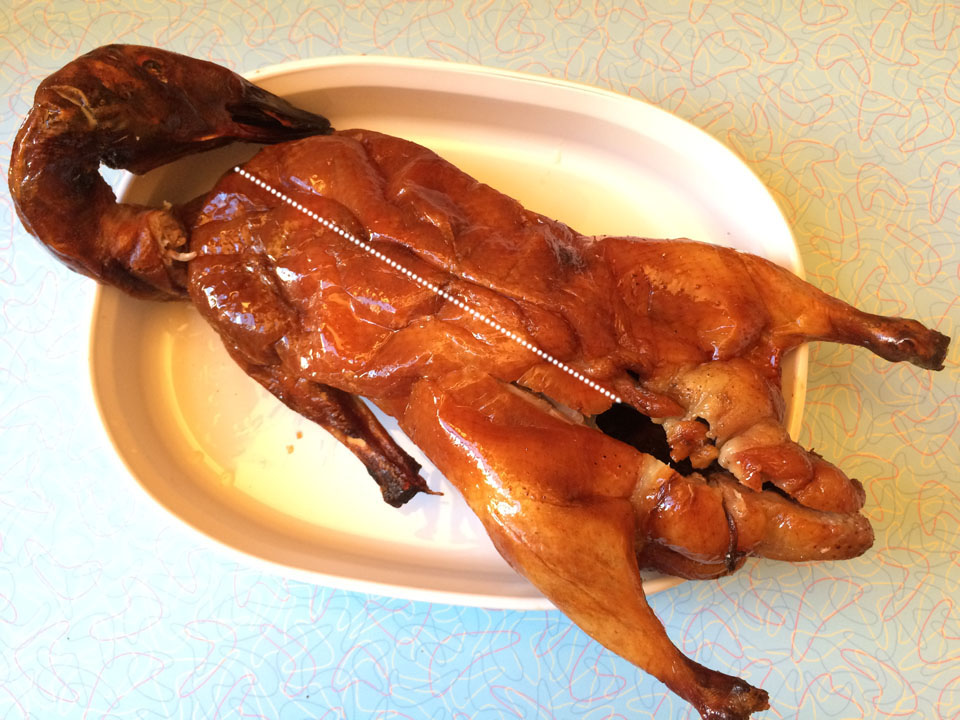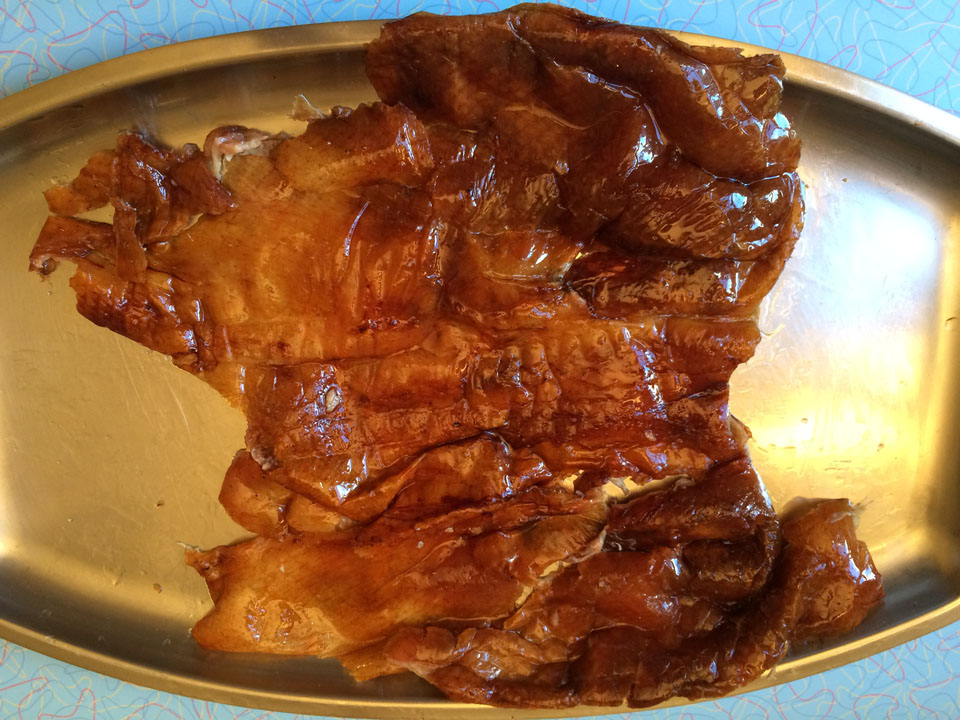 Remove the skin from the duck. (I generally make one long slice down the middle, breast side up, and slip the skin off by sliding a finger between the meat and the skin, working my way around the duck. It's surprisingly easy, but don't worry if it doesn't come off in one piece; you're going to cut it up anyway.) Scrape away most of the fat adhering to the skin; it's fine to leave a little.
Next, remove the meat from the carcass. You can either julienne it like the scallions and cucumbers (prettier) or just slice pieces against the grain (better from a culinary standpoint because the meat will be even more tender).
Now as I said at the outset, this is a trick, albeit a delicious one. Remember that genuine Peking Duck is all about the crispy skin and what you've got here is a succulent but flaccid roast duck. So here's my secret: put the skin, fatty side down, in a pan and heat in a 275° oven for about 10 minutes. Remove from the oven; the skin will be only a little crisper than when it started out, but stay with me. Place the warm skin between layers of paper towels and set a plate on top to keep it flat. When the skin is cool, use kitchen shears to cut into small pieces (about 3″ x 1″). As the pieces air dry, they'll get even crisper. Even better: instead of treating the skin to a dry sauna session in the oven, break out your deep fryer. Don't overdo it; like the oven treatment, the skin will crisp up after it cools.
Steam the pancakes (or buns) according to package instructions. If you don't have a steamer you can improvise one by setting a covered colander over a pot of boiling water. Incidentally, although the duck meat is usually served at room temperature, I like to warm it up in the steamer at the same time the pancakes are steaming.
Assembly: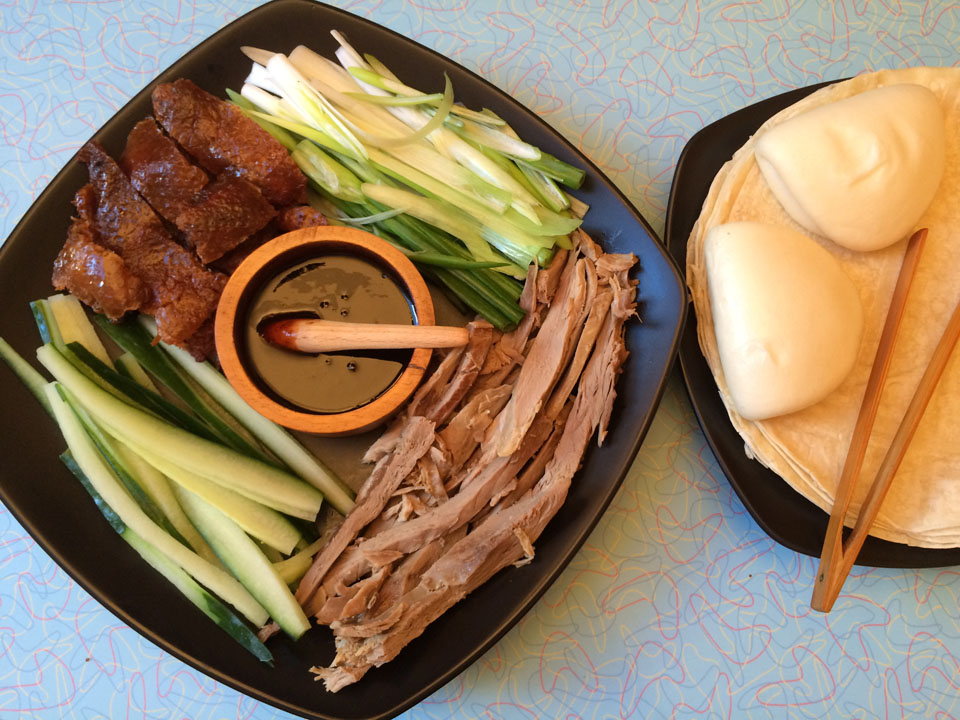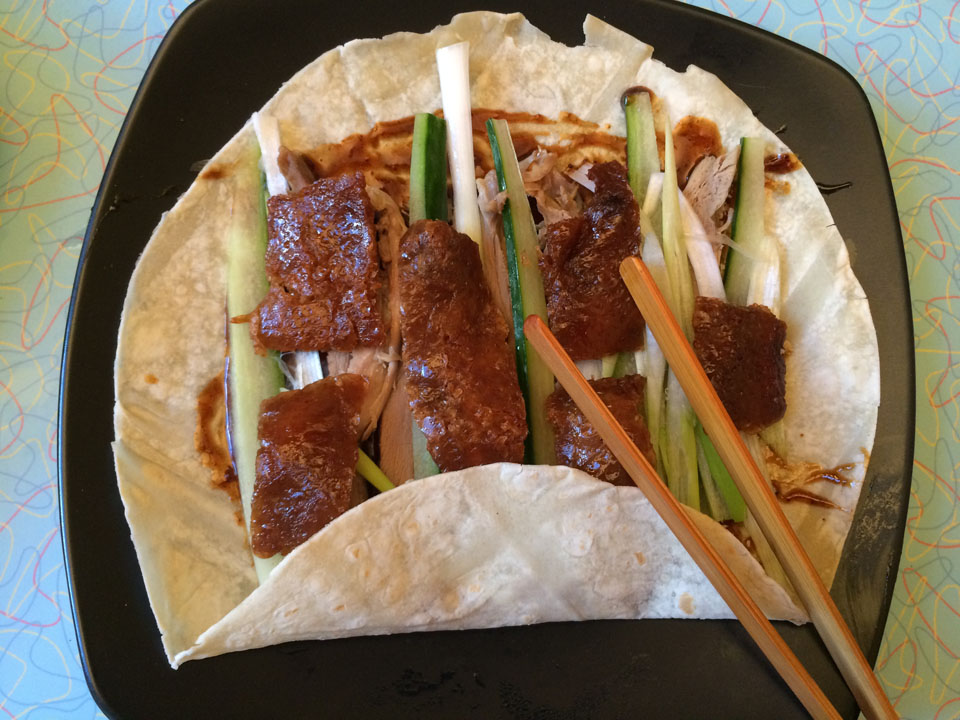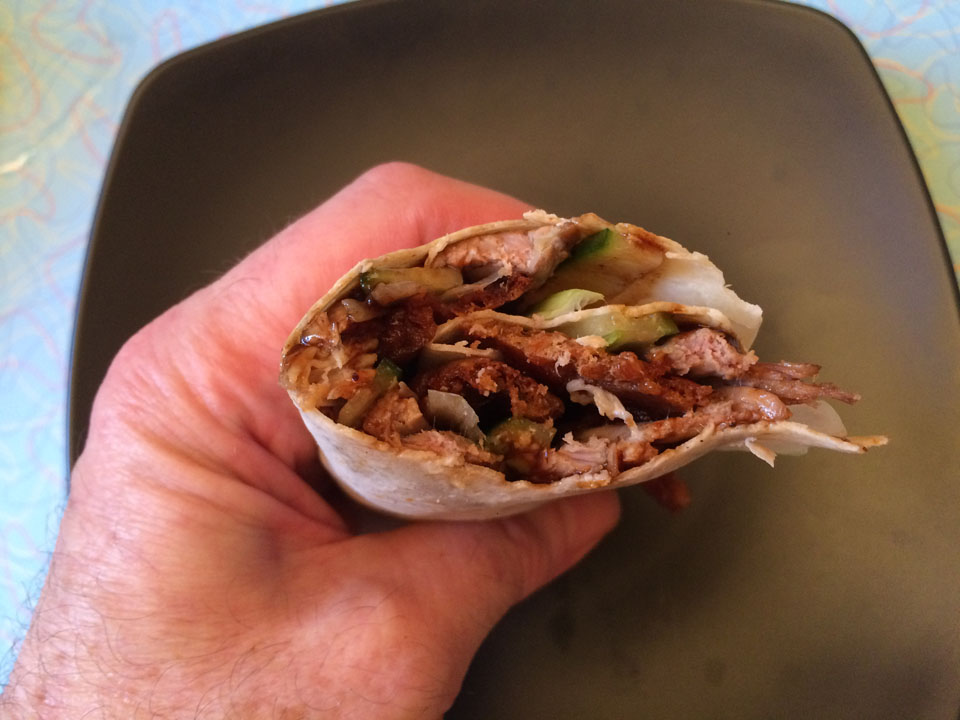 Now you're ready to commence Faking Peking Duck. Apply a little of the hoisin/honey mixture to a steamed pancake. Add some meat, scallion, cucumber, and crispy skin. Roll up the pancake burrito style (fold up a flap from the bottom, then roll horizontally) and enjoy.
Of course, if this were the real deal, the duck would be used for two additional courses, one where the meat is part of a stir fry, minced or perhaps in a noodle dish (it might not even make an appearance in the pancake), and one where the carcass has been used to make soup. You can do all that if you want to, but we're keeping this simple, right?
And I recommend that you do keep it on a small scale; you may find that it's a perfect dish for two – eminently shareable, incredibly impressive, and absolutely delicious (see above). It doesn't even have to be Valentine's Day: if the setting is enchanting, and if you're dining with the right Very Special Person, this could be the beginning of a most romantic evening. Share it – along with a bottle of red – with someone you love.
Trust me, this dish is decidedly seducktive.