Spring is upon us! You can tell because a few days ago the high was in the 40s and then the day after, it was in the 70s, and the next day we were back to the 40s and…well, you get the idea. I've come to accept this convulsive oscillation of the daily temperature as typical of New York City's signature overture to both Spring and Fall. As a matter of fact, I suspect that if you didn't actually know the month, you'd be hard pressed to guess which one it was. Over the years, I've noticed that we generally unflappable New Yorkers are at sixes and sevens when it comes to determining how to dress on any given day during this period. Recently, while waiting for a particularly recalcitrant traffic light to change, I observed that the individual on my right was decked out in jeans and a fur-collared, heavy leather jacket garnished with a scarf, cap, and gloves while the person on my left was wearing shorts and a tee-shirt. (Both had the foresight to don sunglasses.) Even the flora in tree pits seem confused.
No matter. As the first season of the year, it heralds a procession of traditional holiday treats that is only enhanced by embracing ethnic foodways from around the world. You may have read some of my stories (check out "The Case of the Uncrackable Case"
and "From Russia with Plov") and know that I'm a self-described equal opportunity celebrant who lives in hungry anticipation from one delectable holiday to the next.
You may also know that I'm a cookin' fool and love to put my own spin on holiday dishes. Here, for example, is how I do deviled eggs for Easter.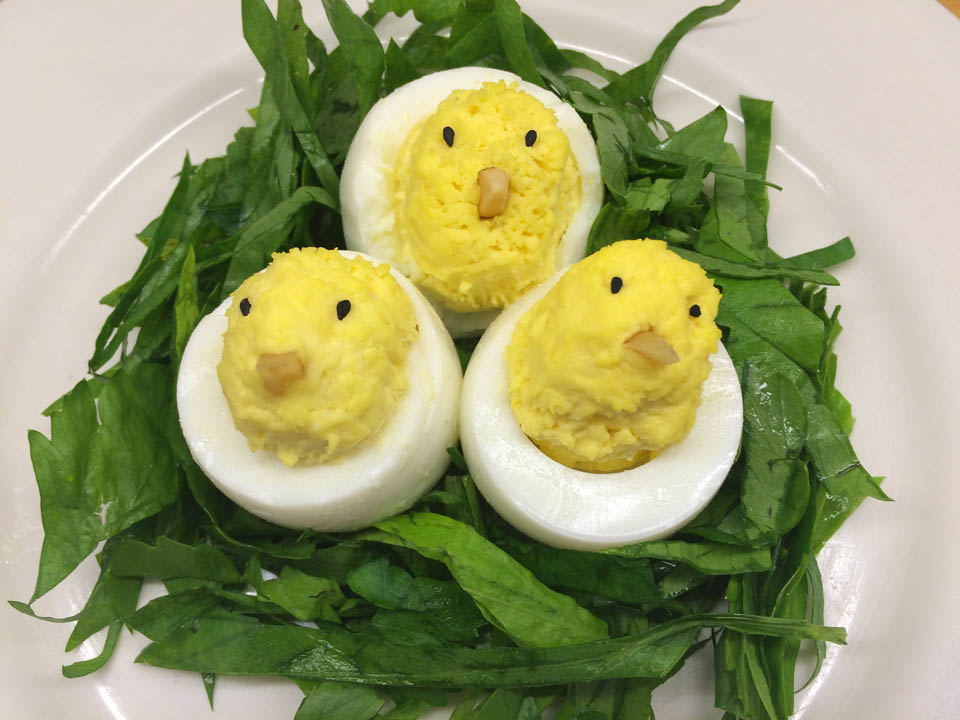 Anyway, a while back, somebody dared me to come up with an ethnic fusion Passover menu. Well, far be it from me to dodge a culinary challenge! So although obviously inauthentic, but certainly fun and yummy, here's to a Sazón Pesach!
Picante Gefilte Pescado
Masa Ball Posole
Brisket Mole
Poblano Potato Kugel
Maple Chipotle Carrot Tzimmes
Guacamole spiked with Horseradish
Charoset with Pepitas and Tamarindo

And, of course, the ever popular Manischewitz Sangria!
Hmmm. Wonder if I can make tortillas out of matzo meal? 😉