My Instagram posts are usually brief takes on restaurants accompanied by a photo or two. (You can see my feed right here, updated almost daily, by selecting the "Instagram" category from my home page – no signup required.) But folks sometimes ask for fuller reviews and more photos, so in response, here's a more comprehensive report on one of my favorites.
---
As Lead Organizer of The World Food Lover's Dining Out Group, part of Meetup.com, it's always my pleasure to bring groups of people to ethnic restaurants that feature cuisines they may never have experienced.
Recently we visited Old Tbilisi Garden, a restaurant that features the cuisine of Georgia. (No, not the US state "Georgia" but rather the Former Soviet Union country "Georgia".) It seems like there's a budding proliferation of Georgian restaurants and bakeries around New York City these days, and I, for one, am thrilled about it. Our feast at Old Tbilisi Garden hit the heights but only scratched the surface of this wonderful cuisine.
(Click any photo to view in glorious high resolution.)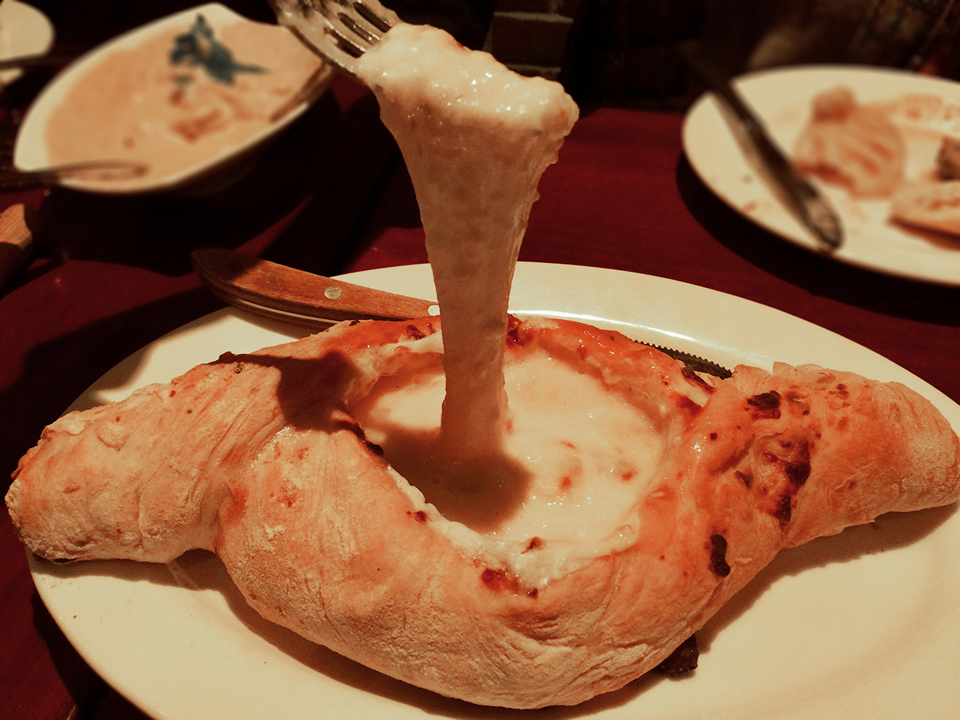 Adjaruli
The overarching term is khachapuri, literally "cheese bread," and there are at least a dozen kinds that I know of. They're commonly filled with tangy, salty sulguni cheese and imeruli, a fresh crumbly cheese which when melted together combine to make stretchy, cheesy nirvana. Two of my favorites are adjaruli and megruli. Adjaruli is shaped like a kayak, the center of which is filled with cheese; a raw egg and a chunk of butter are added just as it's removed from the oven. Stir the mixture: the egg cooks and combines with the butter and melted cheese. Break off pieces of the bread and dip them into the cheese mixture. Now picture hot bread with melted buttery cheese that you eat with your hands, fresh out of the oven – what's not to like?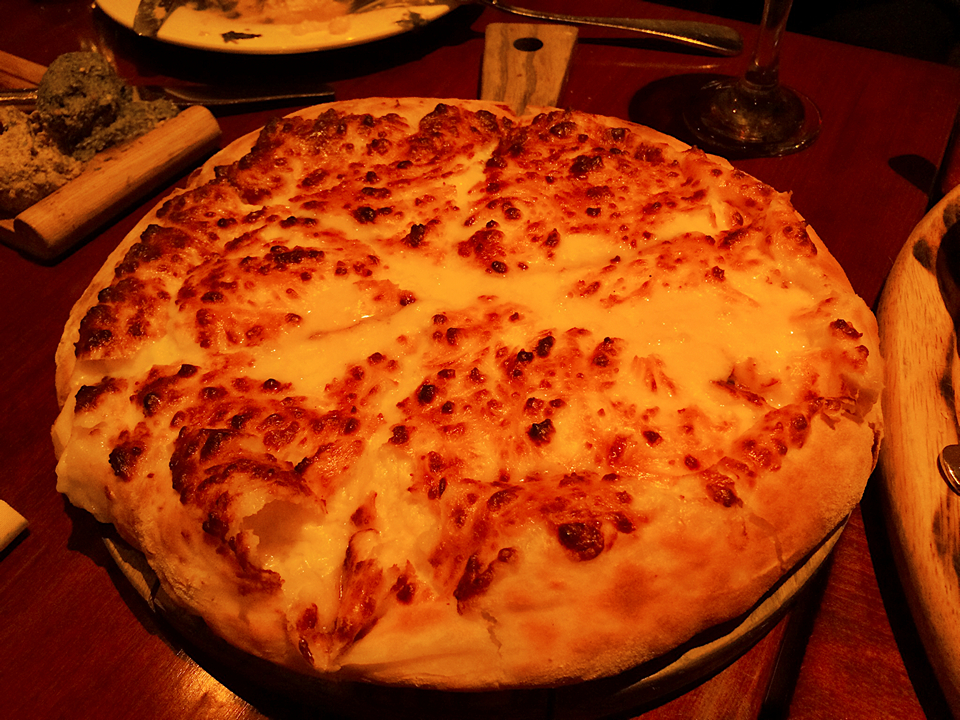 Megruli
Megruli is a little more self-contained: cheese bread filled with cheese and then topped with more cheese and baked. Did I mention cheese? Think Georgian pizza.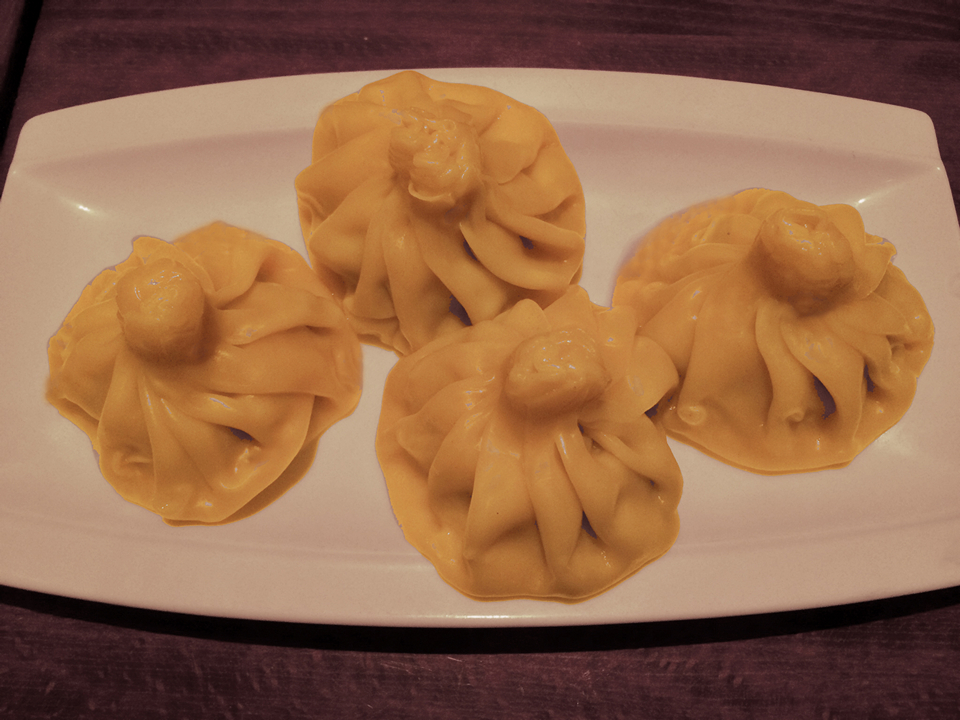 Khinkali
Despite the resemblance, these are definitely NOT soup dumplings. Just grab one by its topknot and bite into its savory lamb filling. They say you're not supposed to eat that little handle, but I like it, so I guess I'm just going to keep breaking the rules!
Pkhali Trio
These tasty spreads fulfilled the vegetable requirement of our meal: spinach, eggplant, and green bean served with Georgian bread called shoti.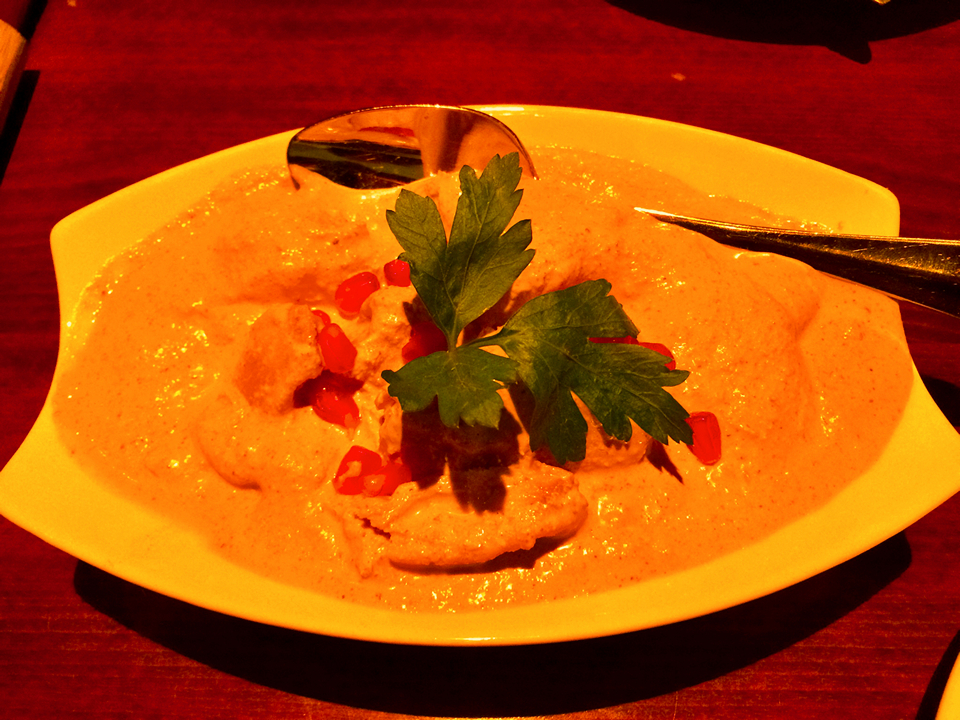 Chicken Bazhe
Bazhe, a Georgian walnut-garlic sauce, was the perfect blanket for the chicken reposing beneath. If you've ever tried satsivi, another delicious Georgian dish, then you're already familiar with the flavor of bazhe – basically satsivi with the addition of pomegranate.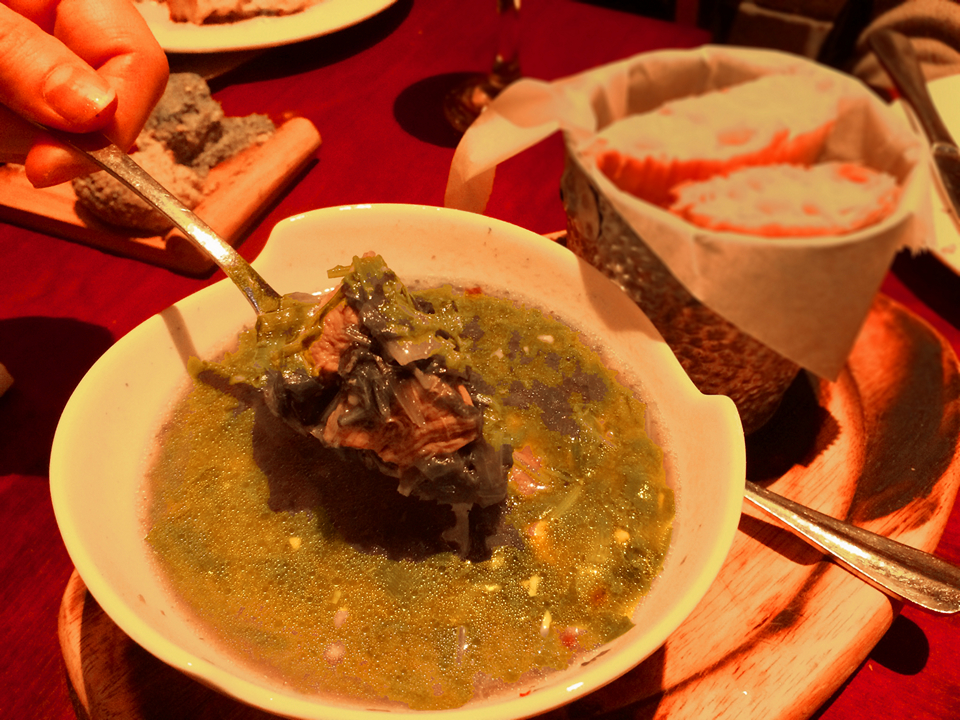 Chakapuli
Chakapuli is lamb stew in a tangy white wine sauce spiked with tarragon, an herb that figures significantly into the cuisine – and even soft drinks like tarkhun!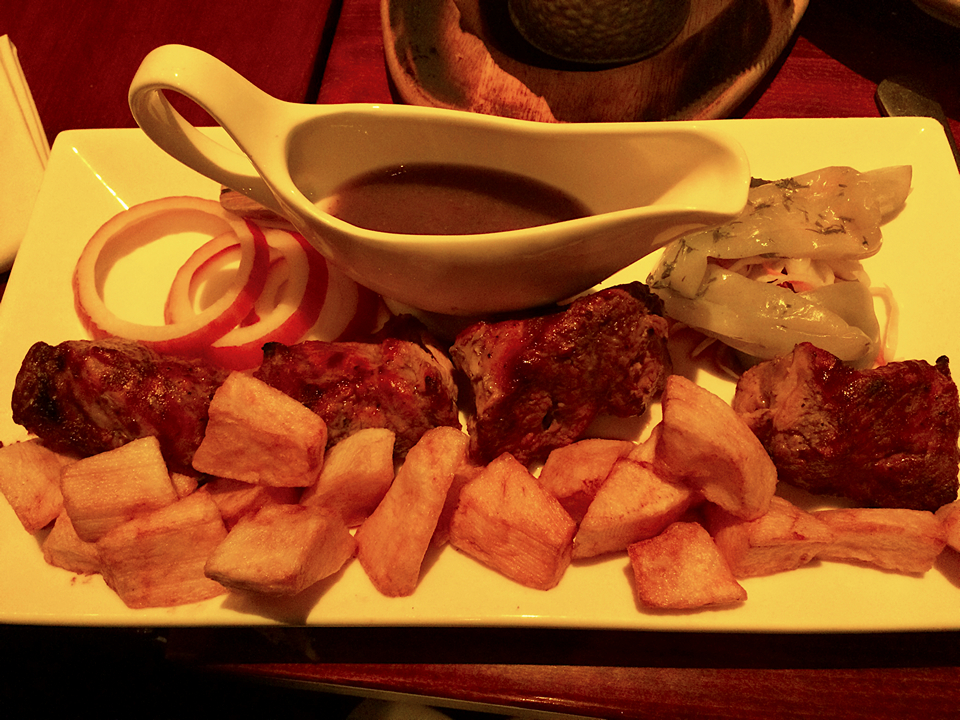 Lamb Mtsvadi
No Georgian meal would be complete without skewers of savory, tender, marinated lamb with delicious tkemali (sour plum) sauce.


Old Tbilisi Garden is located at 174 Bleecker Street, Manhattan, in the heart of Greenwich Village.


Incidentally, if you'd like to be part of the dining out group, you can join Meetup.com (there's no charge), sign up for The World Food Lover's Dining Out Group, and then watch your email to see the schedule for our next adventure. Reply to this post and I'll keep an eye out for you!