Instagram Post 1/9/2020
My dining buddies and I had independently visited Union Square's Laut, the Malaysian, Singaporean and Thai restaurant, often enough to anticipate that its offspring, Laut Singapura at 31 E 20th St in Manhattan, might hold some promise. My comrades opted for more prosaic fare (more about that in a minute) but my fancy was taken by "Oatmeal Shrimp: crunchy shrimp with oatmeal sand, curry leaf, chili padi (aka Thai chili pepper), and egg floss."
(Click on any image to view it in high resolution.)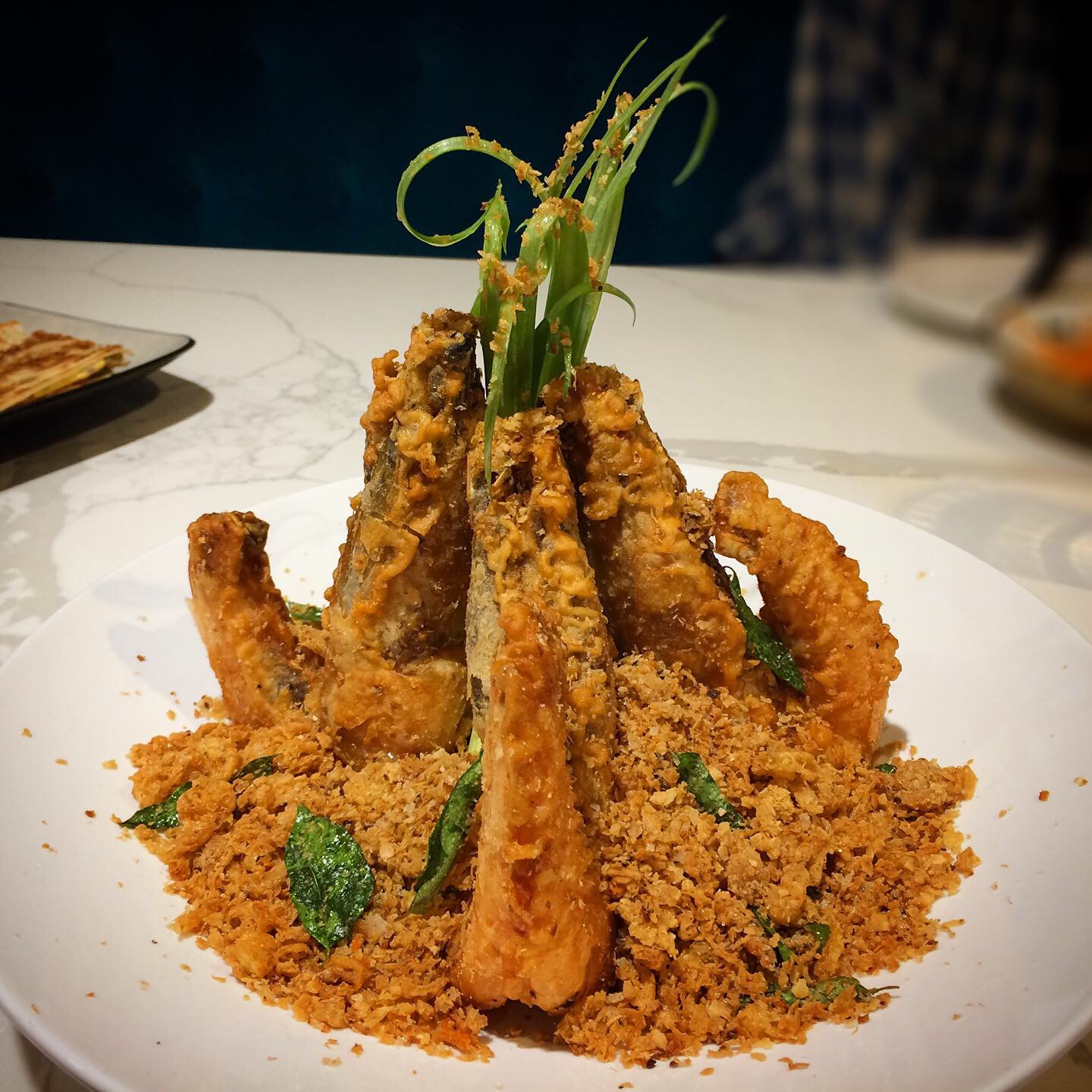 Looks like a presentation the chef concocted hoping it would prove Instaworthy, doesn't it? The huge shrimp were indeed crunchy (head intact, shell on, the way they should be) although the crispy coating didn't have much character of its own; still, the shrimp per se were fine. In contrast, the bed of oatmeal "sand", shot through with curry leaves and chili pepper, was piquant and flavorful; that savory sand is a sine qua non of this dish, deployed to complement the more passive shrimp. But it had a fatal flaw: how does one consume this architectural fantasy in public? Perhaps knife and fork to lop off a nubbin of shrimp, then dip it in the…no, the sand won't adhere to the shrimp. Use my fingers to pinch together a bit of shrimp and a wad of sand, Indian style? Um, no. Eventually, I requisitioned a spoon, scooped up some sand, and topped that with a morsel of shrimp, the better to marry them and ultimately reveal the deliciousness of the dish – but in terms of table manners the maneuver had Emily Post rolling over in her grave.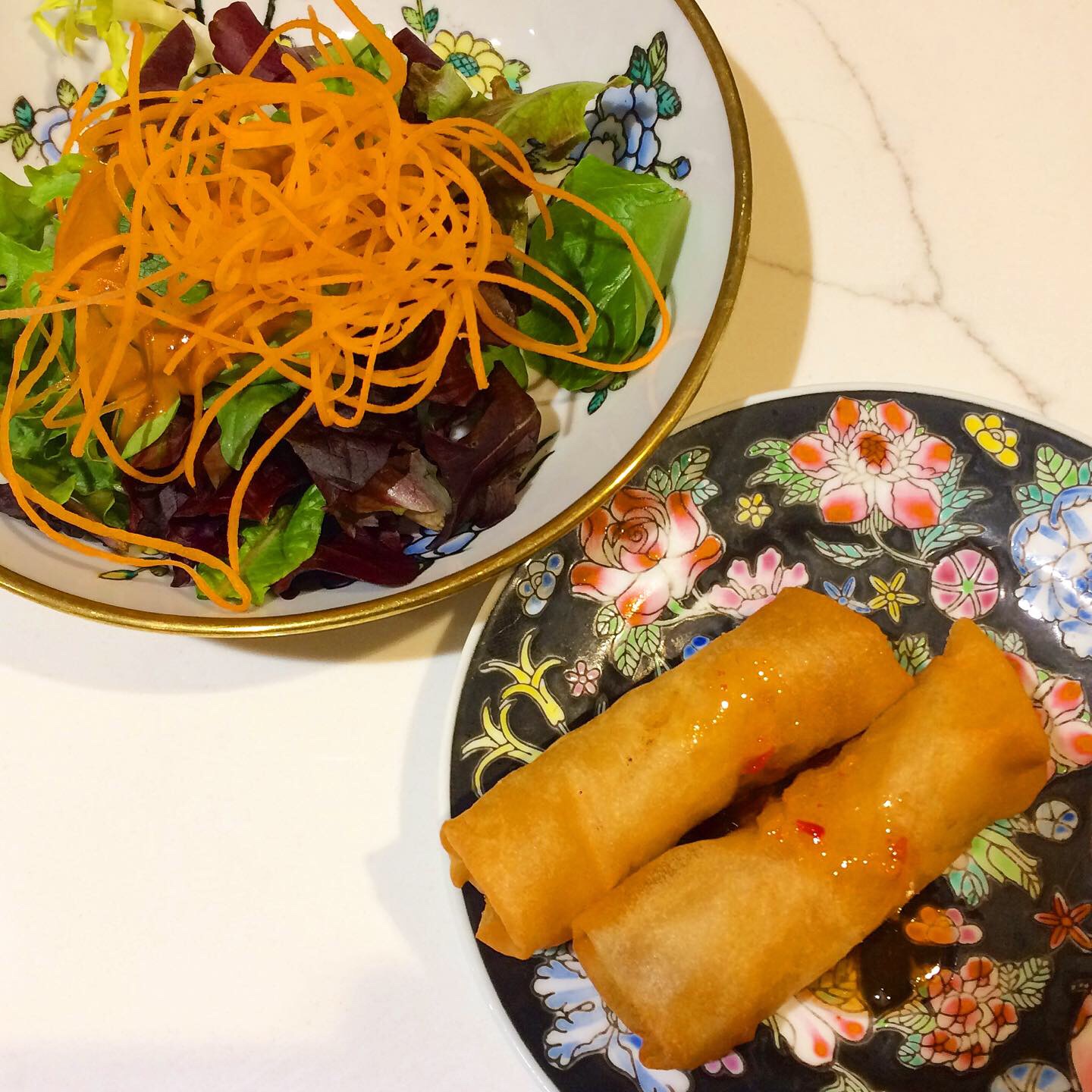 My collaborators who traveled the more conventional route ordered Spring Rolls and Salad (came with their lunch special),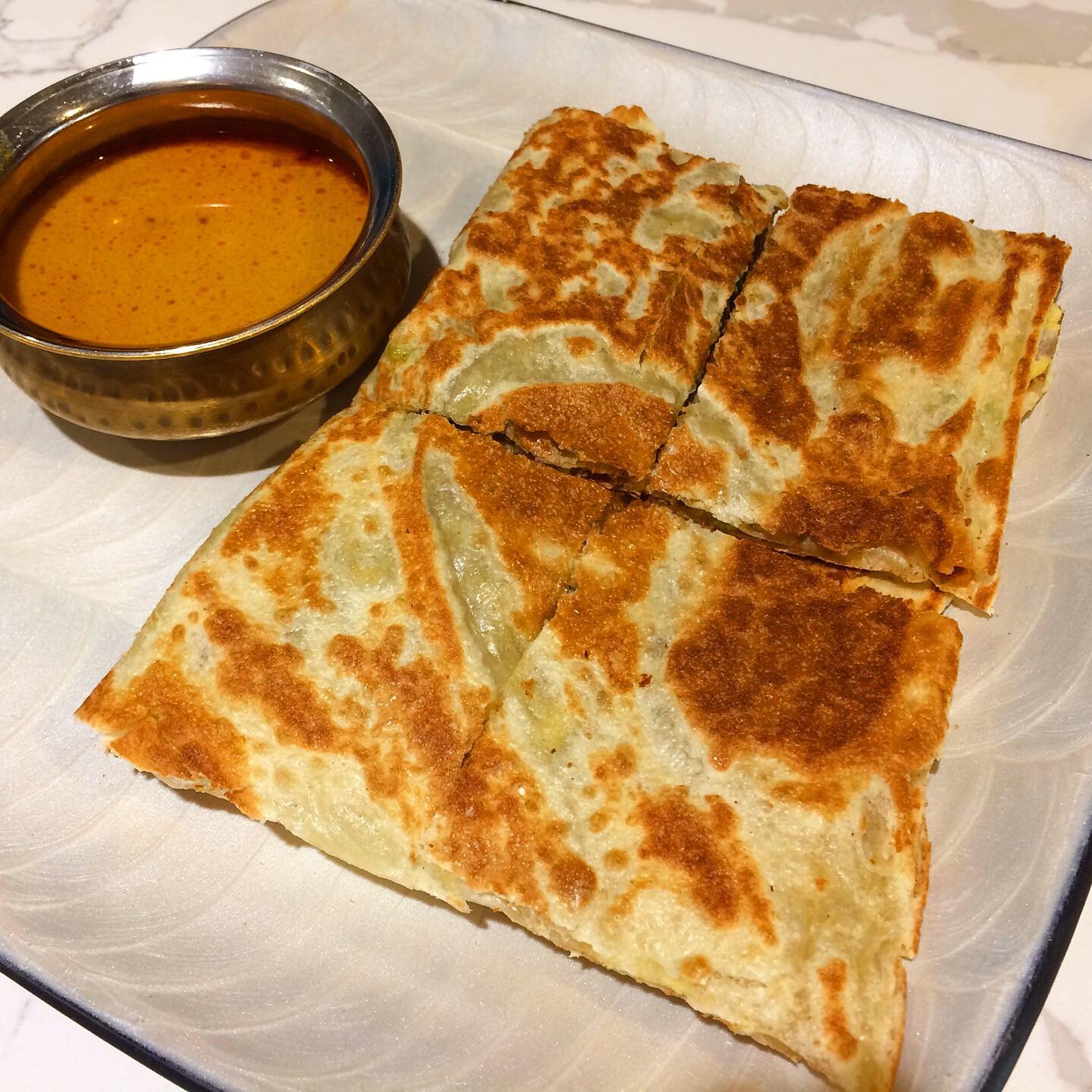 Murtabak, folded Indian crepe stuffed with ground beef, egg, onion, scallion and chili,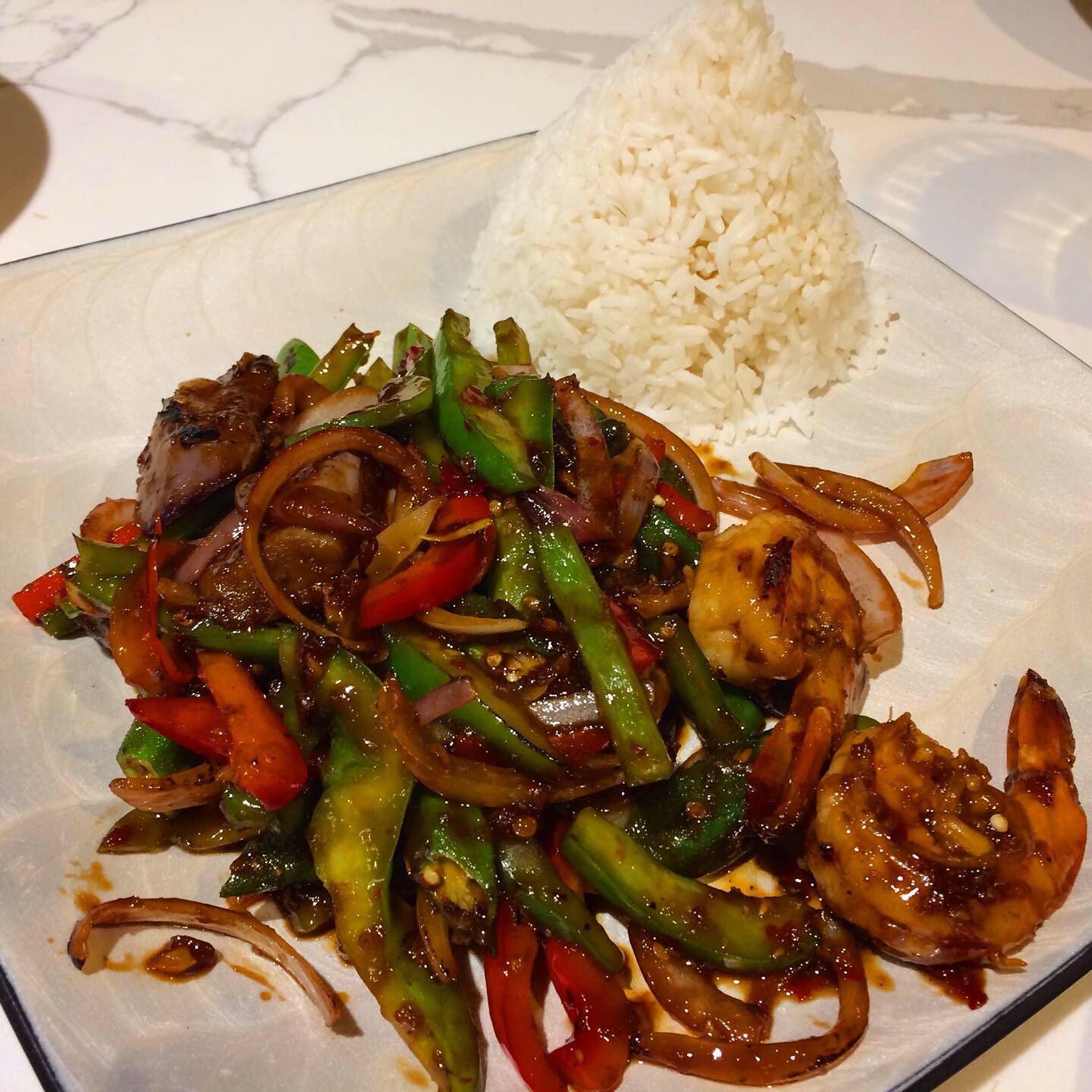 Sambal Belacan, shrimp, eggplant, okra, and onion in a shrimp paste sauce,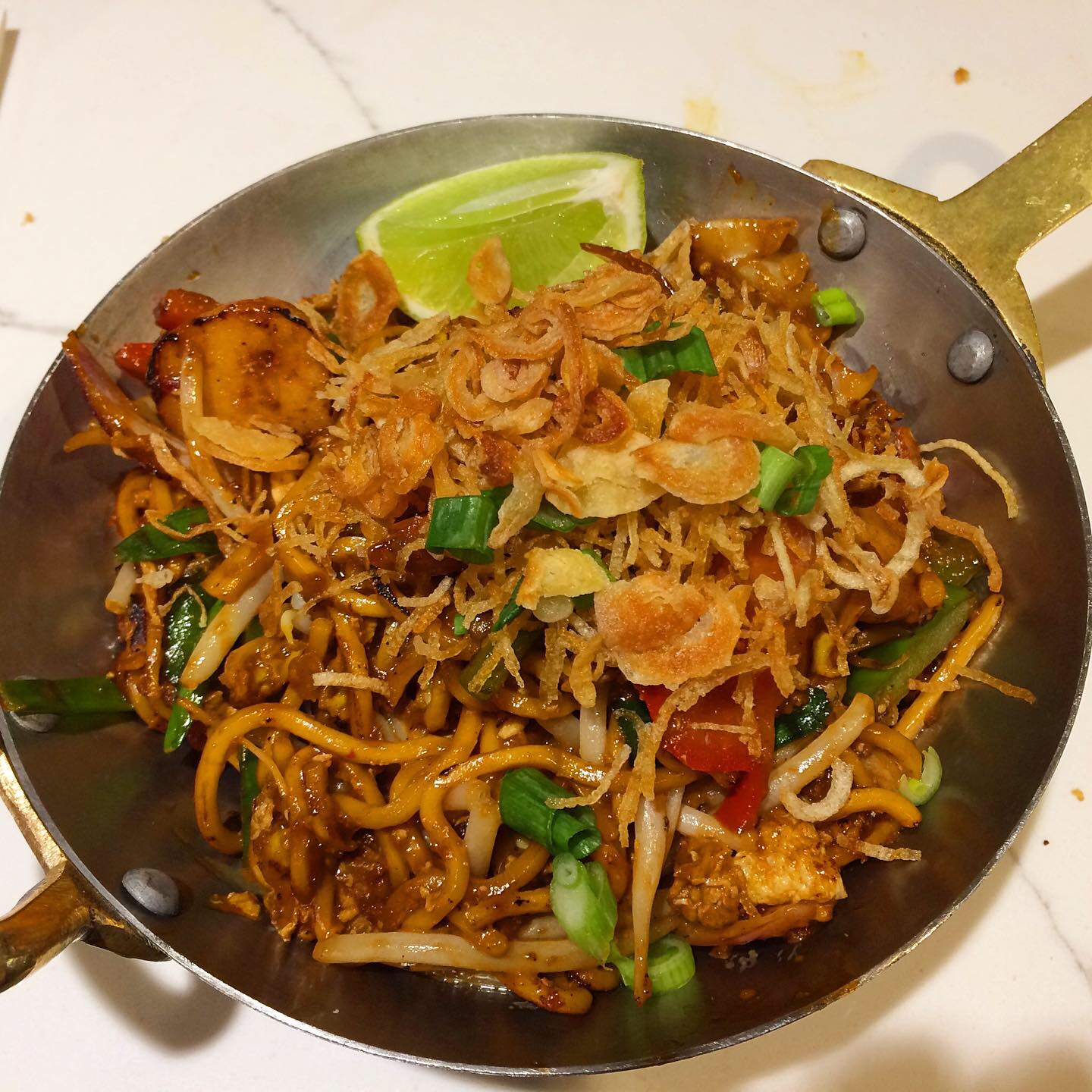 and Indian Mee Goreng, sweet and spicy egg noodles with mixed seafood…
…and were unenthusiastic about any of them.
So I put it to you, my friends: have you tried Laut Singapura? What did you order and what were your thoughts?