From a visit to the amazing Petee's Pie Company in Manhattan back in April, 2018.
(Click on any image to view it in high resolution.)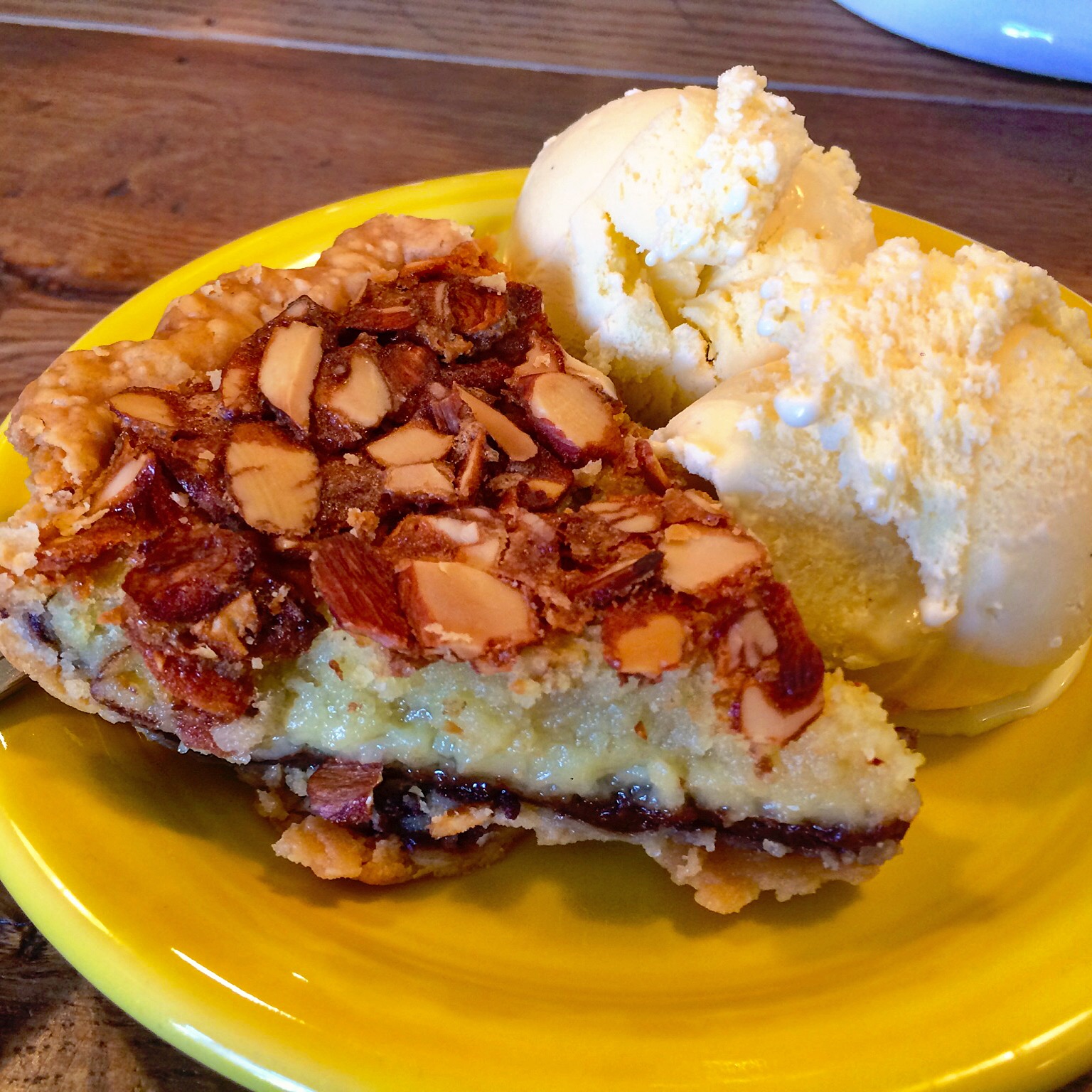 Pi Day is upon us! The official day that celebrates the astonishing discovery in 1988 that the first three digits of the mathematical constant pi (π≅3.14) correspond to the calendar date using the month/day format (3/14).
Provided, that is, that you don't use the MM-DD format with its leading zeros. Or that you're literally anywhere in the world outside of the United States where, intuitively, DD-MM-YYYY puts the numbers in order of significance. Or that you're not enamored of the eminently more logical and sortable YYYY-MM-DD format.
But I digress.
IMHO 🥧 > 🍰 and Petee's Pie Company at 61 Delancey St in Manhattan and 505 Myrtle Ave in Brooklyn dishes up some of the best I've ever tasted, but making the decision about which of the delightful daily selections to choose is neither as easy as pie nor is it a piece of cake. Of course they have wonderful fruit pies, nut pies, and custard pies, but their chess pies are always first to grab my attention.
Chess pie occupies (ahem) the middle ground between cheesecake and custard pie. Devoid of cheese and generally with a little more body than custard pie (often due to the addition of cornmeal) they are incredibly rich and, unsurprisingly, hail from America's South.
Folktales about the genesis of its name are plentiful. One has it that chess pie is so sweet, it needs no refrigeration and could therefore be kept in the kitchen pie chest → pie ches' → chess pie. Another speculation involves a tangled explanation involving English curd pies (think lemon curd as opposed to cheese curd and therefore sans cheese) and an American corruption of the British pronunciation of "cheese pie" – a long way around if you ask me. I favor the simpler, homespun tale that goes, "That pie smells incredible! What kind is it?" to which the modest Southern baker's humble response was, "It's jes' pie."
This incredible black bottom Almond Chess Pie infused with amaretto, topped with toasted almonds, resting on a layer of chocolate ganache and served with housemade vanilla ice cream was the capper on a day so packed with pigging out that we wondered if we would have room, but it was so delicious that it wasn't a stretch. (Not so my belly, however.)


Visit Petee's Pie Company on the web to check out their complete menu.