(Click on any image to view it in high resolution.)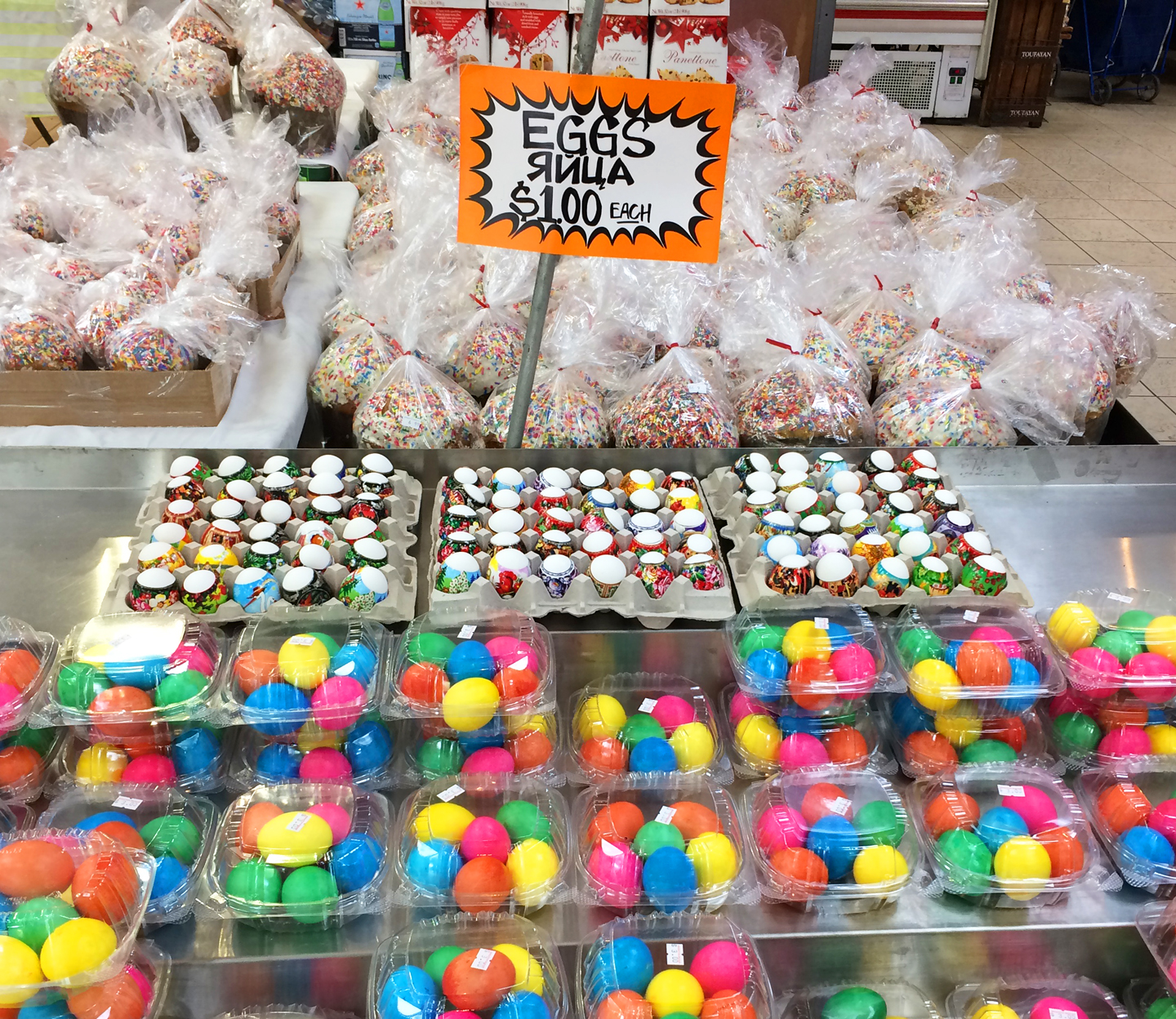 Most holidays come equipped with delectable, traditional foods and Orthodox Easter is no exception; it occurs on the Sunday following the first full moon that appears on or after the spring equinox – May 2, in 2021. As an Equal Opportunity Celebrant, I make it a practice to sample as many of these treats as possible around such festive occasions, not because of any personal porcine tendencies of course, but in order to altruistically share information with anyone who might be unfamiliar with these delicacies.
Yeah, right.
According to Wikipedia, the Eastern Orthodox Church, officially the Orthodox Catholic Church, is the second largest Christian church with approximately 220 million baptized members. The majority of Eastern Orthodox Christians live mainly in Southeast and Eastern Europe, Cyprus, Georgia and other communities in the Caucasus region, and in Siberia reaching the Russian Far East.
According to ethnojunkie, each region has its own distinctive, specialty baked goods that are prepared in celebration of the holiday. Many are sweet breads called pascha (or some variant), from Greek/Latin meaning Easter, and ultimately from Aramaic/Hebrew meaning Passover. Let's check out two of them.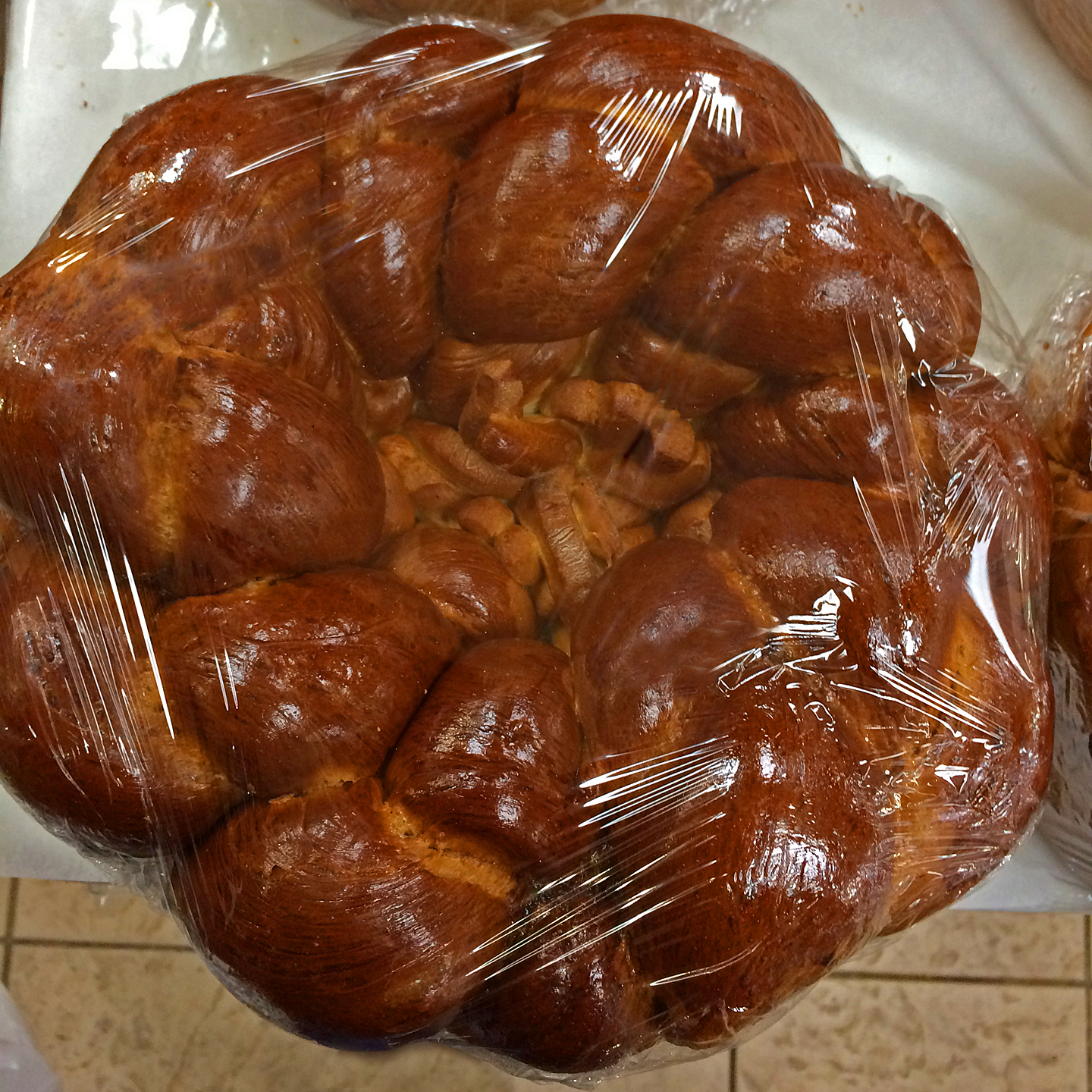 If you go out in search of pascha, you'll discover vastly divergent varieties depending upon the heritage of the bakery you land on. Polish versions I've sampled are puffy, yeasty, a little sweet and are designed to be pulled apart and shared at the table. Some other Eastern European and Russian styles are more like a cheese-filled bread, with veins of sweet, white dairy goodness running throughout. This photo was taken surreptitiously in a Russian market. Shhh!

Shown here is Romanian pască. This particular example comes from Nita's European Bakery at 4010 Greenpoint Ave, Sunnyside, Queens – look for the awning that reads Cofetaria Nita. It is unique (at least in my experience) and undeniably stellar. This dense delight, about nine inches in diameter, is actually a two-layered affair, with a rich topping/filling that is virtually a raisin-studded, hyper-creamy manifestation of cheesecake that sits atop a sweet cake-like bread; the religious theme is easily recognizable.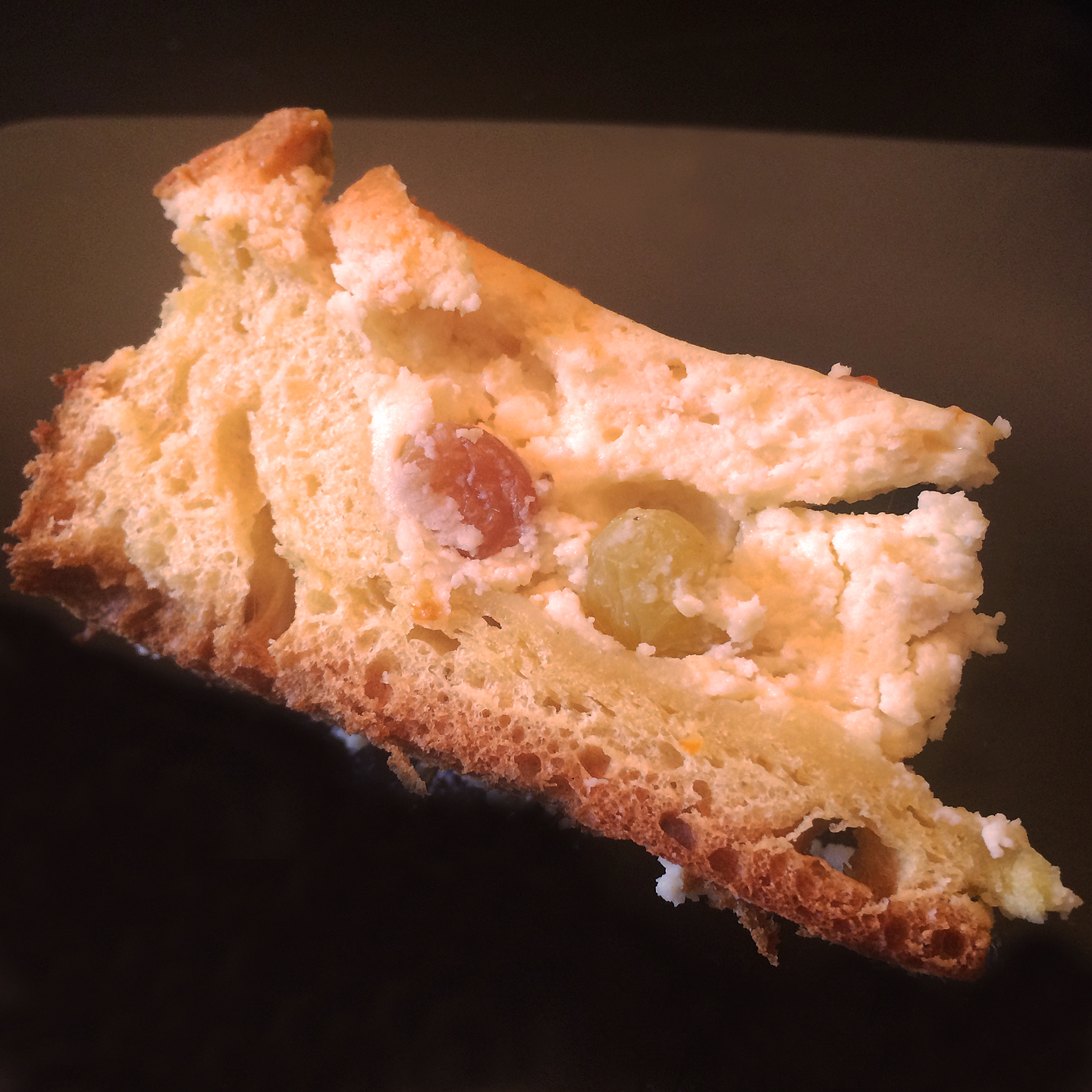 Here's a view that reveals the layers. If you like sweet desserts, you'll love this.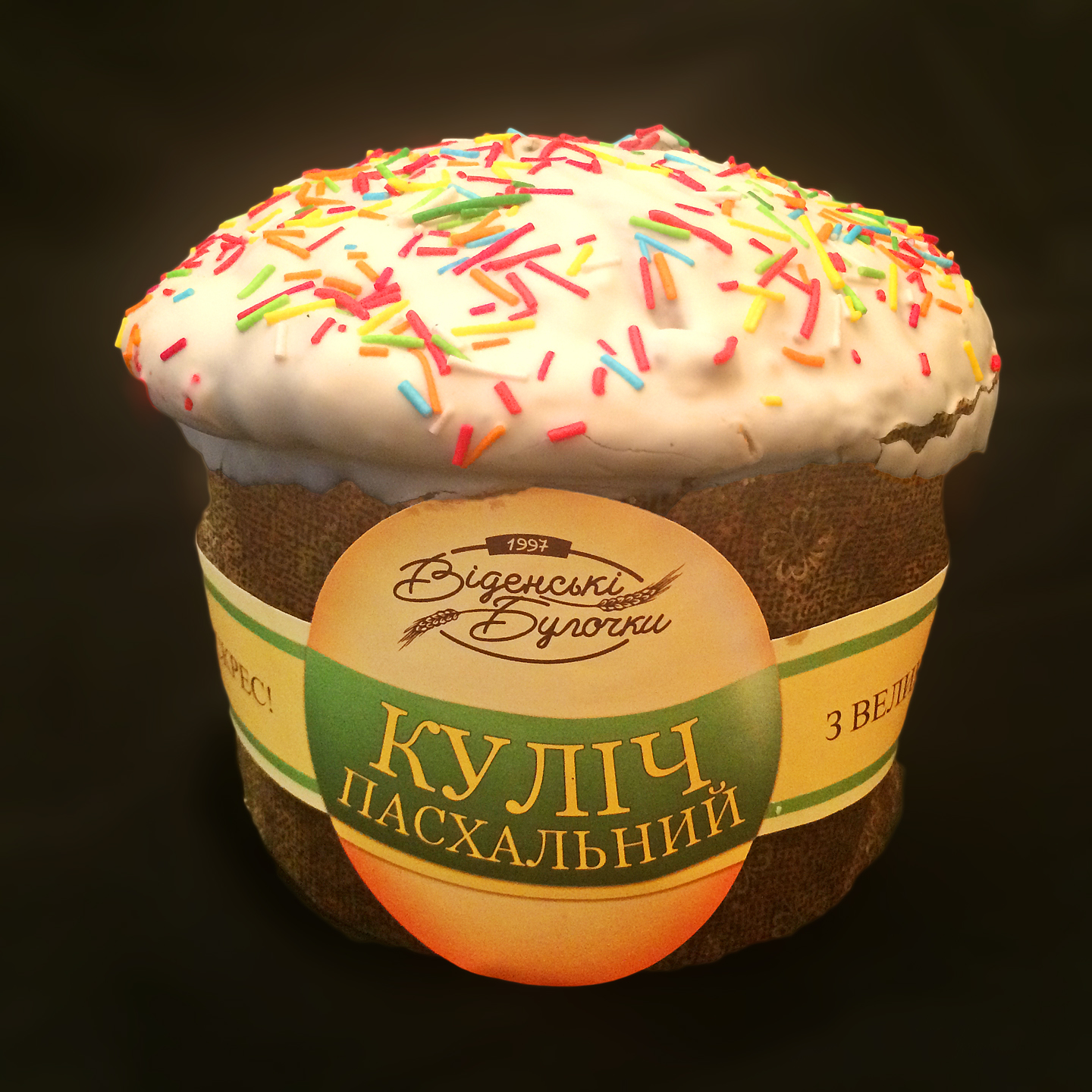 On my recent peregrination through Brooklyn's Little Odessa on Brighton Beach Avenue where Russian and Former Soviet Union shops abound, it seemed that every market was selling kulich, a Russian/Slavic Orthodox Easter bread. Look closely behind the eggs in the first photo and you'll see an array of them. (Look even more closely behind the kulichi and the sign for яйца and you'll see packages of the Italian Christmas treat, panettone. Pretty much every market was offering them as well. In terms of taste, they're pretty close although panettone is a little richer, however I have yet to determine why both are sold in this neighborhood during Orthodox Easter. But I digress.)
Not as sweet as pascha, the cylindrical kulich is often baked at home in a coffee can to achieve the characteristic shape; this diminutive example stands only about five inches high. The Ukranian legend reads куліч (cake) пасхальний (paschal) and around the beltline з великоднем (Happy Easter) христос воскрес (Christ is risen).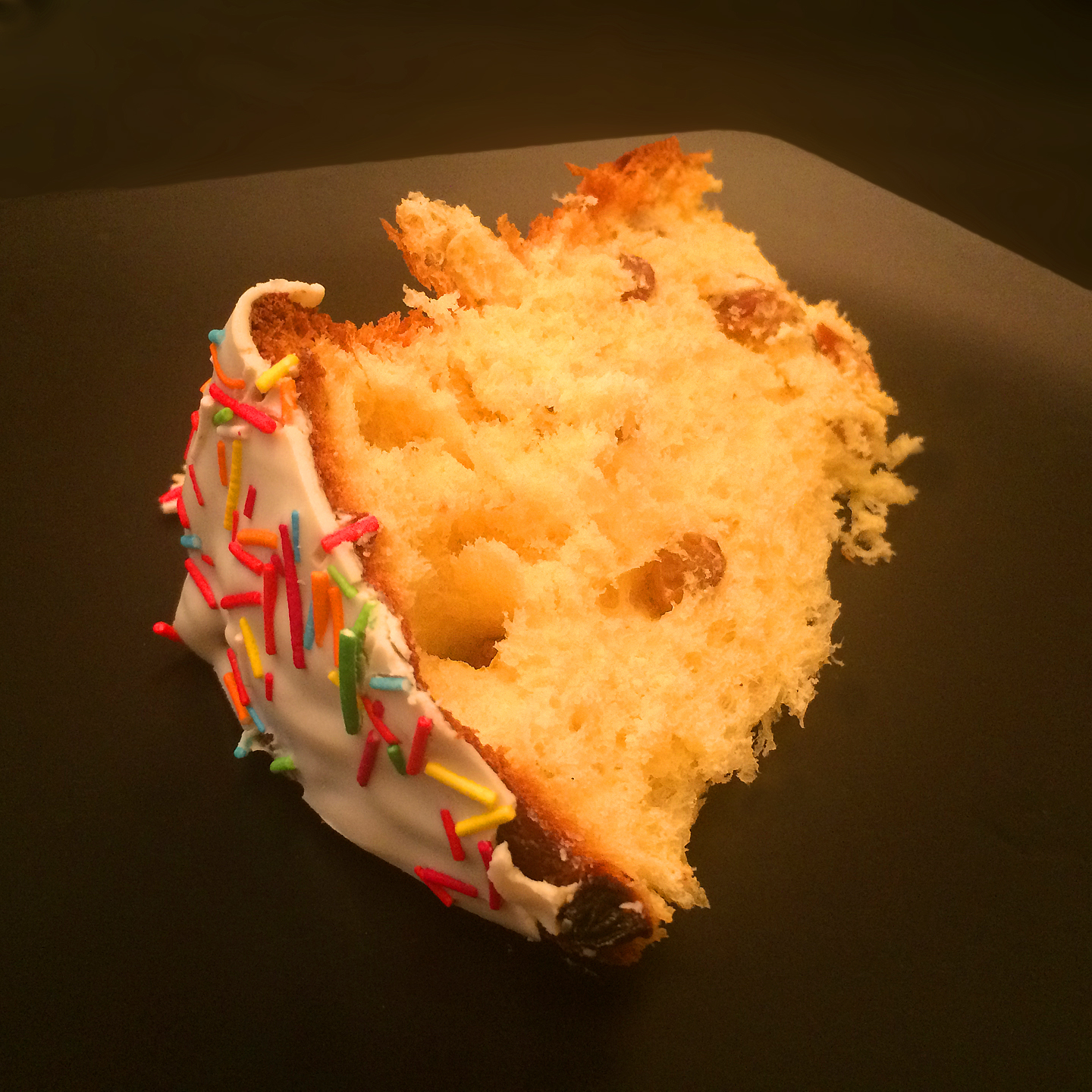 It's somewhere along the bread <-> coffeecake continuum, shot through with raisins, and always dressed with a snow-white sugar-glazed cap and colorful sprinkles.
з великоднем!