Part of what I'm calling the "Golden Oldies" series: photos I had posted on Instagram in bygone days that surely belong here as well, from restaurants that are still doing business, still relevant, and still worth a trip.
Here are some pix from multiple occasions in 2016 and 2017 that were taken at Look by Plant Love House, the cozy Thai restaurant at 622 Washington Avenue in Prospect Heights, Brooklyn. I dined there on a number of occasions and liked their Thai home cooking so much that I subsequently brought an assortment of foodie friends there to check it out as well. (Apologies for the grainy photos – I used the wrong film in the camera 😉 – but I can assure you that the food was significantly better than the pix!) In no special order:
(Click on any image to view it in high resolution.)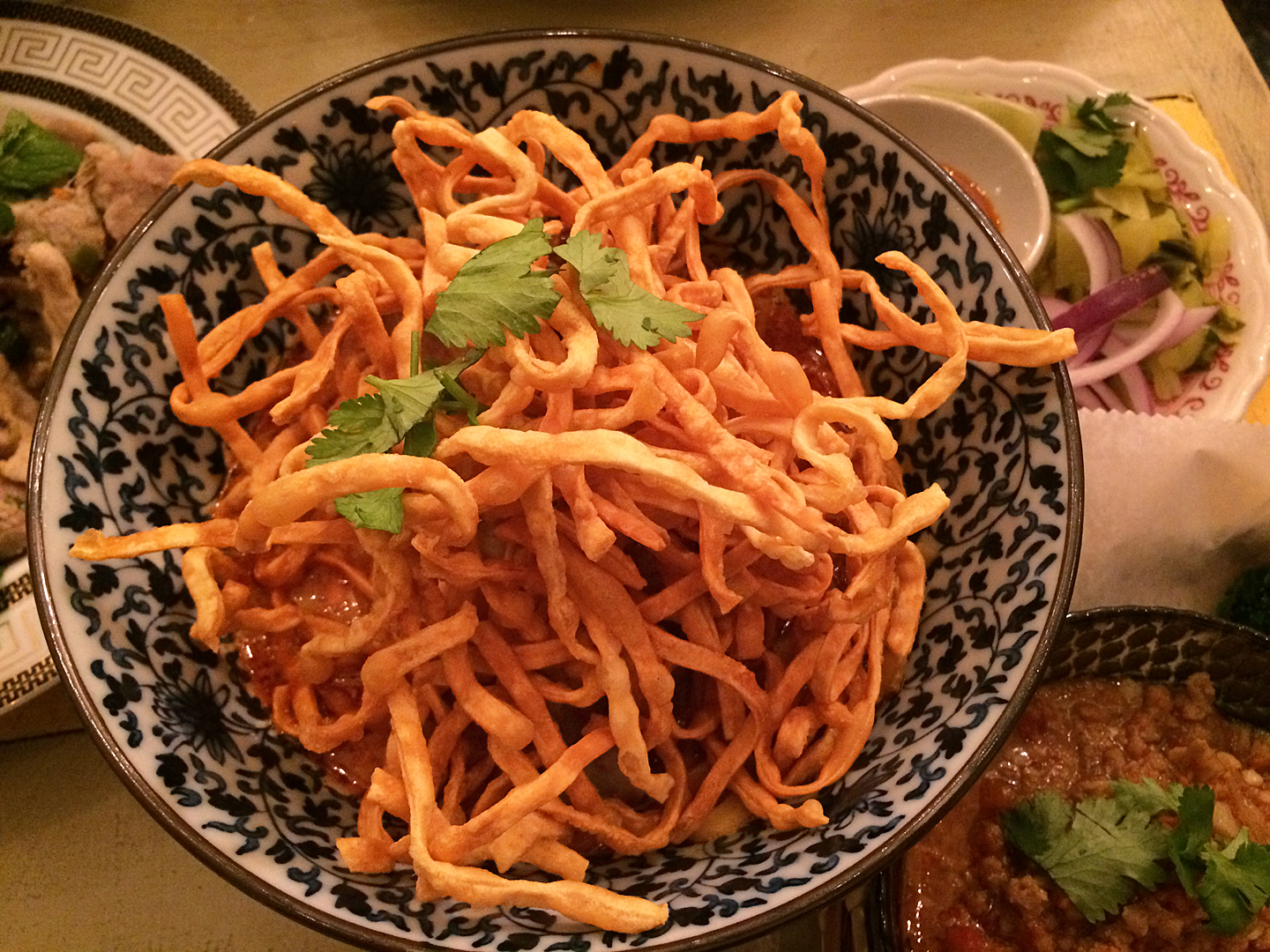 Chiang Mai Khao Soy, a Thai classic that highlights noodles two ways: Soft egg noodles swaddling chicken in Chiang Mai curry sauce topped with crispy egg noodles, accompanied by red onion, pickled cabbage, cilantro and lime.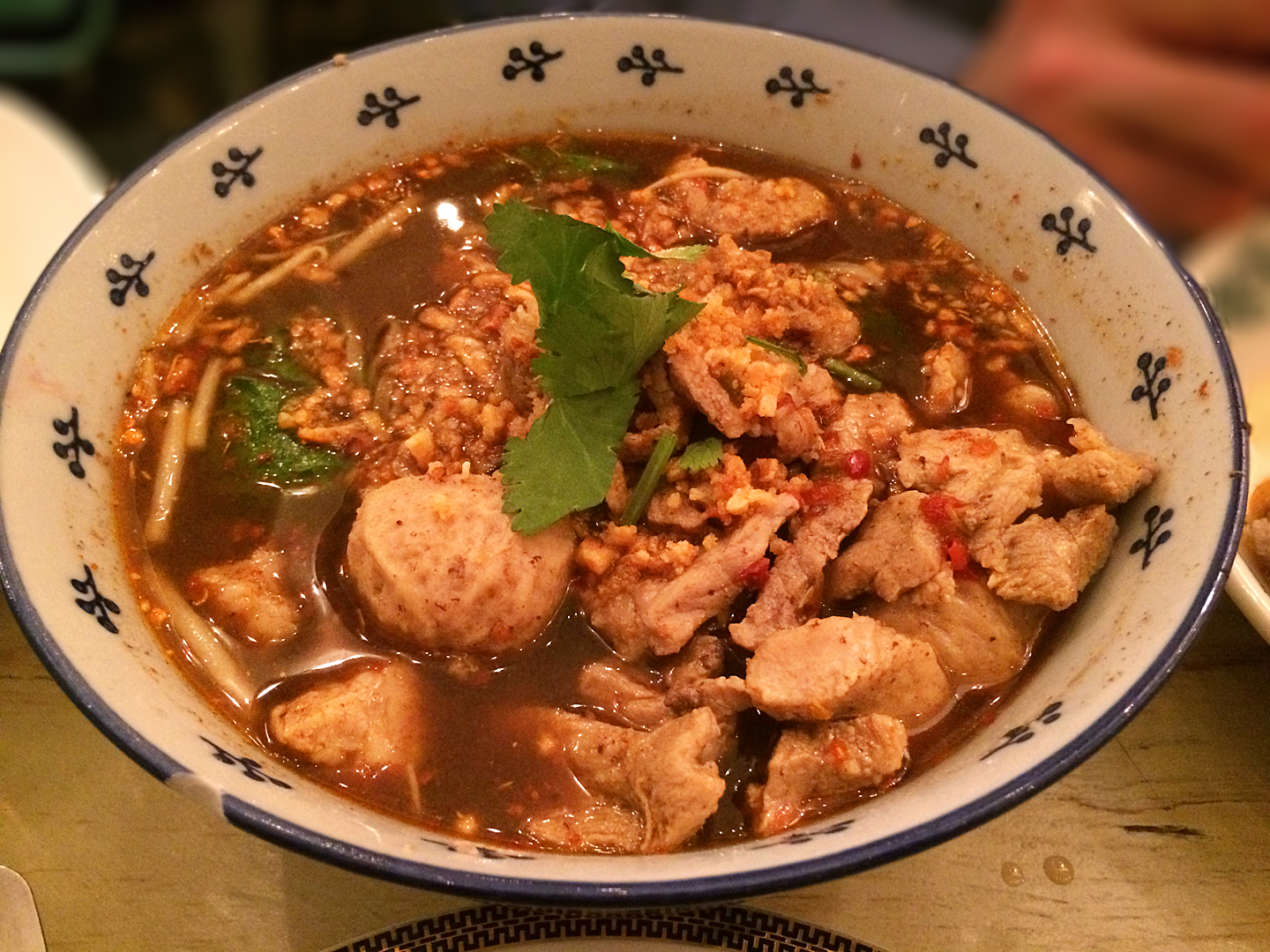 Guay Tiao Num Tok (Pork Blood Noodle Soup). Don't be squeamish about this one now that you know its ingredients; it deserves the popularity it enjoys back home! Thai boat noodle soup flavored with palm sugar, vinegar and Thai chili featuring sliced pork, pork balls, Chinese broccoli, and bean sprouts.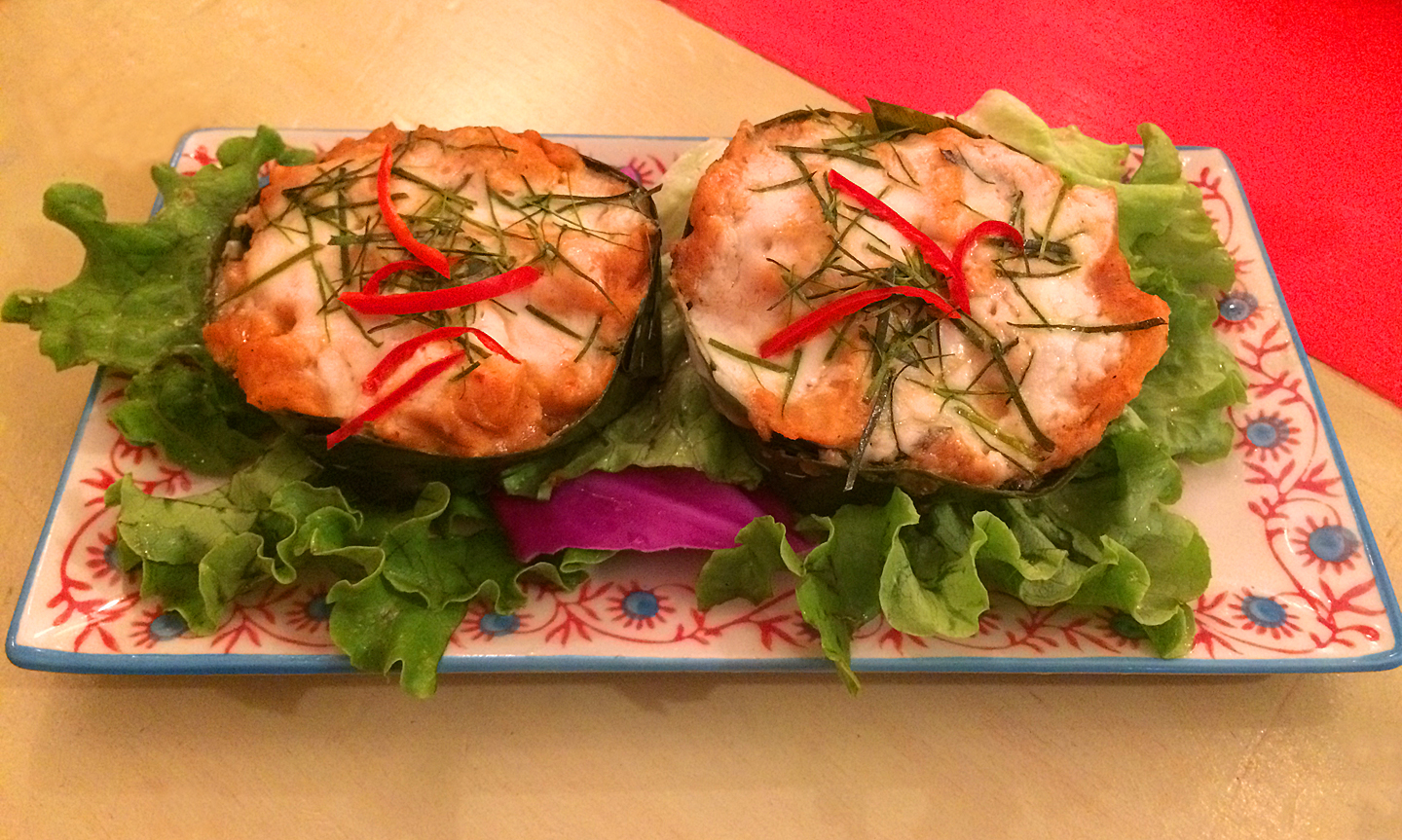 Hor Mok Pla, a seasonal special. As described on their menu: "a pair of banana-leaf cups filled with an airy, mousselike custard of finely ground fish, decorated with coconut cream, finely julienned makrut lime leaf, and red chili threads." According to Wikipedia, the dish is associated with marriage because the marriage of ingredients within it is representative of the love of a married couple. And since everyone I shared it with seems to love the dish, that sounds about right to me.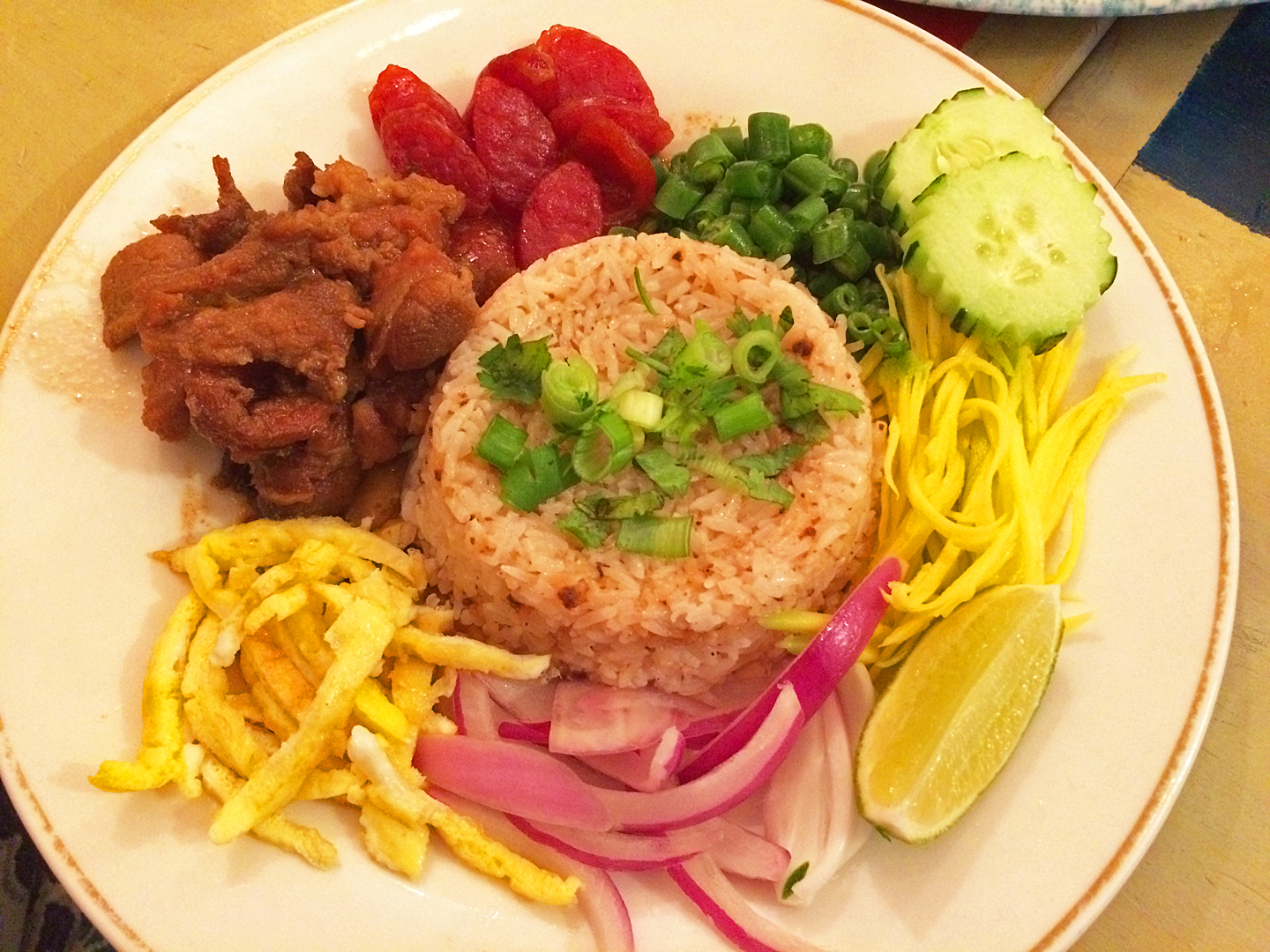 Khao Kluk Kapi. Fried rice mixed with shrimp paste formed and surrounded by fried mackerel, Thai sausage, fried eggplant, shredded omelet, and more.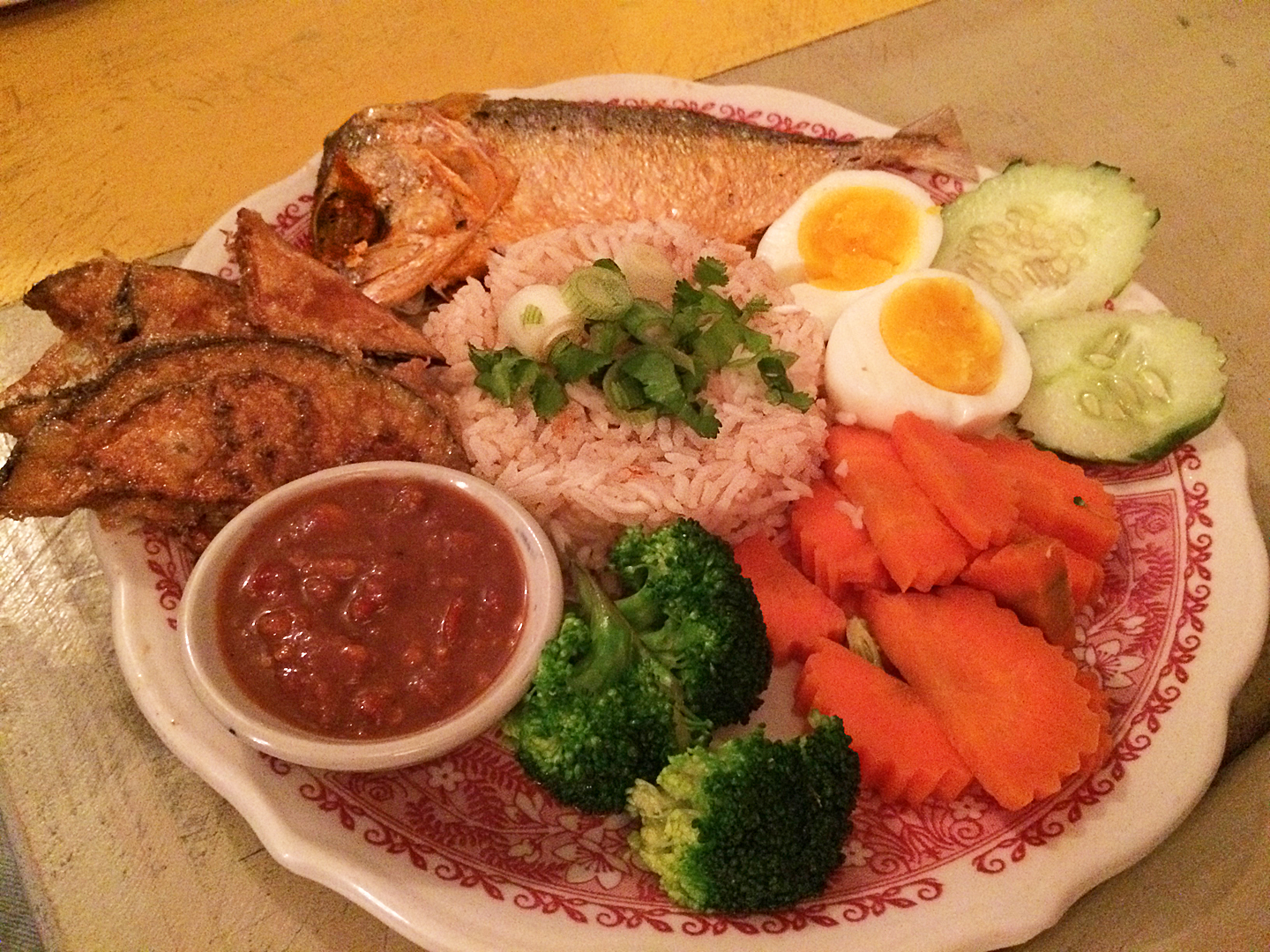 Khao Pad Nam Prik Pla Too. Another spicy shrimp paste rice platter (khao means rice), this time served with a fried whole mackerel, fried eggplant, steamed carrots and broccoli, a boiled egg and (if memory serves) fermented shrimp paste dip.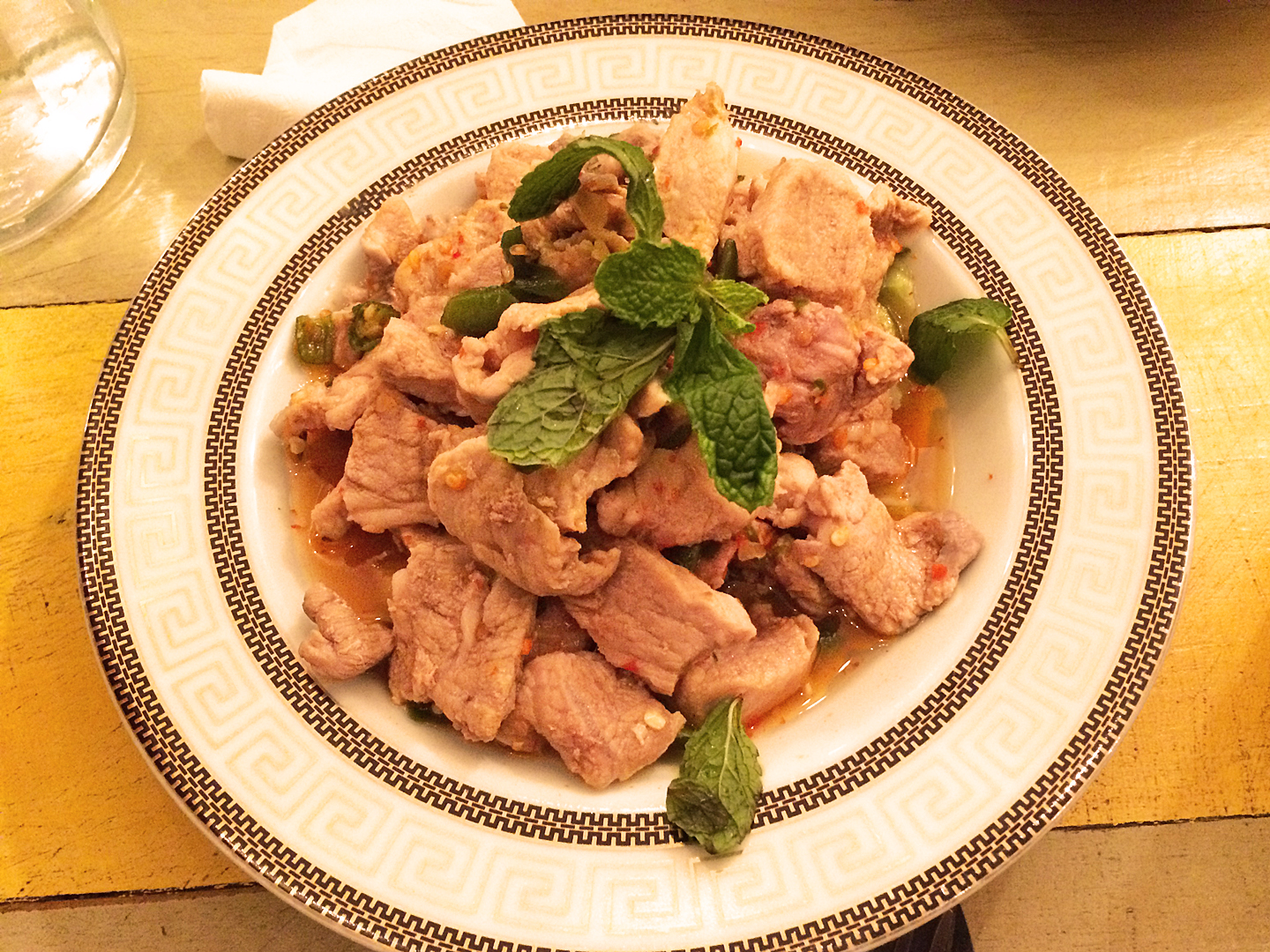 Moo Manow – moo means pork (easy to remember because of the barnyard irony); this dish consists of juicy chunks of pork dressed in garlic-chili-lime sauce served over Chinese baby broccoli.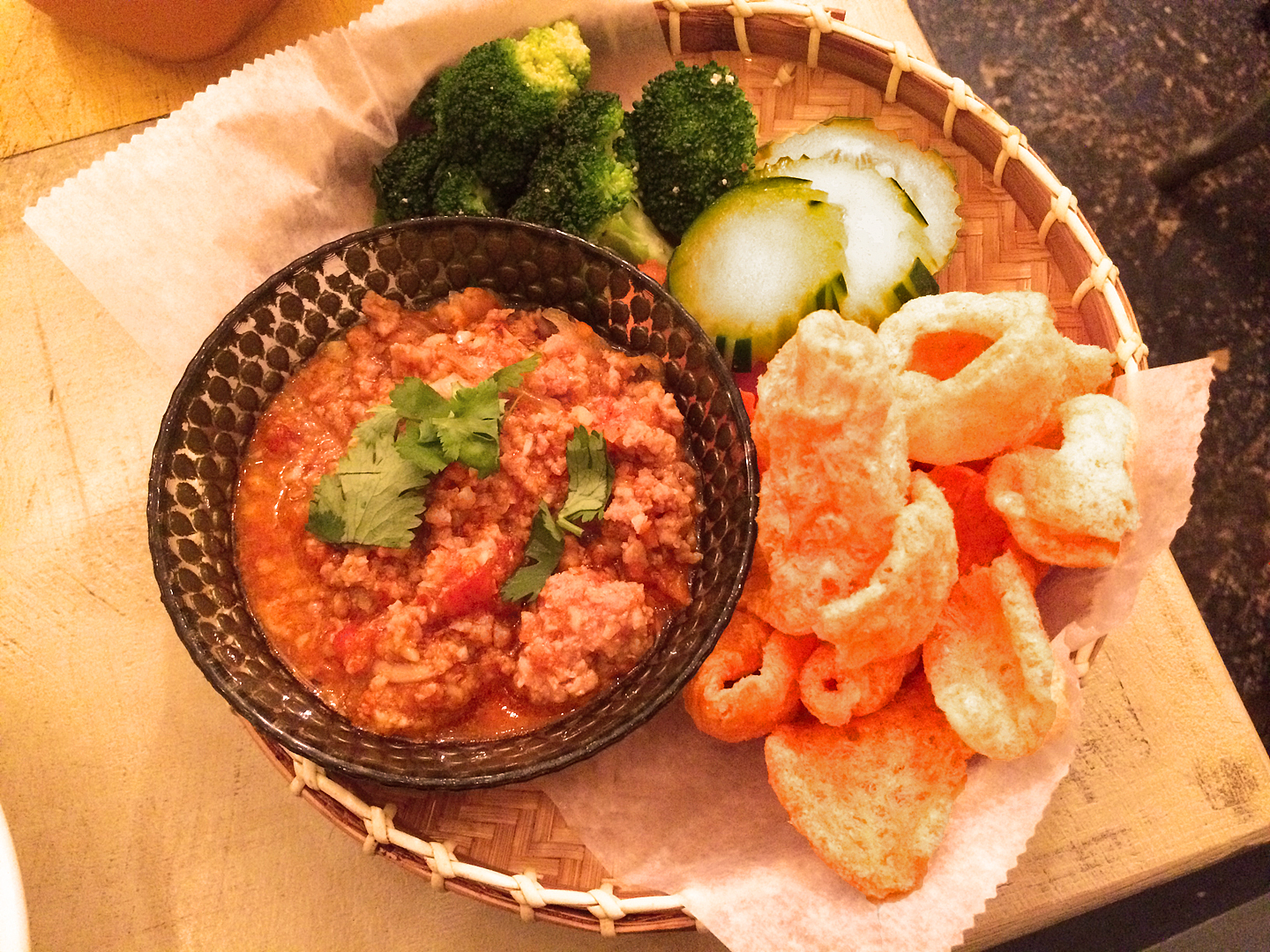 Nam Prik Ong. Pork rinds, broccoli, and cucumber (plus jasmine sticky rice not in this photo) served with Chiang Mai's favorite medium-spicy dipping sauce made from minced pork and tomatoes.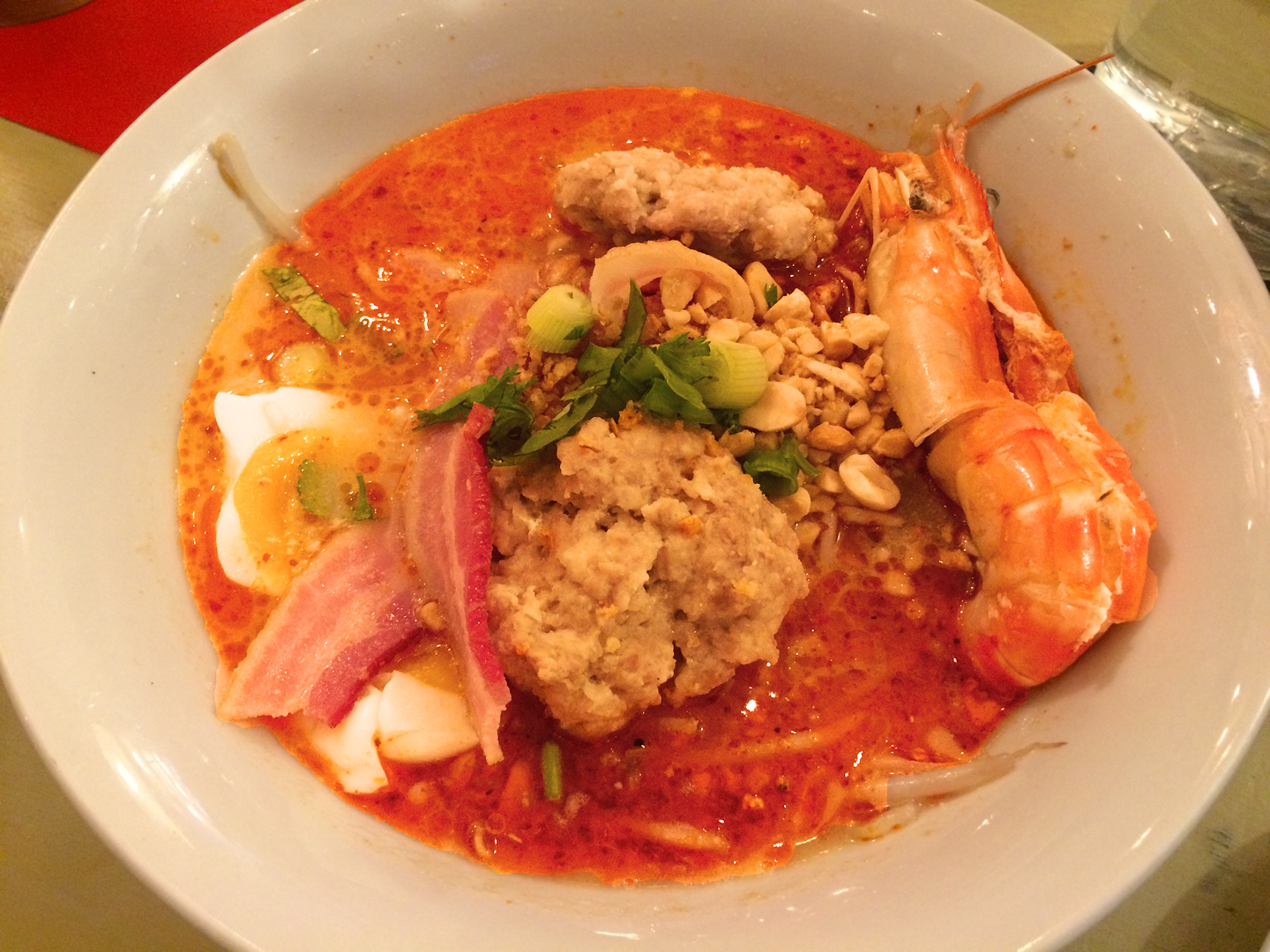 Num Prik Phow Tom Yum Goong Yai. Sounds like a mouthful, but let's break it down: "num prik phow" = Thai chili paste; "tom" = to boil and "yum" is the spicy hot and sour salad you know and love, hence "tom yum" = hot and sour soup; "goong" = shrimp; "yai" = large. The menu description is "rice noodle in Thai chili paste soup with jumbo shrimp, homemade pork patty, bacon, and soft boiled egg. Not sure if the bacon is in there to complement the egg, but we sent our compliments to the chef. As I think about it, in either language, that is a mouthful – and a delicious one at that!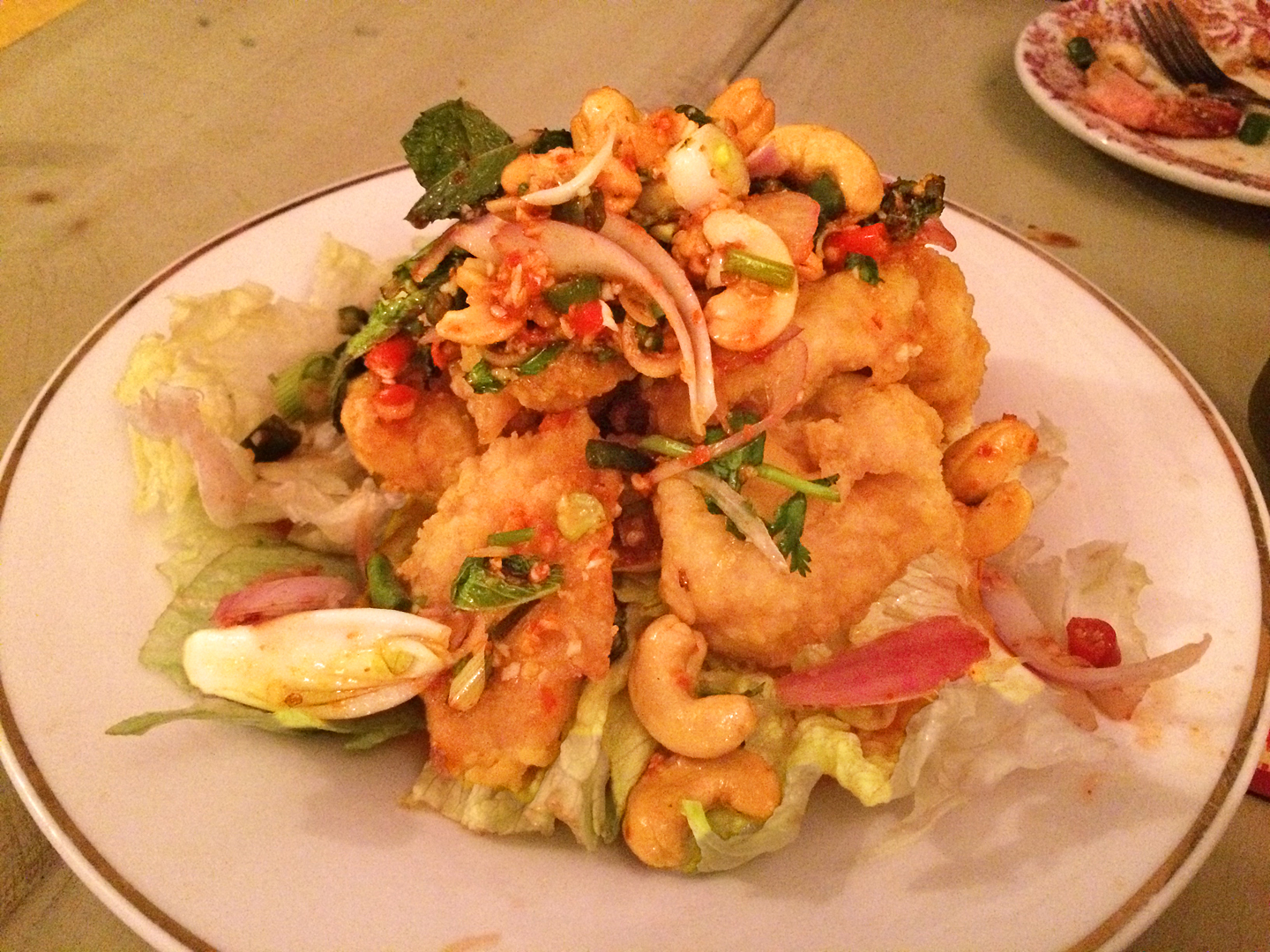 Pla Lui Suan. Fried fillet of red snapper covered with Thai herbs (makrut lime leaves, galangal, red onion, shallot, and mint), topped with cashew nuts and fresh chili-lime sauce.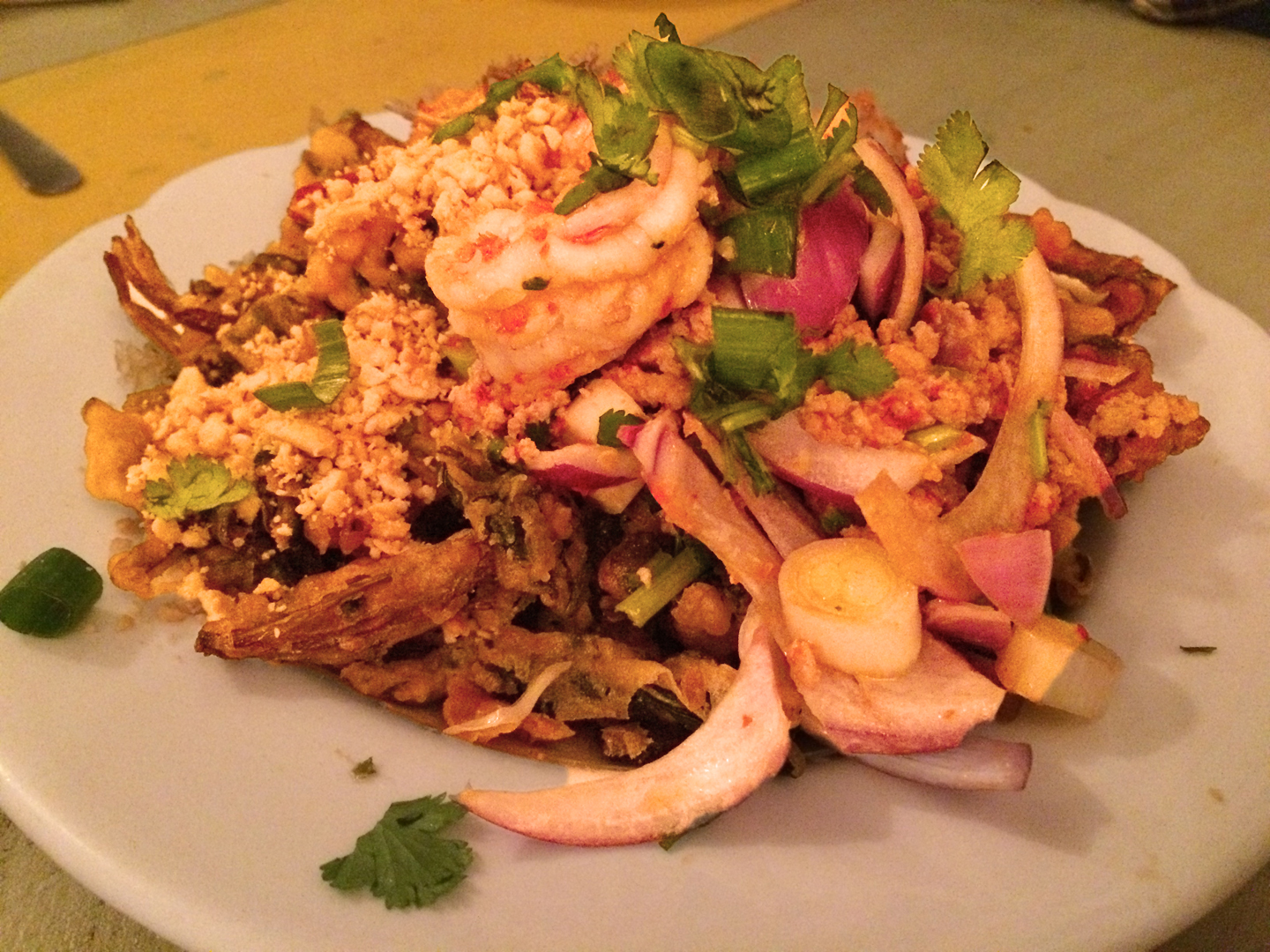 Yum Pak Boong Grob. Crispy watercress salad with chili-lime sauce, shrimp, and minced pork, topped with crispy shallots, cilantro and peanuts. The green vegetable is known by a raft of names – fitting because it's semiaquatic: water spinach, kangkong, Chinese watercress, morning glory, and water convolvulus to name a few; you can identify it in Asian markets by its hollow stems. Translation: yum = spicy salad, pak boong = water spinach, grob = crispy (because it's fried).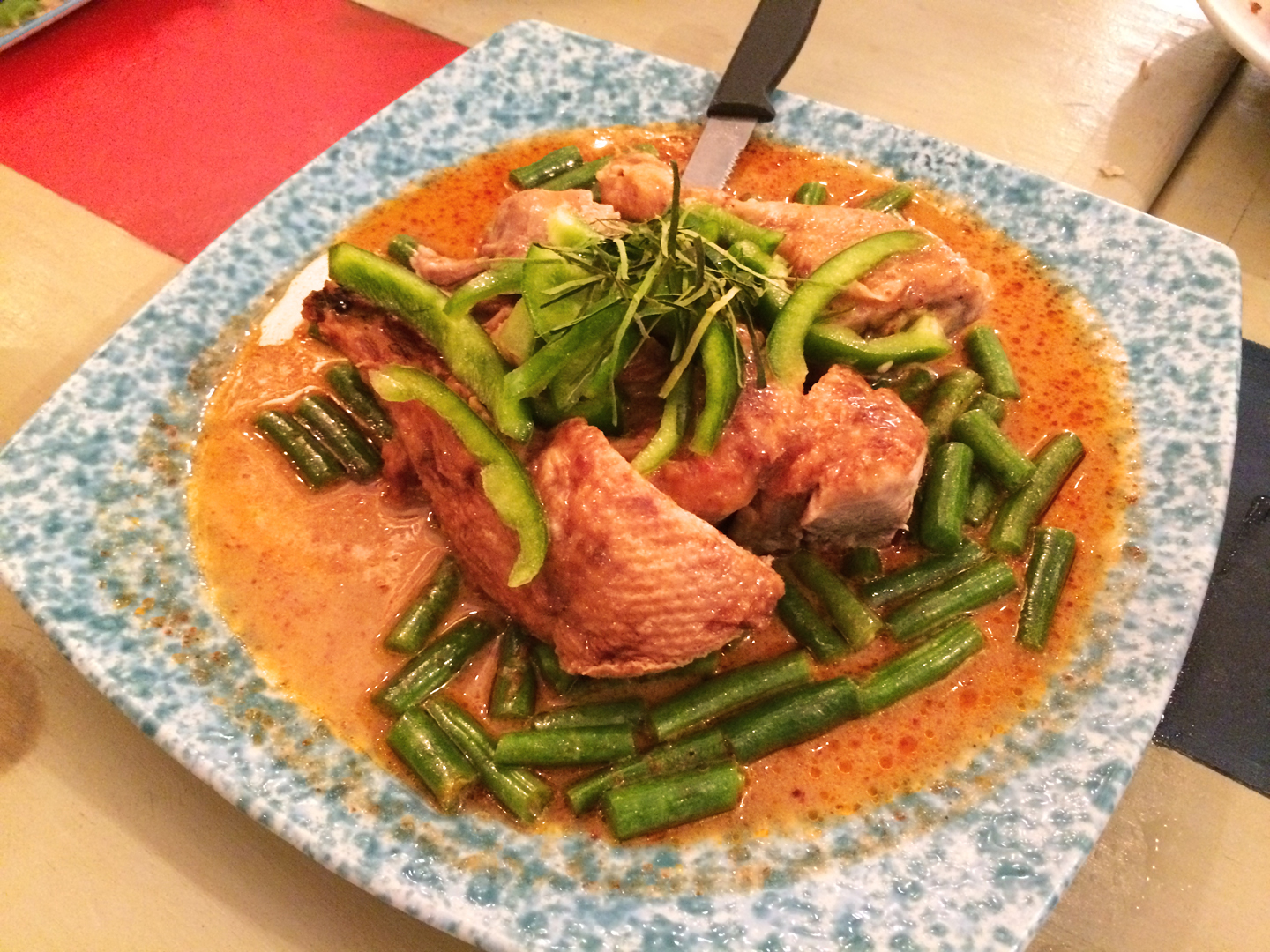 Panang Ped. Roasted farm-raised half duck in panang curry paste, coconut milk, makrut lime leaves, string beans, and bell pepper.


Look by Plant Love House is located at 622 Washington Avenue in Prospect Heights, Brooklyn.