The stretch of 5th Avenue between about 38th and 59th Streets in Brooklyn's Sunset Park is a mecca for Mexican, Central and South American food (at the risk of mixing my geographic meccaphors).
My plan had been to do a definitive roundup of the varieties of crema to be found there but as Robert Burns wrote, "The best laid schemes o' mice an' men gang aft a-gley." Each time I set about composing the post, some new question popped up that warranted an investigation and prompted another trip back to Sunset Park: I had to stop somewhere even if I hadn't evaluated everything there was to evaluate. So rather than an exhaustive report (because it would be exhausting to write and even more so to read), I offer these tasting notes perhaps prematurely.
I'm going to assume that you are already familiar with crema and when you run across a Mexican recipe on the interwebs that calls for sour cream, you raise an eyebrow, question its authenticity, and wonder if the result will taste pretty much like the real deal, particularly if the next ingredient is Velveeta.
(Click on any image to view it in high resolution.)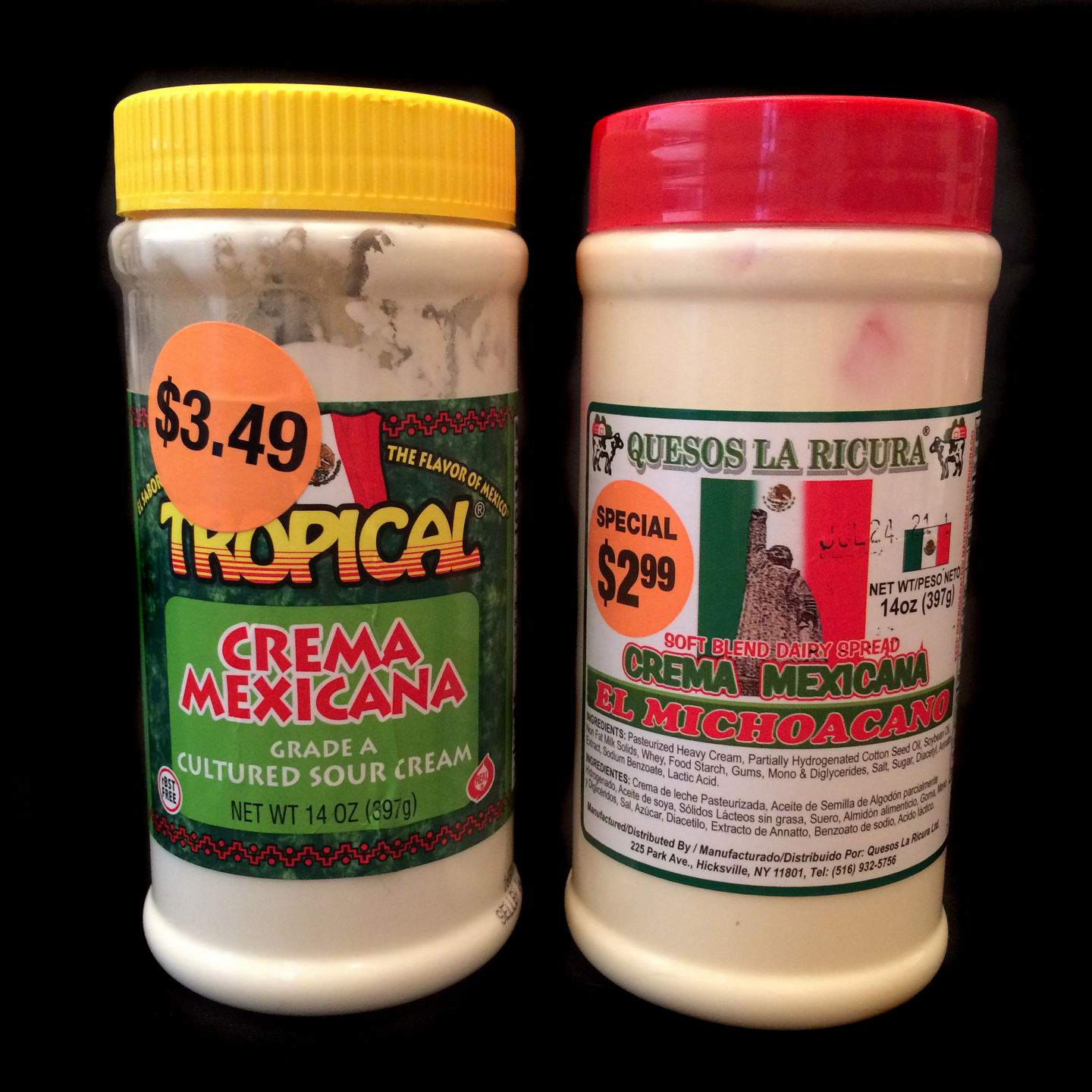 Any well-stocked supermarket around these parts is likely to have a least one brand of crema, usually Mexican style and often Tropical brand. Note that Tropical refers to its product as "cultured sour cream"; I don't know if that's an actual distinction or just a clarification for the American marketplace. If you see it, try it; in the vernacular of cybershorthand, IMHO any crema > any sour cream. But if you want to take a deeper dive, and you should, it's easy to find Quesos La Ricura brand and others in Latin American neighborhoods.
The difference between these two brands of Crema Mexicana is both significant and subjective: for starters, Tropical is saltier. Regarding texture: I could be wrong but I find a lot of dairy products (including yogurt) seem to have upped the ante these days on guar gum content; it's a stabilizing and thickening agent made from guar beans and imparts a viscous, not quite sticky quality to whatever it "enriches" but doesn't affect the flavor. (Note that all of the brands I sampled for this post use gums of one kind or another. So does your favorite ice cream.) In this case, Tropical is thicker but gummier and, based on my experience, enjoys a longer shelf life than Quesos La Ricura, enough to make me speculate about the fingerprint of higher guar gum content. Tasted good though.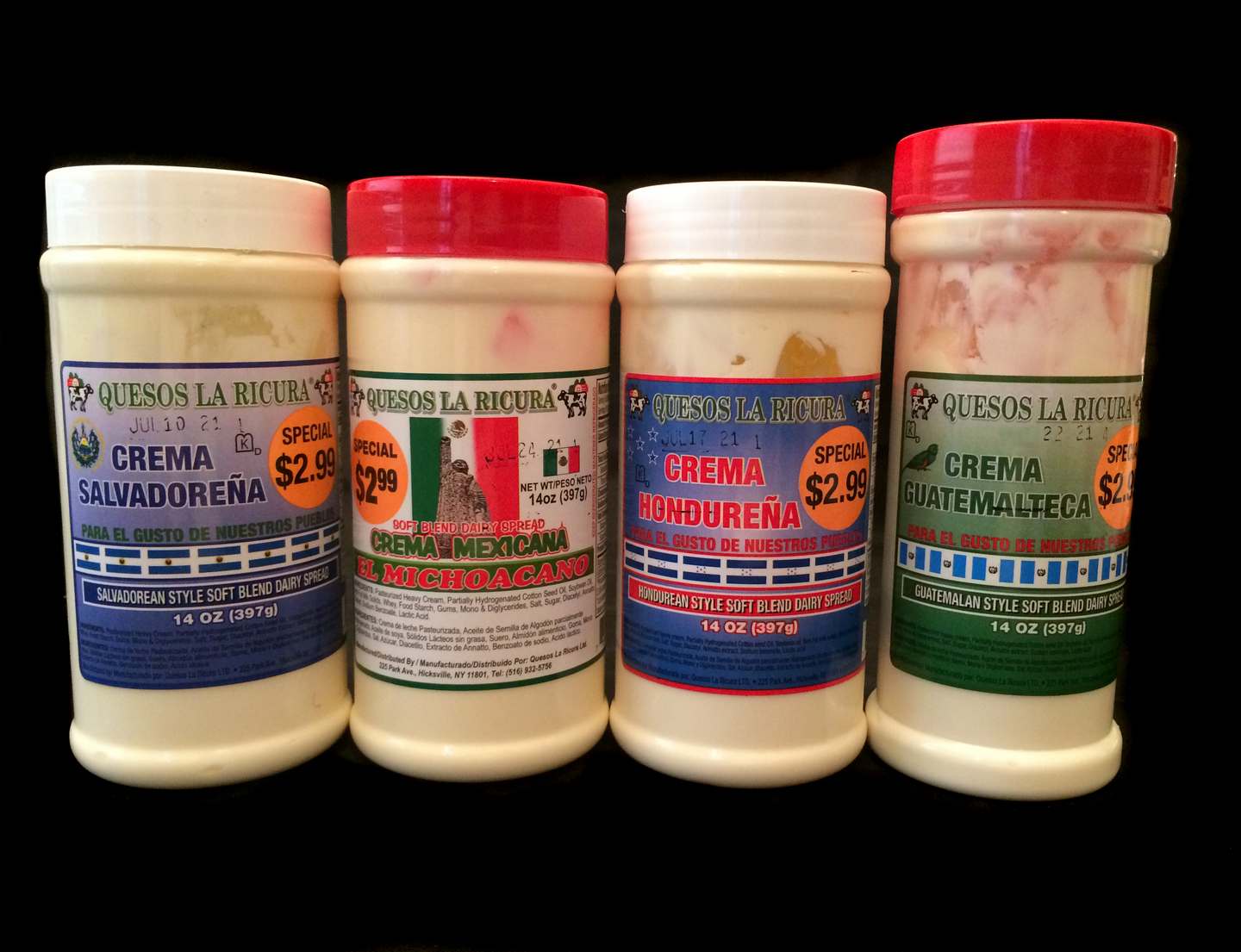 But Mexican crema only begins to plumb the depths; here are examples of Salvadoran, Honduran and Guatemalan cremas as well to champion their own rendition of this (literally) crowning achievement, each proudly displaying its flag and crowing "para el gusto de nuestros pueblos". Gotta love it.
The nutritional info on the back of the jars as well as the ingredients listed on the front are identical; the color variations run from Honduran ivory though Guatemalan then Salvadoran and finally to Mexican snow-white.
Texture notes: Mexican and Honduran were the thinnest. Guatemalan is the heaviest, more like a hybrid of sour cream and crème fraîche.
Flavor notes: Among the four, Salvadoran was rich, salt level just right, and a little sweet (my fave if you must know); Mexican was saltiest; Honduran was salty and a little more acidic, perhaps with barely a hint of cheesiness; and Guatemalan was less tart/tangy than the others. In general, the Central American versions were a bit nuttier and richer than their Mexican counterparts.
But bear in mind that these are fine grades of distinction; YMMV based on your own personal taste and the age of the product. Age of the product? Read on….
Now, originally I thought that Guatemalan had a slight cheesy funkiness to it – but was it "on the edge"? So I went back to Sunset Park (one example of what I meant by new wrinkles hindering me from finishing this post) and bought another jar of the same brand (the one evaluated but not photographed here). Curiously, this time it was in a shorter jar like the others and topped with a white cap. Was the first one past its prime? I used it well before its sell-by date. I've decided that those dates should be taken with a grain of salt (ahem); technically, these all still have a month to go but I know there's no way they're all going to survive that long. Is it this particular brand or the store's handling of it? We'll never know. But don't let that deter you: get one with a distant sell-by date and you'll most likely be fine.
Also be aware that the variations from brand to brand are almost more important than their national styles. But in general, cremas are all richer and runnier than sour cream and that's really what you're after, especially if you're not doing an OCD A/B comparison.
And I won't even begin to talk about the commercial products that come in plastic bags, or even better, unlabeled plastic bags in the dairy case – that's the housemade stuff and usually worth getting.
But now, a problem has emerged: What am I supposed to do with all this crema in the fridge? Expect to see some home cooking where I've swapped it in for sour cream, yogurt, crème fraîche or even buttermilk.


But if you see me putting it in my coffee…send help.