I was listening to The Splendid Table, the podcast hosted by Francis Lam, and one of his guests was Naz Deravian, author of the Persian cookbook Bottom of the Pot. I don't own the cookbook (yet) but if the recipes are a fraction as compelling as her poetic storytelling, I'm already a fan.
They were discussing tahdig, the Persian saffron rice dish that's all about that crispy layer that forms at the bottom of the pot – that is, it forms if you are either a seasoned culinary genius or extremely lucky in the kitchen. (In Persian, tah means bottom, and dig means pot.) This delicacy is rightfully beloved among many cuisines worldwide – you may be familiar with socarrat in the preparation of Spanish paella or Chinese guōbā. Wikipedia has a page titled Scorched Rice that includes it, but if that's not an off-putting name, I don't know what is.
During Ramadan last April, I made fesenjan with duck and decided to see how well the (meager) leftovers would freeze. (For the record, it was as successful as any reheated leftover stew-like dish, which is to say not bad at all.) So, charmed and encouraged by Ms Deravian's narrative recounting her experience with her mother's tahdig, I set out to try my hand at making it as an accompaniment for the revivified khoresh. I perused a number of recipes on the interwebs and came up with my own simplified (of course) procedure. Here's how it came out:
(Click on any image to view it in high resolution.)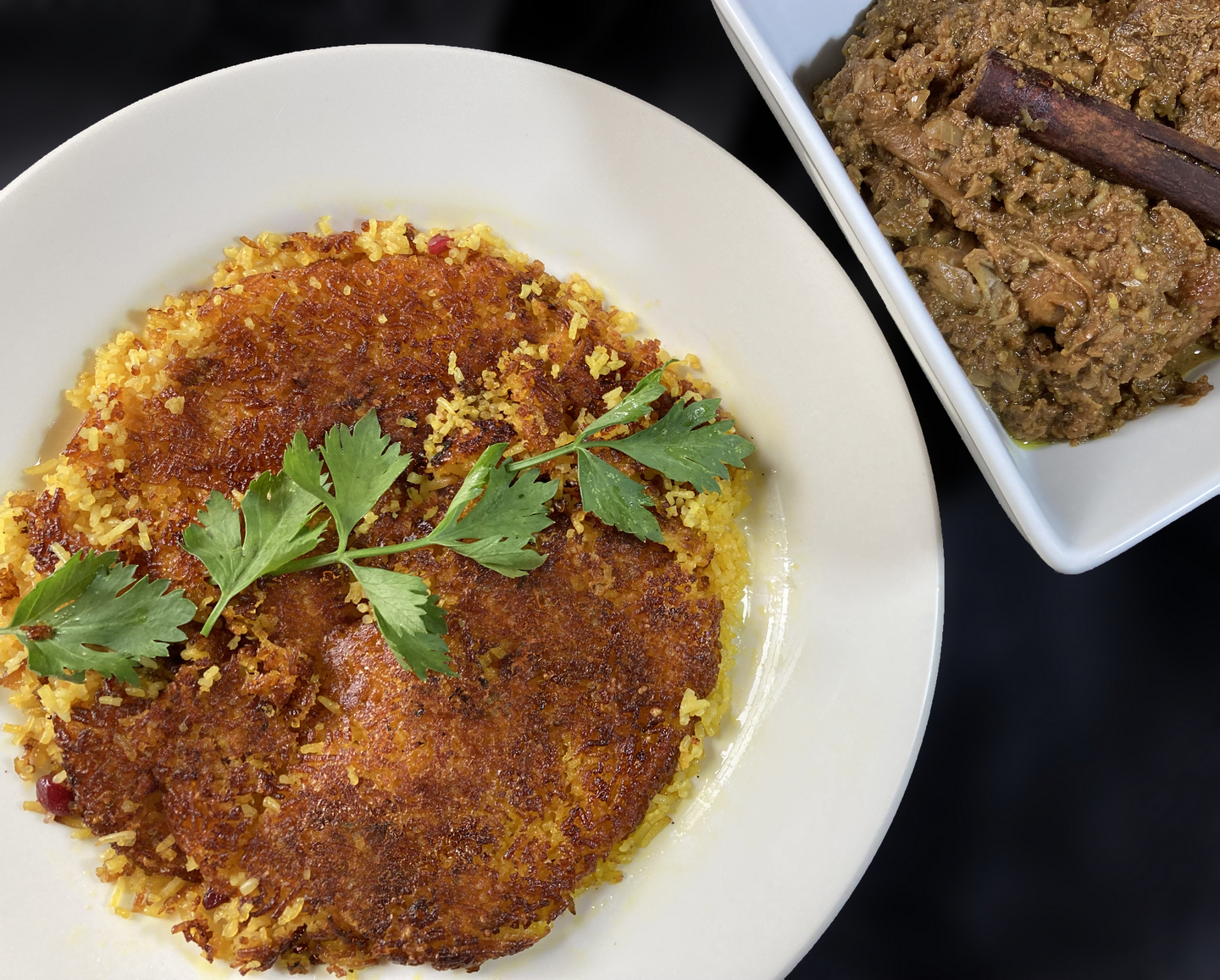 I think I may have initiated a new personal tradition for Nowruz, the Iranian New Year that heralds the spring equinox – that is, assuming I get extremely lucky in the kitchen again!