The Jewish holiday of Chanukah commemorates the rededication of the Second Temple in Jerusalem after its destruction in the second century B.C. The ceremony involved the lighting of a menorah, an oil lamp, but there was only enough oil to last for a single day. By a miracle, the menorah glowed for eight which is why Chanukah, the Festival of Lights, is celebrated for as many days. In Jewish households, a nine branched menorah is used; a single candle is lit on the first night and an additional candle is added each consecutive night, with the ninth position reserved for the shamash, a helper candle used to kindle the others.
Since the Chanukah miracle revolves around oil, tradition involves eating oil-centric fried foods. Sufganiot, jelly doughnuts, are the go-to sweet treat in Israel while Eastern Europe brings latkes to the table, potato pancakes customarily served with sour cream and apple sauce; here, we happily indulge in both.
(Click on any image to view it in high resolution.)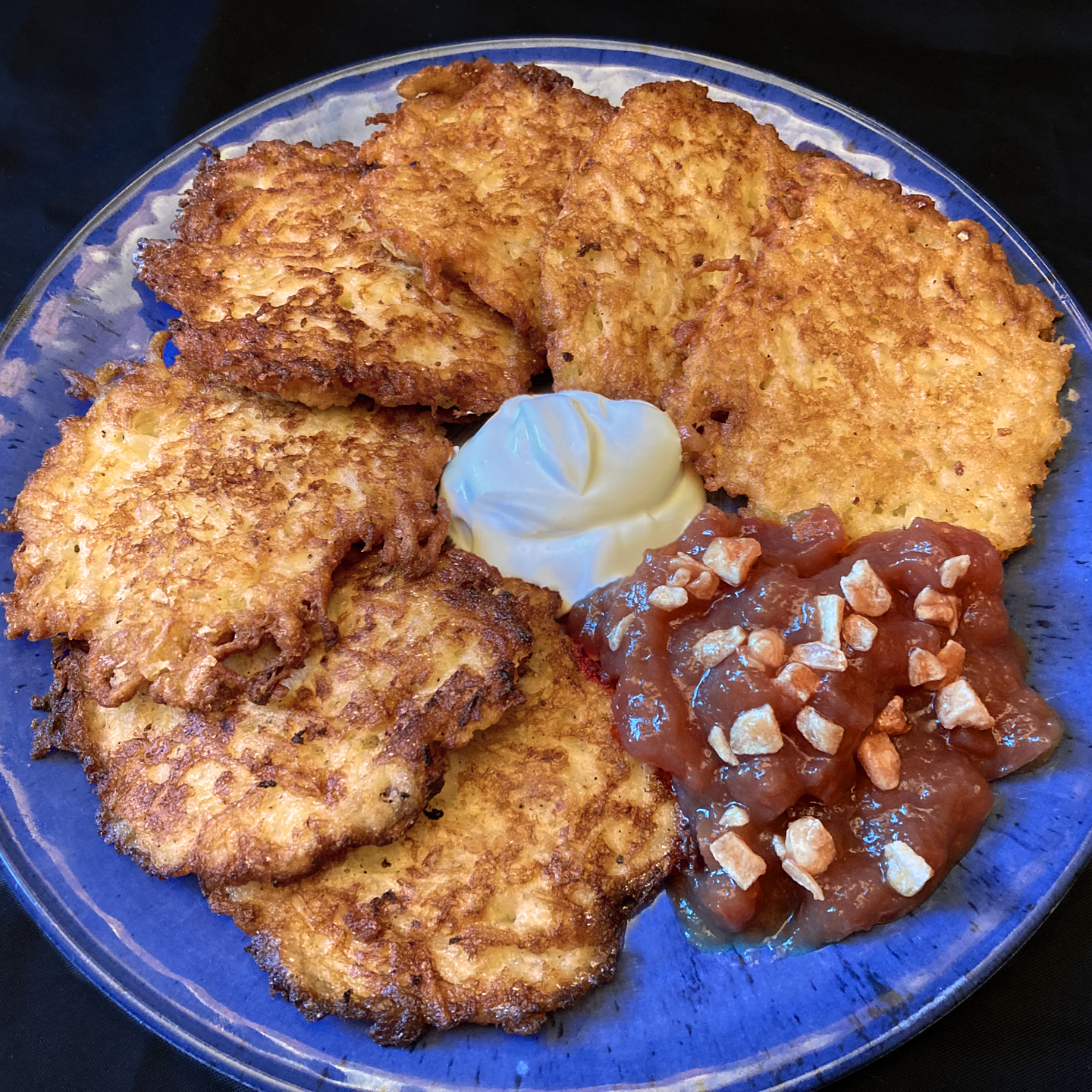 My homemade latkes: shredded potatoes, minced onion, beaten eggs, baking powder, S&P, plus a binder like flour or matzo meal, shaped and fried in plenty of peanut oil and/or schmaltz (chicken fat) if you're the decadent type 🙋‍♂️; they're plated here with the requisite sour cream alongside chunky apple-strawberry sauce topped with sweet crystallized ginger. (You know me: I hadda be different.)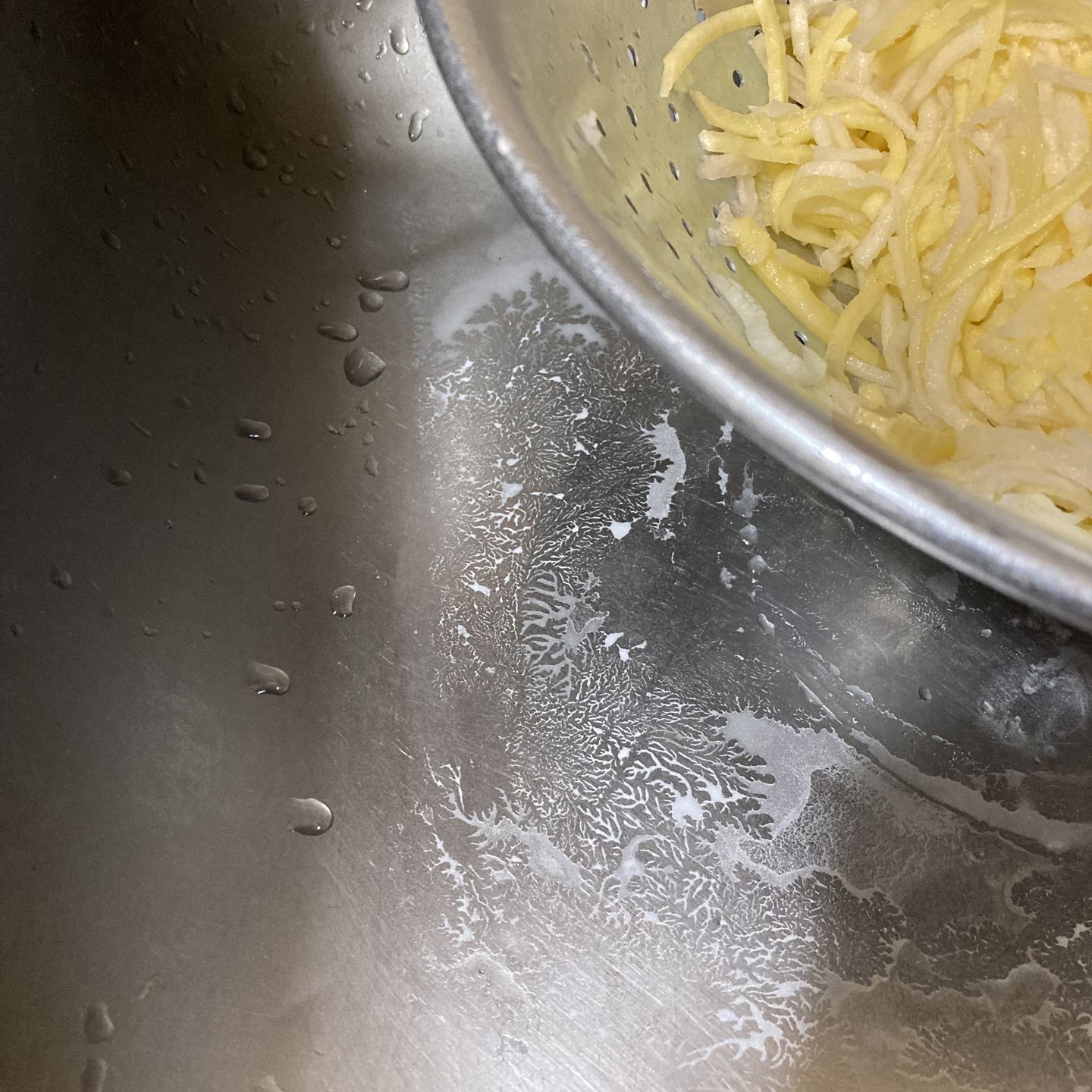 The recipe calls for salting and draining the potatoes; I simply set up a colander in the sink, squeezing out the liquids from time to time. But this year, I noticed something I had never witnessed before: the intricate patterns made by the drained, wet potato starch were as beautiful and mesmerizing as snowflakes! A present day Chanukah miracle!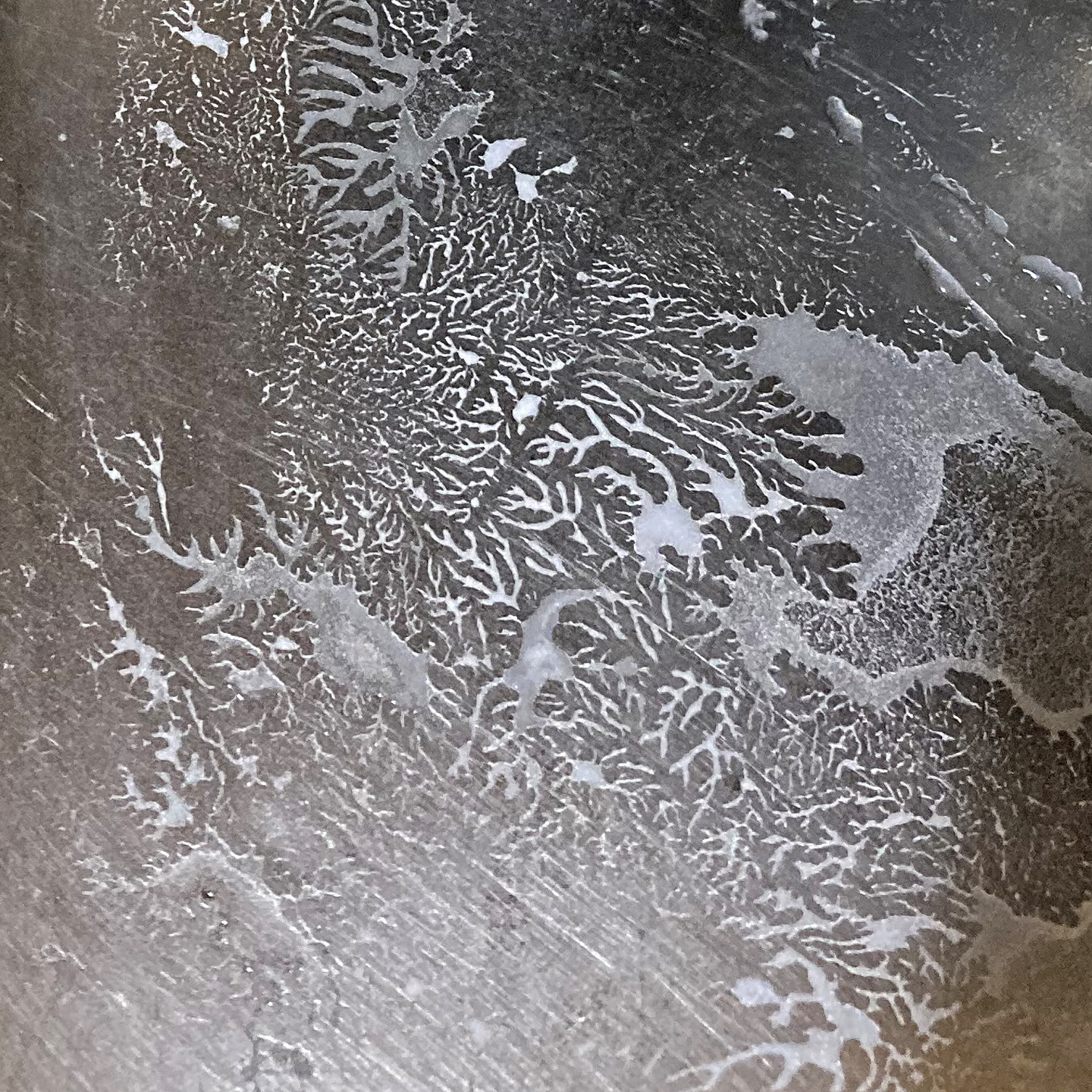 The photo enlarged.
Now, look very, very closely and you can see a tiny, perfect Chanukah menorah in the pattern. Go ahead, keep searching. Stay focused. Take your time. Don't pay any attention to me. I'll just, um, finish off these latkes while you're trying to find it….


!חַג חֲנוּכָּה שַׂמֵחַ
Happy Chanukah!