If you saw my last post, it pictured only a few of the potato latkes I had made, so there was a stack of leftovers to contend with the next day at lunchtime. They really don't reheat well – I mean, who wants a soggy, limp latke? – so some culinary cogitation would be called for. My thought process:
• Latkes are primarily potatoes and onions.
• What do I have in the house that's brunchish? Eggs, among other things.
• Potatoes pair well with eggs – think frittatas.
• Onions pair well with eggs – think Western omelets.
(Click on any image to view it in high resolution.)


The solution? A latke omelet! (Omeletke? Omelatke?)
So I cut up some latkes and sautéed the pieces to get them extra crispy. Western omelets usually contain onion and sweet pepper but since the latkes were pre-onioned, I just needed to add a little diced red bell pepper to the sauté. I spooned the mixture onto the slowly cooking beaten egg (enriched with a touch of heavy cream left over from my Thanksgiving sides), plated it, and left just enough peeking out to identify the contents; a dusting of Spanish paprika and a few cilantro leaves provided the garnish.
The pink stuff? Western omelets also often contain ham. All I had in the house was "turkey pastrami" – which tastes nothing like turkey and even less like pastrami, but that's what there was in the fridge. (Don't ask.) I wanted the omelet to be latke-centric, so I decided to use the faux ham as an accompaniment. Sliced and sautéed it to get some crispy brown edges (crispy brown fixes everything), hit it with some cracked black pepper and fanned out the result beside the omelet.
Anything else? Perhaps round it out with some kind of veggie so I could pretend that it's a balanced meal, so I cobbled together a quick shredded carrot and currant salad spiked with cumin, cinnamon and a sprinkle of hot paprika plus fresh lemon juice to bring it together.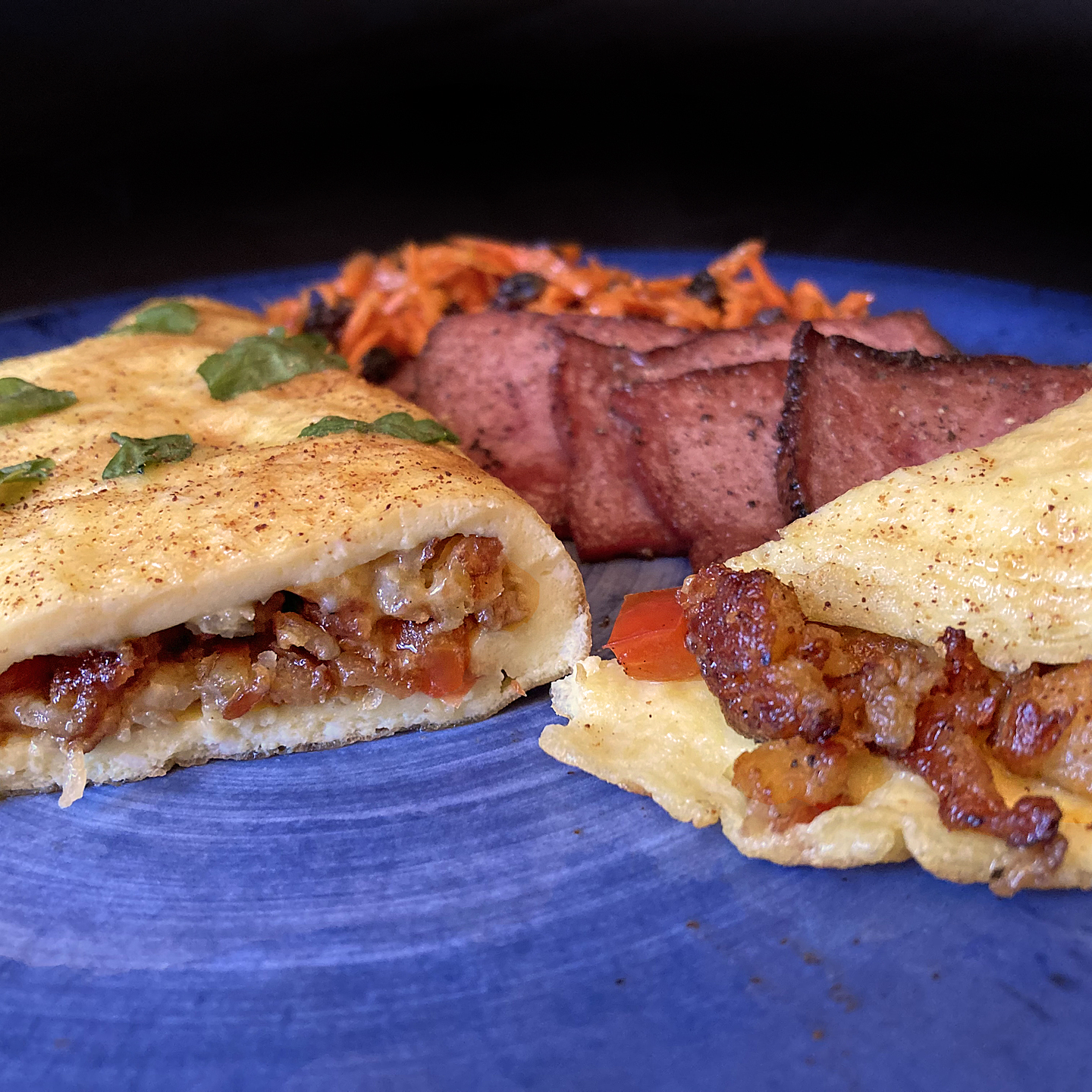 The inner workings. Note the yummy crispy bits.
I actually might have enjoyed this more than just the plain latkes – and I'm feeling a little guilty about it.
Given the provenance, I guess it stands to reason.