My Instagram posts are usually brief takes on restaurants accompanied by a photo or two. (You can see my feed right here, updated almost daily, by selecting the "Instagram" category from my home page – no signup required.) But folks sometimes ask for fuller reviews and more photos, so in response, here's a more comprehensive report on one of my favorites.
---
Every once in a while, a new Sichuan restaurant comes along and it's so good that you feel compelled to shout about it from the rooftops and tell the world. But seldom does a new Sichuan restaurant show up that's so remarkable, so outstanding, so clearly superior in every way that you fall silent, awestruck, in appreciation of every skillfully prepared bite.
Such was my experience at Guan Fu Sichuan.
Here are a few favorites from my recent visit. (Click any photo to view in glorious high resolution.)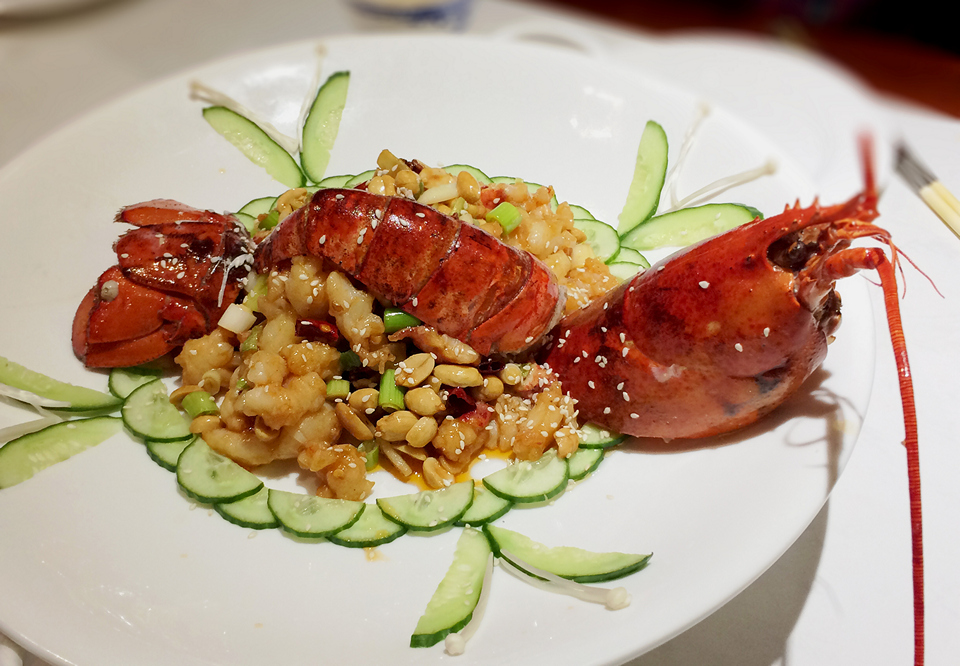 Kung Pao Lobster
Kung Pao Lobster (宫保龙虾). Not what you'd expect when you hear "Kung Pao" anything. Masterfully seasoned (no heavy-handed spice complication) and exquisitely plated, the contrast between the crisp peanuts and the melt-in-your-mouth lobster was perfection.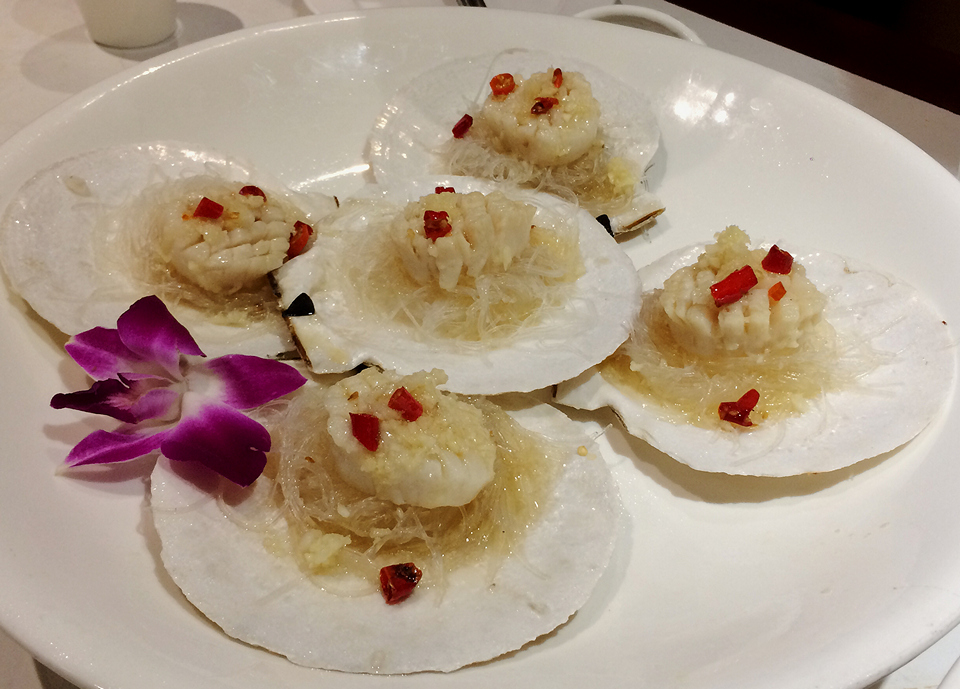 Sichuan Style Scallop with Minced Garlic
Sichuan Style Scallop with Minced Garlic (蒜蓉蒸扇贝). Each perfectly prepared, alive-moments-ago scallop is balanced atop a nest of noodles bathed in an ambrosial scallop broth – truly a culinary gem. They're break-your-heart luscious but break-the-bank expensive at $10 apiece. But do take note: I resolutely champion the tenet that ethnic/world food should never be relegated to the "cheap eats" category. The talent and creativity (not to mention the quality ingredients) that go into making this – and every – dish at Guan Fu justify the price as would any equivalent experience at a schmancy French restaurant. In my opinion, Guan Fu rates a firmament of stars for its inventive cuisine and presentation.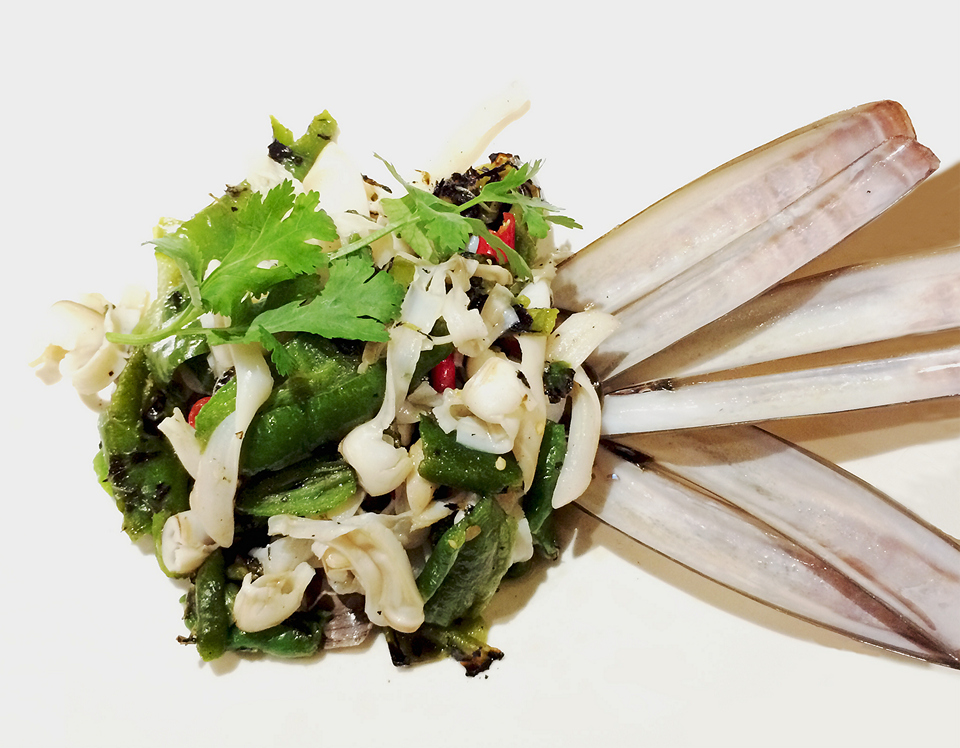 Razor Clams with Green Pepper
Our appetizer of sweet, tender razor clams with mildly spicy green pepper (烧椒圣子皇) was delicate yet distinctive. I admit that I'm easy to please when it comes to razor clams but I've never had them prepared with such finesse. Again, an expertly crafted dish.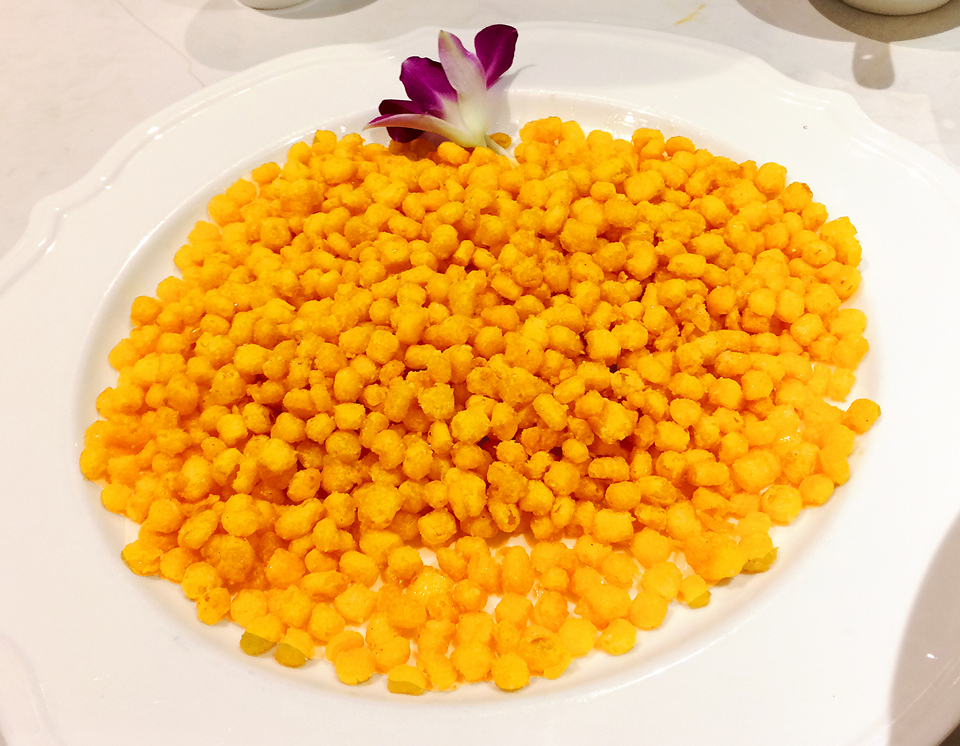 Fried Corn
You've heard of Candy Corn, right? Well, as far as I'm concerned, this dish is Corn Candy and it's amazing. It's called simply Fried Corn (金沙玉米) – sweet corn prepared with salted duck egg yolk and I could probably eat a whole plate of it myself. Simple, yet elegant, another Guan Fu must-have.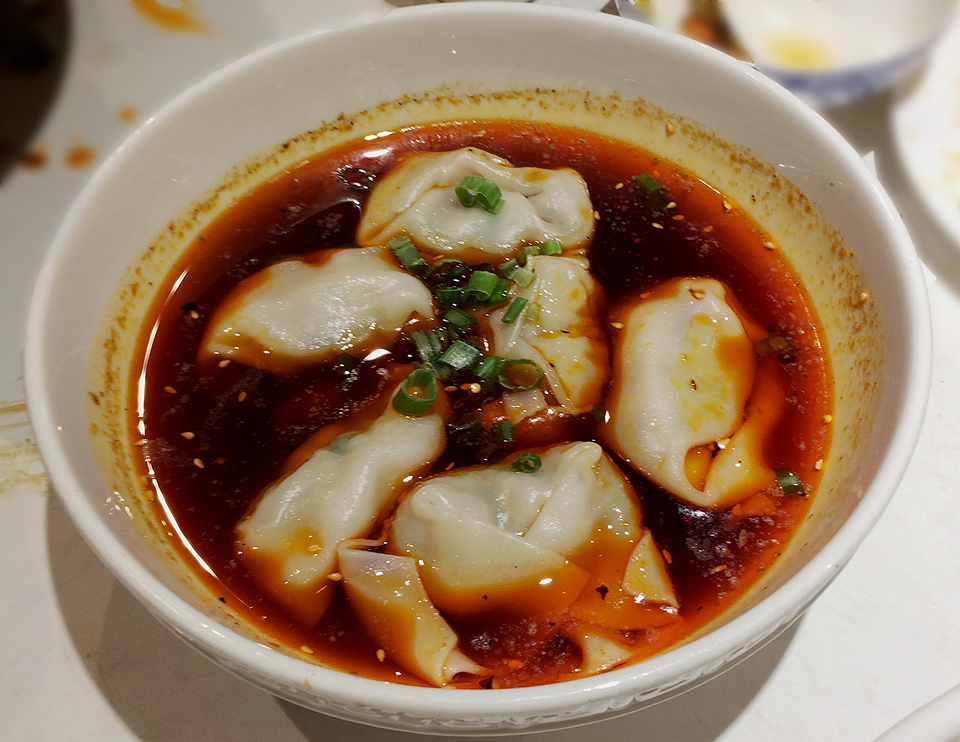 Spicy Oil Wontons
From the Snacks section of the menu, they're just innocent looking dumplings, right? But again, at Guan Fu, they're a cut above. Often you hear folks report whether the skins are thick or thin and that's where the description ends. These Spicy Oil Wontons (红油抄手) (medium thickness and perfect chew) are swaddled in a delicious wrapper (how often do you hear people talk about how good the wrapper tasted?), stuffed to bursting with a savory meaty filling, and swimming in a not-too-spicy sauce.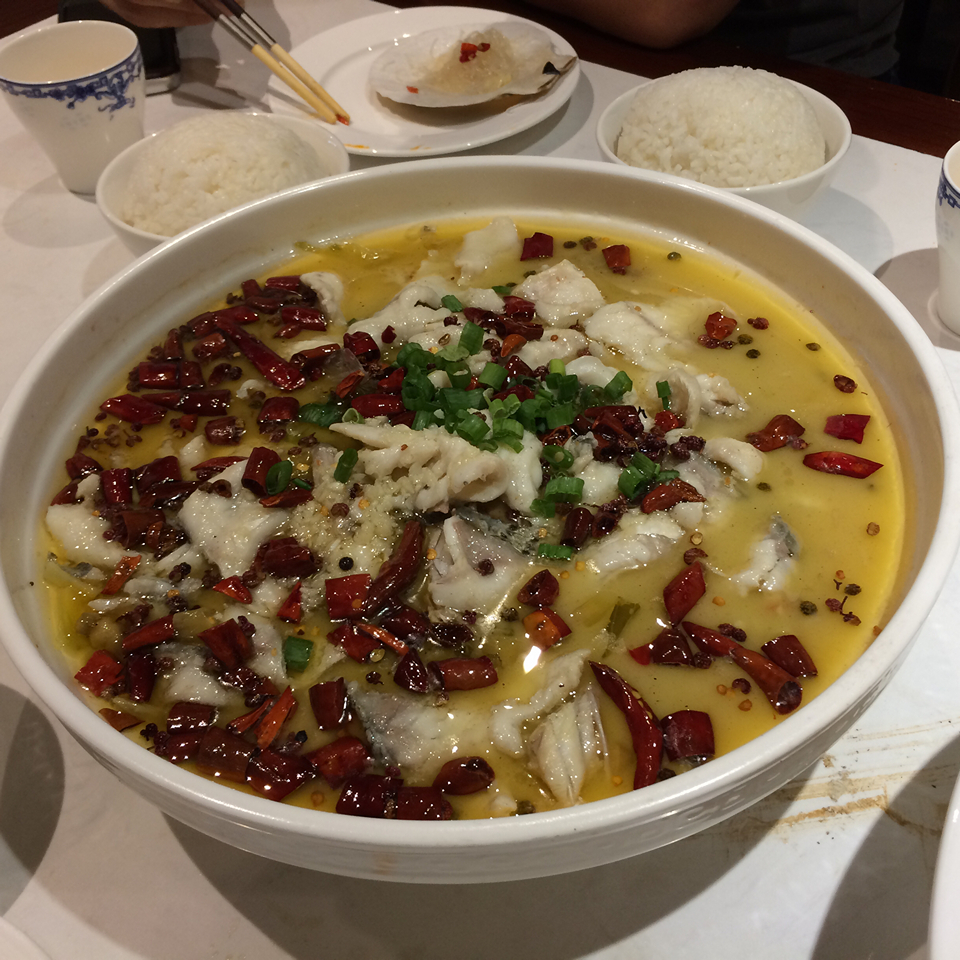 Boiled Fish with Pickled Cabbage and Chili
Boiled Fish with Pickled Cabbage and Chili (酸菜鱼) is available with different kinds of fish – the least bony is the most costly, and even then you'll need to be careful.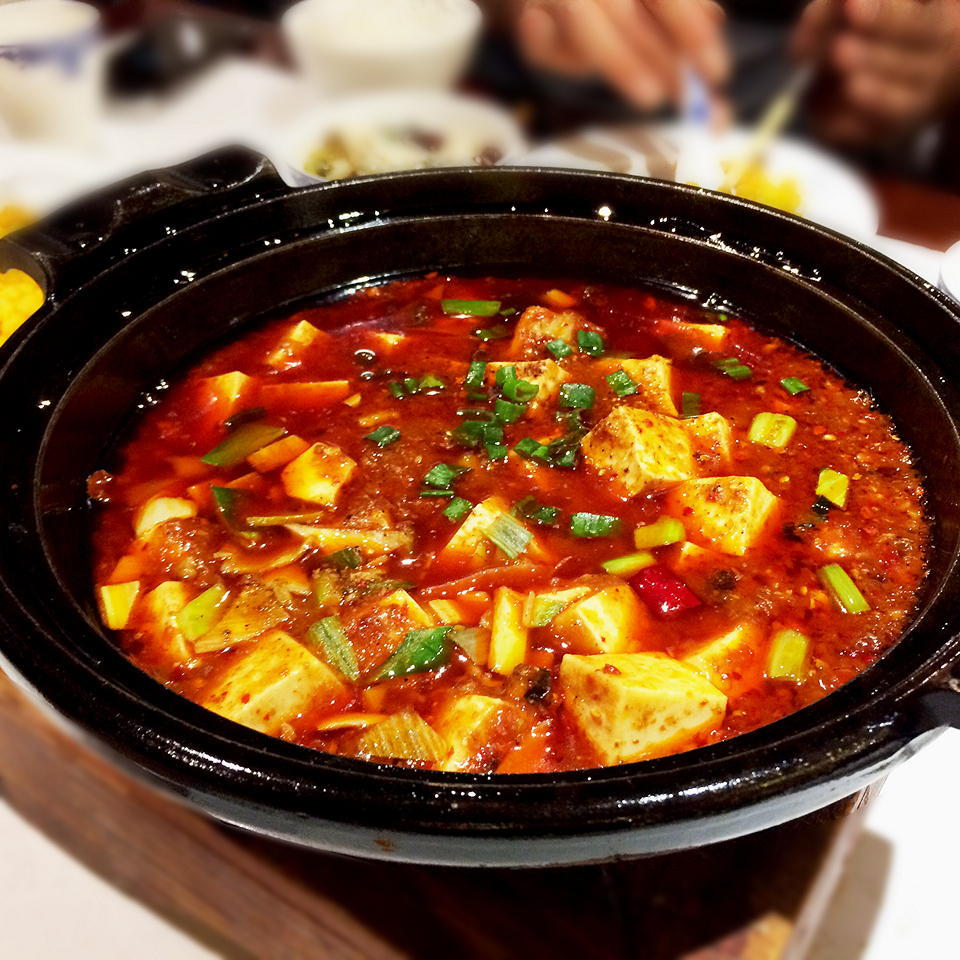 Mapo Tofu
I don't like Mapo Tofu (麻婆豆腐) said nobody ever. Once again, Guan Fu's rendering was exemplary. Fluffy, remarkably soft pillows of tofu in a sauce that was complex and flavorful that went well beyond the ubiquitous nondescript spicy versions.
Guanfu Style Bean Jelly Salad
Guanfu Style Bean Jelly Salad (川北凉粉) was a perfect way to start our meal.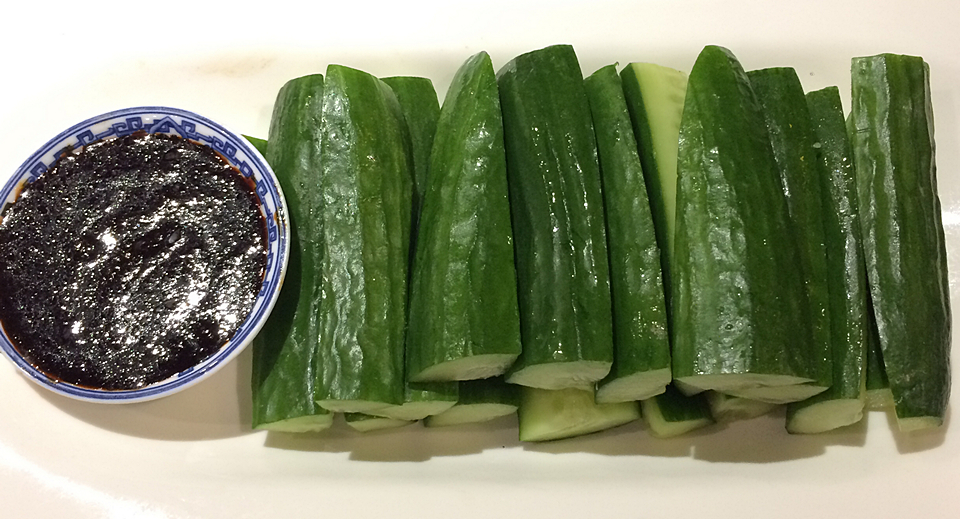 Cucumber with Home Sauce
Cucumber with Home Sauce (沾酱乳瓜), essentially Persian cucumber with hoisin sauce, was the most uncomplicated dish I tried; tastes exactly as it sounds.

Guan Fu Sichuan is located in Flushing Square, 39-16 Prince Street G01, in Flushing, Queens.