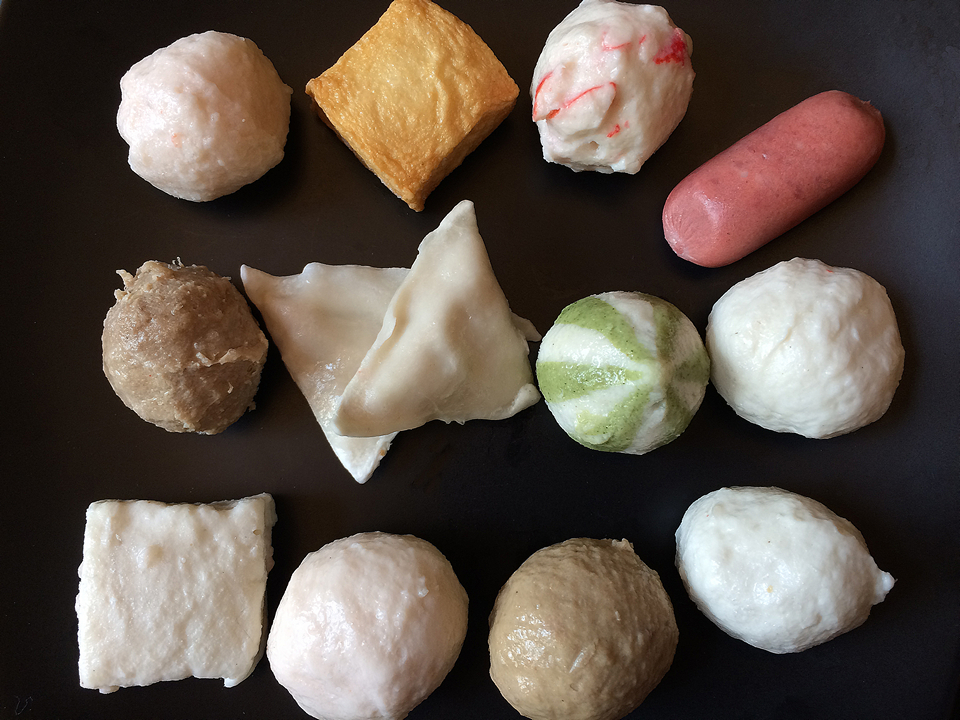 You've undoubtedly seen these if you shop at Asian markets whether Chinese, Japanese, Korean or Southeast Asian because they're a favorite everywhere in that part of the world. (Scandinavia has its own variant, but we're not going to venture that far north this time.) There are even fish cake emoji like 🍥 (narutomaki) and 🍢 (oden). In local Asian markets, you'll find fish balls and fish cakes in the freezer case packaged in bags or plastic wrapped in a small tray, but if you're lucky they'll also have bins of loose assorted varieties where you can cherry-pick as many or as few of whichever ones suit your fancy – my style of shopping, of course.
At their most basic, fish balls are made of fish paste: finely ground fish (pulverized and pounded), egg white, starch, plus a little seasoning. You may have also encountered fish paste as Japanese surimi which is used to make imitation shellfish like the crab stick you see in those ubiquitous California rolls. Incidentally, you can often purchase a few types of fish paste by the pound at the larger markets in the fresh fish/meat department. These are generally the stores' own blends and are worth trying, but they're easier to work with as filling for a dumpling or stuffing a vegetable, dim sum style, rather than for rolling your own fish balls, so I strongly recommend getting the ready-to-go frozen ones as an entry level fishy requisite.
Anyway, I was shopping at Jmart (136-20 Roosevelt Avenue in the New World Mall in Flushing, Queens) and fortuitously happened upon one such bin – fortuitously because I had just made a savory Chinese duck soup from a pair of carcasses that contributed their meat to a Thai duck salad I crafted and I had been trying to decide whether to put noodles or dumplings in it. This bounty made the choice easy – and now I had the perfect excuse to buy a few of each kind.
It's difficult to rate them on some sort of 1 to 10 scale because they're all quite good but the cuttlefish balls and all of the filled varieties were especially tasty; the shrimp ball filled with pork and sea cucumber and the fish ball with pork filling were excellent. By way of identification, from left to right in the photo above:
Row 1: shrimp ball, fish tofu, imitation lobster ball, Chinese brand mini bite sausage
Row 2: beef tendon ball, fish dumpling with lobster flavored filling, fish ball with fish roe filling, cuttlefish ball
Row 3: fish tofu with shrimp filling, fish ball with pork filling, pork and chicken patty ball with pork filling, shrimp ball filled with pork and sea cucumber
Preparing them is a piece of cake (no, not fish cake) because they're already cooked. The easiest method is to simply drop them into boiling soup/water; they'll float to the top when they're good to go. Alternatively, they can be fried and served with just about any Asian dipping sauce; you'll find them on skewers at some food trucks, and I've seen them served with a curry sauce as well. Obviously, they're incredibly versatile.
The flavor is mildly fish-like (except for the ones made from meat which are mildly beefy or mildly porky) which partly accounts for their affinity for various dipping sauces and also for their adaptability in combining with other ingredients. The texture is tender and frankly springy/bouncy, but in a happy way.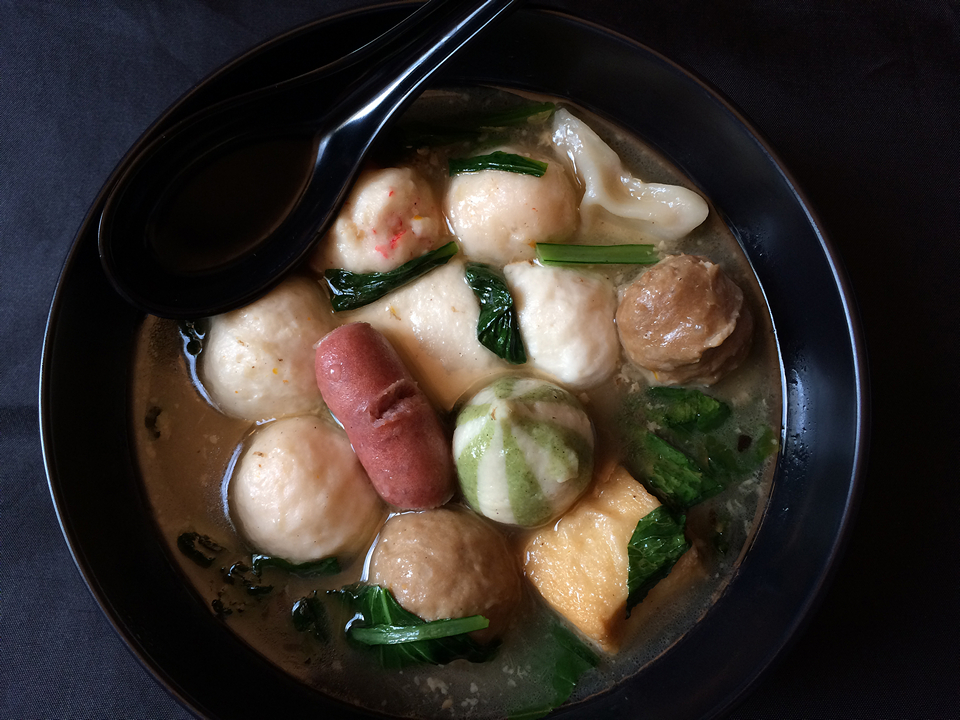 The final photo was taken just before adding more soup since it would have completely covered them up; there are some greens in there for good measure.
So I'm curious: let me know if or how you've used these little wonders in the "Leave a Reply" box below! (If you don't see it, click the reply button next to the title of this post.)