When I write about restaurants on Instagram, they're usually brief takes accompanied by a photo or two. (You can see my feed right here on ethnojunkie.com, updated almost daily, by selecting the "Instagram" category from my home page – no signup required.) But because of Instagram's character count limitations, it's often necessary to break up a review into several parts. This one originally appeared as two posts, published on February 27 and 28, 2019.

---
If for some reason it were necessary for me to go vegetarian, I could handle it thanks to the cuisine of India: so many types of preparations infused with so many herbs and spices in so many combinations create what feels like a boundless array of choices. It's a cuisine that can be both subtle (the distinction between types of dal for instance) and overwhelmingly intense in the same bite. You can partake of this palate pleasing panoply at Vatan, the exceptional all-you-can-eat vegetarian Indian restaurant at 409 3rd Ave in Manhattan where your helpful, friendly server delivers courses from a set menu; you can request additional portions of any item that you found appealing.
Vatan is as much about the experience as it is about the food – and the food is excellent. Vatan (वतन) is the Hindi word for motherland and the decor, presided over by Ganesha, the elephant-headed god of wisdom, good luck, and the remover of obstacles, is calculated to transport you to a Gujarati thatch-roofed hut where you can relax and enjoy your sumptuous meal.
Here are a few of the extraordinary dishes I've tried. (Click any photo to view in glorious high resolution.)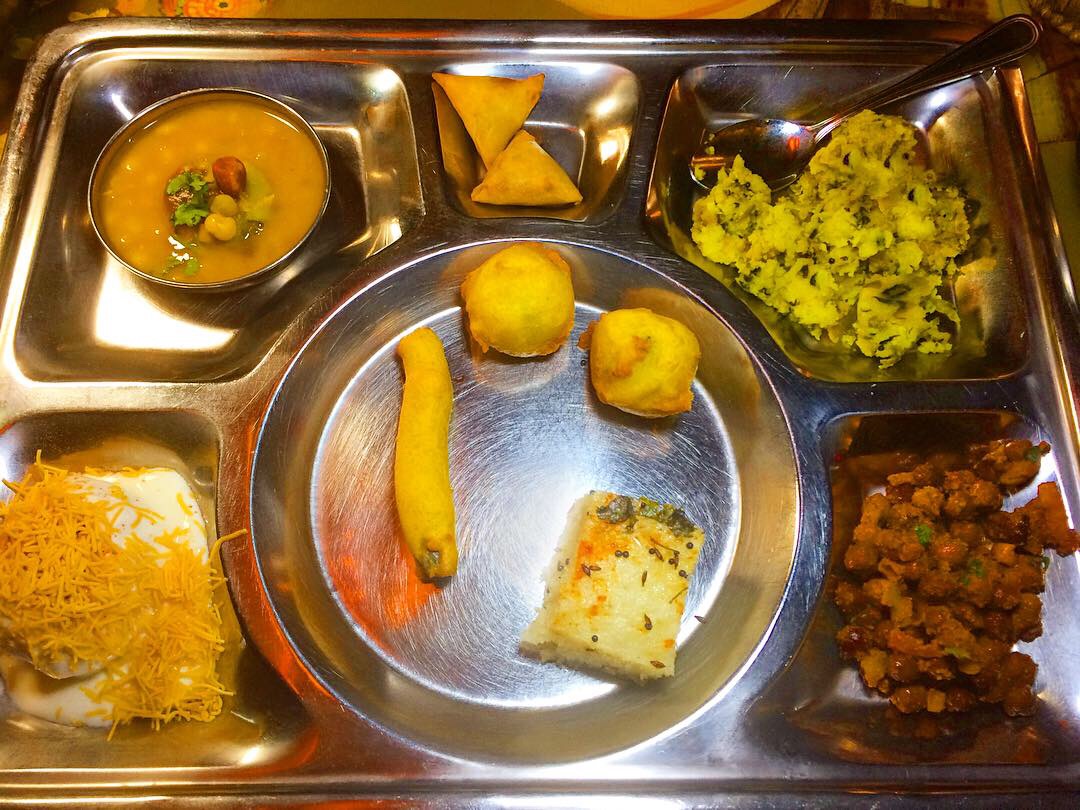 First course: the appetizers – varied and delectable
• Sev Puri – crispy shells filled with potatoes, green gram (mung) beans, yogurt and chutney
• Ragda Patis – potato cutlet in white bean sauce
• Samosa – savory pastries filled with spicy potatoes and onion
• Muthia – steamed flour with spinach
• Chana Masala – garbanzo beans with onions and coriander
• Khaman – puffed cream of wheat flour cakes similar to dhokla
• Mirchi Bhajia – fried hot peppers with garam masala
• Batata Vada – fried potato balls in chickpea flour batter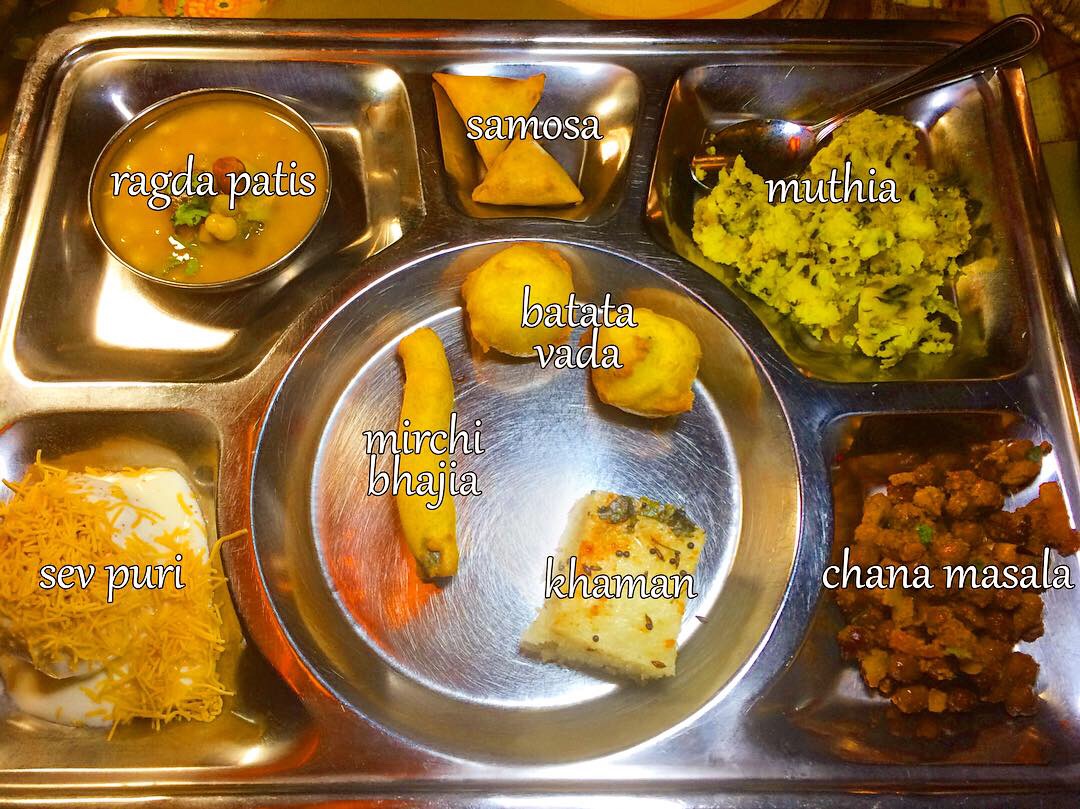 Annotated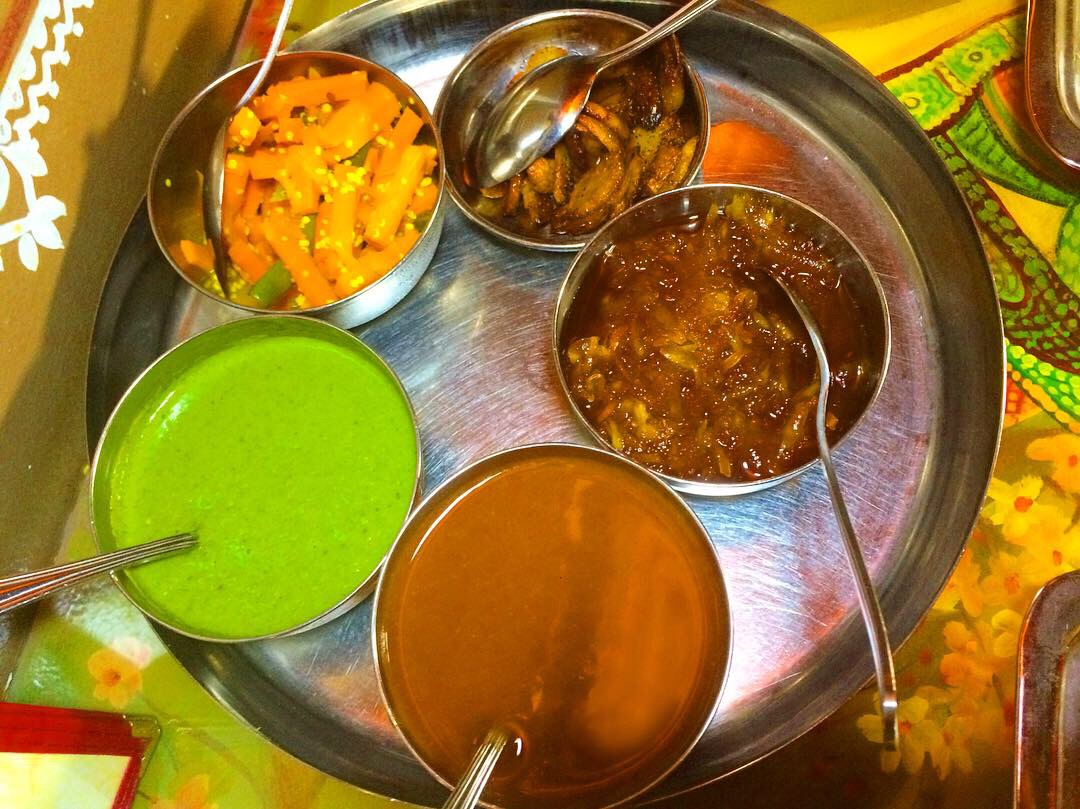 The accompanying chutneys (clockwise from 10:00)
• Carrot Sambharo (mustardy!)
• Fried Garlic
• Mango Chutney
• Tamarind Date Chutney
• Cilantro Chutney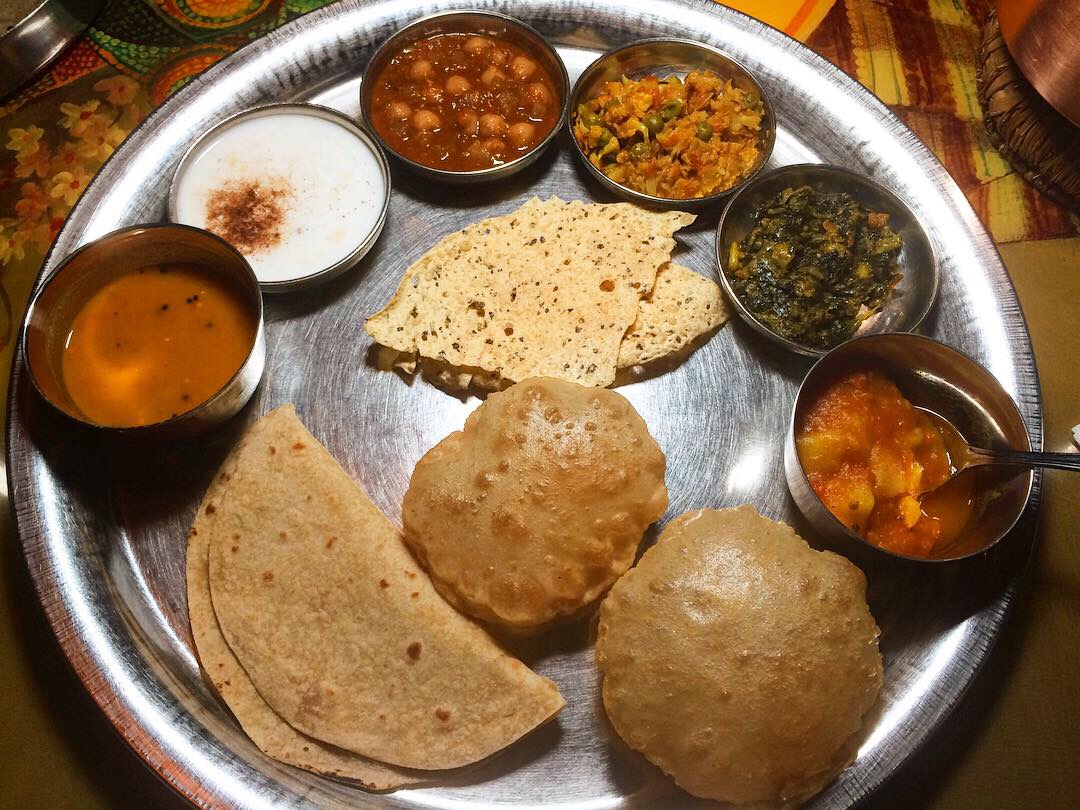 Second course: the entrée thali
• Toor Dal – boiled lentils cooked with Indian spices
• Kheer – rice pudding with dried fruits
• Chole – chickpeas cooked with garam masala, an Indian spice blend
• Ful-Gobi – cauliflower and green peas sautéed in a savory sauce
• Bhaji – sautéed spinach and corn
• Batakanu Sak – potatoes cooked in a mild red gravy
• Papadam – thin lentil wafers
• Puri – puffed whole wheat bread
• Roti – whole wheat flatbread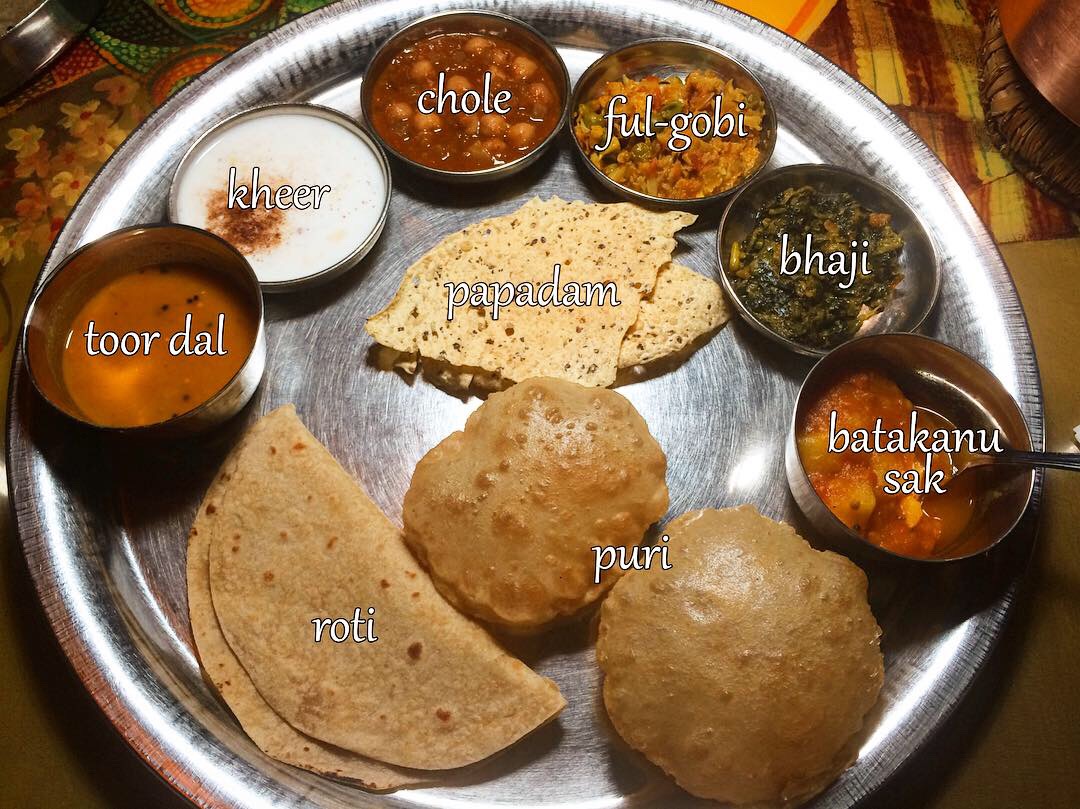 Annotated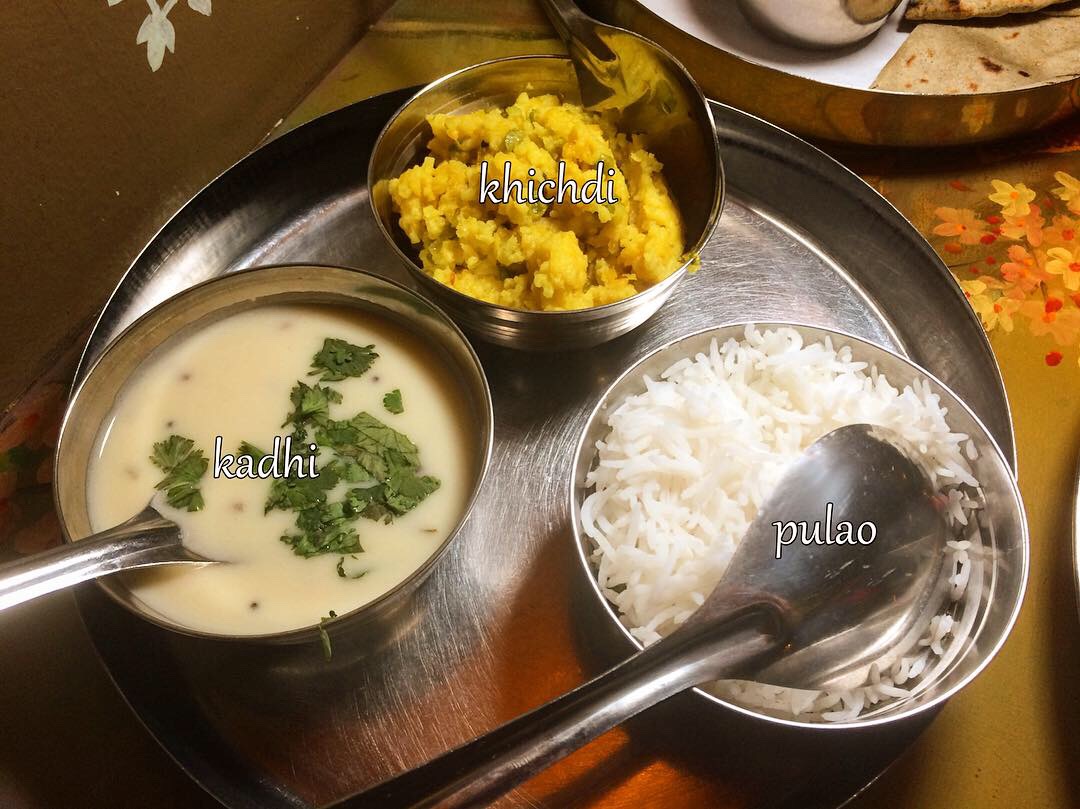 The entrée complements
• Khadi – soup with yogurt and besan (chickpea flour) with aromatic spices
• Khichdi – lentils with rice and assorted vegetables
• Pulao – rice with (undercover) peas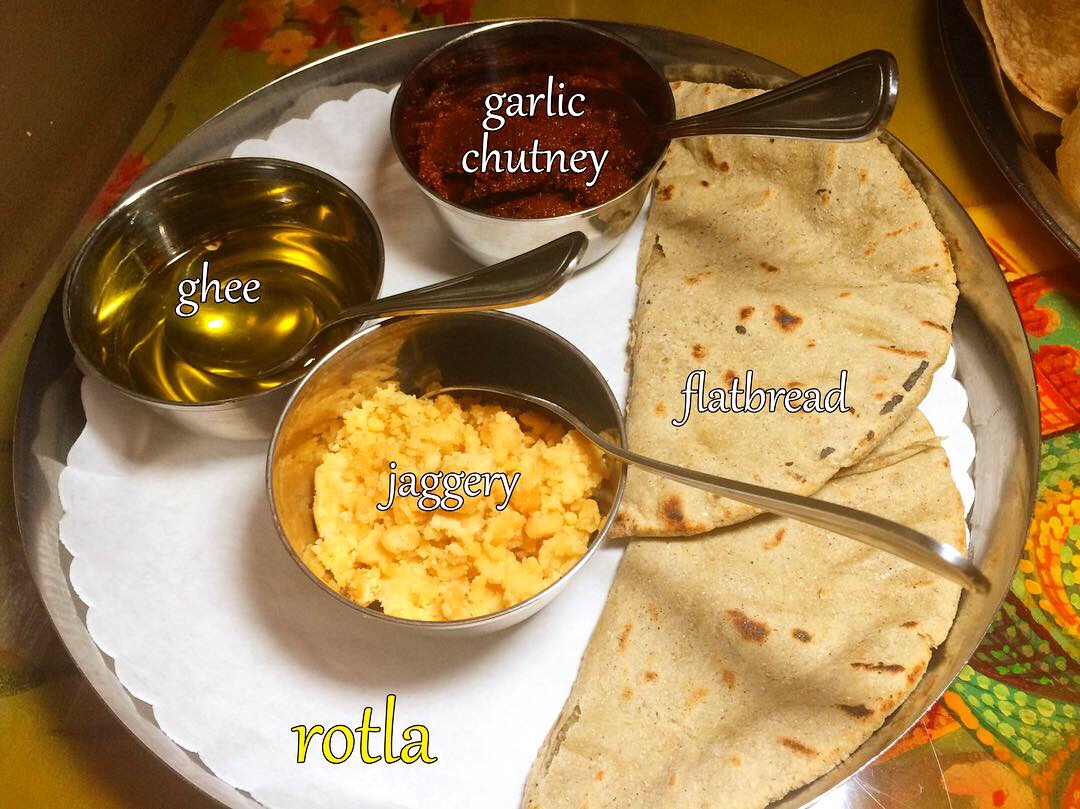 An addition: Rotla, a Gujarati specialty
Flatbread served with classic embellishments of ghee, garlic chutney, and jaggery (palm sugar) and yes, they did work together. Dessert was Indian ice cream, gulab jamun (fried dough in sweet syrup), and masala chai.


Vatan is located at 409 3rd Ave in Manhattan. I highly recommend it, especially à deux.