When I write about restaurants on Instagram, they're usually brief takes accompanied by a photo or two. (You can see my feed right here on ethnojunkie.com, updated almost daily, by selecting the "Instagram" category from my home page – no signup required.) But because of Instagram's character count limitations, it's often necessary to break up a review into several parts. This one originally appeared as six posts, published on May 24-26 and June 21, 23,and 24, 2019.

---
If you liked the old Phayul where you climbed a dubious flight of stairs, turned a narrow corner, and waited patiently, hungrily, in anticipation of snagging one of the handful of tables for some great Tibetan food, then you're going to love the new Phayul. Technically, the address is 37-59 74th St in Jackson Heights, but you'll find the entrance on 37th Road, just across the street from the old digs – which, by the way, are still going strong. Phayul redux is spacious and agreeably appointed with the kind of lavishly art directed menu popular with nouveau Sichuan restaurants in Flushing these days. The food itself is top notch and the new menu yields a few surprises that will ensure my return. In no particular order, here are the dishes we enjoyed on two separate occasions.
(Click any photo to view in glorious high resolution.)
Soup to start, specifically Shoko Phing Sha, a medium rich, beefy broth with tree ear fungus, vermicelli noodles, and potatoes.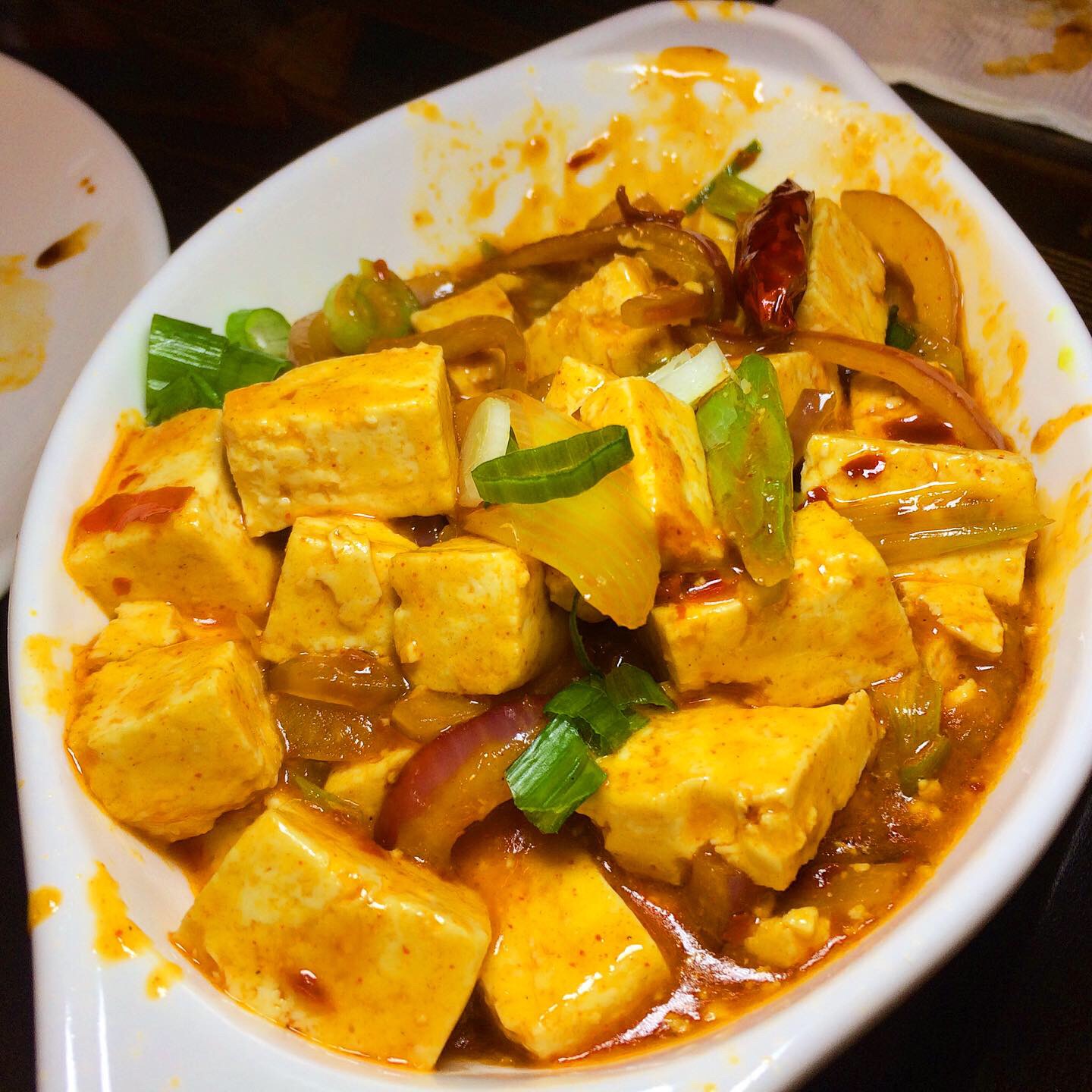 Spicy Tofu, simple and potent, tasted as good as it looks.
Phaksha Solo Ngoenma – now we're getting real. Fried pork with leeks and green pepper, a little kick, a little sweet.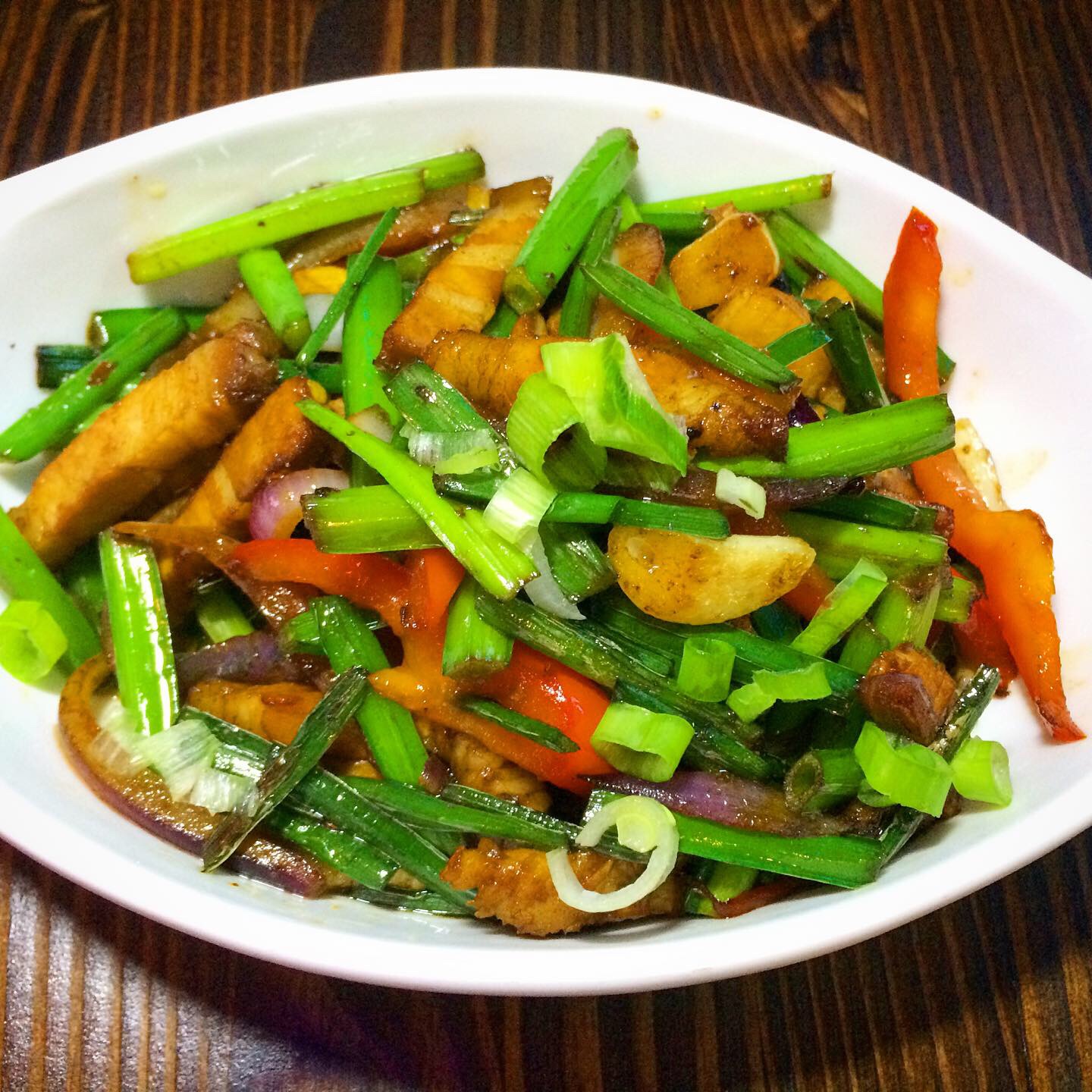 Phaksha Gotsel Ngoenma. By way of comparison to Phaksha Solo Ngoenma above, described on the menu as pork with garlic and red pepper. The dish features chives along with the pork and peppers which add immeasurably to the mix.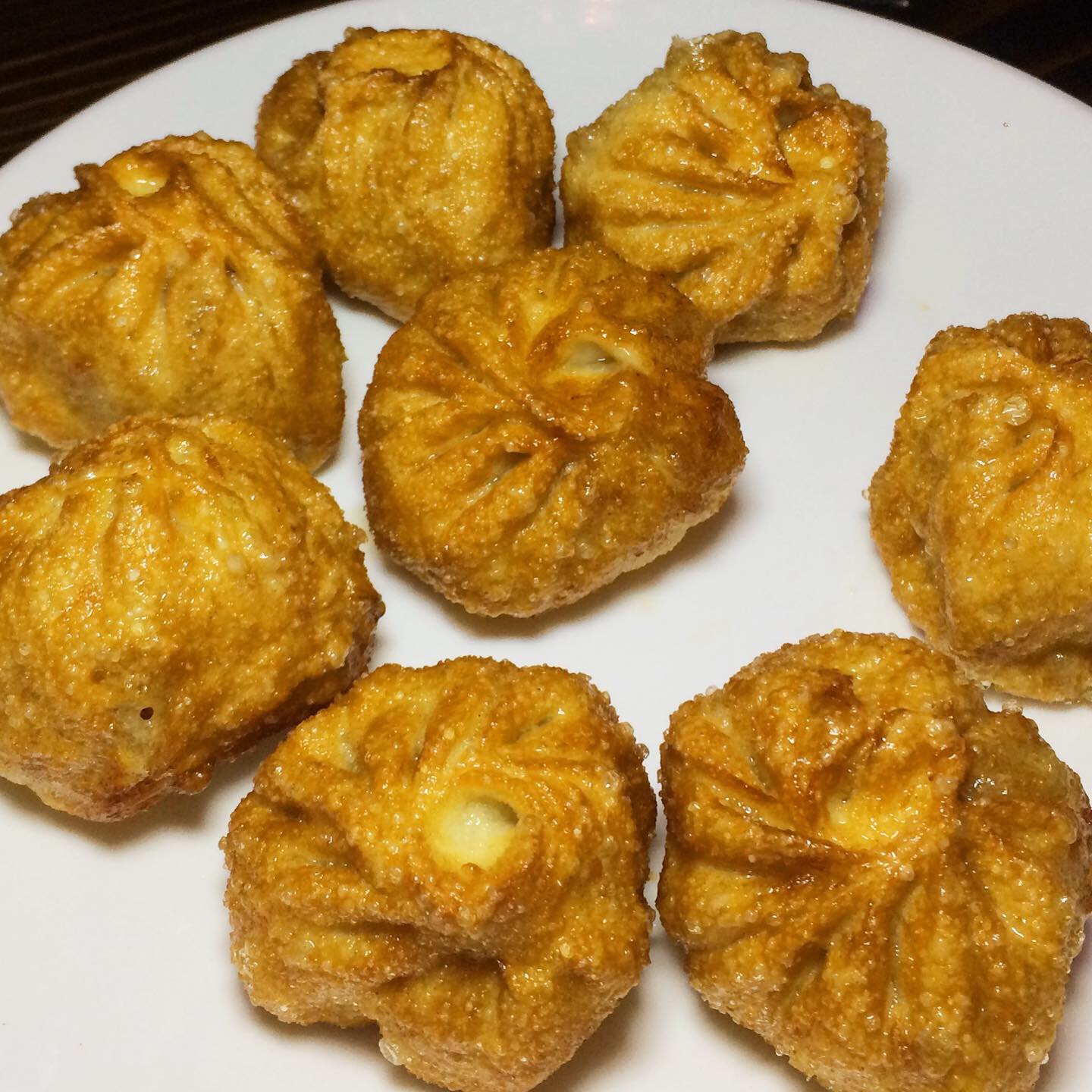 The cuisine of the Himalayas is well represented in this area of Jackson Heights, and although Tibetan food is influenced by Chinese and Nepali by Indian, momos traverse the region with little regard to provenance. Thick skinned, steamed or fried, nobody doesn't love momos. These were stuffed with beef and fried, and frankly I lost count of how many plates we ordered.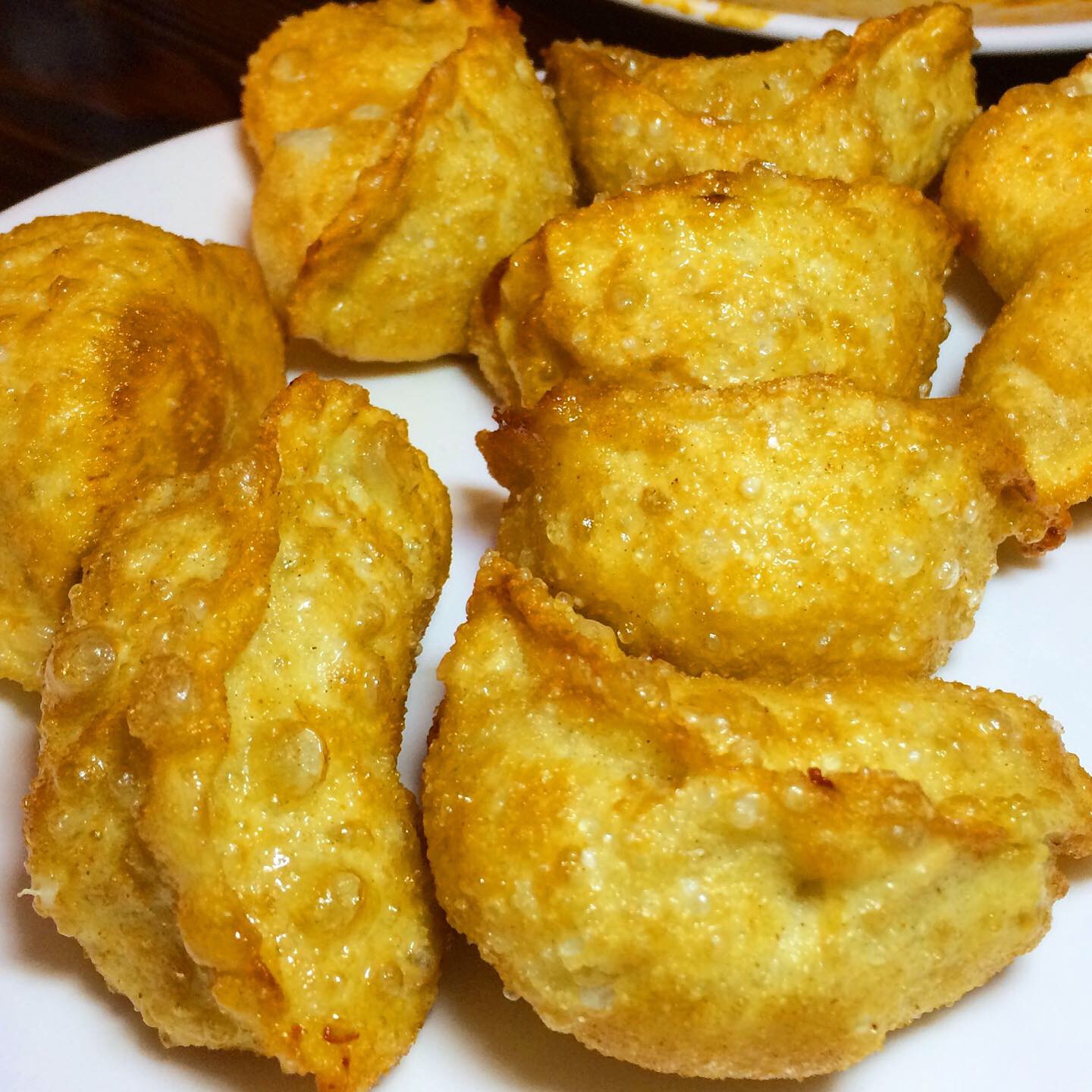 In my opinion, the fried chicken momos were even better than the beef because of their noteworthy savory seasoning.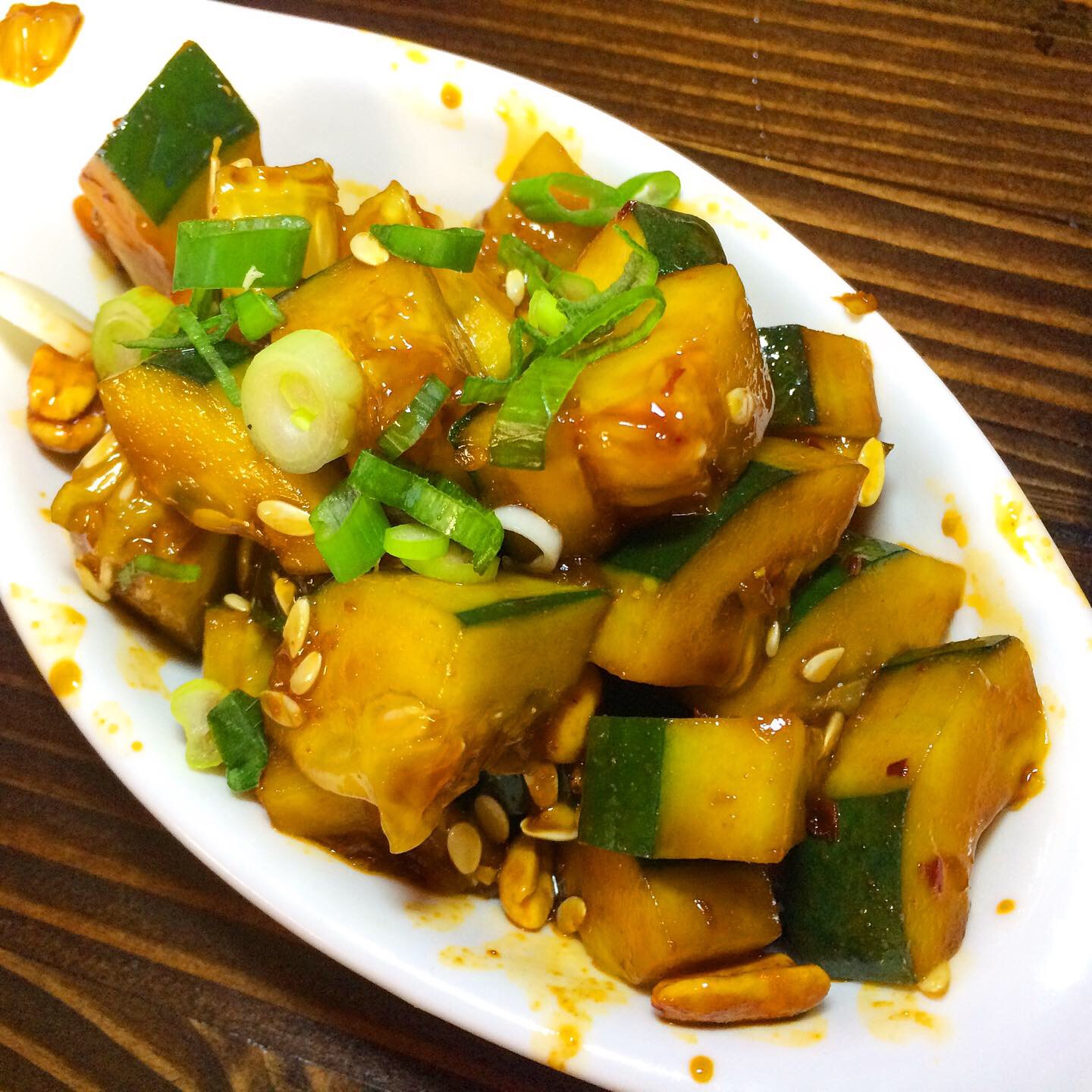 Described simply as Cucumber Salad, this spicy, refreshing side was augmented by scallions and peanuts; cheers for the peanuts.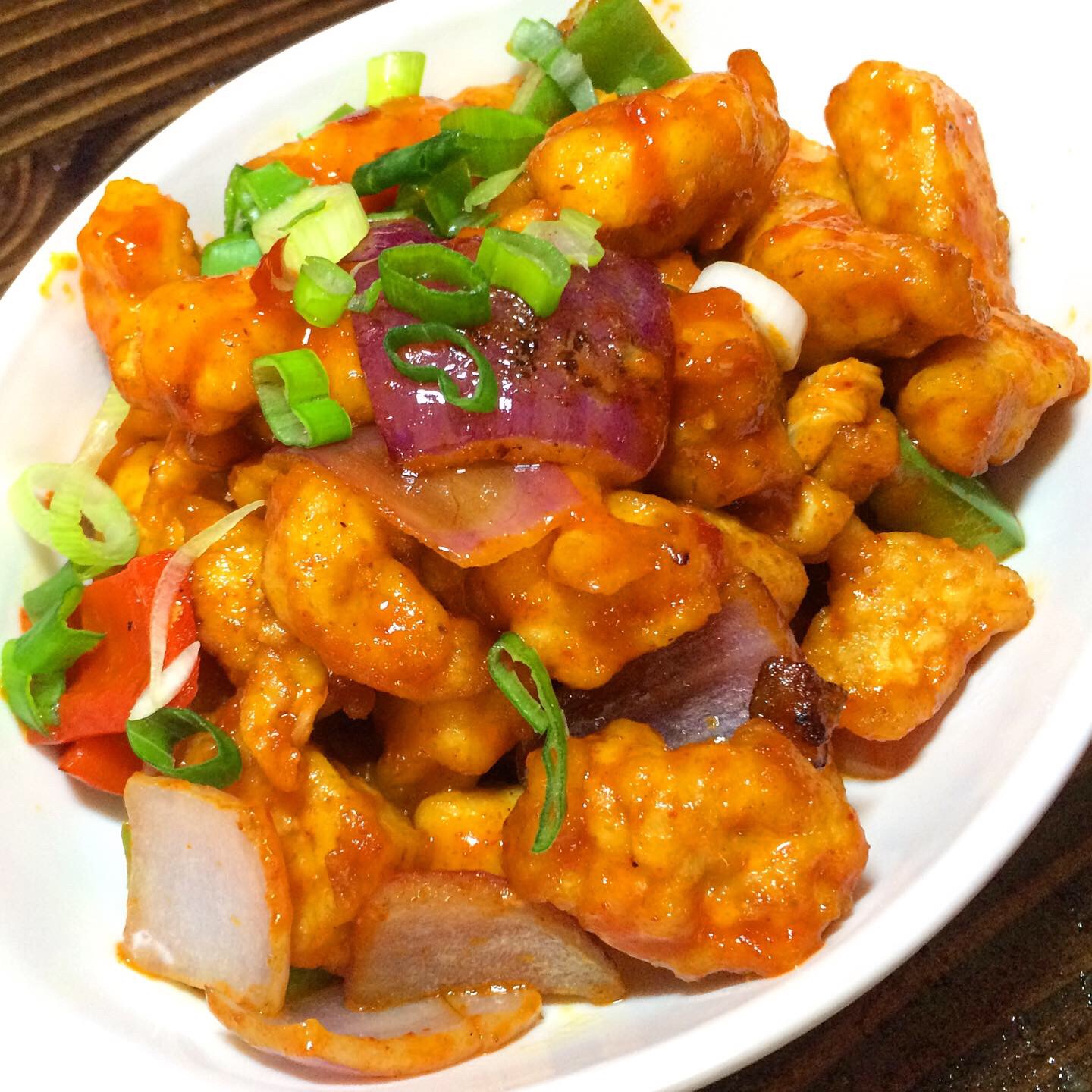 Chicken Chilly by any spelling would still taste as bright. The heat sneaks up on you, but it is perfectly spicy for sure; the occasional veggie provides an essential contrast. A dish that won't leave you cold! 😉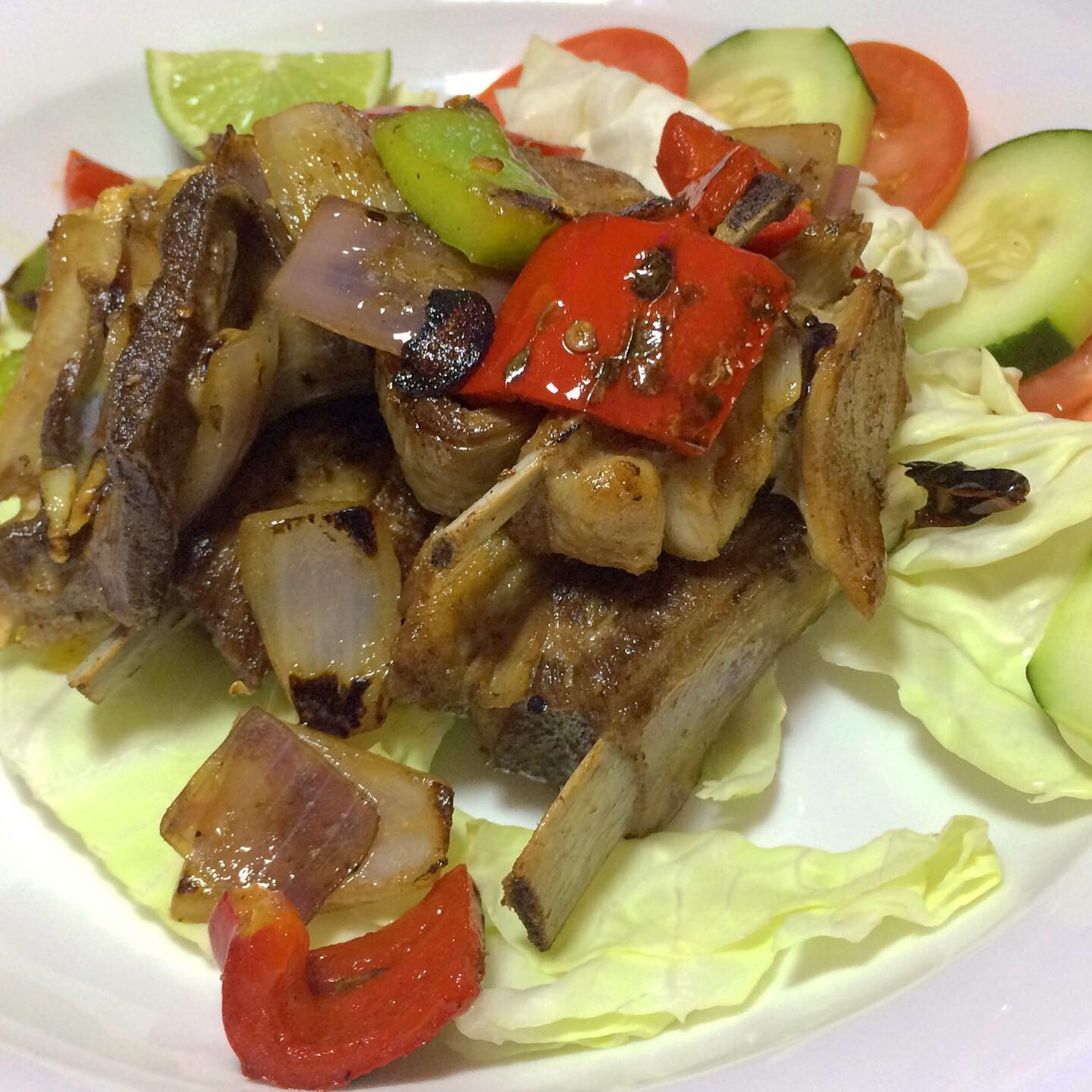 Fried Lamb Ribs. Fried and lamb are two words that invariably leap off a menu at me, so we ordered these impetuously and they were great. Later I saw that there were a couple of dishes by the same name; it may have had more to do with size and cut rather than preparation.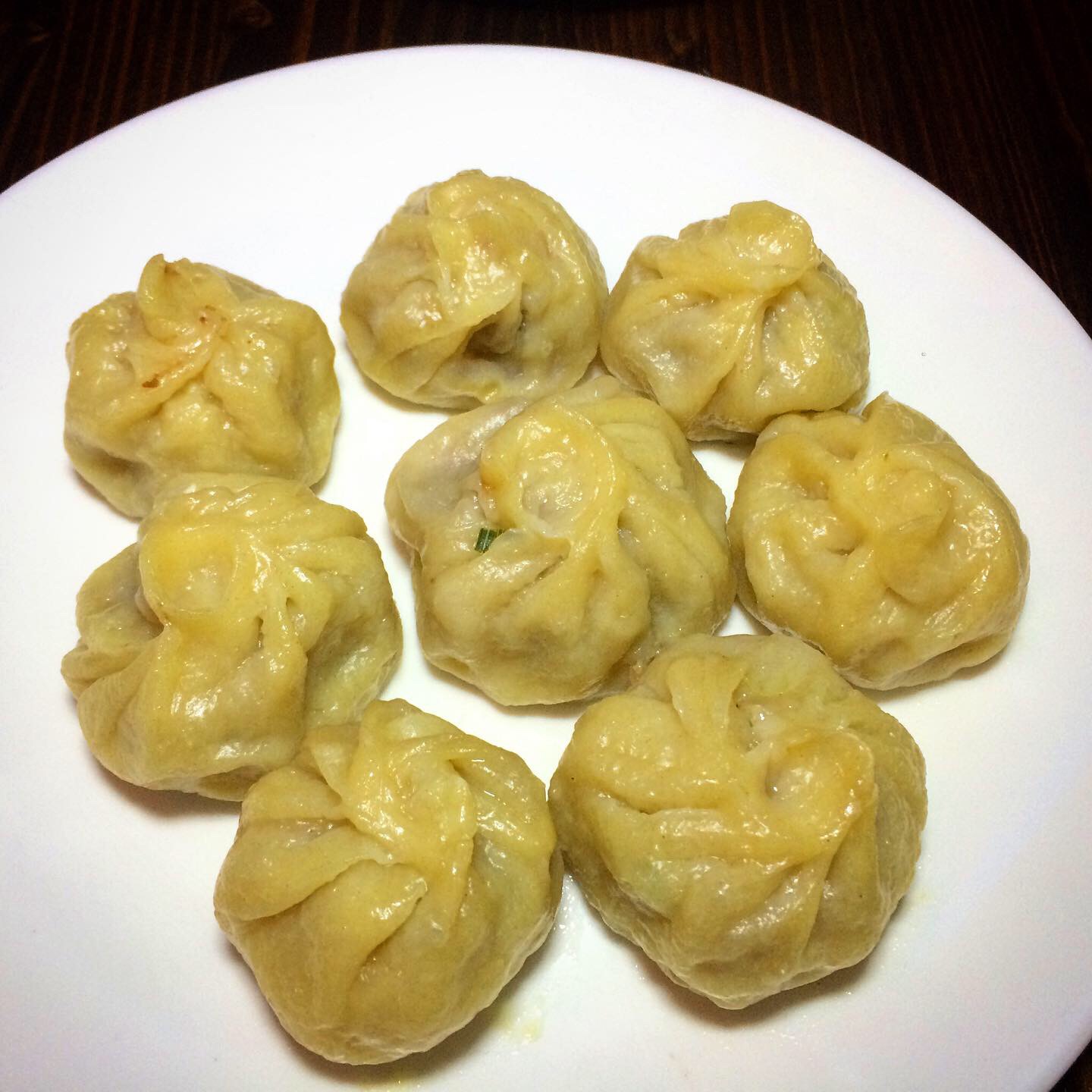 Steamed Beef Momo. What can I say? You know they're good, especially with a jot of hot sauce (two different types on the table along with vinegar and soy-based mixtures). Also available in vegetable or chicken varieties.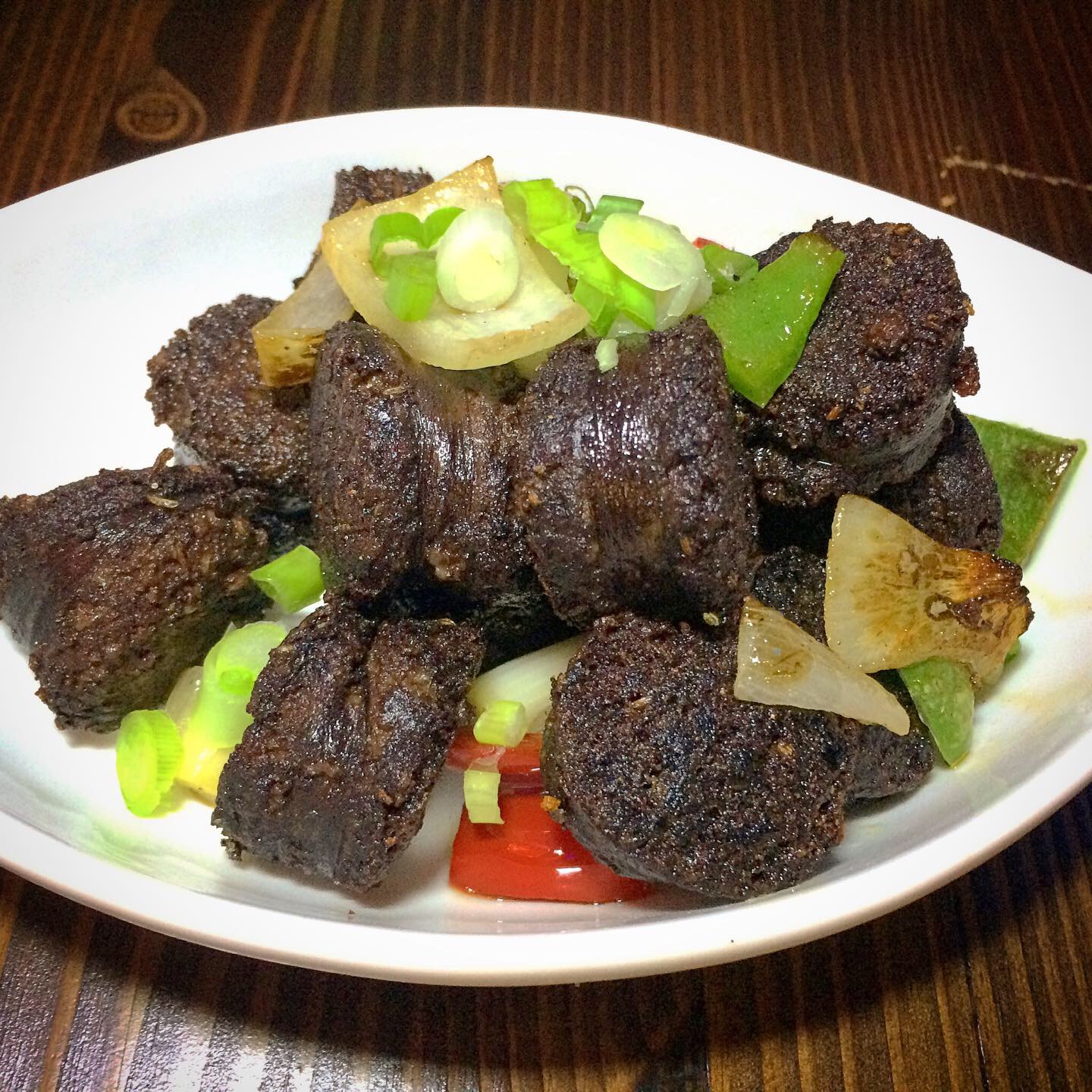 Gyuma Ngoe Ma. Fried blood sausage with onions & green chilies. I confess that I love this kind of thing but I was pleased that the rest of the group were into it as well, comparing its savory, mealy, grainy filling to ethnic food from their own diverse backgrounds like the Eastern European/Jewish dish, kishka (stuffed derma).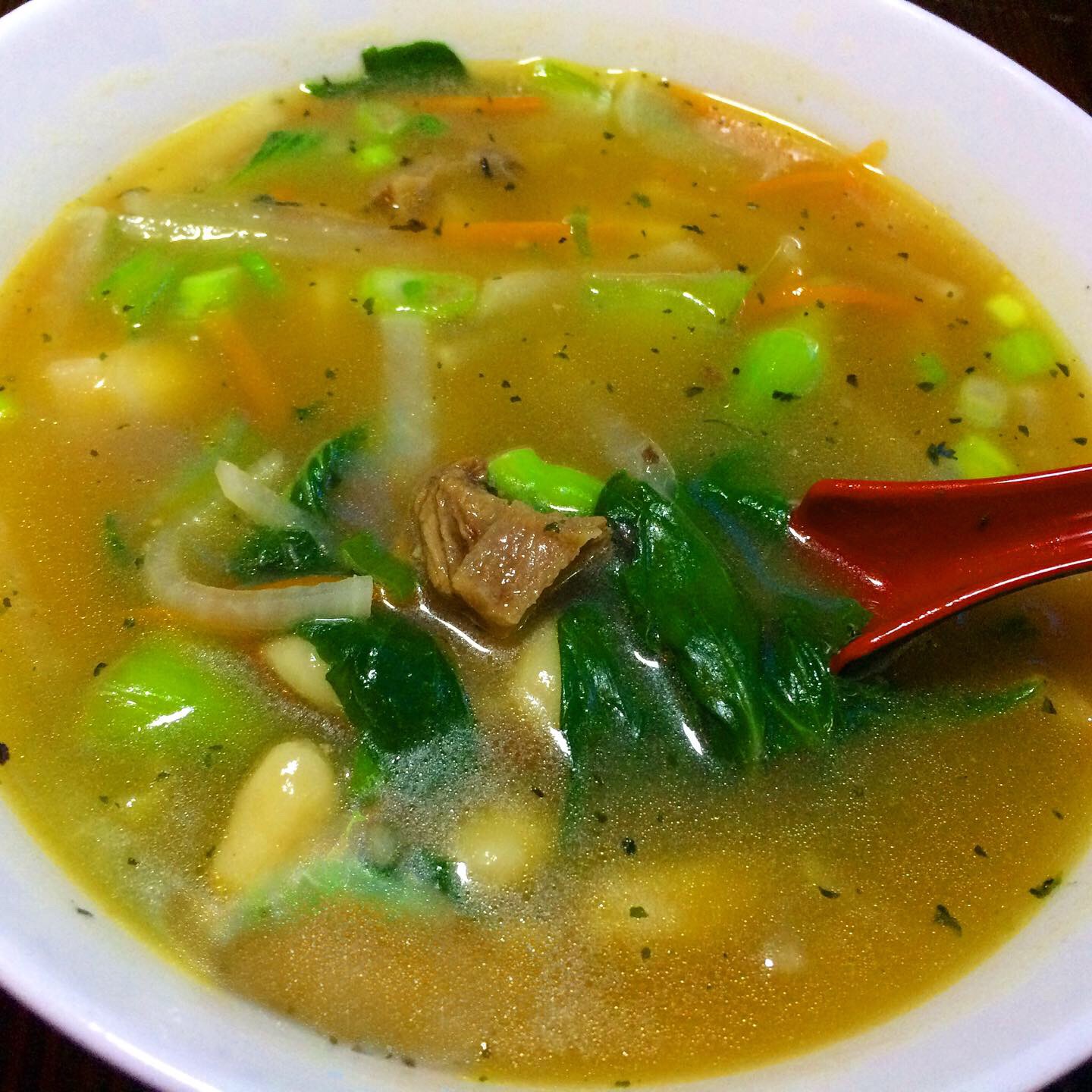 There are many soups from which to choose at Phayul, and Bathuk Tibetan Noodle Soup was high on my list because of its little hand-rolled noodles; they're called bhasta and are often likened to miniature Italian gnocchi. The soup is meat-based and contains veggies and a blend of herbs that started us off in the right direction.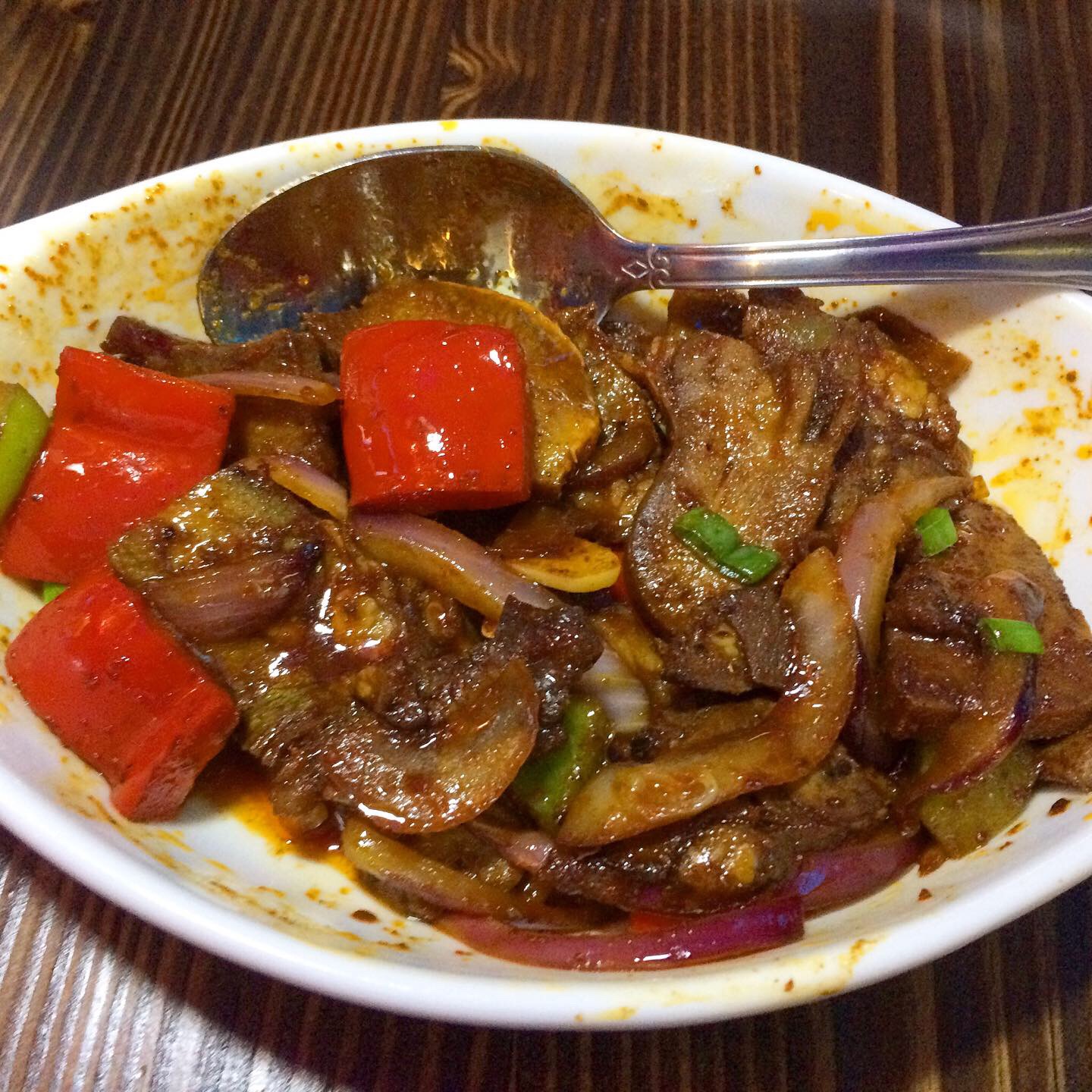 Chele Khatsa. My kind of food: red peppers, onions and garlic are the support system for spicy slices of beef tongue. A good choice – tender and savory.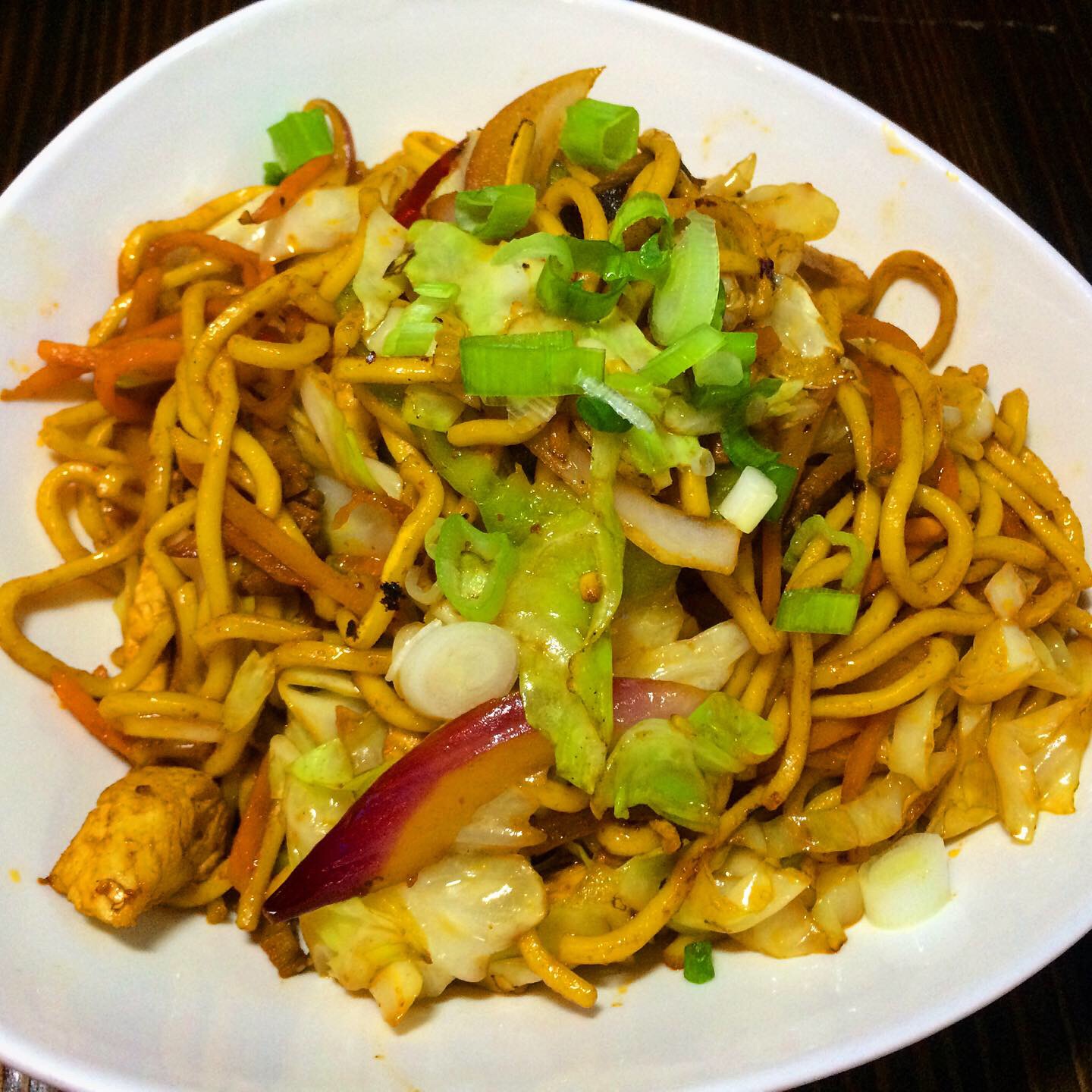 Lhasa Fried Noodle. The menu offers this dish with chicken, pork, beef, or vegetables. Pro-tip: Ask for a mix and you can taste them all!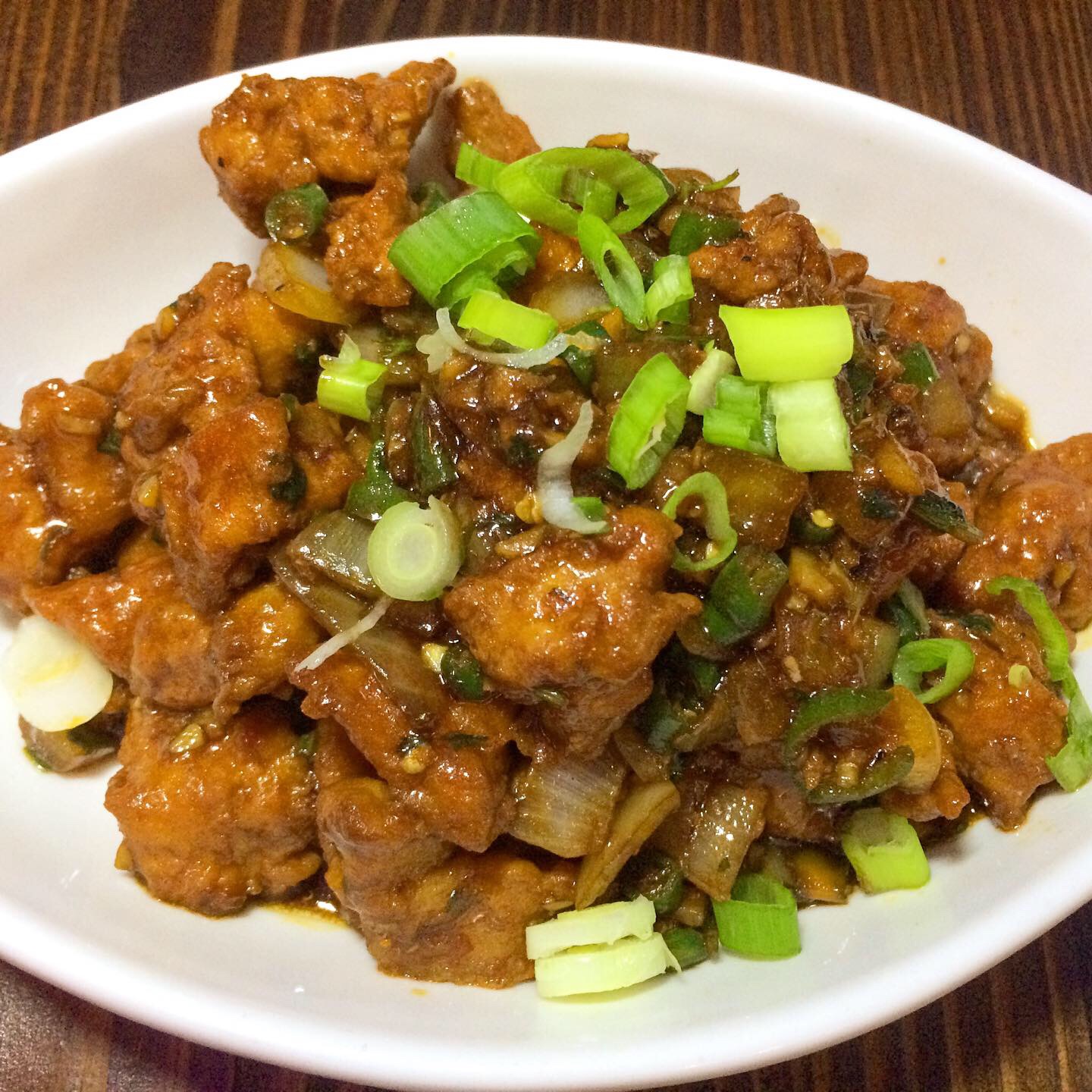 Chicken Manchurian. "Indian influenced," I was told by the manager, Lobsang. "Another winner," I was told by the group.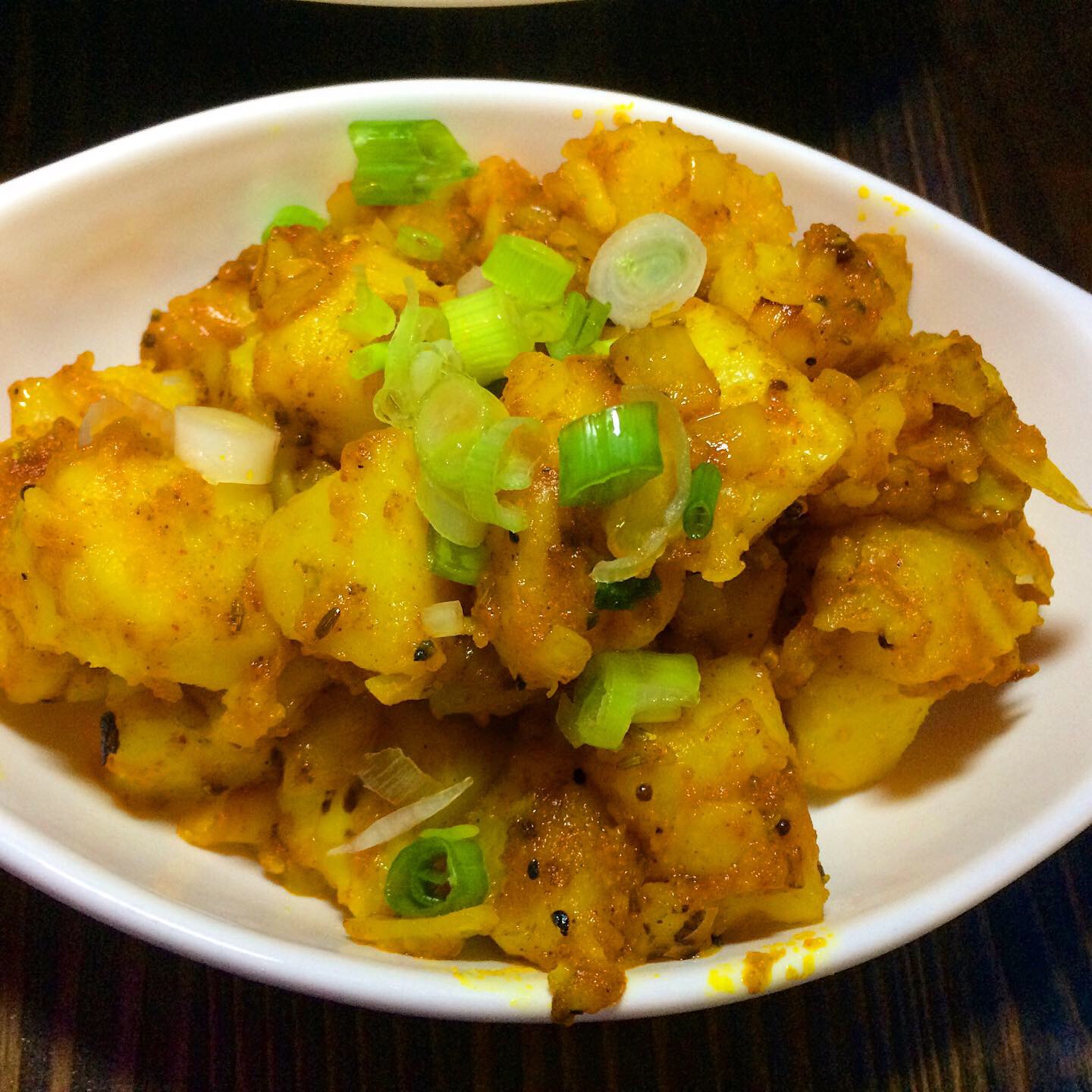 Shogo Khatsa, spicy fried potatoes, seemed so straightforward that I almost didn't order it, but the group took a vote, yea or nay. And I'm glad we did because indeed, upon tasting it, the yays were overwhelming.


The new Phayul Restaurant is located at 37-59 74th St in Jackson Heights, Queens.