Instagram Post 9/30/2019
(Click on any image to view it in high resolution.)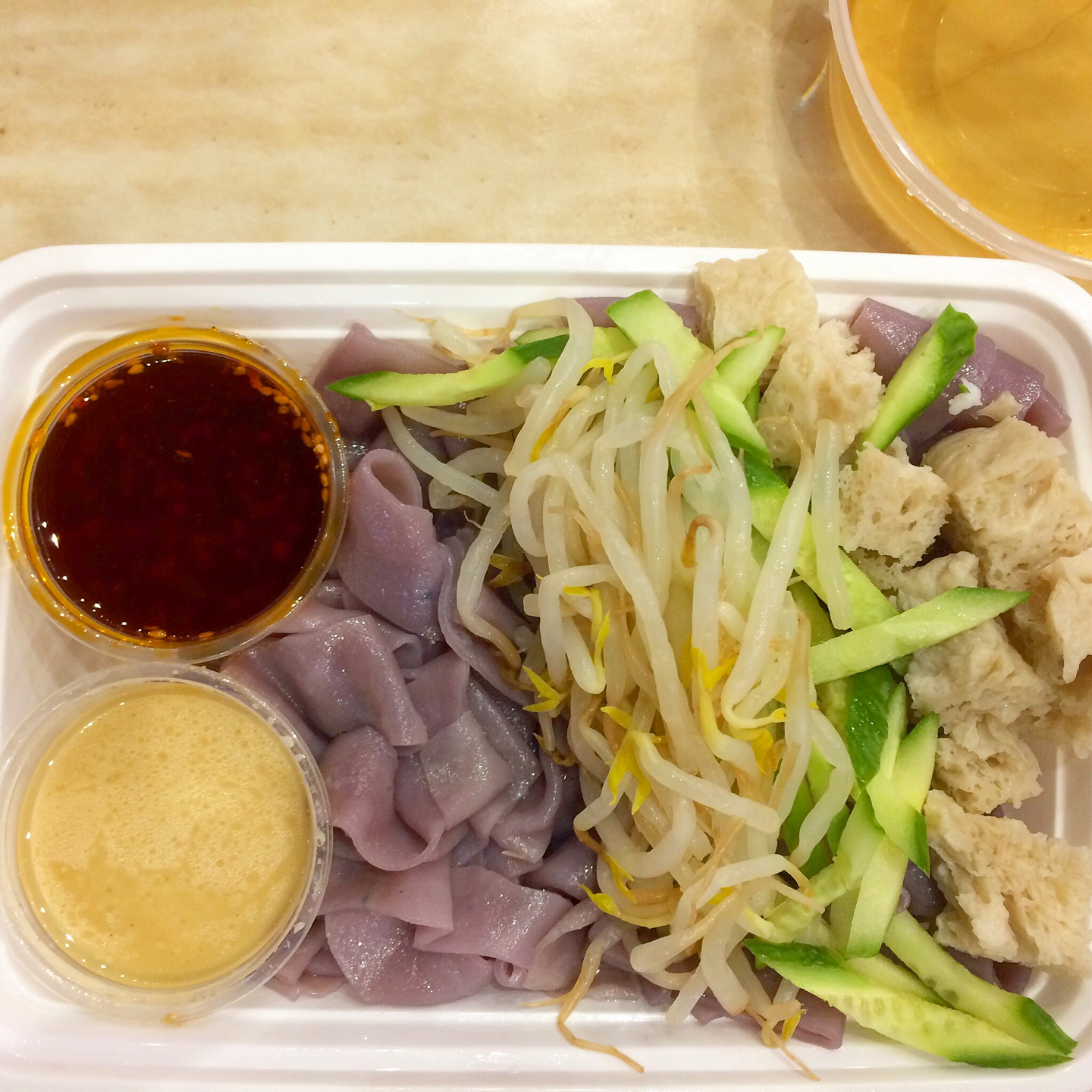 Many years ago, when I was investigating every single vendor (🐷🤷‍♂️) in the New World Mall Food Court, 136-20 Roosevelt Ave, Flushing, for my food tours, I was intrigued by the options at stall number 4, Old Luo Yang (Luòyáng is a city in Henan province). The phrase "Processed Noodle" grabbed my attention; seems like it was intended to describe Liang Pi (Cold Skin) Noodles which do indeed involve an elaborate process in their preparation: make a flour and water dough, irrigate it with more water, rinse it, discard the dough reserving the liquid, let it rest overnight to form a precipitate, dispose of the topmost liquid, pour remaining paste onto a tray, steam over boiling water, and slice into noodles. And that, dear reader, is a gross oversimplification.
For all that effort, the resulting noodles don't have much flavor of their own; it's more about what you do with them and every vendor/restaurant has a different strategy. Their flagship dish, Old Luo Yang Processed Noodle, arrives on a flat plate with so much (absolutely delicious) sauce, that it invariably spills onto the tray, and spills significantly. Mess notwithstanding, however, I strongly suggest that if it's your first time here, that's the one to order.
They have another area of distinction: they add vegetable juice to the recipe, infusing the noodles with color (but not really much additional flavor); adding carrot juice produces an orange noodle, then there's spinach green, black rice, and purple sweet potato, shown here. The order comes with bean sprouts, slivers of cucumber, and gluten (looks like cubes of bread that soak up sauce like nothing else on the plate) plus (this is the altered part) three containers of sauce. The first time I ordered this, I wasn't certain about how much of each sauce to use: I tried a bit of each individually, then in combination, and wasn't really satisfied until I realized that the best approach was to use every drop of all three.
Maybe the inevitable overflow was the reason behind the division, maybe it was to account for varying tastes, but I found that for best results, combine everything together – including every dram of all three sauces – mix well, make a mess, and enjoy.