(Click on any image to view it in high resolution.)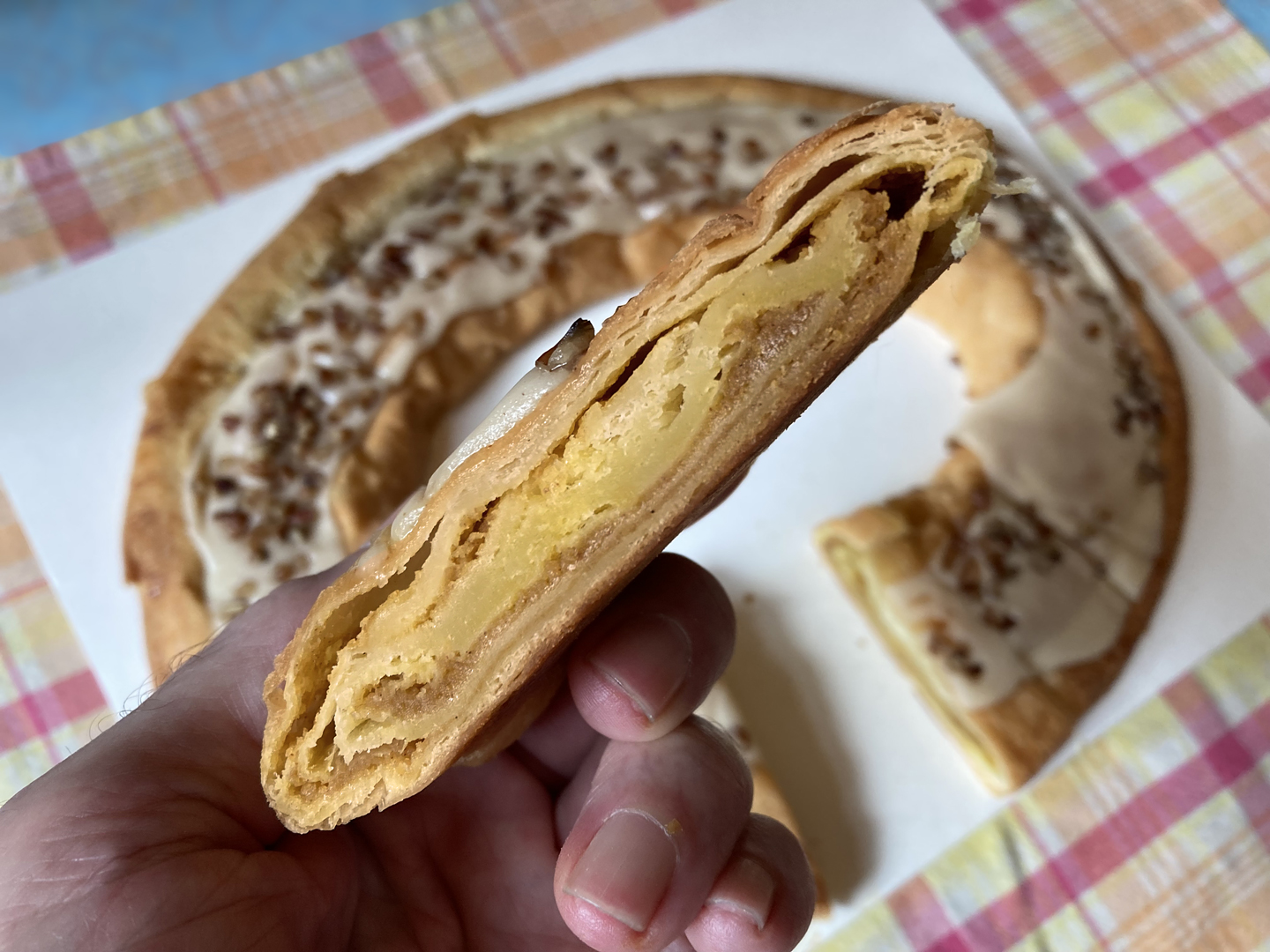 My first encounter with kringler, the filled Danish pastry, occurred decades ago courtesy of an annual snail-mail catalog specializing in Christmas goodies that was headquartered in Wisconsin. (Racine is renown as the kringle capital of Wisconsin and kringler are the official state pastry.) In the year 2 B.C. (Before Covid), I wrote about Holtermann's Bakery on Staten Island – they offered a rendition which, in my opinion, tasted as close to homemade as you can get from a store-bought baked good – and subsequently posted a face-off between theirs and a version from Trader Joe's.
TJ's product comes to us from the O&H Danish Bakery in Racine, Wisconsin, a family business that's been making kringler and sharing hygge since 1949, so their Danish culinary bona fides are well established; their website touts over 20 tempting flavors.
When I posted the challenge, a friend tipped me off that TJ's offered a seasonal pumpkin variety and I promised myself I'd track one down. And now, two years later, it's "pumpkin spice szn" again and I finally made good on that promise. (In fairness, TJ's is pumpkin caramel and not pumpkin spice.)
As Danish go, it was pretty good – sweet, dense, and doughy – but I'd be hard pressed to identify it as pumpkin caramel (or pumpkin anything) even after tasting the subtle filling by itself, devoid of pastry or icing. Maybe if it were a multiple choice option – but even then the choices might have to be sufficiently disparate like a) pumpkin, b) chocolate, or c) fish to guarantee landing on the right answer using the process of elimination.
But don't get me wrong: I'm not carping. Alongside a cup of hot cocoa, it made a righteous breakfast that was a hygge harbinger of seasonal calories to come!