My Instagram posts are usually brief takes on restaurants accompanied by a photo or two. (You can see my feed right here, updated almost daily, by selecting the "Instagram" category from my home page – no signup required.) But folks sometimes ask for fuller reviews and more photos, so in response, here's a more comprehensive report on one of my favorites.
---
So much has been written about Legend of Taste that I'm reticent to repeat it here. Suffice it to say that the culinary cognoscenti think it's the best new Szechuan restaurant in NYC and I concur wholeheartedly. (The proof lies in the statistics,
viz:
the number of minutes I'm willing to travel by bus after riding the subway to the end of the line in the quest for outrageously great cuisine, times the number of diners I've lead there, to the power of the number of dishes we've enjoyed.) Yes, it's a bear to get to by mass transit (the 7 train to Main St. Flushing plus a bus) but it's unequivocally worth it. If you have access to a car, then it's relatively easy; if you don't, by all means convince a friend who does that you both need to go there posthaste! Otherwise, pony up a fare for the MTA; you won't regret it. The only caveat regards the menu: it's extensive and much of it exists to provide familiar offerings to the less intrepid. I've determined that some of their best dishes can be found in the Chef Special and Legend Special sections of the menu although there are exceptions. But if you stick with my recommendations, I guarantee you won't be disappointed.
And as usual, I strongly suggest that you go with a large group; that way you'll get to sample more of the amazing dishes I've tried! (Click photos to enlarge.)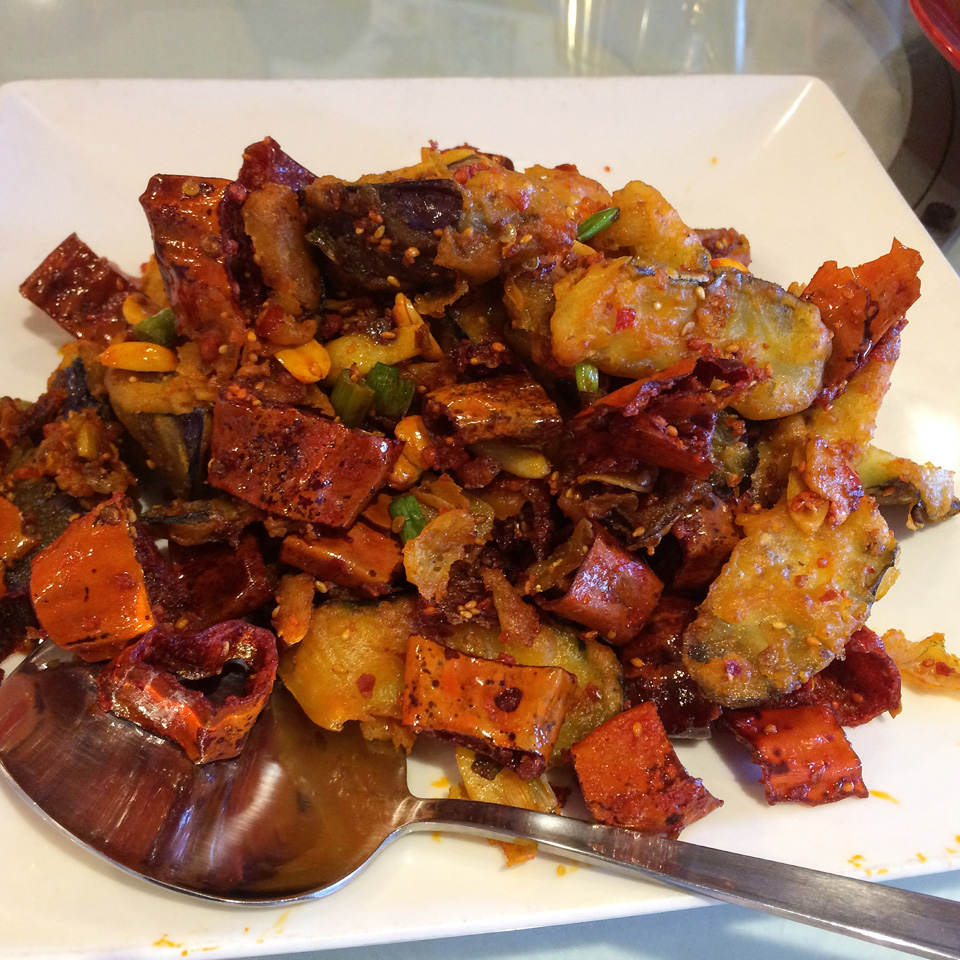 Szechuan Style Crispy Eggplant
I've listed this dish first for a reason: even if you're only lukewarm on eggplant I suspect you'll delight in this dish as much as everyone else who's tasted it. Don't be afraid of what appear to be hot peppers! They're quite mild and are an integral part of the experience. Take a bite that has some eggplant, some pepper, and some of the impossibly crunchy peanuts. I can still taste it! (But maybe that's because I brought an order home with me.)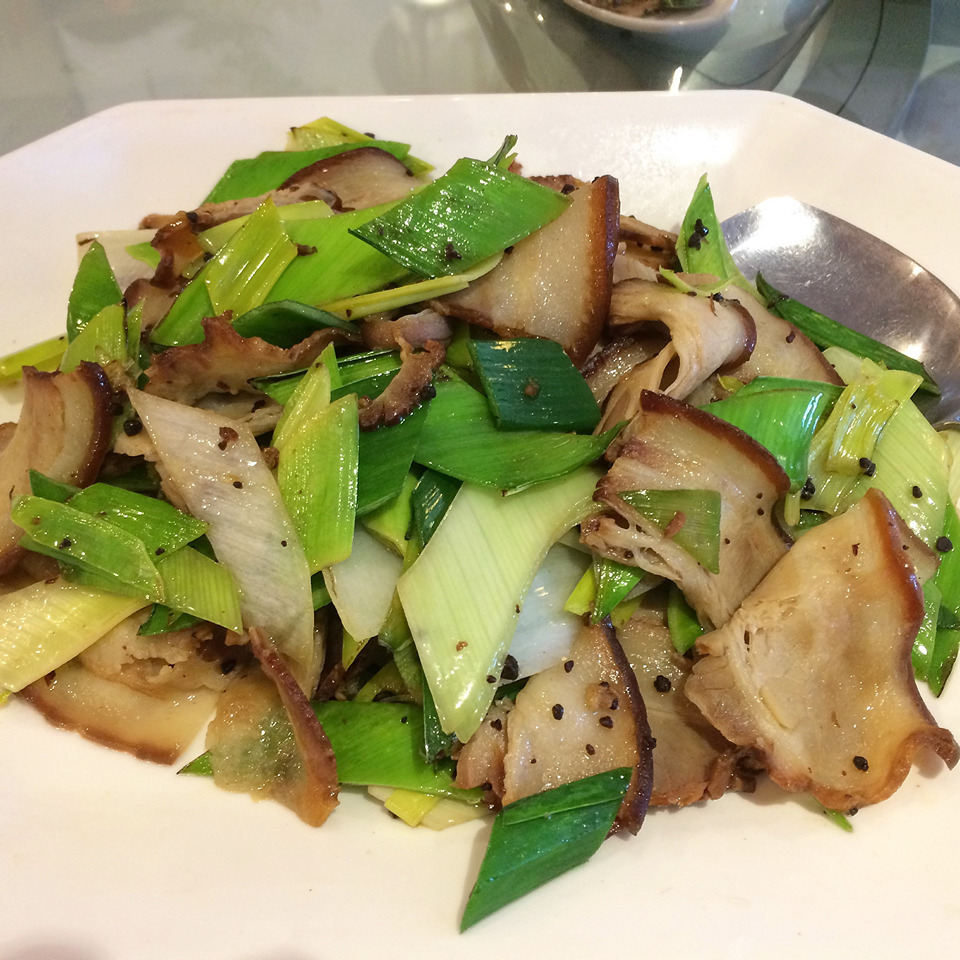 Smoked Pork with Garlic Leaf
This one is remarkable as well and satisfies those who want "something green".
UPDATE: Read this post in which I attempt to deconstruct and recreate a quick version of Legend of Taste's awesome Smoked Pork with Garlic Leaf!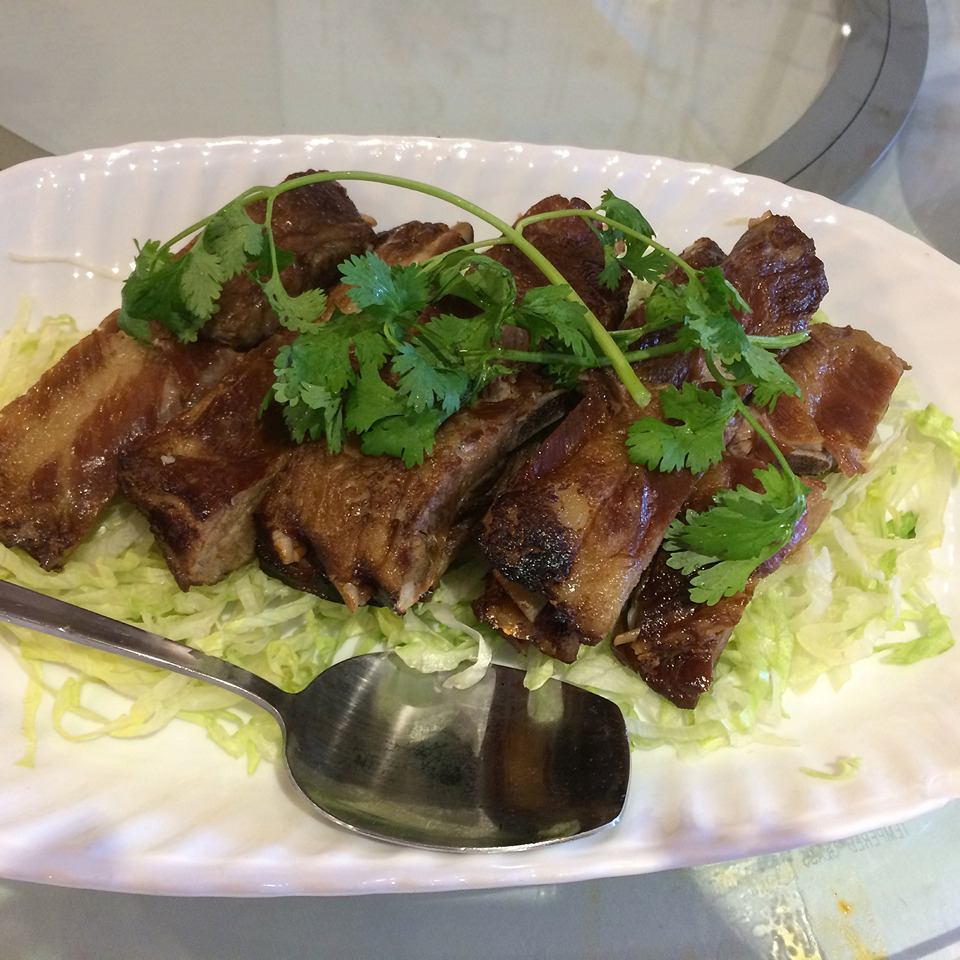 Special Smoked Ribs
So tender! So juicy! So smoky! The stuff that dreams are made of.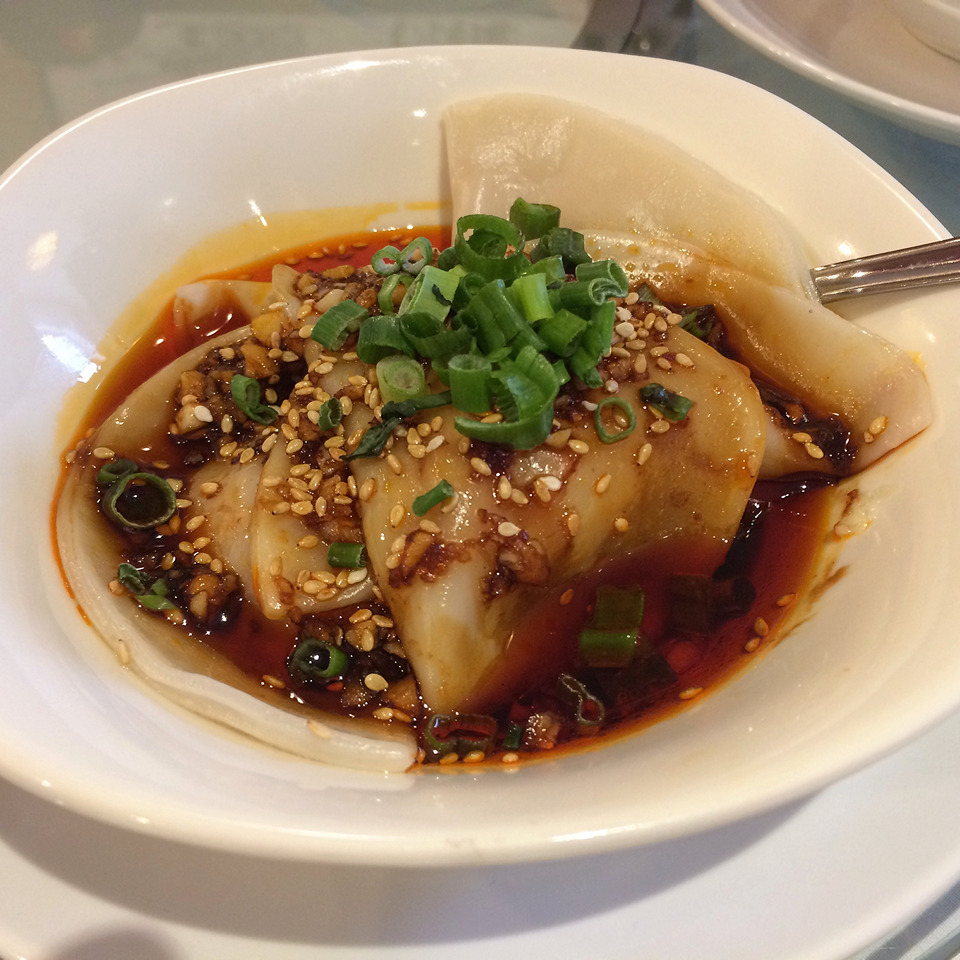 Spicy Szechuan Pork Dumpling
Thick, chewy skins if you, like me, appreciate them that way.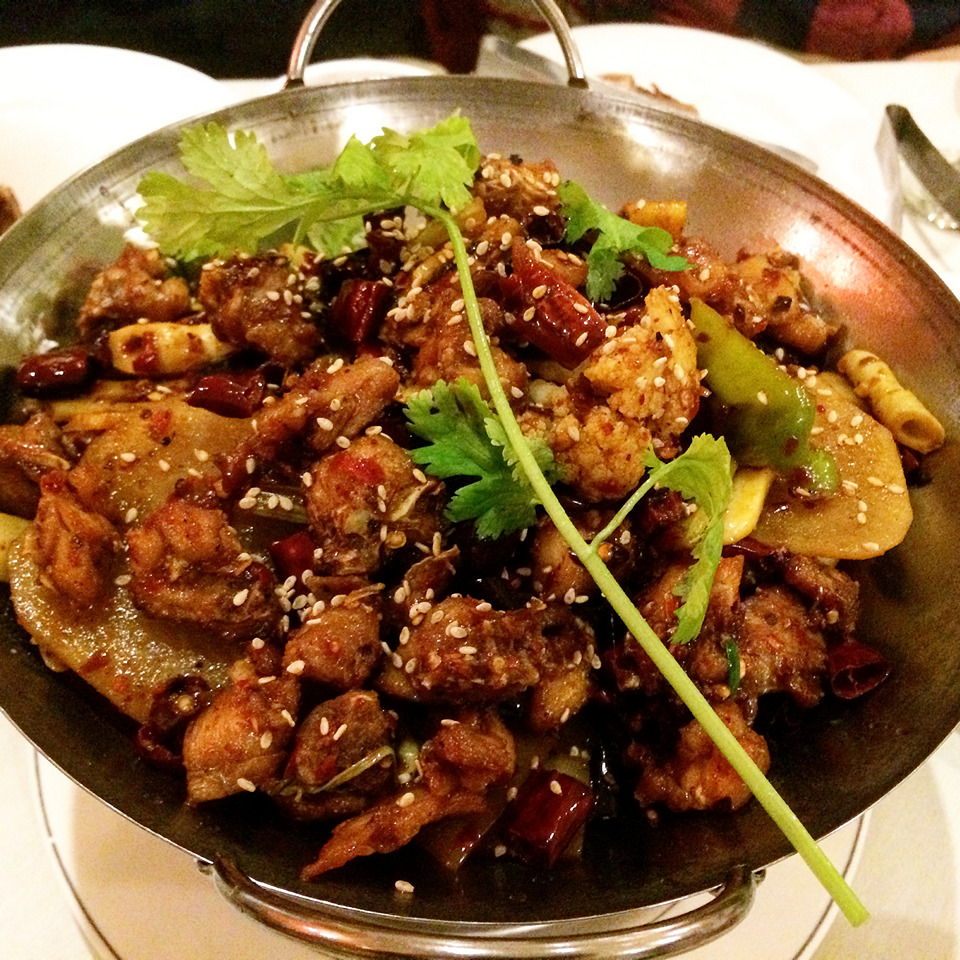 Griddled Hot and Spicy Rabbit
There's a section of the menu headed "Grilled Hot and Spicy Pot". There you'll find about nine dishes named "Griddled Hot and Spicy x" where x can be chicken, beef, fish fillet, pork intestines, rabbit, lamb, cauliflower, frog, etc. They're all pretty much the same format (see photo above) and they're all good. Just pick your protein and get ready for some serious spice. (And no, I don't know whether they meant "Griddled" or "Grilled". Neither really seems appropriate here!)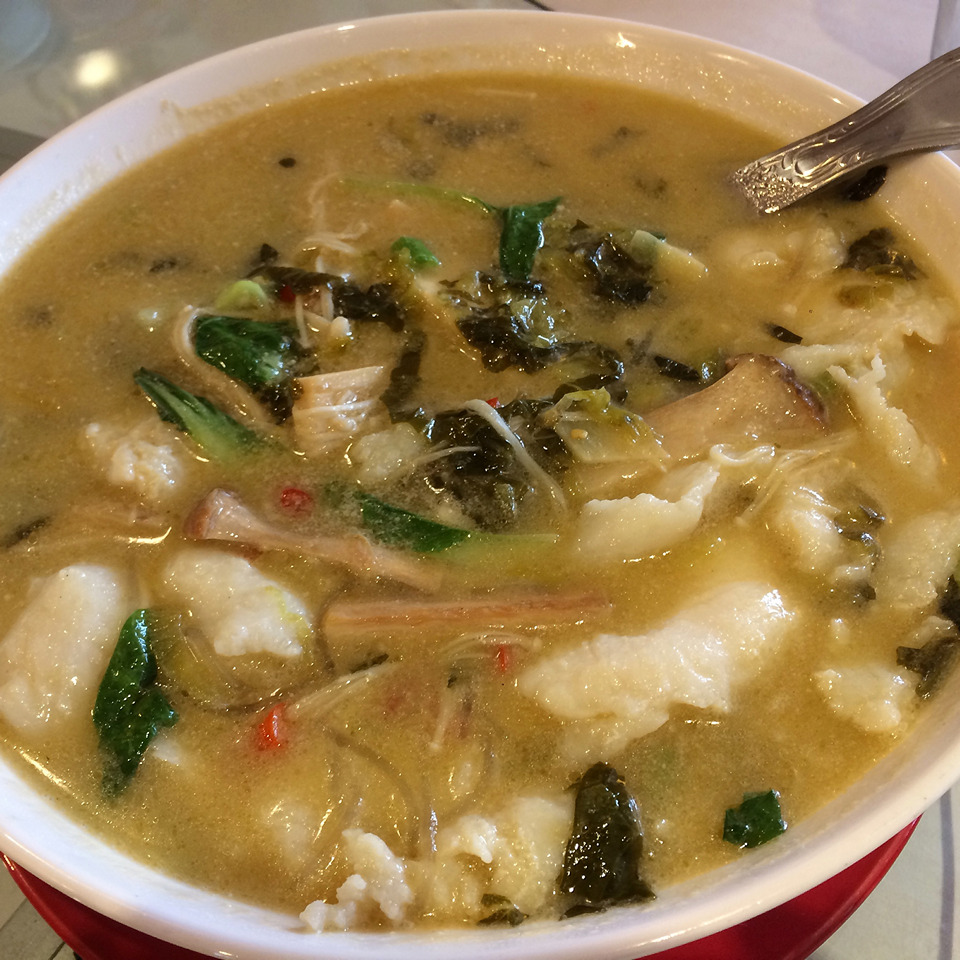 Chengdu Fish Fillet with Pickled Vegetables
Don't be misled by the name: this is a soup, and a spicy one at that. But the combination of mild fish, pickled vegetables and spicy broth is unique. It's served in a large tureen so one order is more than enough for a large group.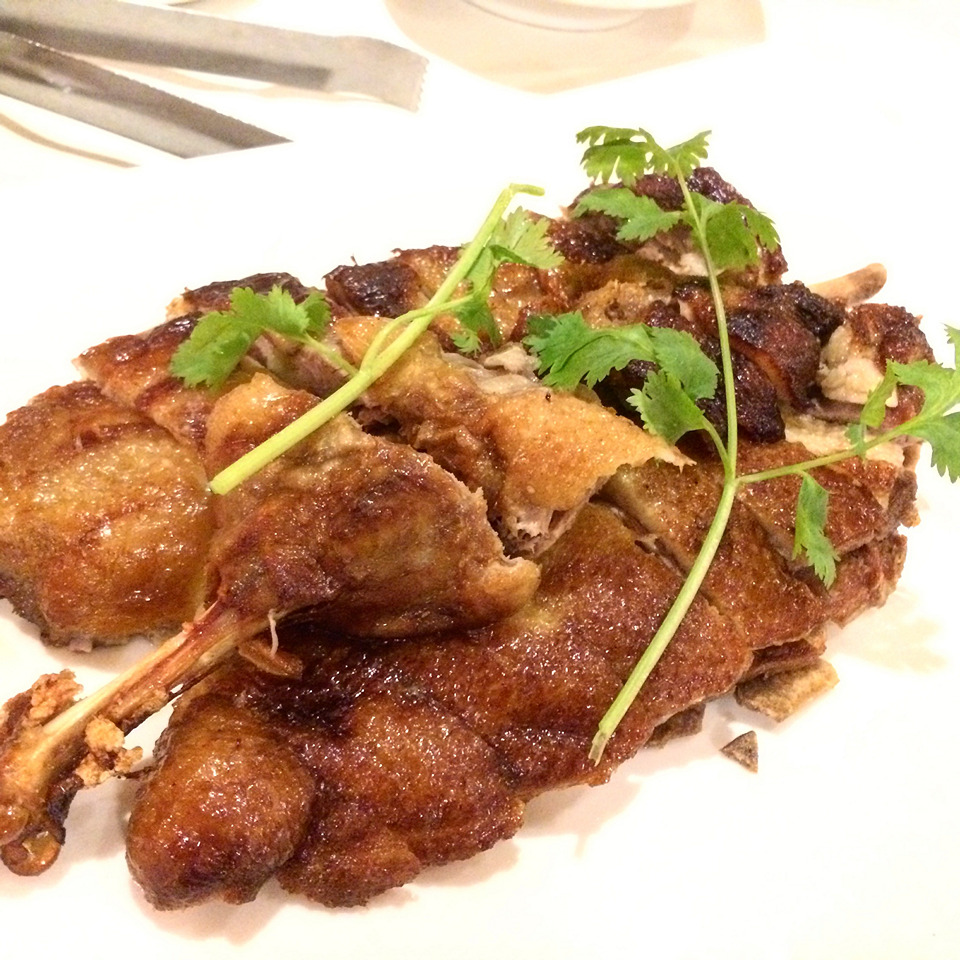 Tea Smoked Duck
Another smoky offering. Like the ribs, it's delicious too, but you should probably choose whether you want the duck or the Special Smoked Ribs (see above) – unless you can't get enough smoke!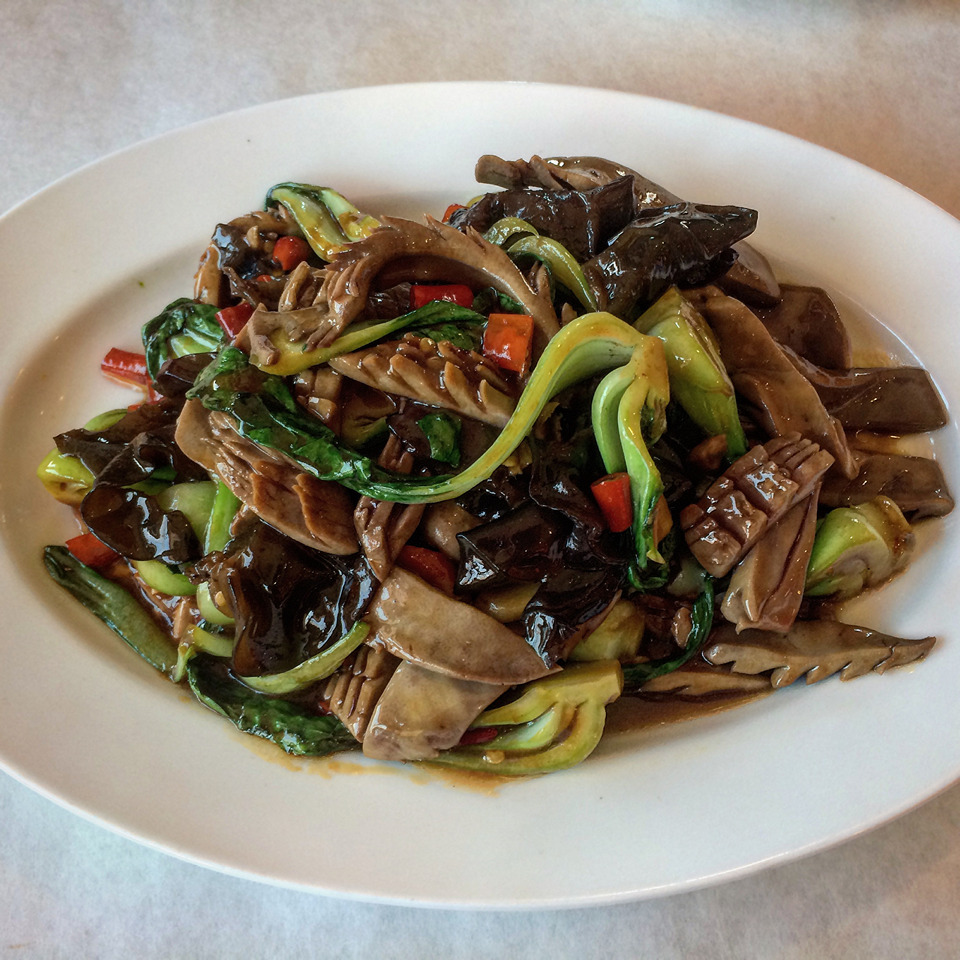 Dry Sautéed Pork Kidney
Very mild as kidneys go. I'd call this gateway offal for timid but curious would-be kidney experimenters. Light and luscious.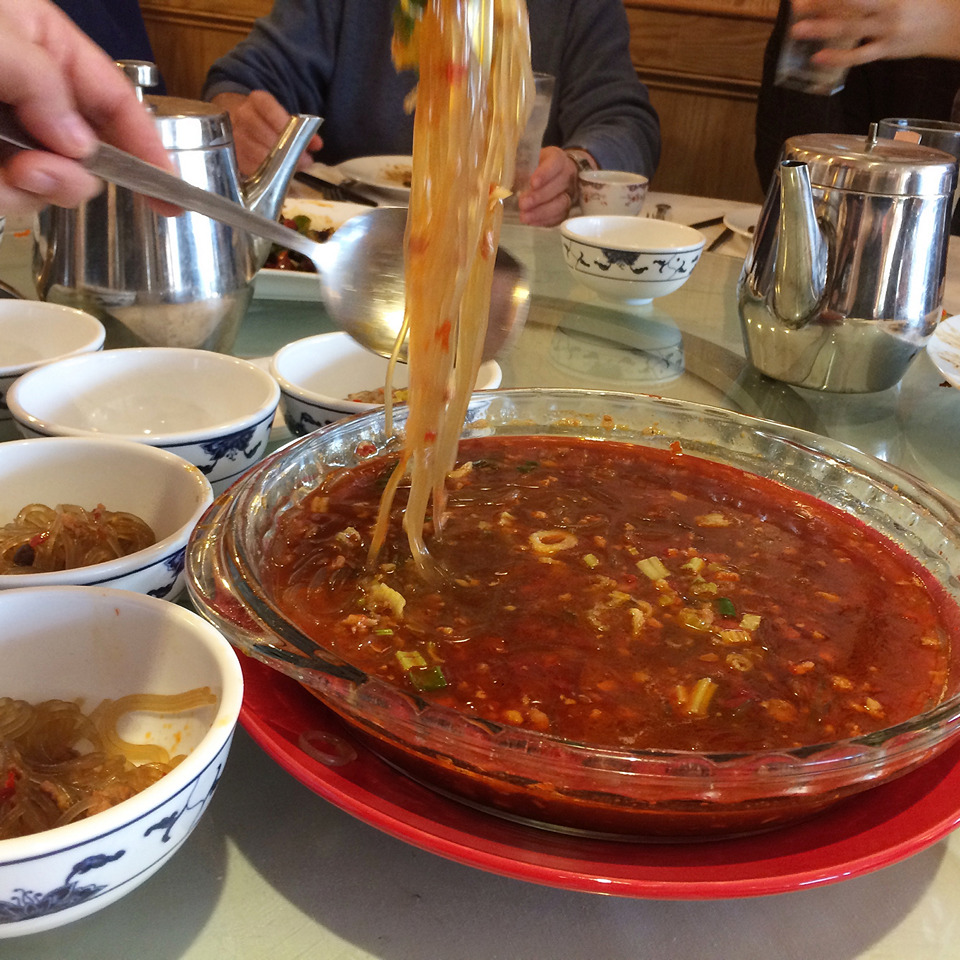 Ants Climbing the Tree
No ants were harmed in the making of this dish! I've had drier versions, but this soupy one is good as well. The "trees" are cellophane noodles made from mung bean starch and the "ants" are ground pork. I once made this fancifully named dish for someone as part of a mini-banquet and she refused to eat it. I asked if it was because she thought those were real ants in there but she understood that they were merely bits of pork. However, she couldn't get past the idea that maybe, just maybe, those noodles were made of cellophane. After all, she said, they did come out of a cellophane package!
North Szechuan Bean Jelly
Spicy!
Tears in Eyes
Like North Szechuan Bean Jelly (above) but even spicier! You don't need to get them both.

And some other dishes we liked: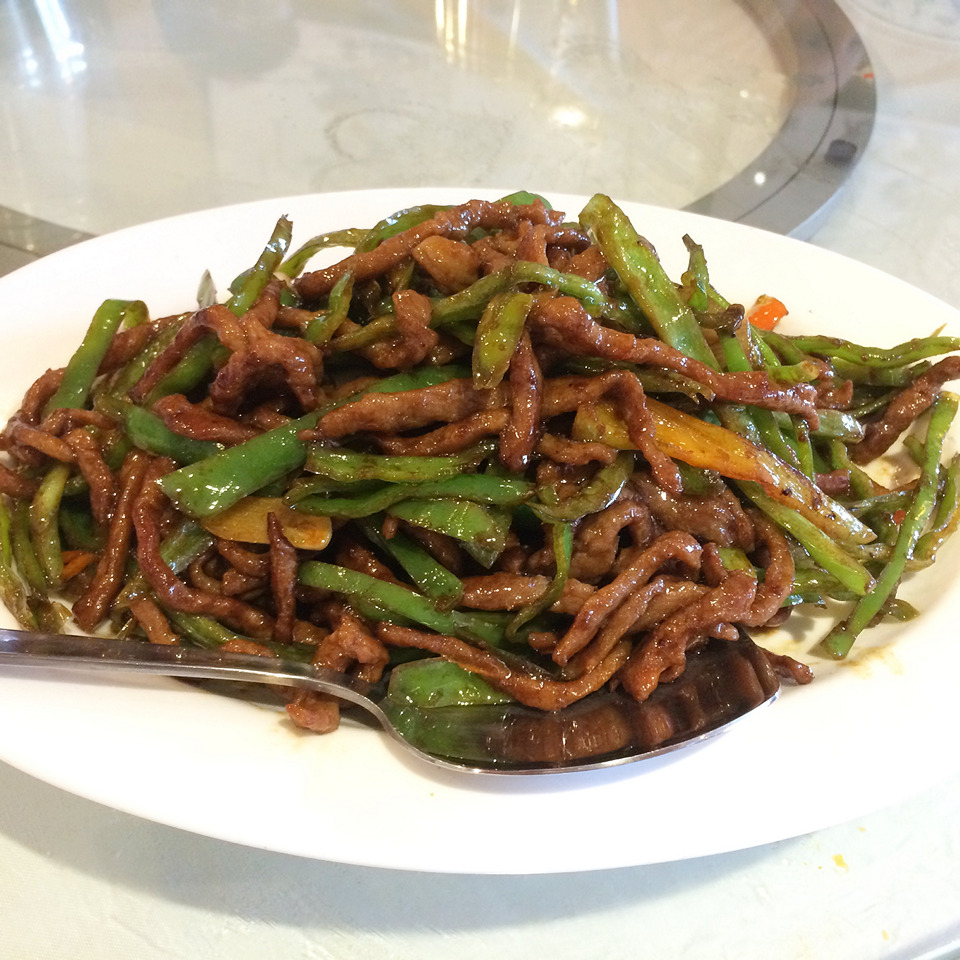 Shredded Beef with Long Horn Green Pepper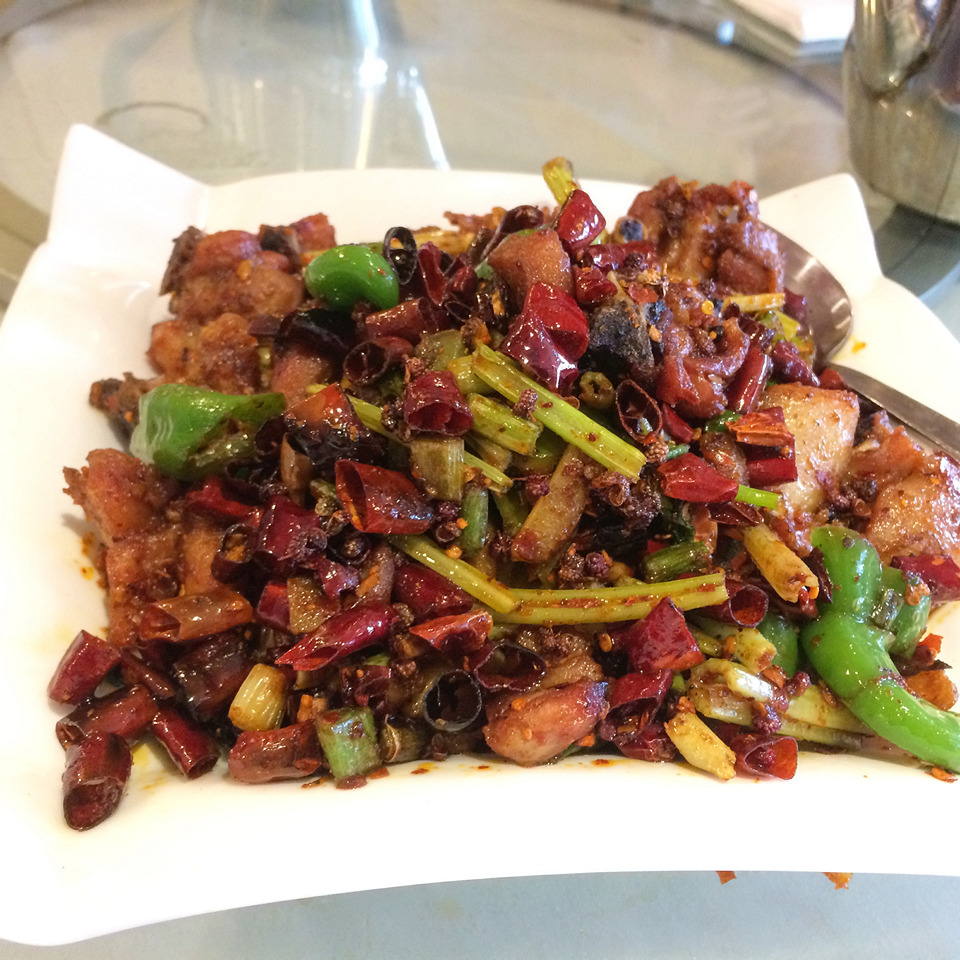 Chicken in Triple Pepper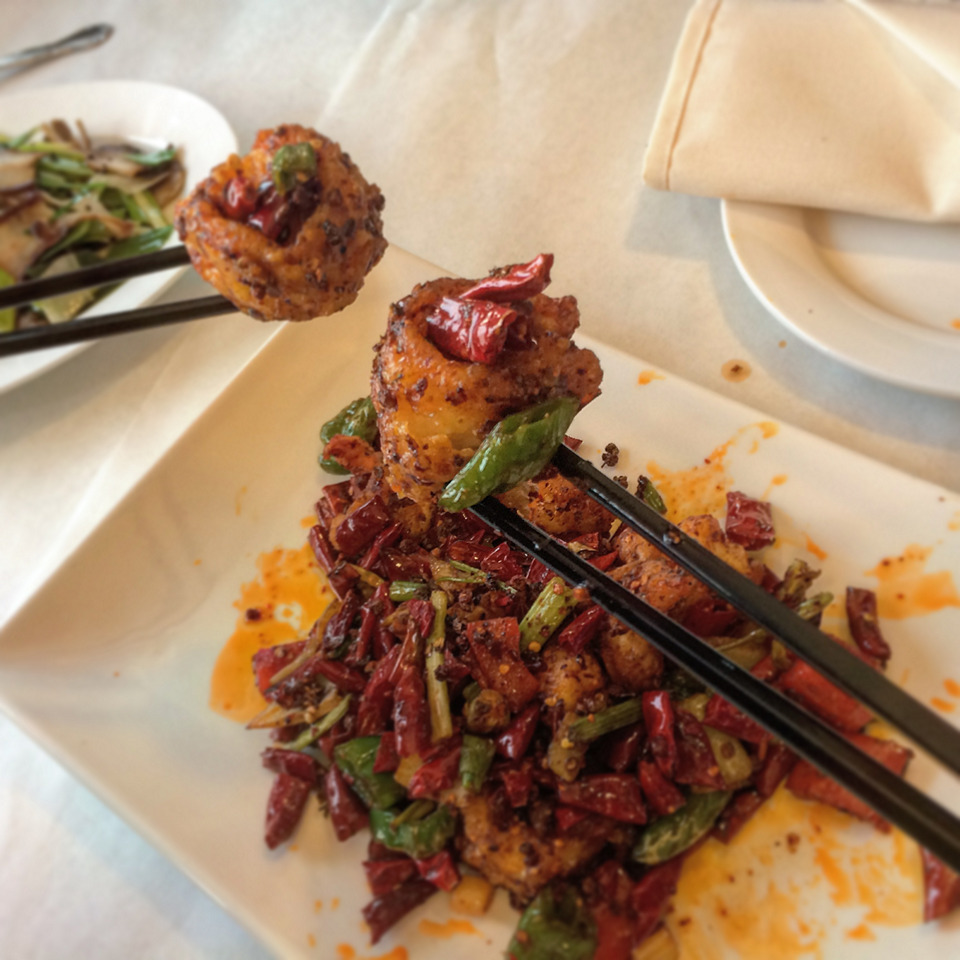 Chengdu Style Hot and Spicy Prawn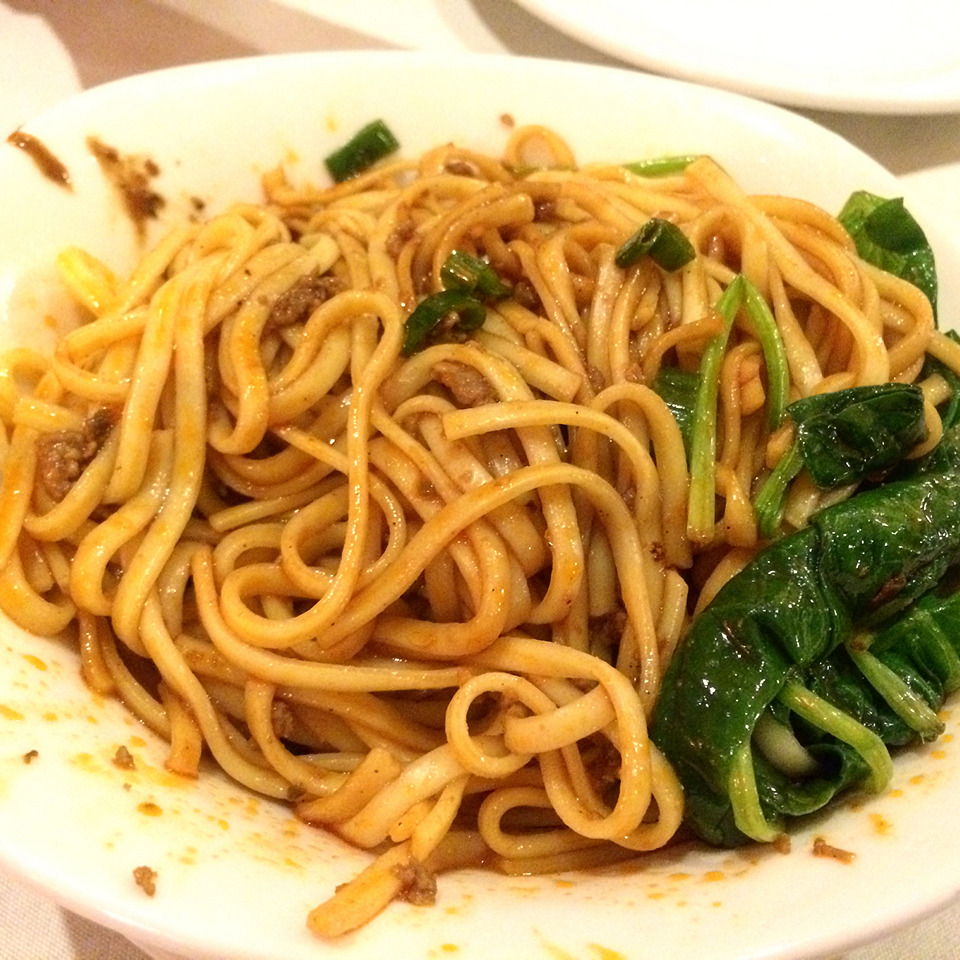 Dan Dan Noodle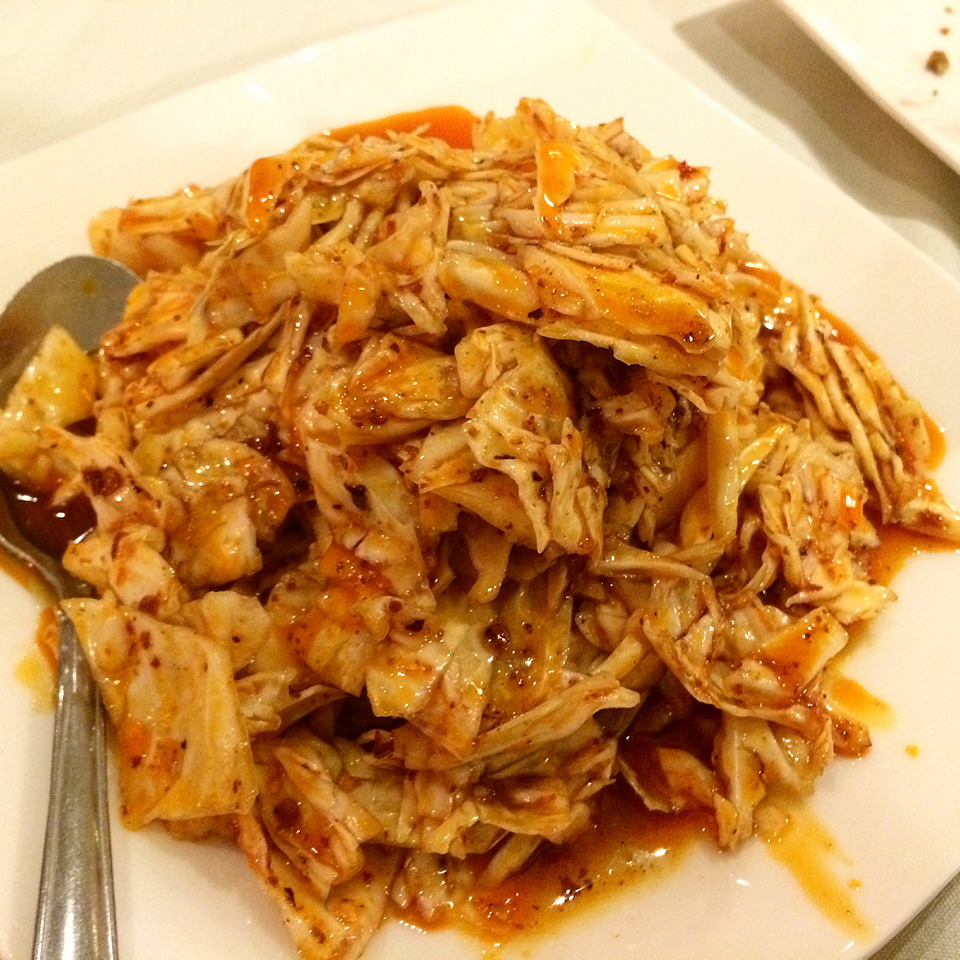 Famous Szechuan Pickled Vegetable
A great change of pace.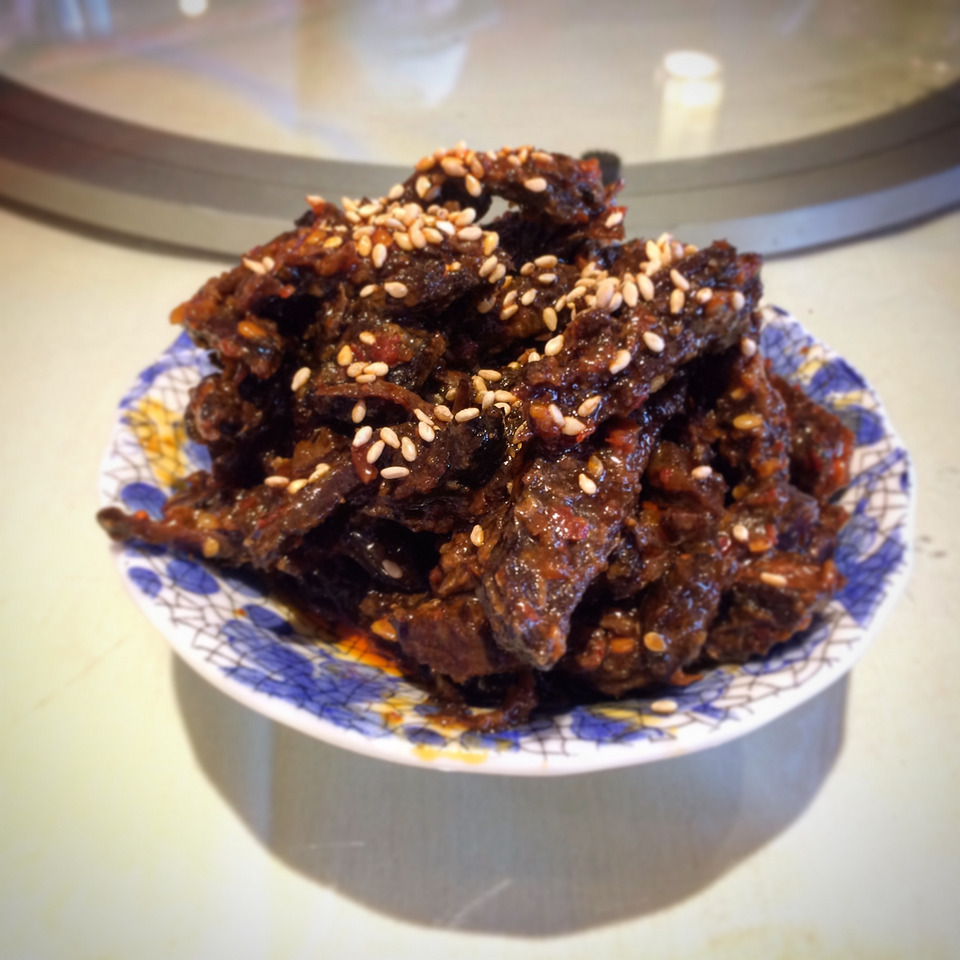 Hot and Spicy Dry Beef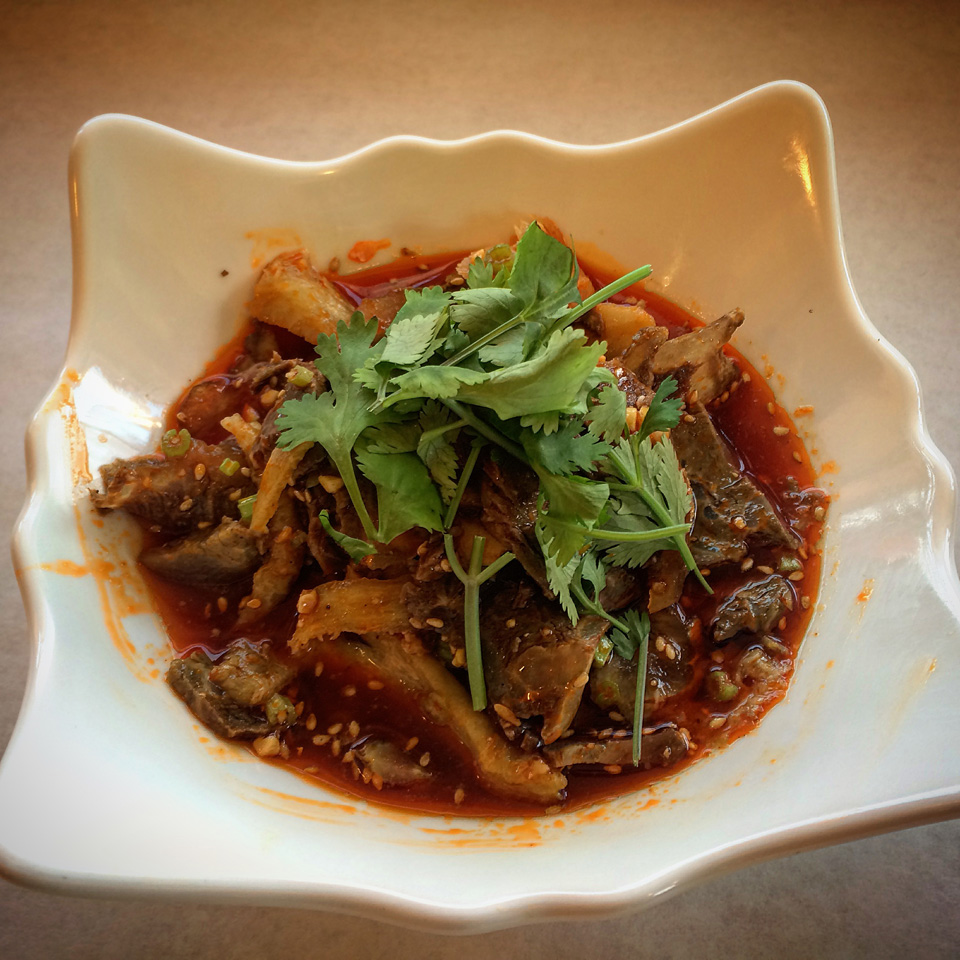 Beef and Ox Tripe in Chili Sauce
In Chinese, it's fuqi feipian, literally husband and wife sliced lung, but there's no lung in it. A Szechuan málà classic.

And yes, there were more!
Legend of Taste is located at 2002 Utopia Parkway in Whitestone, Queens.