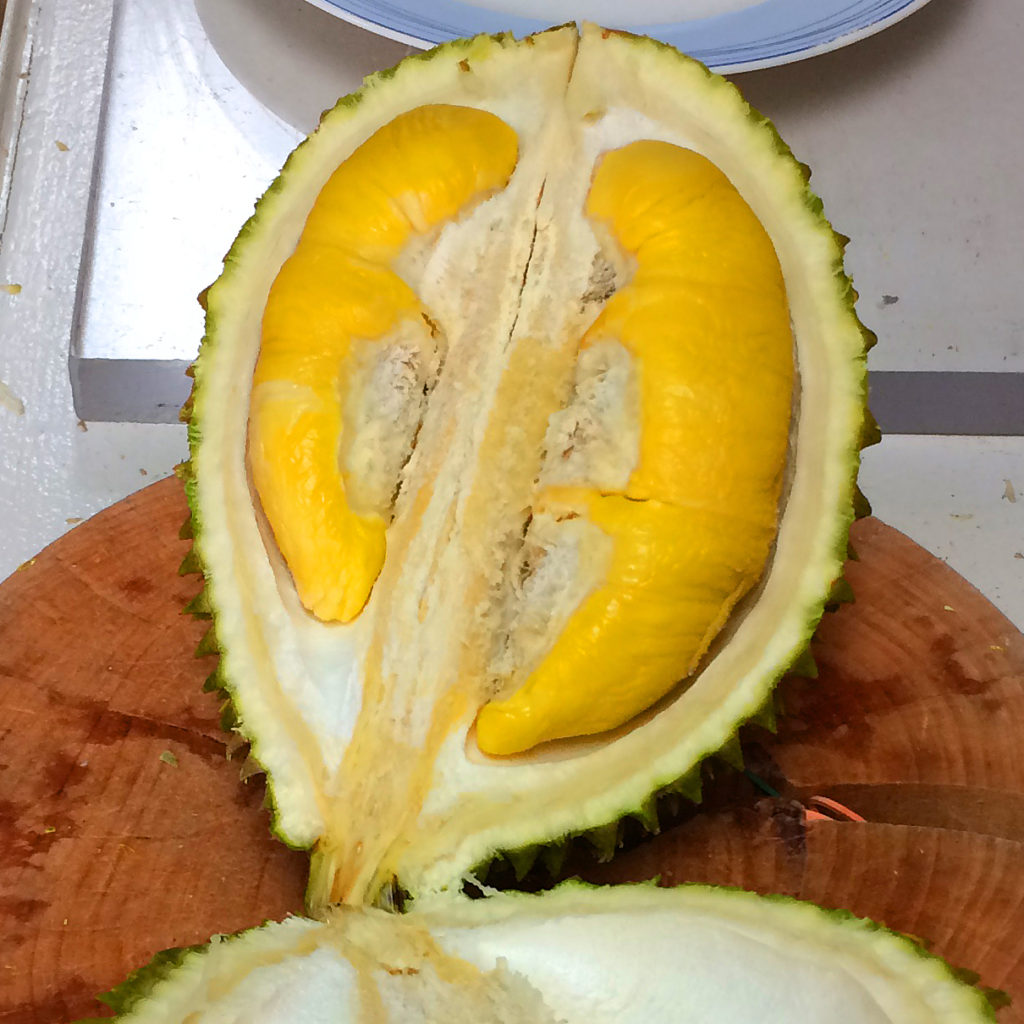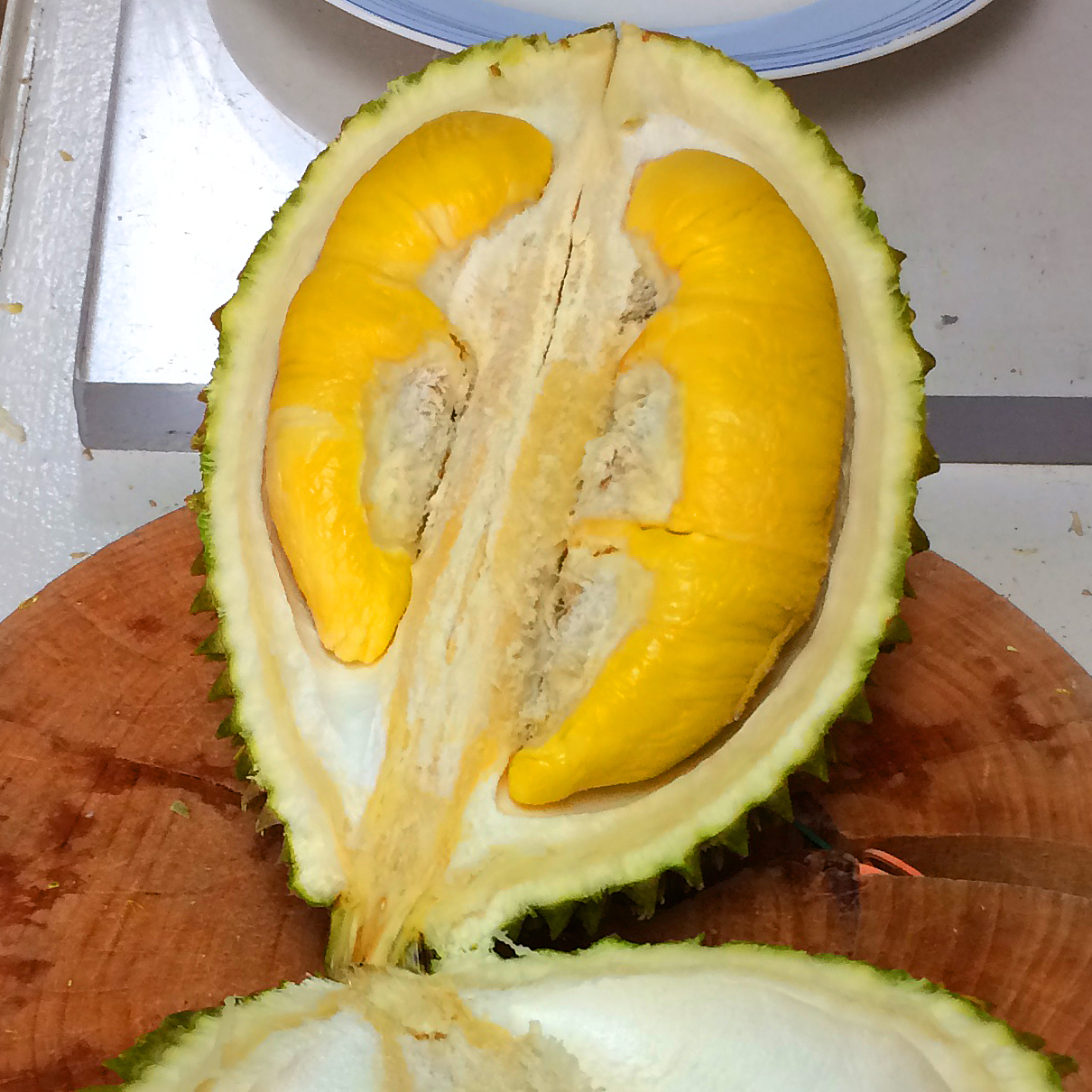 Back in the seventies (ahem), Saturday Night Live did a sketch about Scotch Boutique, a store that sold nothing but Scotch Tape. They carried a variety of widths and lengths to be sure, but that was it. Just Scotch Tape.
MK Durian Group at 5806 6th Ave in Sunset Park, Brooklyn sells nothing but durian. They carry a variety of cultivars and variations to be sure, but that's it. Just durian.
And the durian they carry is wonderful.
You've probably heard the oft-quoted aphorism about it, "Tastes like heaven, smells like hell" (some would have the order of the phrases swapped but you get the idea), so much so that the fruit is banned from hotels, airlines and mass transit in some parts of the world. (And yes, I've been known to smuggle some well-wrapped samples home on the subway.) If you've never tasted durian, you might discover that you actually like it; a number of folks I've introduced it to on ethnojunkets have experienced that epiphany. There are gateway durian goodies too, like sweet durian pizza (yes, really), durian ice cream, candies, and freeze dried snacks and they're all acceptable entry points as far as I'm concerned.
It's difficult to pinpoint what durian smells like. The scent appears to defy description; I've encountered dozens of conflicting sardonic similes, but suffice it to say that most people find it downright unpleasant. Although I have a pretty keen sniffer, somehow its powerful essence doesn't offend me although I am acutely aware of it – just lucky I guess, or perhaps I'm inured to it – because this greatly maligned, sweet, tropical, custardy fruit is truly delicious. So I was thrilled to learn about MK Durian Group (aka MK International Group) from Dave Cook (Eating In Translation) whom I accompanied on a visit there.
Often called the King of Fruits (perhaps because you'd want to think twice about staging an uprising against its thorny mass and pungent aroma), it comes by its reputation honestly but with a footnote. The divine-to-demonic ratio varies depending upon the cultivar and, if I understand correctly, a window of opportunity when certain cultivars are sweet and nearly odorless simultaneously. This, I believe, is durian's best kept secret. But more about that in a moment. (Click on any photo to view it in high resolution.)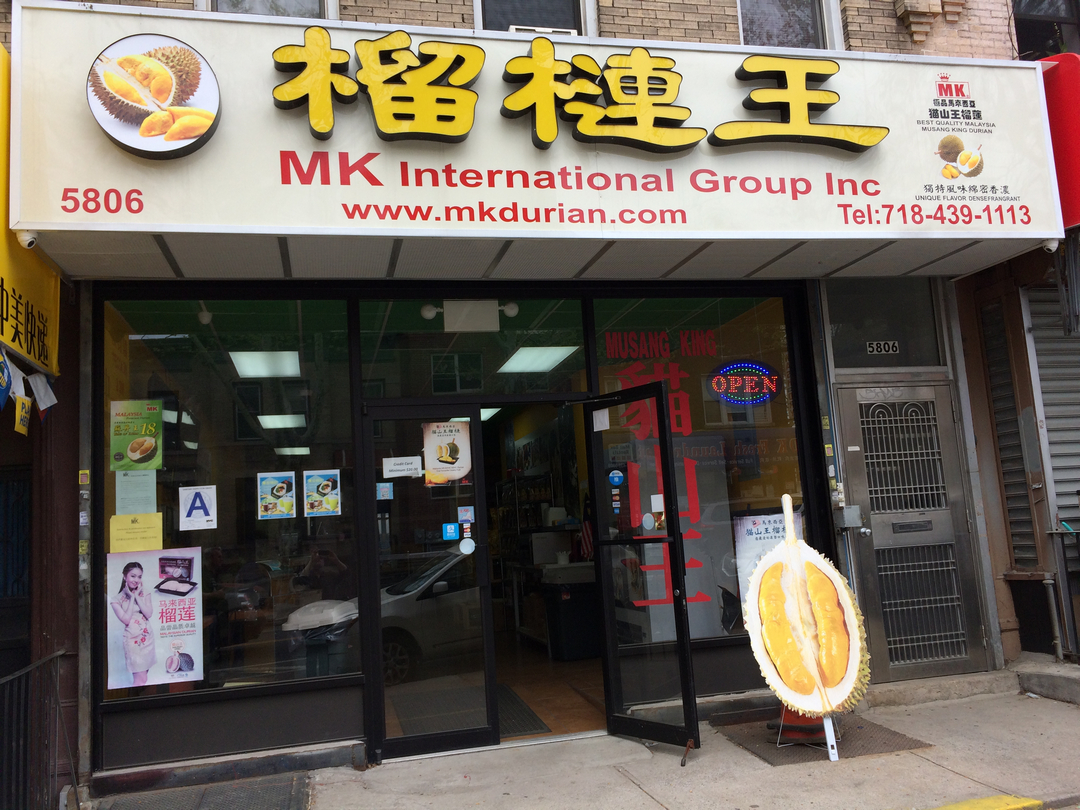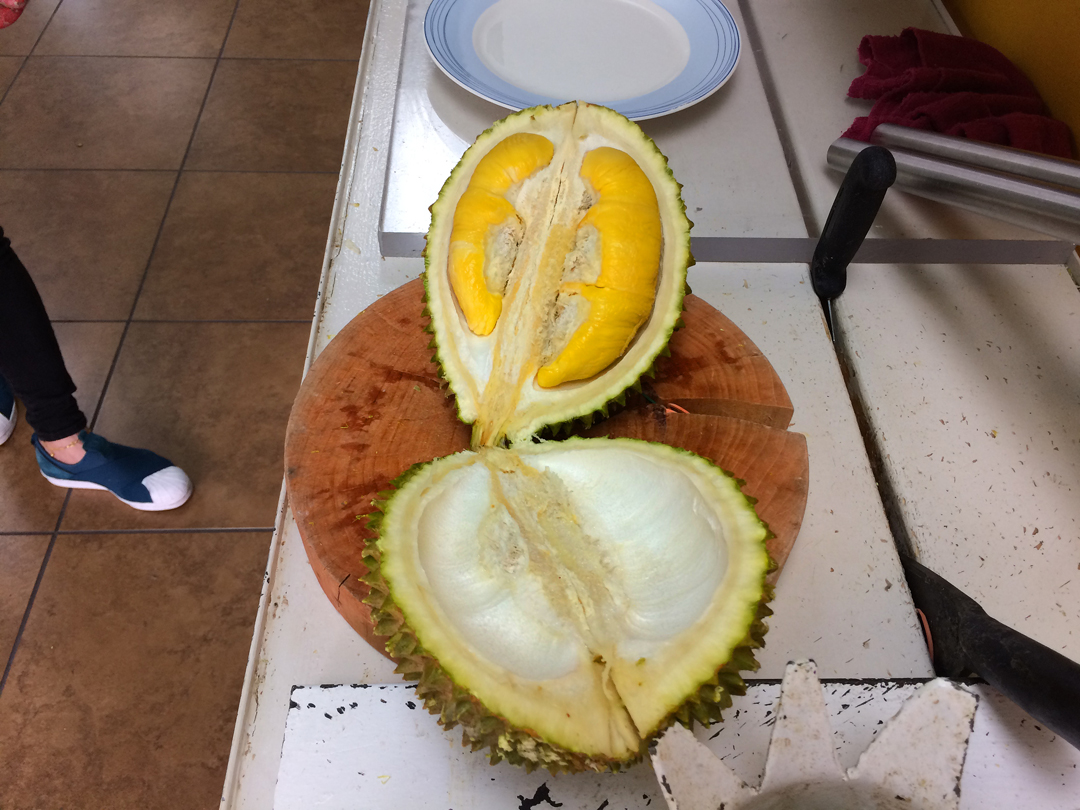 MK Durian Group works directly with plantations in Malaysia and is a wholesaler and distributor to restaurants and retailers in addition to catering to walk-in customers. We entered the commodious space with its many tables, all unoccupied at the time. Chinese-captioned signs showing photos of fifteen cultivars and another seven in English decked the walls along with a menu that, in addition to a price list for the fruit itself, included durian pancakes, mochi, and a variety of cakes, buns, and biscuits, a concession to the timid, perhaps. Durian cultivars are typically known by a common name and a code number starting with the letter "D", so you might see Sultan (D24) or Musang King (D197), but sometimes you'll find just the code numbers or sometimes just names like XO or Kim Hong. Scientists continue to work on hybrids to maximize flavor and minimize unpleasant smell.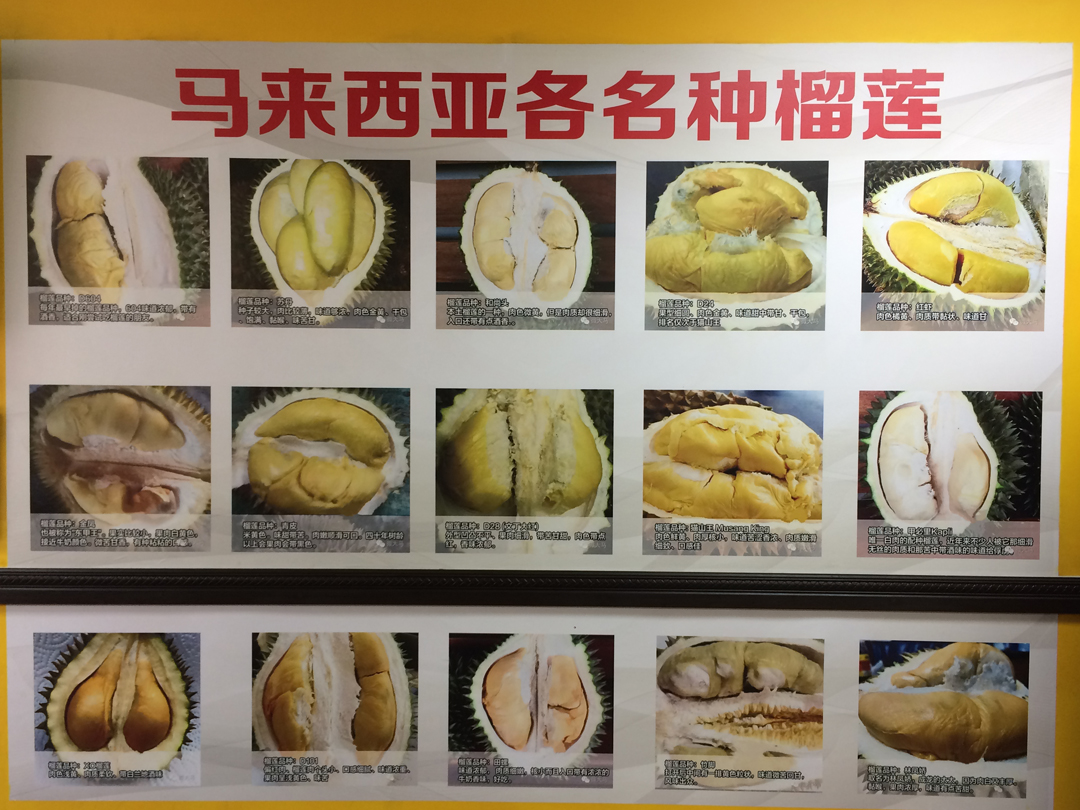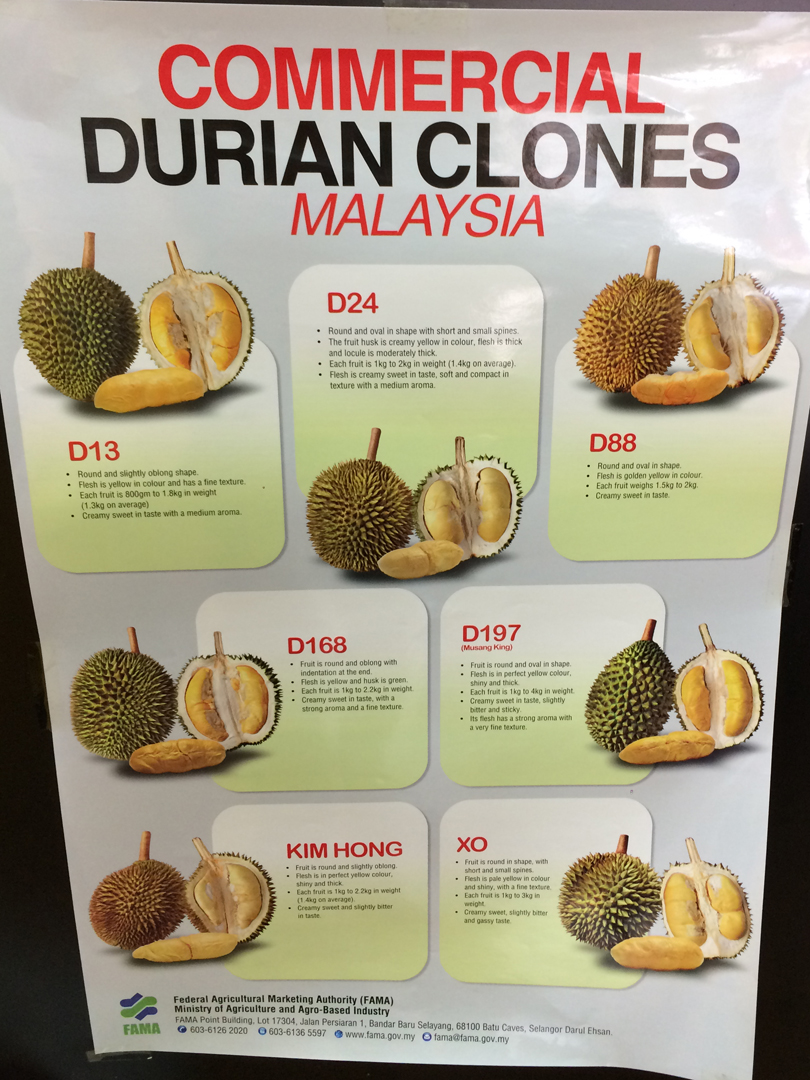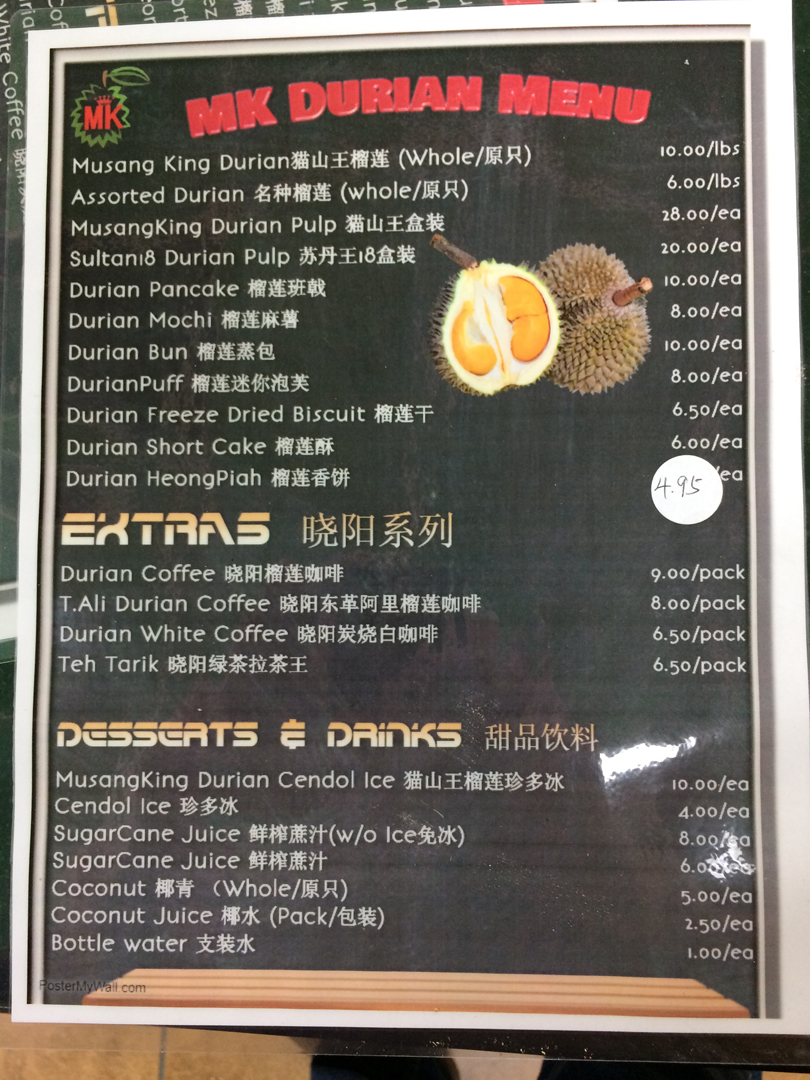 Fion, without whom I would have been at a complete loss, urged us to get the Musang King, often regarded as the king of the King of Fruits. She selected one from the freezer case and microwaved it for a few minutes to thaw it but not warm it up. Our four pounder, stripped of seeds and rind, ultimately produced about one pound of (expensive but) delicious fruit.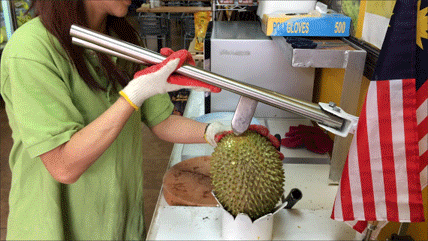 Using an apparatus that looked a little like some sort of medieval torture device to crack the husk, she then adeptly removed the yellow pods; each pod contains a single seed that can be used in cooking like those of jackfruit. The fact that the receptacle used for holding the durian looked like a crown was not lost on me – truly befitting the King of Fruits. We took our treasure to one of the tables where boxes of plastic poly gloves were as ubiquitous as bottles of ketchup would be on tables at a diner.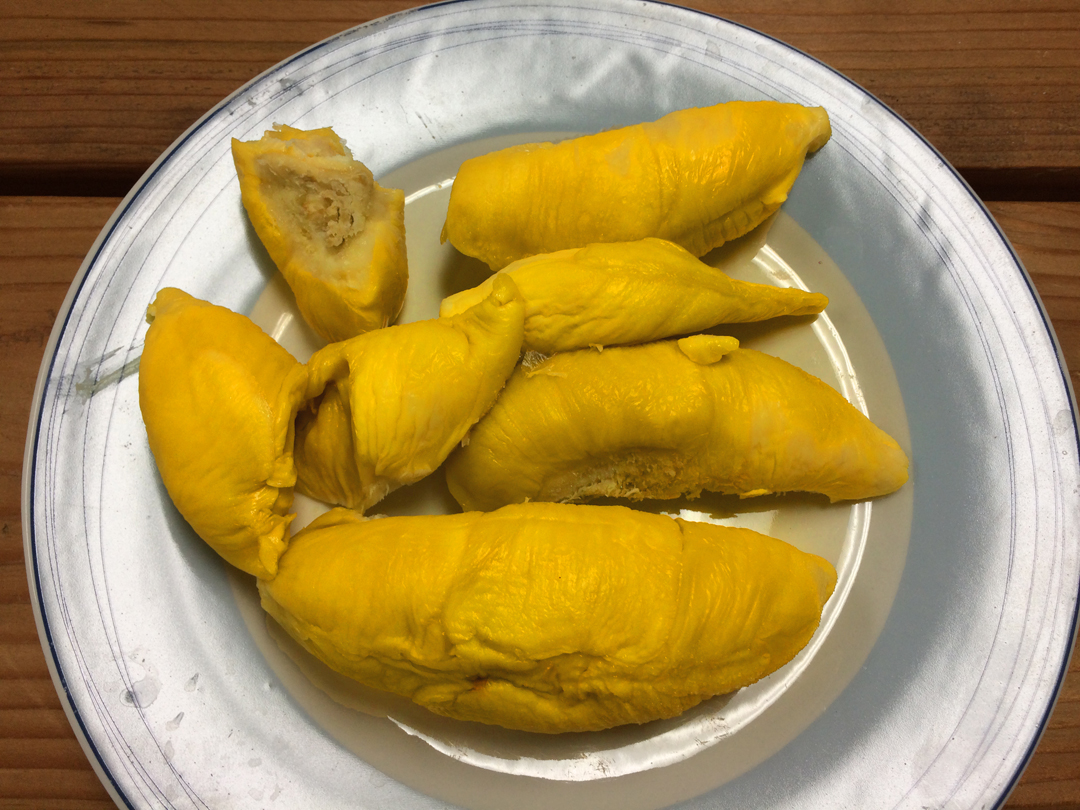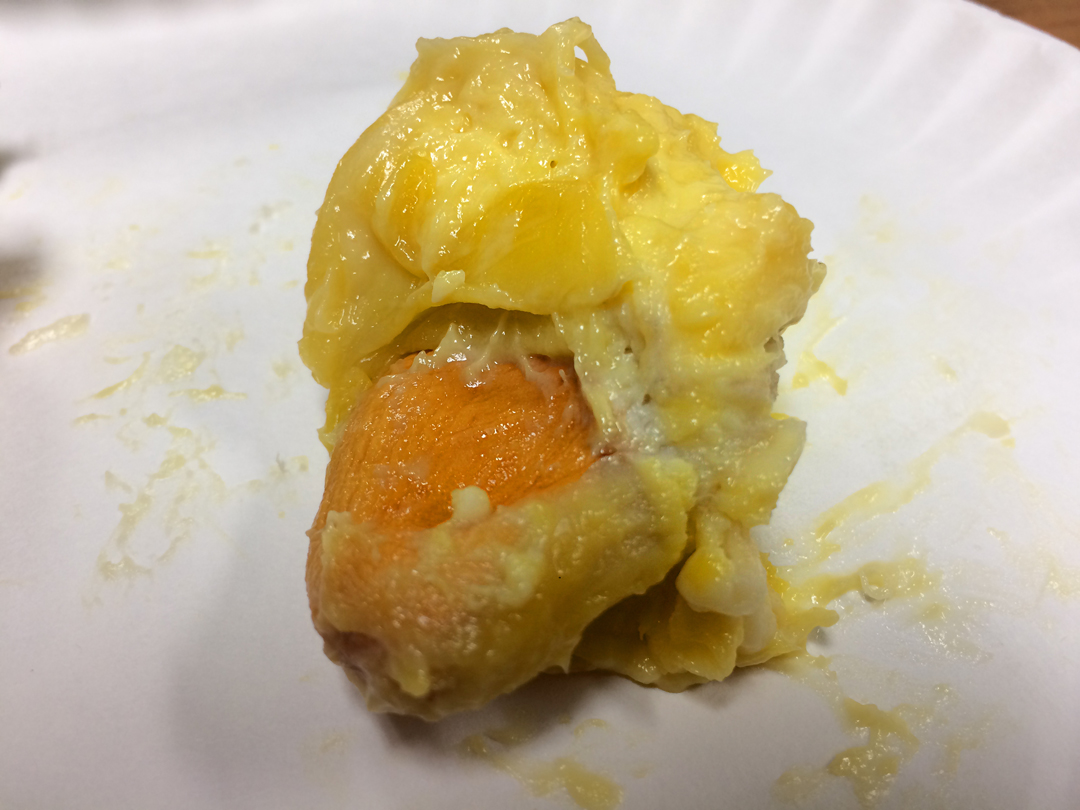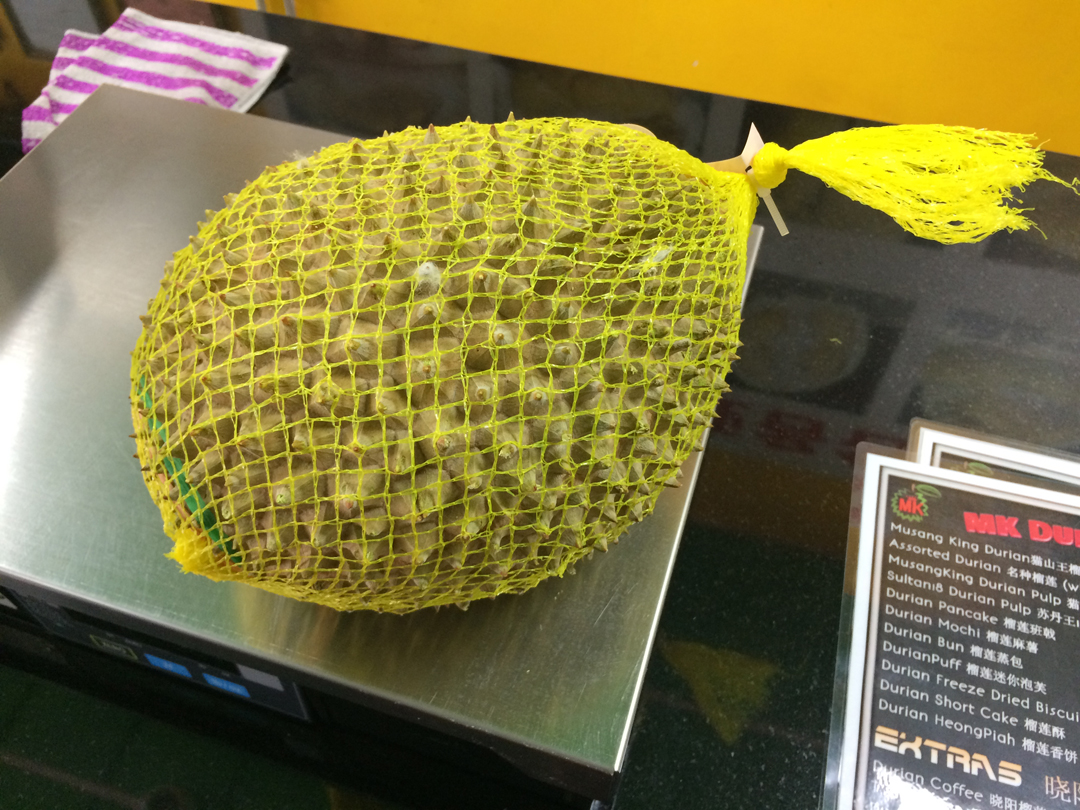 That Musang King was perhaps the best durian I had ever tasted, so much so that my new personal aphorism is "Durian: The fruit that makes its own custard."
You may have seen durian in Chinatown in yellow plastic mesh bags where the fruit is often sold by the container and you don't have to buy a whole one; you might conceivably experiment with whatever is available. But these were a cut above. As we left, I realized that something about the experience had been unusual: I asked Dave if he had noticed any of the customary malodourous bouquet. He replied no, but he thought perhaps he was a little congested that morning. I knew I wasn't congested that morning. There had been no unpleasant smell to contend with. Had we stumbled upon that elusive golden window of odorless but sweet opportunity? Was that particular Musang King odor free? Or perhaps all of them in that lot? Did it have something to do with the fact that it had been frozen and thawed? We were beyond the point of going back and asking Fion, but I think it's worth a return visit to get some answers!