When I write about restaurants on Instagram, they're usually brief takes accompanied by a photo or two. (You can see my feed right here on ethnojunkie.com by selecting the "Instagram" category from my home page – no signup required.) But because of Instagram's character count limitations, it's often necessary to break up a review into several parts. This one originally appeared as three posts, published on March 6, 7, and 8, 2019.

---
Promise me that you'll disregard the restaurant's pan-Asian sounding name. Promise me that you'll ignore the fact that the menu still lists sushi rolls and General Tso's Chicken to attract the local lunch crowd. But above all, promise me that you'll go to Asian Bowl, 101-11 Queens Blvd in Forest Hills, because that's where you'll find some of the very best Burmese food in New York City right now. John, the new owner, will happily answer your questions about menu items (yes, you'll have questions), and Aye, his wife who does all the incredible cooking, will ensure your return with her remarkable range. This is one of the very few restaurants where I am compelled to work my way through the entire menu – the Burmese side of it, that is.
(Click on any image to view it in high resolution.)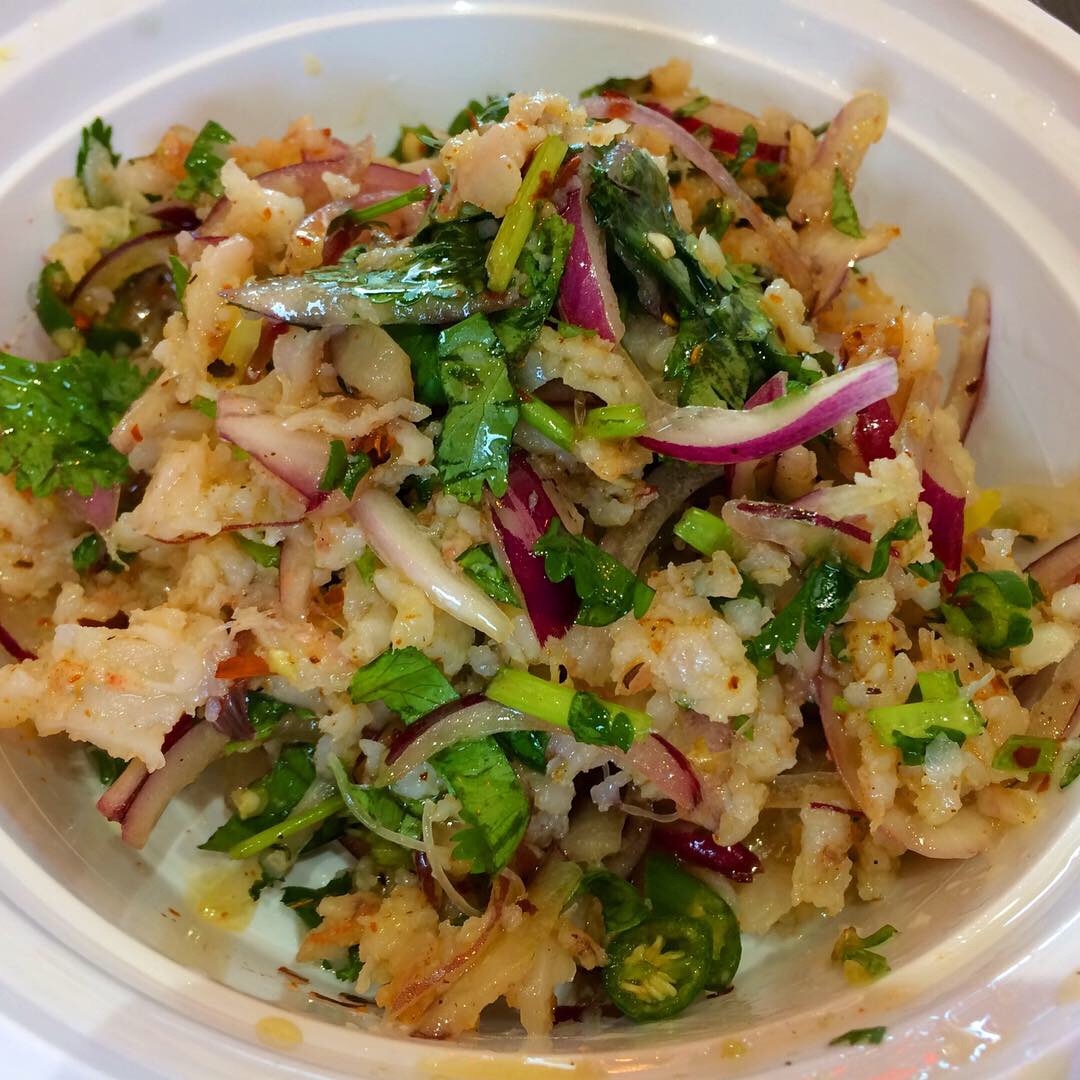 Pa Zun Chin Thoke. A thoke is a Burmese salad and the cuisine has many to offer. Pa zun means shrimp, chin means sour, and this fermented shrimp salad, served cold, is undoubtedly authentic. A little spicy with a delicious mild funkiness, it's an amazing assemblage of textures and flavors playing against each other that come together with every bite.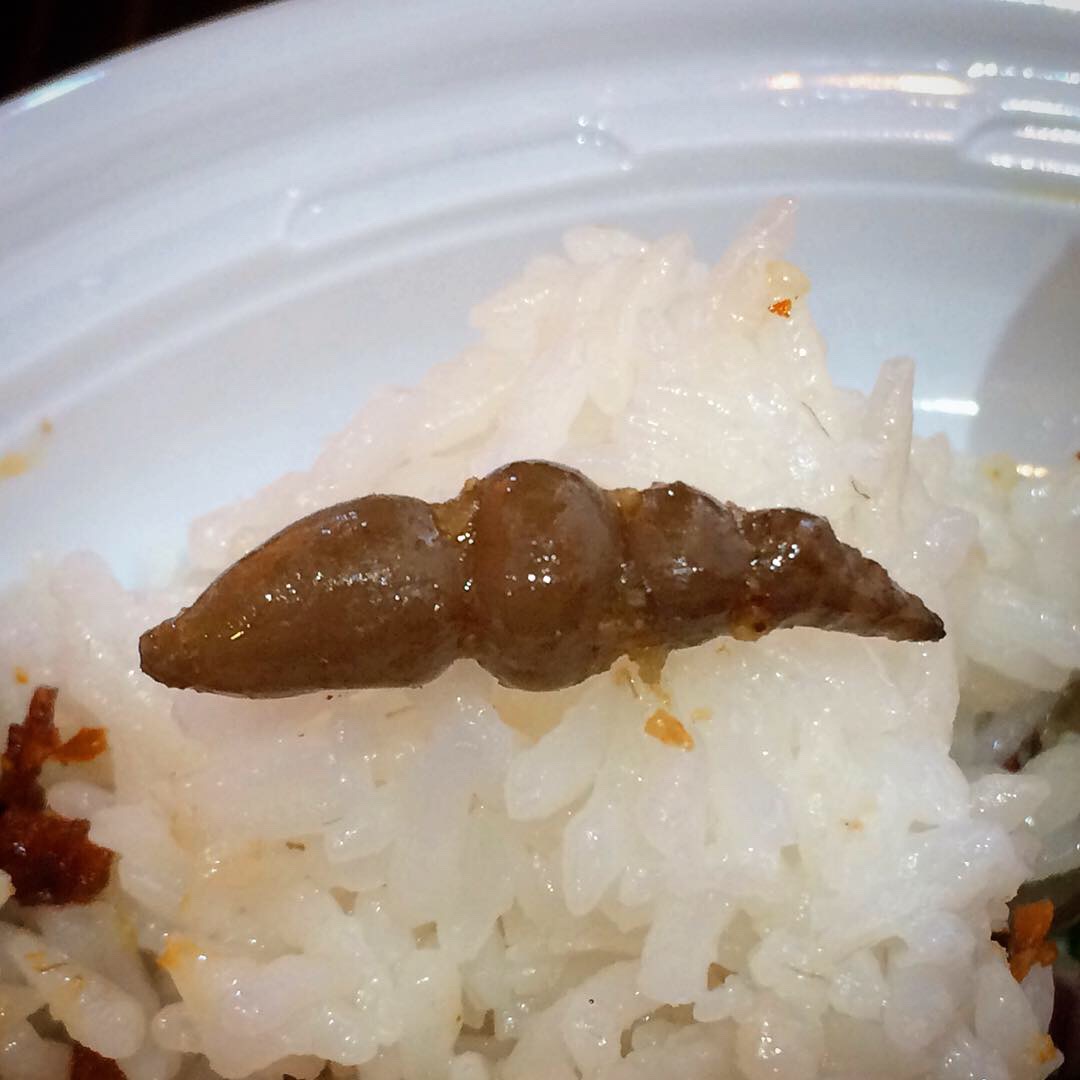 You might even find a few unfamiliar ingredients lurking within like this pickled crosne (pronounced krone, rhymes with bone). Don't be startled by its appearance; it's just a Chinese artichoke and it's yummy.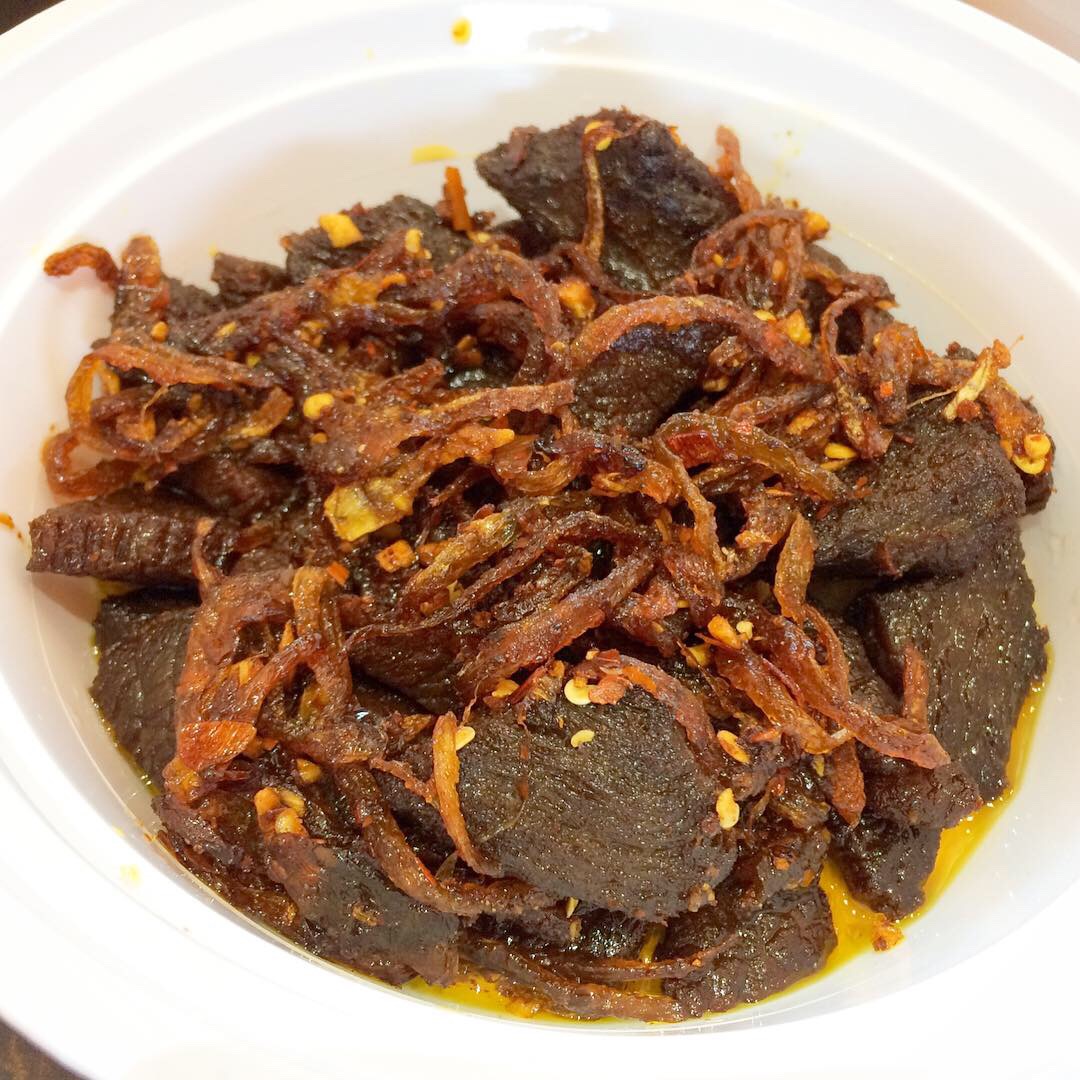 Fried Beef with Spicy, as the menu reads. When this hit the table, it looked like it might be a chewy, dry jerky similar to Nepalese sukuti. Nope. A little crispy on the outside, but tender on the inside with a medium spice level and surrounded by caramelized onions, it was another winner.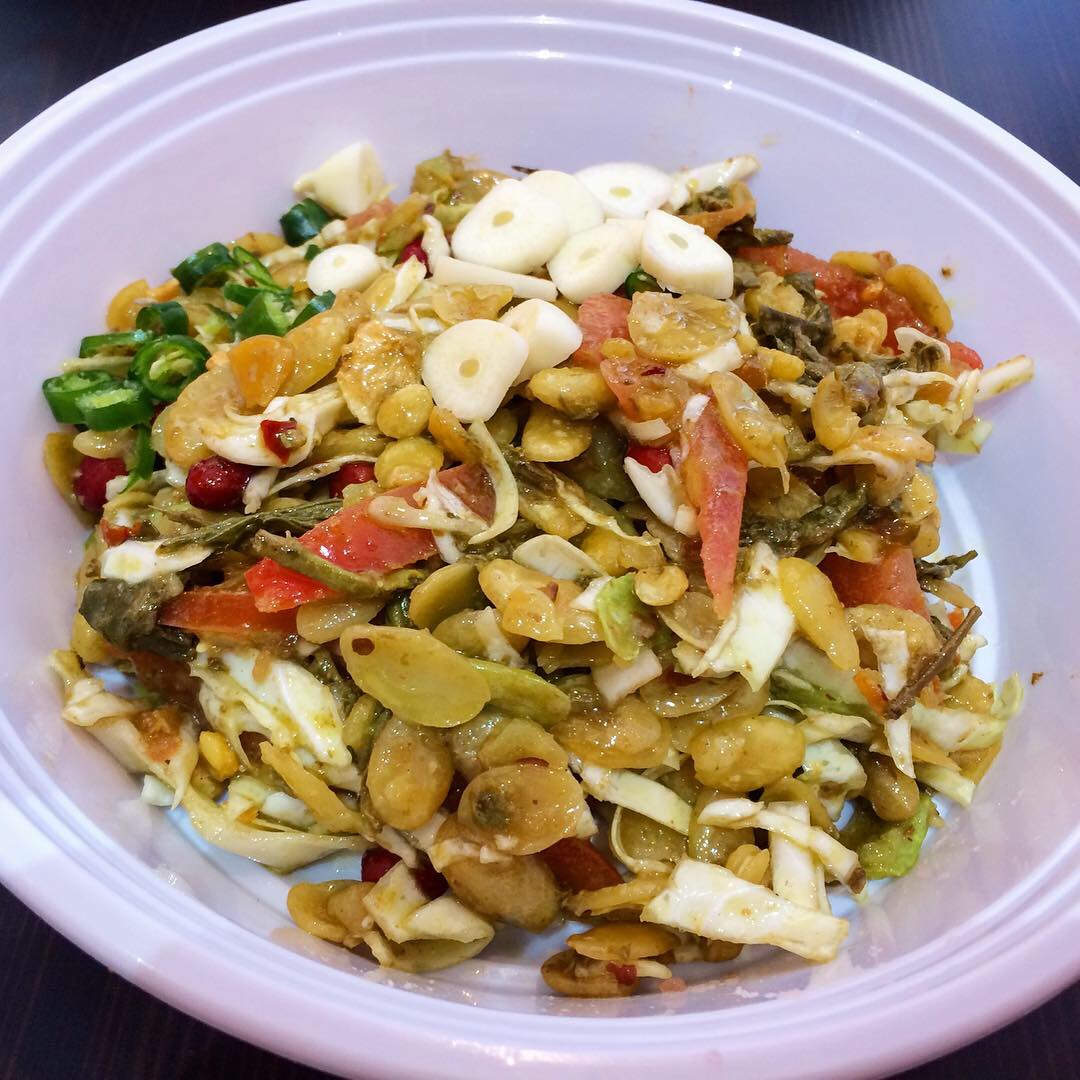 Latphat Thoke. Latphat (you may see lahpet or other spellings) are fermented tea leaves; thoke (pronounced toke with a clipped K) is a salad. It's a popular Burmese dish and one of my all-time favorites. As a matter of fact, a few years ago I wrote about my idiosyncratic trials and tribulations in developing a recipe for it here called "One Thoke Over the Line." Asian Bowl's rendition was very good; I do wish they had used a heavier hand with the tea leaves – perhaps a shortage that day? – but that's a personal preference. Nonetheless, it was delicious: a foundation of cabbage and tomatoes decked out with crunchy dried fava beans and soy beans, spiked with bird peppers and fresh garlic and the titillating funk of fermented tea leaves in a tangy dressing. Do it.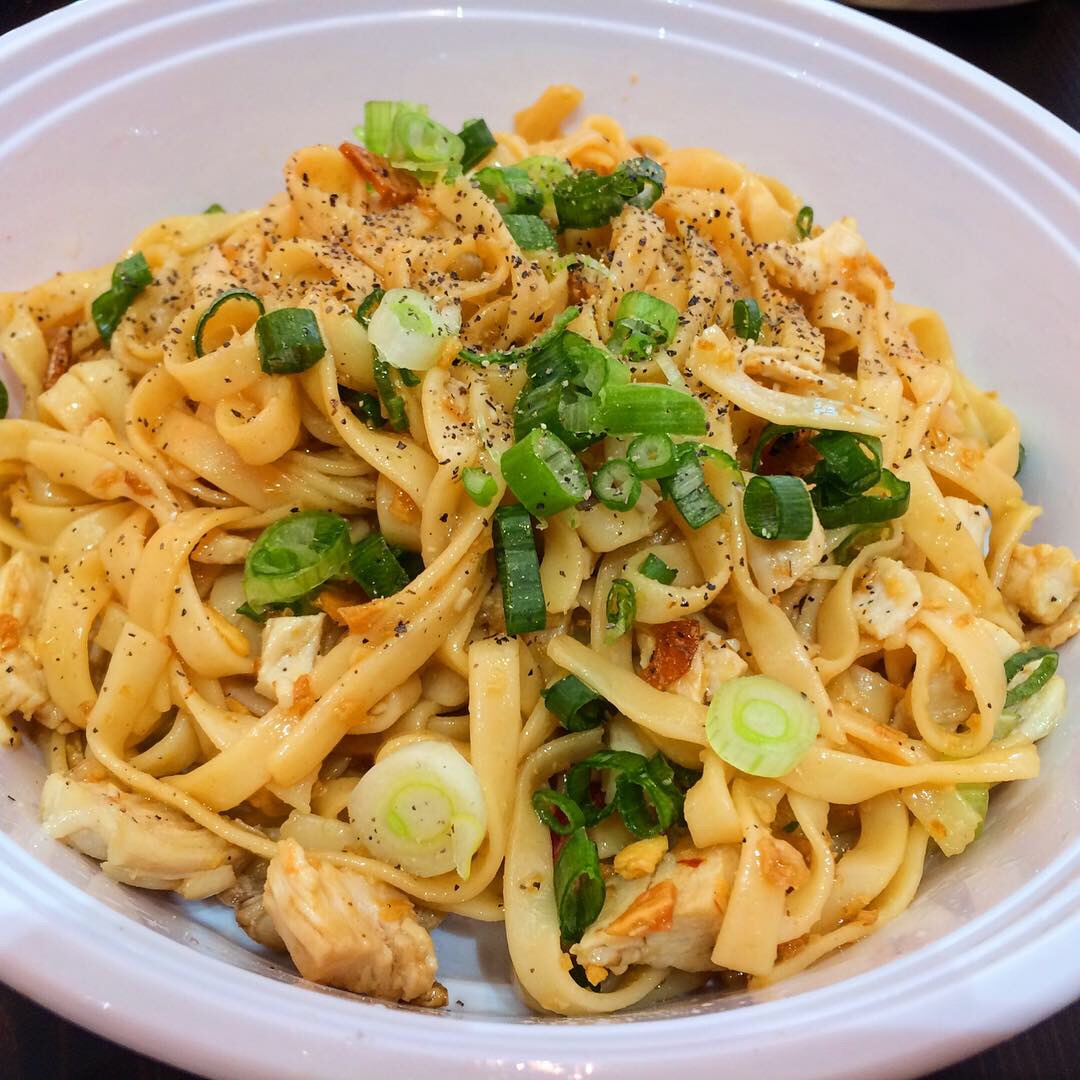 For a change of pace, try the Sechat Khauk Swal, a simply seasoned but tasty wheat noodle dish with chicken and scallions. I asked John, the owner, what sort of noodles were in the dish – thick? thin? flat? round? Fishing for the right descriptive words, he grabbed the rubber band that had been girding the morning's mail. "Like this!" he grinned. Visual aid to the rescue!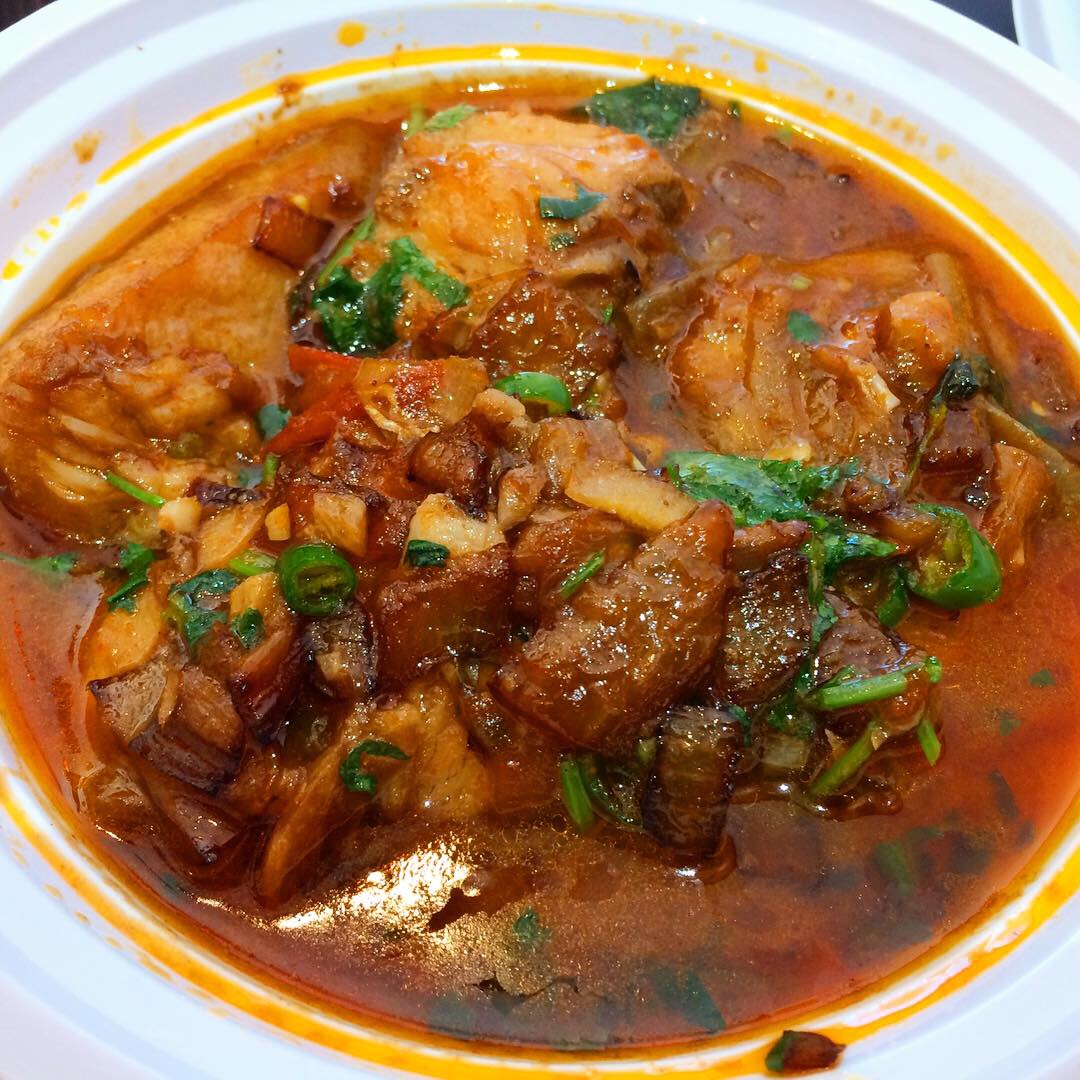 Nga-gin Curry. Nga-gin is a type of freshwater fish in the carp family; it's bony, but not impossible to work around. Big, meaty chunks of fish lazed in a mild tomato-based curry that's tricky to characterize: very rich, umami-laden, somewhat salty, a little sharp, certainly oily. Does that help? Let's just go with delicious.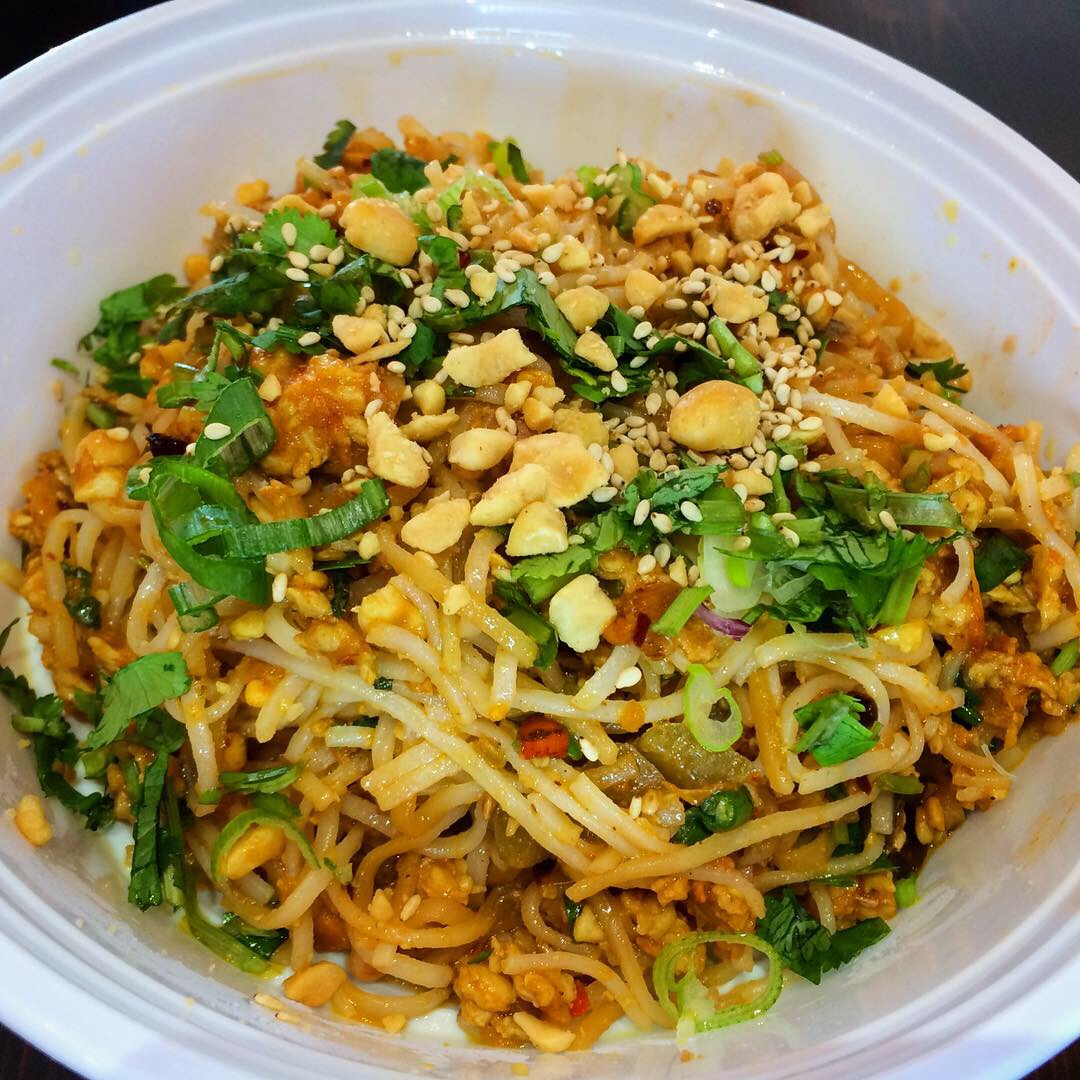 Shan Khauk Swal Thoke. Shan is a state in the eastern part of Myanmar bordering China, Laos, and Thailand. Khauk Swal Thoke is a wheat noodle salad made with dried shrimp, herbs and veggies, fish sauce and lime juice, and topped with peanuts. A warm aura surrounded this dish that I can't specify other than to state that it was different from its tablemates – the type of fish sauce perhaps? Once again the textural interplay between soft noodles and crispy bits so characteristic of Burmese thokes made this choice another treat.
What more can I tell you? I love this place. You will too. Order from the Curry and Group A à la carte sections of the menu along with some clearly identified soups, and you'll be as blown away as we were on that frosty afternoon.
I promise.
Asian Bowl is located at 101-11 Queens Blvd in Forest Hills, Queens
Major h/t to Joe DiStefano (chopsticksandmarrow.com) and Dave Cook (eatingintranslation.com).