Readers of a certain age will recall the television commercial that aired in heavy rotation for Certs breath mints/candy mints and its relentless, nagging refrain. (Readers not of a certain age can simply take this title at face value.)
(Click on any image to view it in high resolution.)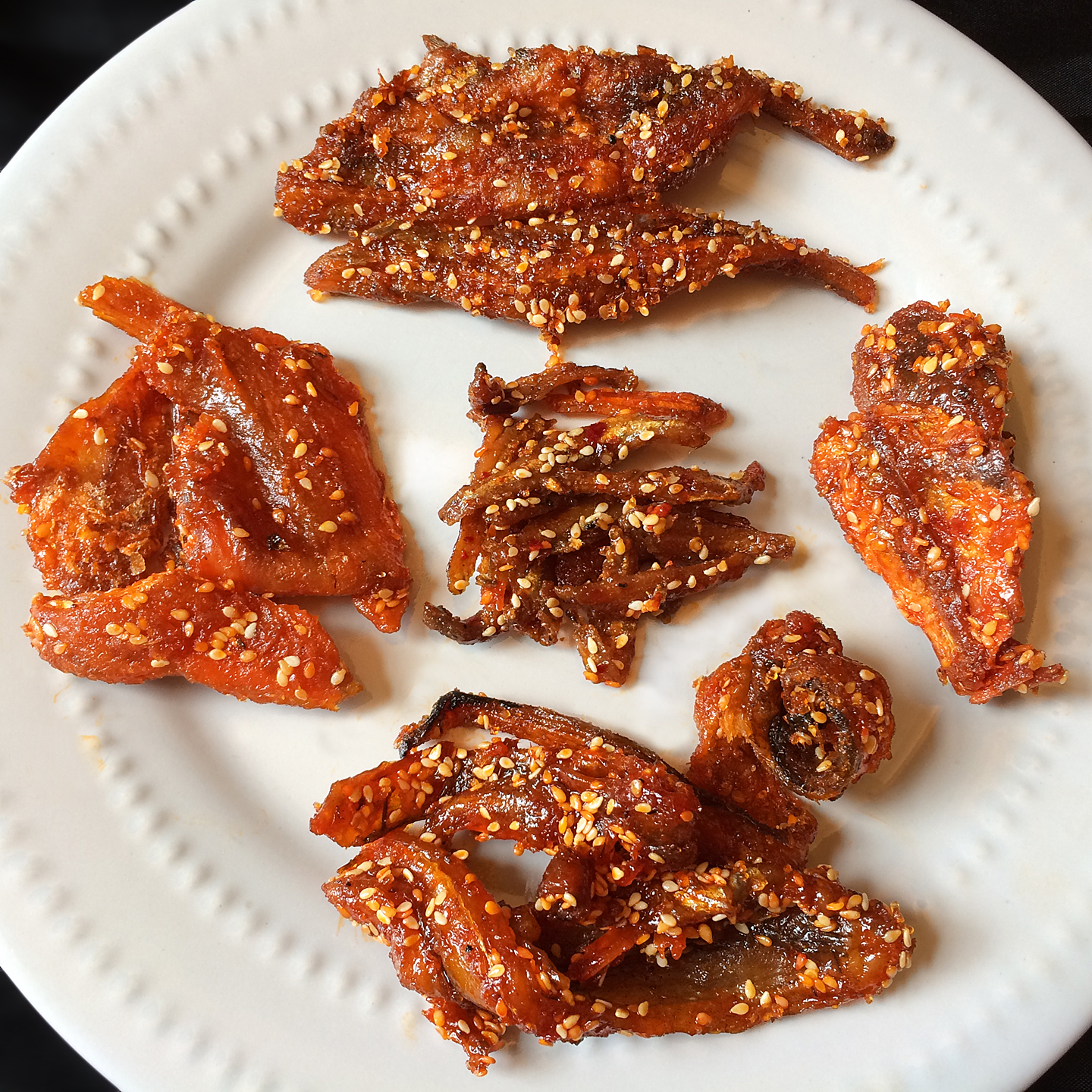 These dried fish snacks are spicy, sweet, chewy and crunchy – sort of a sesame seed encrusted, sticky-sweet fish jerky. Made from dried fish, sugar, salt, sesame oil, and chili powder, they are utterly delicious and seriously addictive.
The backstory: I was prowling around Manhattan's Chinatown still in the throes of pondering the destiny of ethnojunkets now that they might actually be feasible again. Many business have disappeared, but for every yin, there is a yang. Case in point: Mott Street's Aji Ichiban, the Asian candy/dried fruit/preserved snack chain, closed last September, but five months ago Sugartown opened at 63 Bayard St to satisfy a similar audience in the neighborhood.
And that's the provenance of the treats you see here: Spicy Fish Fillet, Spicy Yellow Croaker, Spicy Dragonhead Fish, Golden Pomfret, and Málà Whitebait. The seasoning recipe is nearly identical for each variety, only the fish differ; some are more gnarly than others, so you might consider starting with the fish fillet, or do what I did and load a few pieces of each into a single bag – it's self-serve and they're all the same price – see what you like and come back for more.

These are Black Sesame Fish Strips; in this case the fish is very mild cod. They're soft, chewy, sweet, and you'll be tempted to play pick up sticks with them, but they're even more tempting as a snack.

Extreme close up.
At Sugartown, in addition to these fishy requisites, you'll find dried and preserved fruits, other types of jerky, sour strips, gummies, jelly rings, crisps, Chinese, Japanese, and American cookies and candies and too much more to list here. It's a shop full of sweet novelties for all tastes and you're bound to find something that catches your eye and tickles your tongue.
FWIW, if I do revive the Manhattan Chinatown ethnojunket, Sugartown will definitely be on the itinerary!