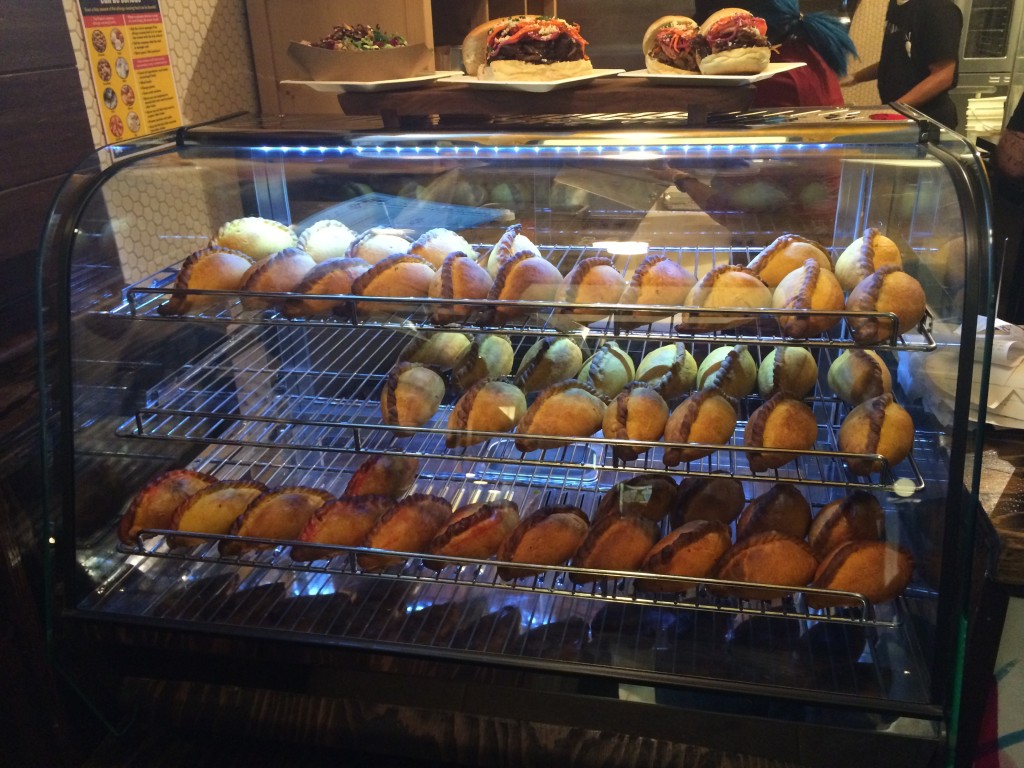 "Salteñas!" the jazzy sign exclaimed. "Not an Empanada!!"
"Hey look!" the passerby exclaimed. "Empanadas!!"
Um, not quite. Bolivian Llama Party is all about setting the record straight and the way they're going about it might just get you hooked. The salteña is Bolivia's answer to the empanada and to all outward appearances, they do look similar to other Latin American offerings. But take a bite (carefully – you'll see why in a minute) and you'll realize that that's where the similarity ends.
First, the dough is not merely a delivery system for the filling; it's flavorful in its own right – hand crafted, golden with aji amarillo (yellow hot pepper) and baked to perfection. And then there's the delicious savory filling (do I hear music?) known as jigote. Juicy like a stew, you'll find four varieties here: Beni (grass-fed beef), Chimba (free-range chicken), Cliza (mushrooms and quinoa), and Toco (three kinds of pork and extraordinarily scrumptious), all named for locations in Bolivia. Even the dark green hot sauce is outstanding, imbued with quillquiña (Bolivian coriander), but don't fear the spice level – it's easily managed and an integral part of the experience.
Biting into one of these treasures can be a bit messy – the word "gush" comes to mind – and there's even a wry, tongue-in-cheek sign, "How to Eat a Salteña (Without Wearing It)", outlining three skill levels for pulling off its consumption: Beginner, Enthusiast, and Master. Think of it as empanada meets soup dumpling.
The first Bolivian restaurant in Manhattan, Bolivian Llama Party is owned and operated by three brothers, all natives of Bolivia. Alex Oropeza (aka Llama Whisperer) explained the painstaking care that goes into making these authentic delights: one day to make the dough, another to create the filling, another to assemble them and braid the dough. Crafting that braid perfectly is one of the keys to success, because if one salteña breaks while baking, a pool of filling will escape and ruin the entire batch. Alex told me that the level of expertise required by a salteñero to perform that magic is akin to that of a skilled sushi chef – they both devote years to their training. As a matter of fact, Patrick Oropeza (BLP's chef and salteñero) has been so swamped in the kitchen that, as of this writing, he hadn't yet had time to visit the Turnstyle venue that opened at the end of April.
But wait, there's more! BLP also offers a couple of Sandwiches de Chola, Bolivian street style sandwiches, available in brisket and triple pork (the standout of the two). Eliana (she's a sweetheart) works the register; when you order, be sure to ask her for extra aioli for the sandwich. During my last visit I found a new addition – BLP's version of an huminta. Humintas are tamales traditionally wrapped in a corn husk; these snacks are little cornbready treats in the shape of a madeleine, filled with quesillo cheese, kissed with fennel and anise, and served with seasoned butter on the side. Get them while they're still hot if you can.
I won't even attempt to describe the hip, colorful, crazy décor, but it pairs perfectly with the food. Check out their website for additional seasonal locations and more information.
Trust me, these guys are beyond awesome. Drop everything and go there. Now.


Bolivian Llama Party can be found at Turnstyle, the food court in the subway tunnel under Columbus Circle. Use any entrance (A,B,C,D,1 trains) at West 57th/58th Street and 8th Avenue.