My Instagram posts are often brief takes on restaurants accompanied by a photo or two. (You can see my feed right here, updated almost daily, by selecting the "Instagram" category from my home page – no signup required.) But folks sometimes ask for fuller reviews and more photos, so in response, here's a more comprehensive report on one of my favorites.
---
Have you heard about Grain House? It's a remarkable Sichuan restaurant with roots in Queens and Uniondale, Long Island; they've recently opened a branch near Columbia University at 929 Amsterdam Avenue and I can state from firsthand experience that their food is excellent. Could this be the Upper West Side's best kept secret? Not if I can help it!
Here are a few of the extraordinary menu items I've tried and want you to try too; suffice it to say they're all great. (Click any photo to view in glorious high resolution.)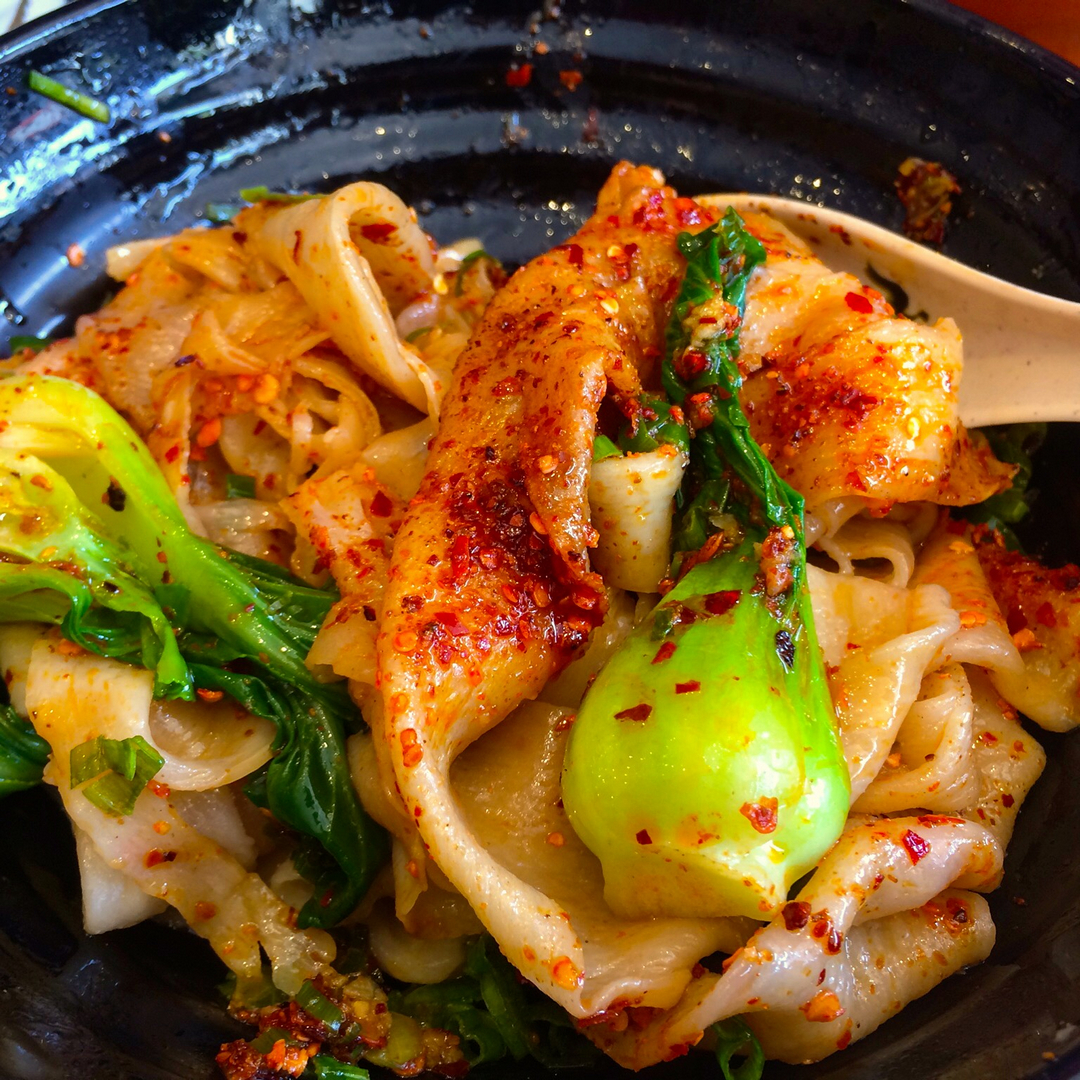 Hand Pulled Oil Splashed Noodles. Outstanding. The greens are a perfect foil for the spicy, thick, chewy noodles – an ideal combination.

Cumin Lamb. Is there anybody who doesn't like this? It's even got its own Instagram hashtag, #cuminlamb. And, no surprise, there's nothing sheepish about the way Grain House does it.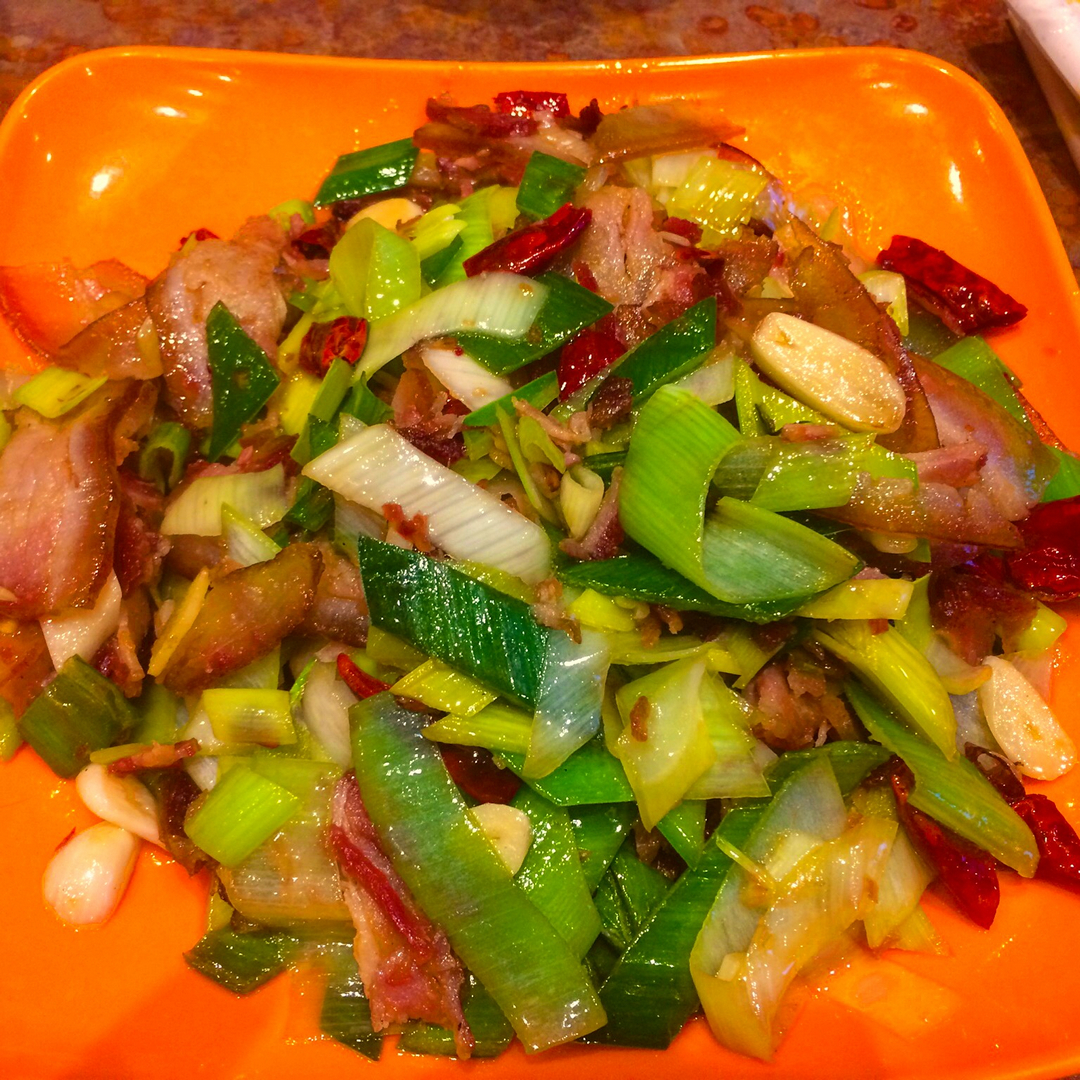 This is one of my favorite Sichuan dishes, Chinese Bacon with Garlic Sprout. I know it as Smoked Pork with Garlic Leaf and I've actually made it at home. (If I'm not mistaken, the greens are suan miao, 蒜苗, similar to leeks but definitely garlic.) Needless to say, Chef Bob's version is considerably better than mine.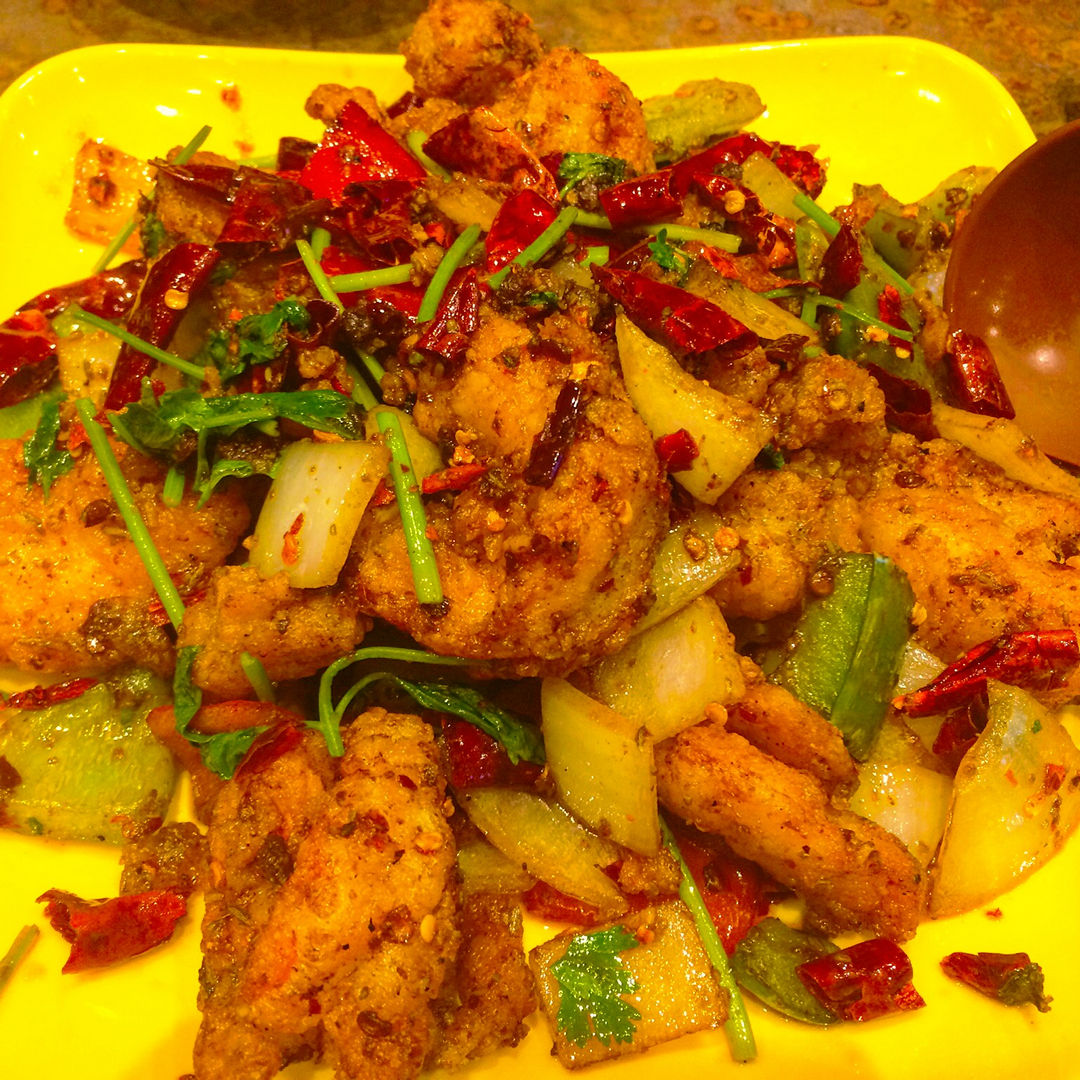 Hot Spicy Jumbo Shrimp with Red Pepper. People at our dinner couldn't stop raving about it. None of these was killer spicy, by the way; every one was perfectly balanced.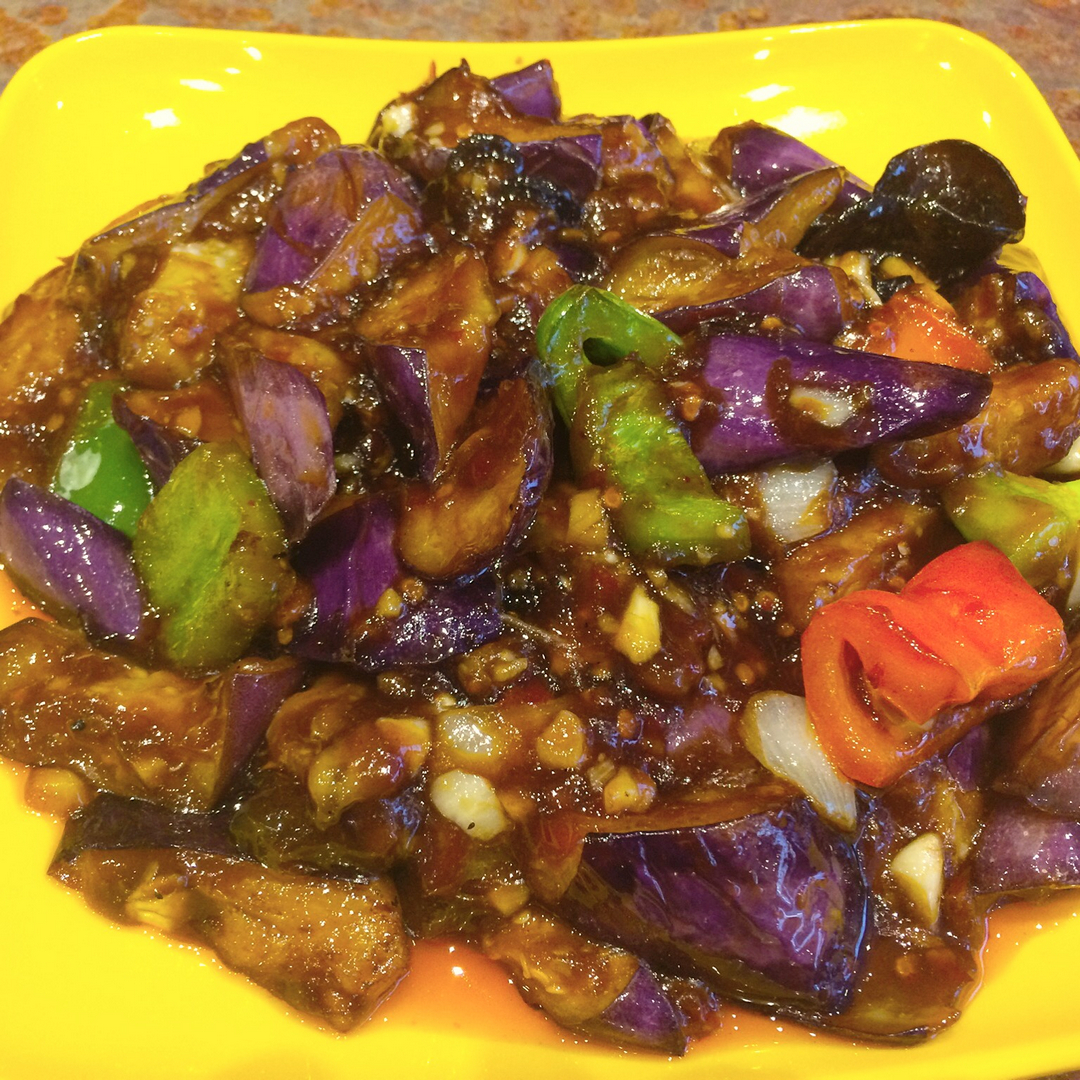 Sweet and slightly spicy, this Eggplant in Garlic Sauce was delightful.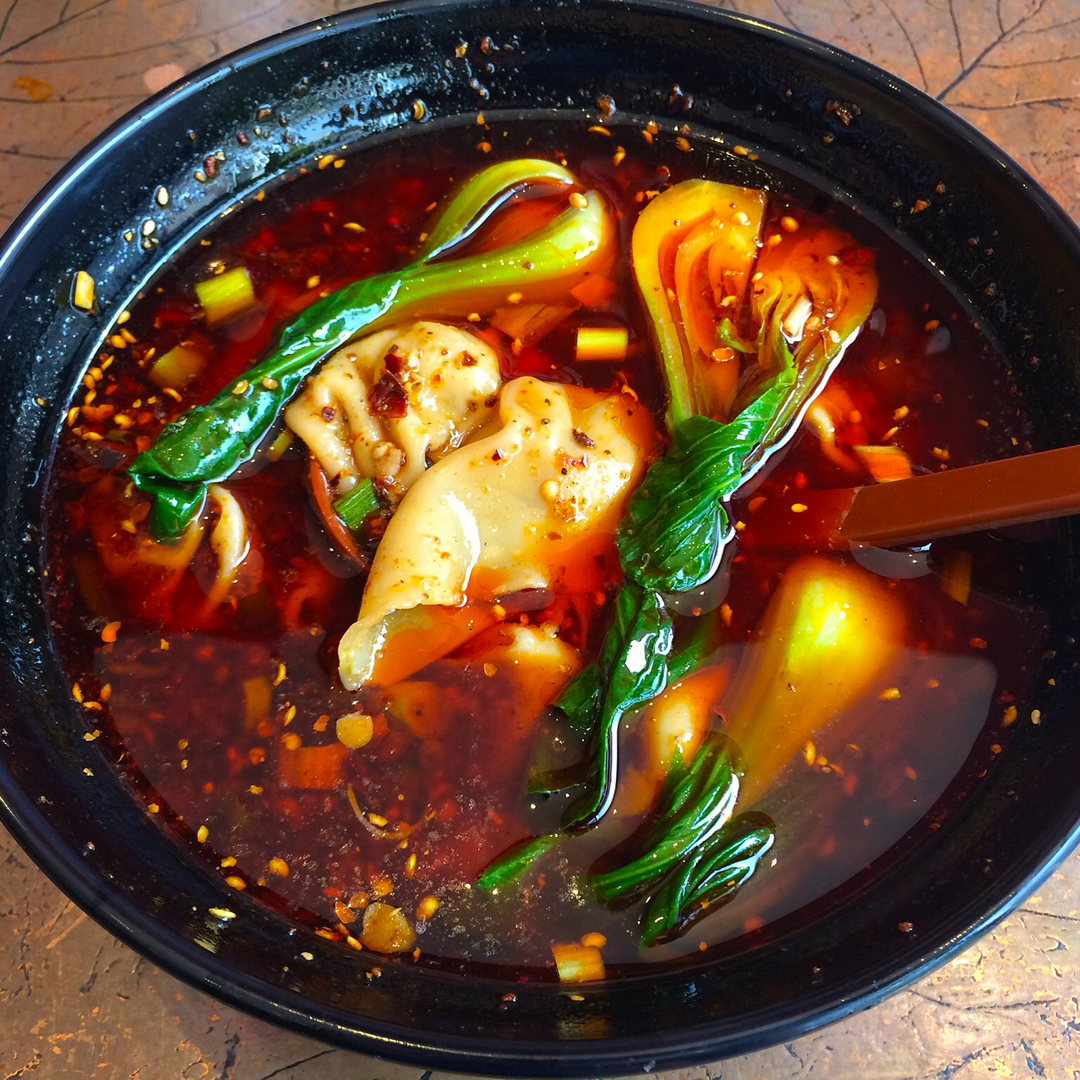 Spicy and Numbing Pork Wonton was one of the delicious appetizers we enjoyed…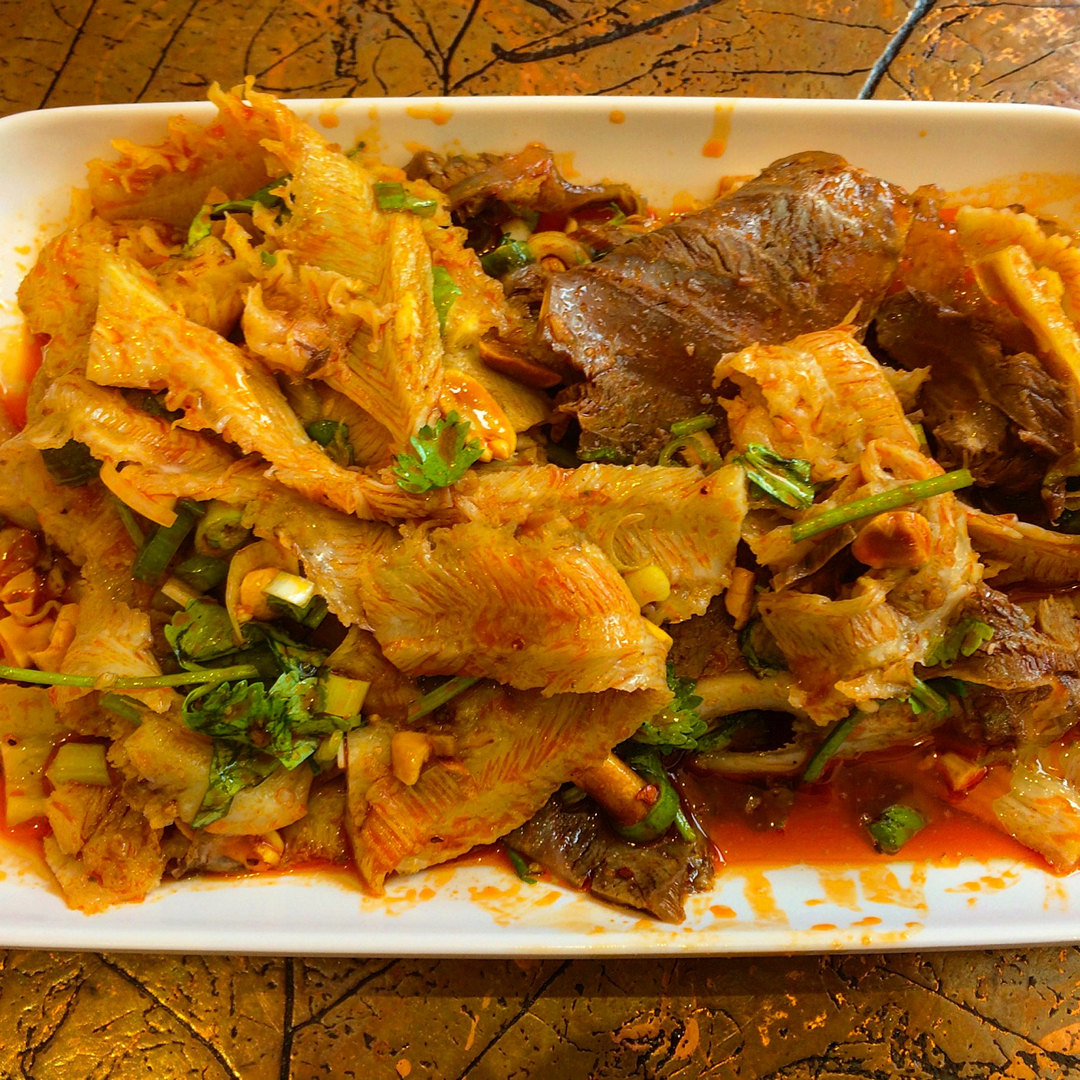 …as was fuqi feipian (夫妻肺片), literally "husband and wife lung pieces". Choice of specific ingredients varies among chefs (not to worry, it never includes actual pieces of lung) but here Chef Bob does it with Ox Tongue and Tripe and it's top notch.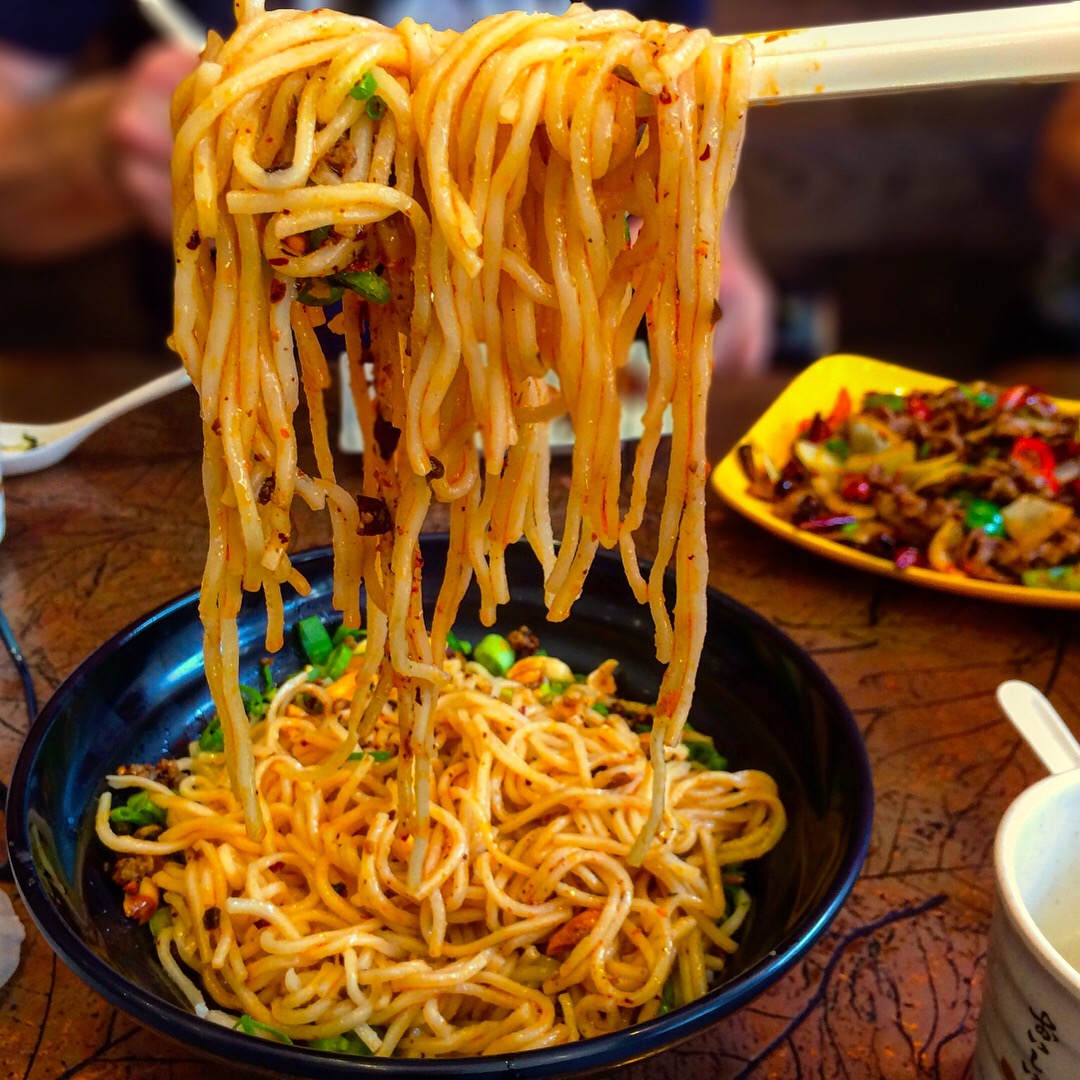 Yi Bin Burning Noodle. Pleasantly spicy but not overbearing, so don't worry about the allusion to "burning" in the name. Mix well for maximum enjoyment.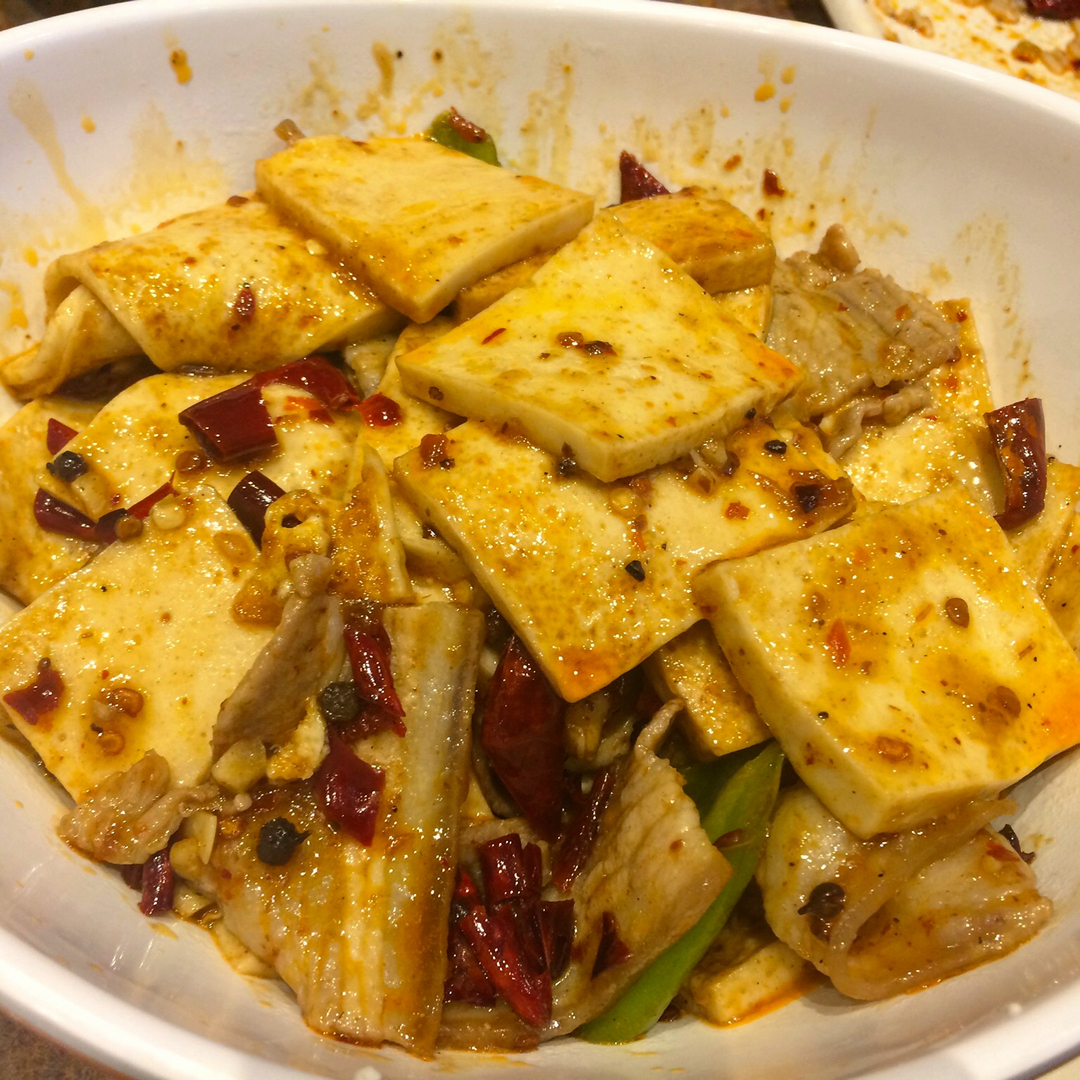 A suave change of pace: Chiba Tofu with Pork Belly. Melt in your mouth, slippery tofu accented with fresh pork belly – elegant and delectable.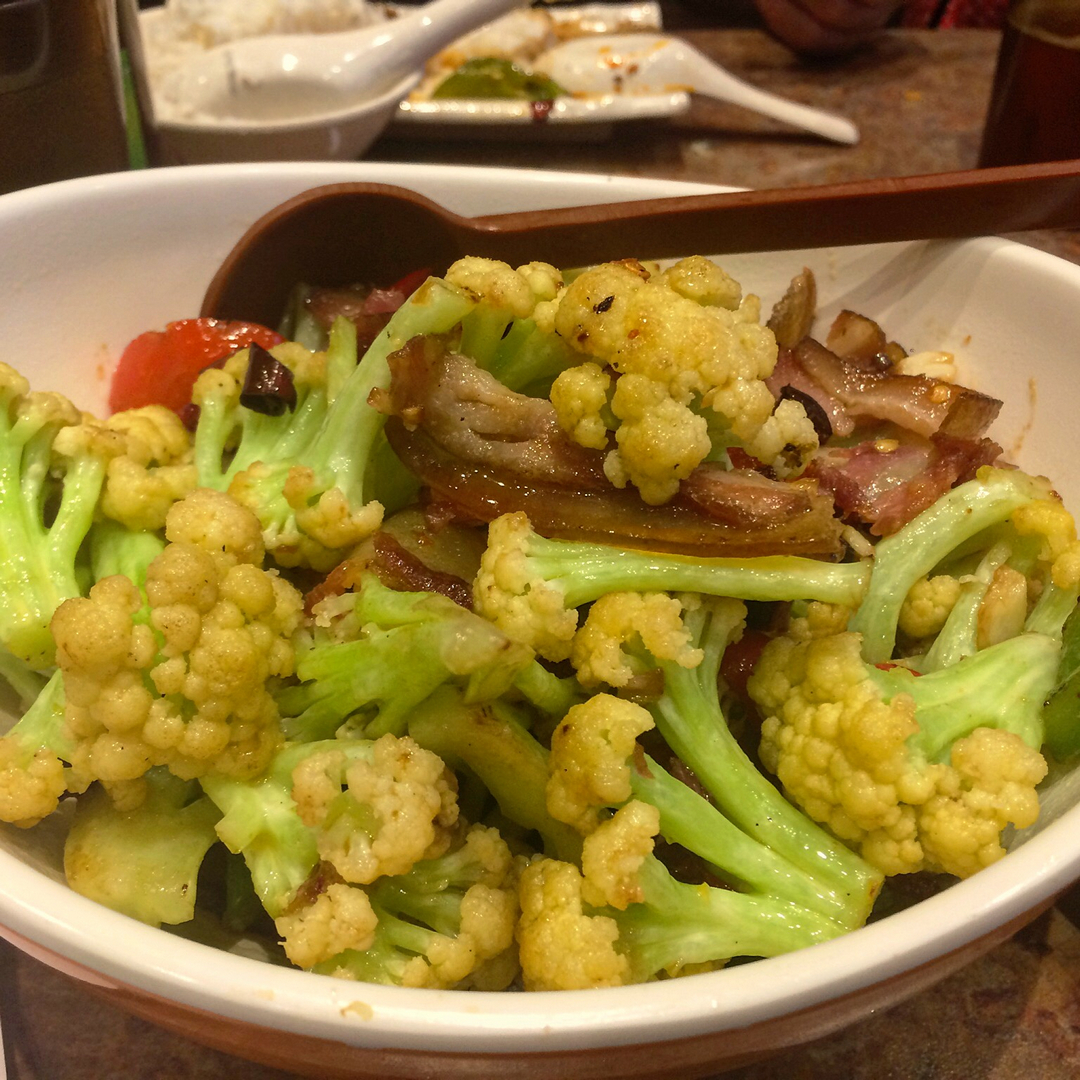 Some folks often insist on a straight ahead vegetable dish, and who am I to refuse? Here's Grain House's version of Fried Cauliflower and it did not disappoint. The structure of Chinese cauliflower is less compact than the dense Northern European version you might be accustomed to and that makes for a more tender texture after cooking and allows it to soak up more sauce.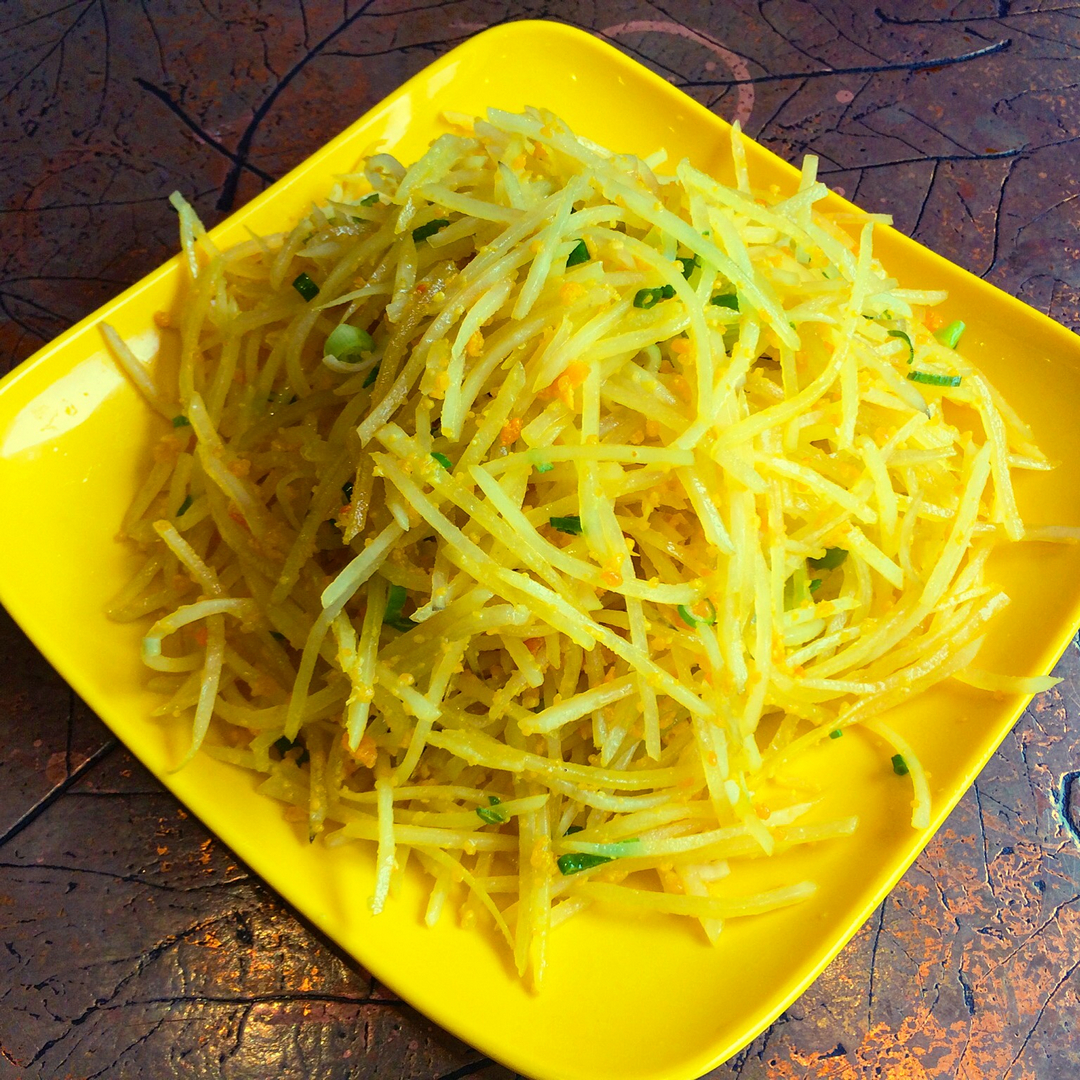 Salted Egg Yolk with Shredded Potato. Sichuan style shredded potatoes are meant to be al dente and these were perfectly cooked and delicious. Simple, but such a happy addition to our table.
So there's the roundup of the awesome dinner we enjoyed at Grain House, 929 Amsterdam Avenue – and if it hasn't convinced you to try this unique, standout Manhattan restaurant, nothing will!